For rockhounds, New Mexico is an absolute gold mine! This state offers a distinctive and exhilarating experience for every rockhound because of its varied geological formations and abundant mineral reserves. From sparkling minerals to ancient fossils, New Mexico has it all!
The abundance of options is among the best things about rockhounding in New Mexico. There are many beautiful spots to explore, regardless of your experience level. You can go on an adventure to look for beautiful rocks and minerals. The variety of specimens you can find here is truly remarkable!
The state's geology is incredibly diverse, meaning there's something for everyone. You can visit the mountains to look for rocks and wander the desert to find rare minerals. Every rockhound can get wealthy in New Mexico with a little bit of luck and a lot of enthusiasm!
How We FoundThe Best Places For Rockhounding in New Mexico
We spent a lot of time putting together the list of which of the many options for New Mexico rockhounding we were going to recommend. We wanted to have a nice variety of locations for experienced and novice rockhounds in a variety of settings. Here are the main factors we used when determining the recommendations we set out :
The extensive local experience and understanding of our team
Input from multiple local rockhounds and rockhound groups
The accessibility of the various locations
Safety and potential hazards when collecting
Private and public locations
A desire to include locations for both experienced rockhounds and those who are just starting out
Using these weights we think we've put together the best list out there for those who love finding new rocks, gems, and minerals for our collections!

What You Can Find Rockhounding In New Mexico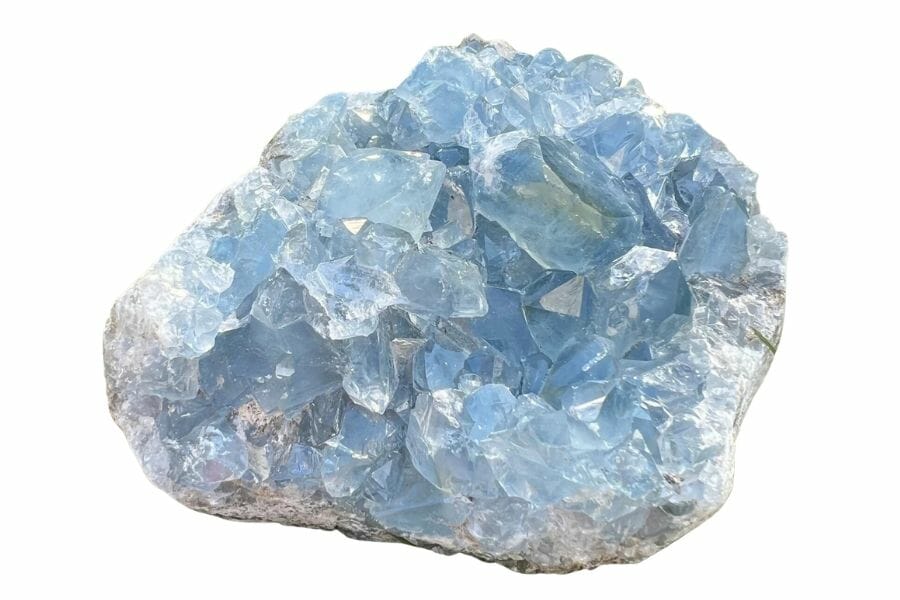 We cannot list every possible specimen because of the great diversity of the rocks and minerals found in New Mexico. The following is the bulk of the more popular and rare specimens that rockhounds search for in the state.
Rare rocks and minerals found in New Mexico
More common desirable rocks, minerals, and gems found here
In-depth guides to finding specific types of rocks in New Mexico
With the help of our various guides below, you can locate the specific specimen you're looking for.
There are more than 3,000 rockhound places near you on our list. Read this article to learn more about the rocks and minerals found in New Mexico.
The Best Places To Find Rocks and Minerals in New Mexico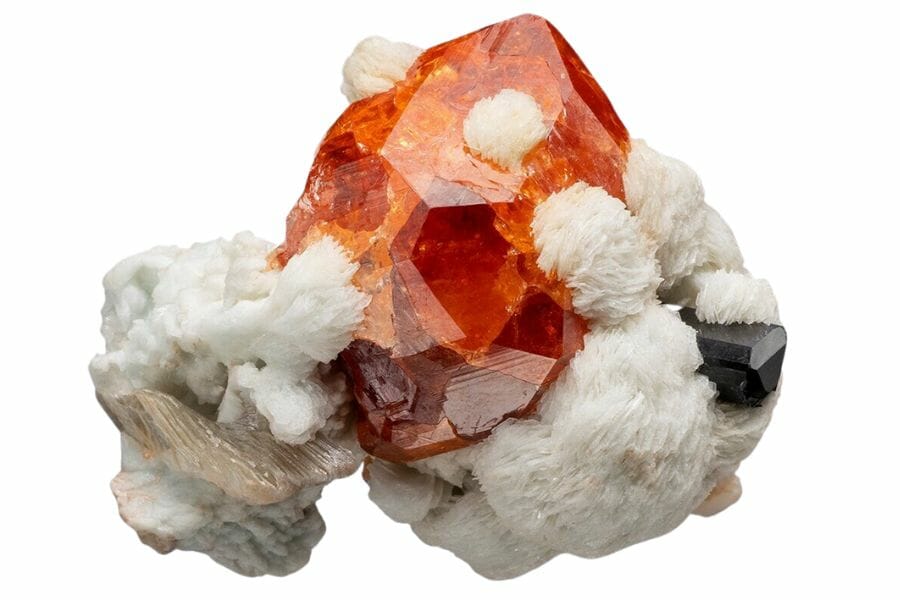 We've selected our favorite rockhounding locations in New Mexico to get things going. Despite having several options, we focused on our top choices. The stunning rocks and minerals these sites can make you want to travel there.
Always Confirm Access and Collection Rules!
Before heading out to any of the locations on our list you need to confirm access requirements and collection rules for both public and private locations.
These requirements are subject to change without notice and may differ from what we state below.
Always get updated information directly from the source ahead of time to ensure responsible rockhounding.
Black Mountain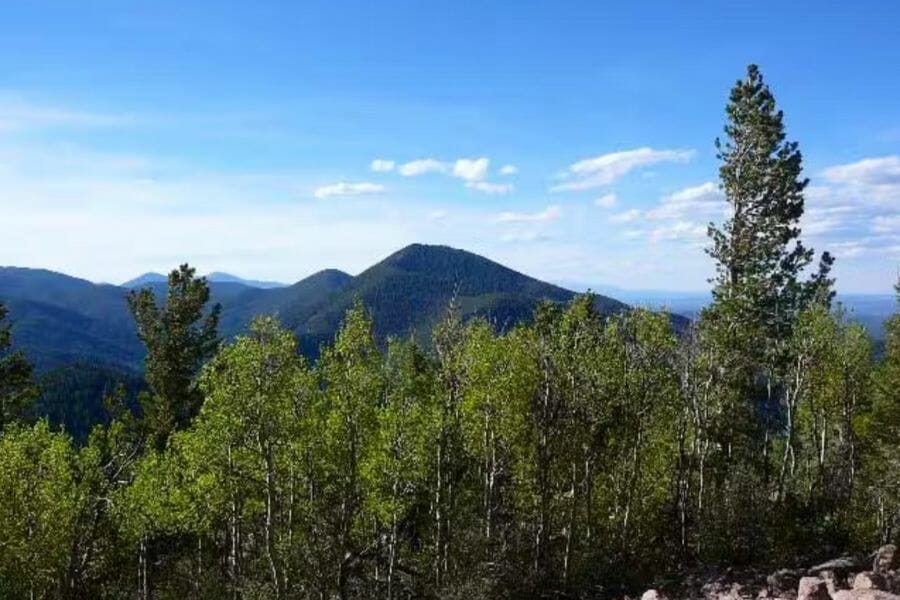 Black Mountain in New Mexico is a hidden gem located in the southern part of the state. This majestic mountain has a rich history and offers a fantastic rock-hounding experience. Known for its diverse geological formations, Black Mountain has attracted rock enthusiasts for decades.
With a history dating back millions of years, Black Mountain has a fascinating story to tell. It comprises volcanic rocks and sedimentary layers shaped by natural forces over time. From lava flows to ancient riverbeds, the mountain holds a treasure trove of geological wonders waiting to be discovered. And that's why it's a prime spot for rockhounding!
What you can find there
Amethyst is the most common mineral at Black Mountain, though there are others.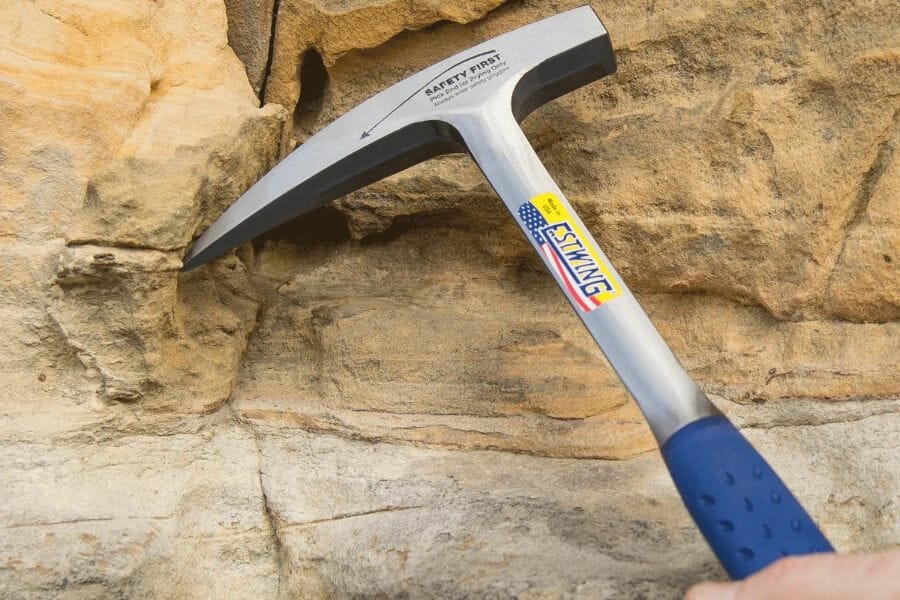 The tools every rockhound will need
When you're out looking for rocks and minerals having the right tools for the job is really going to make or break your success. You don't need a lot for most trips but there are a handful that are critical and will make your life a lot easier.
We get asked a lot about the equipment we use. Over the years we've found a handful of tools that we recommend to both new and experienced rockhounds which we outline in great detail in our complete rockhounding tools and kit guide. These are quality options that also happen to be relatively inexpensive.
Below are the basic tools that make your life so much easier and save you a ton of time. Check out the full guide to see everything we recommend bringing. One quick note, as an Amazon Associate I earn from qualifying purchases but we try very hard to only recommend gear we would use ourselves and often recommend brands you can't find on Amazon.
At a minimum you should have:
1 - Sturdy rock hammer: The Estwing Rock Pick is our standard
2 - Rugged chisels: Try Kendo' 3-piece Chisel Set
3 - Compact shovel: The Koleiya 28-inch shovel works well
4 - Rock screen pan: The Wazakura Soil Sieve Set fits the bill
5 - Eye protection: DeWalt Safety Glasses are cheap and comfortable
6 - Head protection: Malta's Safety Helmet has been our go-to
7 - Jewelers lens with at least 20x magnification: Jarlink's Jewelers Loop is perfect
The rockhounding books that we use most
There are also a few books that have been extremely helpful in the search for gems. These books have great recommendations and tips:
National Audubon Society Field Guide to Rocks and Minerals: North America 
Southwest Treasure Hunter's Gem & Mineral Guide 
Earth Treasures: The Southwestern Quadrant 
We provide links to find these tools on Amazon but some can also be found at your local hardware stores. For more recommendations check out the link to our full tool guide above.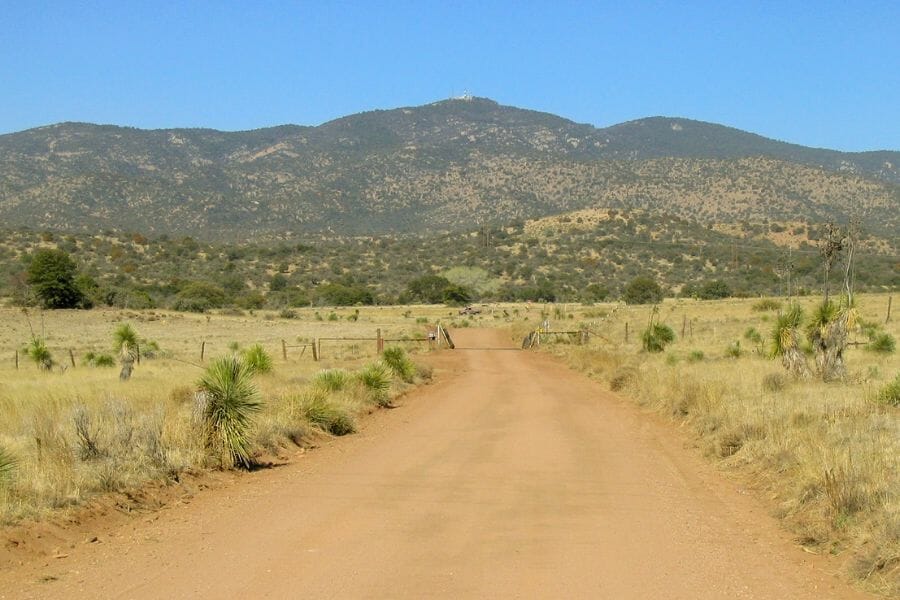 Burro Mountain is a rockhounding paradise that will leave you in awe of its geological wonders. This iconic mountain range, located in the southwestern part of the state, has a rich history and offers a fantastic rockhounding experience for enthusiasts of all levels.
With a history stretching back millions of years, Burro Mountain is a testament to the forces of nature. It showcases a stunning array of rock formations, from rugged cliffs to ancient lava flows. These diverse geological features have created an ideal environment for rockhounding.
The mountain's mineral-rich veins are a haven for rock enthusiasts, providing ample opportunities to uncover unique specimens and indulge in the thrill of the hunt. With hiking trails that wind through scenic canyons and slopes, you'll have the opportunity to explore the mountain's nooks and crannies, discovering hidden treasures along the way.
What you can find there
At Burro Mountain, you can find a wide range of rocks and minerals, including azurite, chrysocolla, fluorite, galena, pyrite, and onyx.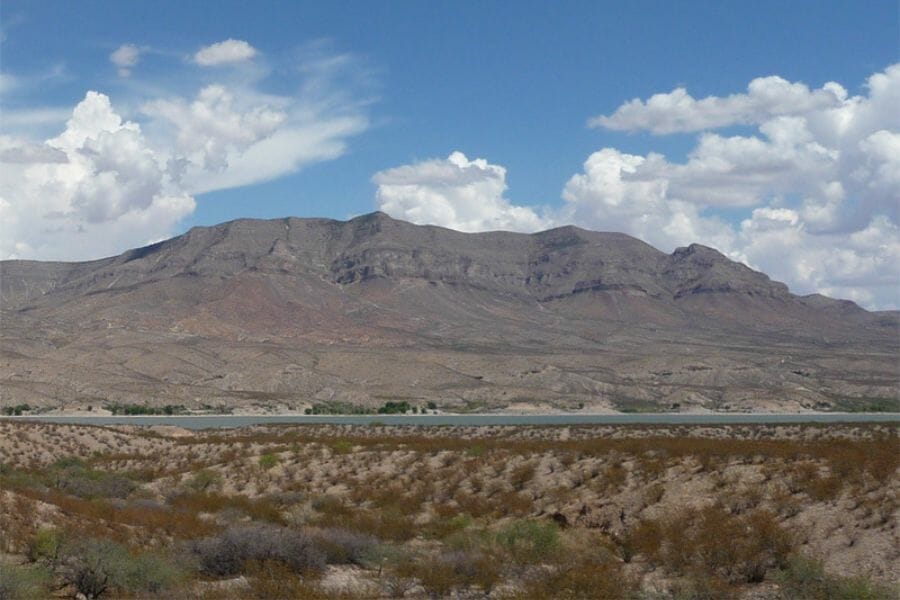 Situated in the southern part of the state, the Caballo Mountains have a rich history and offers a treasure trove of rockhounding opportunities.
Formed through ancient volcanic activity, Caballo Mountain is a testament to the geological forces that shaped the region. Its lava flows, ash deposits, and unique rock formations create an ideal rock-hounding environment.
Besides its geological wonders, Caballo Mountain offers breathtaking panoramic views of the surrounding landscapes. As you explore its trails and rocky outcrops, you'll be treated to stunning vistas that take your breath away.
What you can find there
This location has several rare discoveries like azurite, fluorite, and malachite that you could not locate anywhere in our state.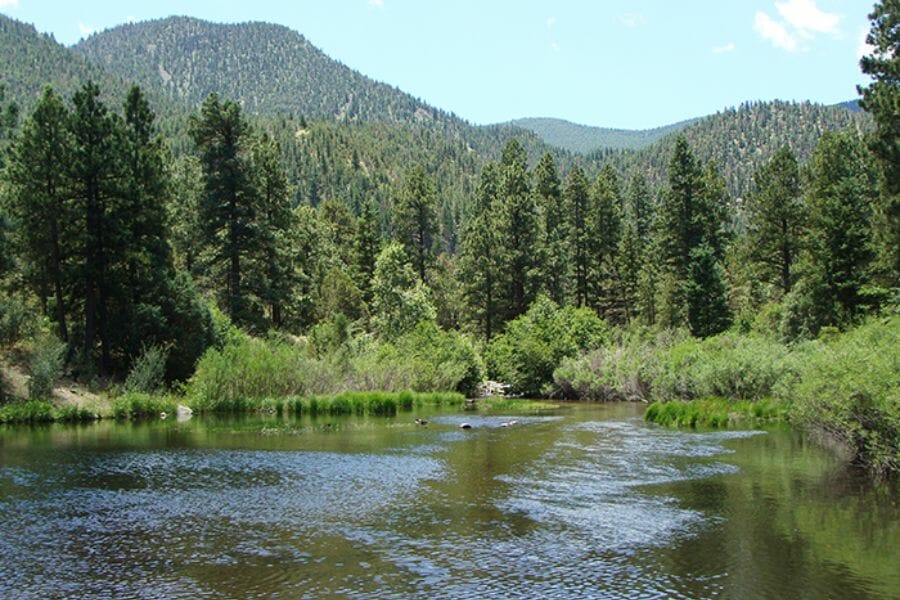 Cimarron Canyon State Park is a haven for nature lovers and rockhounding enthusiasts. Nestled in the breathtaking Sangre de Cristo Mountains, this scenic park offers a delightful blend of natural beauty and geological wonders.
The park has diverse rock formations, including sedimentary layers and volcanic rocks. These geological features make it an excellent destination for rockhounding. Soak in the stunning surroundings as you explore the park's trails, and let the thrill of rockhounding guide you to remarkable finds.
Aside from its rockhounding potential, Cimarron Canyon State Park boasts spectacular landscapes that will leave you in awe. Towering cliffs, vibrant wildflowers, and the scenic Cimarron River add to the park's allure.
What you can find there
Some of Cimmaron Canyon State Park's most prevalent rocks and minerals include agates.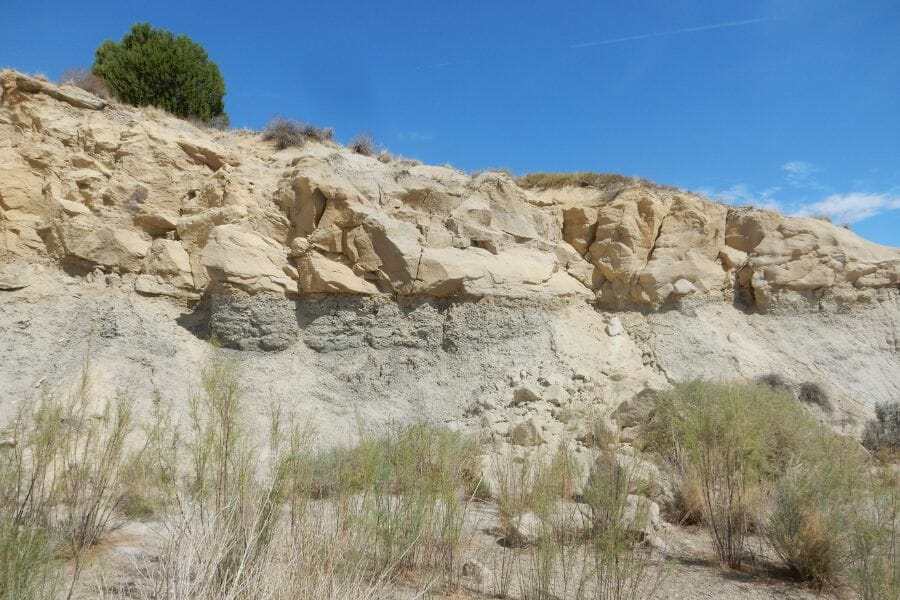 The Ojo Alamo Formation is particularly renowned for its rich fossil record, which includes the remains of dinosaurs, marine reptiles, and various plant species. If you're a fan of paleontology, this is a must-visit location. Digging into the layers of the Ojo Alamo Formation can potentially unveil a world of prehistoric wonders.
But even if you're not specifically interested in fossils, the Ojo Alamo Formation still offers plenty for rockhounding enthusiasts. The sedimentary rocks within the formation are known to contain various minerals. Exploring the area can yield beautiful specimens, and the opportunity to find unique rocks and minerals is abundant.
What you can find there
Beautiful specimens of garnet and jasper can be found while you explore the Ojo Alamo Formation.
Our Other Favorite Spots Around New Mexico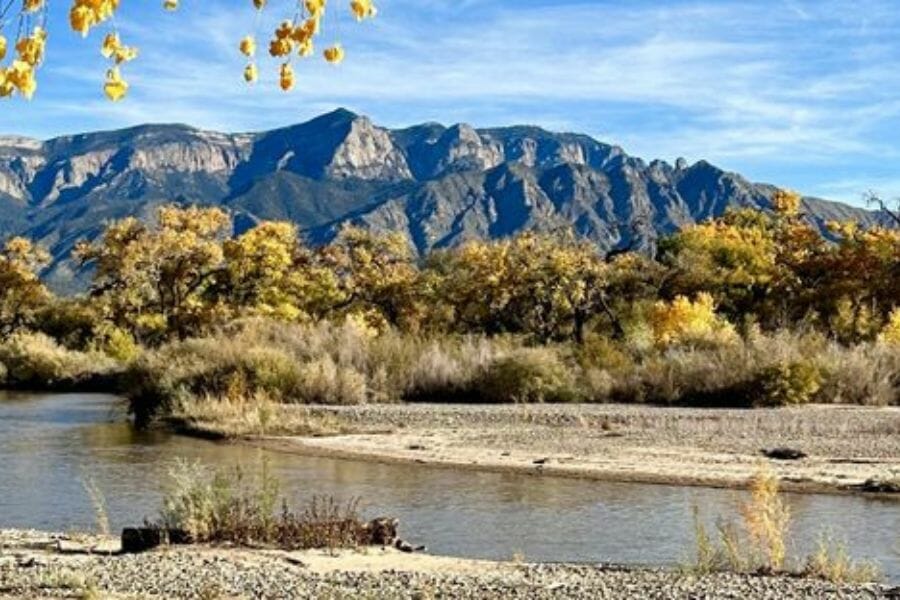 New Mexico is home to many stunning and rare rocks and minerals. Choose the options below to see more specimens.
Rockhounding sites in Northeastern New Mexico
This region is known for its unique rock formations, ancient volcanic activity, and abundant mineral deposits, making it an exciting destination for rockhounding enthusiasts.
With its diverse landscapes ranging from canyons to mesas, northeastern New Mexico presents ample opportunities to discover a variety of interesting rocks and minerals. Some notable finds in the area include stunning petrified wood, vibrant jasper, and agates with vibrant banding patterns.
| | |
| --- | --- |
| Location | Minerals & Rocks |
| Sugarite Mine | Amber |
| Pedernal Peak | Agate, Chalcedony, Jasper |
| Persimmon Peak | Tourmaline |
| Alamos Canyon | Aquamarine, Beryl |
| Willow Creek | Garnet, Lepidolite, Tourmaline |
| Mt. Chalchichuitl | Agate, Chalcedony, Turquoise |
Some of the more common rocks and minerals that are found here are very easy to confuse with each other, especially if they look alike. That's why we created a few guides to telling specific finds apart:
Rockhounding sites in Northwestern New Mexico
Northwestern New Mexico is a captivating destination for rockhounds, offering a diverse and intriguing landscape ripe with rockhounding opportunities. This region is renowned for its rich geological history and interesting rocks and minerals.
From the towering mesas of the Colorado Plateau to the ancient lava flows and sandstone formations, northwestern New Mexico provides a treasure trove for rock enthusiasts.
Some notable finds in the area include colorful agates, stunning geodes, and fossilized remains of ancient marine life. The region is also known for its deposits of turquoise, a prized gemstone with a vibrant blue hue.
| | |
| --- | --- |
| Location | Minerals & Rocks |
| Furry Mountain | Garnet |
| Willow Springs | Agate, Jasper |
| Devil's Pass | Amber |
Rockhounding sites in Southwestern New Mexico
Southwestern New Mexico is a rockhound's paradise, offering a captivating blend of diverse landscapes and a rich variety of rocks and minerals. This region is a haven for rockhounding enthusiasts, thanks to its unique geological formations and ancient volcanic activity.
From rugged mountain ranges to expansive desert plains, southwestern New Mexico provides an ideal environment for exploration and discovery. Some of the area's more interesting rocks and minerals include vibrant jasper, agates with striking patterns, and geodes with dazzling crystalline interiors.
| | |
| --- | --- |
| Location | Minerals & Rocks |
| Taylor Creek | Fluorite, Topaz |
| Elk Horn Park | Agate |
| Alum Peak | Agate, Carnelian |
| Hatchet Mountain | Fluorite |
| Peloncillo Mountain | Agate, Chalcedony, Jasper |
| Mud Springs Mountain | Agate |
| Taylor Creek | Fluorite |
| Iron Mountains | Calcite |
| Aleman Ranch | Jasper |
| Elephant Butte | Agate, Chalcedony, Jasper |
| Fra Cristobal Mountains | Agate, Jasper |
| Jornada Valley | Agate, Chalcedony, Jasper |
| Caballo Mountains | Agate, Carnelian |
| Sierra Oscura Mountains | Azurite, Celestite, Chrysocolla, Fluorite, Quartz |
| Joita Hills | Agate, Chalcedony, Jasper, Quartz |
| Grandview Canyon | Fluorite |
Rockhounding sites in Central New Mexico
This region is renowned for its varied landscapes, from the rugged mountains to the vast plains, providing ample opportunities for rockhounding adventures. Central New Mexico boasts a fascinating geological history, with volcanic activity and sedimentary formations shaping the land over millions of years.
Some of the more attractive rocks and minerals found in the area include striking quartz crystals, colorful jasper, and rare zeolite minerals.
| | |
| --- | --- |
| Location | Minerals & Rocks |
| Rio Puerco Valley | Agate, Chalcedony, Jasper |
| Isleta Indian Reservoir | Opal |
| Sandia Mountains | Fluorite |
| Nacimiento Mountains | Agate, Azurite, Chalcedony, Chrysocolla, Malachite |
| Battleship Rock | Obsidian |
| Rio Puerco | Agate, Obsidian |
If you struggle to differentiate between rocks and minerals, our informative guides are here to lend a helping hand. With clear explanations and visuals, you'll become an expert in no time!
Public Rockhounding Options For Kids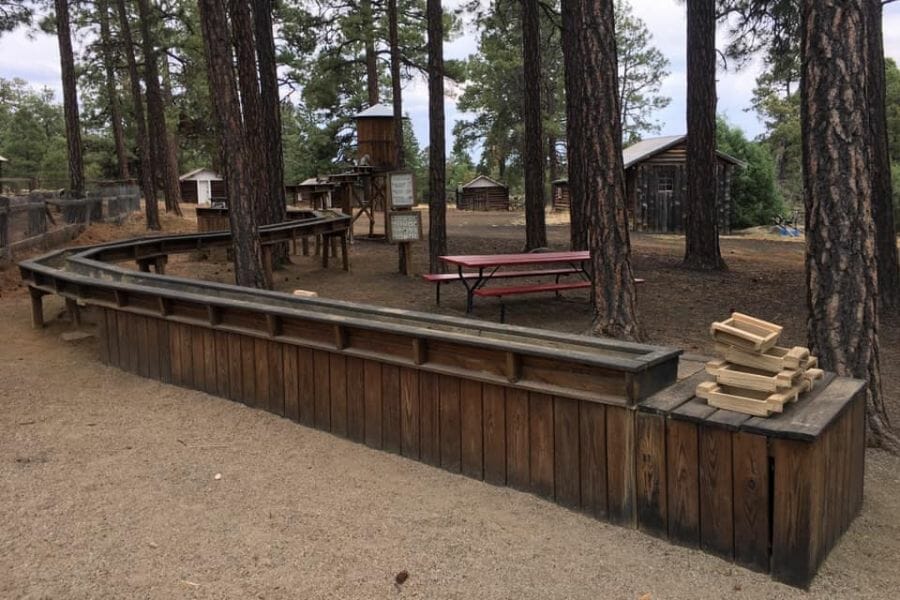 Although it can be exciting and educational for children, finding the best rockhounding spots is not simple. Discovering kid-friendly rockhounding locations could be a great approach to get kids interested in this activity.
New Mexico Rockhounding Clubs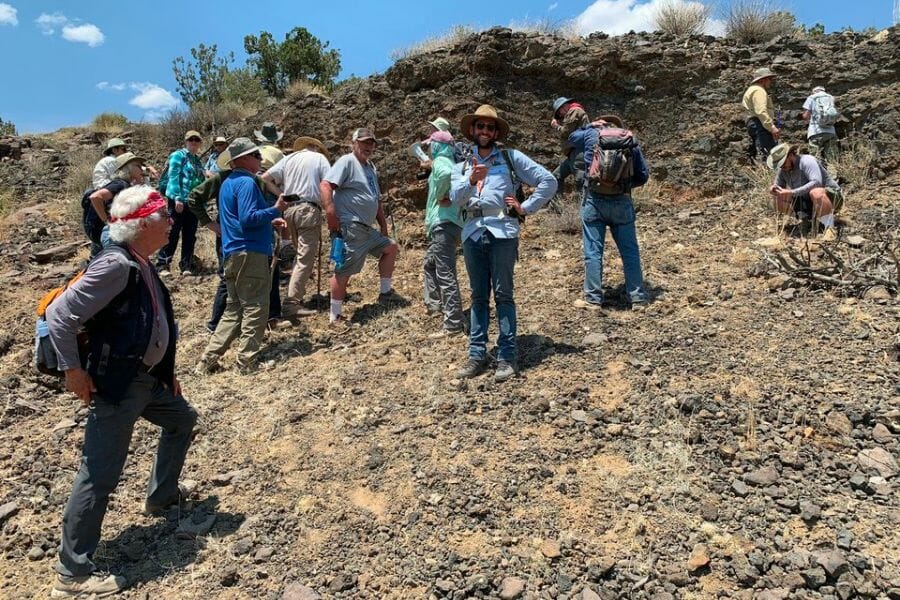 Rockhounding clubs are invaluable for both newbies and experienced collectors alike. These clubs provide a supportive community where members can share their knowledge, experiences, and passion for rocks and minerals.
For newcomers, joining a rockhounding club offers an opportunity to learn from seasoned collectors, gain insights into the best locations and techniques, and receive guidance on identifying and properly handling specimens.
Experienced collectors benefit from the club's camaraderie, as they can connect with like-minded individuals, expand their network, and engage in group expeditions to explore new rock-hounding sites.
Additionally, rockhounding clubs often organize educational workshops, field trips, and guest speaker events, further enhancing members' understanding and appreciation of the hobby.
Rockhounding clubs in New Mexico worth checking out
New Mexico Rockhounding Laws And Regulations
Rockhounding and collecting in New Mexico are legal and enjoyable activities. Still, it's essential to adhere to all local and state laws to ensure the sustainability of natural resources and preserve the beauty of the landscape.
The New Mexico Energy, Minerals, and Natural Resources Department (EMNRD) manage many public lands where rockhounding occurs. While rockhounding is generally allowed on these lands, obtaining the necessary permits and following any specific rules or restrictions that may apply to certain areas is crucial.
For example, some areas may have limitations on the types or quantities of rocks or minerals that can be collected. Additionally, it's important to respect private property and obtain permission from landowners before collecting on their land. By following local and state laws, rockhounding enthusiasts can ensure they practice ethical and responsible collection.
Our Favorite Rock And Mineral Shops In New Mexico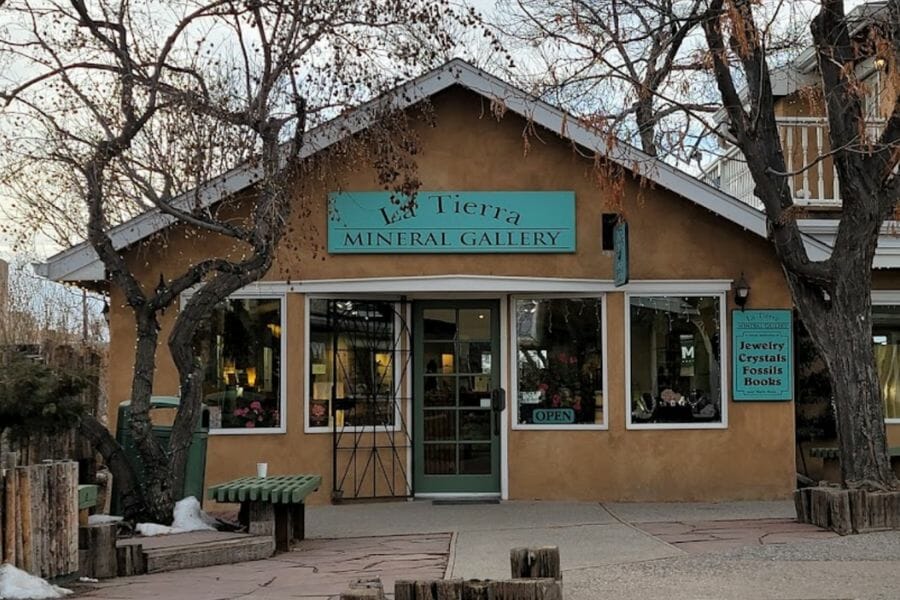 While some collectors enjoy getting their hands filthy while searching for rocks and minerals outdoors, others appreciate the comfort of purchasing from well-known rock shops. You can find a range of uncommon specimens at these top New Mexico rock and mineral shops below.
Additional Places To Rockhound In Nearby States
If you've already tried all of our recommendations above or are planning a trip out of the state you should check out our guides for neighboring states:
If you have any recommendations we haven't covered please leave them in the comments below!