Rockhounding in Colorado offers a thrilling adventure for any rock enthusiast. With its diverse geological landscape, the state presents a treasure trove of opportunities to discover unique gemstones, minerals, and fossils. Colorado has something for everyone, whether you're a seasoned rockhound or just starting.
The state's rich geology has fostered a thriving rock-hounding community, from the majestic Rocky Mountains to the sprawling plains. Rockhounding is excellent in Colorado because of the sheer variety of specimens you can find. The thrill of the hunt and the satisfaction of uncovering nature's hidden treasures make rockhounding a thrilling and rewarding hobby.
Colorado offers numerous locations that ensure a successful rockhounding experience. The state boasts a wealth of public lands, national parks, and designated rockhounding areas where enthusiasts can explore to their heart's content.
How We FoundThe Best Places For Rockhounding in Colorado
We spent a lot of time putting together the list of which of the many options for Colorado rockhounding we were going to recommend. We wanted to have a nice variety of locations for experienced and novice rockhounds in a variety of settings. Here are the main factors we used when determining the recommendations we set out :
The extensive local experience and understanding of our team
Input from multiple local rockhounds and rockhound groups
The accessibility of the various locations
Safety and potential hazards when collecting
Private and public locations
A desire to include locations for both experienced rockhounds and those who are just starting out
Using these weights we think we've put together the best list out there for those who love finding new rocks, gems, and minerals for our collections!

What You Can Find Rockhounding In Colorado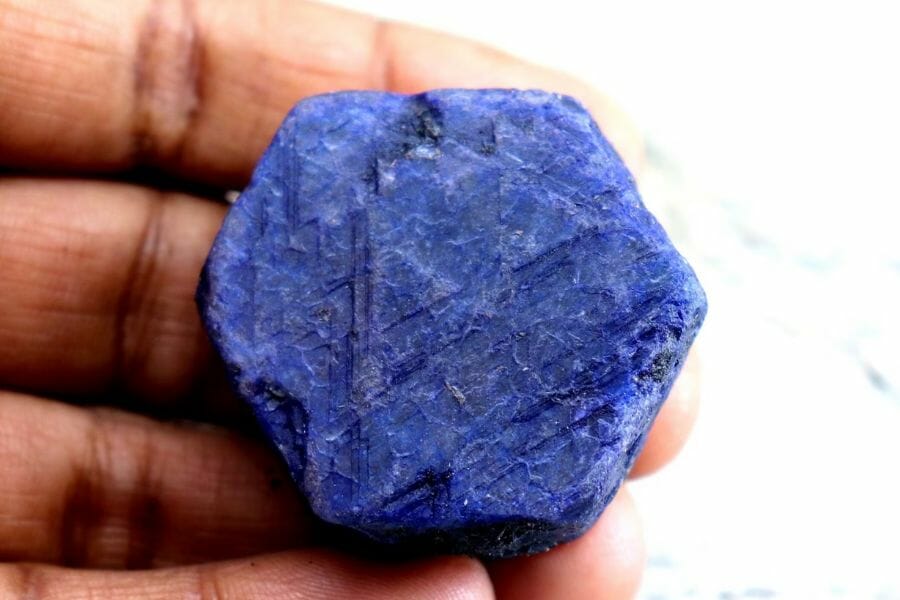 Due to its extreme diversity, we didn't get to list every single rock and mineral that may be found in Colorado. The majority of the more popular and rare specimens that rock hunters search for in the state include the following:
Rare rocks and minerals found in Colorado
More common desirable rocks, minerals, and gems found here
In-depth guides to finding specific types of rocks in Colorado
You should also look at the numerous guides we have developed to find specific specimens if you're looking for anything special.
More than 3,000 breathtaking locales are included in our comprehensive list of where there are rockhounds near you. To learn more about Colorado has to offer, read this article.
The Best Places To Find Rocks and Minerals in Colorado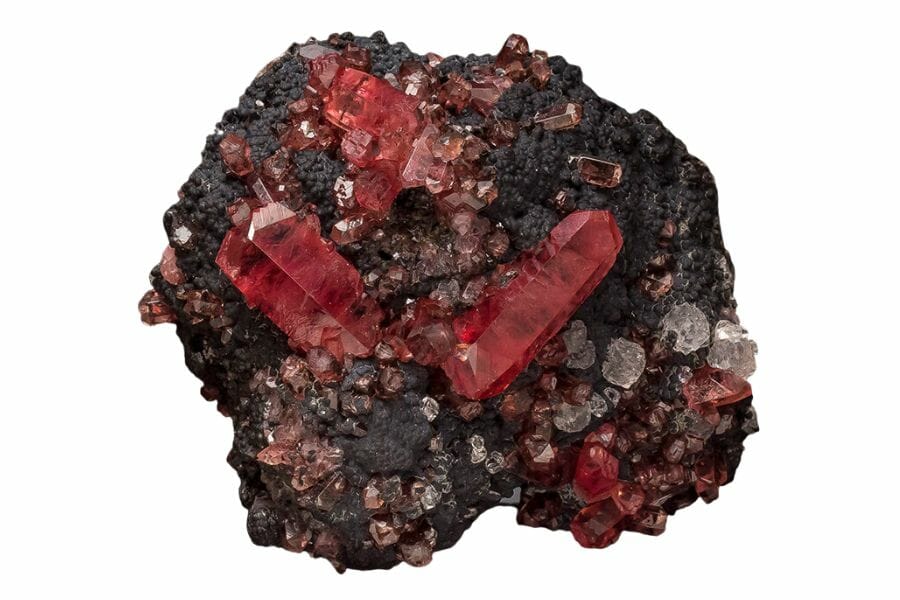 We'll be discussing some of our favorite rockhounding locations in Colorado. Despite having several options, we focused on our top choices. Undoubtedly, you'll appreciate visiting these places and discovering beautiful rocks and minerals.
Always Confirm Access and Collection Rules!
Before heading out to any of the locations on our list you need to confirm access requirements and collection rules for both public and private locations.
These requirements are subject to change without notice and may differ from what we state below.
Always get updated information directly from the source ahead of time to ensure responsible rockhounding.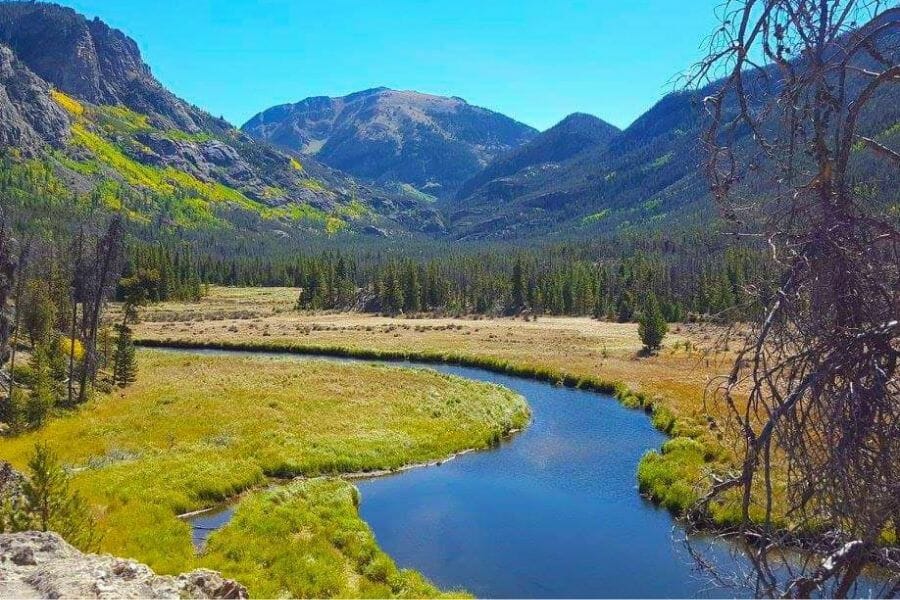 Bear Creek offers a captivating destination for rockhounding enthusiasts. The history of Bear Creek dates back to the early days of the Gold Rush in the mid-19th century when prospectors flocked to the area in search of their fortunes.
While the gold rush eventually subsided, Bear Creek remained a hidden gem for rockhounding enthusiasts. This picturesque location is renowned for its diverse geological formations. It's an excellent spot for exploring and discovering various rocks, minerals, and even fossils.
The creek has carved through the landscape, revealing fascinating geological layers that glimpse the region's ancient past. With its scenic beauty and ample rockhounding opportunities, Bear Creek beckons rock enthusiasts to embark on an adventure filled with the thrill of discovery and the beauty of nature.
What you can find there
The abundant minerals in the Bear Creek area include amazonite, fluorite, and quartz.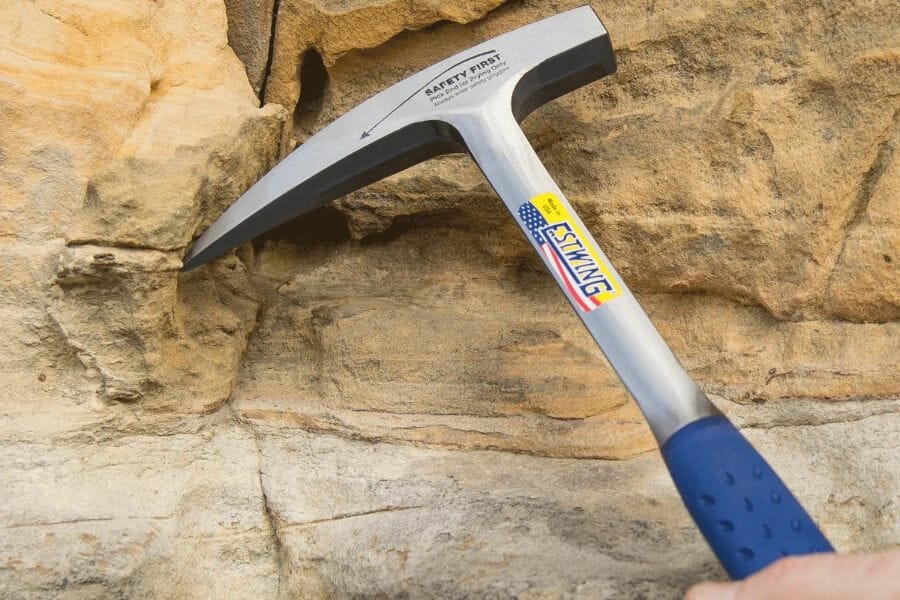 The tools every rockhound will need
When you're out looking for rocks and minerals having the right tools for the job is really going to make or break your success. You don't need a lot for most trips but there are a handful that are critical and will make your life a lot easier.
We get asked a lot about the equipment we use. Over the years we've found a handful of tools that we recommend to both new and experienced rockhounds which we outline in great detail in our complete rockhounding tools and kit guide. These are quality options that also happen to be relatively inexpensive.
Below are the basic tools that make your life so much easier and save you a ton of time. Check out the full guide to see everything we recommend bringing. At a minimum you should have:
1 - Sturdy rock hammer: The Estwing Rock Pick is our standard
2 - Rugged chisels: Try Kendo' 3-piece Chisel Set
3 - Compact shovel: The Koleiya 28-inch shovel works well
4 - Rock screen pan: The Wazakura Soil Sieve Set fits the bill
5 - Eye protection: DeWalt Safety Glasses are cheap and comfortable
6 - Head protection: Malta's Safety Helmet has been our go-to
7 - Jewelers lens with at least 20x magnification: Jarlink's Jewelers Loop is perfect
The rockhounding books that we use most
There are also a few books that have been extremely helpful in the search for gems. These books have great recommendations and tips:
National Audubon Society Field Guide to Rocks and Minerals: North America 
Southwest Treasure Hunter's Gem & Mineral Guide 
Earth Treasures: The Southwestern Quadrant 
We provide links to find these tools on Amazon but some can also be found at your local hardware stores. For more recommendations check out the link to our full tool guide above.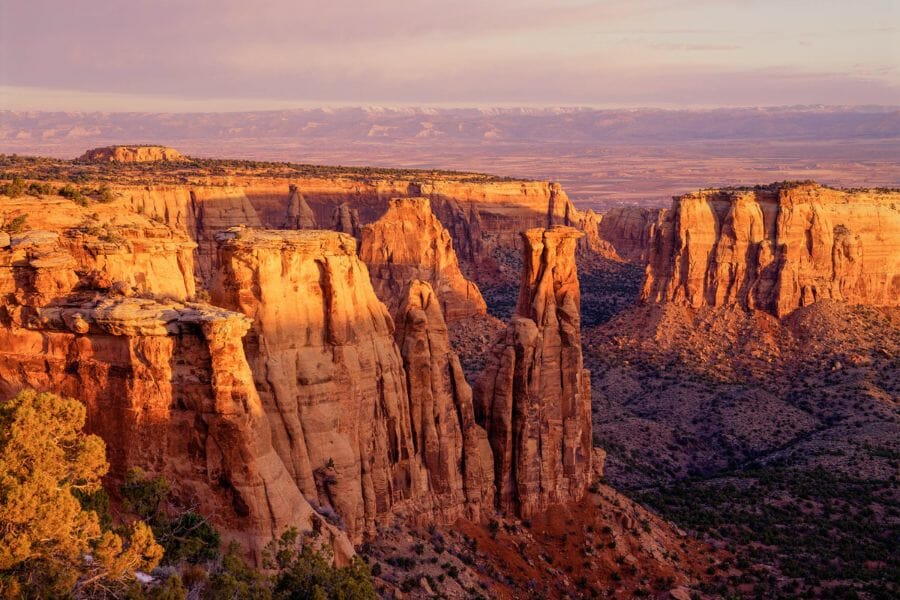 Colorado National Monument is a breathtaking testament to the region's geological wonders. The monument's history dates back millions of years, when powerful forces of nature shaped the landscape. The towering red rock formations, deep canyons, and rugged cliffs tell a story of ancient seas, uplifts, and erosion.
The monument comprises various rocks, including sandstone, shale, limestone, and granite. This rich geological tapestry offers the opportunity to find an assortment of minerals and fossils. With its vast network of trails and scenic viewpoints, Colorado National Monument provides ample opportunities to explore and engage with the geological wonders within its boundaries.
In addition to the rockhounding opportunities, Colorado National Monument offers a stunning backdrop for outdoor enthusiasts and nature lovers. Hiking along the monument's trails immerses visitors in the awe-inspiring beauty of the red rock canyons, towering monoliths, and panoramic vistas.
What you can find there
You can discover various rock and mineral specimens at the Colorado National Monument. Among these minerals are agate, amethyst, jasper, and quartz.
In the late 19th century, prospectors flocked to Stove Mountain for valuable minerals, particularly silver and lead. While mining activities have diminished over the years, the mountain attracts rockhounding enthusiasts due to its geological diversity and the potential for discovering a wide range of minerals.
Stove Mountain offers an excellent rock-hounding opportunity due to its abundant mineral deposits. The mountain is known for its rich galena veins, a lead-containing mineral, and various sulfides and silver ores. This makes it an intriguing location for those seeking to find unique specimens and delve into the area's mining history.
What you can find there
The mountain is known to have an abundance of amazonite, fluorite, galena, smoky quartz, and topaz.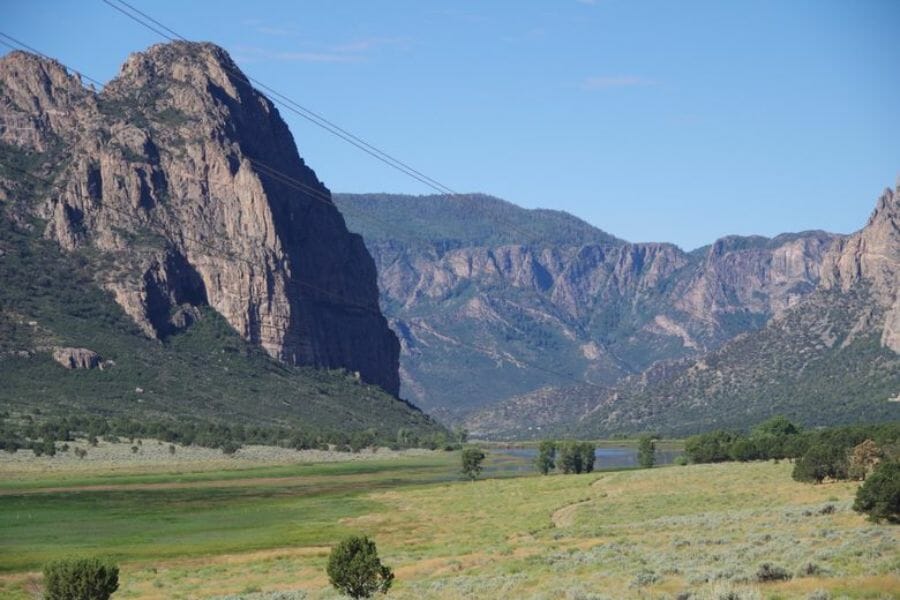 Unaweep Canyon is believed to have been formed through a unique geological phenomenon where two creeks, the Dolores and the Gunnison, flow in opposite directions, carving out the deep and picturesque canyon over millions of years.
The canyon's geological diversity makes it an excellent place for rockhounding. The exposed cliffs and riverbeds provide opportunities to discover a variety of minerals and fossils.
What you can find there
Calcite, fluorite, and hematite are some minerals that may be present in Unaweep Canyon.
White Mountain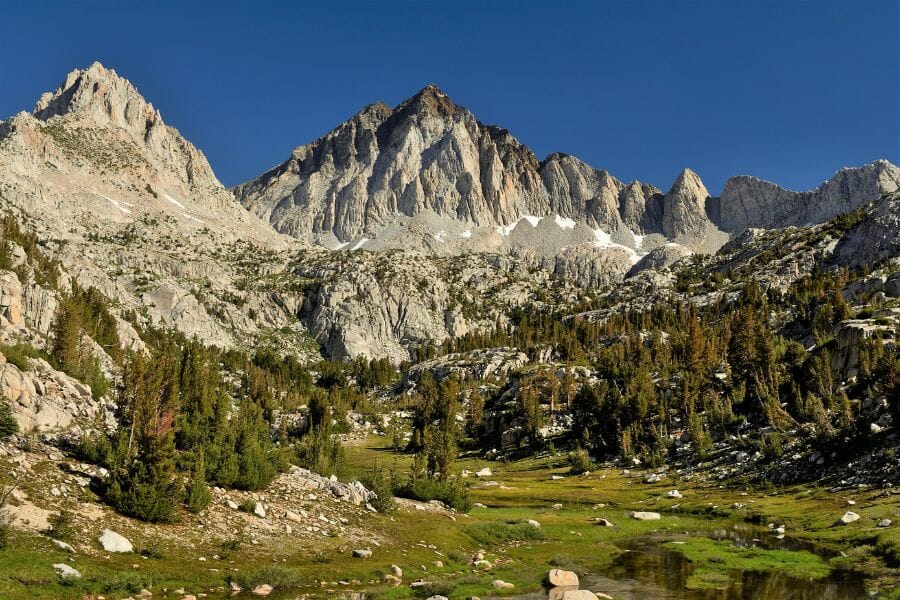 White Mountain has a rich history of mining activities, particularly in the late 19th century during the Colorado Silver Boom. Prospectors flocked for valuable minerals, including silver, lead, and zinc. While mining activities have diminished over the years, the remnants of these operations have left behind a fascinating geological landscape with various minerals waiting to be discovered.
The mountain's rugged terrain and exposed rock formations provide an ideal setting for exploration and the thrill of finding unique specimens. White Mountain has a rich mineral diversity, combined with the scenic beauty of the mountainous landscape, making it a compelling destination for rockhounding enthusiasts.
What you can find there
White Mountain is known for its diverse rock formations. Examining exposed rock surfaces, cliffs, and outcrops can reveal minerals embedded within them. Aquamarine, beryl, fluorite, smoky quartz, topaz, and tourmaline are found within these geological features.
Our Other Favorite Spots Around Colorado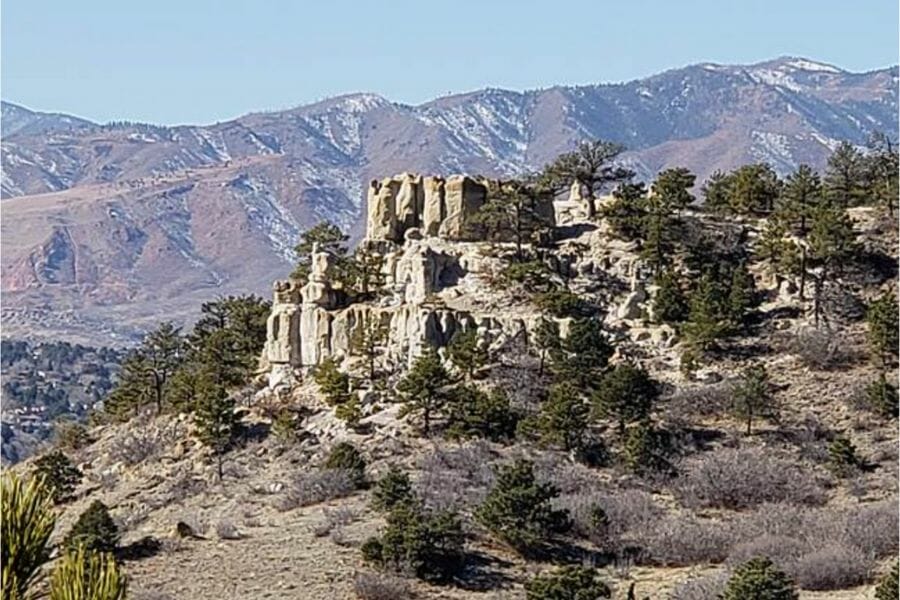 Colorado is home to many exquisite and uncommon rocks and minerals. In addition to the top picks, you can explore the options below to find other specimens.
Rockhounding sites in Front Range Colorado
The Front Range of Colorado, stretching along the eastern edge of the Rocky Mountains, is a paradise for rockhounding enthusiasts. This region offers a unique blend of geological wonders, making it an ideal destination for those passionate about discovering rocks, minerals, and fossils.
The Front Range showcases diverse geological formations, including ancient sedimentary layers, volcanic remnants, and mineral-rich veins. This diversity gives rise to a wealth of interesting rocks and minerals, such as vibrant Amazonite, smoky quartz, petrified wood, amethyst, fluorite, and various agates.
| | |
| --- | --- |
| Location | Minerals & Rocks |
| Laramie Formation | Amber |
| Devil's Head | Amazonite, Fluorite, Hematite, Topaz |
| Topaz Claim | Amethyst, Fluorite, Smoky Quartz, Topaz |
| Pine Creeks | Amazonite, Smoky Quartz |
| Paint Mines | Agate, Amazonite, Jasper, Quartz, Selenite |
| Austin Bluffs | Agate, Carnelian, Chalcedony, Jasper |
| Buffalo Creek | Amazonite, Fluorite, Smoky Quartz, Topaz |
| Crystal Park | Amazonite, Fluorite, Hematite, Topaz |
| Augusta Mine | Azurite, Fluorite, Galena |
| Pennoyer Amethyst Mine | Amethyst, Quartz |
Rockhounding sites in the Mountains of Colorado
The mountain region of Colorado is a haven for rockhounding enthusiasts, offering a vast playground of geological wonders. This region is characterized by its towering peaks, deep canyons, and rugged landscapes, which have been sculpted by millions of years of geological activity.
The mountain region of Colorado beckons rockhounds with its breathtaking beauty, intriguing geological formations, and the promise of uncovering nature's hidden treasures.
| | |
| --- | --- |
| Location | Minerals & Rocks |
| Chalk Creek | Sapphire |
| Clora May Mine | Fluorite, Garnet |
| Crystal No. 8 Mine | Fluorite, Garnet, Rose Quartz |
| Dorothy Hill | Garnet, Topaz, Quartz |
| Mount Antero | Aquamarine, Beryl, Calcite, Fluorite, Hematite, Pyrite, Etc. |
| Mt. Princeton | Aquamarine, Beryl, Quartz |
| California Mine | Aquamarine, Beryl, Fluorite, Quartz, Topaz, Tourmaline |
| Calumet Iron Mine | Epidote, Pyrite, Quartz |
| Beaver Brook | Amazonite, Beryl, Garnet, Topaz |
| Trail Creek | Amethyst |
| Willis Gulch | Rhodochrosite |
| Sawmill Gulch | Beryl, Garnet, Lepidolite, Rose Quartz, Tourmaline |
| Silver Cliff | Azurite, Galena, Malachite, Sphalerite |
| Curio Hill | Agate |
| Felch Creek | Agate, Chalcedony, Geodes, Jasper |
| Eight Mile Park | Azurite, Beryl, Calcite, Chalcedony, Chrysocolla, Etc. |
| Devils Hole Mine | Aquamarine, Rose Quartz |
| Pinkham Mt | Fluorite, Pyrite |
| Delaney Butte | Fluorite |
| Grand River | Bloodstone, Garnet |
| Buckskin Gulch | Fluorite, Rhodochrosite |
| South Platte River | Agate, Jasper |
| Crystal Peak | Amazonite, Quartz, Topaz |
Rockhounding sites in Southern Colorado
Southern Colorado is a beautiful region that offers abundant opportunities for rockhounding enthusiasts. From the dramatic landscapes of the San Juan Mountains to the vast plains and desert areas, this region showcases a diverse geological tapestry that makes it an excellent destination for rockhounds.
| | |
| --- | --- |
| Location | Minerals & Rocks |
| Carizzo Creek | Azurite, Malachite |
| Willow Creek | Amethyst, Chalcedony, Sphalerite |
| Commodore Mine | Amethyst |
| Amethyst Lode | Agate, Amethyst, Galena, Pyrite |
| Crystal Hill Mine | Amethyst, Quartz |
| Hall Mine | Lazulite, Hematite, Pyrite, Turquoise |
Rockhounding sites in Western Colorado
Western Colorado holds immense appeal for rockhounding enthusiasts. Its rugged landscapes, breathtaking canyons, and diverse geological formations offer a wealth of opportunities for rockhounds to uncover unique specimens.
The region's geological history is intertwined with ancient volcanic activity, which has given rise to intriguing rocks and minerals.
| | |
| --- | --- |
| Location | Minerals & Rocks |
| Italian Mountain | Lapis Lazuli |
| Sunnyside Mine | Rhodonite |
| Engineer Mt | Jasper, Obsidian |
| Big Bear Creek | Fluorite, Galena, Sphalerite |
Public Rockhounding Options For Kids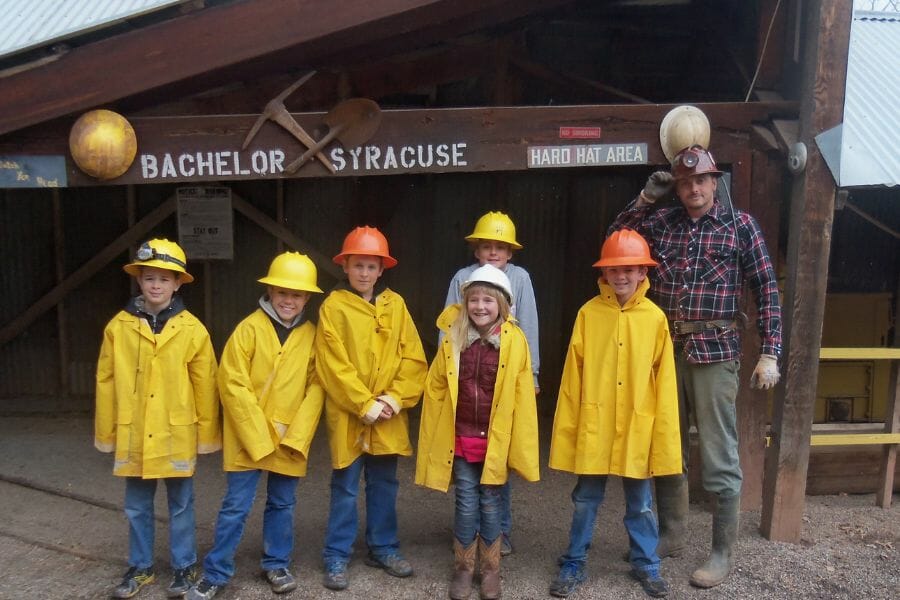 Kids could find rockhounding to be an exciting and instructive activity, despite the difficulty of finding many great rockhounding spots. But, unique rockhounding locations are also excellent for enticing children into the activity.
The whole family will enjoy finding specimens and the easier-to-access scenery in these places.
Colorado Rockhounding Clubs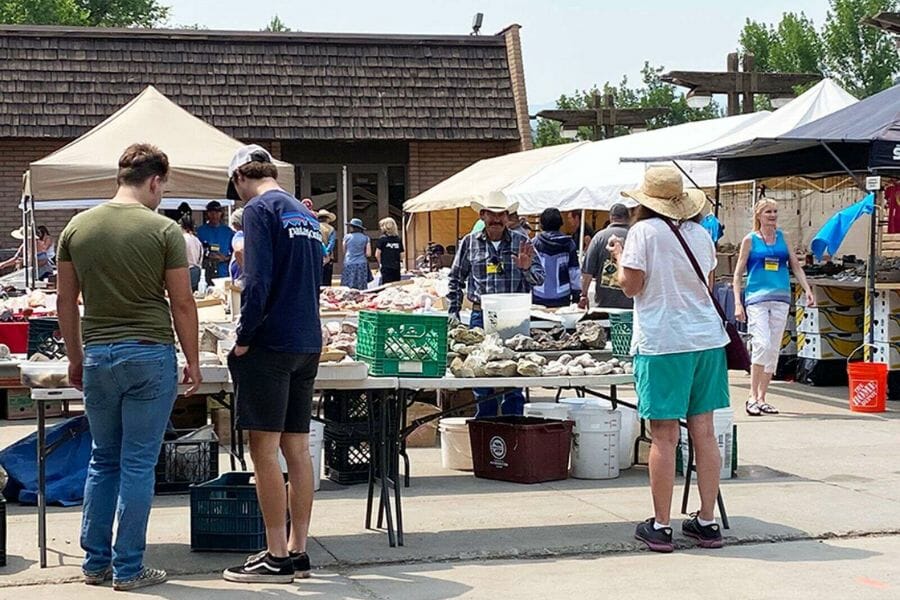 Rockhounding clubs are invaluable resources for both newbies and experienced collectors in the world of rockhounding. For beginners, these clubs provide a supportive and welcoming community that can offer guidance, knowledge, and hands-on learning experiences.
On the other hand, seasoned collectors can benefit from the expertise and camaraderie of fellow enthusiasts and access to exclusive field trips and shared expertise on more advanced techniques. Joining a rockhounding club opens doors to a network of like-minded individuals who share a passion for rocks and minerals, fostering connections, friendships, and collaborative learning and discovery opportunities.
Rockhounding clubs in Colorado worth checking out
Colorado Rockhounding Laws And Regulations
Rockhounding and collecting rocks, minerals, and fossils is legal and enjoyable in Colorado. However, rockhounding enthusiasts must adhere to all local and state laws when collecting activities, such as the regulations governed by Colorado Parks and Wildlife. Colorado has regulations to protect its natural resources, cultural heritage, and private property rights. These laws aim to ensure the sustainability of the rockhounding hobby while preserving the environment for future generations.
Rockhounding enthusiasts should familiarize themselves with the specific regulations for their desired collecting areas. It is important to respect any posted signs, boundaries, and restrictions, especially on private lands, national parks, or designated protected areas. Sometimes, a permit may be required for commercial collecting or accessing certain areas.
Additionally, it is essential to follow ethical practices such as leaving no trace, filling any holes or excavations made during collecting, and avoiding damage to natural features or archaeological sites. Rockhounding enthusiasts can enjoy their hobby responsibly while preserving Colorado's diverse landscapes' natural beauty and cultural significance by respecting and abiding by local and state laws.
Our Favorite Rock And Mineral Shops In Colorado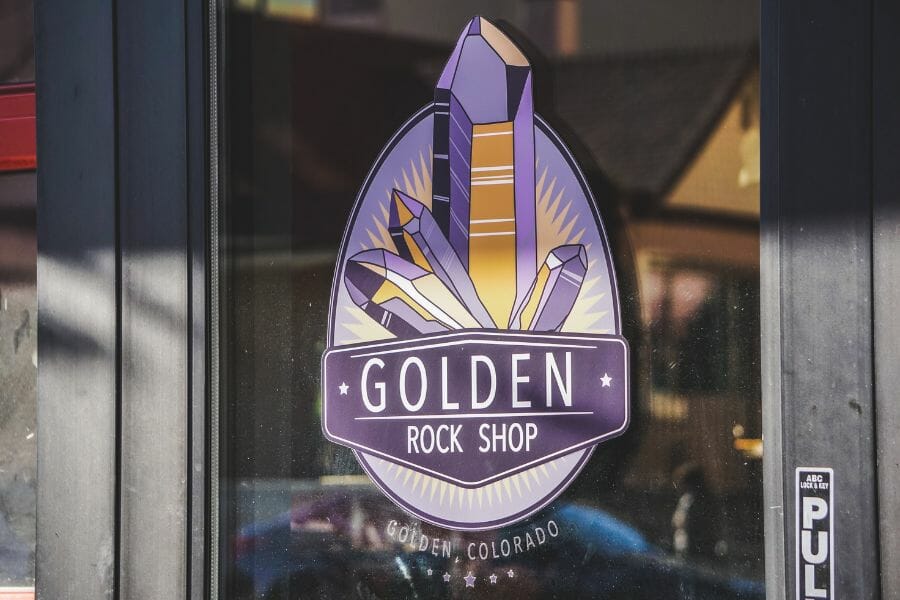 Some people enjoy going on scouting expeditions to find rocks and minerals, while other prefer the convenience of purchasing specimens from reputable rock shops. The top Colorado rock and mineral shops on the list below carry many unique and premium specimens.
Additional places to rockhound in nearby states
After visiting each place on the list above, you can use the guides we've provided below to rockhound in nearby states if you're also planning to travel there:
If you have any recommendations we haven't covered, please leave them in the comments below!