For many people, the hunt for crystals is just as exciting as the discovery itself. And we totally agree! But in many states rich with crystals like New Mexico, it can be particularly challenging to know where to start looking simply because they have so many crystal hunting locations.
We've taken it upon ourselves to explore the coolest crystal hunting spots here and provide you with the ultimate guide to choosing where to visit. Below is an interesting discussion on the most promising locations for a fun and successful crystal hunt, including Rockhound State Park, Jarilla Mountains, Burro Peak, Sierra Nacimiento, and Oscura Mountains. With our guide, you can be sure to find the coolest crystals in New Mexico!
How We Picked The Best Places To Find Crystals in New Mexico
We spent a lot of time determining which of the many options for digging and mining for crystals that we have available would be recommended. We wanted to have a good mix of locations for experienced and novice crystals hunters in a variety of settings. Here are the main factors we used when determining the recommendations we set out :
The extensive local experience and understanding of our team
Input from multiple local crystal hunters and crystal collecting groups
The accessibility of the crystal mining locations
Safety and potential hazards when collecting
Private and public locations
A desire to include locations for both experienced crystal hunters and those who are just starting out
Using these weights we think we've put together the best list out there for those who love finding new crystals for our collections!

The Types of New Mexico Crystals You Can Find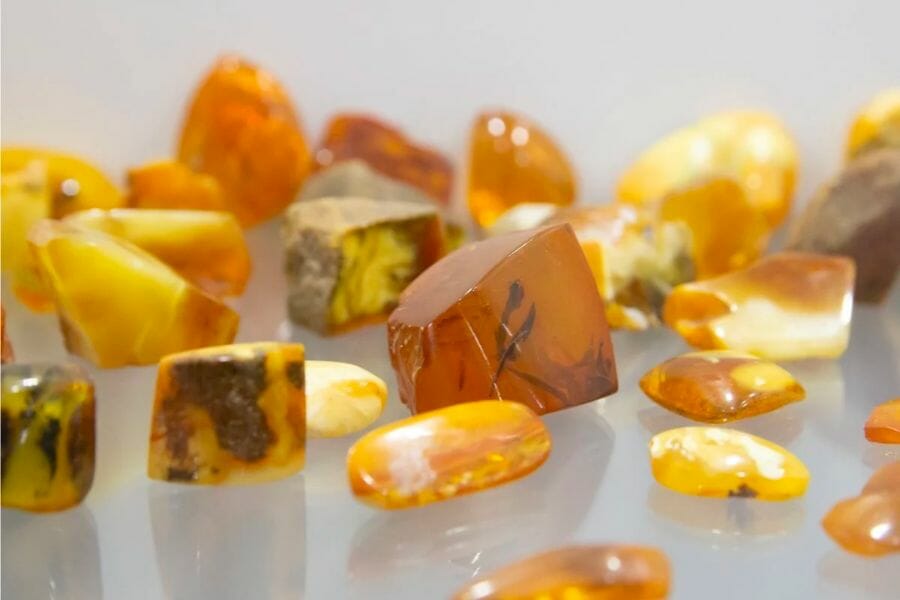 New Mexico is home to an abundance of crystals that are not only visually stunning, but also have significant geological and historical significance. Our state's varied terrain and mineral-rich soil create the ideal environment for crystal formation. Here are some of the treasures of crystal specimens that you'll find in your visit here:
Rare crystals found in New Mexico
Amazonite
Amethyst
Amber
Celestite
Dumortierite
Labradorite
Lepidolite
Moonstone
Opal
Peridot
Rhodonite
Topaz
Unakite
Vanadinite
Wulfenite
More common crystals found here
Agate (Moss)
Apatite
Aquamarine
Aragonite
Azurite
Calcite
Carnelian
Chalcedony
Chalcopyrite
Chrysocolla
Copper
Diamond
Fluorite
Galena
Garnet
Jasper
Malachite
Muscovite
Obsidian
Onyx
Pyrite
Quartz
Selenite
Tourmaline
Turquoise
The Best Locations For Crystal Mining in New Mexico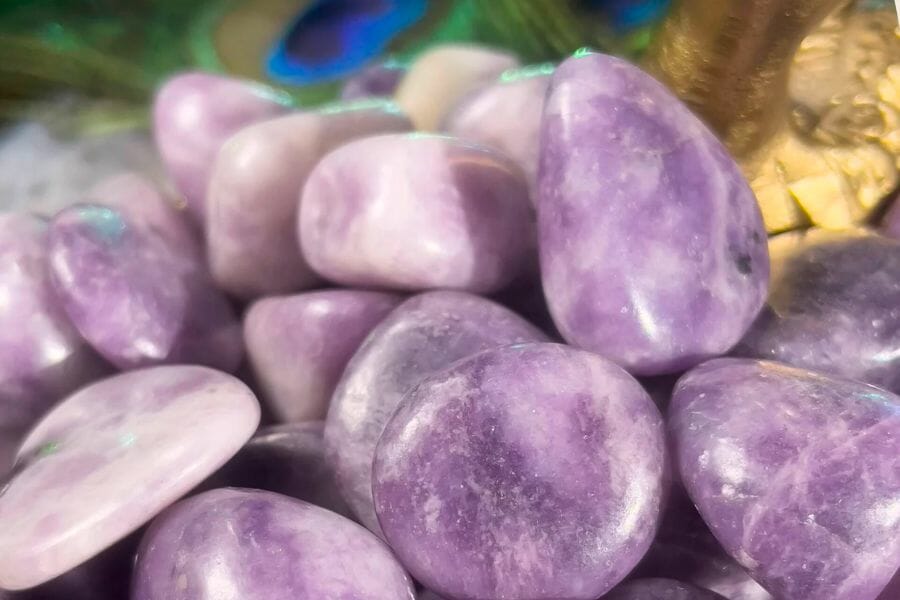 We'll discuss first what we consider the coolest spots to find crystals here based on our visit to these places. If you only have limited time to crystal hunt, we recommend these to be on top of your to-visit list:
Always Confirm Access and Collection Rules!
Before heading out to any of the locations on our list you need to confirm access requirements and collection rules for both public and private locations.
These requirements are subject to change without notice and may differ from what we state below.
Always get updated information directly from the source ahead of time to ensure responsible rockhounding.
Rockhound State Park is Our Favorite Crystal Mine in New Mexico
Luna County, NM
Rockhound State Park was established in 1966 and covers over 1,100 acres of land in the Little Florida Mountains. The park got its name from the hobby of rockhounding, which has been popular in New Mexico for many years. Simply put, Rockhound State Park is a perfect destination for anyone looking to explore and collect crystals!
The park is located in the Chihuahuan Desert, which is known for its rugged terrain and unique plant and animal life. The Little Florida Mountains are part of the Basin and Range Province and are composed of a mix of granite, quartz, and other minerals. This combination of minerals and geological history makes the park a cool spot to find a variety of crystals.
The park is perfect for rockhounding. It even has designated digging areas where you can hunt for crystals. If you want to go here, take note that it's located about 10 miles southeast of Deming, and is easily accessible by car. The park charges a small fee for entry, but it's definitely worth it for the experience of crystal hunting in such a beautiful and unique location.
Where we found crystals at Rockhound State Park
The great news is, anywhere you start your search in Rockhound State Park, you can find different crystals like Agate (sagenitic), Chalcedony (blue), and Jasper.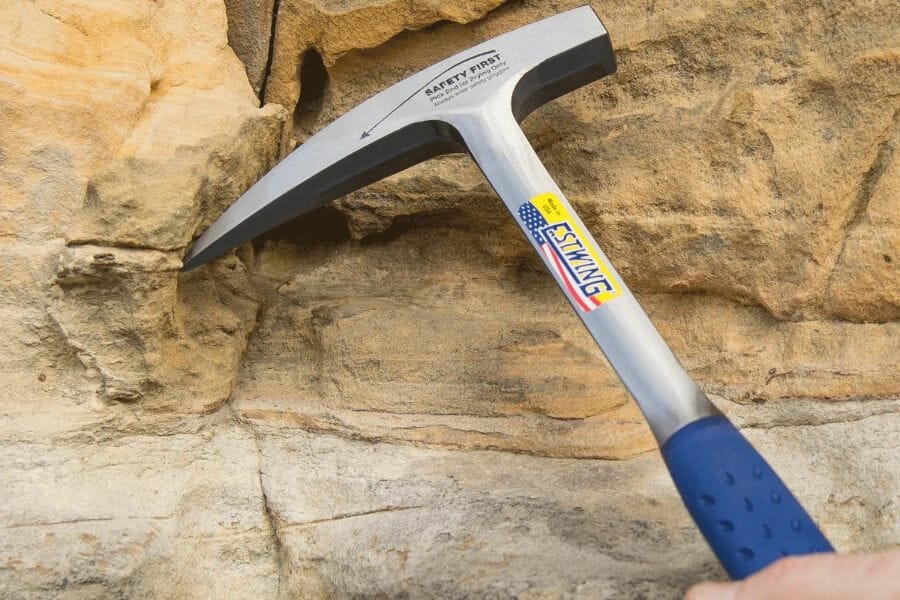 The tools every crystal hunter will need
When you're out looking for crystals having the right tools for the job is very important. You don't need a lot for most trips but there are a handful that are critical and will make your life a lot easier.
We get asked a lot about the equipment we use. Over the years we've found a handful of tools that we recommend to both new and experienced crystal miners which we outline in great detail in our complete rockhounding tools guide. These are quality options that also happen to be relatively inexpensive.
Below are the basic tools that make your life so much easier and save you a ton of time. Check out the full guide to see everything we recommend bringing. One quick note, as an Amazon Associate I earn from qualifying purchases but we try very hard to only recommend gear we would use ourselves and often recommend brands you can't find on Amazon.
At a minimum you should have:
1 - Sturdy rock hammer: The Estwing Rock Pick is our standard
2 - Rugged chisels: Try Kendo' 3-piece Chisel Set
3 - Compact shovel: The Koleiya 28-inch shovel works well
4 - Rock screen pan: The Wazakura Soil Sieve Set fits the bill
5 - Eye protection: DeWalt Safety Glasses are cheap and comfortable
6 - Head protection: Malta's Safety Helmet has been our go-to
7 - Jewelers lens with at least 20x magnification: Jarlink's Jewelers Loop is perfect
The crystal-finding books that we use most
There are also a few books that have been extremely helpful in the search for gems. These books have great recommendations and tips:
National Audubon Society Field Guide to Rocks and Minerals: North America 
Southwest Treasure Hunter's Gem & Mineral Guide 
Earth Treasures: The Southwestern Quadrant 
We provide links to find these tools on Amazon but some can also be found at your local hardware stores. For more recommendations check out the link to our full tool guide above.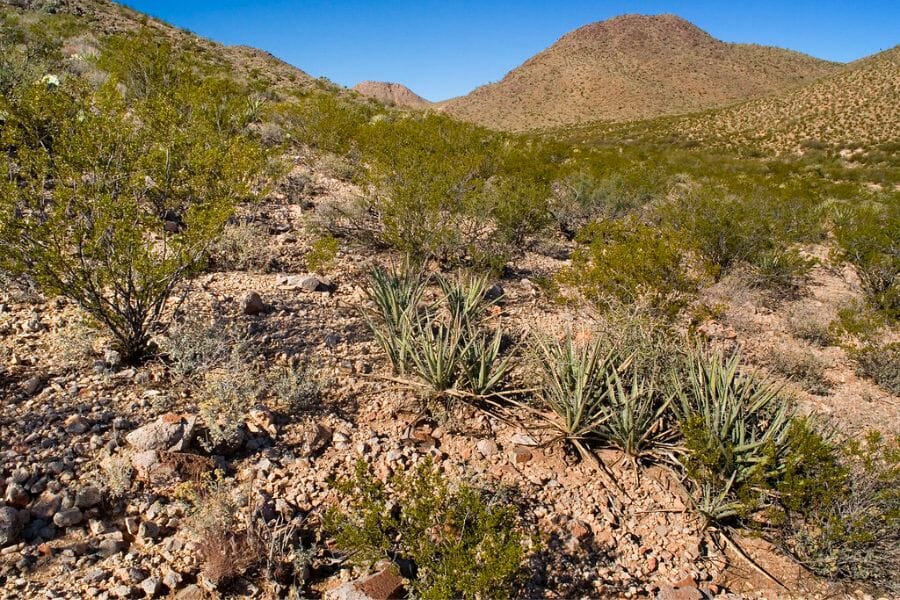 Otero County, NM
Jarilla Mountains have been a popular destination for rockhounds for many years, and for good reason. Located in the Chihuahuan Desert, the mountains are part of the larger Big Bend region that spans across Texas, Mexico, and New Mexico. It has a rich geological history that has resulted in the formation of beautiful crystals that can be found throughout the mountains.
Jarilla Mountains are composed of a variety of rocks, including volcanic tuff, quartzite, and limestone. These rocks have undergone a process of metamorphism, which has resulted in the formation of crystals. This place is also home to the famous Luna Blue Agate, a beautiful blue-grey agate that is highly prized by collectors.
Like our first recommended place, Jarilla Mountains also have designated digging areas, so be sure to check with the Bureau of Land Management for any restrictions or permits that may be required.
Where we found crystals at the Jarilla Mountains
We recommend exploring the area mines of Jarilla Mountains to find Luna Blue Agate, Chalcopyrite, Chrysocolla, Galena, Malachite, and Turquoise crystals. Read this article to know more about these crystals' prices.
Grant County, NM
Burro Peak is located in the southwestern part of our state and offers some fantastic opportunities to find beautiful crystals. It was once a mining site for copper and silver in the late 1800s and early 1900s. The area was rich in minerals, and while the mines are no longer operational, it's still a great place to find some unique specimens.
As a part of the Burro Mountains range, the peak is situated at an elevation of over 8,000 feet. The rocks in the area are mostly volcanic in origin and have undergone extensive weathering and erosion over the years, resulting in the formation of various crystals.
To get to this cool spot, you'll need to head to Silver City. Once you're here, take NM-90 south towards Lordsburg. After about 15 miles, turn left onto Burro Mountain Road and follow the signs to the peak. The area is a bit remote, so be sure to bring plenty of water, food, and supplies, and be prepared for some rough terrain.
Where we found crystals at Burro Peak
You can explore the area mines of the peak to find amazing samples of Azurite, Chalcopyrite, Chrysocolla, Fluorite, Galena, Malachite, Onyx, and Pyrite crystals.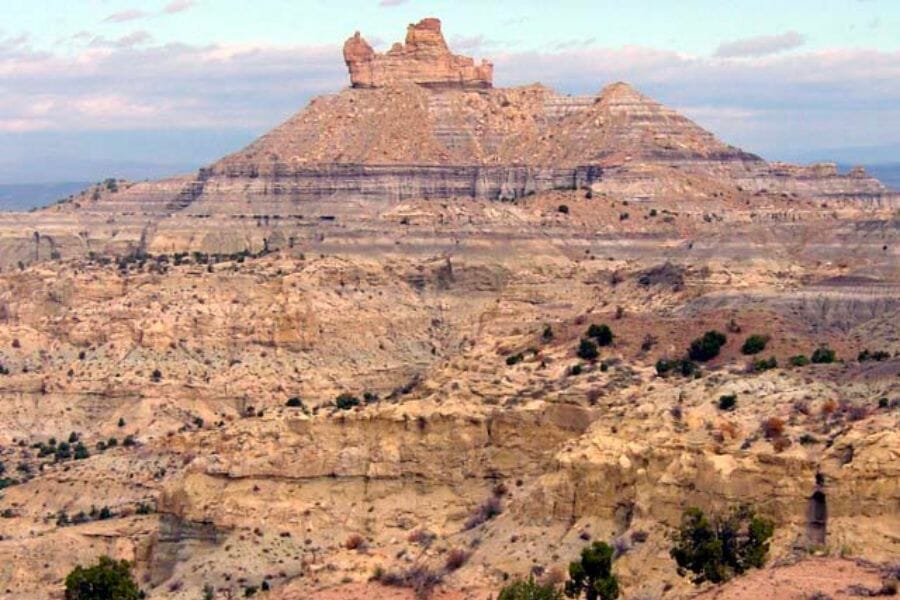 Sandoval County, NM
Sierra Nacimiento, situated in the northwestern part of our state, offers some excellent opportunities to find some stunning crystals. It was once home to the Jicarilla Apache tribe, who have lived in the area for centuries. The mountains are named after the Spanish word for "birth," as the range is believed to be the birthplace of a prominent Spanish explorer.
These mountains are made up of a variety of rock formations, including sedimentary, igneous, and metamorphic rocks. The variety of rocks and minerals in the area means there's an excellent chance of finding some unique crystal specimens.
To get here, you'll need to head to the city of Cuba. From here, take NM-197 north for about 20 miles until you reach the turnoff for Forest Road 534. Follow this road for a few miles until you reach the foothills of the mountains.
Where we found crystals at Sierra Nacimiento
You can start your crystal hunt here by exploring the regional draws and washes of Sierra Nacimiento to find samples of Agate, Azurite, Chalcedony, Chrysocolla, and Malachite crystals.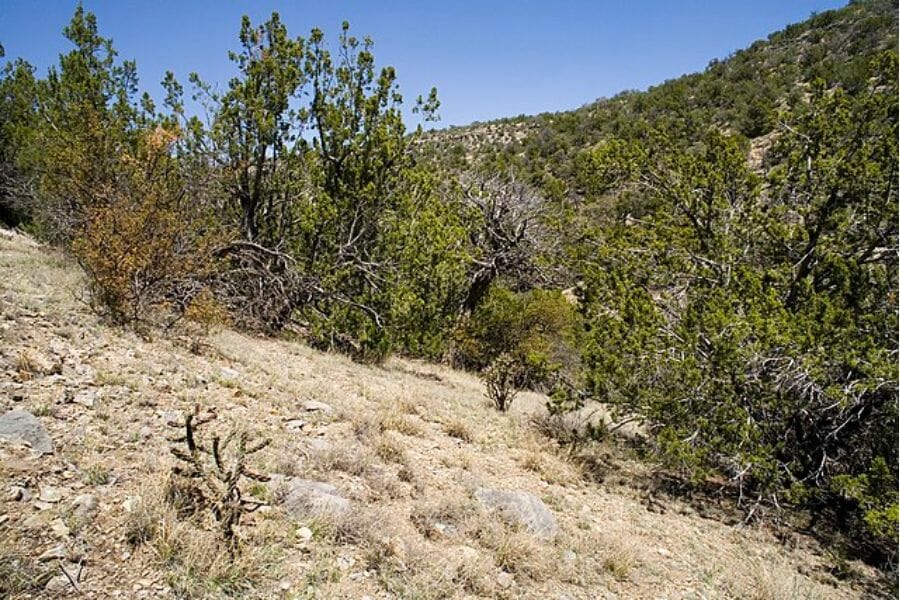 Lincoln County, NM
Oscura Mountains is a range in the southern part of our state with a rich history that dates back to the time of the Mescalero Apache tribe, who have lived in the area for centuries. The mountains are also home to several historic mining sites, where silver and other precious minerals were once extracted.
This area is made up of a variety of rock formations, including volcanic rocks, sedimentary rocks, and granitic rocks. These mean that there's a big chance for anyone to find unique crystal specimends here.
Planning to visit? Head to the city of Alamogordo, and from there, take US-54 north for about 20 miles until you reach the turnoff for the Bureau of Land Management road. Follow this road for a few miles until you reach the foothills of the mountains.
Where we found crystals at Oscura Mountains
If you want to find crystals here, try your luck searching through the regional prospects and mines of Oscura Mountains. Here you may find Azurite, Celestite, Chrysocolla, Fluorite, Galena, Malachite, and Quartz crystals.
Our Other Favorite Places For Crystal Hunting
As a state that's very rich in crystals, New Mexico has tons more other cool spots that you can explore aside from the ones we've already shared above. What's even better is that a handful of these are also great spots to find New Mexico geodes. Here they are:
Where you can find crystals for free in New Mexico
Who doesn't want to find and take home crystals for free? If you agree, here are some of the best free-to-search crystal hunting spots that you can visit.
| | |
| --- | --- |
| County | Location |
| Bernalillo | In the Puerto Rico Valley |
| Chaves | Southeastward in Squaw Canyon to Rio Felix |
| De Baca | Upstream on both sides to the headwaters of Dunlap area |
| Eddy | Downstream along both sides from Pecos River to Lake McMillan |
| Guadalupe | South on the right fork of SR-203 to the Lake Sumner area |
| Luna | In the foothills of the Tres Hermanas Range |
| McKinley | Zuni area coal beds |
| Mora | On both sides of the road at Wagon Mound area |
| Sandoval | Jemez Springs area |
| San Juan | In the area between Chaco Canyon and the San Juan River |
| Santa Fe | At Sweet's Ranch |
| Socorro | At the Farr Ranch |
| Union | Broad area extending eastward to Kenton from the Tristate Marker |
| Valencia | Upstream and down in the river valley |
Other great places to dig for crystals
If you're amenable to spending a few dimes for a chance of taking home a variety of finds, you can also visit the places here that require some fee. The fee may vary (or it could be free) depending on the season, so call the place first before heading out.
| | |
| --- | --- |
| County | Location |
| Catron | Area mines and prospects of Mogollon and Wilcox |
| Colfax | At the Sugarite Mine |
| Dona Ana | County wide in mines and prospects |
| Grant | At the Comstock Mine, R.S. Chamberlain Mine, Burro Chief Copper Mine, Parker Mine, and Azure Mine |
| Hidalgo | County wide in mines and prospects |
| Lincoln | County wide in mines and prospects |
| Luna | County wide in mines and prospects |
| Otero | North on US-54 to mines in the Turquoise area |
| Rio Arriba | At the Cribbenville Mine and other mines and prospect nearby |
| San Miguel | Tecolote area mines |
| Sierra | At the Montezuma Mine dumps, Sierra Grande Mine, and Comstock Mine |
| Taos | Hardin mine (aka Harding Mine) |
How to find crystals in New Mexico
You might notice that some of our recommendations cover big areas which is not too easy to explore. After all, not everyone has all the time in the world to do crystal hunting (but who wouldn't love that, right?) So to help you narrow down your search, here are the usual places where crystals can be found.
Mines and Mine Dumps
Mines and mine dumps are great spots to find crystals because they often contain a high concentration of minerals and rocks. As miners dig through the earth, they unearth all sorts of minerals and crystals that would otherwise be difficult to find. When the miners discard their excavated materials in the mine dump, it creates an opportunity for rockhounds to find some stunning specimens.
Another great thing about searching in mines and mine dumps is that they offer a glimpse into the geological history of the area. By examining the rocks and minerals found in the area, you can learn about the formation of the earth and the geological processes that shaped it.
Rivers and River Banks
Rivers and river banks are great spots to find crystals because the flowing water can wash away the soil and expose rocks and minerals that would otherwise be hidden. Over time, the water can also shape and polish the stones, making them even more beautiful.
Searching in rivers and river banks is also a great way to get outside and enjoy nature. You can even take a refreshing dip in the water when you're done.
Streams and Creeks
Streams and creeks are great spots to find crystals because they often have gravel or sand that has been carried downstream from other areas, such as mountains or rock formations. This gravel can contain all sorts of rocks and minerals, including crystals. Additionally, the constant flow of water can help to erode and expose crystals that are embedded in the streambed.
New Mexico Crystal Mining Laws And Regulations
Stay compliant with our state's local laws regarding crystal mining and you will have no legal problems engaging in this activity in New Mexico. Specifically, make sure that you're aware and abiding of the laws imposed by the New Mexico Energy, Minerals, and Natural Resources Department. As a general rule, for any land you want to explore here, make sure you obtain the necessary permits or permissions before doing any crystal hunting. Also, checkout any rules and regulations that should be observed concerning environmental protection and biodiversity conservation. As crystal hunters, it is also our responsibility to ensure that our activity will remain sustainable for years to come.
The Best Crystal Shops In New Mexico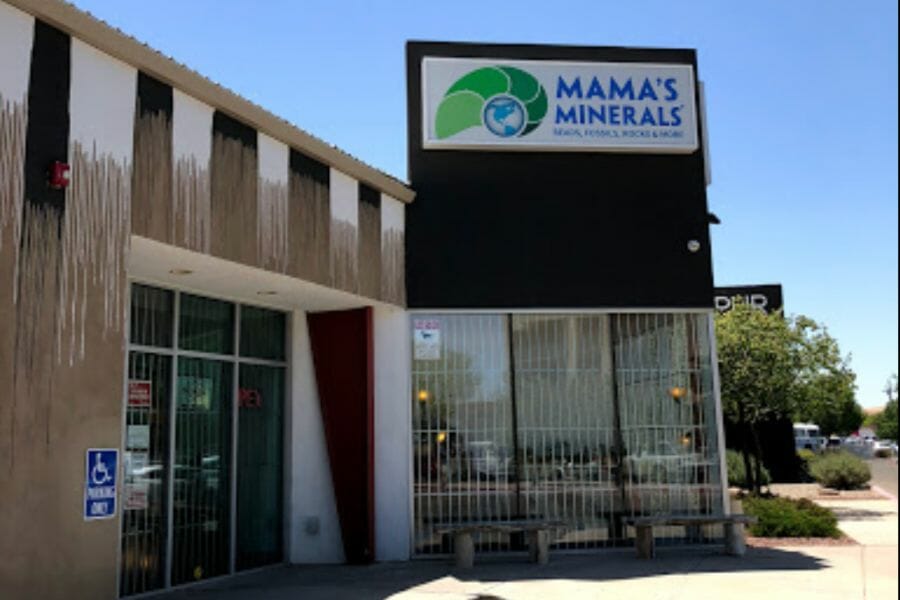 While nothing beats the feeling of uncovering crystals in their natural environment, some of us prefer having great selections ready for their picking (and paying). If you don't have much time and energy to engage in a full-blown crystal hunting journey, you might want to visit the local crystal shops here. We've listed a few of the best ones in our state below:
Mama's Minerals – 800 20th St NW Ste B, Albuquerque, NM 87104
New Mexico Rocks – 10000 Coors Bypass NW, Albuquerque, NM 87114
Ascension Crystals – 404 San Felipe St NW B, Albuquerque, NM 87104
High Vibe Crystals – 2500 Central Ave SW Unit AS7, Albuquerque, NM 87104
Stickks and Stones – 3201 Silver Ave SE, Albuquerque, NM 87106
Prana Blessings – 1925 Rosina St unit c, Santa Fe, NM 87505
Desert Crystal Shop – 1945 U.S. Rt. 66 STE A, Edgewood, NM 87015
Liberty Gem & Minerals – 1323 San Mateo Blvd NE, Albuquerque, NM 87110
Hidden Gems of the Rio Grande – 413 Romero St NW suite c, Albuquerque, NM 87104
Taos Gems and Minerals – 637 Paseo Del Pueblo Sur, Taos, NM 87571
Additional places to find crystals in nearby states
If you've already tried all of our recommendations above or are planning a trip out of the state, you should check out our guides for neighboring states:
If you have any recommendations we haven't covered, please leave them in the comments below!