If you're a fan of rocks, minerals, and the thrill of uncovering hidden treasures, Utah is an absolute must-visit destination for you. Nestled amidst stunning desert landscapes and majestic mountain ranges, our state offers breathtakingly scenic views that can also be a playground like no other for rockhounds.
Utah's diverse geological formations provide a cornucopia of rocks and minerals. From the red rock wonders of Moab to the towering cliffs of Zion National Park, it's teeming with fascinating specimens. Our state is also home to a wide variety of minerals, which we will share more about here.
But that's not all! As you venture through Utah's scenic wonders, don't forget to take in the breathtaking views and immerse yourself in the state's natural beauty. Our awe-inspiring scenery here adds an extra dose of magic to your rockhounding adventures.
If you're itching to know the best places for your next escapade, brace yourself as we discuss the remarkable rockhounding sites in Utah.
How We Found The Best Places For Rockhounding in Utah
We spent a lot of time putting together the list of which of the many options for Utah rockhounding we were going to recommend. We wanted to have a nice variety of locations for experienced and novice rockhounds in a variety of settings. Here are the main factors we used when determining the recommendations we set out :
The extensive local experience and understanding of our team
Input from multiple local rockhounds and rockhound groups
The accessibility of the various locations
Safety and potential hazards when collecting
Private and public locations
A desire to include locations for both experienced rockhounds and those who are just starting out
Using these weights we think we've put together the best list out there for those who love finding new rocks, gems, and minerals for our collections!

What You Can Find Rockhounding In Utah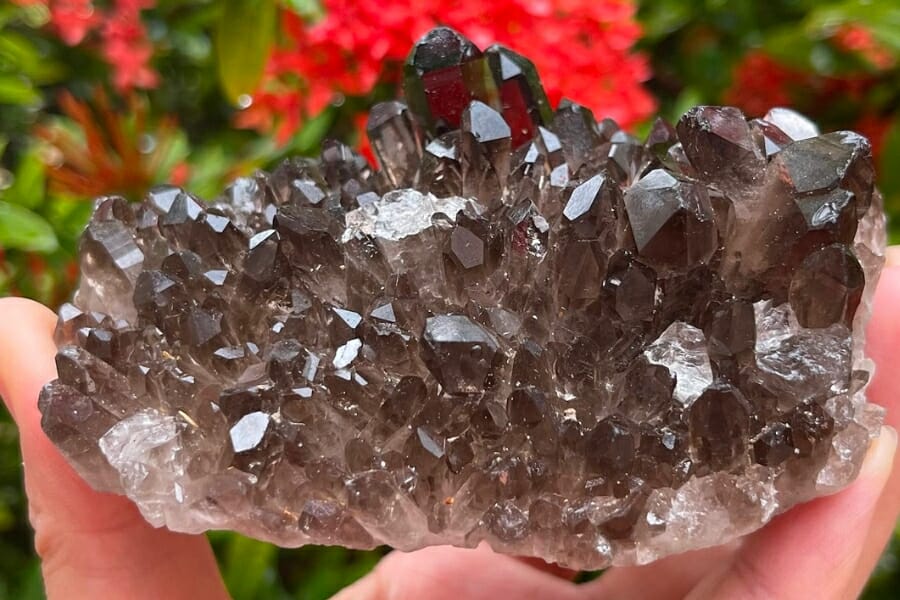 With its diverse landscapes, Utah offers a vast array of rocks and minerals for eager collectors. Its geological diversity ensures a thrilling and rewarding rockhounding experience. If you get the chance to embark on an adventure to discover hidden rocks and minerals here, the following are what you most probably will uncover:
Rare rocks and minerals found in Utah
More common desirable rocks, minerals, and gems found here
In-depth guides to finding specific types of rocks in Utah
To help you find specific types of rocks and minerals in your Utah exploration, here are several guides that you can check out:
If you're looking to explore other states aside from Utah, you can go to our full rockhounding map with over 3,000 sites featured from different parts of the country.
But if you're keen on knowing focused information on the rockhounding opportunities in Utah, continue reading here.
The Best Places To Find Rocks and Minerals in Utah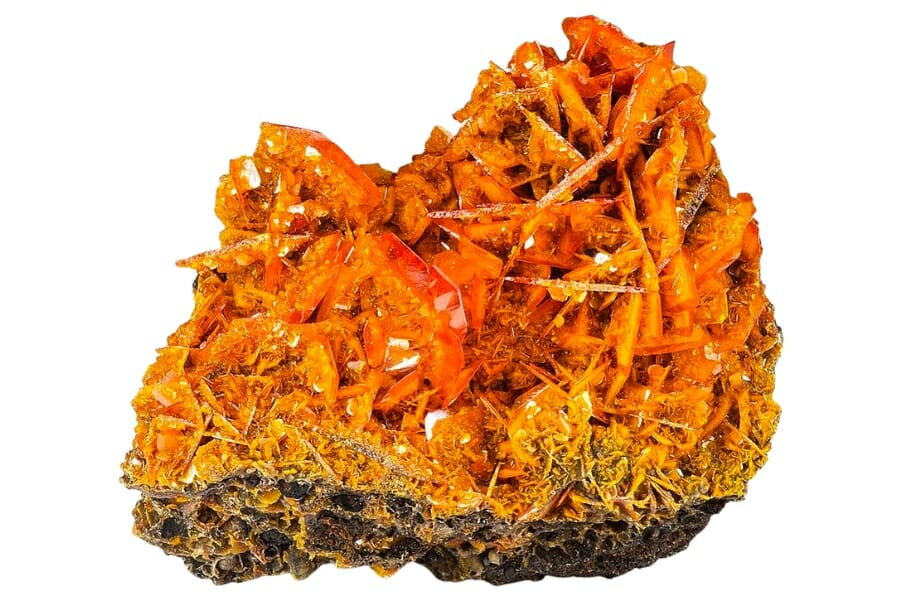 As a rockhounding paradise that abounds with incredible sites to explore, it can be hard to choose the best ones to visit in Arizona. So we did the hard work for you and selected the most amazing rockhounding sites here based on our experience, research, and recommendations by other rockhounds.
Always Confirm Access and Collection Rules!
Before heading out to any of the locations on our list you need to confirm access requirements and collection rules for both public and private locations.
These requirements are subject to change without notice and may differ from what we state below.
Always get updated information directly from the source ahead of time to ensure responsible rockhounding.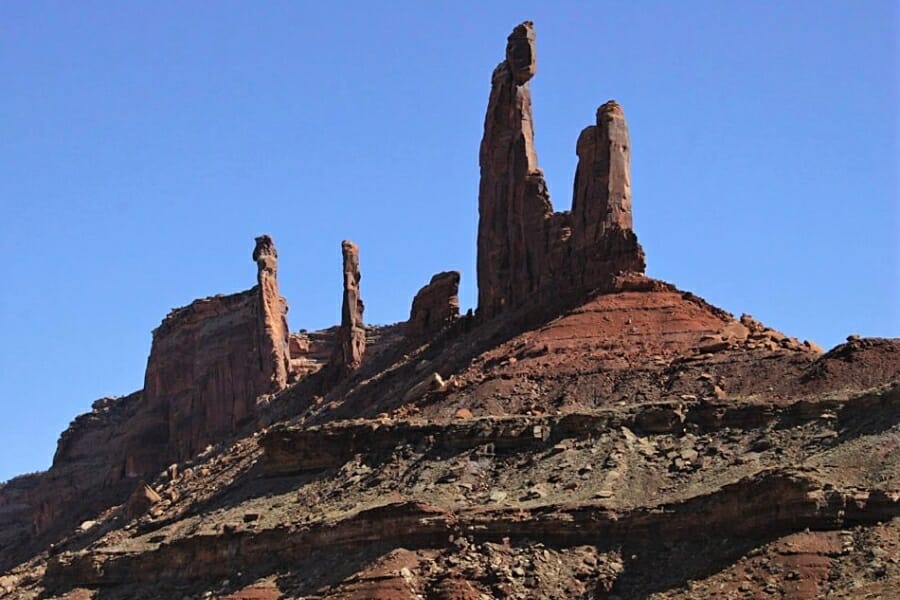 Moses Rock is a captivating rockhounding site that promises an exciting adventure. This unique geological formation showcases a distinct and diverse mineralogy, ensuring a rewarding experience for all rockhounds who will venture here.
What sets Moses Rock apart is its abundance of colorful rocks and minerals. This natural wonderland presents a rich palette of hues, patterns, and textures, captivating anyone with its stunning display. The site's accessibility and ample collecting areas make it an ideal spot for both seasoned and newcomers to rockhounding.
Visiting Moses Rock not only offers you an opportunity to indulge in the thrill of finding remarkable specimens, but also allows you to immerse in Utah's breathtaking landscapes. As you explore here, you'll be surrounded by picturesque views, including stunning rock formations and sweeping desert vistas.
What you can find there
Moses Rock is blessed with different kinds of rocks and minerals, such as Pyrope Garnet, also commonly referred to as "Arizona Rubies", Chlorite, Corundum, Rutile, and Spinel.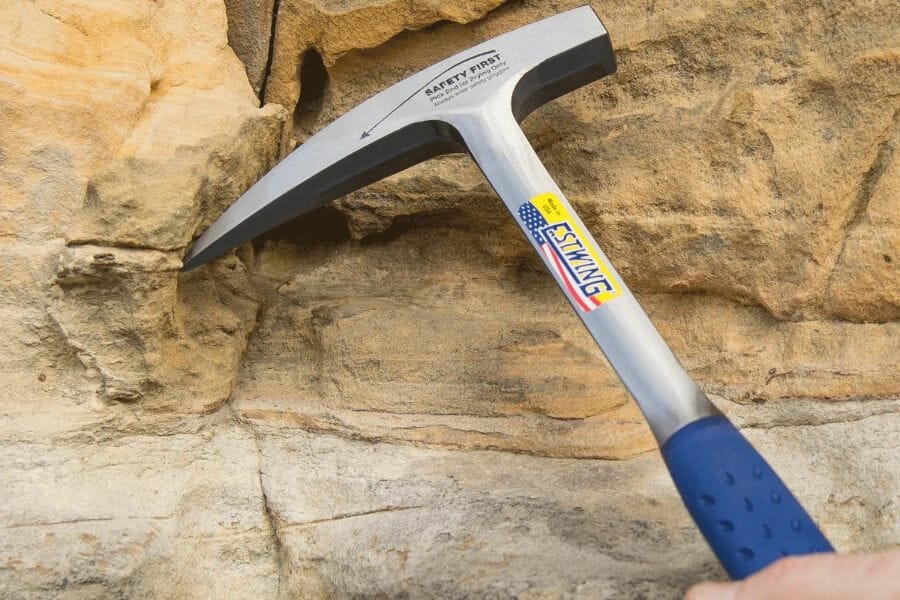 The tools every rockhound will need
When you're out looking for rocks and minerals having the right tools for the job is really going to make or break your success. You don't need a lot for most trips but there are a handful that are critical and will make your life a lot easier.
We get asked a lot about the equipment we use. Over the years we've found a handful of tools that we recommend to both new and experienced rockhounds which we outline in great detail in our complete rockhounding tools and kit guide. These are quality options that also happen to be relatively inexpensive.
Below are the basic tools that make your life so much easier and save you a ton of time. Check out the full guide to see everything we recommend bringing. One quick note, as an Amazon Associate I earn from qualifying purchases but we try very hard to only recommend gear we would use ourselves and often recommend brands you can't find on Amazon.
At a minimum you should have:
1 - Sturdy rock hammer: The Estwing Rock Pick is our standard
2 - Rugged chisels: Try Kendo' 3-piece Chisel Set
3 - Compact shovel: The Koleiya 28-inch shovel works well
4 - Rock screen pan: The Wazakura Soil Sieve Set fits the bill
5 - Eye protection: DeWalt Safety Glasses are cheap and comfortable
6 - Head protection: Malta's Safety Helmet has been our go-to
7 - Jewelers lens with at least 20x magnification: Jarlink's Jewelers Loop is perfect
The rockhounding books that we use most
There are also a few books that have been extremely helpful in the search for gems. These books have great recommendations and tips:
National Audubon Society Field Guide to Rocks and Minerals: North America 
Southwest Treasure Hunter's Gem & Mineral Guide 
Earth Treasures: The Southwestern Quadrant 
We provide links to find these tools on Amazon but some can also be found at your local hardware stores. For more recommendations check out the link to our full tool guide above.
Simply put, San Rafael Swell is expansive area of rugged beauty. Just look at its photo! With its remote and untouched landscapes, this place offers a unique opportunity to explore and discover rare specimens while immersing oneself in the breathtaking beauty of Utah's wilderness.
The sheer variety of rocks and minerals the San Rafael Swell holds makes it truly remarkable. From colorful agates and jaspers to fossilized dinosaur bones, the Swell is a treasure trove of ancient history. You can explore the numerous canyons, cliffs, and washes that dot the region, venturing into remote areas where hidden treasures lie in wait.
In addition to the thrill of rockhounding, the San Rafael Swell offers you an opportunity to be awed by the grandeur of nature. Its stunning sandstone cliffs, towering mesas, and winding canyons create a majestic backdrop for your rockhounding adventures.
What you can find there
When you explore here, you can find stunning samples of Agate, Agatized wood, Amethyst, Carnotite, Chalcedony, Chert, Jasper, Petrified wood, and even Petrified dinosaur bones!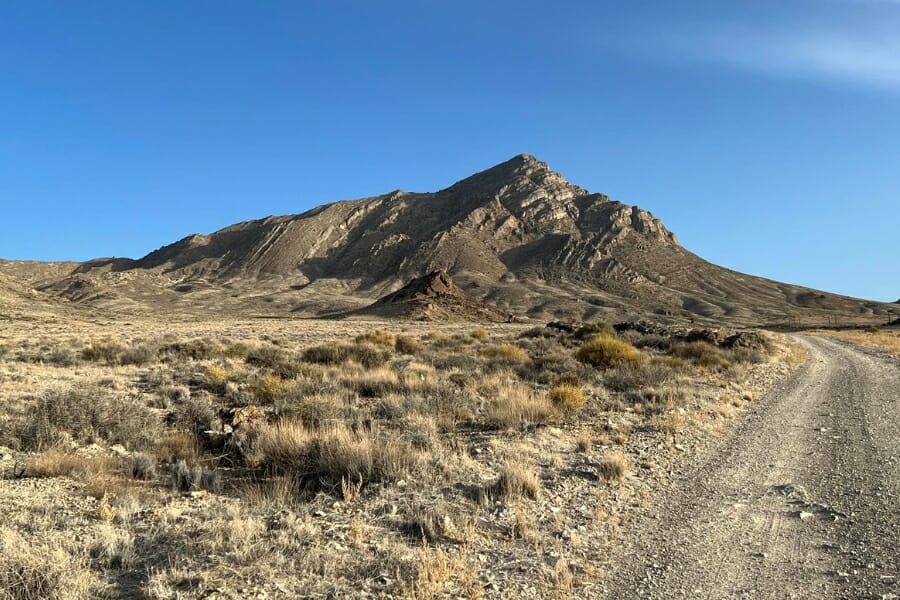 Silver Island Mountains is a remote mountain range that's nestled within the Great Salt Lake Desert. It's a hidden gem for rock enthusiasts, boasting of a rich geological diversity, with an abundance of colorful minerals, fossils, and intriguing rock formations.
The volcanic origins of Silver Island Mountains have contributed to the formation of fascinating geological formations, adding an extra layer of intrigue to the rockhounding experience here. Its isolated nature also provides ample opportunities for solitude and tranquility, allowing you to connect with nature while exploring its geological treasures.
Beyond the excitement of rockhounding, the Silver Island Mountains offer awe-inspiring panoramic views of the surrounding desert landscape. As you traverse the rugged terrain, you'll be treated to breathtaking vistas of vast salt flats, distant mountain ranges, and the shimmering waters of the Great Salt Lake.
What you can find there
Silver Island Mountains hold a plethora of rocks and minerals, including Azurite, Barite, Cerussite, Galena, Jamesonite, Malachite, and Pyrite.
Yellow Canary Uranium Deposit, located in the Red Creek area, is renowned for its rich uranium deposits, making it a magnet for rockhounds with an interest in exploring the world of radioactive minerals. Here, you have the opportunity to discover uranium-bearing minerals and witness the geological processes that have shaped this site.
The rarity and intrigue surrounding uranium minerals that exhibit striking colors and fascinating crystalline structures make this spot special. You can observe these minerals firsthand, learn about their formation, and gain a deeper understanding of the geological processes that contribute to their presence. However, make sure to be cautious in approaching uranium deposits.
But aside from its unique qualities, the Yellow Canary Uranium Deposit also offers a chance to appreciate the beautiful and remote landscapes of Utah, as the Red Creek area is characterized by picturesque canyons, stunning rock formations, and pristine natural surroundings.
What you can find there
The following are some of the amazing specimens you can find here: Azurite, Bornite, Brochantite, Carnotite, Chalcocite, Chalcopyrite, Gold, Hematite, Hyalite, and Malachite.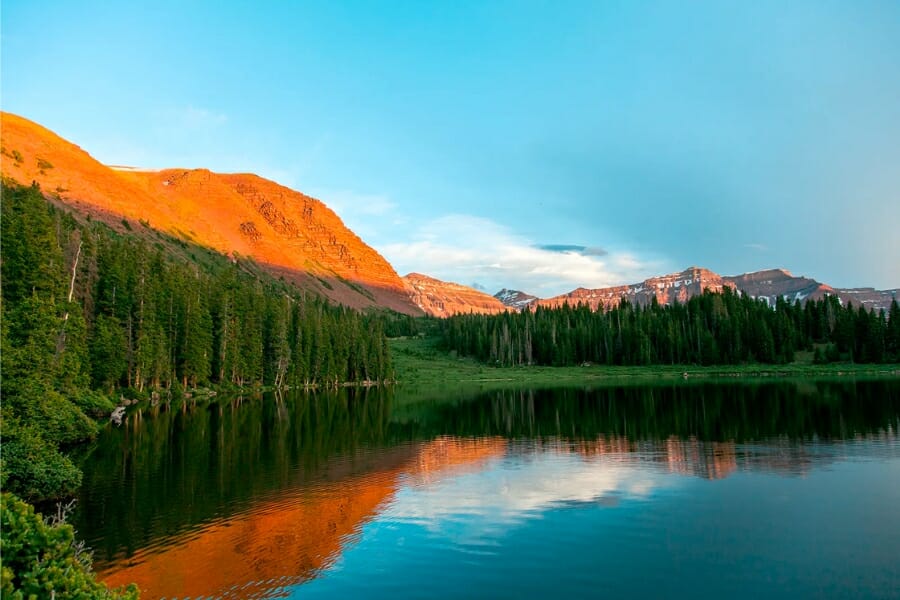 Uinta Mountains is a remarkable rockhounding site amidst a breathtaking alpine setting. As one of the few east-west mountain ranges in North America, the mountains showcase a diverse geological history that has resulted in a wide variety of rocks, minerals, and fossils.
The rugged terrain and numerous canyons of Uinta Mountains provide ample opportunities for exploration and collecting. What's even better is that you can indulge in your passion in rockhounding while being surrounded by stunning mountain vistas and pristine alpine landscapes.
The Uintas also offer an escape from the heat of the lowlands during the summer months, making it a refreshing and invigorating destination for outdoor adventurers, as hiking, camping, and fishing are popular pastimes in the area.
What you can find there
You can find specimens of Apatite, Colophane, Fluorapatite, Francolite, and Phosphorite, among others, if you explore here.
Our Other Favorite Spots Around Utah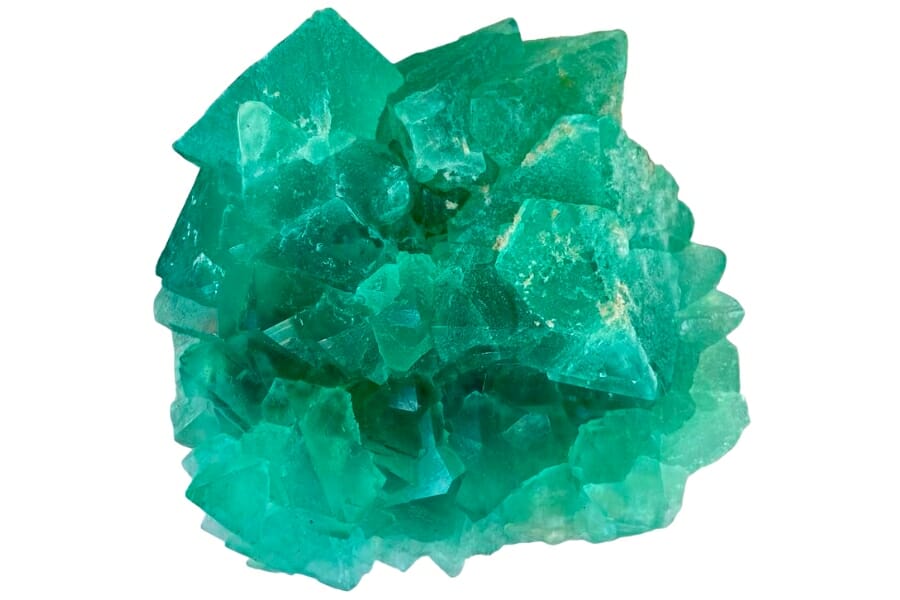 Aside from what we consider as top of our list when it comes to the amazing Arizona rockhounding sites, there are many other options of places that you can explore for your next finds. We've arranged them by region below so you can easily refer to this list when creating your itinerary of your visit here.
Rockhounding sites in Northern Utah
Northern Utah's diverse geological landscape, encompassing mountain ranges, valleys, and desert areas, provides a rich variety of specimens for eager rockhounds. With accessible sites and a combination of ancient geological formations, it's an ideal location for both seasoned and beginner rockhounds.
| | |
| --- | --- |
| Location | Minerals & Rocks |
| Newton area mines | Gold |
| Utahlite Mine | Variscite |
| Ogden area mines | Azurite, Chalcocite, Chalcopyrite, Copper, Cuprite, Malachite, Pyrite |
| Strongs Canyon | Garnet |
| Kaysville area mines | Azurite, Chalcocite, Chalcopyrite, Chrysocolla, Copper, Malachite, Pyrite |
| Twin lakes south-southwest of Hayden Peak | Agate, Chalcedony Geode, Jasper, Petrified Wood, Smoky Quartz |
| Park City area mine | Bournonite, Jamesonite, Pyrite, Siderite |
| American Mine | Chalcanthite, Enargite, Galena, Pyrite, Sphalerite, Tetrahedrite |
Rockhounding sites in Southern Utah
With its unique combination of red rock formations, canyons, and desert landscapes, Southern Utah provides a diverse range of rocks and minerals. The region's rich geological history, shaped by millions of years of erosion and tectonic activity, has resulted in a fascinating array of specimens that make it a must-visit destination for rockhounds.
| | |
| --- | --- |
| Location | Minerals & Rocks |
| Northeast along the Vermillion Cliffs | Agate, Jasper, Petrified Wood |
| CF localities in Kanab | Sandstone |
| Washington County central area | Chalcedony Geode |
| Muley Creek and Bullfrog Creek | Agate, Jasper, Petrified Wood |
| Petrified forest of Circle Cliffs | Petrified Wood |
| Wahweap Creek and its tributaries | Agate, Petrified Wood |
| East Fork Virgin Creek to Alton Road | Agate |
| Both sides of Hatch Point Road | Agate, Petrified Wood |
Rockhounding sites in Eastern Utah
Known for its abundance of rocks, minerals, and geological formations, Eastern Utah is an ideal destination for those seeking a rewarding rockhounding experience. From the majestic peaks of the Uinta Mountains to the stunning canyons and plateaus, this region is endowed with a wide range of environments to explore.
| | |
| --- | --- |
| Location | Minerals & Rocks |
| Mule Ear deposit along the western edge of Comb Ridge | Common Garnet, Pyrope |
| Oljeto Wash to San Juan River | Agate, Chalcedony, Jasper, Opal, Petrified Wood |
| Both banks of Colorado River | Opal |
| Hills to the east and southeast of CCC Camp | Agate, Dinosaur Bones Fossils, Petrified Wood |
| 5 miles northwest on US-163 in Moab | Agate, Chalcedony, Dinosaur Bones Fossils, Jasper, Shale |
| Sweetwater Canyon | Agate, Chalcedony, Jasper, Petrified Wood |
| Dragon area | Gilsonite (aka Uintaite) |
| Exposures southwest of US-40 and SR-45 junction at Jensen | Carnotite |
Rockhounding sites in Western Utah
With its remarkable geological formations and the potential to find an array of fascinating rocks and minerals, Western Utah offers endless opportunities for exploration and discovery for rockhounds of all levels of expertise. Rockhounds will have a blast exploring its striking desert landscapes, ancient volcanic formations, and mineral-rich deposits.
| | |
| --- | --- |
| Location | Minerals & Rocks |
| Dry lake beds at Aninosa | Agate, Halite |
| Grantsville area quarry | Calcite |
| Deep Creek | Quartz Geode |
| East Tintic Mountains | Beryl (Pink), Bixbyite, Garnet, Hematite, Topaz |
| Topaz Mountain | Beryl (Red), Bixbyite, Calcite, Fluorite, Hematite, Pseudobrookite, Topaz (Pale Red, Pink, Deep Yellow, Blue) |
| North side of Keg Mountain | Obsidian, Quartz |
| Topaz Cove | Obsidian, Topaz (Orange, Wine Red) |
| Cove Fort area | Snowflake Obsidian |
| Southwest slope of Frisco Peak | Agate, Opal, Smoky Quartz |
Rockhounding sites in Central Utah
Characterized by its stunning mountain ranges, expansive plateaus, and hidden valleys, Central Utah has the ideal environment for rockhounds to indulge in their passion. This area's geological formations and mineral-rich deposits make it a prime destination for rockhounding adventures and provide ample opportunities to find unique and interesting specimens.
| | |
| --- | --- |
| Location | Minerals & Rocks |
| North Fork and Snake Creek | Gold |
| Utahlite Mine | Variscite |
| Pinto Canyon | Agate |
| Gunnison area mines | Gypsum |
| Morrison Formation | Agate, Chalcedony, Dinosaur Bone Fossils |
| Buckorn Reservoir | Agate, Chalcedony, Jasper, Petrified Wood |
| Along Fremont River and hills directly north it | Agate, Jasp-Agate, Jasper, Petrified Wood |
| Mines at Marysvale | Cinnabar, Mercury, Onofrite, Tiemannite |
Public Rockhounding Options For Kids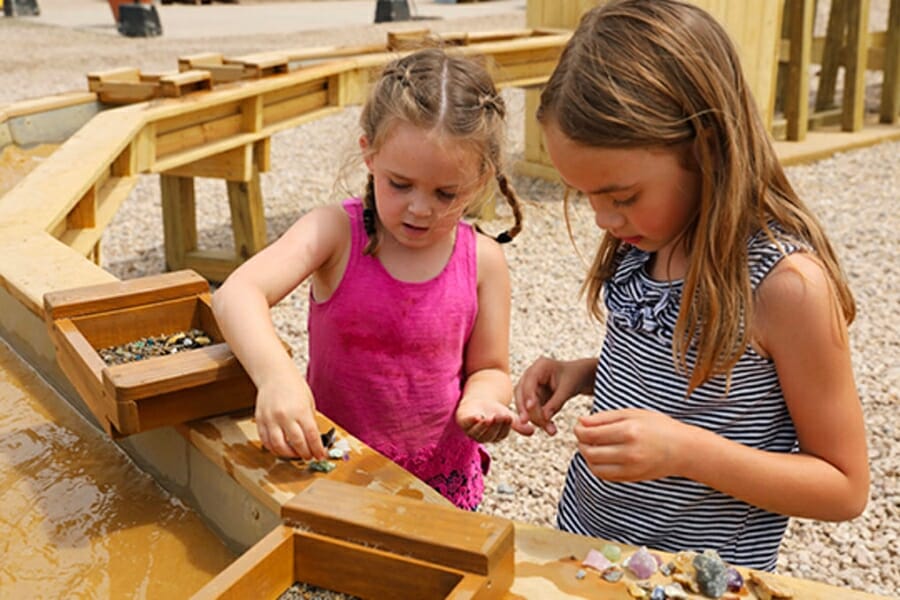 Utah's rugged terrain and remote areas may not always be the most accessible or suitable for younger rockhounds, as some sites require hiking, climbing, or navigating rough terrain. But there are several spots that offer a more family-friendly experience, allowing kids to actively participate and discover the joy of rockhounding, just like the following:
Utah Rockhounding Clubs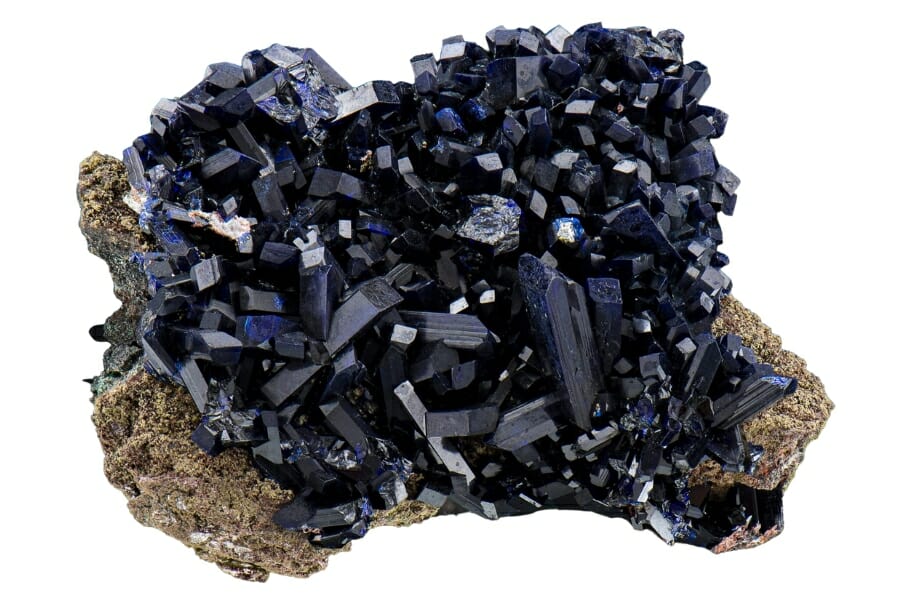 Joining a rockhounding club can enhance your rockhounding experience in numerous ways. These clubs provide a supportive and inclusive community where members can share to each other their knowledge, experiences, and enthusiasm for rocks, minerals, and fossils.
By joining Utah-based rockhounding clubs, you'll have the advantage of accessing local expertise and insider knowledge. Members of these clubs can tap into the collective wisdom of fellow rockhounds who have explored Utah extensively. You can discover hidden gems of rockhounding sites, learn about rare and fascinating specimens specific to the region, and even participate in group outings to exclusive collecting locations.
Rockhounding clubs in Utah worth checking out
Utah Rockhounding Laws And Regulations
While rockhounding is generally legal in Utah, it's crucial to abide by all local and state laws while doing so. Our state has specific regulations in place to ensure the responsible and sustainable collection of rocks and minerals, as well as the preservation of natural resources and cultural heritage.
The Utah State Office Bureau of Land Management (BLM) regulates rockhounding activities here. They oversee public lands and provide guidelines and permits for rockhounds. Before you head out here, familiarize yourself with the specific rules and regulations set forth by the BLM, including designated collection areas, permissible quantities, and any restrictions on certain types of rocks and minerals.
The Best Rock And Mineral Shops In Utah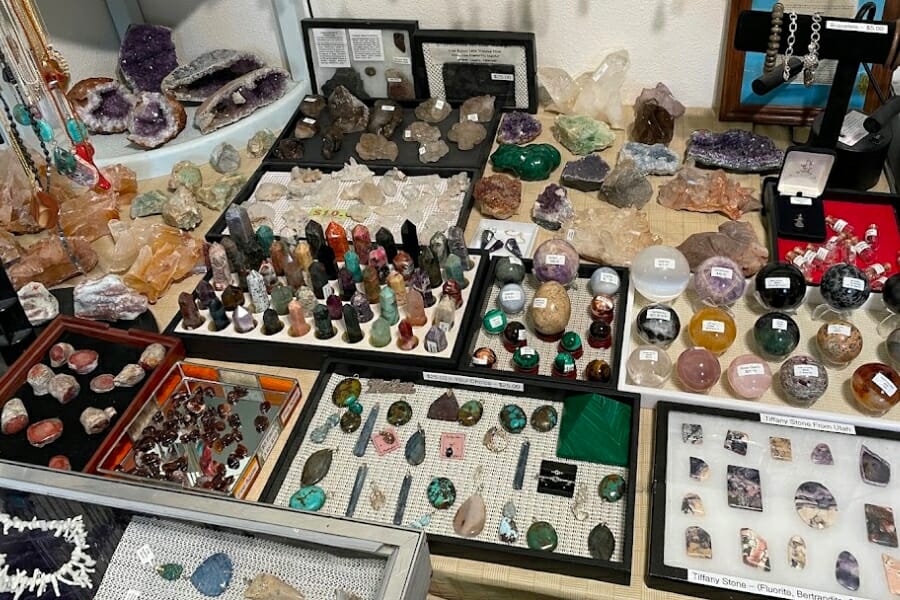 The search for specific rocks, minerals, and gems in their natural environment in Utah can sometimes be challenging or even impossible. Good thing, there are plenty of fantastic shops that cater to rock and mineral enthusiasts here. Some of these stores that offer a diverse selection of specimens are as follows:
Additional Rockhounding Places In Nearby States
If you want to extend your rockhounding adventure to nearby states, check out the following guides that we prepared for you:
If you have any recommendations that we haven't covered yet, please leave them in the comments below!