It can be a real challenge to find and dig for geodes in Pennsylvania without the proper guidance. Knowing where and what to look for is key, and it's not always easy to come by.
With the right know-how, a geode hunter could strike it rich! Geodes are an incredible natural phenomenon, formed over millions of years as water and minerals seeped into air pockets inside rocks.
We've done the hard work for you and scouted out some great spots in Pennsylvania where you can find these natural gems. From popular mining spots to hidden gems, only locals know about, we've got plenty of options for anyone looking for a successful geode hunt.
What Are Pennsylvania Geodes Anyway?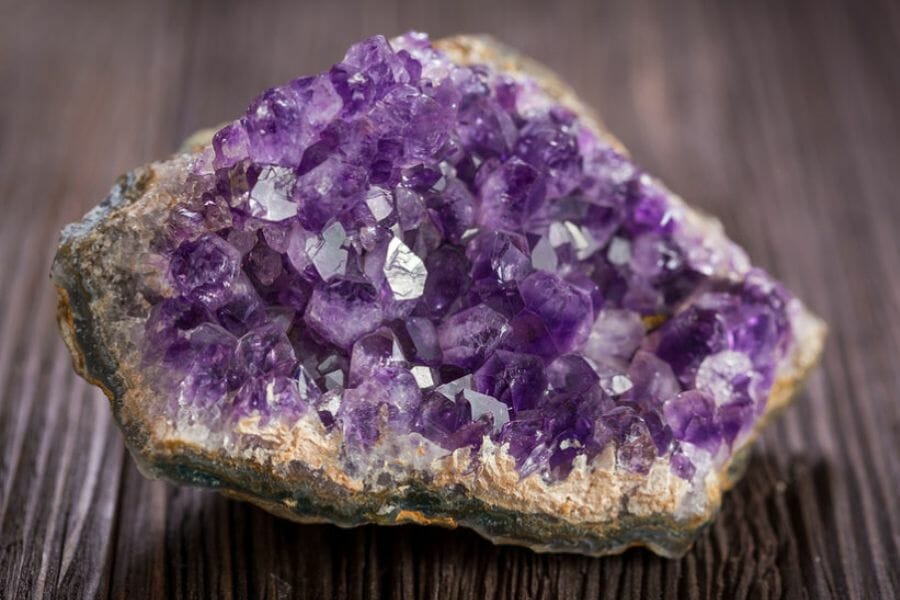 Geodes are awesome! They're basically like little treasure chests – they look like plain, ordinary rocks on the outside but when you crack 'em open, you get a real surprise. Inside, they're lined with beautiful crystals ranging from clear quartz to amethyst and other pretty stones.
We've written an article that describes what geodes look like to help you know what to look for.
These rocks form when gas bubbles get trapped in volcanic or sedimentary rock and slowly fill with minerals over time. So the next time you find an interesting-looking rock, don't be too quick to judge it – it could be a geode just waiting to be split! Because of Pennsylvania's remarkable geology, geodes can be easily formed.
The Types Of Geodes Found In Pennsylvania
Geodes come in various forms and are discovered in different parts of the world. The type of crystal inside a geode affects how much a geode is worth and its attractiveness. You can locate the following geodes here in Pennsylvania:
Amethyst geodes
Limonite geodes
Quartz geodes
How We Found The Best Geode Locations in Pennsylvania
When it comes to choosing the best options for finding Pennsylvania geodes there are plenty of things we consider. Many of the best locations are closely guarded secrets which can make it really difficult for more casual geode hunters to find success. The key factors in our recommendations are:
The deep experience and understanding of our team about the area
Recommendations from local groups and clubs
How easy it is to get the a particular location
Safety and potential hazards when collecting
Weighing private and public locations
The ability for both experienced and novice geode enthusiasts to find great samples
With these factors in mind we've been able to put together a fantastic list that just about anyone can use!

The Best Places To Find Geodes in Pennsylvania
Here are our top suggestions for geode places in the state to get things started. While there are many great places to mine for gems in Pennsylvania, only a few are the best for looking for geodes. Although some locations aren't common, they've always given us great search options.
Always Confirm Access and Collection Rules!
Before heading out to any of the locations on our list you need to confirm access requirements and collection rules for both public and private locations.
These requirements are subject to change without notice and may differ from what we state below.
Always get updated information directly from the source ahead of time to ensure responsible rockhounding.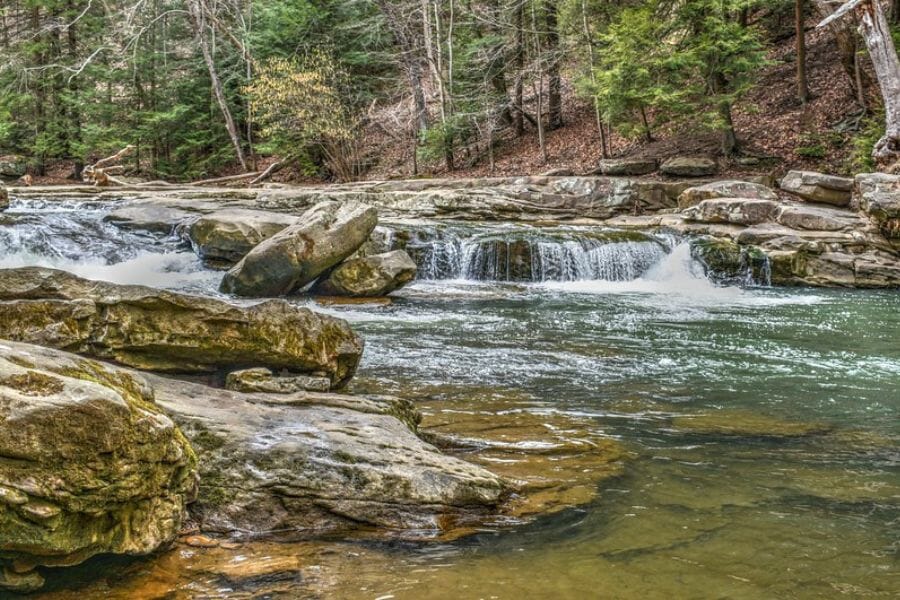 Armstrong County is located in the Allegheny Plateau region of the state. It's comprised of rolling hills and valleys, with a mix of both flat and hilly terrain. The county has numerous streams and rivers, including the Allegheny, Kiskiminetas, and Redbank Creek.
Geologically speaking, Armstrong County is part of the Appalachian Plateau physiographic province, which consists mainly of sedimentary rocks from the Paleozoic Era. The area is known for its rich deposits of coal and shale.
The county has a mix of both rural and urban areas, with some small cities such as Kittanning and Leechburg. Rural areas are primarily agricultural, with many farms scattered throughout.
Since most of the land is privately owned you will need to get permission to search but it's worth it. There are a lot of great streams and creeks around that can be great places to start looking if you don't want to go to a mine.
Make sure you've read up on the most recent collecting guidelines from the State of Pennsylvania before you bring anything home.
Where we found geodes in Armstrong County
Although geodes are all across the county, we've found that the following areas are excellent:
Old lead/zinc mines in North Vandergrift's Gravel Bar Hollow stream bed.
Echo mine system.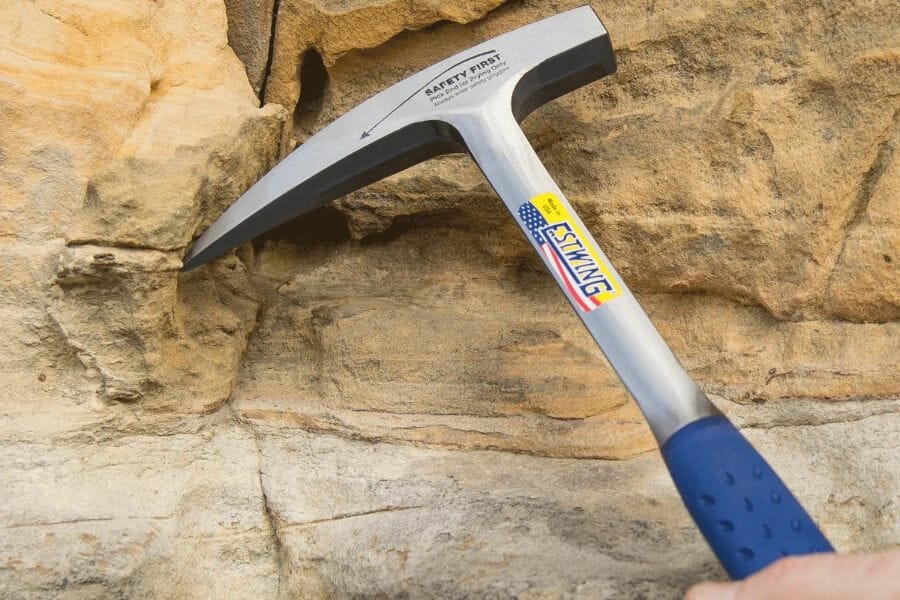 The tools every geode hunter will need
When you're out looking for geodes having the right tools for the job is very important. You don't need a lot for most trips but there are a handful that are critical and will make your life a lot easier.
We get asked a lot about the equipment we use. Over the years we've found a handful of tools that we recommend to both new and experienced geode hunters which we outline in great detail in our complete rockhounding tools and kit guide. These are quality options that also happen to be relatively inexpensive.
Below are the basic tools that make your life so much easier and save you a ton of time. Check out the full guide to see everything we recommend bringing. One quick note, as an Amazon Associate I earn from qualifying purchases but we try very hard to only recommend gear we would use ourselves and often recommend brands you can't find on Amazon.
At a minimum you should have:
1 - Sturdy rock hammer: The Estwing Rock Pick is our standard
2 - Rugged chisels: Try Kendo' 3-piece Chisel Set
3 - Compact shovel: The Koleiya 28-inch shovel works well
4 - Rock screen pan: The Wazakura Soil Sieve Set fits the bill
5 - Eye protection: DeWalt Safety Glasses are cheap and comfortable
6 - Head protection: Malta's Safety Helmet has been our go-to
7 - Jewelers lens with at least 20x magnification: Jarlink's Jewelers Loop is perfect
The geode-finding books that we use most
There are also a few books that have been extremely helpful in the search for gems. These books have great recommendations and tips:
National Audubon Society Field Guide to Rocks and Minerals: North America 
Northeast Treasure Hunter's Gem & Mineral Guide 
Earth Treasures: The Northeastern Quadrant 
We provide links to find these tools on Amazon but some can also be found at your local hardware stores. For more recommendations check out the link to our full tool guide above.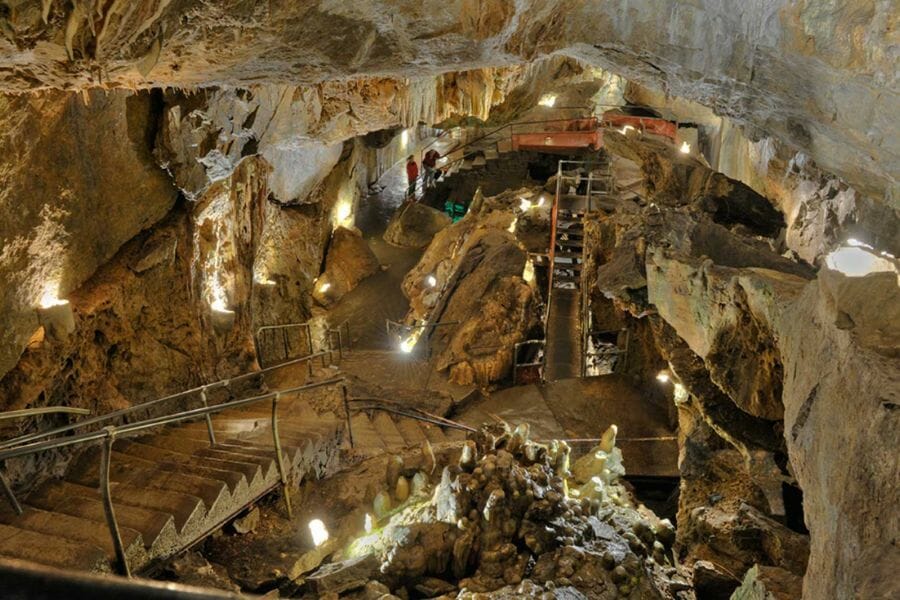 Crystal Cave is a natural limestone cave located in Kutztown. It's known for its unique geology, featuring a vast array of colorful crystals and stalactites, which makes it a must-visit if you're looking for Pennsylvania crystals as well. The cave is situated on the Appalachian Plateau, an area of rolling hills and mountains characterized by its limestone bedrock. This terrain has allowed for the formation of many underground rivers and streams.
Geologically speaking, the cave was formed over hundreds of thousands of years from acidic rainwater that slowly dissolved away at the limestone bedrock. This process created large underground chambers and passageways filled with sparkling crystal formations. Visitors to Crystal Cave can explore these caverns on guided tours, which allow them to get up close to some of the most spectacular formations in the world. With its incredible beauty, Crystal Cave offers visitors a chance to learn about the geology and history of Pennsylvania's Appalachian Plateau region.
Where we found geodes in Crystal Cave
You can find them in certain cave areas near the entrance and in some of the larger rooms.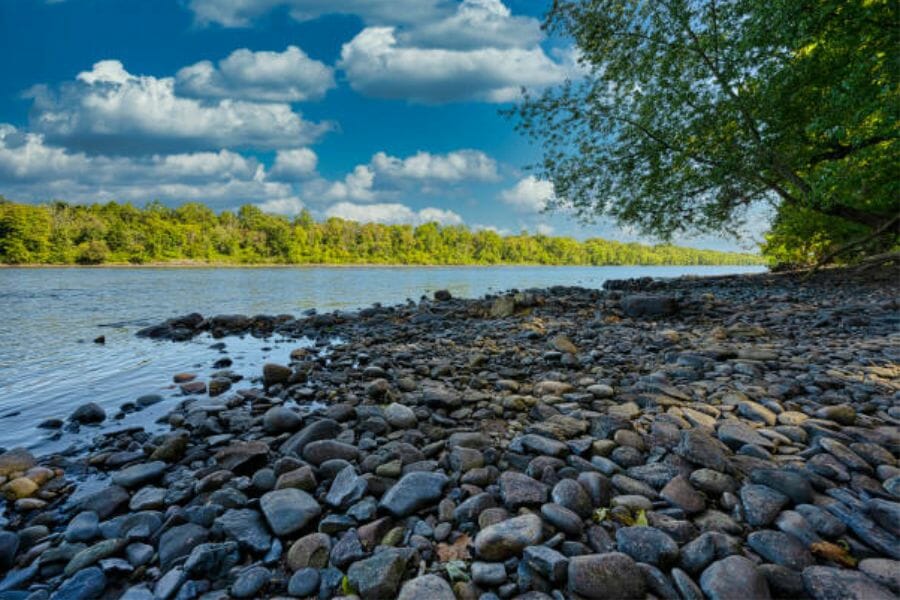 Delaware County is an amazing place to explore. Located just west of Philadelphia, it's a great spot to enjoy nature and get away from the hustle and bustle of the city. Geologically, Delaware County is part of the Atlantic Coastal Plain Province, with rolling hills and valleys formed by ancient streams. The terrain mostly comprises sedimentary rocks such as sandstone, siltstone, mudstone, and shale. Delaware County has a variety of ecosystems, including deciduous forests, wetlands, meadows, and grasslands.
The geography is quite varied – some rivers and streams flow through the county, and numerous lakes and ponds. Several state parks in the area offer plenty of outdoor activities like hunting geodes, hiking, biking, and more. Delaware County also has an abundance of wildlife that can be seen in its forests and wetlands.
Where we found geodes in Delaware County
Nearly everywhere in the county has geodes, but there are a few locations you should visit first:
Upland area, north of Chester Creek, in the vicinity of Henvi's Quarry
Upland area, 1/2 mile west, south of Chester Creek on the Peter Green Farm
Upland neighborhood surrounding Waterville Road
Gravel Bar Hollow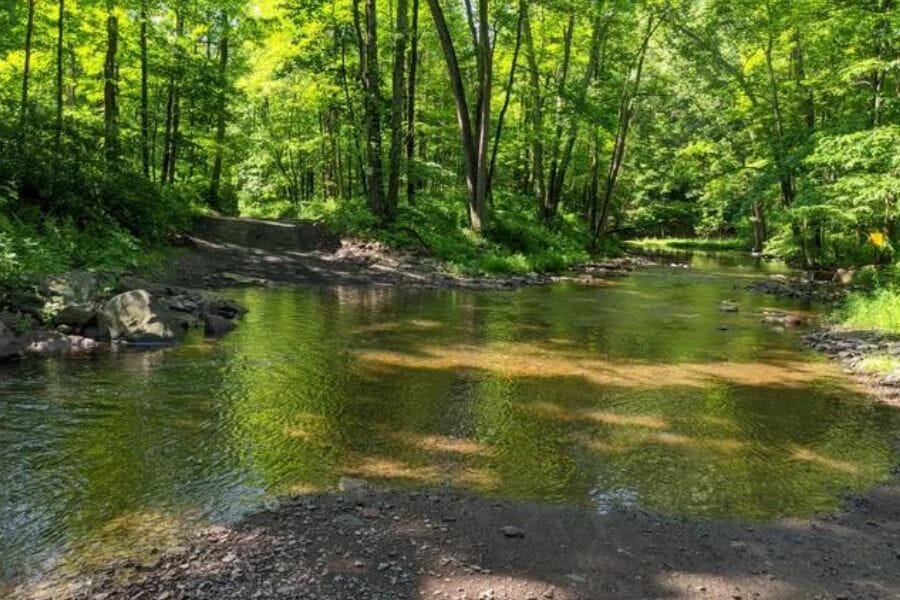 Gravel Bar Hollow in Pennsylvania is a geologic wonderland. Located in the Juniata Valley, it's a lush green valley with plenty of rolling hills and streams. The terrain is primarily wooded, with abundant trees, shrubs, and wildflowers. It's also home to various wildlife, including foxes, deer, and wild turkeys.
The hollow's geology is unique, too – it's composed of gravel bars formed by centuries of erosion from the nearby Susquehanna River. These gravel bars are made of sandstone and quartzite and create an interesting landscape that looks like something out of an old Western movie! The geography here is diverse, too – steep hillsides with rocky outcroppings, meadows blanketed in deep grasses, and small creeks that meander through the area. Gravel Bar Hollow is a stunning spot to explore and take in the sights – it's worth checking out if you're in the area.
Where we found geodes at the Gravel Bar Hollow
You can find geodes along the banks of Susquehanna River. The geodes are typically located in gravel bars and islands eroded by the river.
Henvi's Quarry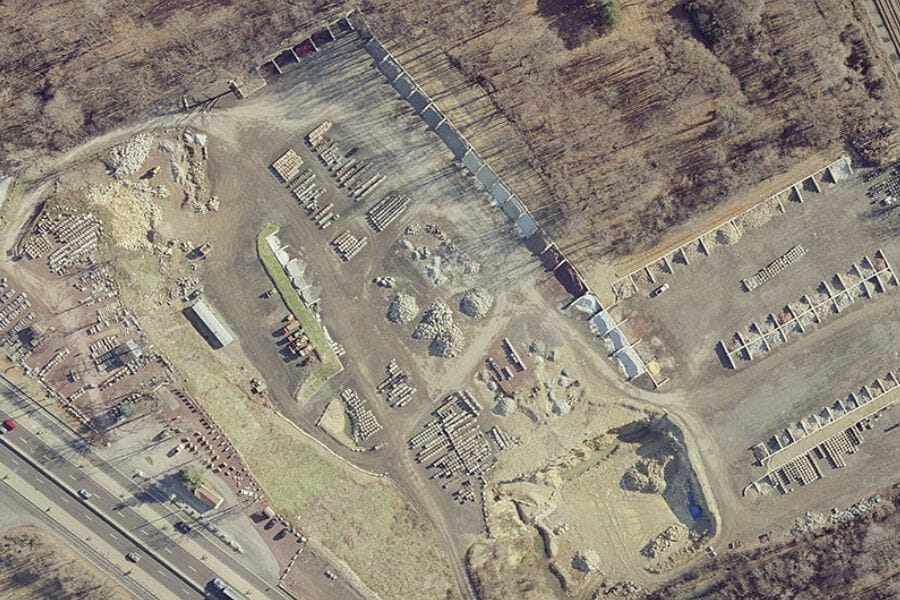 Henvi's Quarry is nestled in the foothills of the Appalachian Mountains. The terrain is rugged and hilly, with a few flat areas. The quarry comprises limestone and shale rocks that are millions of years old. These sedimentary rocks have been weathered and shaped by wind and water, giving the quarry unique characteristics. The quarry's geography is varied, with cliffs, deep ravines, and plenty of nooks and crannies to explore. The area around the quarry is heavily forested, so it's a great spot for hikers looking to get off the beaten path.
Geologically speaking, Henvi's Quarry offers a fascinating glimpse into Pennsylvania's history. The sedimentary layers tell stories about how the region has changed over time. The limestone deposits indicate an ancient sea that once covered this region, while the shale indicates more recent changes in climate and erosion patterns.
Where we found geodes at Henvi's Quarry
Henvi's Quarry is specifically located near the intersection of PA-286 and T-379 in Indiana County. Geodes have been known to be found in the gravel pits of the quarry.
Other Great Places To Dig For Pennsylvania Geodes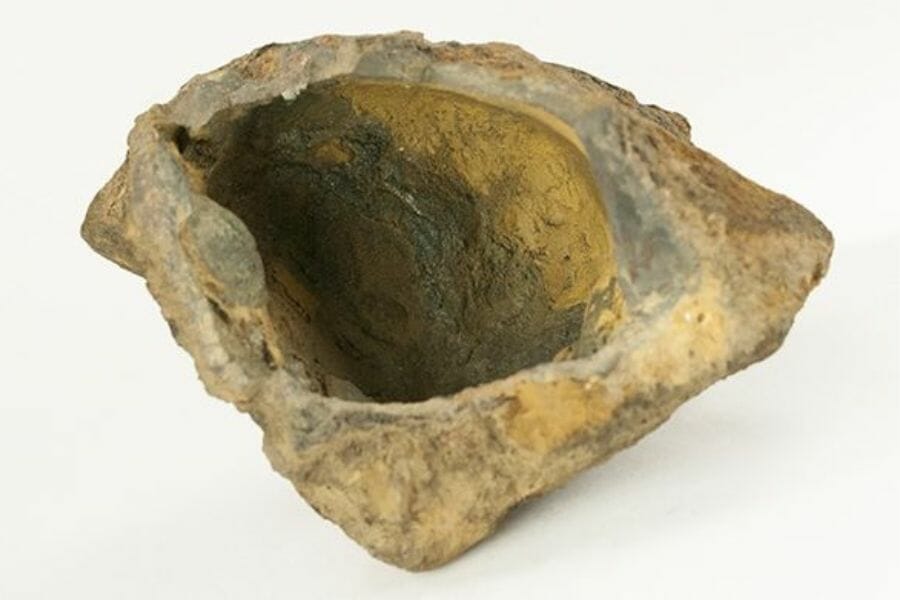 After mentioning our favorites, we wanted to help you more by sharing the other places we've found. We'll list our top options for each county before moving on to more broad areas.
Our recommendations by county
| | |
| --- | --- |
| County | Location |
| Armstrong | In the steam bed of Gravel Bar Hollow near North Vandergrift |
| Armstrong | Echo Mine System |
| Berks | Crystal Cave |
| Delaware | Upland area around Henvi's Quarry to the north of Chester Creek |
| Delaware | Upland area, 1/2 mile west, south of Chester Creek on the Peter Green Farm |
| Delaware | Upland neighborhood surrounding Waterville Road |
| Lancaster | General area in Grubb Lake and Mudd Lake soils and gravels. |
| Schuylkill | McAdoo woodland area |
Additional areas you should try
The area to hunt for geodes in Pennsylvania is vast, so we want to help you search. You should look into these key areas where geodes are frequently found:
Mines and mine dumps
Mines and mine dumps are great spots for geode-hunting. They're often filled with interesting rocks that could be hiding a geode inside. Plus, they're usually easy to access and open to the public, so anyone can find a gem. Geodes can form in all sorts of places, but mines and mine dumps are known for having especially unique specimens that are hard to find anywhere else.
The ores in these locations were formed over millions of years, which makes them home to some really cool geological formations. The heat and pressure from the ores can cause minerals like quartz and calcite to crystallize. This creates a hollow cavity inside the rock where you might find some amazing crystals!
Quarries
Quarries are an awesome spot to score killer geodes, and for a good reason! They are prime real estate for geodes because they tend to be pretty remote, which means less foot traffic from collectors and a better chance of finding a hidden gem. Plus, quarries are frequently used for mining and excavation, so you might luck out and come across some new geodes that were just uncovered.
Another reason quarries are a solid choice for geode hunting is that they often have a diverse range of minerals and crystals in one location. This means you could stumble upon a geode filled with amethyst, quartz, or other gems all in the same spot. But don't forget to do your research before heading out to a quarry! Some quarries are privately owned or may require permission to access.
Rivers and riverbanks
If you're looking for any geode, you might want to head down to the riverbank! Rivers and their banks can be prime locations to find geodes because the flowing water can wear away the rock, creating natural pockets and formations where geodes can form. One of the biggest advantages of searching for geodes in rivers is that the water can help expose geodes that are partially hidden or buried in the ground. And since rivers often run through different rock formations and geologic regions, you might find a variety of geodes with different types of minerals and crystals in one area.
Another reason riverbanks are a great place to find geodes is that the water can help break up the rock, making it easier to find geodes already cracked open. This can be especially helpful if you're not experienced in cracking open geodes yourself. Make sure you wear appropriate gear and watch your step, especially if the rocks are slippery or unstable. And, of course, be respectful of the environment and only take what you need.
Streams and creeks
If you're on the hunt for some sweet geodes, streams and creeks are a great place to start! These waterways can be prime spots for geode collecting because the moving water can help wear away the rock, exposing natural pockets and formations where geodes can form. One of the benefits of searching for geodes in streams and creeks is that they tend to be less crowded than other areas, which means you might have a better chance of finding a hidden gem.
Another advantage of looking for geodes in these waterways is that the smaller rocks and pebbles can act like a natural sieve, making it easier to spot already exposed geodes. Just like with any other geode hunting, ensure you're staying safe and being respectful of the environment. Always remember to leave the area as you found it.
Common Geode-Hunting Questions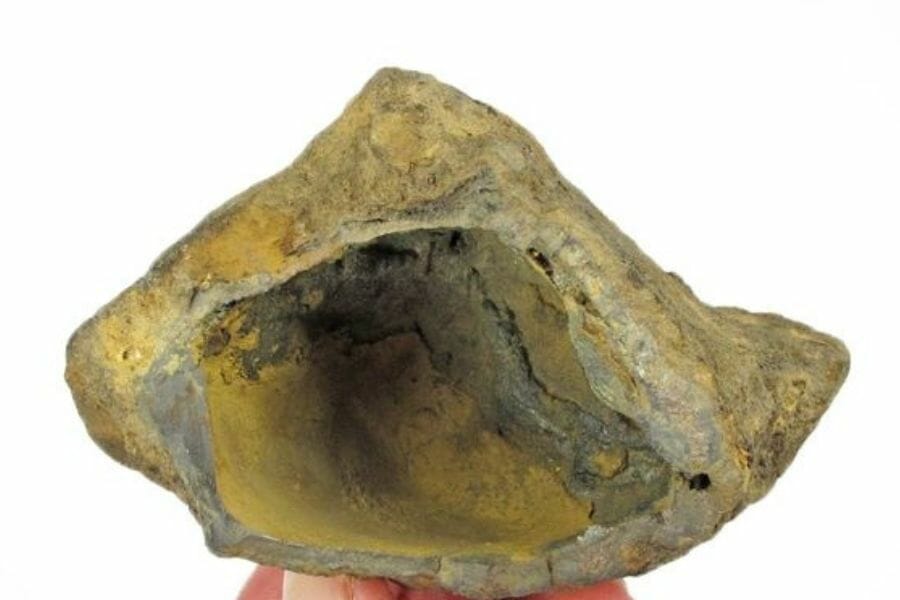 It's important to answer frequently asked questions concerning geodes from Pennsylvania, such as the following:
Where can you find amethyst geodes in Pennsylvania?
While amethyst geodes are not commonly found in Pennsylvania, there are a few places where they can be discovered. Here are some potential locations to check out:
Area of upland on the Peter Green Farm, 1/2 mile west, south of Chester Creek
Upland neighborhood near Waterville Road
Is it illegal to collect geodes in Pennsylvania?
As long as you follow local laws, collecting geodes is legal in Pennsylvania. Be sure you follow applicable local regulations if you're on government land. If you're on private property, ensure that you have permission.
The Best Places To Buy Geodes In Pennsylvania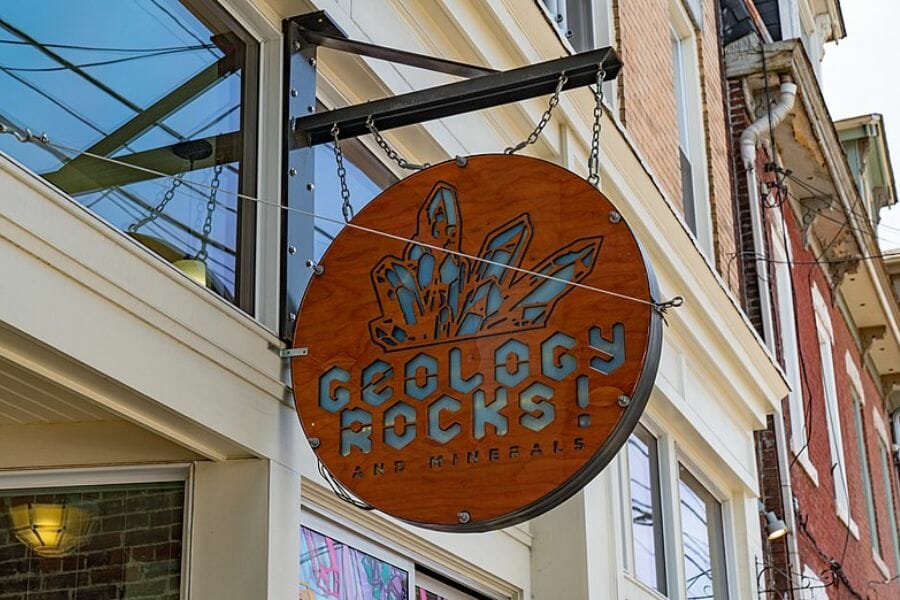 Not everyone enjoys spending hours outdoors looking for geodes. Sometimes, you just need something attractive and simple to display in your workspace or collection.
Here are some more locations where you may get stunning geodes from our favorite nearby rock shops.
Appalachian Rock Shop – 228 N Washington St, Butler, PA 16001, United States
Amazon – It's interesting that Amazon has a decent selection of geodes. Even whole kits with geodes to crack open are available for those who want to do it themselves.
Bey's Rock Shop – 615 PA-100, Bechtelsville, PA 19505, United States
Geology Rocks! – 5124 Butler St, Pittsburgh, PA 15201, United States
The Gem Den – 50 N Queen St, Lancaster, PA 17603, United States
TJ's Rock and Gem Shops – 4433 Lincoln Hwy, Downingtown, PA 19335, United States
Additional places to find geodes in nearby states
Check out our guides for nearby states if you've already tried all of our suggestions above or if you're planning a trip outside of the state:
If you have any recommendations for our list, please leave a comment below!