While geodes can be found in many places around the world, New Mexico is particularly famous for its abundance of these geological wonders. In this article, we'll take you on a journey through some of the best spots to find geodes in New Mexico.
We traveled throughout our state to visit Alum Mountain, La Madera Mine, Sapillo Creek, Luna, and Deming— areas known for their geode deposits. Along the way, we met local experienced rockhounds to learn about the different types of geodes that can be found there and where exactly they're found in the area.
We'll share with you our findings and guide you to the most promising locations for geode hunting in our state, in hopes that our exploration will inspire you to get out and discover some of your own.
What Are New Mexico Geodes?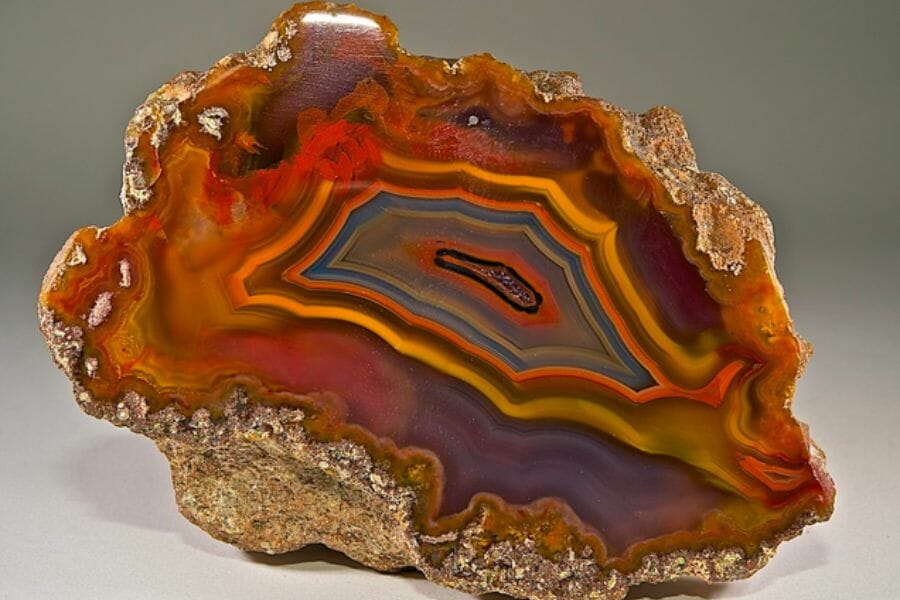 Geodes are fascinating rocks with hollow cavities that are filled with crystals. They can be found in various parts of the world, but our state is a particularly popular spot for geode hunting because New Mexico's unique geology is ideal for geode formation.
Geodes come in different shapes and sizes and are formed through a geological process that involves volcanic activity, mineral-rich water, and sedimentary rock formations. Its outer layer is usually rough and dull, but its inside shows a stunning display of sparkling crystals, making it a fascinating and beautiful natural wonder that continue to captivate rock collectors and enthusiasts.
Here's a handy guide on how to tell if a rock is a geode that you can use during your actual geode hunting.
The Types Of Geodes Found In New Mexico
A geode's value depends on its type and New Mexico is home to different varieties, but its mostly abundant with the following:
Agate geodes
Amethyst geodes
Banded Agate geodes
Calcite geodes
Quartz geodes
How We Found The Best Geode Locations in New Mexico
When it comes to choosing the best options for finding New Mexico geodes there are plenty of things we consider. Many of the best locations are closely guarded secrets which can make it really difficult for more casual geode hunters to find success. The key factors in our recommendations are:
The deep experience and understanding of our team about the area
Recommendations from local groups and clubs
How easy it is to get the a particular location
Safety and potential hazards when collecting
Weighing private and public locations
The ability for both experienced and novice geode enthusiasts to find great samples
With these factors in mind we've been able to put together a fantastic list that just about anyone can use!

The Best Places To Find Geodes in New Mexico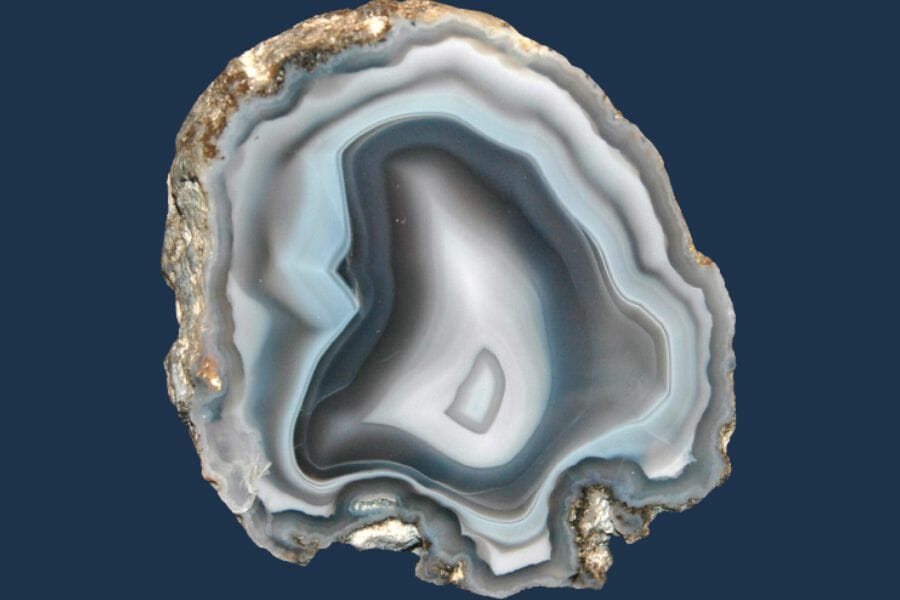 While you may be familiar with some of the popular places for gem mining in New Mexico, not all of them have geodes as well. The locations we are about to share may not be as well-known, but they're undoubtedly the top picks when it comes to finding geodes here.
Always Confirm Access and Collection Rules!
Before heading out to any of the locations on our list you need to confirm access requirements and collection rules for both public and private locations.
These requirements are subject to change without notice and may differ from what we state below.
Always get updated information directly from the source ahead of time to ensure responsible rockhounding.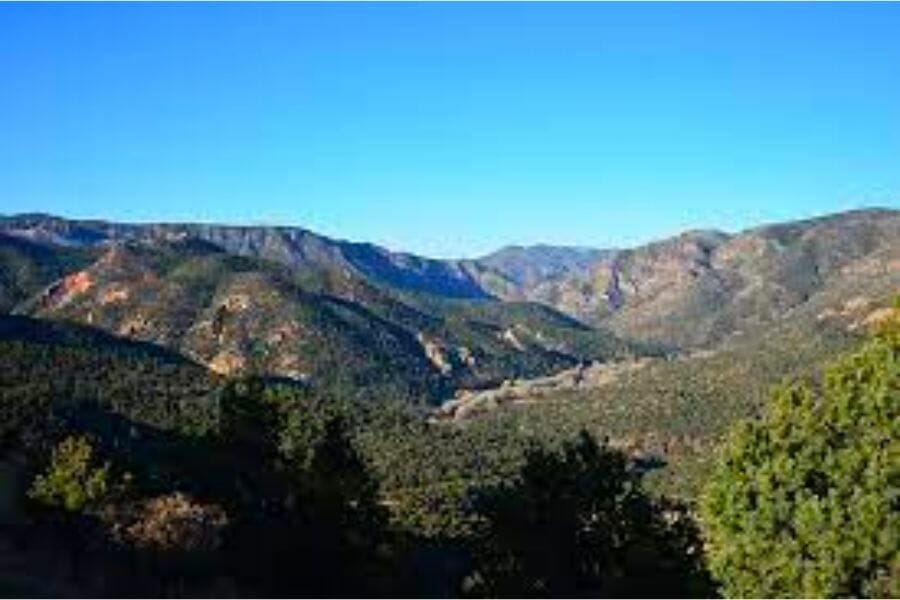 Alum Mountain is located in the southern part of our state. It has a fairly rugged terrain, but nothing too intense. It's basically a massive deposit of volcanic ash that's been sitting around for millions of years. Over time, groundwater seeped into the ash and deposited minerals that eventually formed geodes.
One thing to note, though, is that the road leading up to the mountain is pretty bumpy, so you might have to take it slow when you're visiting. All in all, if you're into geodes, Alum Mountain is definitely worth checking out.
But before you visit, make sure to check first the updated collecting guidelines from the State of New Mexico.
Where we found geodes at Alum Mountain
You'll be amazed when you find Banded Agate geodes with patterns you won't find elsewhere on the area surfaces of Alum Mountain.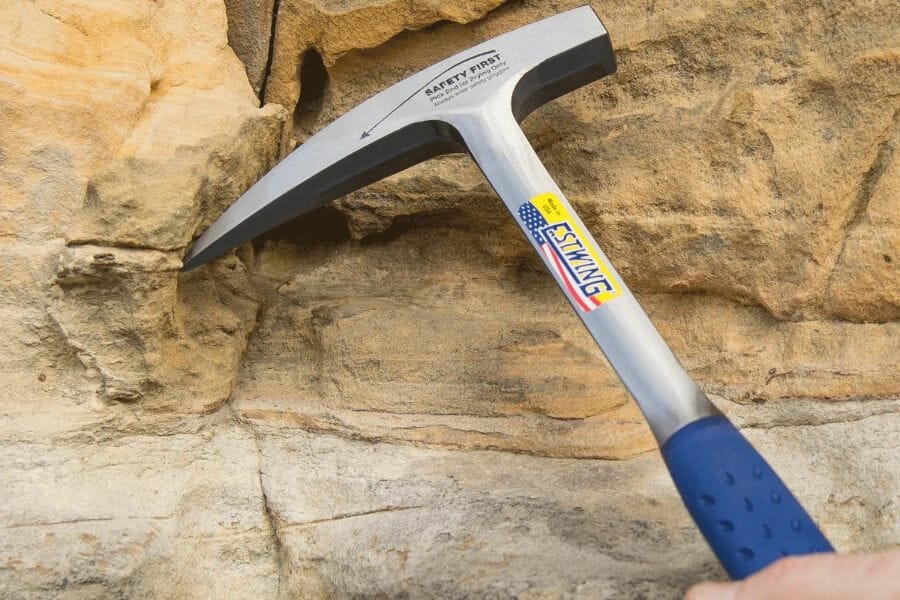 The tools every geode hunter will need
When you're out looking for geodes having the right tools for the job is very important. You don't need a lot for most trips but there are a handful that are critical and will make your life a lot easier.
We get asked a lot about the equipment we use. Over the years we've found a handful of tools that we recommend to both new and experienced geode hunters which we outline in great detail in our complete rockhounding tools and kit guide. These are quality options that also happen to be relatively inexpensive.
Below are the basic tools that make your life so much easier and save you a ton of time. Check out the full guide to see everything we recommend bringing. One quick note, as an Amazon Associate I earn from qualifying purchases but we try very hard to only recommend gear we would use ourselves and often recommend brands you can't find on Amazon.
At a minimum you should have:
1 - Sturdy rock hammer: The Estwing Rock Pick is our standard
2 - Rugged chisels: Try Kendo' 3-piece Chisel Set
3 - Compact shovel: The Koleiya 28-inch shovel works well
4 - Rock screen pan: The Wazakura Soil Sieve Set fits the bill
5 - Eye protection: DeWalt Safety Glasses are cheap and comfortable
6 - Head protection: Malta's Safety Helmet has been our go-to
7 - Jewelers lens with at least 20x magnification: Jarlink's Jewelers Loop is perfect
The geode-finding books that we use most
There are also a few books that have been extremely helpful in the search for gems. These books have great recommendations and tips:
National Audubon Society Field Guide to Rocks and Minerals: North America 
Southwest Treasure Hunter's Gem & Mineral Guide 
Earth Treasures: The Southwestern Quadrant 
We provide links to find these tools on Amazon but some can also be found at your local hardware stores. For more recommendations check out the link to our full tool guide above.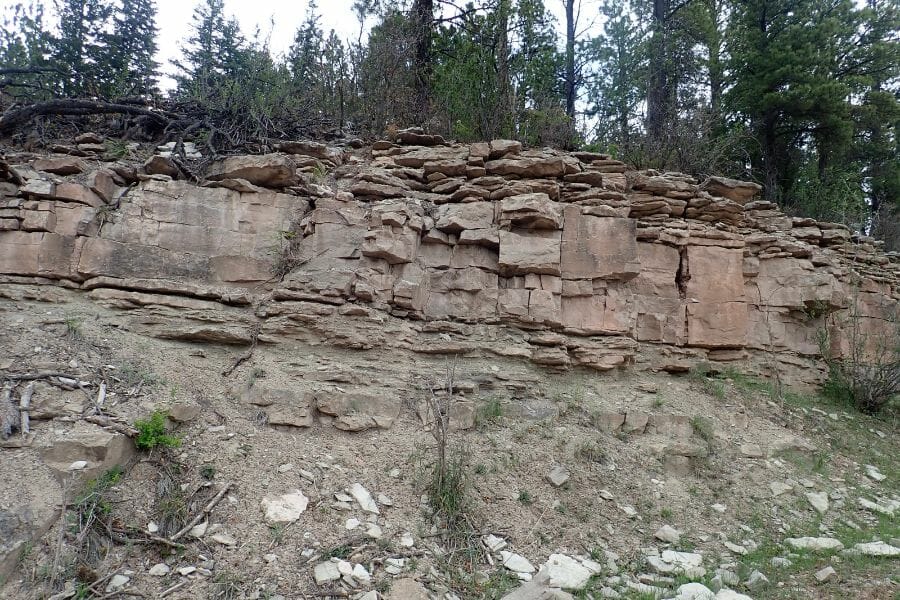 La Madera Mine is up in the northern part of our state, tucked away in the mountains. Its terrain is pretty rough, with steep slopes and loose rocks. This area used to be a copper mine back in the day, but now it's become a great spot where geodes have formed. It's also among the best places to find crystals in New Mexico.
Getting here requires a bit of a hike, but if you're into adventure, it's totally doable. You have to take some dirt roads and cross a river or two. All in all, if you're up for a bit of a challenge, La Madera Mine is the place to explore.
Where we found geodes at La Madera
This spot is endowed with different kinds of geodes, but you can mostly find Calcite geodes at the area hillsides of the mine.
In the southwestern part of our state, you will find Sapillo Creek, with its mellow terrain that's mostly flat areas and some gentle hills. Its water is shallow, so you can wade around in it without too much trouble.
The geology of Sapillo Creek is fascinating. It used to be part of an ancient ocean, and over time, minerals like quartz and calcite formed geodes in the sedimentary rocks. The geodes here are usually on the smaller side, but they come in all sorts of cool shapes and colors.
Visiting here is a piece of cake, as long as you got a sturdy car that can handle some dirt roads. The creek is right off the highway, so you don't have do too much hiking or trekking.
Where we found geodes at Sapillo Creek
You can usually find Banded Agate geodes just lying around on the creek bed, or sometimes you have to dig a little bit to uncover them. The surest spot to find them, though, is on the creek's gravels.
Luna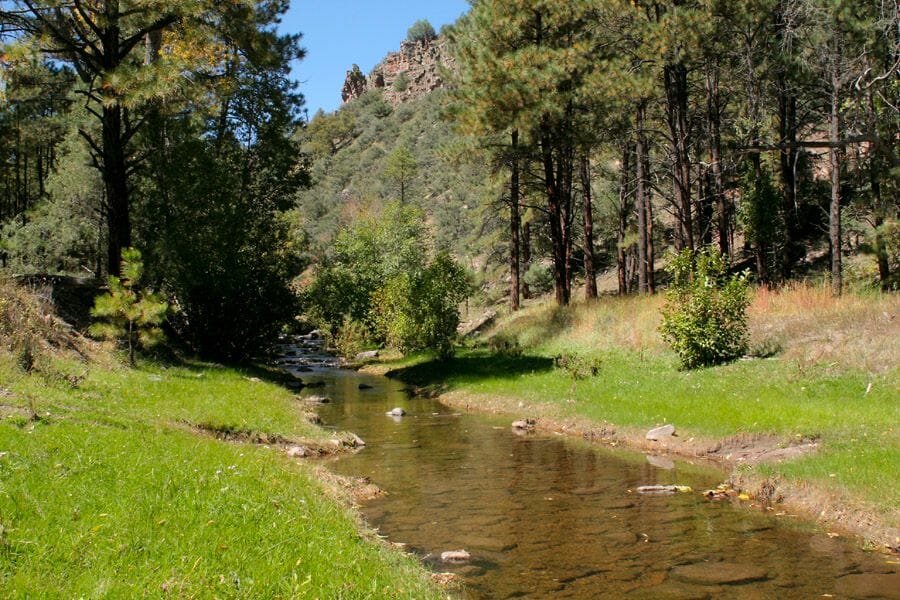 Part of the Catron County, Luna (not to be mistaken for Luna County) is a census-designated place in the eastern part of our state. Its terrain is rocky and hilly, which only add character to the area.
The whole area of Luna used to be a volcanic field, so there are all sorts of amazing and unique rocks everywhere. The geodes here are really fascinating, too, with patterns inside that look like they were painted on.
The journey to Luna is definitely an adventure! The drive can be a bit of a haul (there's some seriously bumpy dirt roads), but if you're up for it, you'll have a blast exploring and finding some seriously cool geodes.
Where we found geodes in Luna
Because of its unique geology, this location contains highly sought-after amethyst geodes. You can find them west 2 miles on US 180, on the surface of ridge north of highway at Luna.
Area nodule beds at Deming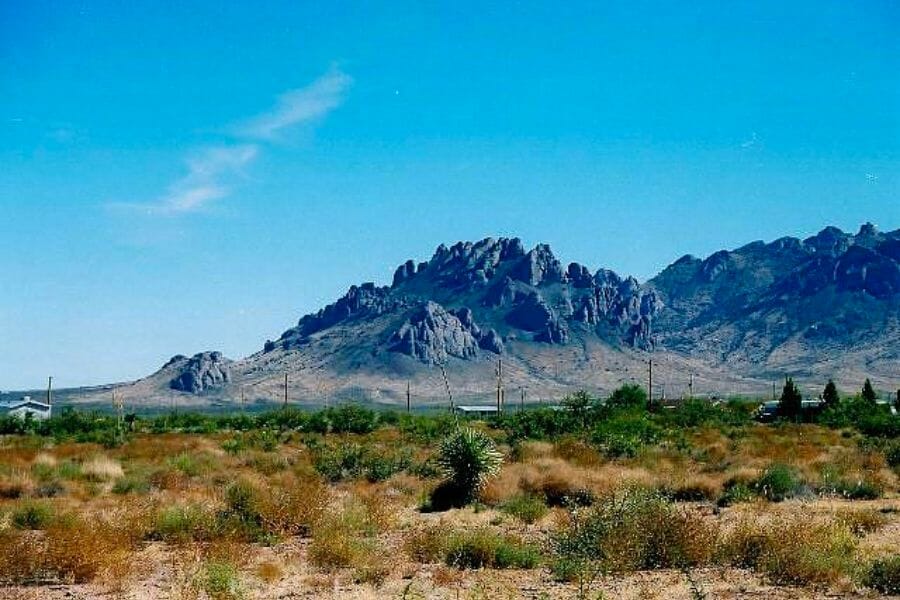 Deming area is part of Luna County, which is located on the southern part of our state. Its terrain is mostly flat and sandy, so it's a pretty easy hike as you wander around looking for geodes.
It used to be part of an ancient sea. Over time, minerals formed geodes in the sedimentary rocks. Although the geodes here are usually small and handy, they are a delight to find with their interesting shapes and colors.
To go here, you will need a car that can handle some dirt roads. The area is pretty remote, but there are some signs that point the way. Overall, if you're looking for a low-key spot to hunt for geodes, Deming is definitely worth checking out.
Where we found geodes at Deming
This place is rich in Agate geodes and Quartz geodes. To find them, go southwest 38 miles toward Hermanas, then west via fence gate and crooked rough road. Here you will find several well-known area nodule beds where geodes lie.
Other Great Places To Dig For New Mexico Geodes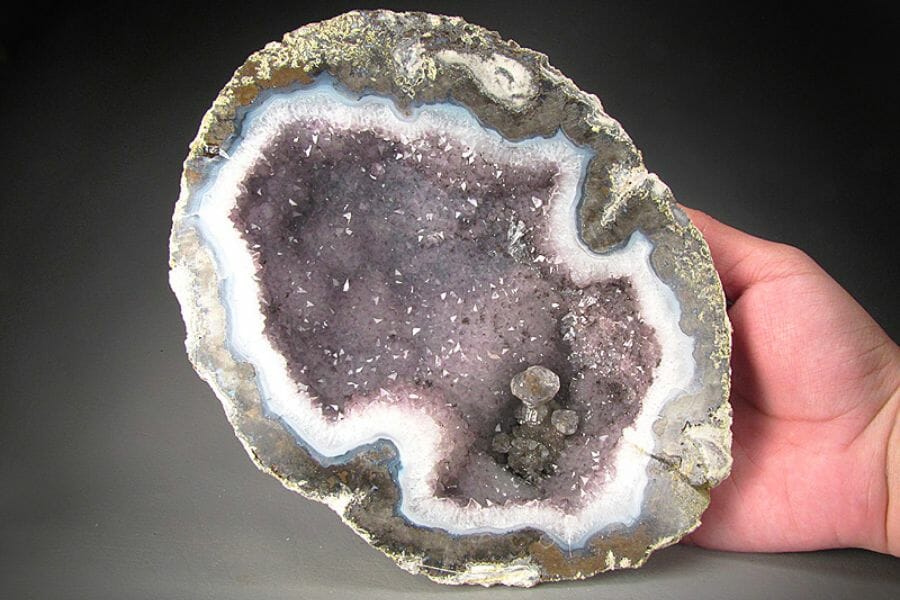 Our top recommended places above are not the only spots you can find geodes in New Mexico— in fact, there are tons more! To make things less complicated, we have arranged them by county, which you can find listed below.
Our recommendations by county
| | |
| --- | --- |
| County | Location |
| Catron | West 2 miles on US 180, surface of ridge north of highway at Luna |
| Grant | The stream gravels of Sapillo Creek |
| Grant | Area surfaces of Alum Mountain |
| Luna | Southwest 38 miles, toward Hermanas, the West via fence gate and crooked rough road, several well known area nodule beds at Deming |
| Rio Arriba | Area hillsides above mine of La Madera |
| Rio Arriba | North another 0.9 miles, canyon area of La Madera |
| Rio Arriba | North another 13 miles, turn east toward a dry wash, area on both sides of La Madera |
Common Geode-Hunting Questions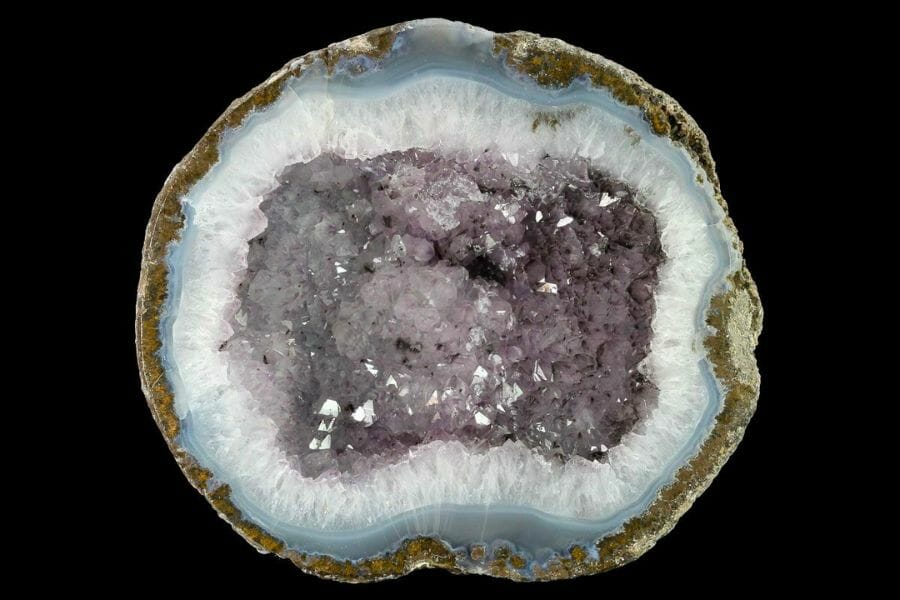 We found some common frequently asked questions by geode enthusiasts who visit our state. We thought you might have the same queries, so we'll answer them here:
Where can you find amethyst geodes in New Mexico?
If you aspire of finding and digging for amethyst geodes, then New Mexico is where you should be! The surface ridge of the north highway of Luna in Catron County has some of the best samples of amethyst geodes in our state.
Is it illegal to collect geodes in New Mexico?
As long as you comply with our local collection regulations, it's legal to gather geodes in New Mexico. If you plan to explore government-owned lands, verify first any relevant local regulations. Also, if you intend to explore privately-owned lands, it's always necessary to obtain the owner's consent before proceeding.
The Best Places To Buy Geodes In New Mexico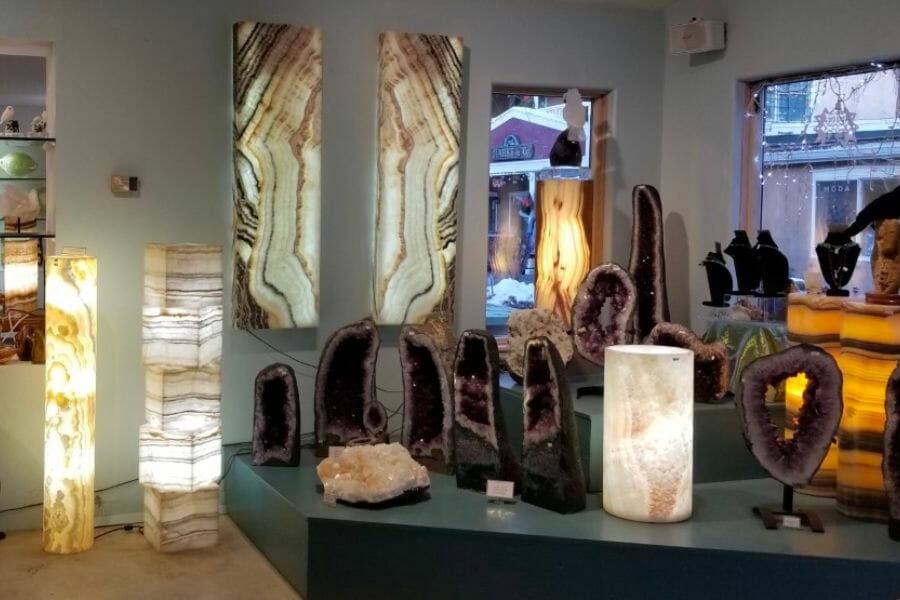 If you prefer getting your hands on pretty geodes without going through hours of searching for them in the field, we compiled some of the best local shops in our state where you can buy them from. Lucky for you, these stores have rad geode varieties that you can choose from:
Taos Rockers – 229 Cam De La Placita, Taos, NM 87571
Amazon – Did you know that Amazon has a pretty wide selection of geodes? Really amazing! They even have entire kits to help you break them open.
Ancient of Days – 127 N Main St, Roswell, NM 88203
Trina's Rock Shop – 1812 Columbus Rd, Deming, NM 88030
Mama's Mineras – 800 20th St NW Ste B, Albuquerque, NM 87104
La Tierra Mineral Gallery – 124 Bent St, Taos, NM 87571
Blanchard Rock Shop – 2972 US-380, Bingham, NM 87832
TruArt of the Earth – 2411 Calle De San Albino, Mesilla, NM 88046
Touchstone Gallery – 127 W San Francisco St, Santa Fe, NM 87501
Additional places to find geodes in nearby states
Check out our guides for nearby states if you've already tried all of our suggestions above or if you're planning a trip outside of the state:
If you have any recommendations for our list please leave a comment below!