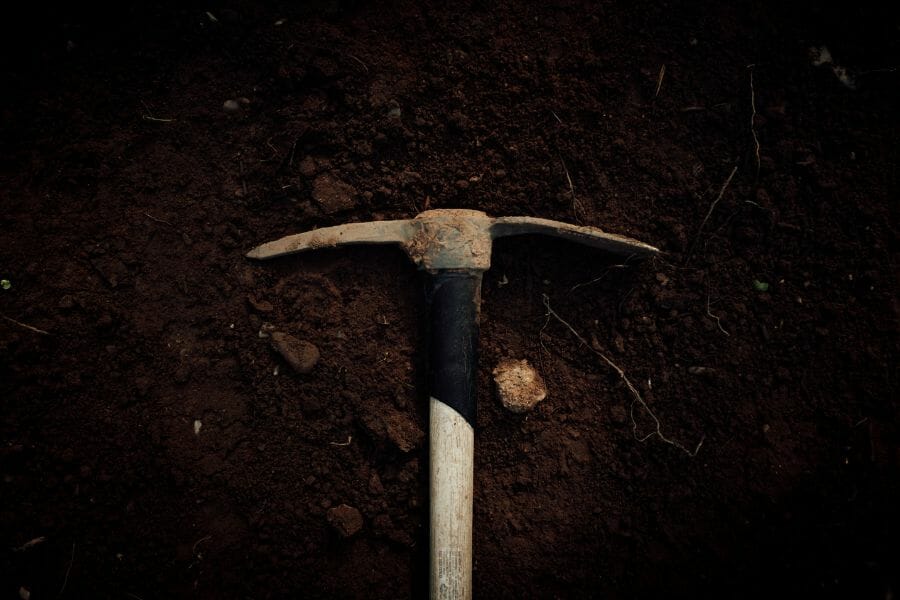 Passionate rockhounds with decades of industry and amateur experience
Rock Chasing began as a group of passionate Geologists who wanted to share their passion with other rockhounds. Outside of their day jobs in various geology-related fields, they spent much of their free time mining, collecting, and talking about their favorite rocks, minerals, gems, and fossils.
Many of the Rock Chasing team have extensive academic backgrounds (including several PhD's) and all of us share a deep love of what we find under the ground. We're passionate collectors and explorers that also happen to be giant nerds when it comes to geology!
We love having the chance to interact with other like-minded rockhounds and gem miners!
Keith Jackson is an avid rockhound who is constantly exploring new sites to expand his collection. He has worked as a professional Geologist for over 20 years and holds a Ph.D. in Geology from the University of Nebraska-Lincoln, a Masters Degree in Geology from the University of Nebraska-Lincoln, and a Bachelors Degree in Geology from the University of Connecticut.
Dr. Steven Franklin is an eminent figure in the field of Environmental Remote Sensing and a recognized authority in academia. With a rich educational foundation, Dr. Franklin received his Ph.D. in Environmental Remote Sensing, Master of Arts in Physical Geography, and Bachelor in Geography from the prestigious University of Waterloo.
Having been associated with various respected institutions over the years, Steven is currently a Professor Emeritus at Trent University. His association with Trent goes back to 2009, where he previously served not only as a Professor at the School of Environment but also wore the hat of President and Vice-Chancellor between 2009-2014. His other esteemed appointments span institutions such as the University of Saskatchewan, University of Calgary, and Memorial University of Newfoundland, to name a few.
Beyond his teaching roles, Steven has also held numerous senior administrative positions, showcasing his leadership and vision. Notably, he served as the Vice-President of Research at the University of Saskatchewan and played vital roles at the University of Calgary, ranging from Special Assistant to the Provost to Department Head of Geography.
A prolific writer and contributor to his field, Dr. Franklin's bibliographical footprint is vast. He has authored 4 books, contributed to over 120 journal articles, written 9 book chapters, and presented at 90+ conferences. His expertise is further emphasized by his 150+ refereed reports, technical publications, and public presentations. Those interested in delving deeper can find a comprehensive list of Dr. Franklin's work on Google Scholar.
As a mentor and educator, Steven has guided the academic journeys of numerous students. He has supervised 8 postdoctoral fellows, 30 MSc, and 8 PhD students to successful completion, while also fostering the growth of 31 BA/BSc Honours undergraduate students and research assistants.
In terms of academic specialties, Dr. Franklin's expansive knowledge covers a wide array of topics. From Environmental Science to Earth Science, Physical Geography to Forest Science, and from Geomatics to Remote Sensing, Steven's expertise is both broad and deep, reflecting his passion and commitment to understanding our planet and its resources.
Joseph Spatafore is a Professional Geologist licensed by the State of Pennsylvania with nearly a decade of geological and environmental experience. He received his Master's Degree in Geoscience from West Chester University of Pennsylvania and his Bachelor's Degree in Environmental Studies from the University of Pittsburgh.
In addition to his work with Rock Chasing, Joseph is a Consultant Geologist for WSP USA Environment & Infrastructure a prestigious engineering and design consultancy. Prior to that, he worked as an environmental and Geologic Technician for Moody & Associates and Hepaco.
During his career, Joseph has orchestrated and steered environmental and geotechnical site investigations, acted as an in-field lead, and worked in a variety of locations spanning private, industrial, and Superfund Sites. His technical acumen extends to soil boring oversight, rock core logging, groundwater sampling, and vapor intrusion probes. 
Akinwale Ojo has been a rockhound for decades in addition to being a very experienced geologist, geophysicist, and writer. He is very excited about sharing his love for the environment, his deep geology research experience, and his passion for football with the Rock Chasing audience. Akinwale holds a Bachelor's Degree in Applied Geophysics from Obafemi Awolowo University and a Master's Degree in Information Systems from Mara Technological University.