Being the 2nd largest state in the country, it's no wonder Texas has vast, astounding rockhounding opportunities, too! Our state is not only known for its vast landscapes and vibrant culture, but also for its diverse geological treasures.
The geological diversity of Texas is a rockhound's dream come true. From the rolling hills of the Hill Country to the stunning canyons of the Big Bend region, our state offers a wide range of landscapes to explore. These varied terrains have given rise to a rich variety of rocks and minerals waiting to be discovered.
Whether you're strolling along the picturesque riverbanks or hiking through the rugged wilderness, you're bound to stumble upon remarkable rocks and minerals that will leave you in awe when you come here. Truly, Texas is a rockhound's paradise that offers an unforgettable experience to anyone who appreciates the beauty and wonder of the Earth's geological treasures!
How We Found The Best Places For Rockhounding in Texas
We spent a lot of time putting together the list of which of the many options for Texas rockhounding we were going to recommend. We wanted to have a nice variety of locations for experienced and novice rockhounds in a variety of settings. Here are the main factors we used when determining the recommendations we set out :
The extensive local experience and understanding of our team
Input from multiple local rockhounds and rockhound groups
The accessibility of the various locations
Safety and potential hazards when collecting
Private and public locations
A desire to include locations for both experienced rockhounds and those who are just starting out
Using these weights we think we've put together the best list out there for those who love finding new rocks, gems, and minerals for our collections!

What You Can Find Rockhounding In Texas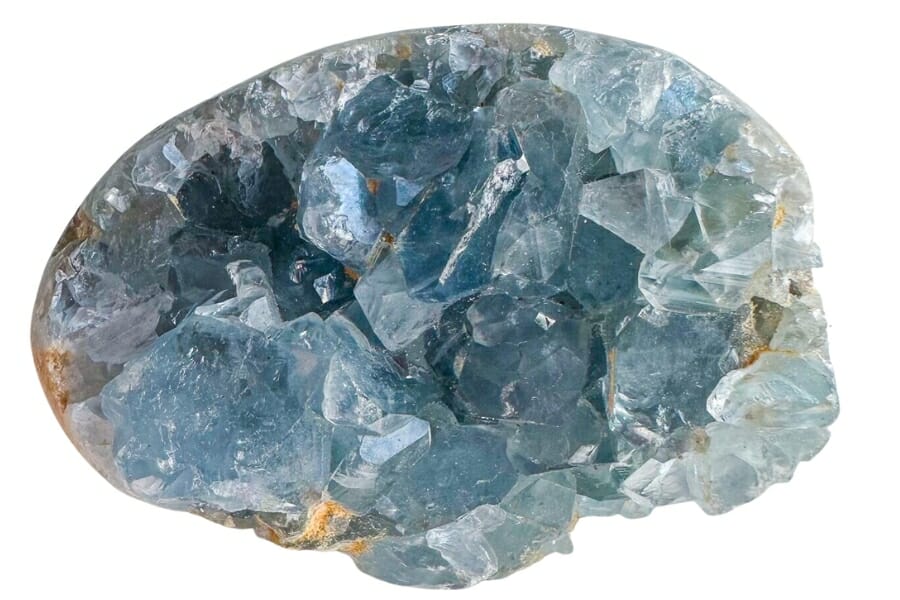 Texas is a treasure trove of rocks and minerals for enthusiasts of all levels. From the rugged canyons and rolling hills to the winding rivers and picturesque landscapes, our state provides a rich tapestry of geological formations to explore. When you visit here, you'll encounter a fascinating array of rocks and minerals, such as the following:
Rare rocks and minerals found in Texas
Apache Tears
Barton Creek Greenstone
Blue Topaz
Geodes
Huebnerite
Petalite
Smithsonite
More common desirable rocks, minerals, and gems found here
In-depth guides to finding specific types of rocks in Texas
We've created several guides that will point you to specific specimens that you can find in Texas.
You can also refer to our full guide to rockhounding near you that features over 3,000 sites in the US.
Checkout the guides above ONLY if you're looking for specific specimens. But if you want to know more in-depth information on rockhounding opportunities in Texas, continue reading here.
The Best Places To Find Rocks and Minerals in Texas
Brimming with plenty incredible rockhounding sites, it can be overwhelming to choose the best ones to visit in our state. So we'll share with you our favorite Texas rockhounding spots based on our personal experiences, research, and recommendations from other rockhounds in the area.
Always Confirm Access and Collection Rules!
Before heading out to any of the locations on our list you need to confirm access requirements and collection rules for both public and private locations.
These requirements are subject to change without notice and may differ from what we state below.
Always get updated information directly from the source ahead of time to ensure responsible rockhounding.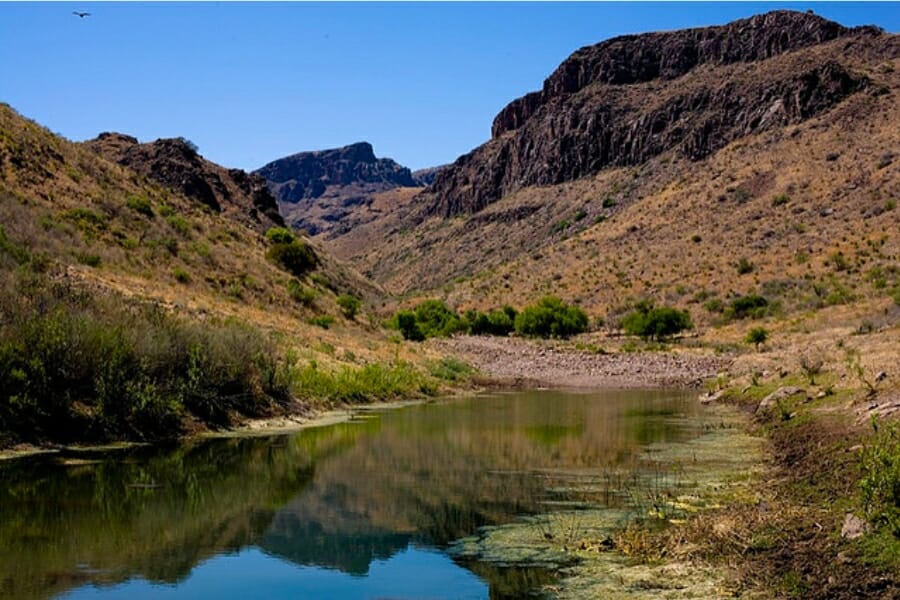 Chinati Mountains stand as a captivating rockhounding destination to seek unique treasures. Located in Presidio County, this mountain range offers a wealth of geological wonders. They are renowned for their diverse mineralogy and fascinating rock formations, making it an exceptional site for rockhounding adventures.
When you visit here, you can explore the rugged terrain, scouring the slopes and creek beds for coveted specimens of minerals. Aside from that, Chinati Mountains also house intriguing geological formations, such as ancient volcanic rocks and sedimentary layers. These formations provide a glimpse into the geological history of the region, offering you a fascinating experience as you uncover the remnants of ancient processes.
The remote location and unspoiled wilderness of the mountains also make it a haven for those seeking solitude and tranquility. As for rockhounds like you, the rugged beauty of the mountains, combined with the thrill of discovering unique rocks and minerals, creates an unforgettable experience!
What you can find there
You can find stunning specimens of Argentite, Cerargyrite, Chalcopyrite, Fluorite, Galena, Pyrite, Smithsonite, and Sphalerite here.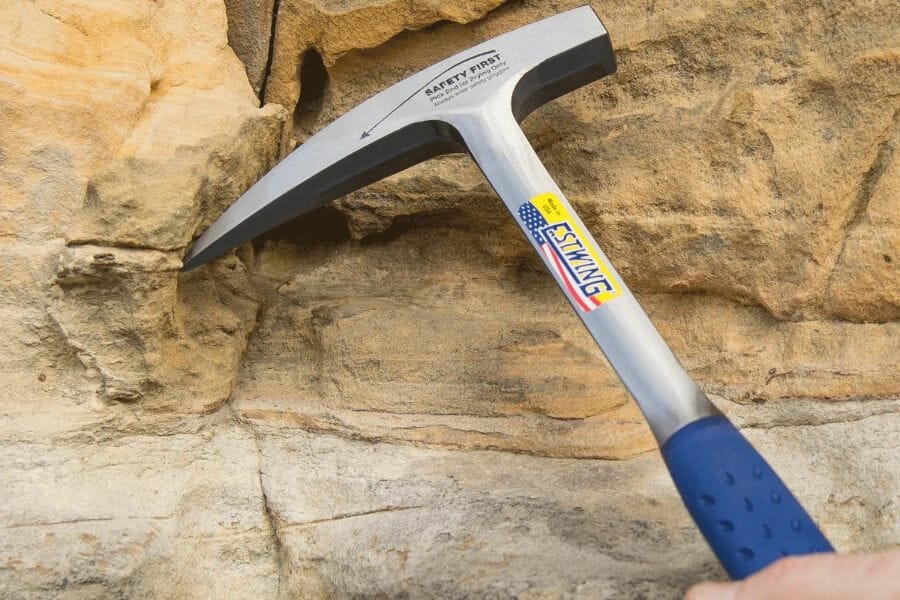 The tools every rockhound will need
When you're out looking for rocks and minerals having the right tools for the job is really going to make or break your success. You don't need a lot for most trips but there are a handful that are critical and will make your life a lot easier.
We get asked a lot about the equipment we use. Over the years we've found a handful of tools that we recommend to both new and experienced rockhounds which we outline in great detail in our complete rockhounding tools and kit guide. These are quality options that also happen to be relatively inexpensive.
Below are the basic tools that make your life so much easier and save you a ton of time. Check out the full guide to see everything we recommend bringing. At a minimum you should have:
1 - Sturdy rock hammer: The Estwing Rock Pick is our standard
2 - Rugged chisels: Try Kendo' 3-piece Chisel Set
3 - Compact shovel: The Koleiya 28-inch shovel works well
4 - Rock screen pan: The Wazakura Soil Sieve Set fits the bill
5 - Eye protection: DeWalt Safety Glasses are cheap and comfortable
6 - Head protection: Malta's Safety Helmet has been our go-to
7 - Jewelers lens with at least 20x magnification: Jarlink's Jewelers Loop is perfect
The rockhounding books that we use most
There are also a few books that have been extremely helpful in the search for gems. These books have great recommendations and tips:
National Audubon Society Field Guide to Rocks and Minerals: North America 
Southwest Treasure Hunter's Gem & Mineral Guide 
Earth Treasures: The Southwestern Quadrant 
We provide links to find these tools on Amazon but some can also be found at your local hardware stores. For more recommendations check out the link to our full tool guide above.
Ranches in Mason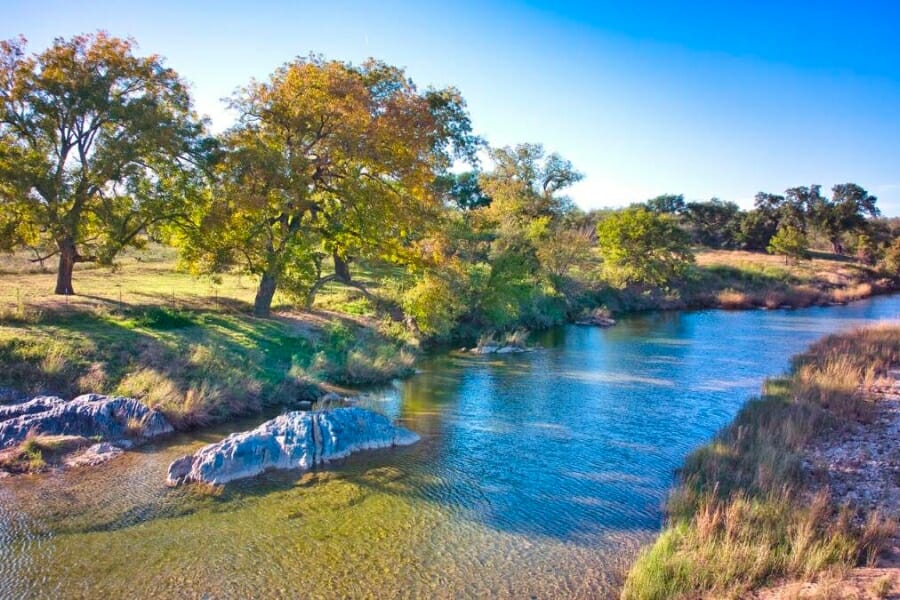 Mason County is a charming destination known for its rich history and abundant natural beauty. Beyond its rustic charm, this county boasts of an additional allure for rockhounding enthusiasts— the region's ranches, which serve as excellent rockhounding sites.
These ranches offer a unique opportunity to explore a variety of geological landscapes, from rolling hills to creek beds and limestone cliffs. These diverse terrains harbor a wide range of rocks and minerals. You can roam the ranches, sift through riverbeds, search for colorful specimens, or explore its rocky outcrops.
What sets Mason County's ranches apart as excellent rockhounding sites is their vastness and relative seclusion. With sprawling acres of land, they provide ample opportunities for rockhounds to explore undisturbed areas and make exciting discoveries.
What you can find there
Blue Topaz, Texas' state gemstone, are generally found in Mason's ranches. You can also find other rocks and minerals here, such as Amazonite, Colorless Topaz, Feldspar, Quartz, and Tourmaline.
It can be difficult to tell some of the more common rocks and minerals apart, so we came up with a few guides to help you do this:
Plata Verde Mine
Plata Verde Mine beckons enthusiasts with its rich mineral deposits and fascinating geological formations. Situated amidst picturesque landscapes, this mine offers a unique opportunity to discover a wide array of rocks and minerals.
Aside from the impressive diversity of minerals it holds, the mine also conveniently offers accessibility. Unlike many other mining locations, Plata Verde Mine welcomes rockhounds to collect specimens, allowing for an immersive and hands-on experience.
What you can find there
Plata Verde Mine abounds in different kinds of rocks and minerals, such as Anglesite, Azurite, Barite, Bromargyrite, Chrysocolla, Malachite, Microcline, and Quartz.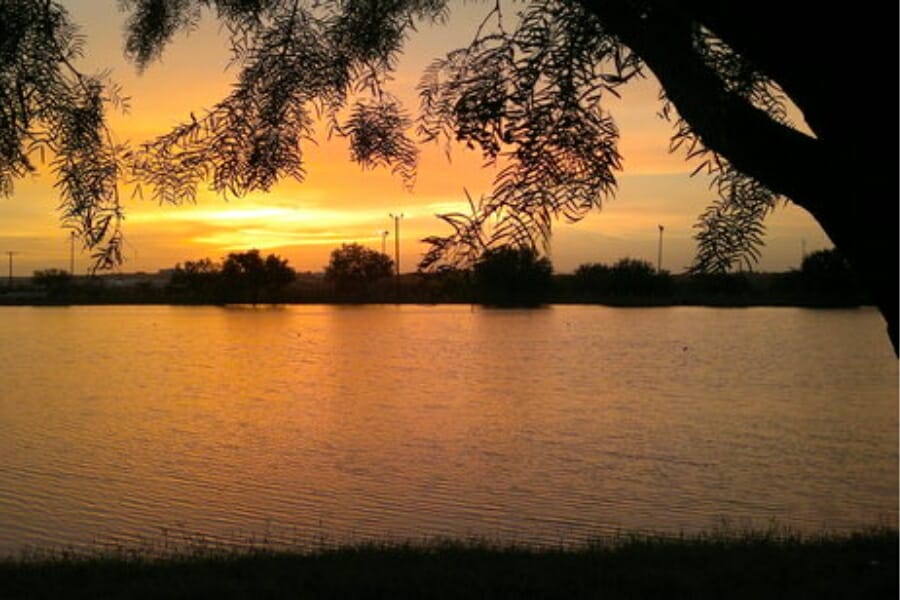 Eagle Pass is a vibrant city that not only offers a rich cultural heritage, but also provides a unique rockhounding experience. The area surrounding it is known for its intriguing rock formations and mineral-rich landscapes. The region's geological history and proximity to the border with Mexico also add to its allure, offering a chance to find unique specimens.
When you visit here, you can explore the riverbeds and canyons, where you may discover a variety of different rocks and minerals.
Whether you're an amateur collector or an experienced rockhound, Eagle Pass provides ample opportunities to indulge in the thrill of rockhounding while enjoying the scenic beauty and cultural richness of the area.
What you can find there
You can find amazing samples of Agate, Amber, Chalcedony, and Jasper when you explore Eagle Pass.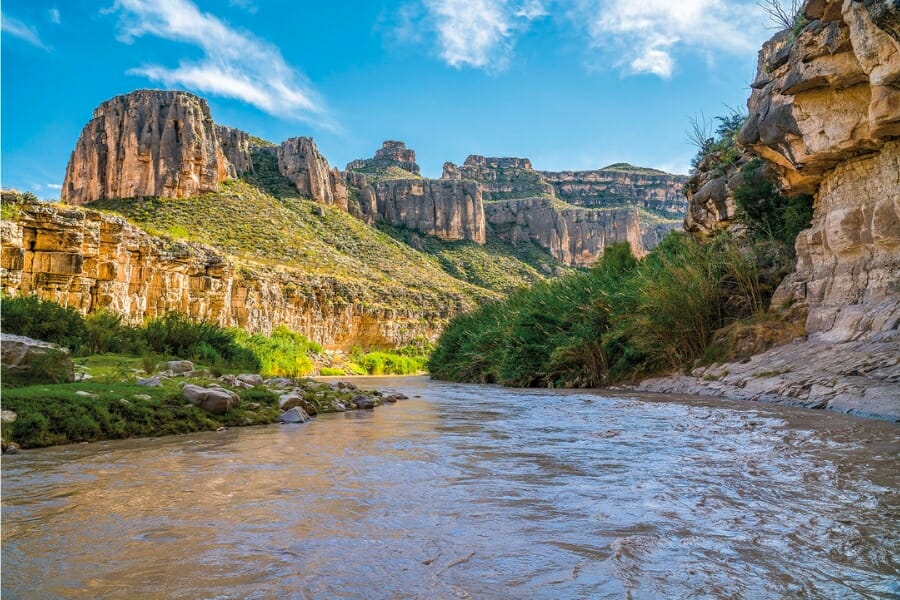 Winding its way along the Texas-Mexico border, the Rio Grande River is not only a significant body of water, but also a fantastic rockhounding destination. Its river bars and tributaries, with its unique combination of geological diversity and constant flow of water, have the ideal conditions for rocks and minerals.
The constant flow of the river helps wash away loose sediments, revealing different colorful geological gems. The scenic beauty of the Rio Grande adds to the charm, making rockhounding along its river bars and tributaries a captivating and rewarding experience for enthusiasts of all levels.
What you can find there
Here, you can find amazing specimens of different rocks and minerals, like Agate, Agatized wood, Chalcedony, and Jasper.
Our Other Favorite Spots Around Texas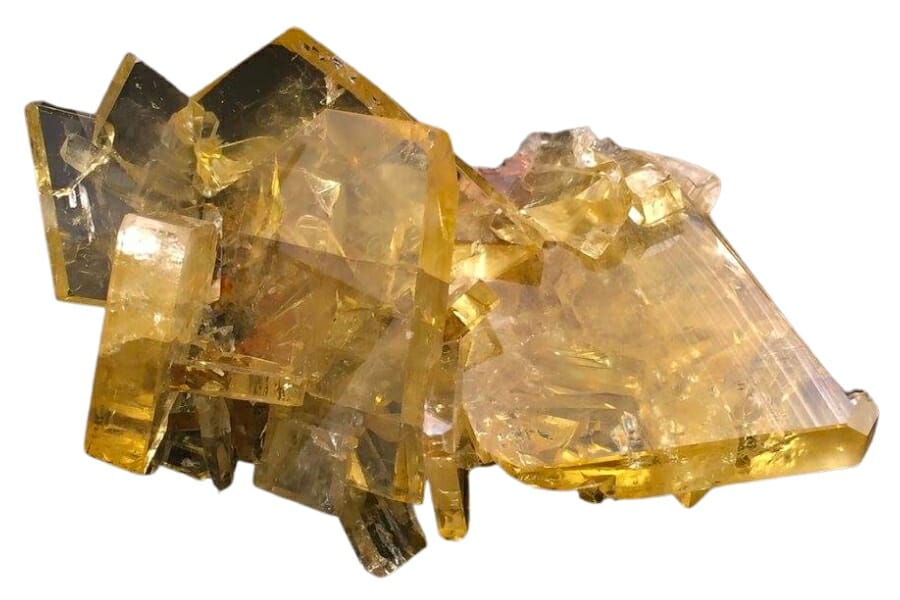 A state as big and rich in natural resources as Texas does not easily run out of rockhounding sites, so aside from our favorite ones, there are plenty others that you should consider checking out.
We've compiled them by region below for your easier reference when making your Texas rockhounding itinerary.
Rockhounding sites in Northern Texas
Northern Texas is a fantastic region to explore for rockhounds of all levels. This area is known for its diverse geological formations. From the rugged Palo Duro Canyon to the rolling hills of the Red River Valley, Northern Texas offers a varied landscape that holds the promise of exciting rockhounding adventures.
| | |
| --- | --- |
| Location | Minerals & Rocks |
| Downstream along Plum Creek to Lake Meredith | Flint |
| Border of Palo Duro Canyon State Park | Petrified Wood |
| Road cuts across Salt Fork bridge | Dolomite (pink) |
| In between Red River and US-62 | Gypsum |
| Buffalo Creek | Celestite |
| Mines near the Coke County border | Celestite |
| Mines and pits of Sweetwater | Celestite |
| Buffalo Gap exposures | Barite |
Rockhounding sites in Southern Texas
Southern Texas boasts of a unique blend of landscapes, from areas that touch the Gulf of Mexico to the expansive plains and rolling hills further inland. This region provides diverse geological formations, making it an ideal location for rockhounding enthusiasts seeking new discoveries.
| | |
| --- | --- |
| Location | Minerals & Rocks |
| Los Ebanos area | Agate, Jasper, Petrified Wood |
| Gravel fill material of the Falcon Dam | Agate (banded, moss), Jasper, Petrified Wood |
| Bob's Knob | Agate, Jasper, Petrified Wood |
| San Juanita Creek | Agate |
| Laredo area and northeastward | Petrified Palm |
| Freer area | Opal, Petrified Wood |
| Stevenson Ranch | Petrified Wood |
| Frio River Reservoir | Petrified Palm |
| Both sides of SR-97 to the McMullen County border | Fossils, Petrified Palm, Petrified Wood |
| Mathis area | Agate |
Rockhounding sites in Eastern Texas and along the Gulf of Mexico
Eastern Texas, including the counties along the Gulf of Mexico, presents a captivating destination for rockhounds, combining the beauty of coastal landscapes with a wealth of geological treasures. This area has a unique blend of coastal environments, including sandy beaches, marshes, and barrier islands, all of which contribute to a diverse range of rockhounding opportunities.
| | |
| --- | --- |
| Location | Minerals & Rocks |
| Both sides of SR-39 to the Leon County border | Petrified Wood |
| Grimes Countywide | Tektites |
| San Jacinto River tributary | Diamond, Gold |
| Camden area to the Tyler County border | Petrified Palm |
| Along both sides of US-287 | Petrified Palm |
| McGee Band Dam | Petrified Wood |
| Sam Rayburn Lake | Petrified Wood |
| Loco Creek | Pyrite, Selenite |
Rockhounding sites in Western Texas
Western Texas has a vast and rugged landscape that holds countless geological treasures. This region is renowned for its diverse and striking geological formations, including majestic mountains, expansive desert plains, and deep canyons.
| | |
| --- | --- |
| Location | Minerals & Rocks |
| Road cuts along SR-375 between I-10 and US-54 | Garnet, Mica, Serpentine |
| Abandoned Hazel Mine at Quitman Mountains | Galena, Lead, Silver |
| Sierra Blanca area | Amethyst |
| Texas & Pacific RR | Limonite, Turquoise |
| Both upstream and down of Salt Darw | Plume Agate |
| Chispa Creek | Agate, Jasper |
| Bonanza Mine | Chalcopyrite, Galena, Sphalerite |
| South of SR-118 in Alpine | Labradorite |
| Terlingua Creek | Amber |
| Maltby Mine | Copper, Silver, Turquoise |
| Sidney Smith Ranch | Agate, Jasper, Petrified Wood |
Rockhounding sites in Central Texas
A fantastic destination for rockhounds, Central Texas is characterized by its limestone formations, rolling hills, and scenic river valleys, providing a wealth of rockhounding opportunities. It's known for its unique mix of rocks and minerals, making it an ideal location for rockhounds of all levels to explore and discover fascinating specimens.
| | |
| --- | --- |
| Location | Minerals & Rocks |
| Honey Ranch (Seaquist) | Blue Topaz, Clear Topaz |
| Zephyr area mines to the Comanche County and Mills County borders | Celestite |
| Enchanted Rock | Llanite |
| Old village site of Oxford | Amethyst |
| Amethyst Hill | Amethyst, Citrine |
| Honeycut Bend | Calcite |
| Marble Falls area mines and prospects | Galena |
| Little Lucy Creek | Celestite Geodes |
| Road cut in Cove area | Turritella Agate |
| South of Bee Cave | Serpentine |
Where To Find Blue Topaz In Texas
Blue Topaz is a stunning gemstone known for its captivating blue hue and remarkable clarity. Because of its beauty and versatility in various jewelry settings, it's beloved and highly-sought after by gemstone enthusiasts and jewelry designers.
Texas holds a special place in the world of Blue Topaz, as it's one of the few places on Earth where it occurs naturally in such abundance. What makes Blue Topaz from our state even more exceptional is its unique natural color of a vivid sky-blue hue, ranging from pale and delicate to deep and intense.
Grit is our favorite place to look for Blue Topaz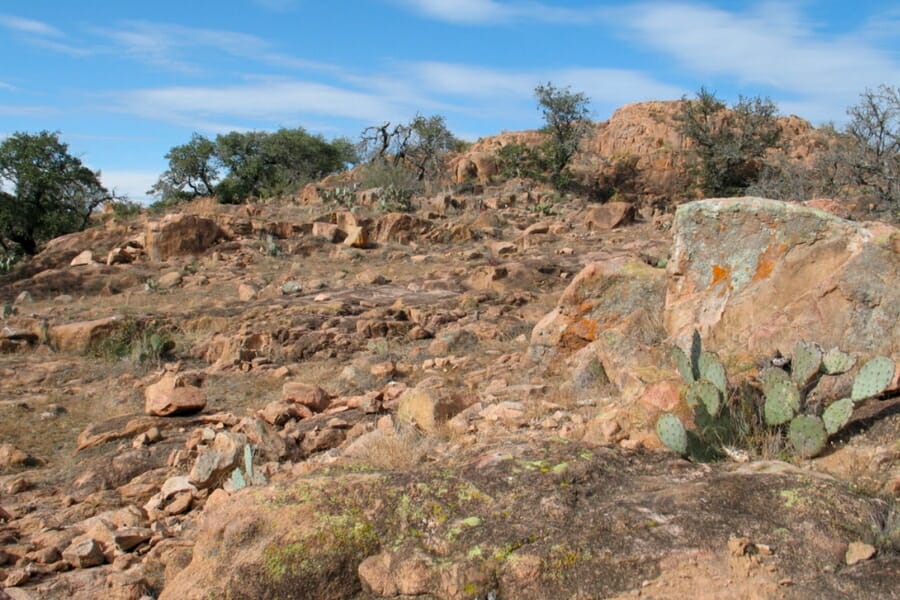 Grit area of Mason County is a renowned location for rockhounds searching for Blue Topaz. Located within the Llano Uplift region, this area offers favorable geological conditions that have given rise to the formation of Blue Topaz crystals over millions of years.
What makes the Grit area particularly enticing for Blue Topaz hunters is the unique composition of its soil and rock formations. The presence of pegmatite dikes, which are coarse-grained igneous rocks rich in minerals, serve as conduits for the movement of mineral-rich fluids, allowing the growth of sizable and high-quality Blue Topaz crystals.
Other good options to find Blue Topaz
Katemcy area
Mason City area
Streeter area
Public Rockhounding Options For Kids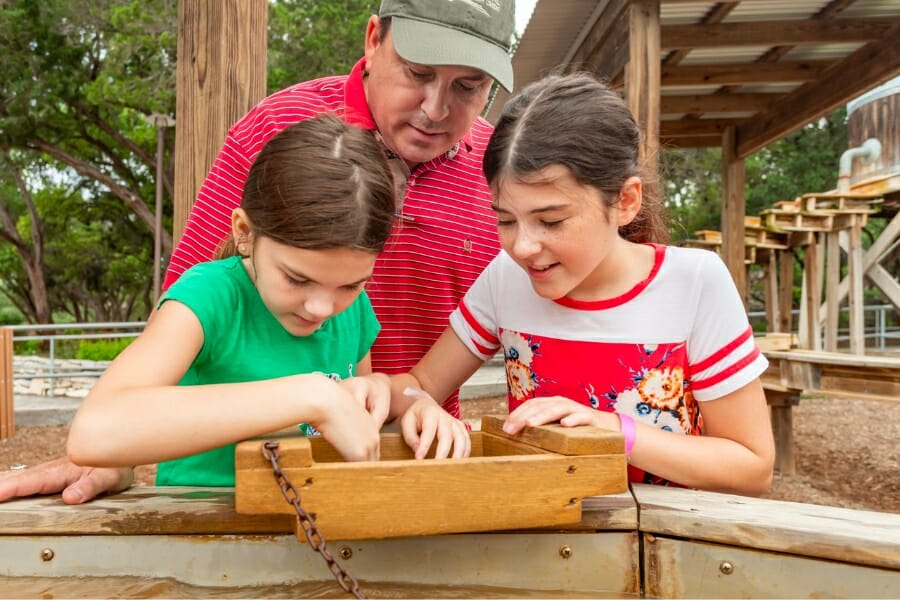 Some Texas rockhounding locations can be challenging for kids due to their rugged terrain or the need for more advanced collecting techniques. But there are also several family-friendly rockhounding spots here.
By choosing family-friendly rockhounding spots, parents can help foster a love for the natural world and an appreciation for geology in their kids. Introducing them to rockhounding in these environments is indeed a wonderful way to share an educational hobby while creating lasting memories together.
Texas Rockhounding Clubs
Joining rockhounding clubs in Texas can be especially rewarding, given our state's vast geological diversity and the enthusiasm of its rockhounding community. These clubs provide a supportive and welcoming environment where members can connect, share knowledge, and embark on exciting rockhounding adventures together.
By joining a local rockhounding club, you can gain access to a network of experienced collectors who can provide insights into the best collecting areas in our state. Club members may also benefit from exclusive access to private land or special permissions granted to the club for collecting purposes.
Rockhounding clubs in Texas worth checking out
Texas Rockhounding Laws And Regulations
Rockhounding in Texas is legal, but you should be aware of and adhere to all local and state laws regarding collection. The Texas Parks and Wildlife Department (TPWD) regulates rockhounding activities here. They establish rules and guidelines to ensure the preservation of natural resources and the protection of public lands.
Before heading out to collect rocks and minerals, make sure to familiarize yourself with the specific regulations governing the area you will explore. Some public lands may have restrictions or require permits for collecting, while others may be completely off-limits. It's crucial to respect any posted signs, boundaries, and regulations to preserve the environment and maintain the integrity of these collecting sites for future generations.
The Best Rock And Mineral Shops In Texas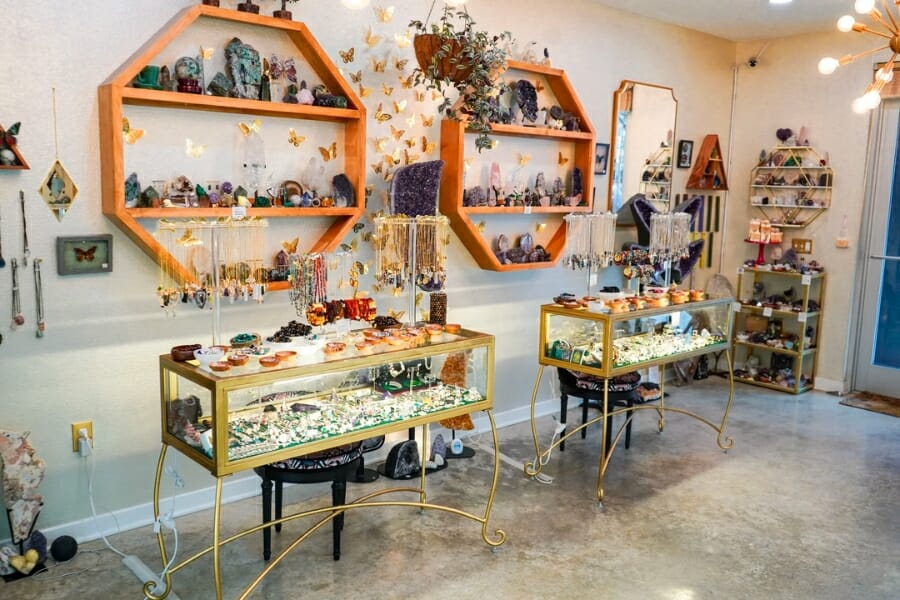 If you're after a specimen with very specific characteristics that will sit well with your collection, it might be impossible to stumble upon this specific specimen while digging or exploring around. Instead, you have better chance of finding it in our local rock and gem shops here.
Below are some of our favorite stores with great selections of rocks and minerals that you can take home with you:
Additional Rockhounding Places In Nearby States
If you want to extend your rockhounding adventure to nearby states, check out the following guides that we prepared for you:
If you have any recommendations that we haven't covered yet, please leave them in the comments below!