Rockhounding in Hawaii offers a genuinely exceptional and thrilling experience. The islands provide many opportunities with their varied volcanic topography and lengthy geological history. Many rocks, minerals, and fossils are hiding everywhere, from the lava fields and beaches to the lush forests and riverbeds.
The islands provide everything you want, whether looking for lava formations, colorful beach pebbles, or semi-precious stones. The beaches alone provide a colorful selection of distinctive rocks, and volcanic locations offer the chance to discover unusual crystal formations.
You're sure to unearth some fantastic treasures to make your rockhounding experience unique with a bit of research and a sense of adventure.
Hawaii has become a popular destination for rockhounding enthusiasts, thanks to the success stories of many dedicated rockhounds who have unearthed stunning specimens. You can join the ranks of successful rockhounds in Hawaii with patience, persistence, and respect for the land. The islands have a rich playground for exploration, and the rewards can truly be extraordinary!
How We FoundThe Best Places For Rockhounding in Hawaii
We spent a lot of time putting together the list of which of the many options for Hawaii rockhounding we were going to recommend. We wanted to have a nice variety of locations for experienced and novice rockhounds in a variety of settings. Here are the main factors we used when determining the recommendations we set out :
The extensive local experience and understanding of our team
Input from multiple local rockhounds and rockhound groups
The accessibility of the various locations
Safety and potential hazards when collecting
Private and public locations
A desire to include locations for both experienced rockhounds and those who are just starting out
Using these weights we think we've put together the best list out there for those who love finding new rocks, gems, and minerals for our collections!

What You Can Find Rockhounding In Hawaii
We couldn't list every potential specimen since Hawaii's rocks and minerals vary. The following list includes the majority of highly prized and rare specimens that rockhounds search for throughout the state.
Rare rocks and minerals found in Hawaii
More common desirable rocks, minerals, and gems found here
In-depth guides to finding specific types of rocks in Nebraska
Our various resources below can help you find the specimen you want.
We developed a comprehensive guide to rock hunting places near you, including more than 3,000 locations nationwide.
Nonetheless, if you're interested in learning more specific details about the rockhounding options in Hawaii, keep reading!
The Best Places To Find Rocks and Minerals in Hawaii
We've selected some of Hawaii's top rock-hounding locations. Despite having several options, we focused on our top choices. You might want to go because of these stunning rocks and minerals.
Always Confirm Access and Collection Rules!
Before heading out to any of the locations on our list you need to confirm access requirements and collection rules for both public and private locations.
These requirements are subject to change without notice and may differ from what we state below.
Always get updated information directly from the source ahead of time to ensure responsible rockhounding.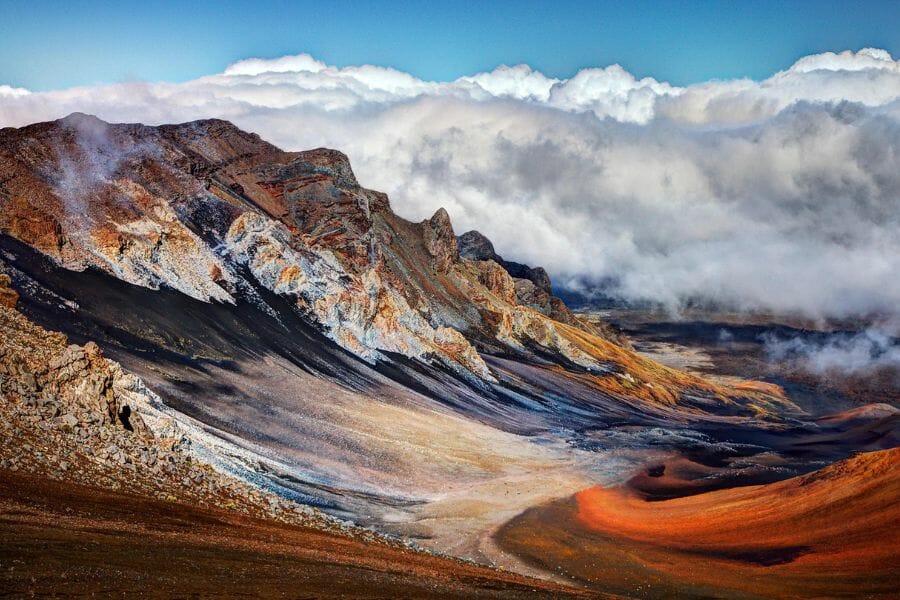 Haleakala National Park is home to the Haleakala volcano, a dormant volcano that last erupted over 500 years ago. The history of Haleakala stretches back millions of years, with volcanic activity shaping the land and creating a diverse range of rock formations.
The volcanic processes have left behind a treasure trove of geological wonders, making Haleakala an excellent choice for rockhounding enthusiasts. The park is known for its abundance of basalt rocks, lava formations, and even the rare occurrence of peridot olivine crystals.
Exploring the park's trails and lava fields, you can uncover unique specimens and observe volcanic rocks' intricate textures and colors. Whether you're a seasoned rockhounder or a curious beginner, Haleakala National Park provides an opportunity to immerse yourself in the geological wonders of Hawaii and add remarkable rocks to your collection.
What you can find there
Haleakala National Park contains magnificent specimens of Augite.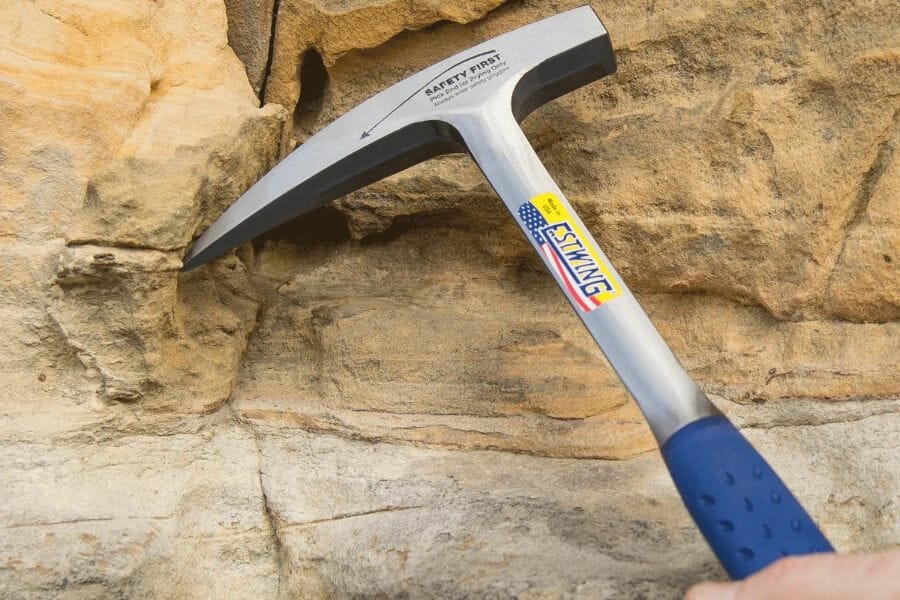 The tools every rockhound will need
When you're out looking for rocks and minerals having the right tools for the job is really going to make or break your success. You don't need a lot for most trips but there are a handful that are critical and will make your life a lot easier.
We get asked a lot about the equipment we use. Over the years we've found a handful of tools that we recommend to both new and experienced rockhounds which we outline in great detail in our complete rockhounding tools and kit guide. These are quality options that also happen to be relatively inexpensive.
Below are the basic tools that make your life so much easier and save you a ton of time. Check out the full guide to see everything we recommend bringing. One quick note, as an Amazon Associate I earn from qualifying purchases but we try very hard to only recommend gear we would use ourselves and often recommend brands you can't find on Amazon.
At a minimum you should have:
1 - Sturdy rock hammer: The Estwing Rock Pick is our standard
2 - Rugged chisels: Try Kendo' 3-piece Chisel Set
3 - Compact shovel: The Koleiya 28-inch shovel works well
4 - Rock screen pan: The Wazakura Soil Sieve Set fits the bill
5 - Eye protection: DeWalt Safety Glasses are cheap and comfortable
6 - Head protection: Malta's Safety Helmet has been our go-to
7 - Jewelers lens with at least 20x magnification: Jarlink's Jewelers Loop is perfect
The rockhounding books that we use most
There are also a few books that have been extremely helpful in the search for gems. These books have great recommendations and tips:
National Audubon Society Field Guide to Rocks and Minerals: North America 
Southwest Treasure Hunter's Gem & Mineral Guide 
Earth Treasures: The Southwestern Quadrant 
We provide links to find these tools on Amazon but some can also be found at your local hardware stores. For more recommendations check out the link to our full tool guide above.
Manele Bay
Manele Bay is an excellent place for rockhounding because of its abundance of deep tide pools. These natural pools are home to a wide variety of marine life and, more importantly for rockhounding enthusiasts, an array of intriguing rocks and minerals. As the tides ebb and flow, they reveal hidden treasures.
The unique geology of the bay, shaped by volcanic activity and erosion, contributes to the diversity of rocks that can be found. So, whether basking in the sun or combing the shoreline, Manele Bay offers a delightful opportunity to combine rockhounding with a beachside getaway.
Manele Bay offers a host of other attractions to enhance your experience. The bay is renowned for its clear, turquoise waters, making it an ideal spot for snorkeling, swimming, and observing vibrant marine life. If you're feeling adventurous, you can also explore nearby hiking trails that offer panoramic views of the bay and its surrounding cliffs.
What you can find there
Manele Bay has various rock and mineral specimens, although sunstones are the most prevalent.
This iconic mountain has a rich history steeped in Hawaiian culture and legends. In ancient times, Mount Olomana was believed to be the home of the volcano goddess Pele. Its three distinct peaks, resembling the backbone of a giant lizard, add to the allure and mystique of this beautiful location.
For rockhounding enthusiasts, Mount Olomana offers a unique opportunity to explore its rocky slopes and discover various geological wonders. As you ascend the trail, you'll encounter an array of volcanic rocks, including basalt formations and lava flows. These volcanic rocks can unveil intricate textures, patterns, and even pockets of crystals.
What you can find there
Mount Olomana is home to many common findings, including jasper and quartz.
Olowalu Valley
Olowalu Valley is an excellent place for rockhounding due to its various geological features and the variety of rocks and minerals that can be found. The valley is home to ancient lava flows, which have weathered over time, revealing many interesting rock formations. As you explore the valley, keep an eye out for fascinating specimens such as volcanic rocks, basalt columns, and even fragments of coral.
The proximity to the coastline also offers the opportunity to discover sea glass and unique shells along the beach. The peaceful ambiance of Olowalu Valley, surrounded by lush vegetation and the majestic West Maui Mountains backdrop, creates an ideal setting for a leisurely rockhounding adventure.
What you can find there
At the Olowalu Valley, you can find some magnificent specimens of quartz.
Papakolea Green Sand Beach is a destination with a unique, rock-hounding experience. This secluded beach gets its name from the distinctive green color of its sand, which is a result of olivine crystals formed by the erosion of a nearby volcanic cone.
Rockhounding enthusiasts will find Papakolea Green Sand Beach an absolute delight. The green sand, composed of olivine crystals, offers a unique opportunity to collect rare and beautiful specimens. Watch for loose olivine grains and tiny crystals washed ashore as you explore the beach. It's a chance to add a distinctive touch to your rock collection and marvel at the vibrant green hues of the sand.
What you can find there
When you explore Papakolea Green Sand Beach, you can uncover exquisite specimens of Olivine.
Our Other Favorite Spots Around Hawaii
Hawaii is home to many stunning and rare rocks and minerals. Explore the various options below to view more specimens.
Rockhounding sites in Southern Hawaii
With its diverse landscapes, ranging from volcanic terrain to coastal areas, southern Hawaii presents an exciting array of rocks and minerals to discover. From the dramatic cliffs of the Napali Coast to the vibrant coral reefs, Southern Hawaii provides a rich tapestry of geological formations that make it an ideal playground for rockhounds.
| | |
| --- | --- |
| Location | Minerals & Rocks |
| Kilauea | Obsidian |
| Oahu beach sands | Peridot |
| Pohakea Pass | Labradorite |
Rockhounding sites in Central Hawaii
Central Hawaii boasts an array of fascinating geological specimens, including basalt formations, volcanic ash deposits, and even remnants of ancient lava flows. The region is known for its hidden gems, such as peridot olivine crystals found on the slopes of Mauna Kea and agate, jasper, and quartz varieties that can be discovered in riverbeds and canyon walls.
| | |
| --- | --- |
| Location | Minerals & Rocks |
| Wahiawa Valley | Jasper |
| Koolau Range | Jasper |
| West Molokai Volcano | Agate |
Where To Find Jade In Hawaii
Although it's not always simple to find jade, our state is fortunate to have access to it. For its scarcity and brilliance, jade has long been valued. Rockhounds and collectors place a high value on them these days.
Mauna Kea Beach is our favorite place to look for Jade
Mauna Kea Beach has been known to yield small jade pebbles. As you explore the sandy shores and crystal-clear waters, you may stumble upon fascinating specimens such as basalt, quartz, and even fragments of coral. The area's volcanic origins make it an excellent location to find unique rocks shaped by lava flows and erosion.
Other good options to find Jade
Public Rockhounding Options For Kids
Even though rockhounding can be exciting and interesting, finding the best rockhounding areas for kids can be challenging. Hawaii has few places to take your kids, but you can still visit these places to rockhound and have fun together.
Mahana Beach – Hawaii 96772, United States
Hawaii Rockhounding Clubs
Rockhounding clubs are fantastic communities for rock enthusiasts, offering many benefits and opportunities for individuals passionate about this hobby. Joining a rockhounding club provides you a platform to connect with like-minded individuals who share your enthusiasm for collecting rocks and minerals.
These clubs often organize field trips to various rockhounding locations, providing access to exclusive sites and expert guidance. Additionally, being part of a rockhounding club allows for knowledge-sharing, where you can exchange information, tips, and expertise, fostering personal growth and expanding one's understanding of geology.
The camaraderie and sense of belonging within these clubs create a supportive and engaging environment that amplifies the joy of rockhounding and enables lifelong friendships to flourish.
Rockhounding clubs in Hawaii worth checking out
Hawaii Rockhounding Laws And Regulations
Rockhounding and collecting rocks and minerals in Hawaii is legal and enjoyable. However, respecting and adhering to all local and state laws governing rock and mineral collection, like the Hawaii Department of Land and Natural Resources (DLNR), is crucial. Hawaii has regulations to preserve natural resources and protect sensitive environments.
It's essential to familiarize yourself with these laws and obtain any necessary permits or permissions before engaging in rockhounding activities. Practicing responsible rockhounding involves leaving the environment as you found it, filling any holes, and minimizing any impact on flora and fauna.
By adhering to these guidelines, rockhounding in Hawaii can be a sustainable and enjoyable experience that allows for discovering fascinating rocks and minerals while ensuring the long-term protection of the islands' natural heritage.
Our Favorite Rock And Mineral Shops In Hawaii
It can occasionally be challenging to locate specific rocks and minerals in their native setting here in Hawaii. It's great that there are so many fantastic rock shops here with various uncommon stones. These are the shops you can go to:
Additional Places To Rockhound In Nearby States
If you've already tried all of our recommendations above or are planning a trip out of the state you should check out our guides for neighboring states:
If you have any recommendations we haven't covered please leave them in the comments below!