Rockhounding in Missouri is about as good as it gets. From the Ozarks to the Mississippi River Valley, the abundance of geological wonders of our state will surely leave you awestruck once you pay a visit.
Missouri's remarkable geological diversity hosts an array of rock formations, ranging from ancient limestone and dolomite to stunning igneous rocks like granite and rhyolite. This provides a perfect breeding ground for a wide range of rocks and minerals, attracting collectors from all walks of life.
And if that's not enough, Missouri also has a number of great collecting sites. From abandoned mines to riverbanks to state parks, there are countless locations here where you can hunt for rocks and minerals.
Get to know more about Missouri and understand why it's one of the best playgrounds in the country for rockhounds like you!
How We Found The Best Places For Rockhounding in Missouri
We spent a lot of time putting together the list of which of the many options for Missouri rockhounding we were going to recommend. We wanted to have a nice variety of locations for experienced and novice rockhounds in a variety of settings. Here are the main factors we used when determining the recommendations we set out :
The extensive local experience and understanding of our team
Input from multiple local rockhounds and rockhound groups
The accessibility of the various locations
Safety and potential hazards when collecting
Private and public locations
A desire to include locations for both experienced rockhounds and those who are just starting out
Using these weights we think we've put together the best list out there for those who love finding new rocks, gems, and minerals for our collections!

What You Can Find Rockhounding In Missouri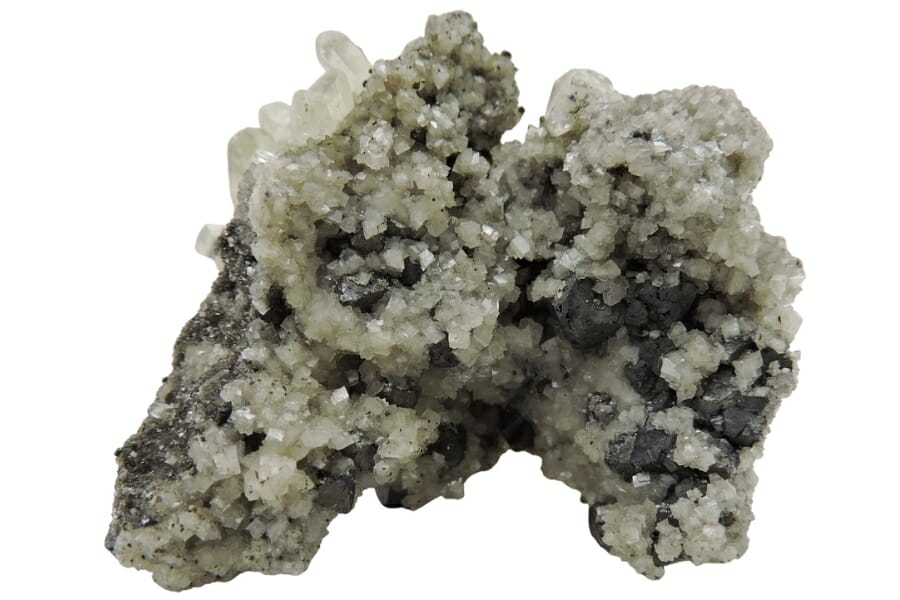 Missouri is blessed with a bountiful array of geological treasures, offering a diverse range of specimens to unearth and marvel at. With its rich mining history and varied terrain, this state boasts a cornucopia of rocks and minerals just waiting to be found. Below are some of the natural wonders that you can find here:
Rare rocks and minerals found in Missouri
More common desirable rocks, minerals, and gems found here
In-depth guides to finding specific types of rocks in Missouri
You can checkout the focused guides that we created on finding specific specimens in Missouri:
We also created a general full guide to rock hunting places near you, with more than 3,000 sites in the country!
But if you're after in-depth information on rockhounding in Missouri as a whole, continue reading because we've got you covered here.
The Best Places To Find Rocks and Minerals in Missouri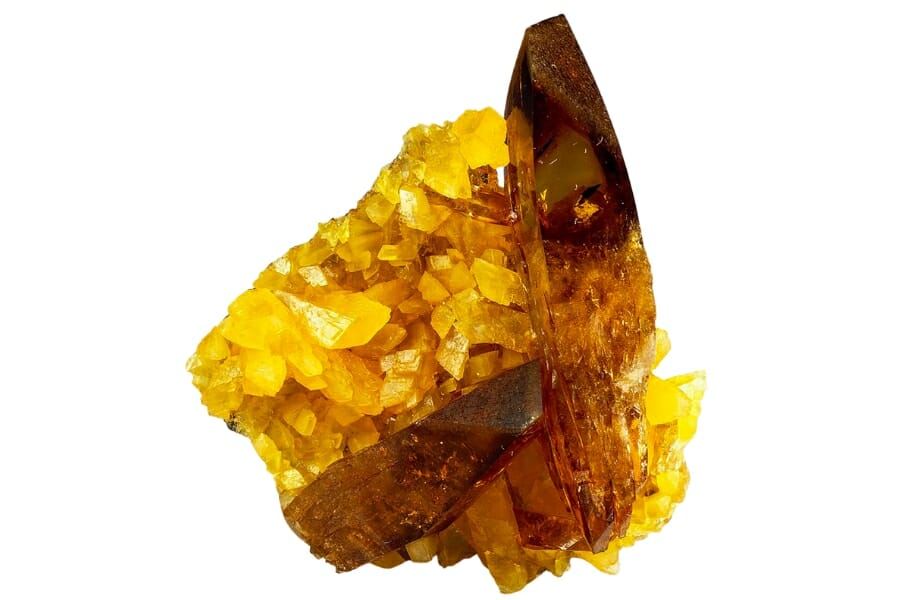 When it comes to rockhounding in Missouri, there are TONS of options of sites to explore. That's why we carefully selected our top favorites that we highly recommend for you to pay a visit and explore, too.
Always Confirm Access and Collection Rules!
Before heading out to any of the locations on our list you need to confirm access requirements and collection rules for both public and private locations.
These requirements are subject to change without notice and may differ from what we state below.
Always get updated information directly from the source ahead of time to ensure responsible rockhounding.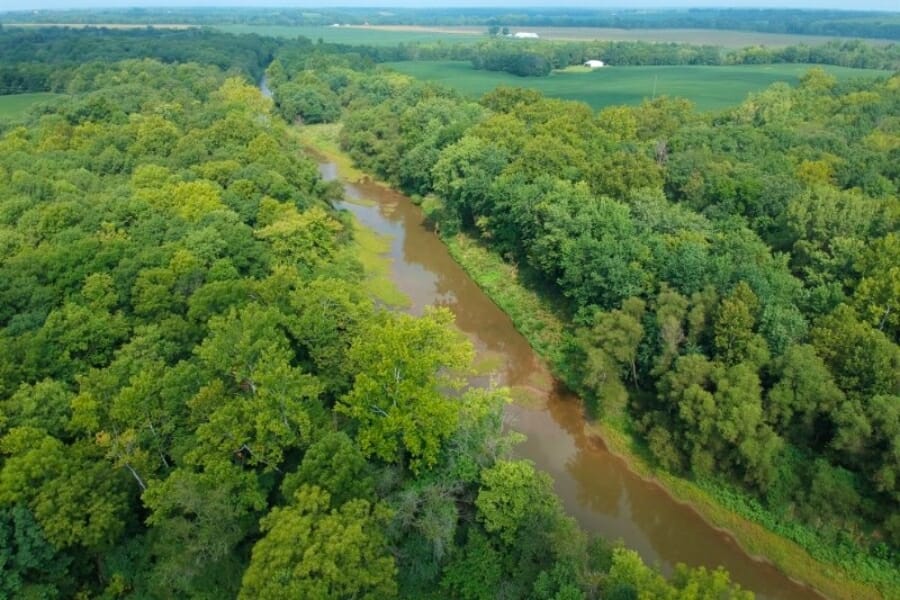 Fabius River winds its way through scenic landscapes, offering a unique opportunity to discover a diverse array of rocks and minerals. This picturesque river's geology, shaped by millions of years of natural processes, has created an ideal environment for rockhounding.
Flowing for approximately 105 miles, Fabius River's alluvial deposits contain a rich variety of rocks and minerals. These geological treasures have been eroded from the surrounding hillsides and carried downstream by the river's flow. The river's accessible banks and shallow waters make it an ideal location for all ages and skill levels to explore.
What you can find there
Fabius River is rich in different kinds of Geodes, which contain a variety of crystals such as Aragonite, Barite, Calcite, Fluorite, Malachite, Pyrite, Quartz, and Sphalerite.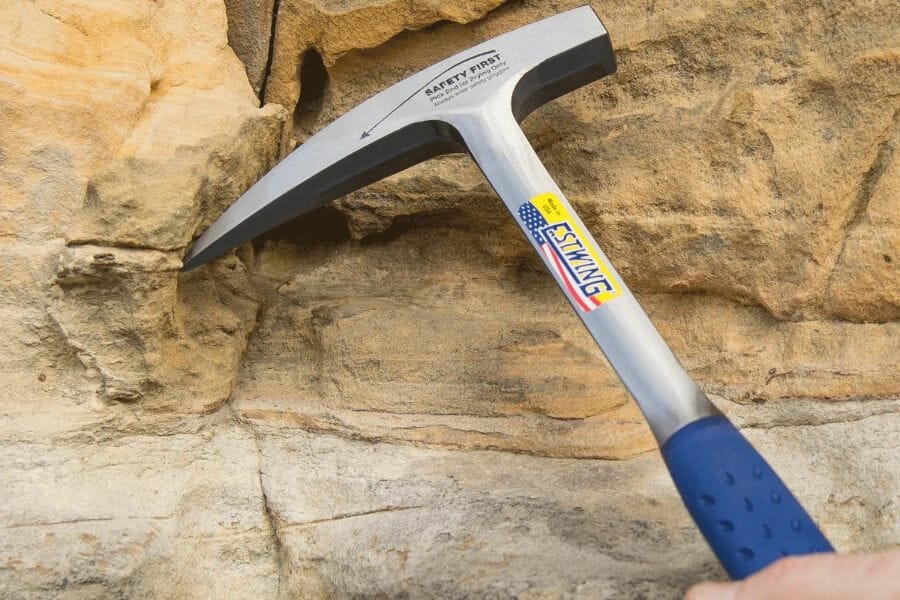 The tools every rockhound will need
When you're out looking for rocks and minerals having the right tools for the job is really going to make or break your success. You don't need a lot for most trips but there are a handful that are critical and will make your life a lot easier.
We get asked a lot about the equipment we use. Over the years we've found a handful of tools that we recommend to both new and experienced rockhounds which we outline in great detail in our complete rockhounding tools and kit guide. These are quality options that also happen to be relatively inexpensive.
Below are the basic tools that make your life so much easier and save you a ton of time. Check out the full guide to see everything we recommend bringing. At a minimum you should have:
1 - Sturdy rock hammer: The Estwing Rock Pick is our standard
2 - Rugged chisels: Try Kendo' 3-piece Chisel Set
3 - Compact shovel: The Koleiya 28-inch shovel works well
4 - Rock screen pan: The Wazakura Soil Sieve Set fits the bill
5 - Eye protection: DeWalt Safety Glasses are cheap and comfortable
6 - Head protection: Malta's Safety Helmet has been our go-to
7 - Jewelers lens with at least 20x magnification: Jarlink's Jewelers Loop is perfect
The rockhounding books that we use most
There are also a few books that have been extremely helpful in the search for gems. These books have great recommendations and tips:
National Audubon Society Field Guide to Rocks and Minerals: North America 
Southeast Treasure Hunter's Gem & Mineral Guide 
Earth Treasures: The Southeastern Quadrant 
We provide links to find these tools on Amazon but some can also be found at your local hardware stores. For more recommendations check out the link to our full tool guide above.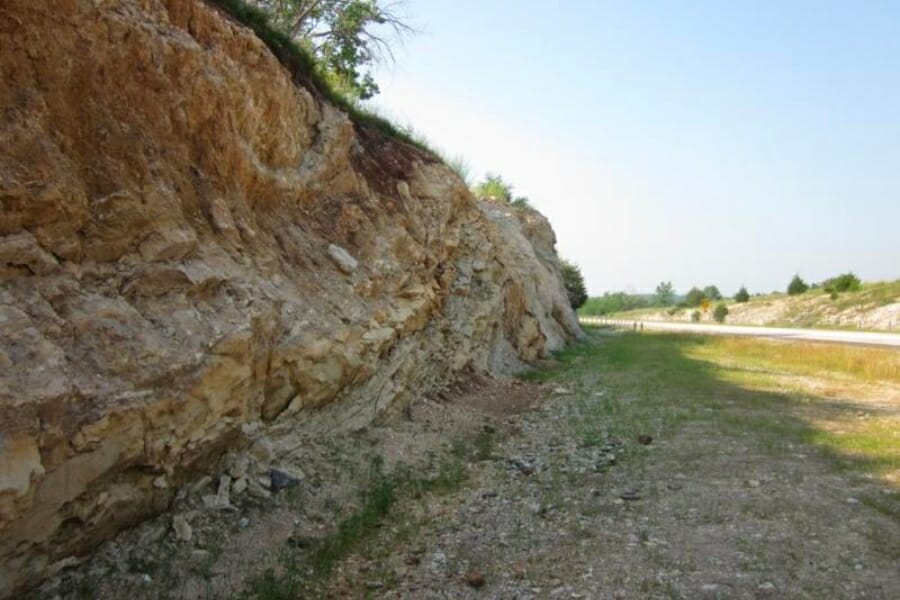 Decaturville Crater is believed to have been formed by a meteorite impact millions of years ago, creating a distinct circular depression in the landscape. This rare geological feature offers rockhounding enthusiasts a chance to explore the remnants of this ancient cosmic event.
Rockhounding at the Decaturville Crater provides an opportunity to uncover various rocks and minerals that have been exposed by the meteorite impact. The impact and subsequent geological processes have altered the composition of the rocks in the area, leading to the discovery of unique specimens.
What you can find there
You can find stunning specimens of Albite, Galena, Glauconite, Limonite, Marcasite, Microcline, Muscovite, Opal, Plagioclase, Pyrite, Sphalerite, and Tourmaline when you explore here.
Iron Mountain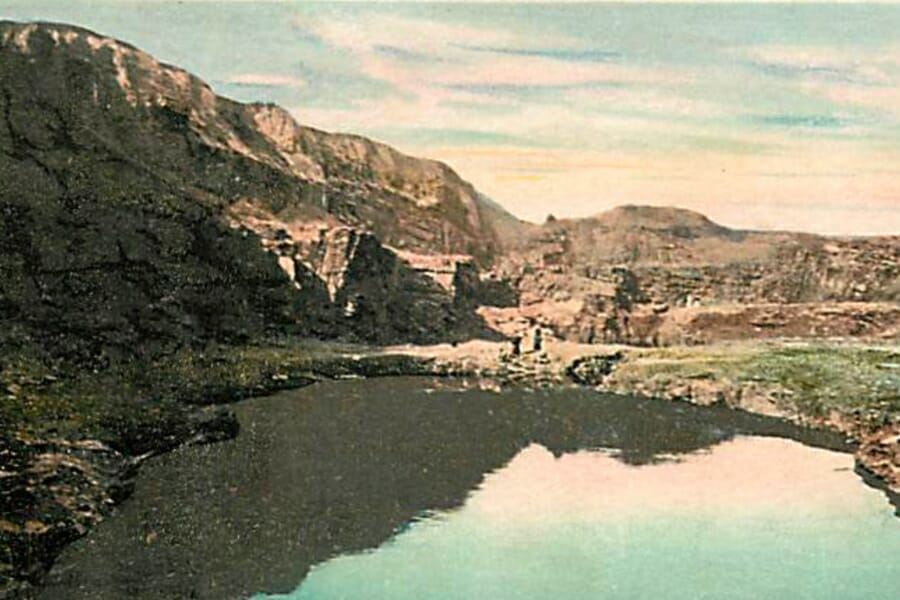 Iron Mountain is a prominent site is known for its rich iron ore deposits and its historical significance in the mining industry. The iron-rich rocks and minerals found here have shaped the region's history and continue to draw rockhounding enthusiasts from far and wide.
The mountain's unique geology and mining activities have exposed rocks and minerals, allowing you to find specimens of varying colors, textures, and crystal formations. Additionally, the remnants of the old mine workings and tailings piles add to the allure of the site, offering a glimpse into Missouri's mining heritage.
What you can find there
Iron Mountain abounds in resources, and if you get the chance to go here, you can find specimens of Garnet (yellow), Apatite, Barite, Calcite, Diopside, Dolomite (pink), Epidote, Fluorite, Galena, Magnetite, and Quartz.
Nestled in the heart of our state, Finger Lakes State Park is known for its former strip mining activities, which have left behind a diverse array of rocks and minerals to discover. The park's varied terrain, including open fields, forests, and lakeshores, provides ample opportunities for rockhounding adventures.
The park's former mining areas and exposed rock faces provide prime locations for finding hidden treasures. With its beautiful natural surroundings and rich rockhounding opportunities, Finger Lakes State Park is a must-visit destination for rockhounds of all ages and skill levels, offering a memorable and rewarding experience for all.
What you can find there
You can find amazing samples of Aragonite, Copiapite, Gypsum, Halotrichite, Marcasite, Melanterite, and Pyrite here.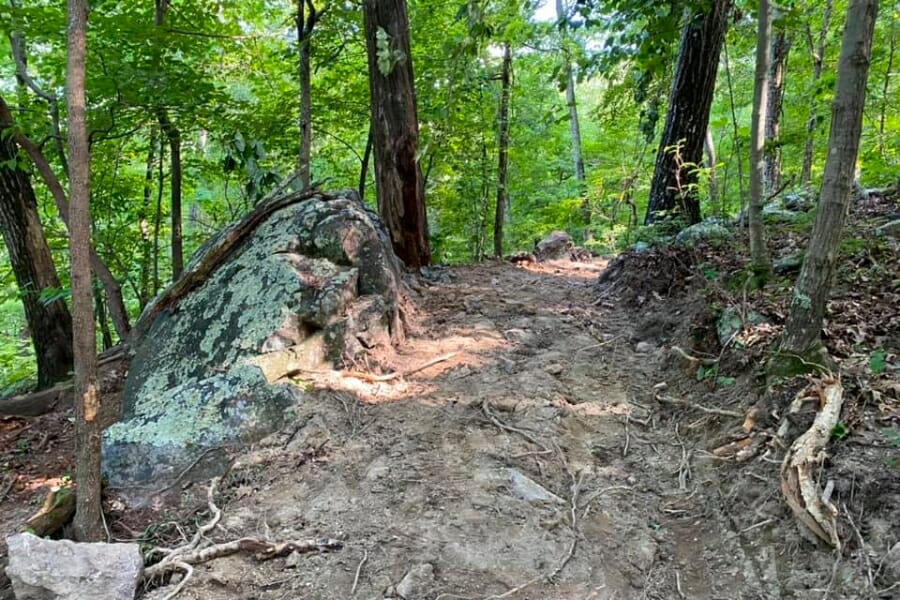 Rising majestically in the St. Francois Mountains, Shepherd Mountain showcases an array of rocks and minerals that have captured the imagination of rockhounds for years. Its rugged terrain and diverse geological makeup make it an ideal destination for those seeking a thrilling rockhounding adventure.
The mountain is known for its deposits a wide variety of rocks and minerals, which can be found in various forms and colors. With its scenic vistas and abundant geological treasures, Shepherd Mountain provides a captivating rockhounding experience for rockhounds from different walks of life.
What you can find there
When you explore here, you may find specimens of Fluorite, Hematite, Magnetite, and Quartz.
Our Other Favorite Spots Around Missouri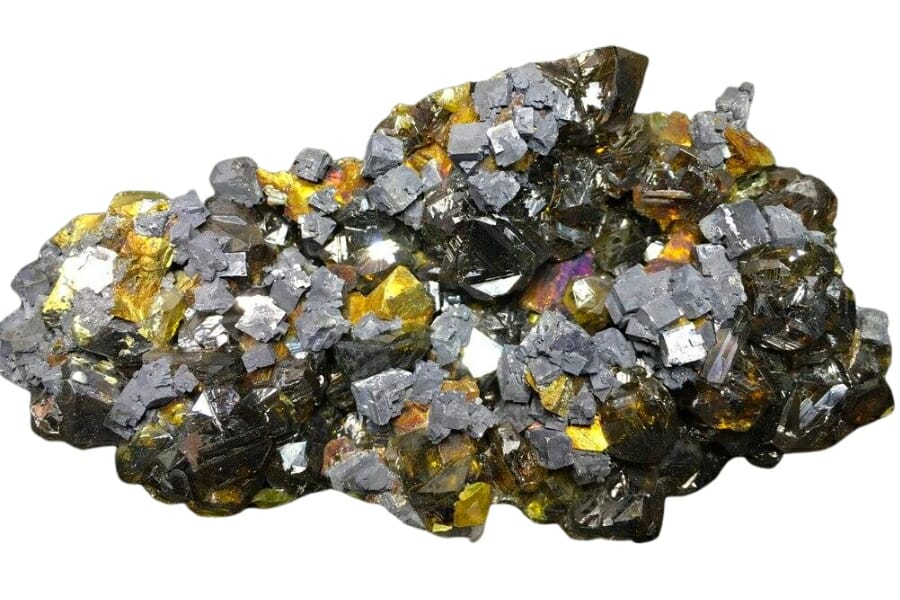 In case you've already been to our favorite rockhounding sites in Missouri that we've shared above, there are plenty other places that you can explore. We've listed down the other rockhounding sites here by region so that you can easily refer to this guide while making your itinerary.
Rockhounding sites in northern Missouri
A region brimming with geological wonders, Northern Missouri offers a diverse range of landscapes— from rolling hills and river valleys to limestone bluffs and ancient glacial deposits. These varied terrains have resulted in a rich assortment of rocks and minerals, making this region a treasure trove for rockhounds of all kinds.
| | |
| --- | --- |
| Location | Minerals & Rocks |
| Gentry Countywide | Agate, Chalcedony, Fossils, Jasper, Petrified Wood |
| Daviess Countywide | Agate, Fossils, Jasper, Petrified Wood |
| Along both sides of the Grand River | Agate, Chalcedony, Fossils, Jasper, Petrified Wood |
| Grundy Countywide | Agate, Fossils, Jasper, Petrified Wood |
| Des Moines River | Quartz Geode |
| Sinotte property in St. Francisville | Jasper, Quartz Geode |
| Weaver's Branch | Chalcedony Geode, Quartz Geode |
| La Grange area gravel-dredging operation | Agate, Jasper, Petrified Wood |
Rockhounding sites in southern Missouri
Southern Missouri is renowned for its rugged landscapes, expansive forests, and winding rivers, all of which contribute to its rich array of rocks and minerals. This region's geological diversity and long history of mining activities make it an ideal destination for rockhounding enthusiasts.
| | |
| --- | --- |
| Location | Minerals & Rocks |
| Cowley's Ridge north to gravel pits | Chert, Jasper |
| Both sides of Current River | Chert |
| Slater Mine | Chalcocite, Malachite |
| Timbered Knob | Chert |
| Bee Bluff | Chert |
| Tyrell Mine | Chalcocite, Malachite |
| Aurora area mines | Calamine |
| Jerktail Mine | Chalcocite, Malachite |
Rockhounding sites in eastern Missouri
Eastern Missouri is a captivating region that beckons rockhounds with its rich geological diversity and fascinating specimens. It's characterized by rolling hills, fertile farmlands, and beautiful river valleys, which have contributed to a wide range of rocks and minerals.
| | |
| --- | --- |
| Location | Minerals & Rocks |
| Road cut at bridge over Salt River | Fossils |
| Alton Brick Company | Fossils |
| St. Ferdinand Creek | Jasper, Quartz Geode |
| East over railroad to mine in De Soto | Agate |
| Little Saline Creek | Fossils |
| Cape Girardeau Countywide | Agate, Petrified Wood |
| Stoddard Countywide | Fossils |
Rockhounding sites in western Missouri
Known for its diverse landscapes, Western Missouri is home to rolling plains, river valleys, and the stunning bluffs of the Missouri River. This region's unique geology holds a plethora of treasures, ensuring an exciting and rewarding rockhounding experience for all who venture into this remarkable region.
| | |
| --- | --- |
| Location | Minerals & Rocks |
| Sweetwater Mine | Calcite |
| Kansas City area | Fossils |
| Quarry adjacent to Camp Branch | Chert, Fossils, Petrified Wood |
| Harrisonville area quarries | Petrified Wood |
| Joplin area mines | Calcite, Chalcopyrite, Dolomite, Galena, Marcasite, Sphalerite |
| Granby area mines | Calamine, Calcite, Cerrusite, Chert, Dolomite, Galena, Marcasite, Pyrite, Quartz, Sphalerite |
| Wentworth area mines | Galena, Pyrite, Sphalerite |
Rockhounding sites in central Missouri
Central Missouri boasts of a unique blend of landscapes, including rolling hills, limestone bluffs, and river valleys, which have contributed to a rich tapestry of geological wonders. This region offers rockhounding enthusiasts a chance to delve into its intriguing formations and unearth stunning specimens.
| | |
| --- | --- |
| Location | Minerals & Rocks |
| Benton Countywide | Chalcedony, Mozarkite, Jasper |
| Hickory Hill area mines | Barite |
| Versailles area gravel pits | Barite |
| California area gravel pits | Barite |
| Missouri River downstream to Wilton | Agate, Chert, Fossils, Petrified Wood |
| Dalton area quarries | Tripoli |
| Callaway Countywide | Fossils |
Where To Find Mozarkite In Missouri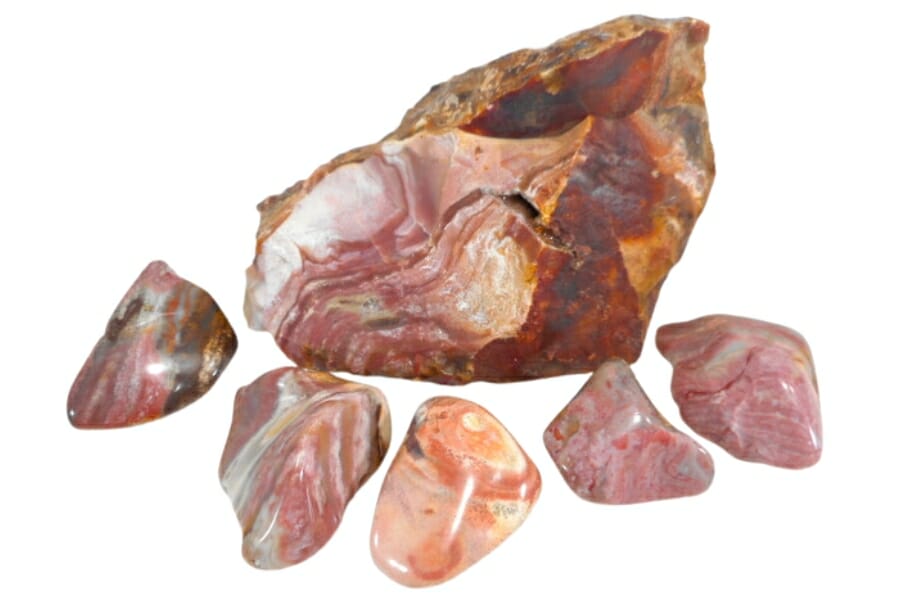 Mozarkite is a distinctive form of chert that's primarily found in Missouri. What makes it so remarkable is its vibrant array of colors and unique banding patterns. Mozarkite can exhibit hues of red, pink, orange, yellow, brown, and even occasional purple.
Mozarkite found in Missouri holds a special place among rockhounds and collectors, and is treasured by lapidary artists, jewelry makers, and rock collectors for its unique and eye-catching appearance. To this day, it continues to captivate with its natural beauty and historical connections.
Lincoln is our favorite place to look for Mozarkite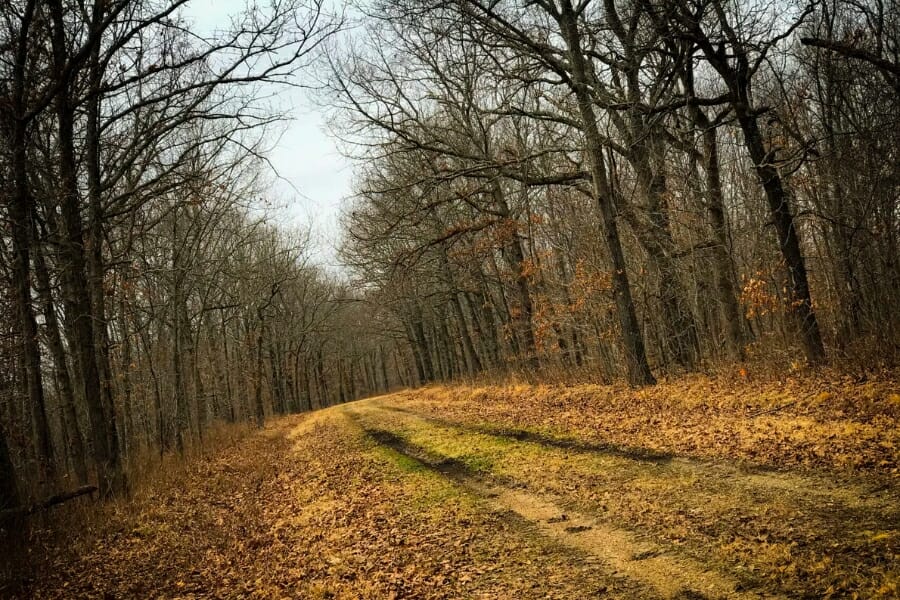 The small town of Lincoln in Benton County is a fantastic spot to look for Mozarkite. It's nestled in the heart of the Ozarks, where this stone is plentiful and can be found in various colors and patterns.
The geological composition of the area, combined with the rich history of Mozarkite mining here, makes Lincoln an ideal place to embark on a Mozarkite-hunting adventure.
Public Rockhounding Options For Kids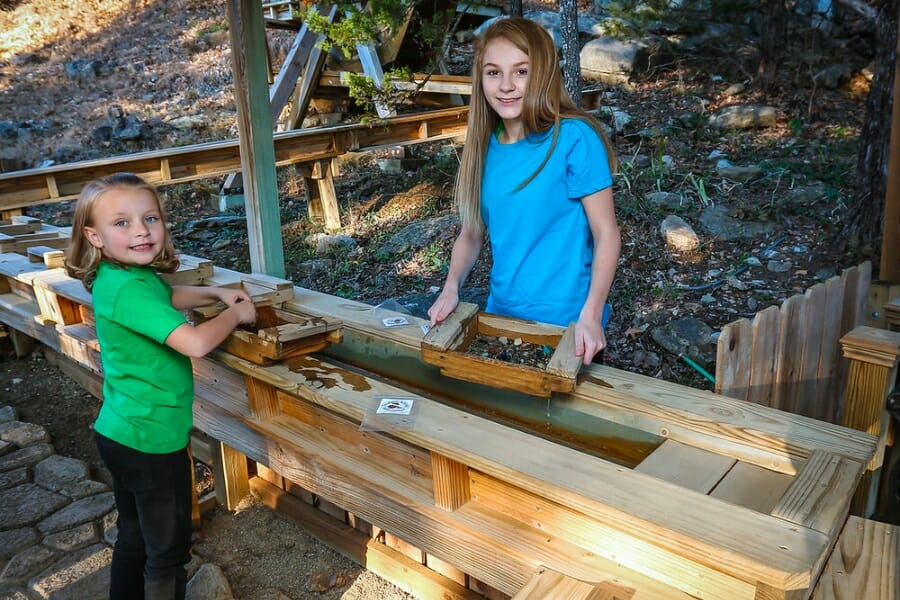 While Missouri has numerous rockhounding sites, many of them can be challenging for children to navigate due to their rugged terrain or steep inclines. Don't worry, though, because there are several family-friendly rockhounding spots here that offer a more accessible rockhounding experience, with easier paths and less strenuous hiking required.
Missouri Rockhounding Clubs
Rockhounding clubs offer tons of benefits for both new and experienced rockhounds. This is especially true for those looking to join rockhounding clubs in Missouri. These clubs provide a supportive and engaging community where members can connect, learn, and share their passion for rocks, minerals, and fossils.
Aside from the sense of belonging and camaraderie within the local rockhounding community that clubs offer, they also frequently organize educational programs, workshops, and guest speaker events. These opportunities allow members to expand their knowledge of geology, learn about new collecting techniques, and stay up-to-date with the latest discoveries and trends in the field.
Rockhounding clubs in Missouri worth checking out
Missouri Rockhounding Laws And Regulations
It's legal to engage in rockhounding in Missouri for as long as you adhere to all our local and state laws regarding collection. Our state has specific regulations in place to protect our natural resources and ensure its sustainable preservation for future generations. We recommend familiarizing yourself with these laws and regulations beforehand.
The Missouri Department of Natural Resources (DNR) regulates rockhounding and mineral collecting here. They oversee the management and protection of our state's natural resources, including minerals and geological formations. They provide valuable information and resources for rockhounds, including guidelines on responsible collecting practices, permit requirements for certain areas, and access to designated collecting sites.
The Best Rock And Mineral Shops In Missouri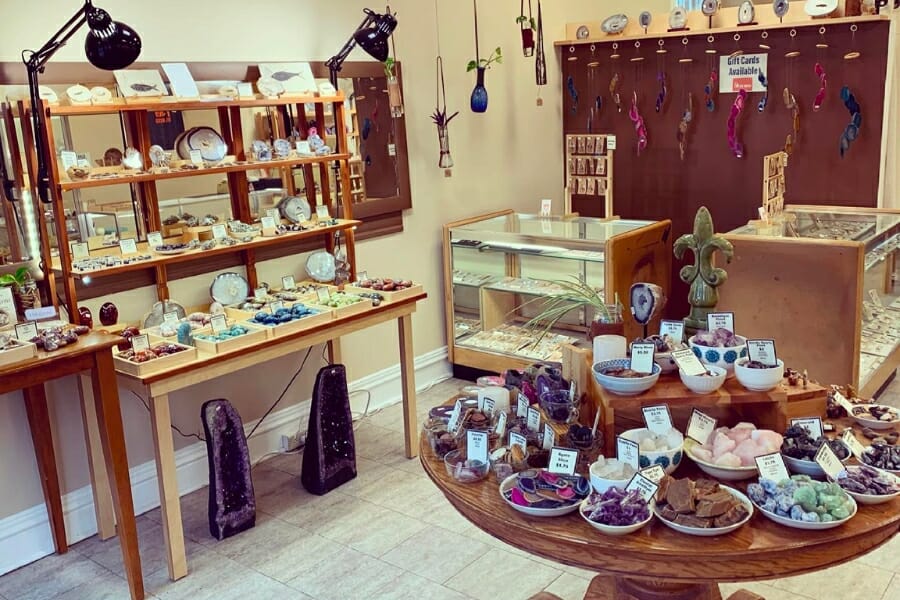 While rockhounding in the wild is probably one of the most thrilling experiences, the reality is that finding specific rocks, minerals, and gems for your collection can be quite challenging. If you're eager to expand your collection with unique crystals and gemstones, Missouri offers a plethora of great rock and mineral shops.
Below are some only of our best ones here:
Additional Rockhounding Places In Nearby States
If you want to extend your rockhounding adventure to nearby states, check out the following guides that we prepared for you:
If you have any recommendations that we haven't covered yet, please leave them in the comments below!