Illinois is a vibrant state that offers a treasure trove of diverse rocks and minerals that will make any rockhound's heart skip a beat. Whether you're an avid collector or simply enjoy marveling at the Earth's natural wonders, our state has something special in store for you.
The remarkable variety of rocks and minerals here make visiting Illinois truly worth it. Our state's rich geological history has blessed it with an abundance of interesting specimens. Aside from plenty common rocks and minerals, the rarest of the rare can also be found here.
With its diverse natural resources, Illinois is home to several renowned rockhounding locations that promise adventure and excitement. And we'll be sharing these with you, so that you can enjoy our state's promising treasures waiting to be discovered.
How We Found The Best Places For Rockhounding in Illinois
We spent a lot of time putting together the list of which of the many options for Illinois rockhounding we were going to recommend. We wanted to have a nice variety of locations for experienced and novice rockhounds in a variety of settings. Here are the main factors we used when determining the recommendations we set out :
The extensive local experience and understanding of our team
Input from multiple local rockhounds and rockhound groups
The accessibility of the various locations
Safety and potential hazards when collecting
Private and public locations
A desire to include locations for both experienced rockhounds and those who are just starting out
Using these weights we think we've put together the best list out there for those who love finding new rocks, gems, and minerals for our collections!

What You Can Find Rockhounding In Illinois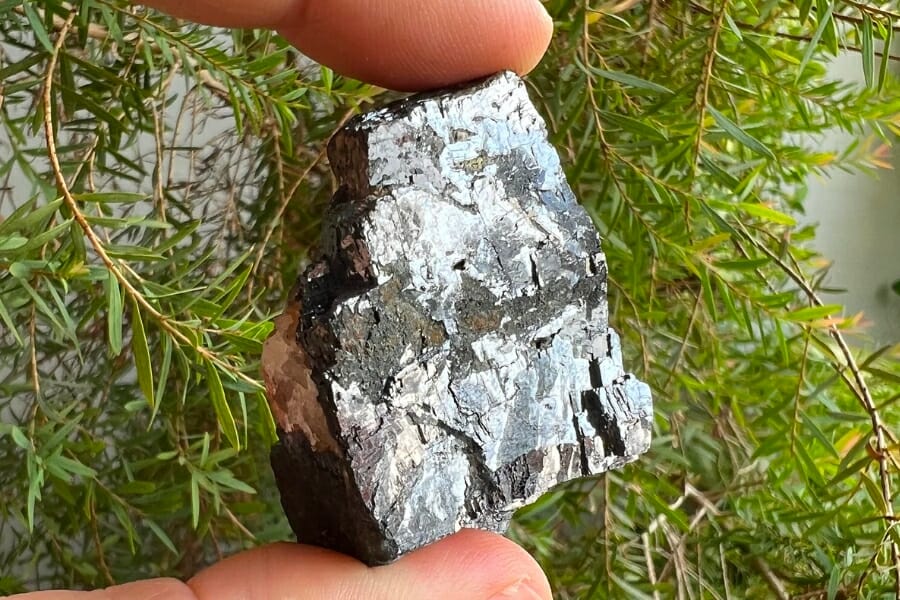 Rockhounding in Illinois is a dream come true for many rockhounds. Our geologically diverse state offers a fascinating array of rocks and minerals that can be discovered in a variety of interesting settings— from the rolling plains to the enchanting forests.
Below is a quick list of some of the natural wonders that you can find here:
Rare rocks and minerals found in Illinois
More common desirable rocks, minerals, and gems found here
In-depth guides to finding specific types of rocks in Illinois
We've created a number of guides that you can refer to if you're looking for specific types of rocks and minerals.
You can also checkout our full rockhounding map that has more than 3,000 sites all over the US.
But if you're after more in-depth information on the plenty rockhounding opportunities Illinois has to offer, keep reading!
The Best Places To Find Rocks and Minerals in Illinois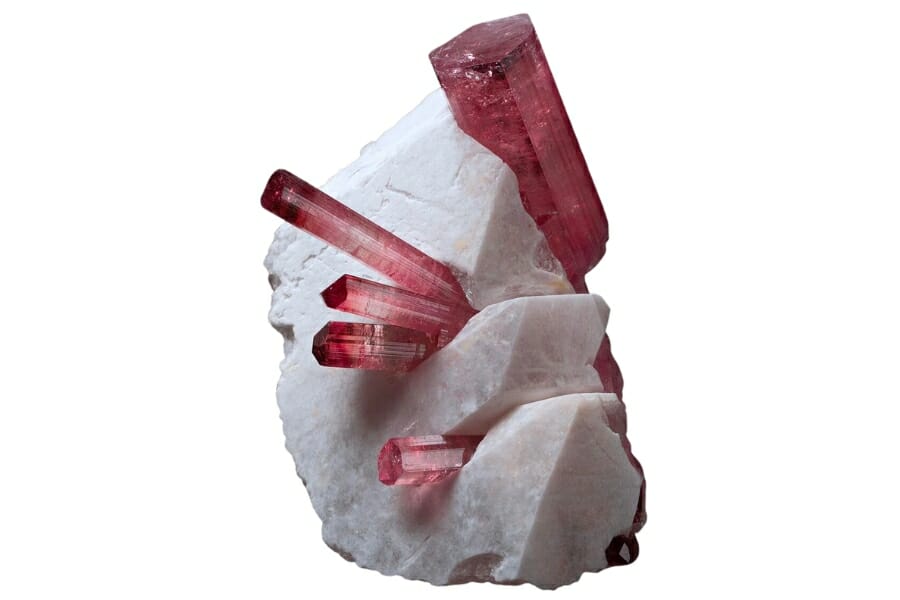 Planning to embark on a rockhounding adventure in Illinois? We recommend checking out our favorite sites here! These spots not only boast of awesome deposits of rocks and minerals but also features the best views and landscapes of our state.
Always Confirm Access and Collection Rules!
Before heading out to any of the locations on our list you need to confirm access requirements and collection rules for both public and private locations.
These requirements are subject to change without notice and may differ from what we state below.
Always get updated information directly from the source ahead of time to ensure responsible rockhounding.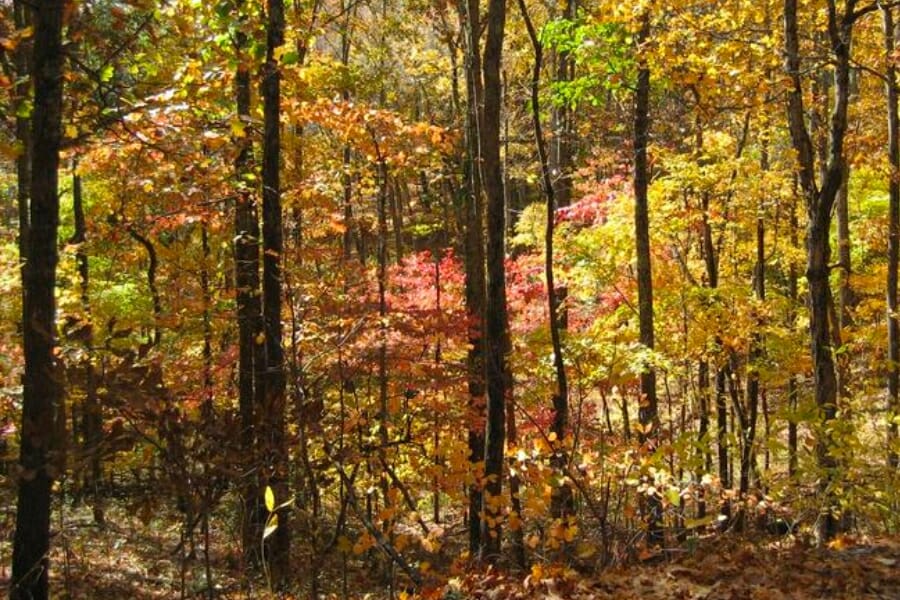 Located in Hardin County, Rosiclare is a renowned rockhounding site that promises a memorable experience for rockhounds.
This area is particularly famous for its abundance of Fluorite, a stunning mineral known for its vibrant colors and exceptional crystal formations. Rosiclare's Fluorite deposits have captivated rockhounds for years, drawing them to its mines and quarries in search of it.
What makes Rosiclare an exceptional destination is the opportunity for hands-on exploration. Many old mines and quarries in the area will allow you to dig and collect your own fluorite samples, which adds a sense of adventure and satisfaction to your journey.
What you can find there
You can find amazing samples of Illinoi's state mineral, Fluorite, in colors of blue, yellow, purple, and even clear ones. You can also find Calcite and Sphalerite in Rosiclare.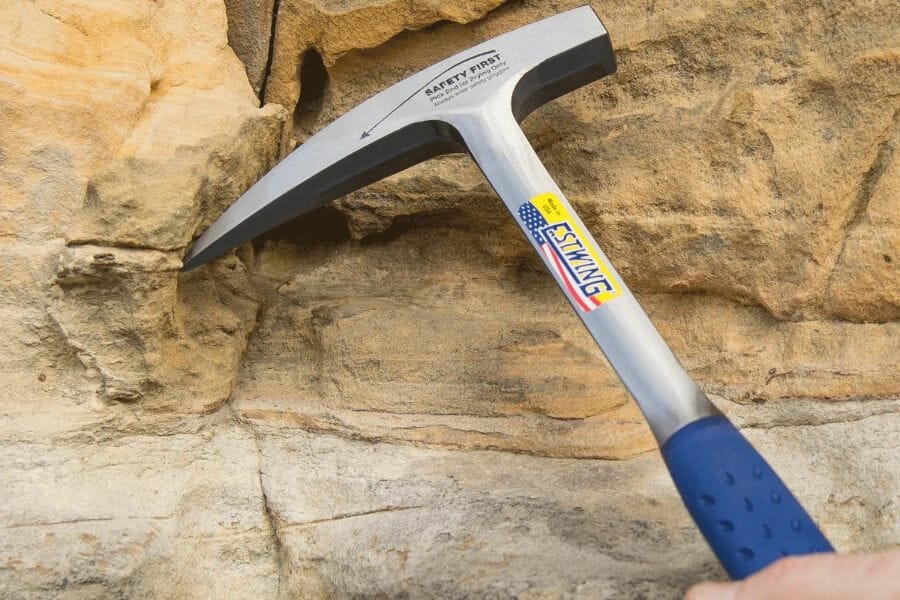 The tools every rockhound will need
When you're out looking for rocks and minerals having the right tools for the job is really going to make or break your success. You don't need a lot for most trips but there are a handful that are critical and will make your life a lot easier.
We get asked a lot about the equipment we use. Over the years we've found a handful of tools that we recommend to both new and experienced rockhounds which we outline in great detail in our complete rockhounding tools and kit guide. These are quality options that also happen to be relatively inexpensive.
Below are the basic tools that make your life so much easier and save you a ton of time. Check out the full guide to see everything we recommend bringing. At a minimum you should have:
1 - Sturdy rock hammer: The Estwing Rock Pick is our standard
2 - Rugged chisels: Try Kendo' 3-piece Chisel Set
3 - Compact shovel: The Koleiya 28-inch shovel works well
4 - Rock screen pan: The Wazakura Soil Sieve Set fits the bill
5 - Eye protection: DeWalt Safety Glasses are cheap and comfortable
6 - Head protection: Malta's Safety Helmet has been our go-to
7 - Jewelers lens with at least 20x magnification: Jarlink's Jewelers Loop is perfect
The rockhounding books that we use most
There are also a few books that have been extremely helpful in the search for gems. These books have great recommendations and tips:
National Audubon Society Field Guide to Rocks and Minerals: North America 
Northeast Treasure Hunter's Gem & Mineral Guide 
Earth Treasures: The Northeastern Quadrant 
We provide links to find these tools on Amazon but some can also be found at your local hardware stores. For more recommendations check out the link to our full tool guide above.
Hamilton Quarry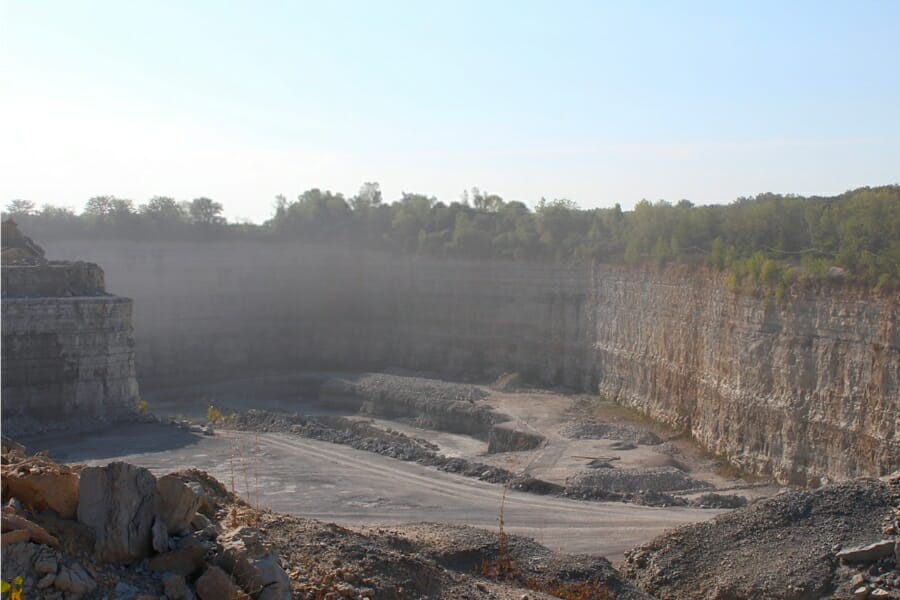 Hamilton Quarry stands as a remarkable rockhounding site that appeals to both amateur enthusiasts and seasoned collectors. This limestone quarry is known for its abundance of fossil-rich rocks, making it a treasure trove for paleontological exploration.
Aside from different rocks and minerals, fossils from the Mississippian period, around 330 million years ago, can be found here, including a diverse array of marine life such as brachiopods, crinoids, and corals.
What you can find there
Exploring Hamilton Quarry will give you a chance to find stunning samples of different kinds of Geodes with Calcite, Marcasite, Pyrite, and Sphalerite crystals inside.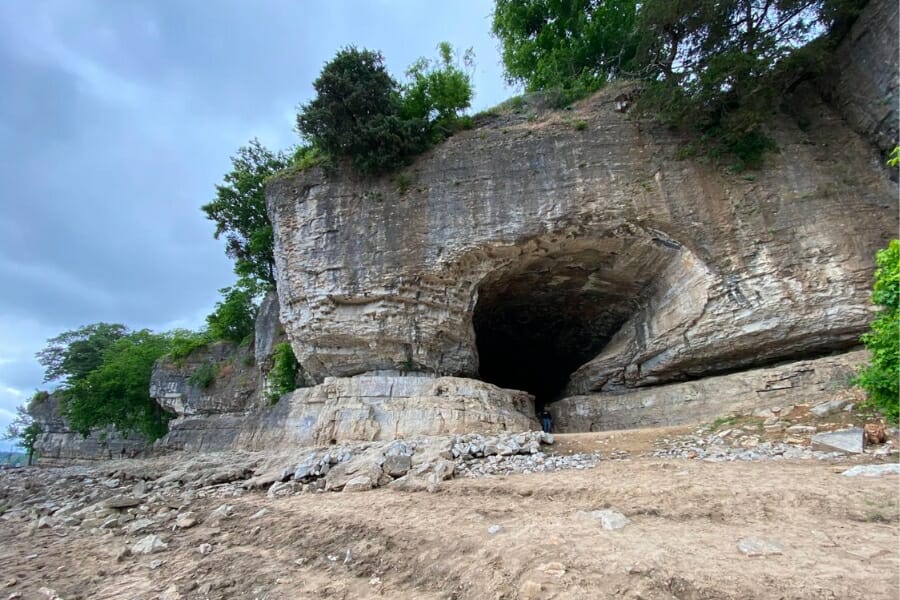 Nestled along the picturesque Ohio River, Cave-In-Rock State Park is renowned for its geological wonders, which include an array of interesting rocks and minerals. The park's namesake, Cave-in-Rock, is a massive limestone cave that has been eroded by the river over millions of years, creating a stunning natural formation that will awe visitors.
Cave-In-Rock State Park offers more than just rockhounding opportunities; it's a haven for outdoor enthusiasts as well. The park features scenic hiking trails that wind through lush forests and along the river, providing breathtaking views and a chance to immerse oneself in nature.
With its combination of geological wonders, outdoor activities, and a serene setting, Cave-In-Rock State Park is a must-visit destination that offers a memorable rockhounding experience for all.
What you can find there
You can get your hands on beautiful samples of Barite, Calcite, Cerussite, Chalcopyrite, Fluorite, Galena, Pyrite, Smithsonite, and Witherite when you explore here.
Crystal Glen Creek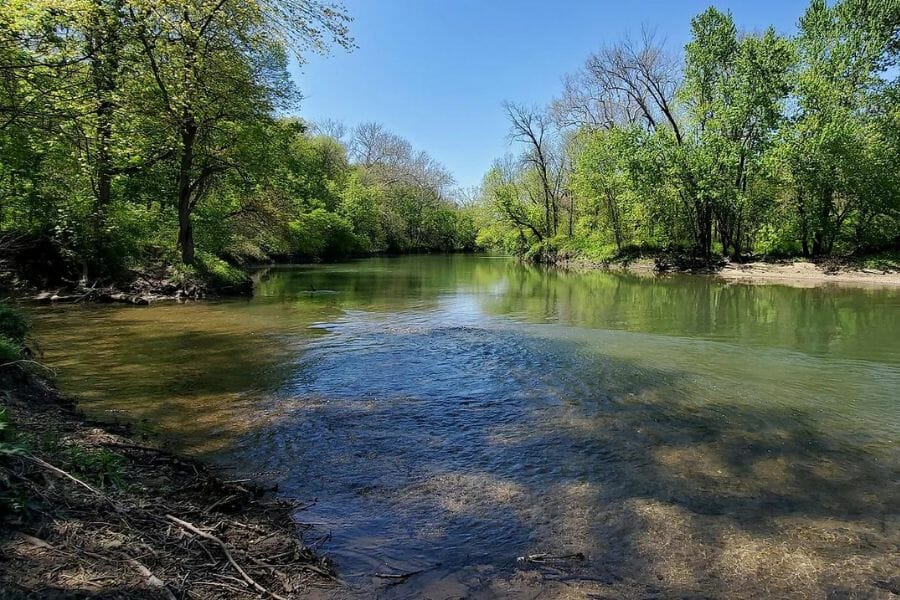 Crystal Glen Creek is a hidden gem for rockhounds seeking a tranquil and fruitful experience. This serene creek is known for its diverse collection of rocks and minerals, making it a fantastic site for those passionate about geology and natural treasures.
As you explore Crystal Glen Creek, you'll have the opportunity to discover an assortment of beautiful specimens. The creek's flowing waters have helped to polish and reveal the vibrant colors and intricate patterns found in these rocks, adding to its allure.
Aside from its richness, its the accessibility and natural beauty of Crystal Glen Creek that make it special. It's situated in a picturesque setting surrounded by lush greenery and peaceful ambiance, creating a serene environment for rockhounding adventures.
What you can find there
You can find rare specimens of Geodes with Aragonite, Barite, Calcite, Dolomite, Goethite, Pyrite, Quartz, and Selenite crystals inside.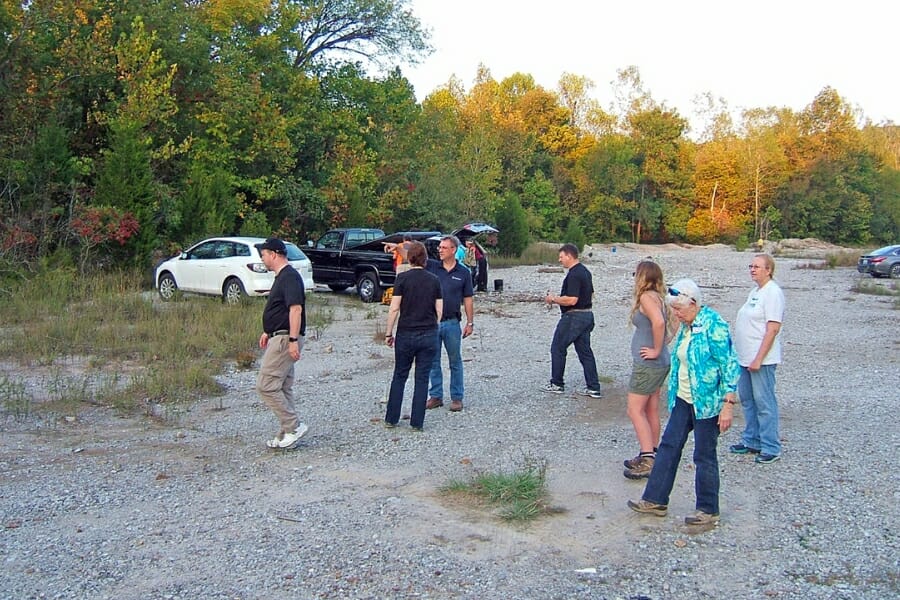 Minerva Mine No. 1 holds a rich history and offers a fascinating opportunity for rockhounds. This former lead and fluorite mine is renowned for its abundance of minerals, making it a must-visit destination for rockhounding enthusiasts.
Exploring this mine allows you to delve into our state's mining heritage while discovering remarkable rock and mineral treasures.
The best thing about rockhounding here is that you have the chance to uncover unique specimens in a historic and atmospheric setting. The mine's underground tunnels provide a sense of adventure as you venture deeper into the earth in search of beautiful rocks and minerals.
What you can find there
When you explore here, you can find breathtaking specimens of Alstonite, Barite, and Strontianite.
Our Other Favorite Spots Around Illinois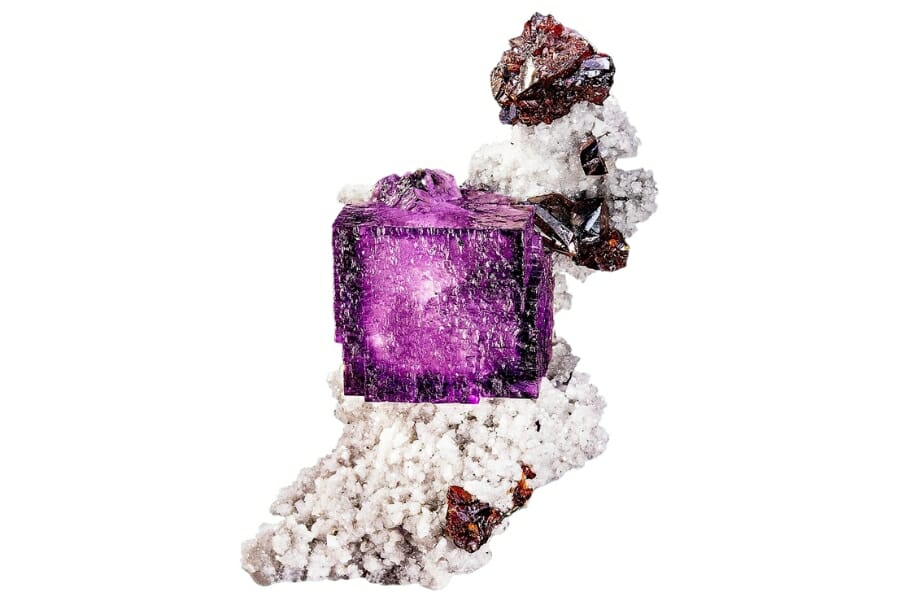 As a rockhound's paradise, Illinois has many other rockhounding sites aside from the ones we've already shared with you. We've listed them below by region so that you can easily refer to this guide when planning you rockhounding itinerary here.
Rockhounding sites in Northern Illinois and along the Lake Michigan coast
Northern Illinois, including the counties along the Lake Michigan coast, is a fantastic destination for those seeking geological treasures due to its unique combination of glacial deposits, ancient shorelines, and diverse geological formations.
The constant action of Lake Michigan's waves and the retreat of glaciers over thousands of years have exposed a wide range of rocks and minerals, providing ample opportunities for exploration.
| | |
| --- | --- |
| Location | Minerals & Rocks |
| Apple River area lead mine dumps | Calcite, Galena, Marcasite, Zinc |
| Materials Service Sand and Gravel Dycore Corporation, Algonquin Plant | Agate, Chert, Fossils, Jasper |
| Savanna Army Depot | Lake Superior Agate |
| Old dumps of the Road Fill Corporation gravel pit | Agate, Chert, Fossils, Jasper, Tourmaline |
| 6 miles north of Fulton at the Carroll County border | Lake Superior Agate |
| East Dubuque area gravel pits | Agate |
Rockhounding sites in Southern Illinois
Southern Illinois is characterized by its rugged terrain, lush forests, and unique rock formations, making it a captivating destination for those seeking interesting rocks and minerals. This region is also rich in different fossil deposits, making it a captivating rockhounding site for enthusiasts of all levels.
| | |
| --- | --- |
| Location | Minerals & Rocks |
| Penn Central Railroad Cut | Jasper |
| Fayville area streambeds | Agate, Diamond, Jasper |
| Thebes area gravel pits along the Mississippi River | Agate, Jasper |
| Strip mining area of the Peabody Coal Company | Fossils, Pyrite |
| L&N railroad bridge over the Rayse Creek | Diamond |
Rockhounding sites in Eastern Illinois
Eastern Illinois presents a unique landscape that offers enticing opportunities for rockhounds to indulge in their passion. This region has a mix of glacial deposits, river systems, and fertile soils, resulting in a diverse range of rocks and minerals.
| | |
| --- | --- |
| Location | Minerals & Rocks |
| Lemont area quarries | Fossils |
| Formerly Peabody Coal Company, now owned by the Commonwealth Edison | Fossils |
| Danville area quarries | Fossils, Marcasite |
| Palestine area | Siderite |
| Coal mine dumps of Gardner | Fossils, Marcasite, Pyrite |
| Strip coal mines of Coal City | Fossils, Marcasite, Pyrite |
Rockhounding sites in Western Illinois
Characterized by its rolling hills, river valleys, and diverse geological formations, Western Illinois is a great destination for those in search for rocks and minerals. One of the fascinating aspects of rockhounding in this region is the presence of geodes. These spherical rocks can be found hidden in the region's limestone deposits.
| | |
| --- | --- |
| Location | Minerals & Rocks |
| North branch of Troublesome Creek | Diamond |
| Terre Haute area gravel pits and mine dumps | Fossils, Marcasite, Pyrite |
| Railroad Creek | Calcite Geode, Quartz Geode |
| Abandoned gravel pit in Hamilton | Jasper |
| Local gravel pits of Warsaw | Agate |
| Creekbed of Nauvoo State Park | Calcite Geode, Quartz Geode |
| Grafton area quarries | Fossils |
Rockhounding sites in Central Illinois
The fertile farmlands and abundant rivers of Central Illinois have played a significant role in shaping the rocks and minerals found here. This region is known for its fossil-rich limestone formations. Indeed, Central Illinois offers an enticing rockhounding experience that combines beauty, history, and geological wonders.
| | |
| --- | --- |
| Location | Minerals & Rocks |
| Bishop Hill area | Agate, Jasper |
| Oglesby area quarries | Fossils |
| Panther Creek and its tributaries | Pearl |
| Midland Coal Company Rapatee No. 5 Strip Mine | Fossils, Marcasite, Pyrite |
| Mackinaw River and its tributaries | Pearl |
Where To Find Fluorite In Illinois
Fluorite is a fascinating mineral known for its vibrant colors and unique crystal formations. Composed of calcium fluoride (CaF2), it occurs in a wide range of hues, including purple, green, yellow, blue, and even colorless.
One of the remarkable features of Fluorite is its fluorescence, which means it can emit a colorful glow when exposed to ultraviolet light. This property makes it a captivating addition to any collection and adds a magical touch to the mineral.
Hardin County is our favorite place to look for Fluorite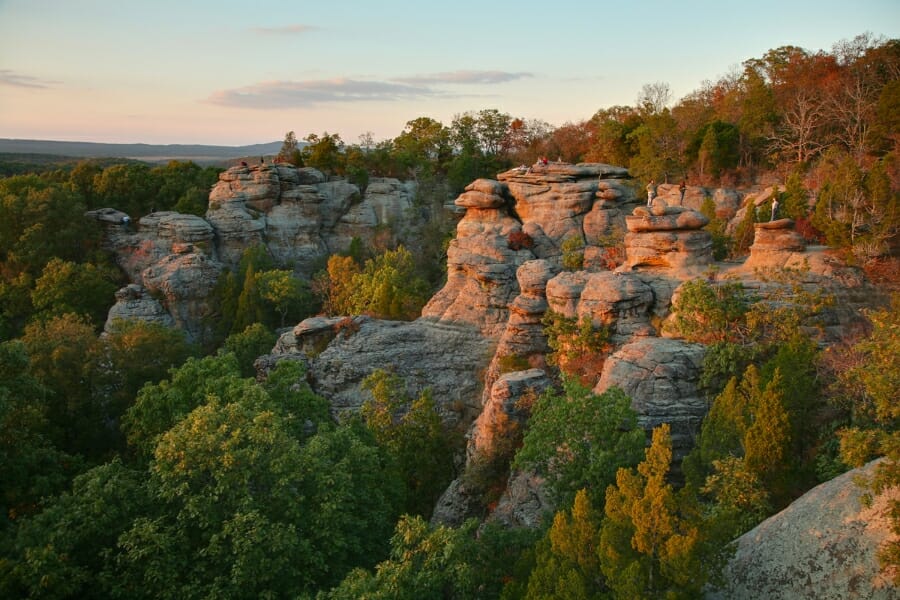 Hardin County is a prime destination for rockhounds in search of Fluorite. In fact, it's often referred to as the "Fluorite Capital of the World." The area's geological composition, coupled with its mining history, has resulted in the abundant presence of high-quality Fluorite specimens.
The Fluorite found in Hardin County, particularly in Rosiclare area and Cave-In-Rock, is highly regarded for its exceptional clarity, vibrant colors, and well-defined crystal structures. The region's fluorite deposits have attracted collectors and enthusiasts from around the world.
Other good options to find Fluorite
Golconda area mines
McClellan Mine
Public Rockhounding Options For Kids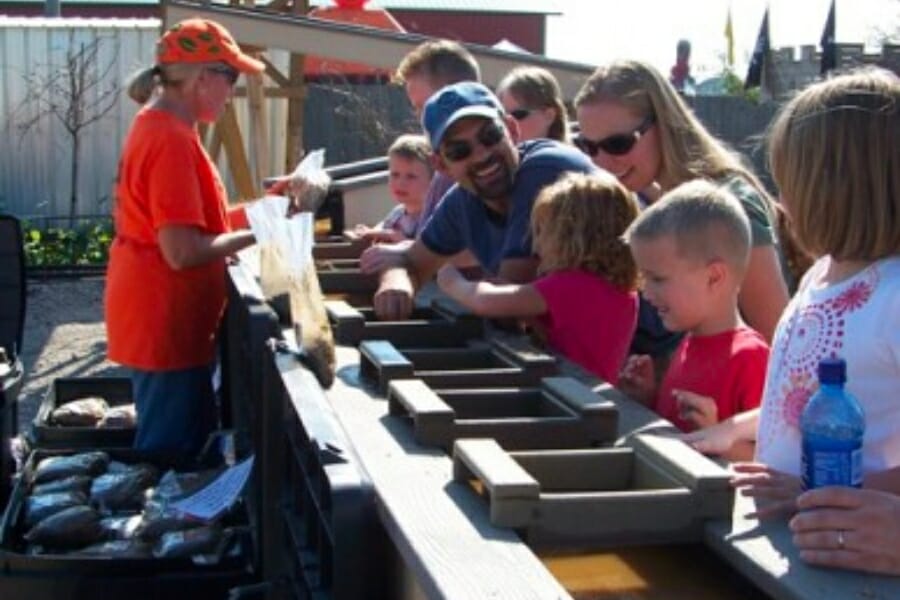 At this point, there's no doubt Illinois offers numerous fantastic rockhounding spots, but some of them are challenging for younger rockhounds. Certain sites may have rugged terrains, difficult access, or specific safety concerns that might make them less suitable for kids.
Good thing, our state has family-friendly spots that can ignite a lifelong interest in rockhounding for children. With these locations, kids can learn about different rocks, minerals, and fossils while having fun in a safe and educational environment.
Illinois Rockhounding Clubs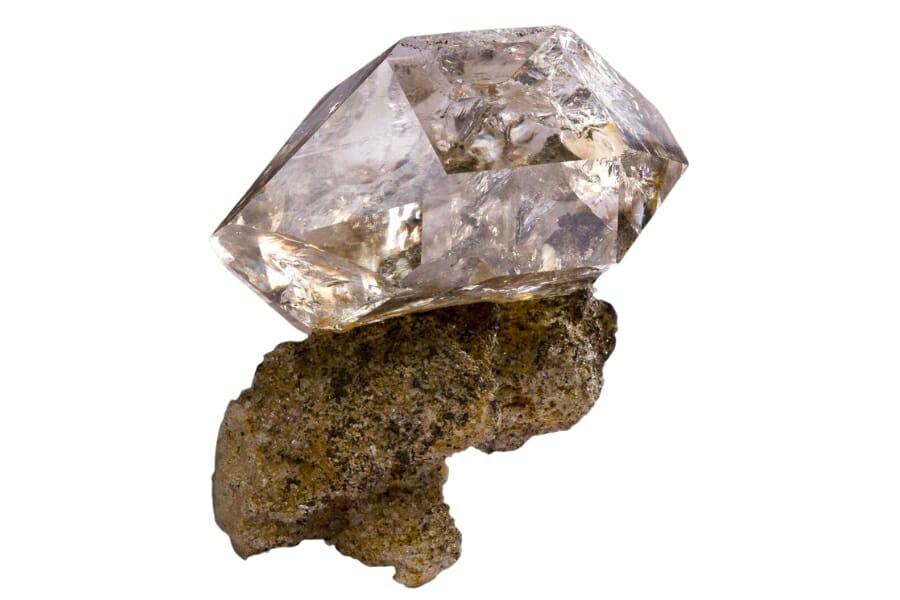 Rockhounding clubs are an invaluable resource for both newcomers and experienced collectors in the world of rockhounding. Joining one in Illinois can provide a range of benefits that can enhance your experience.
When you join a rockhounding club here, you can tap into our state's rich rockhounding community. Members can explore local collecting sites together, exchange information on the best spots, and celebrate the unique geology of Illinois.
Rockhounding clubs in Illinois worth checking out
Illinois Rockhounding Laws And Regulations
It is legal to engage in rockhounding in Illinois for as long as you adhere to all local and state laws and regulations governing rock and mineral collection. The Illinois Department of Natural Resources (IDNR) is responsible for overseeing and regulating rockhounding activities in here. They provide guidance and information regarding the proper collection methods, permitted areas, and any specific regulations that apply to certain sites.
In general, it's essential to familiarize yourself with the specific regulations and restrictions in the areas you plan to explore. Some sites may have limitations on the quantity or type of specimens that can be collected, and there may be designated areas where collecting is prohibited.
Respecting these rules helps preserve the natural environment and ensures that future generations of rockhounds can enjoy the same experiences.
The Best Rock And Mineral Shops In Illinois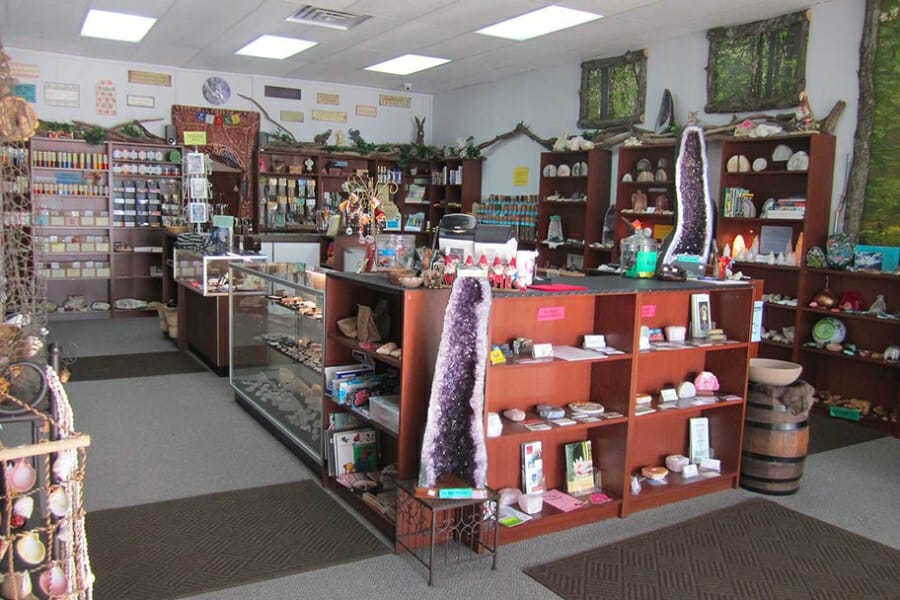 Going out into the wild to collect rocks and minerals is an exciting adventure, but it may not be everyone's preferred approach. Also, finding specific specimens in their natural environment can be challenging and time-consuming.
If you're looking to expand your collection without the hard work of hunting in the field, Illinois offers a range of excellent rock and mineral shops. These specialty stores provide a curated selection from around the world, allowing you to find specific specimens:
Additional Rockhounding Places In Nearby States
If you want to extend your rockhounding adventure to nearby states, check out the following guides that we prepared for you:
If you have any recommendations that we haven't covered yet, please leave them in the comments below!