Missouri is one of the best states in the country to go geode hunting. From the interesting landscape of Clark County to the individual wonders of the Weber South Quarry, Fox River, Weaver's Branch Creek, and Des Moines River, our state is home to a wide variety of geode-rich sites waiting to be explored.
In this article, we went through some of the most popular spots to find geodes in Missouri, along with some lesser-known locations that offer a unique experience for collectors. We'll take you on a tour of these places, describing what makes them special and what you can expect to find.
Whether you're an experienced geode hunter or a novice just starting out, there's something for everyone in Missouri's geode-filled landscape. So grab your hammer and chisel and let's get started!
What Are Missouri Geodes?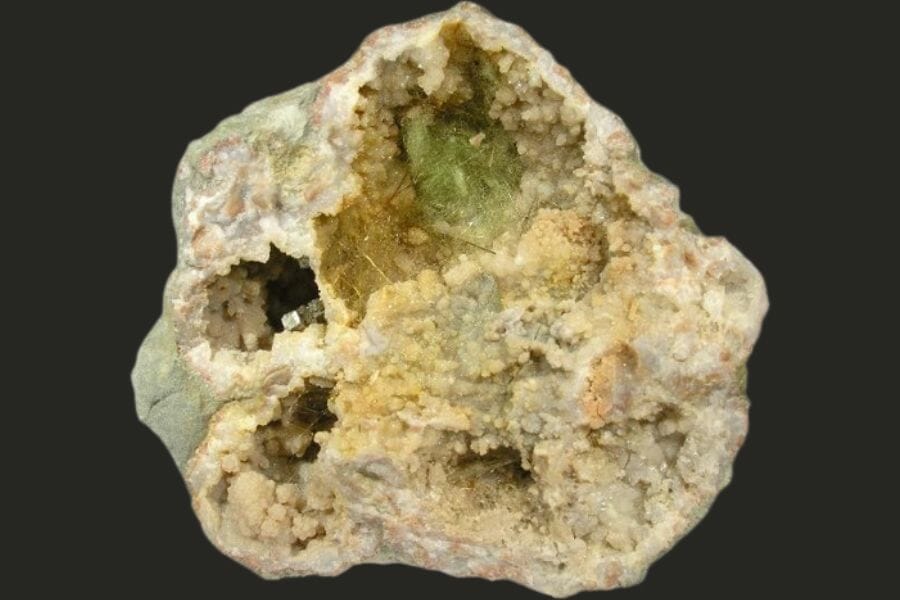 Geodes are rocks that are hollow on the inside and lined with crystals or other minerals. They're formed when mineral-rich water seeps into air pockets within volcanic or sedimentary rocks. Over time, the minerals build up and create a crystal lining inside the hollow space. And the unique geology of Missouri suitably caters to geode formation.
Geodes come in a variety of shapes and sizes— ranging from small, egg-shaped stones to large, football-sized boulders. They're highly prized by collectors and are cut open to reveal their sparkling interior. Overall, they are fascinating and unique geological formations that offer a glimpse into the natural beauty and complexity of the earth's mineral deposits.
Here's a great guide to identifying geodes that can come in handy during your search for them!
The Types Of Geodes Found In Missouri
Missouri is home to a variety of geode types that can also be found throughout the world. In fact, the value of a geode depends on its type. Below is a list of those that can be discovered in this area:
Aragonite geodes
Barite geodes
Calcite geodes (Pink and Black Dogtooth)
Chalcopyrite geodes
Dolomite geodes
Fluorite geodes
Goethite geodes
Honessite geodes
Malachite geodes
Marcasite geodes
Millerite geodes
Pyrite geodes
Pyrolusite geodes
Quartz geodes
Smithsonite geodes
Siderite geodes
Sphalerite geodes
St. Francisville geodes
Szomolnokite geodes
How We Found The Best Geode Locations in Missouri
When it comes to choosing the best options for finding Missouri geodes there are plenty of things we consider. Many of the best locations are closely guarded secrets which can make it really difficult for more casual geode hunters to find success. The key factors in our recommendations are:
The deep experience and understanding of our team about the area
Recommendations from local groups and clubs
How easy it is to get the a particular location
Safety and potential hazards when collecting
Weighing private and public locations
The ability for both experienced and novice geode enthusiasts to find great samples
With these factors in mind we've been able to put together a fantastic list that just about anyone can use!

The Best Places To Find Geodes in Missouri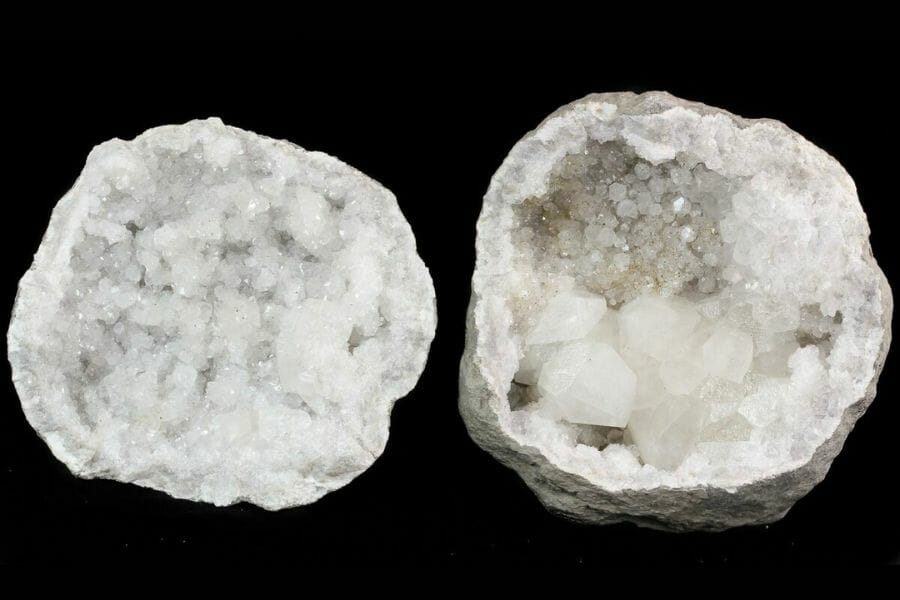 Although you may be aware of the great sites for gem mining in Missouri, not all of them have geodes, too. The locations we will discuss below may not be as widely known, but they are undoubtedly the best choices for finding geodes in Missouri!
Always Confirm Access and Collection Rules!
Before heading out to any of the locations on our list you need to confirm access requirements and collection rules for both public and private locations.
These requirements are subject to change without notice and may differ from what we state below.
Always get updated information directly from the source ahead of time to ensure responsible rockhounding.
Weber Quarry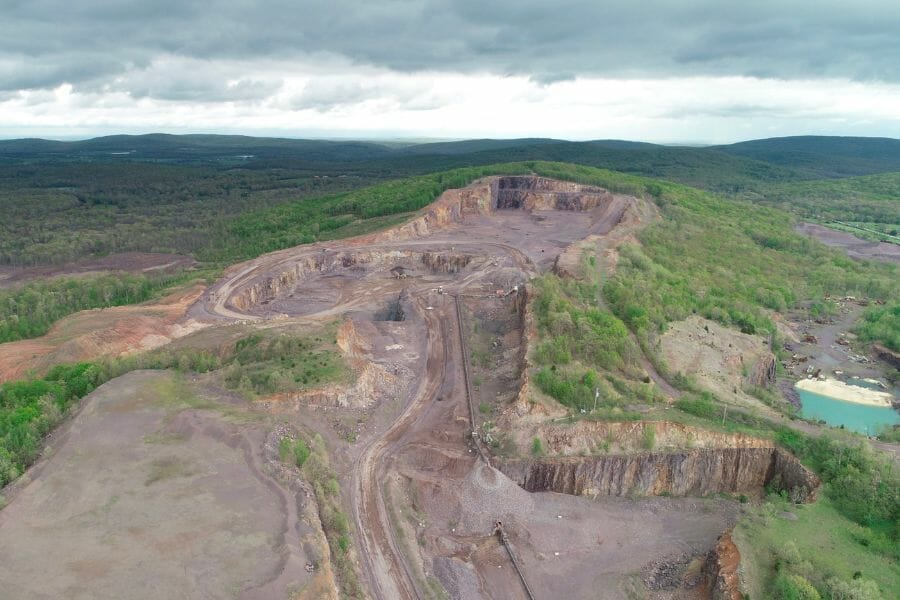 Weber Quarry is located in the southern part of our state, near the Ozark Mountains, so the geography here is stunning. Its terrain is rocky and uneven, so you'll definitely want to wear some sturdy boots. But, hey, that just adds to the adventure, right?
Weber Quarry is known for its abundance of geodes, and they're some of the best specimens you'll find in the whole state! The geodes here range in size from small and unassuming to massive, and they're filled with beautiful crystals that sparkle in the sunlight.
As long as you have a reliable GPS, getting here is easy. Just be aware that the roads can be a bit bumpy, so take it slow and steady. But before you pack your bags, make sure to check Missouri's latest collecting guidelines.
Where we found geodes at Weber Quarry
The south area of the Weber Quarry in St. Louis contains some of its most amazing geode reserves, including specimens of Calcite geodes, Fluorite geodes, Millerite geodes.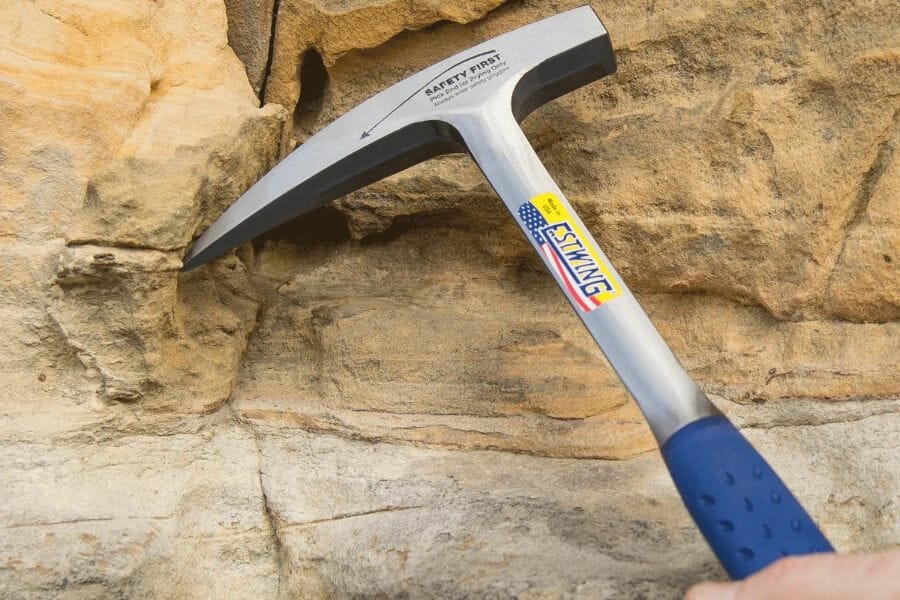 The tools every geode hunter will need
When you're out looking for geodes having the right tools for the job is very important. You don't need a lot for most trips but there are a handful that are critical and will make your life a lot easier.
We get asked a lot about the equipment we use. Over the years we've found a handful of tools that we recommend to both new and experienced geode hunters which we outline in great detail in our complete rockhounding tools and kit guide. These are quality options that also happen to be relatively inexpensive.
Below are the basic tools that make your life so much easier and save you a ton of time. Check out the full guide to see everything we recommend bringing. One quick note, as an Amazon Associate I earn from qualifying purchases but we try very hard to only recommend gear we would use ourselves and often recommend brands you can't find on Amazon.
At a minimum you should have:
1 - Sturdy rock hammer: The Estwing Rock Pick is our standard
2 - Rugged chisels: Try Kendo' 3-piece Chisel Set
3 - Compact shovel: The Koleiya 28-inch shovel works well
4 - Rock screen pan: The Wazakura Soil Sieve Set fits the bill
5 - Eye protection: DeWalt Safety Glasses are cheap and comfortable
6 - Head protection: Malta's Safety Helmet has been our go-to
7 - Jewelers lens with at least 20x magnification: Jarlink's Jewelers Loop is perfect
The geode-finding books that we use most
There are also a few books that have been extremely helpful in the search for gems. These books have great recommendations and tips:
National Audubon Society Field Guide to Rocks and Minerals: North America 
Southeast Treasure Hunter's Gem & Mineral Guide 
Earth Treasures: The Southeastern Quadrant 
We provide links to find these tools on Amazon but some can also be found at your local hardware stores. For more recommendations check out the link to our full tool guide above.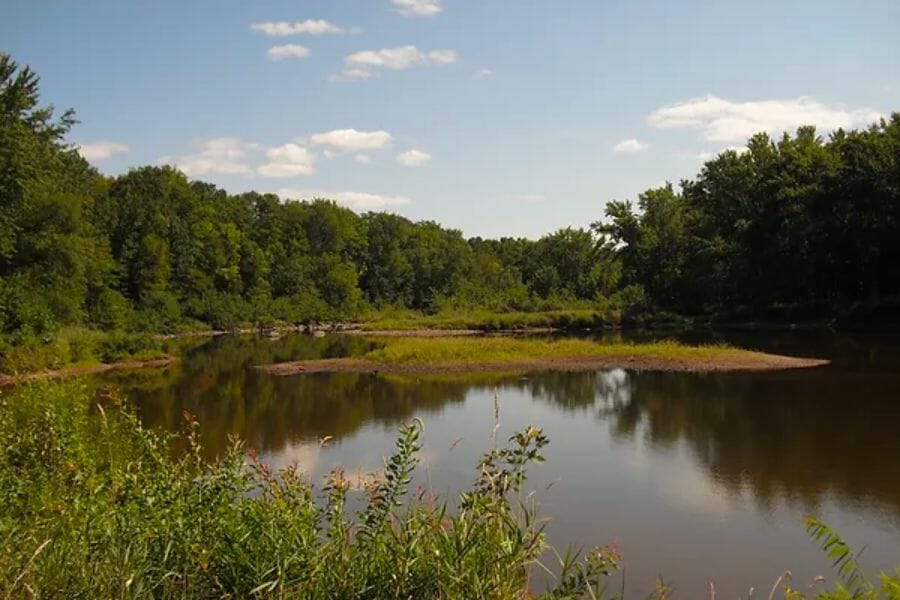 Rockhounding in Clark County is quite an adventure! This place is located in the northeastern part of our state, near the Mississippi River, so the geography is pretty flat, but there are some rolling hills in the distance. Its terrain is mostly farmland, with some wooded areas scattered around.
Clark County is known for its abundance of agates, which are some of the most colorful and unique rocks you'll find in the Midwest. It's also known to be the home of interesting geodes in our state. In fact, this is also a great place to find amazing Missouri crystals.
If you're coming from St. Louis or another nearby city, hop on the interstate and head north, then take a few back roads to get to Clark County. Be prepared to do some walking and digging to find your geoedes. Oh, and bring sunscreen – the sun can be brutal out here!
Where we found geodes in Clark County
If you're planning to visit here to find some geodes, these are the best spots to explore in Clark County:
Alexandria
Scheffer property
Des Moines River
Upland Scotland County border and downstream
Old Iron Bridge on the river of Fox City
Fox Road of Kahoka
Easter Day Farm
Upstream to Iowa border and downstream to Wayland Area
Fox Road in St. Francisville
Weaver's Branch
Sinottte property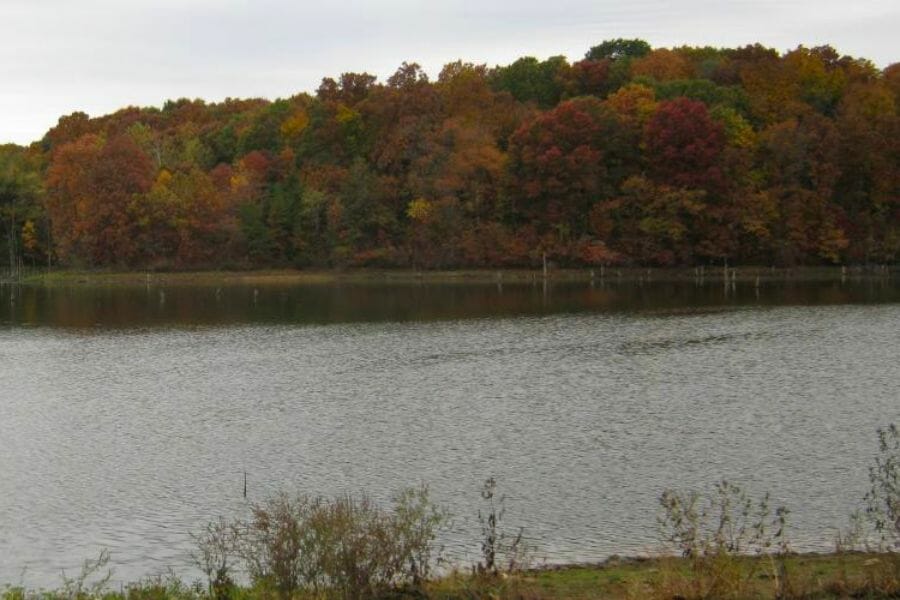 Located in the southwestern part of our state, Fox River is surrounded by lush forests and rolling hills. Its geography is stunning, with clear blue waters and rocky cliffs along the banks.
Its terrain can be a bit rough in some areas, so make sure you wear some sturdy shoes and bring plenty of water when you visit. But, when you see the gorgeous rock formations along the river, you'll understand why a trip here is totally worth it!
Getting to the Fox River can be a bit tricky, especially if you're not familiar with the area. The roads can be narrow and winding, so take it slow and steady. Once you get there, though, it's easy to find a spot to set up camp and start exploring.
Where we found geodes at Fox River
To go to the best spot to find geodes in Fox River, travel 2.7 miles north on country road to bridge over its South Branch. The best collection area here is upstream to Scotland County border and downstream to its mouth at Fox River.
Weaver's Branch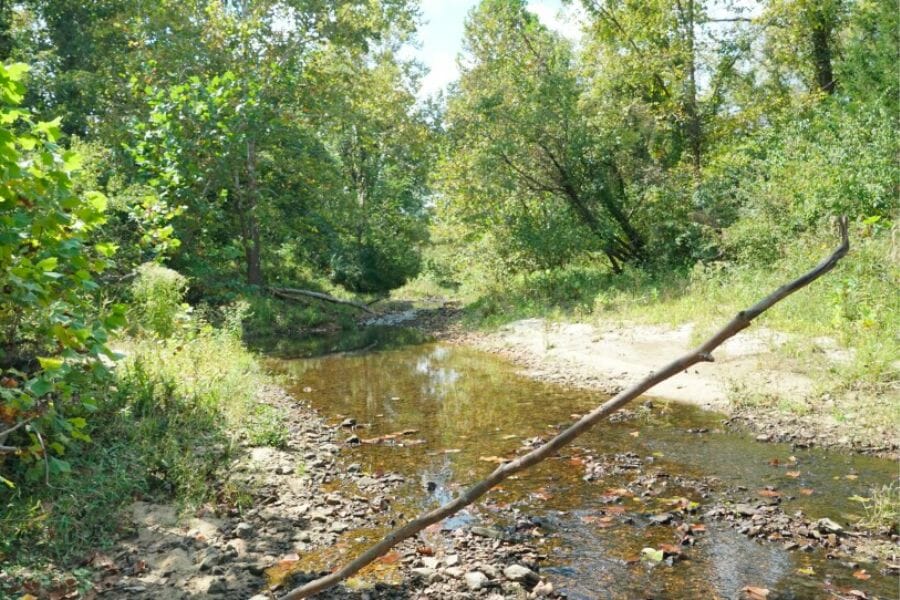 Weaver's Branch is a great place that's surrounded by hills and forests with crystal clear waters that flow through rocky channels and over small waterfalls. Because of this, its terrain can be a bit tricky as there are lots of rocks and boulders along the riverbanks.
The geology here is fascinating, with layers of sedimentary rock that have been twisted and folded over time to create some really unique patterns and textures.
Going here can be a bit of a challenge, especially if you're not used to navigating winding country roads. But if you take it slow and steady, you'll be rewarded with some stunning views and some great rockhounding opportunities— including some cool geodes!
Where we found geodes at Weaver's Branch
You can find geodes in the banks of Weaver's Branch in St. Francisville. Some of the ones you can find here may contain Aragonite, Barite, Calcite (pink), Chalcopyrite, Dolomite, Fluorite, Goethite, Honessite, Malachite, Marcasite, Millerite, Pyrite, Pyrolusite, Quartz, Smithsonite, Siderite, and Sphalerite crystals.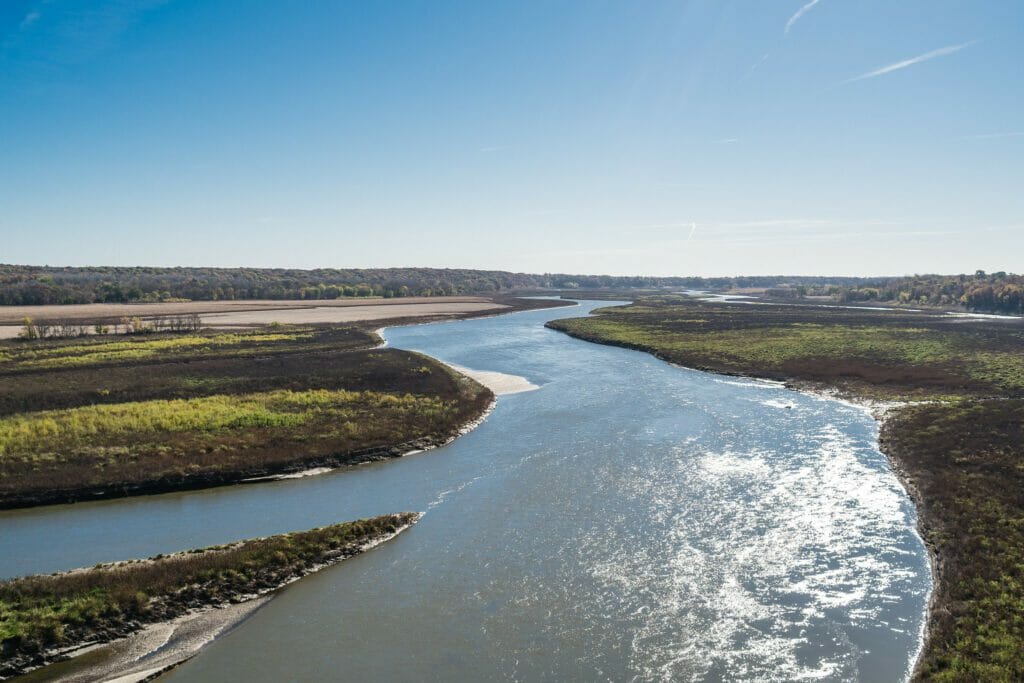 Des Moines is a meandering river that flows through the central part of the state. The geography here is really cool, with lots of steep bluffs and rocky outcroppings along the banks of the river.
Its terrain is a bit rugged in places, but the views are totally worth it. The river has some really breathtaking vistas, especially in the early morning or late afternoon light. The geology here is also pretty interesting, with lots of different types of rocks and minerals to be found.
There are lots of small country roads that wind their way through the hills and valleys going to Des Moines River, so if you're planning to visit hre, be sure to bring a good map or GPS. Overall, we highly recommend Des Moines River to any rockhounders who are looking for a fun and challenging adventure!
Where we found geodes at Des Moines River
When you visit here, you can find geodes downstream of the river to its mouth and along its south shore, especially in virtually all ravines, washes, gullies, and tributaries entering the river.
Other Great Places To Dig For Missouri Geodes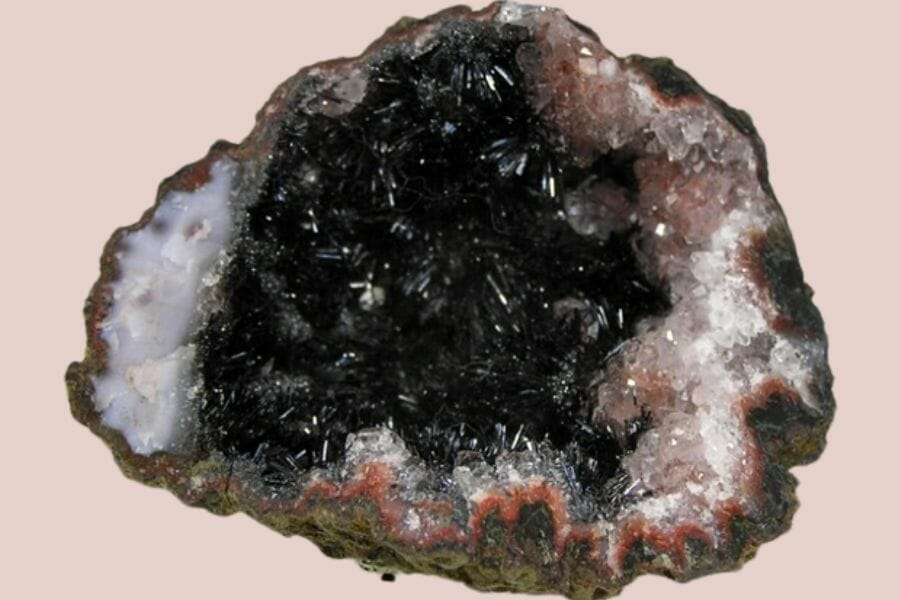 Although we've shared our top picks for finding geodes in Missouri, we have many more locations to suggest. To simplify things, we've organized them by county below. In instances where we've listed "county wide," we've provided further recommendations in the following sections.
Our recommendations by county
| | |
| --- | --- |
| County | Location |
| Clark | County wide |
| Clark | Regional creek and river banks of Alexandria, Wayland |
| Clark | Gravel pit on the Scheffer property |
| Clark | Downstream on tributary of Des Moines River to its mouth |
| Clark | Upland Scotland County border and downstream to its mouth at Fox River |
| Clark | ½ mile north of the Old Iron Bridge on the north east bluff of the river of Fox City |
| Clark | Area shale outcrops along Fox Road of Kahoka |
| Clark | Easter Day Farm |
| Clark | Upstream to Iowa border and downstream to Wayland Area |
| Clark | In banks of all tributary streams |
| Clark | Base of all bluffs along the Fox Road in St. Francisville |
| Clark | In banks of Weaver's Branch, St. Francisville |
| Clark | Along south shore of the Des Moines River, especially up virtually all ravines, washes, gullies, and tributaries entering the river |
| Clark | At the Sinottte property |
| Jefferson | 1 mile south on Richardson Road, on west side of I-55 |
| Jefferson | West side of I-55 in Arnold |
| Lewis | 3 miles east in Keokuk Shale along North Fabius Road and nearby streams |
| Lewis | Fabius River east of Durham |
| St. Louis | Weber South Quarry |
| St. Louis | 1.2 miles northeast on US-67 to St. Ferdinand Creek |
Additional areas you should try
Some of our suggestions listed above mention "county wide," which can be overwhelming and can be too broad. So, we'll provide you with more specific locations to visit in those counties. Here are some prime areas to check out when searching for geodes:
Quarries
Quarries are awesome spots for rock collecting. Not only do they offer a unique and diverse array of rocks, but they also provide access to rock formations that aren't typically found elsewhere. Most quarries are located in remote areas, making them perfect for adventurous rockhounds. The sheer size of quarries makes it easy to spend hours exploring its various layers and formations.
One of the main advantages of quarries is the opportunity to find rare and valuable specimens. Many quarries are known for producing specific types of rocks, such as geodes. Additionally, the controlled blasting and excavation processes used in quarries can expose new layers of rock that would otherwise remain hidden.
Rivers and Riverbanks
The constant flow of water and movement of sediment in rivers and riverbanks mean that new rocks are constantly being exposed, making it an ever-changing landscape. Rivers are also a great place to find polished and smooth rocks, which are perfect for display.
One of the benefits of searching along riverbanks is the diversity of rocks that can be found. Rivers can bring rocks from all over the region, and it's not uncommon to find unique specimens that are not typically found in the surrounding area. In addition, searching along riverbanks is a great way to connect with nature and get some fresh air and exercise.
Lake Beds
Many rock collectors will agree that lake beds are excellent places to search for unique and valuable rocks. In lake beds, there are fewer people competing for the same rocks, making it easier to find rare specimens. Also, it's not too muddy if you wear the right shoes.
Lake beds can also provide a glimpse into the past, as sediment can preserve fossils and other geological treasures. While searching for rocks in lake beds, you can come across interesting geological formations and layers, which make for great conversation pieces in your collection.
Streams and Creeks
We've found that streams and creeks are fantastic places to hunt for rocks, including geodes. Not only are they easily accessible, but they often have a wide variety of rocks that you won't find anywhere else. Plus, because they've been smoothed over time by the water, they often have a nice polished look to them.
The water in streams and creeks also constantly wears away at the surrounding rocks, exposing new specimens. It's like nature is doing all the hard work for you! Plus, the constant flow of water helps wash away any dirt or debris that might be covering up a great find.
Common Geode-Hunting Questions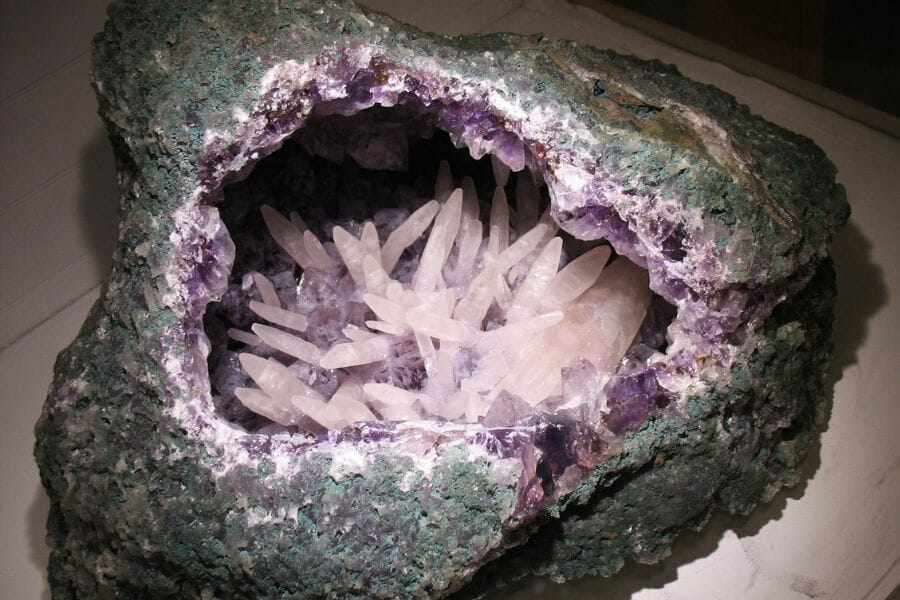 When people search for geodes in Missouri, they often have common frequently asked questions. We thought you might have these questions, too, so we'll answer them here:
Where can you find amethyst geodes in Missouri?
Despite its abundance in geodes, Missouri does not have naturally occurring amethyst geodes. However, if you want to find these wonders, you can easily visit the local shops here that have them on sale. Below, we've listed down some of the best local shops here.
Is it illegal to collect geodes in Missouri?
It's perfectly legal to collect geodes in Missouri if you abide by our local collecting laws. For government lands exploration, just make sure to check any existing local regulations. And of course for private lands exploration, always get permission from the owner first.
The Best Places To Buy Geodes In Missouri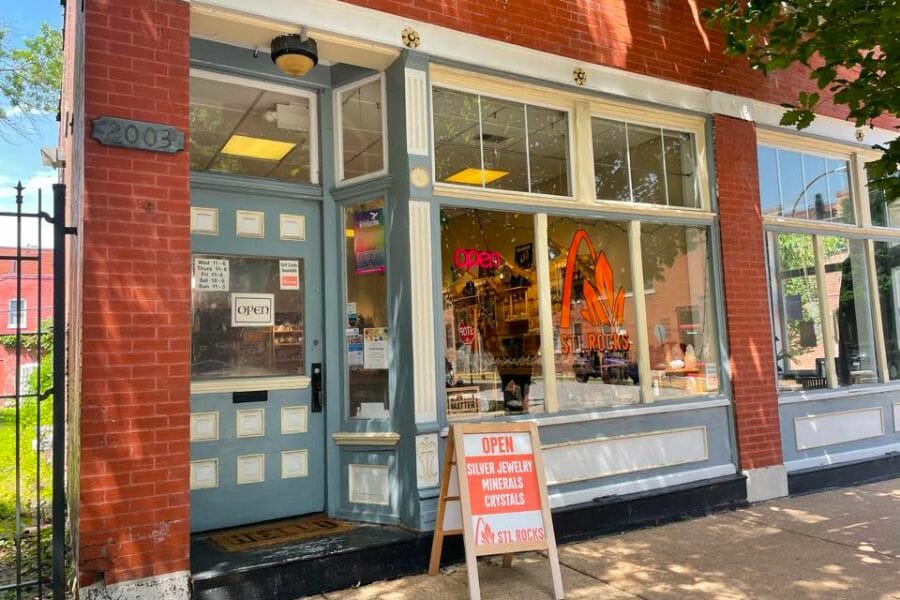 While going through the hard and tedious work of finding geodes may be one of the most fulfilling experiences, it may not be everyone's cup of tea.
So, if you're one of those who just wish to get a beautiful geode without going through the whole search process, we compiled a list of our favorite local stores where you can easily buy them:
Sheffler Rock Shop and Geode Mine – 26880 Topanga Canyon Blvd, Kahoka, MO 63445
Amazon – Surprisingly, Amazon has great geode samples. They even have whole kits to help you crack them open!
Peggy's Rock Shop – 3705 State Hwy 76, Branson, MO 65616
STL Rocks – 2003 Cherokee St, St. Louis, MO 63118
Prospectors Crystals, Rocks & Gift Shop – 1640 Gravois Rd, High Ridge, MO 63049
One of a Kind-Jewelry, Crystals, Metaphysical – 1819 W 76 Country Blvd Suite E, Branson, MO 65616
Pathways New Age Books, Music, Jewelry, and Crystal – 11419 Concord Village Ave, St. Louis, MO 63123
Fire and Ice Enterprises LLC – 29828 County Rd 196, Revere, MO 63465
Additional places to find geodes in nearby states
Check out our guides for nearby states if you've already tried all of our suggestions above or if you're planning a trip outside of the state:
If you have any recommendations for our list please leave a comment below!