Tennessee offers an abundance of opportunities for rockhounds to uncover unique and captivating rocks and minerals. Whether you're a seasoned rock enthusiast or are just beginning your exploration, our charming state is a must-visit destination for you.
One of the reasons Tennessee is a rockhound's paradise is its diverse geology. Our state boasts of a rich geological history, with a variety of rock formations spanning millions of years. From the ancient Appalachian Mountains to the Cumberland Plateau and the Mississippi Embayment, there's no shortage of geological wonders here to explore.
Because of this varied terrain, Tennessee became renowned for its interesting and rare rocks and minerals. One notable find is the exquisite Tennessee Paint Rock Agate, known for its vibrant colors and unique banding patterns. Another treasure is the statewide abundant Fluorite, showcasing breathtaking hues of purple, green, and blue. Our state is also famous for having fine-quality pearls found in freshwater mussels, adding a touch of elegance to any collection.
With its picturesque landscapes and an incredible diversity of rocks and minerals, Tennessee offers endless opportunities for rockhounding adventures. So when you get the chance to visit here, make sure you're ready to uncover nature's hidden gems while creating memories that will last a lifetime!
How We Found The Best Places For Rockhounding in Tennessee
We spent a lot of time putting together the list of which of the many options for Tennessee rockhounding we were going to recommend. We wanted to have a nice variety of locations for experienced and novice rockhounds in a variety of settings. Here are the main factors we used when determining the recommendations we set out :
The extensive local experience and understanding of our team
Input from multiple local rockhounds and rockhound groups
The accessibility of the various locations
Safety and potential hazards when collecting
Private and public locations
A desire to include locations for both experienced rockhounds and those who are just starting out
Using these weights we think we've put together the best list out there for those who love finding new rocks, gems, and minerals for our collections!

What You Can Find Rockhounding In Tennessee
Prepare to be amazed as you delve into the exciting world of rockhounding in Tennessee. As you explore our state's picturesque sceneries, you'll uncover a fascinating array of rocks and minerals that tell stories millions of years in the making. Some of these natural wonders include the following:
Rare rocks and minerals found in Tennessee
More common desirable rocks, minerals, and gems found here
In-depth guides to finding specific types of rocks in Tennessee
If you're looking for something specific, you can refer to the focused guides to finding different specimens that we've created:
You can also access our guide for rockhounds near you with over 3,000 sites in the US!
Remember, the guides above are ONLY if you have specific specimens that you're aiming to find in our state. Otherwise, continue reading because we'll share more in-depth info on Tennessee rockhounding.
The Best Places To Find Rocks and Minerals in Tennessee
As a rockhound's haven, Tennessee has an abundance of pretty great sites waiting to be explored for different rocks and minerals. Here are 5 truly remarkable locations that we highly recommend for an unforgettable rockhounding experience.
Always Confirm Access and Collection Rules!
Before heading out to any of the locations on our list you need to confirm access requirements and collection rules for both public and private locations.
These requirements are subject to change without notice and may differ from what we state below.
Always get updated information directly from the source ahead of time to ensure responsible rockhounding.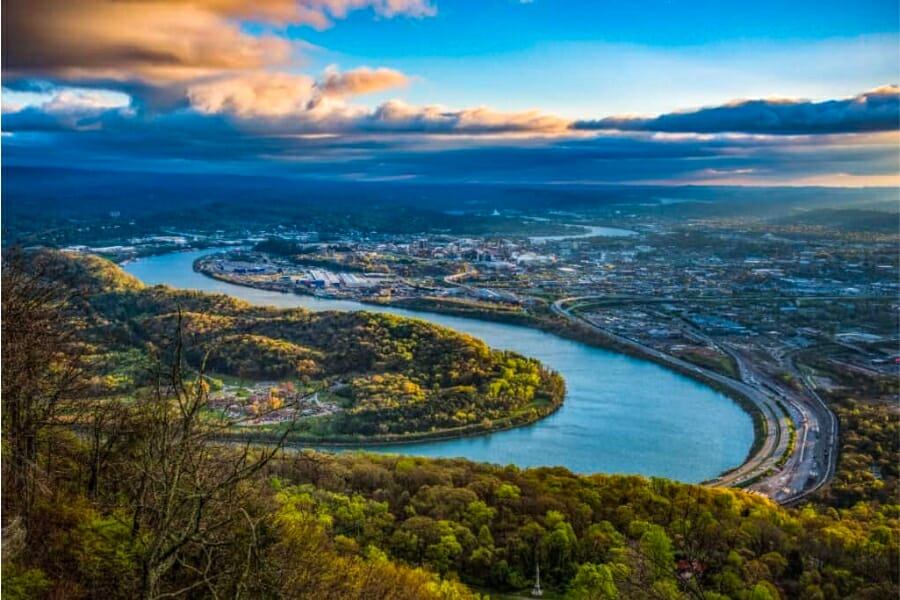 Flowing through the heart of our state, the Tennessee River is not only a scenic waterway, but also a fantastic rockhounding site! Its geological diversity and rich history contribute to the abundance of rocks, minerals, and fossils that can be found along its shores.
The Tennessee River cuts through a variety of rock formations, exposing layers that date back millions of years, providing rockhounds with a unique opportunity to unearth fascinating specimens.
Included in its diverse range of collectible materials are fossilized shells, ancient marine life, and petrified wood, which give insight into the region's past environments. The river's flow and erosion have also washed up a plethora of colorful other rocks and minerals that you can add to your collection.
What you can find there
Tennessee River and its tributaries are rich in freshwater pearls that can be found in its sands and gravels.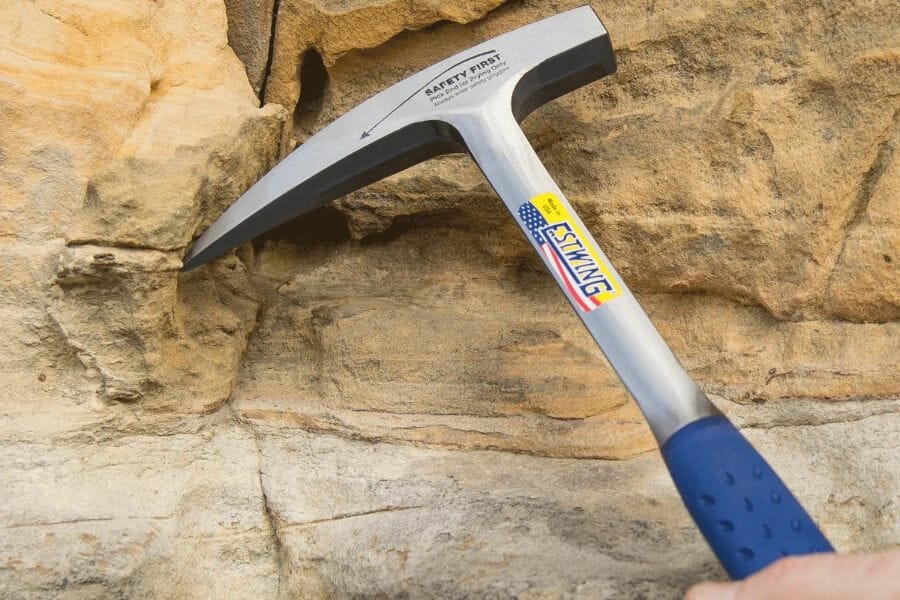 The tools every rockhound will need
When you're out looking for rocks and minerals having the right tools for the job is really going to make or break your success. You don't need a lot for most trips but there are a handful that are critical and will make your life a lot easier.
We get asked a lot about the equipment we use. Over the years we've found a handful of tools that we recommend to both new and experienced rockhounds which we outline in great detail in our complete rockhounding tools and kit guide. These are quality options that also happen to be relatively inexpensive.
Below are the basic tools that make your life so much easier and save you a ton of time. Check out the full guide to see everything we recommend bringing. At a minimum you should have:
1 - Sturdy rock hammer: The Estwing Rock Pick is our standard
2 - Rugged chisels: Try Kendo' 3-piece Chisel Set
3 - Compact shovel: The Koleiya 28-inch shovel works well
4 - Rock screen pan: The Wazakura Soil Sieve Set fits the bill
5 - Eye protection: DeWalt Safety Glasses are cheap and comfortable
6 - Head protection: Malta's Safety Helmet has been our go-to
7 - Jewelers lens with at least 20x magnification: Jarlink's Jewelers Loop is perfect
The rockhounding books that we use most
There are also a few books that have been extremely helpful in the search for gems. These books have great recommendations and tips:
National Audubon Society Field Guide to Rocks and Minerals: North America 
Southeast Treasure Hunter's Gem & Mineral Guide 
Earth Treasures: The Southeastern Quadrant 
We provide links to find these tools on Amazon but some can also be found at your local hardware stores. For more recommendations check out the link to our full tool guide above.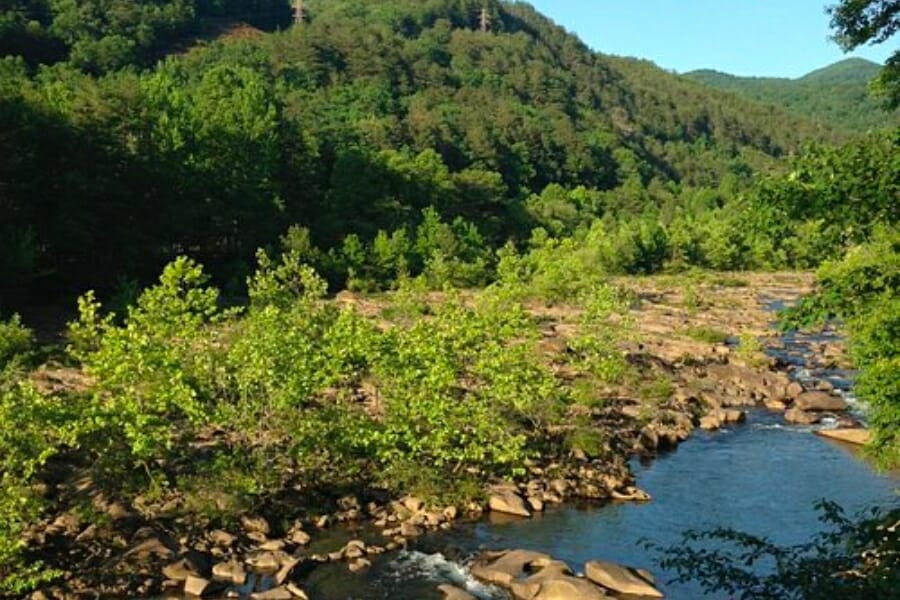 Ducktown's rich mining history and unique geology make it an exceptional destination to explore and collect a wide variety of rocks and minerals. This place was once a major copper mining center. Today, remnants of the mining operations can still be found here, providing ample opportunities for rockhounding adventures.
Ducktown's copper mines have yielded other fascinating specimens. These rocks and minerals, with their vibrant colors, add a touch of allure to any collection.
The diverse geology of Ducktown and its surroundings, coupled with the remnants of the mining industry, make it an ideal location to uncover hidden treasures and learn about the fascinating world of minerals and mining history. That's why we highly recommend exploring here.
What you can find there
You can find a bunch of different kinds of rocks and minerals here, such as Azurite, Chalcocite, Chalcopyrite, Cuprite, Galena, Garnet, Gold, Graphite, Malachite, Pyrite, Quartz, and Staurolite.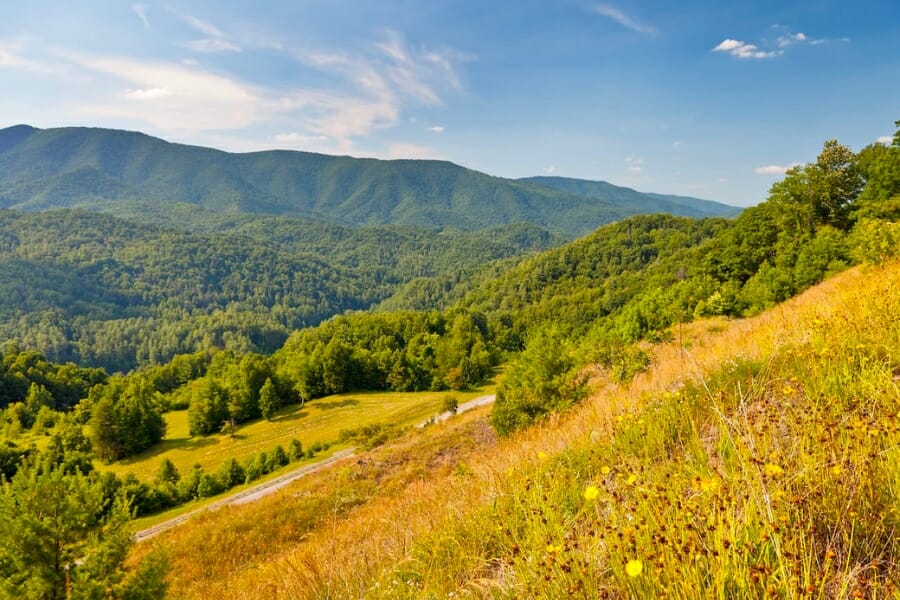 Unaka Mountains offer a captivating landscape for rockhounds. This ancient mountain range, part of the larger Appalachian Mountains, is a treasure trove of geological wonders.
Unaka Mountains are composed of diverse rock formations, including metamorphic rocks such as gneiss and schist, as well as igneous rocks like granite and basalt. This rich geology presents an opportunity to discover a wide range of rocks and minerals here.
Because of its interesting geography, Unaka Mountains are renowned for their gemstones that are embedded within its rocks. With their rugged terrain, picturesque valleys, and hidden streams, the Unaka Mountains provide a stunning backdrop for your next rockhounding adventures.
What you can find there
Here, you'll find stunning specimens of Unakite, Epidote, and Quartz.
Ben Lomond Mountain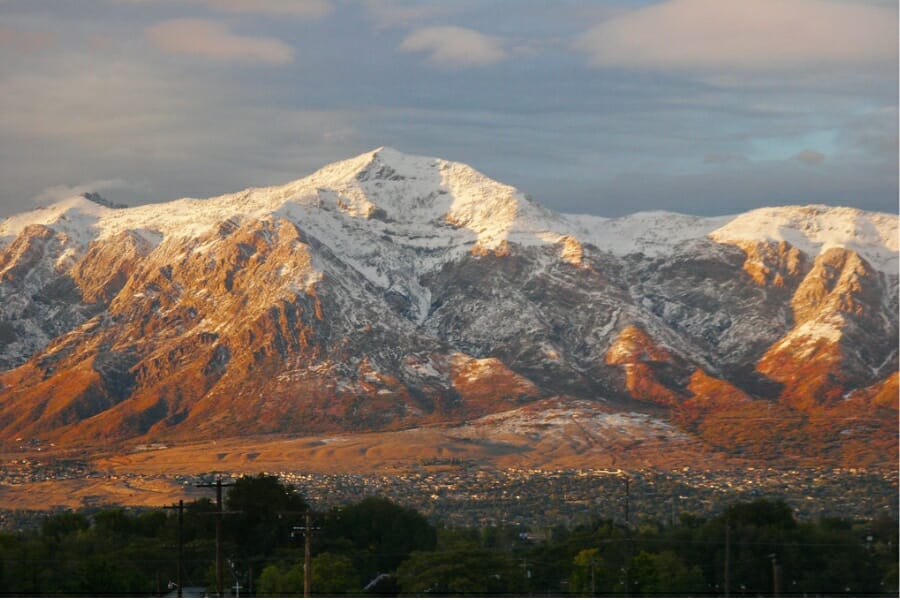 Rising prominently amidst the scenic landscape, Ben Lomond Mountain offers a wealth of geological wonders to its visitors. It's known for its unique rock formations, including sandstone and shale layers that date back millions of years, providing a rich tapestry of rocks, minerals, and fossils.
The mountain's diverse geology creates an opportunity to find a variety of rocks and minerals. Fossil enthusiasts will also delight in the occasional discovery of marine fossils, evidence of the area's ancient seabed history.
Indeed, Ben Lomond Mountain's tranquil surroundings and accessibility make it a great location for rockhounding adventures!
What you can find there
You can find a variety of rocks and minerals in this location, including the following: Calcite, Celestite, Dolomite, Geodes, Marcasite, and Pyrite.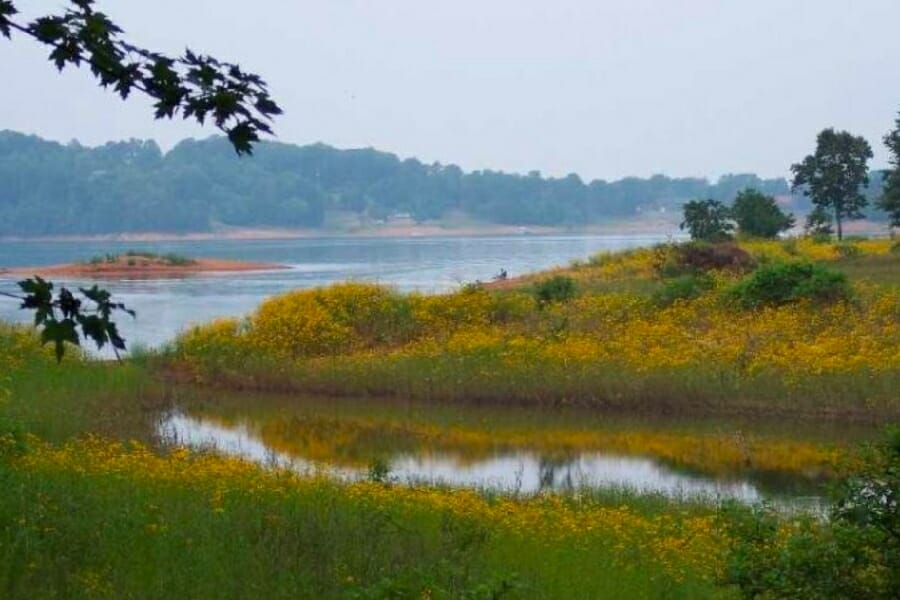 Mossy Creek is a charming waterway that's not only renowned for its natural beauty, but also for the wealth of rocks, minerals, and fossils that can be discovered along its course. The creek meanders through diverse geological formations, offering a rich and varied collection of specimens to be found.
The rocky banks and pebbled shores of Mossy Creek provide a treasure trove of possibilities for rockhounds. Collectors can unearth an assortment of colorful stones here.
Additionally, Mossy Creek offers the chance to find fossils of ancient marine life, such as brachiopods, ammonites, and gastropods, providing glimpses into the prehistoric history of the region.
What you can find there
You can find interesting samples of Calamine, Smithsonite, and Sphalerite when you visit here.
Our Other Favorite Spots Around Tennessee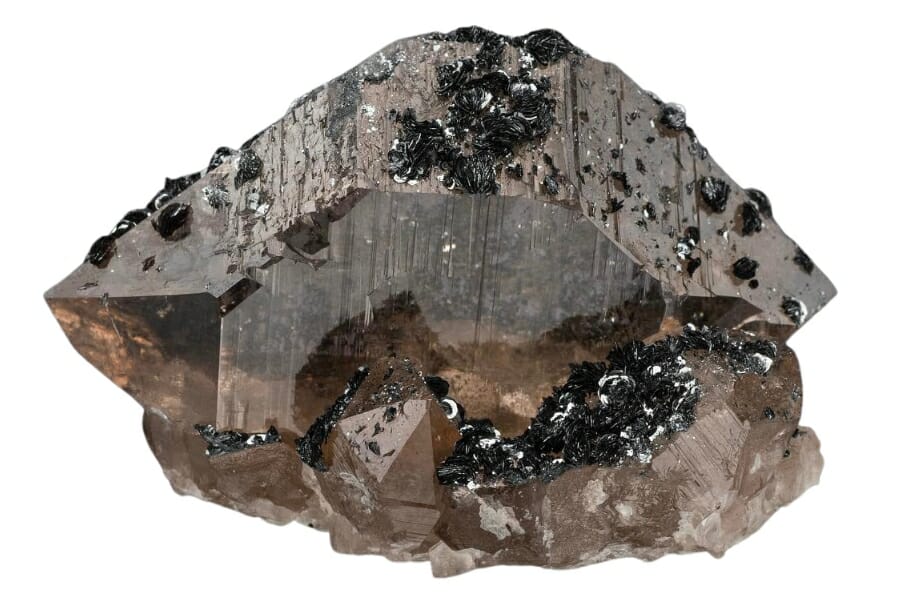 Aside from our highly-recommended Tennessee rockhounding sites, there are other spots here that you could visit to find some amazing rocks and minerals.
We have divided our list of these places per region so that it will be easier for you to refer to this guide when making your rockhounding itinerary here.
Rockhounding sites in Northern Tennessee
With its diverse landscapes, rich mineral deposits, and fascinating geological history, the counties of Northern Tennessee offer a wealth of treasures for rock and mineral collectors. Its varied terrain, ranging from mountains to valleys, creates a dynamic geological environment that attracts rockhounding enthusiasts from far and wide.
| | |
| --- | --- |
| Location | Minerals & Rocks |
| Southeast along US-25W in Jellico | Agate |
| Area mines of Straight Creek | Galena, Sphalerite |
| Dale Hollow Creek | Quartz Geode |
| Area quarries of Buffalo Cove and Carpenter Hollow | Calcite, Celestite, Dolomite, Marcasite, Pyrite, Quartz Geode |
| Hawkins Countywide | Calcite, Celestite, Dolomite, Fluorite, Jasper, Pyrite, Quartz |
| Northeast slope of Pilot Knob | Quartz Geode |
| Sullivan Countywide | Calcite, Celestite, Dolomite, Fluorite, Jasper, Pyrite, Quartz |
Rockhounding sites in Southern Tennessee
The unique geological history of Southern Tennessee, shaped by ancient seas and ancient mountain-building processes, has created a rich tapestry of rock formations and diverse mineralization. Because of it, this region of our state has become a paradise for rockhounds and geology enthusiasts.
| | |
| --- | --- |
| Location | Minerals & Rocks |
| Cleaveland area mines | Sphalerite |
| In road cuts just south of Monteagle | Calcite, Hematite, Jasper |
| Missionary Ridge Mines | Bauxite |
| David Crockett State Park | Chalcedony, Chert, Quartz Geode |
| Chattanooga Shale Quarry | Barite, Calcite, Fluorite, Galena, Pyrite, Selenite |
| Wayne Countywide | Chert, Chalcedony, Fossils |
Rockhounding sites in eastern Tennessee
The counties of Eastern Tennessee provide abundant opportunities for rockhounds to explore and collect unique specimens. The area's rich mining history, coupled with its varied geology, has created an ideal environment for rockhounding adventures.
| | |
| --- | --- |
| Location | Minerals & Rocks |
| Around Mountvale Springs | Gold |
| Roan Mountain Flower Garden | Feldspar, Moonstone, Thulite, Unakite |
| Gulf Fork of Big Creek | Chalcopyrite, Galena, Pyrite, Sphalerite |
| Brown-Tipton Mine | Calcite, Cerussite, Chert, Dolomite, Galena, Pyrite, Smithsonite, Sphalerite |
| Roads, railroad, stream cuts, and quarries in Russellville | Quartz Geode |
| New Market area mines | Smithsonite, Sphalerite |
| McMinn Ridge area in Calhoun | Barite |
| Copperhill area | Garnet, Spodumene |
| Bumpus Cove area mines | Anglesite, Cerrusite, Chalcedony, Chalcopyrite, Galena, Hematite, Hemimorphite, Jasper, Psilomelane, Smithsonite, Sphalerite |
Rockhounding sites in Western Tennessee
Western Tennessee's landscape may not offer an extensive array of rockhounding opportunities compared to other regions of our state, but it still holds its own allure for rockhounds and nature enthusiasts.
| | |
| --- | --- |
| Location | Minerals & Rocks |
| Vicinity of Richardsons Landing | Agate, Fossils |
| Coffee Bluff | Amber |
Rockhounding sites in Central Tennessee
Central Tennessee's accessibility, diverse geology, and abundance of natural wonders make it an ideal destination for rockhounding enthusiasts. Be it exploring caves, searching creek beds, or venturing into abandoned mines, counties here offer a rewarding experience for those seeking to unearth the geological treasures hidden within its captivating landscapes.
| | |
| --- | --- |
| Location | Minerals & Rocks |
| Velmer Curvow Farm | Agate, Carnelian |
| Valleys of Stone River and its tributaries | Quartz Geode |
| Series of quarries in Dorton | Crab Orchard Stone/Tennessee Quartzite/Cumberland Quartzite |
| Haysborough Lead Mine | Barite, Galena |
| Abandoned quarry in Monterey | Calcite, Celestite, Dolomite, Fluorite, Quartz |
| Indian Mound | Diamond |
| Road cuts and ditches of Murfreesboro | Agate, Chert |
| Centertown area | Jasper |
Where To Find Pearls In Tennessee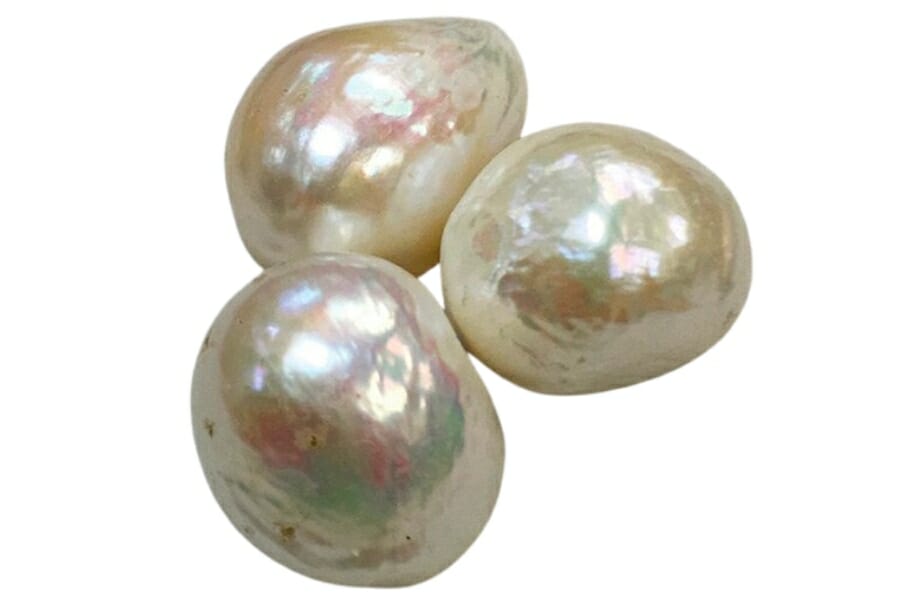 Pearls are exquisite organic gemstones renowned for their lustrous beauty and timeless elegance. They're formed within the soft tissues of certain mollusks, such as oysters and mussels, as a natural defense mechanism against irritants.
The process of pearl formation begins when a foreign particle, such as a grain of sand or a parasite, enters the mollusk's shell and causes irritation. In response, the mollusk secretes layers of nacre, a combination of calcium carbonate and protein, to coat the irritant and form a pearl.
Hardin County is our favorite place to look for Pearls
Hardin County, particularly along the banks of the scenic Tennessee River, is a promising destination for pearl hunting enthusiasts. The county offers a diverse range of natural landscapes and access points to the river, allowing rockhounds and pearl enthusiasts to explore its shores and potentially discover these prized freshwater pearls.
With its clean and pristine freshwater environment, the county provides an ideal habitat for the mollusks that produce these beautiful gems.
Public Rockhounding Options For Kids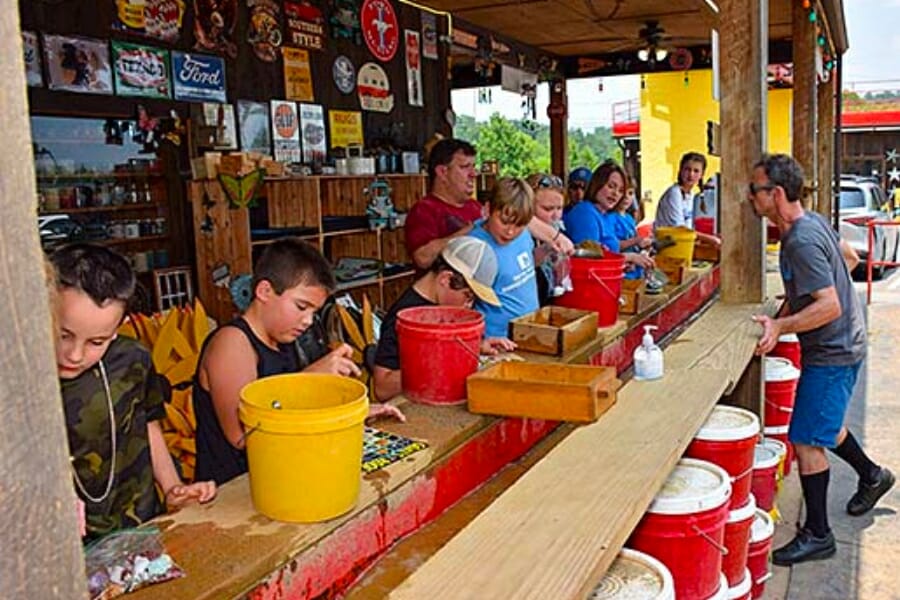 As you may conclude from what we've shared above, Tennessee has numerous excellent rockhounding spots, but some of these locations may pose challenges for younger enthusiasts. The terrain, accessibility, or technical difficulty of certain sites can make them less suitable for children.
Good thing, there are family-friendly rockhounding spots in our state that provide a fantastic opportunity to engage kids and spark their interest in the hobby. Below are some of them:
Tennessee Rockhounding Clubs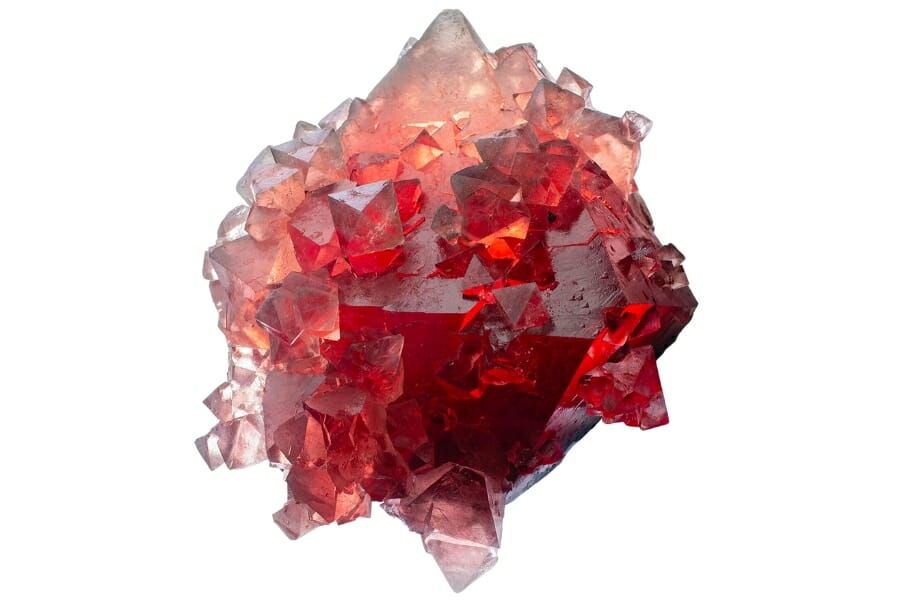 Rockhounding clubs are a fantastic resource for rockhounds of all levels— from newcomers to seasoned collectors. These clubs provide a supportive community where members can connect, learn, and share their passion for rocks, minerals, and fossils.
In Tennessee, joining one opens doors to exclusive access and experiences. Many clubs have established relationships with landowners, granting members permission to explore private sites not accessible to the general public. These unique opportunities will enable you to discover rare specimens and enjoy rockhounding adventures in otherwise restricted areas.
Rockhounding clubs in Tennessee worth checking out
Tennessee Rockhounding Laws And Regulations
Rockhounding in Tennessee is legal, but it's important for you to be aware of and comply with all local and state laws and regulations governing rock and mineral collection. The Tennessee Department of Environment and Conservation (TDEC) is the government agency responsible for regulating rockhounding activities in our state.
It's advisable to familiarize yourself with the specific rules and restrictions applicable to the area you plan to explore. Some areas, such as national parks, state parks, and private lands, may have their own regulations. By following the rules and guidelines set forth by the TDEC and other relevant authorities, you can enjoy rockhounding while ensuring the preservation and sustainability of our state's natural resources.
The Best Rock And Mineral Shops In Tennessee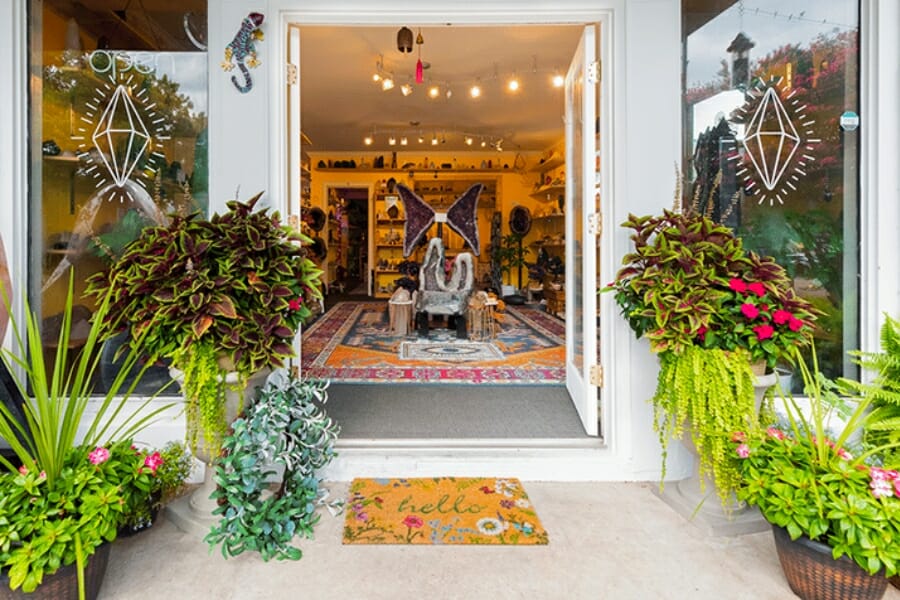 Finding specific rocks and minerals in their natural environment can be a challenging task in many states, including Tennessee. If this is the case for you, we highly recommend paying a visit to our local rocks and gems shops that cater to those who are eager to expand their collections with precision and convenience.
Below is a list of some of our vibrant shops with great rocks and minerals selection:
Additional Rockhounding Places In Nearby States
If you want to extend your rockhounding adventure to nearby states, check out the following guides that we prepared for you:
If you have any recommendations that we haven't covered yet, please leave them in the comments below!