Rockhounding in Wisconsin is an absolute gem! With its diverse geological landscape, this state offers rock enthusiasts a treasure trove of opportunities. Wisconsin has got plenty of great options for rockhounding success. From designated rockhounding sites and clubs to knowledgeable local communities, you'll find everything you need to embark on your rockhounding adventures.
Rockhounding is simply fantastic. It's like a real-life treasure hunt, except the treasures are rocks, minerals, and fossils. The excitement of digging through dirt and gravel, not knowing what hidden gem you might uncover, is genuinely exhilarating.
Each discovery feels like a small victory, and the joy of holding a beautifully patterned agate or a perfectly preserved fossil in your hands is unmatched. It's a hobby that allows you to connect with nature, learn about geology, and unleash your inner explorer!
How We FoundThe Best Places For Rockhounding in Wisconsin
We spent a lot of time putting together the list of which of the many options for Wisconsin rockhounding we were going to recommend. We wanted to have a nice variety of locations for experienced and novice rockhounds in a variety of settings. Here are the main factors we used when determining the recommendations we set out :
The extensive local experience and understanding of our team
Input from multiple local rockhounds and rockhound groups
The accessibility of the various locations
Safety and potential hazards when collecting
Private and public locations
A desire to include locations for both experienced rockhounds and those who are just starting out
Using these weights we think we've put together the best list out there for those who love finding new rocks, gems, and minerals for our collections!

What You Can Find Rockhounding In Wisconsin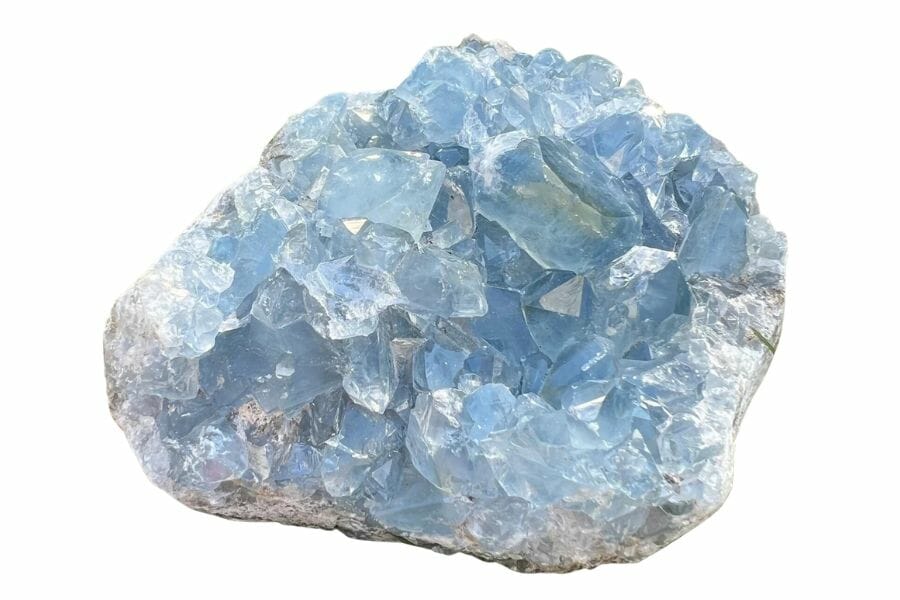 The tremendous diversity of the rocks and minerals found in Wisconsin prevented us from listing them all. Most of the more common and uncommon specimens that rockhounds look for in the state consist of the following:
Rare rocks and minerals found in Wisconsin
More common desirable rocks, minerals, and gems found here
In-depth guides to finding specific types of rocks in Wisconsin
If you're looking for something special, you should also look at the various guides we have created to locate particular specimens.
Our thorough list of the best rock hunting places near you includes over 3,000 stunning locations. Read this article to find out more about what Wisconsin has to offer.
The Best Places To Find Rocks and Minerals in Wisconsin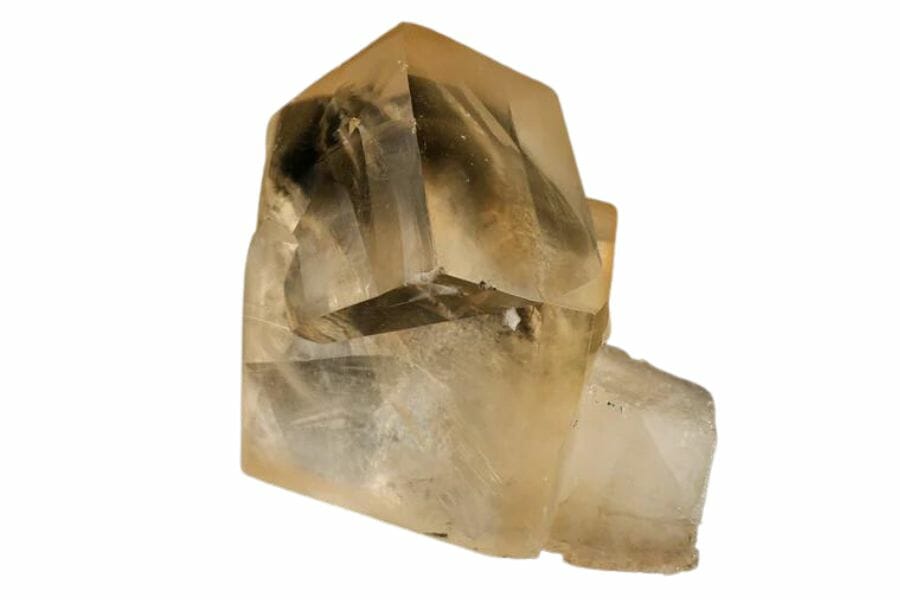 Some of our favorite rockhounding spots in Wisconsin are worth mentioning. Despite having many possibilities, we concentrated on our best picks. You'll undoubtedly enjoy visiting these locations and finding stunning rocks and minerals.
Always Confirm Access and Collection Rules!
Before heading out to any of the locations on our list you need to confirm access requirements and collection rules for both public and private locations.
These requirements are subject to change without notice and may differ from what we state below.
Always get updated information directly from the source ahead of time to ensure responsible rockhounding.
Chequamegon-Nicolet National Forest is a natural wonderland that promises breathtaking beauty and a wealth of rockhounding opportunities. Spanning over 1.5 million acres, this forest is a result of the consolidation of the Chequamegon and Nicolet National Forests in 1998. The region has a rich history, with evidence of Native American presence dating back thousands of years.
If you're an avid rockhound, Chequamegon-Nicolet National Forest should be high on your list of destinations. This vast forest is home to many rock types, including sedimentary, igneous, and metamorphic formations. The forest holds a treasure trove of geological wonders waiting to be discovered.
What you can find there
Some of the minerals that can be found in the forest include azurite, malachite, and pyrite crystals.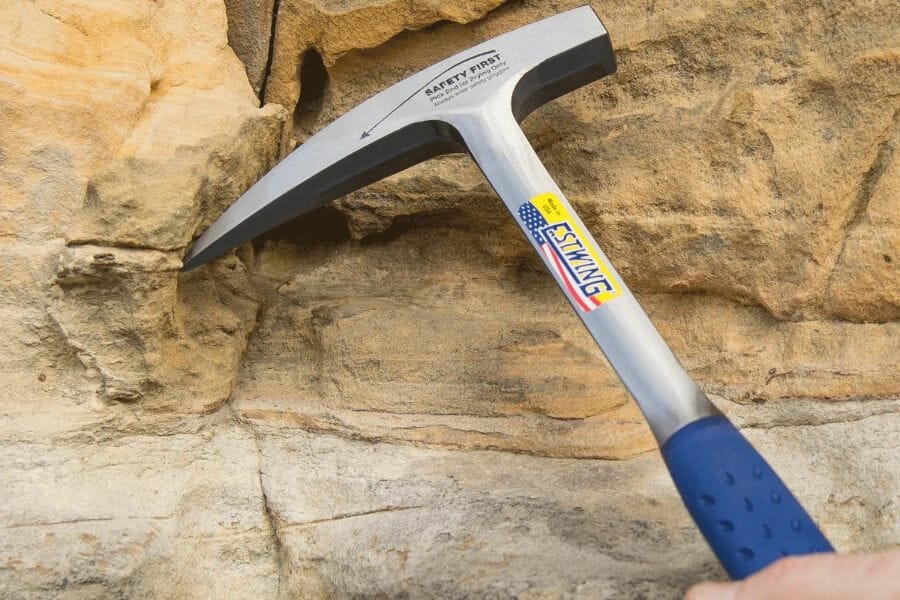 The tools every rockhound will need
When you're out looking for rocks and minerals having the right tools for the job is really going to make or break your success. You don't need a lot for most trips but there are a handful that are critical and will make your life a lot easier.
We get asked a lot about the equipment we use. Over the years we've found a handful of tools that we recommend to both new and experienced rockhounds which we outline in great detail in our complete rockhounding tools and kit guide. These are quality options that also happen to be relatively inexpensive.
Below are the basic tools that make your life so much easier and save you a ton of time. Check out the full guide to see everything we recommend bringing. At a minimum you should have:
1 - Sturdy rock hammer: The Estwing Rock Pick is our standard
2 - Rugged chisels: Try Kendo' 3-piece Chisel Set
3 - Compact shovel: The Koleiya 28-inch shovel works well
4 - Rock screen pan: The Wazakura Soil Sieve Set fits the bill
5 - Eye protection: DeWalt Safety Glasses are cheap and comfortable
6 - Head protection: Malta's Safety Helmet has been our go-to
7 - Jewelers lens with at least 20x magnification: Jarlink's Jewelers Loop is perfect
The rockhounding books that we use most
There are also a few books that have been extremely helpful in the search for gems. These books have great recommendations and tips:
National Audubon Society Field Guide to Rocks and Minerals: North America 
Northeast Treasure Hunter's Gem & Mineral Guide 
Earth Treasures: The Northeastern Quadrant 
We provide links to find these tools on Amazon but some can also be found at your local hardware stores. For more recommendations check out the link to our full tool guide above.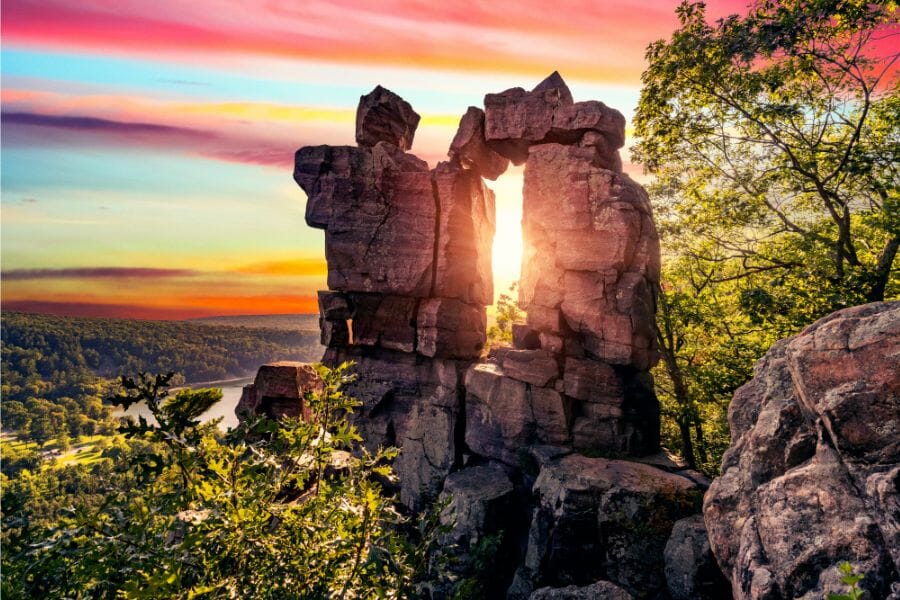 Devil's Lake State Park is a geological marvel and a haven for rock-hounding enthusiasts. Steeped in history, this state park was established in 1911 and is Wisconsin's oldest state park. The park's centerpiece is the stunning Devil's Lake, surrounded by striking quartzite bluffs that date back over 1.6 billion years.
With its unique geological features and diverse rock formations, Devil's Lake State Park offers an exceptional setting for rockhounding adventures. Devil's Lake State Park should be on your radar if you're passionate about rockhounding. The quartzite bluffs throughout the park provide ample opportunities to discover a variety of interesting rocks and minerals.
What you can find there
Devil's Lake State Park in Wisconsin offers a range of minerals for rockhounding enthusiasts to discover, including agates and quartz.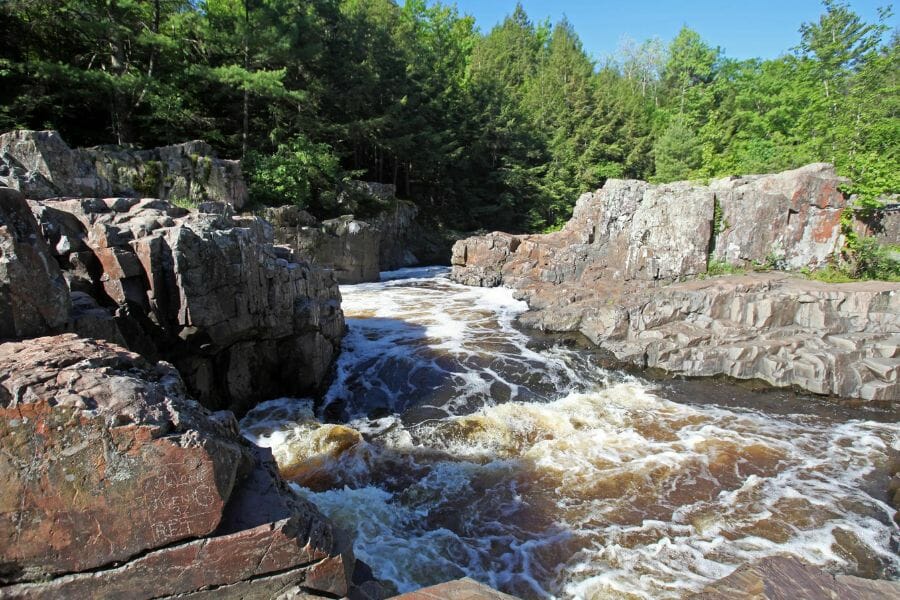 The Eau Claire River offers both natural beauty and rockhounding opportunities. The river, named after the French phrase "clear water," has a rich history dating back centuries. Native American tribes utilized their resources for fishing and transportation, and later, European settlers relied on the river for logging and trade.
The Eau Claire River is an excellent choice for a rewarding, rockhounding experience. The river's meandering path and surrounding areas provide a range of geological formations, offering the potential to discover various rocks, minerals, and fossils.
The river's currents and sediment deposition create ideal conditions for uncovering hidden treasures. Whether you're an experienced rockhound or a curious beginner, the Eau Claire River's natural setting and geological diversity make it an enticing destination for rockhounding adventures.
What you can find there
While the specific minerals present may vary along different river sections, beryl and garnet are the most abundant.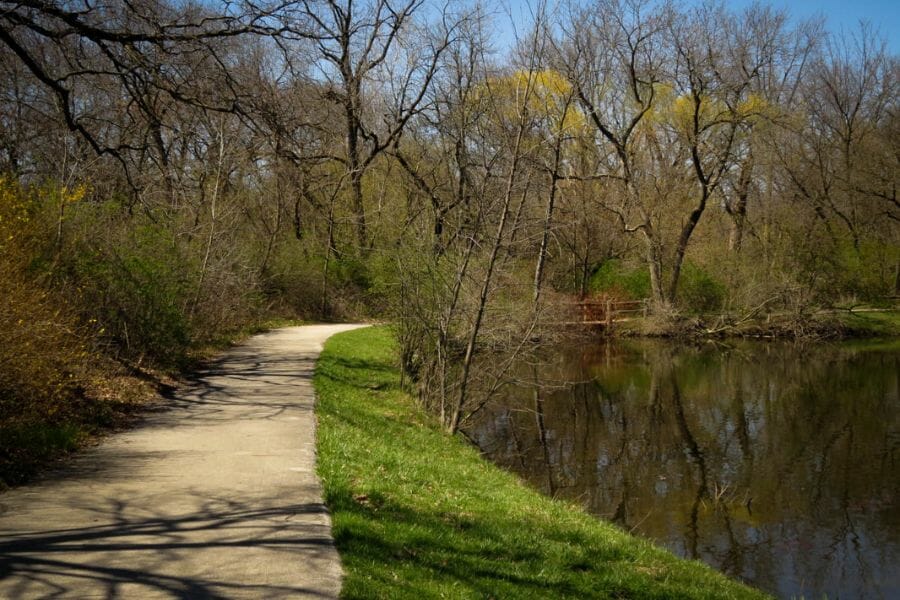 If you're keen on rockhounding, Estabrook Park is worth a visit. The park's location along the Milwaukee River presents opportunities to search for various rocks and minerals. From the riverbanks to the wooded areas, you can uncover exciting specimens.
Estabrook Park offers a range of recreational activities for visitors. With picturesque trails, picnic areas, and river access, you can immerse yourself in the natural surroundings while enjoying the thrill of rockhounding. The park's peaceful atmosphere and the potential for finding unique rocks and minerals make it an ideal destination for rockhounding enthusiasts of all levels.
What you can find there
Some minerals that you can potentially find at Estabrook Park are calcites and geodes.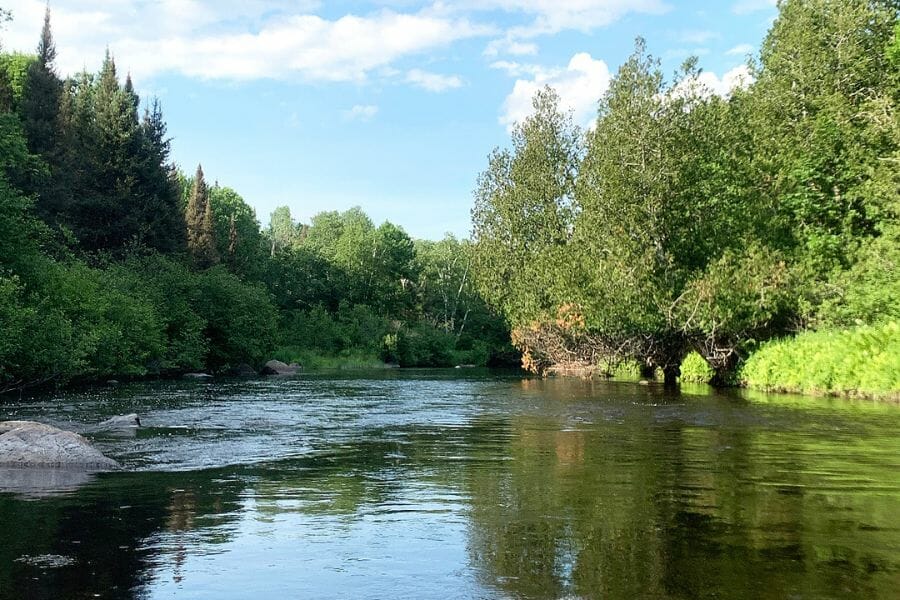 Pine River Flowage in Wisconsin is a picturesque destination that combines natural beauty with the potential for exciting, rockhounding adventures. This scenic reservoir, formed by the damming of the Pine River, offers a rich history and diverse geological features.
Initially constructed in the 1920s for hydroelectric power generation, Pine River Flowage now serves as a recreational haven for outdoor enthusiasts, including rockhounding enthusiasts looking to explore its unique geological treasures. The reservoir's shoreline and surrounding areas offer opportunities to discover a variety of rocks, minerals, and fossils.
What you can find there
From exploring the riverbanks to venturing into the adjacent woodlands, you may uncover colorful beryl, hematite, kyanite, and quartz.
Our Other Favorite Spots Around Wisconsin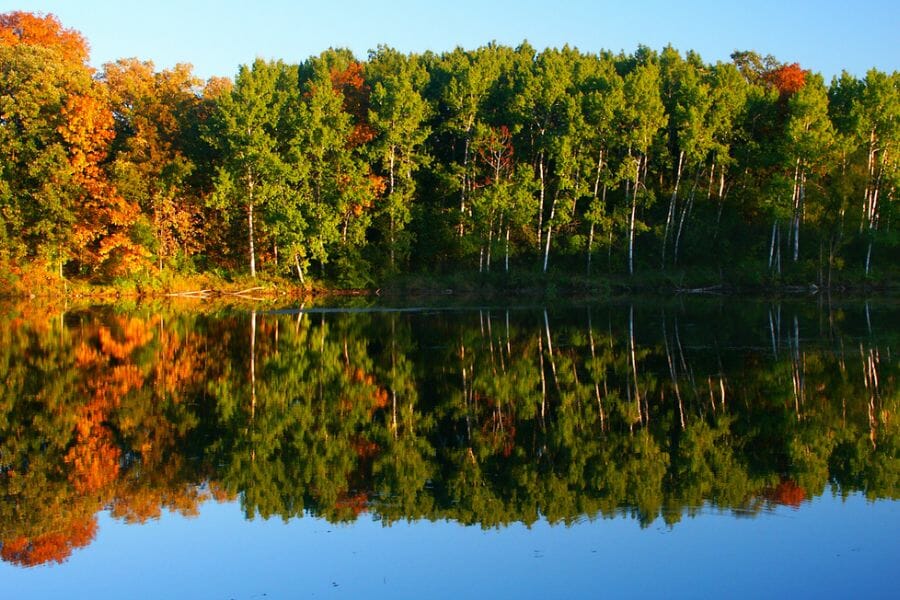 Many exquisite and rare rocks and minerals can be found in Wisconsin. Together with the top options, you may also look through and explore the choices below to uncover more specimens.
Rockhounding sites in Northern Wisconsin
Northern Wisconsin is a paradise for rockhounding enthusiasts, offering a treasure trove of geological wonders waiting to be discovered. With its diverse landscapes, ancient rock formations, and rich mineral deposits, this region provides ample opportunities for rockhounds to indulge their passion.
| | |
| --- | --- |
| Location | Minerals & Rocks |
| Cary Mine | Calcite, Celestite, Galena, Hematite, Pyrite, Qurtz, Rhodochrosite, Selenite |
| Montreal River | Calcite, Epidote, Prehnite, Thomsonite |
| Blaisdell Lake | Kyanite |
| Chippewa River | Agate, Jasper |
| Spider Lake | Kyanite |
| Island Lake | Kyanite |
Rockhounding sites in Southern Wisconsin
Southern Wisconsin is a beautiful region that holds great appeal for rockhounding enthusiasts. Its diverse geological history and picturesque landscapes offer a wealth of opportunities for discovering fascinating rocks and minerals. The region's unique blend of ancient bedrock, glacial deposits, and sedimentary formations provides a rich foundation for rockhounding adventures.
| | |
| --- | --- |
| Location | Minerals & Rocks |
| Mississippi River | Pearls |
| Kettle Moraine | Diamond |
| Ableman Narrow | Quartz |
Rockhounding sites in Eastern Wisconsin
Eastern Wisconsin beckons rockhounds with its captivating blend of geological diversity and scenic beauty. This region offers an array of exciting rockhounding opportunities for enthusiasts. With its scenic landscapes and abundant geological treasures, Eastern Wisconsin invites rockhounds to embark on thrilling adventures and uncover the hidden gems that nature has left behind.
| | |
| --- | --- |
| Location | Minerals & Rocks |
| Ives Quarry | Calcite, Pyrite, Sphalerite |
| Embarrass River | Beryl, Quartz |
| Lutz Quarry | Calcite, Galena, Pyrite, Sphalerite |
Rockhounding sites in Western Wisconsin
Western Wisconsin is known for its ancient rock formations, river valleys, and rugged bluffs, providing many opportunities for rockhounding enthusiasts. The region is also known for its unique karst topography, characterized by sinkholes, caves, and underground rivers, offering possibilities for exploring mineral-rich formations.
| | |
| --- | --- |
| Location | Minerals & Rocks |
| Black River | Agate, Jasper |
| Dresser Trap Rock Quarry | Calcite, Epidote, Hematite, Malachite, Quartz, Tremolite |
Public Rockhounding Options For Kids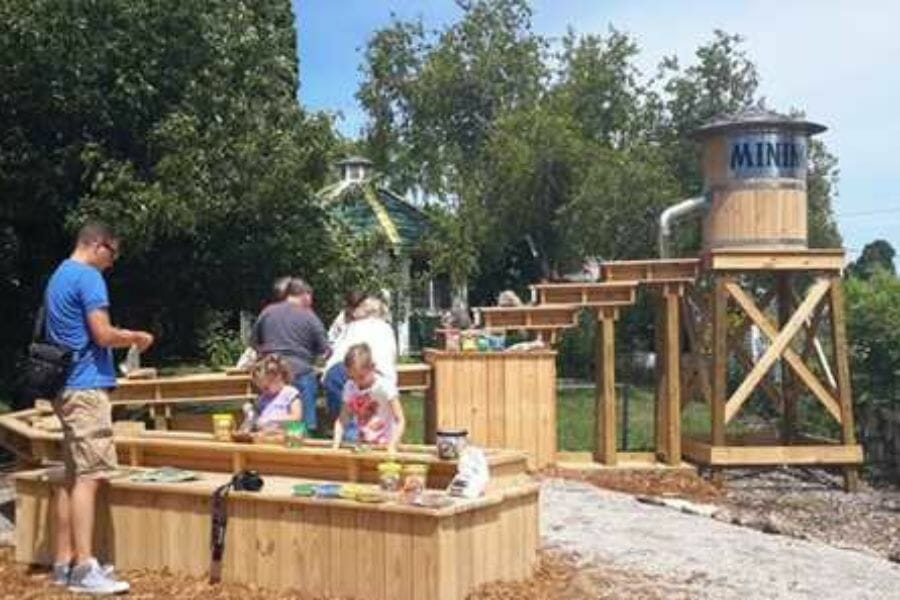 Although many excellent rockhounding locations can be difficult, kids may find rockhounding a fascinating and educational hobby. Yet, specific rockhounding sites are excellent for getting kids interested in the sport.
The specimens found in these locations and the more accessible landscape will appeal to the whole family.
Wisconsin Rockhounding Clubs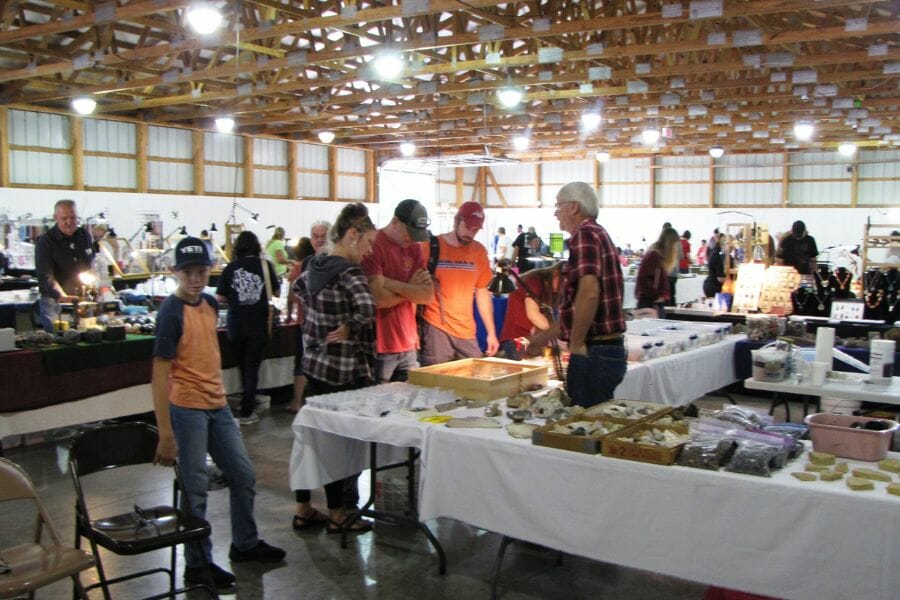 Rockhounding clubs are invaluable resources for both newbies and experienced collectors in the world of rockhounding. For beginners, these clubs provide a supportive and welcoming community that can offer guidance, knowledge, and hands-on learning experiences.
On the other hand, seasoned collectors can benefit from the expertise and camaraderie of fellow enthusiasts and access to exclusive field trips and shared expertise on more advanced techniques. Joining a rockhounding club opens doors to a network of like-minded individuals who share a passion for rocks and minerals, fostering connections, friendships, and collaborative learning and discovery opportunities.
Rockhounding clubs in Wisconsin worth checking out
Wisconsin Rockhounding Laws And Regulations
Rockhounding and collecting rocks and minerals in Wisconsin is legal and can be an enjoyable hobby for enthusiasts. However, adhering to all laws and regulations governed by the Wisconsin Department of Natural Resources (DNR) regarding collection is crucial.
Wisconsin has laws to protect natural resources and ensure their preservation for future generations. These laws may include restrictions on collecting in certain areas, limitations on the number of specimens that can be taken, and requirements for obtaining permits or permissions for specific activities.
Our Favorite Rock And Mineral Shops In Wisconsin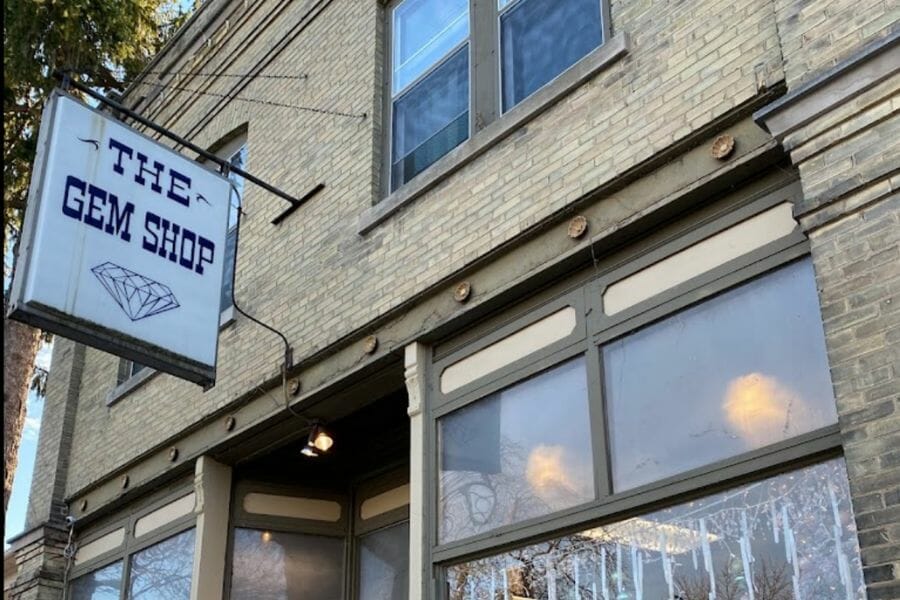 While some people like going on scouting expeditions in search of rocks and minerals, others prefer the convenience of buying specimens from reliable rock stores. The following list includes the top Wisconsin rock and mineral shops where you may find various exceptional and top-notch specimens.
Additional places to rockhound in nearby states
If you've already tried all of our recommendations above or are planning a trip out of the state you should check out our guides for neighboring states:
If you have any recommendations we haven't covered please leave them in the comments below