Admit it or not, Ohio may not immediately come to mind when you think of rockhounding destinations. But don't let its unassuming nature fool you! Our state offers a surprisingly diverse geology, making it a must-visit if you're eager to explore the world beneath our feet.
Ohio's geological history, which spans millions of years, made it the rockhound's paradise that it is today. From ancient seas and towering glaciers to rivers and lakes that have carved their way through the landscape, our state is blessed with a rich tapestry of geological wonders that have given rise to an incredible variety of rocks and minerals.
Rockhounds and adventure seekers alike will surely have the best time of their lives scouring and exploring our state for all its glory, including its natural wonders. Continue reading as we share with you Ohio's proven rockhounding sites that will make your expedition truly unforgettable.
How We Found The Best Places For Rockhounding in Ohio
We spent a lot of time putting together the list of which of the many options for Ohio rockhounding we were going to recommend. We wanted to have a nice variety of locations for experienced and novice rockhounds in a variety of settings. Here are the main factors we used when determining the recommendations we set out :
The extensive local experience and understanding of our team
Input from multiple local rockhounds and rockhound groups
The accessibility of the various locations
Safety and potential hazards when collecting
Private and public locations
A desire to include locations for both experienced rockhounds and those who are just starting out
Using these weights we think we've put together the best list out there for those who love finding new rocks, gems, and minerals for our collections!

What You Can Find Rockhounding In Ohio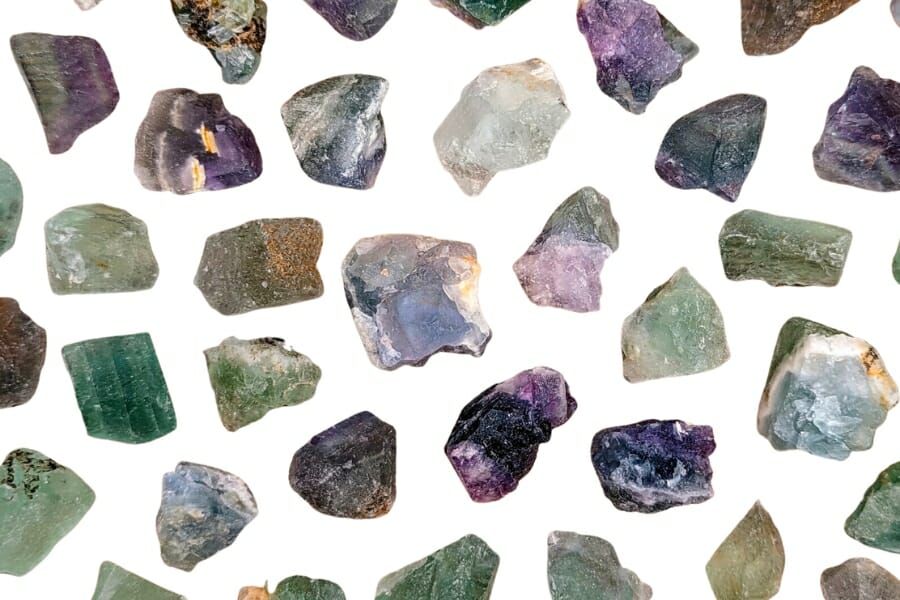 Unassuming, yet immensely exciting— these are the exact words we can use to describe Ohio's wealth of treasures waiting to be discovered. From ancient riverbeds to glacial remnants, our state's diverse landscape holds a secret world of rocks and minerals, each with its own unique story to tell.
If you're planning to go here, better get ready to come across our wide array of rocks and minerals, such as the following:
Rare rocks and minerals found in Ohio
More common desirable rocks, minerals, and gems found here
In-depth guides to finding specific types of rocks in Ohio
If you're in Ohio to find specific types of rock and minerals, we've created several guides that can help you locate them:
You can also find different rockhounds near you and more than 3,000 sites that you can explore in the country. But if you want to have more in-depth information on rockhounding in Ohio, stay tuned here as we go on to discuss more with you.
The Best Places To Find Rocks and Minerals in Ohio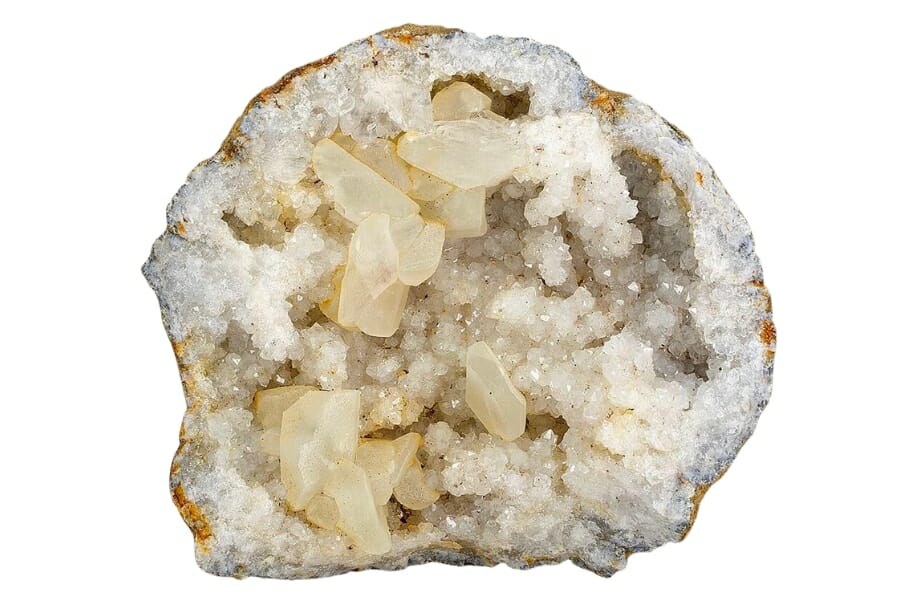 Since there are a lot of proven rockhounding sites in Ohio, we've carefully selected our top 5 recommended places for you to visit. Our recommendation is not only based on our personal rockhounding experience here, but also on our research and on the recommendations of our successful rockhounds in the area.
Always Confirm Access and Collection Rules!
Before heading out to any of the locations on our list you need to confirm access requirements and collection rules for both public and private locations.
These requirements are subject to change without notice and may differ from what we state below.
Always get updated information directly from the source ahead of time to ensure responsible rockhounding.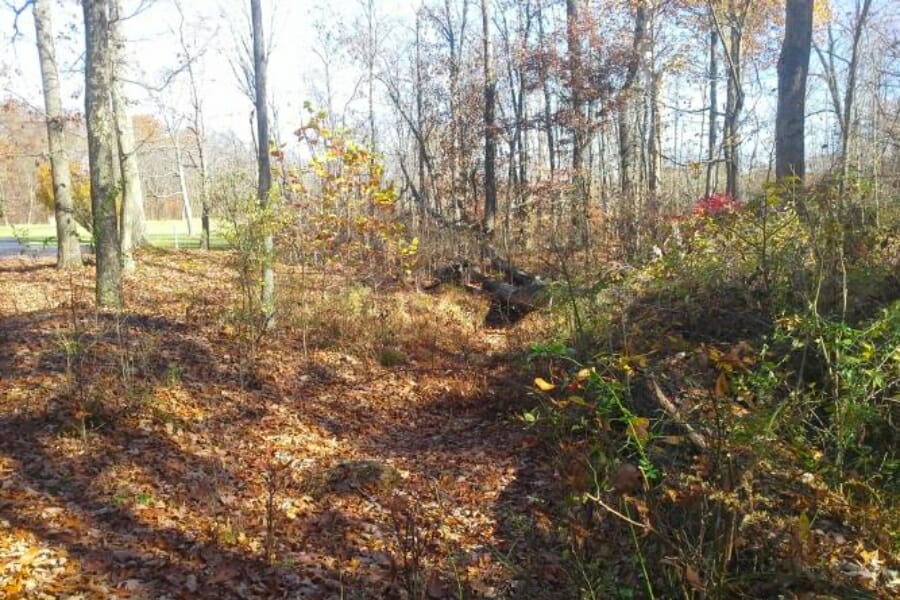 Flint Ridge is renowned for its rich deposits of flint and its historical significance. Spanning approximately eight miles in length, it holds the largest and most extensive deposits of flint in the entire eastern United States.
Flint, a hard, sedimentary rock, was highly prized by Native American tribes for its exceptional sharpness and durability, making it a valuable resource for crafting tools and weapons.
Rockhounding enthusiasts flock to Flint Ridge for several reasons. Firstly, the abundance of flint offers ample opportunities for collectors to find a variety of colors and patterns within the rock. Secondly, the historical significance of the site adds an extra layer of fascination. Exploring here allows you to connect with the ancient past, envisioning the Native Americans who once skillfully crafted tools from the very rocks beneath your feet.
What you can find there
Flint Ridge is a haven of natural wonders! You can find amazing specimens of different rocks and minerals here, such as Agate, Amethyst, Carnelian, Chalcedony, Chert, Flint (gem-quality), Jasp-Agate, Jasper, and Quartz (smoky and clear).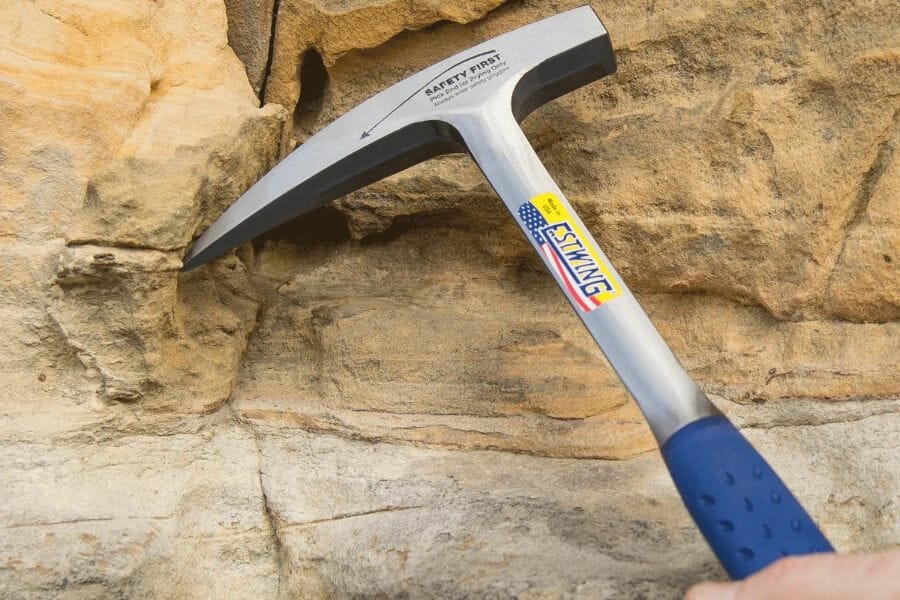 The tools every rockhound will need
When you're out looking for rocks and minerals having the right tools for the job is really going to make or break your success. You don't need a lot for most trips but there are a handful that are critical and will make your life a lot easier.
We get asked a lot about the equipment we use. Over the years we've found a handful of tools that we recommend to both new and experienced rockhounds which we outline in great detail in our complete rockhounding tools and kit guide. These are quality options that also happen to be relatively inexpensive.
Below are the basic tools that make your life so much easier and save you a ton of time. Check out the full guide to see everything we recommend bringing. At a minimum you should have:
1 - Sturdy rock hammer: The Estwing Rock Pick is our standard
2 - Rugged chisels: Try Kendo' 3-piece Chisel Set
3 - Compact shovel: The Koleiya 28-inch shovel works well
4 - Rock screen pan: The Wazakura Soil Sieve Set fits the bill
5 - Eye protection: DeWalt Safety Glasses are cheap and comfortable
6 - Head protection: Malta's Safety Helmet has been our go-to
7 - Jewelers lens with at least 20x magnification: Jarlink's Jewelers Loop is perfect
The rockhounding books that we use most
There are also a few books that have been extremely helpful in the search for gems. These books have great recommendations and tips:
National Audubon Society Field Guide to Rocks and Minerals: North America 
Northeast Treasure Hunter's Gem & Mineral Guide 
Earth Treasures: The Northeastern Quadrant 
We provide links to find these tools on Amazon but some can also be found at your local hardware stores. For more recommendations check out the link to our full tool guide above.
Area exposures, road cuts, quarries of Columbus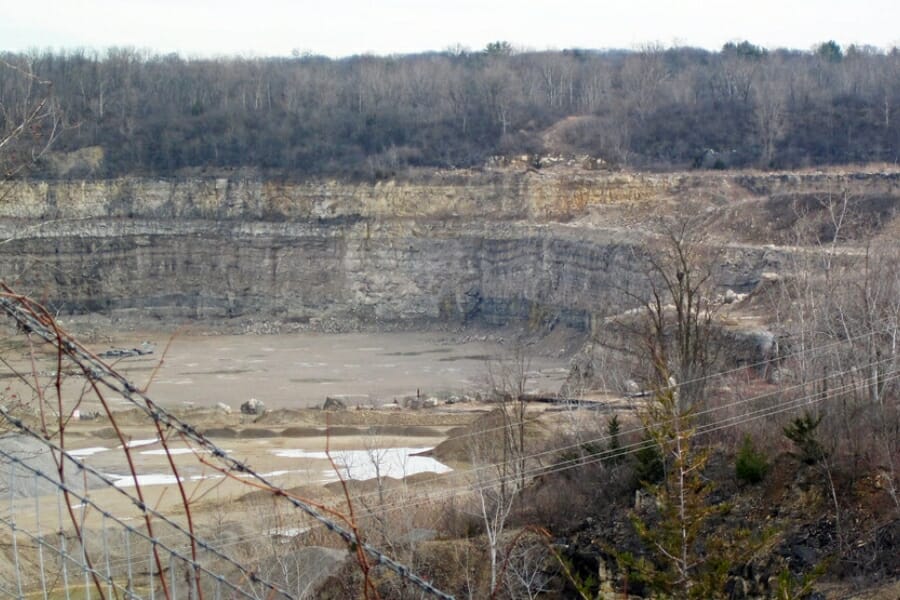 Columbus is not only a vibrant city, but also a fantastic destination for rockhounding enthusiasts due to its abundance of area exposures, road cuts, and quarries. Its surrounding areas offer a diverse range of geological formations that are accessible to the public.
Numerous road cuts and highway construction sites expose layers of rock, providing an opportunity to observe and collect specimens firsthand. These exposures can reveal fascinating geological features, offering a unique glimpse into Ohio's geological history.
Moreover, quarries near this city present rockhounds with an opportunity to explore and collect specimens in a controlled environment. Quarry walls can showcase intricate patterns, vibrant colors, and interesting mineral formations, making them a treasure trove for rockhounds.
What you can find there
The most abundant natural wonder that you can find here is what is dubbed as "Fool's Gold", Pyrite. Usually, specimens of Pyrite here are clustered in cubic crystals.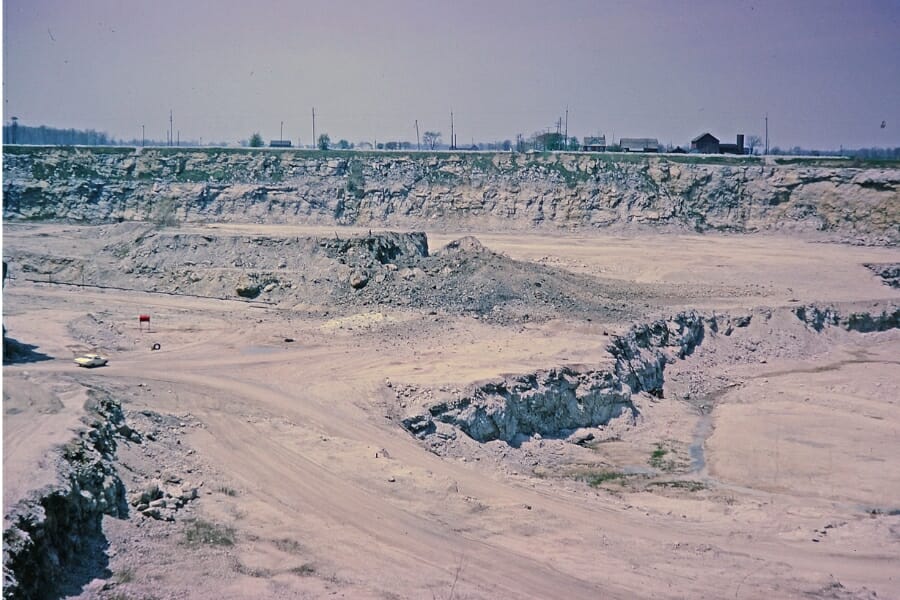 Clay Center limestone quarry exposes a remarkable section of the renowned Columbus Limestone formation, which dates back millions of years. The ares provides rockhounds with the opportunity to explore and collect fossils, intriguing rocks, and exquisite minerals.
Do take note before heading out that visiting the Clay Center limestone quarry requires permission from the quarry management and adherence to safety guidelines. With the proper authorization, you can embark on an exciting journey to uncover the geological wonders preserved within the layers of this site.
What you can find there
Explore the nooks and crannies of the Clay Center Limestone Quarry to find stunning samples of Calcite, Celestite, Dolomite crystals, Fluorite, Pyrite, and even Fossils.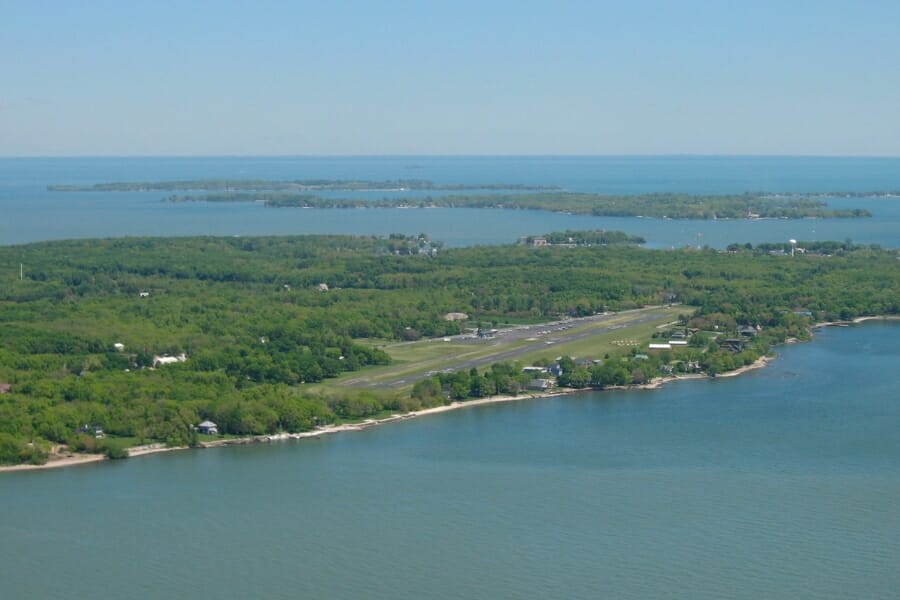 Located along the Maumee River near the town of Toledo, Green Island Wildlife Area boasts of diverse geological formations and an abundance of rocks, minerals, and fossils. Its riverbank exposures and diverse ecosystems make it an ideal location for rockhounding, allowing you to uncover a variety of treasures while immersing in the beauty of nature.
The constant flow and erosion of Green Island Wildlife Area's river continuously reveal new specimens, making each visit to this place an exciting and potentially rewarding experience for rockhounds.
With its serene ambiance, abundant geological resources, and the thrill of uncovering ancient treasures, Green Island Wildlife Area is undoubtedly a must-visit destination if you're in Ohio.
What you can find there
You can get your hands on large masses of Celestite with fine crystals if you explore enough at the Green Island Wildlife Area.
Sandusky quarries and outcrops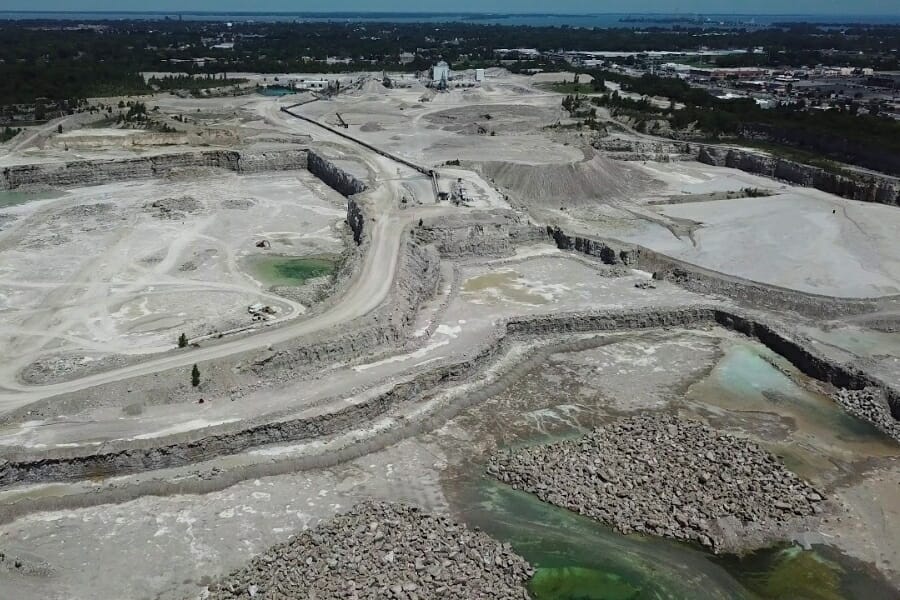 A charming city on the shores of Lake Erie, Sandusky is a fantastic destination for rockhounds. Its geological formations provide a wide variety of rocks, minerals, and fossils, making it an ideal location for rockhounding adventures.
The numerous quarries in the Sandusky area offer access to layers of sedimentary rock that can yield a diverse range of specimens. These quarries provide opportunities to find fossils, which offer insights into the area's geological history.
In addition to quarries, Sandusky and its surroundings also feature various outcrops where geological formations are exposed at the surface. These outcrops enable rockhounds to observe and collect rocks and minerals in their natural state.
What you can find there
This locations has bountiful deposits of a wide range of rocks and minerals, like Calcite, Celestite, Dolomite, Fluorite, Marcasite, Pyrite, Witherite, and even Fossils.
Our Other Favorite Spots Around Ohio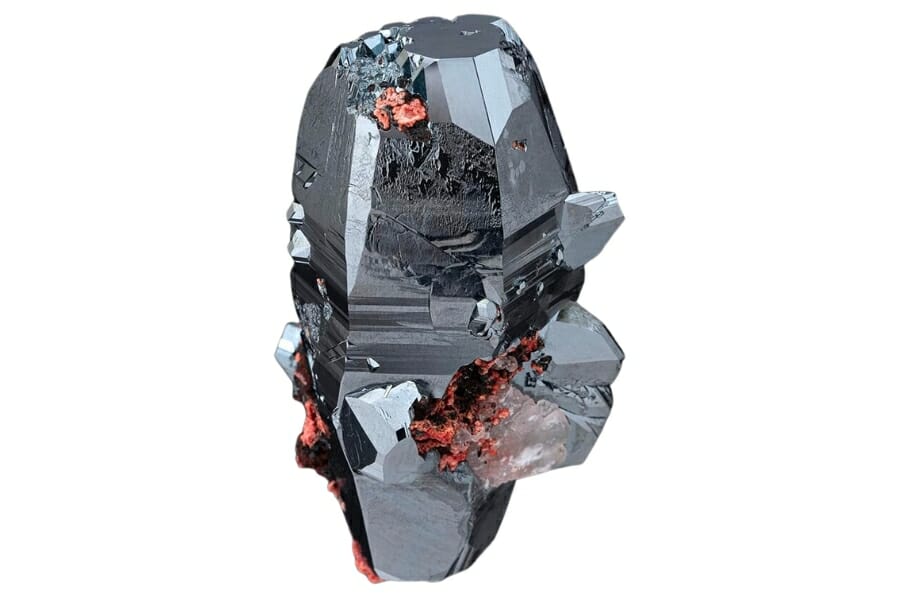 If you've already been to our top recommended places for rockhounding in Ohio, you can also checkout the list of other rockhounding sites that we've created below. The places are arranged by region to make your itinerary planning easier.
Rockhounding sites in Northern Ohio and along the Lake Erie coast
Northern Ohio, particularly the coastal counties along Lake Erie, is a haven for rockhounds seeking a diverse range of rocks and minerals. Its unique geology, proximity to the Great Lakes, and combination of glacial deposits, limestone formations, and shoreline exposures create a treasure trove of opportunities for rockhounds.
| | |
| --- | --- |
| Location | Minerals & Rocks |
| Medusa Quarries | Fossils, Marcasite, Pyrite |
| Pugh Quarry | Barite, Calcite, Celestite, Fluorite, Fossils, Marcasite, Pyrite |
| Genoa area quarries | Calcite, Celestite, Dolomite, Fluorite, Fossils, Marcasite, Pyrite |
| Quarry at Bettsville | Fossils |
| Cleveland area quarries | Fossils |
| Portage Countywide | Fossils |
| Road, railroad, stream cuts, area gravel pits and quarries of Conneaut | Calcite |
Rockhounding sites in Southern Ohio
With its diverse geological features and rich mineral deposits, Southern Ohio offers a wealth of opportunities for rockhounds. It's known for its ancient bedrock, stunning formations, and unique mineral specimens. The area is characterized by a variety of rock types, including limestone, shale, sandstone, and conglomerate, each offering its own set of intriguing finds.
| | |
| --- | --- |
| Location | Minerals & Rocks |
| Portsmouth area quarries | Catlinite |
| Baker Creek | Hematite |
| Mouth of Scioto River near Pike County border | Pearl |
| Clermont Countywide | Fossils |
| Little Miami River | Diamond |
| Lebanon area quarries | Fossils |
| Warren Countywide | Fossils |
| Blanchester area | Fossils |
Rockhounding sites in Eastern Ohio
Eastern Ohio is a fantastic region for rockhounds, especially those with an interest in fossils. This area is renowned for its rich fossil record, with a diverse range of fossils dating back millions of years. If you're a fossil enthusiast, you can explore the numerous quarries, road cuts, and exposed rock formations that dot Eastern Ohio's landscape.
| | |
| --- | --- |
| Location | Minerals & Rocks |
| Elseworth area quarries | Gypsum |
| Columbiana Countywide | Fossils |
| Jefferson Countywide | Fossils |
| Harrison Countywide | Fossils |
| Crabapple area | Fossils |
| St. Clairsville area | Fossils |
| Clarington area | Fossils |
| Stark Countywide | Fossils |
Rockhounding sites in Western Ohio
Like the Eastern side of our state, Western Ohio is also a fascinating region particularly for those interested in fossil hunting. It's known for its rich deposits of fossils, which provide a glimpse into the prehistoric life that once thrived in the region. Western Ohio's geology has enabled it to preserve an impressive array of ancient marine and terrestrial fossils.
| | |
| --- | --- |
| Location | Minerals & Rocks |
| Quarry adjacent to Miami University | Fossils |
| Preble Countywide | Fossils |
| Dayton area gravel pits, quarries, and streambeds | Fossils |
| Clifton Gorge along the Little Miami River | Fossils |
| Quarry adjacent to Antioch University | Fossils |
| Rimer area mines | Fluorite |
Rockhounding sites in Central Ohio
Central Ohio showcases a diverse range of rocks and minerals that make it a captivating region for exploration. Its geology is predominantly composed of sedimentary rock formations, including limestone, shale, and sandstone. This region's varied landscape, from riverbanks to quarries and road cuts, provides ample access to fascinating geological features and specimens.
| | |
| --- | --- |
| Location | Minerals & Rocks |
| Carey area quarries | Fossils |
| Delaware Countywide | Pyrite |
| Coshocton Countywide | Fossils |
| Tuscarawas Countywide | Fossils |
| Zanesville area mines | Hematite |
| Neibarger Farm, Nethers Farm, and Norris Farm | Chert (Flint) |
| Newark area | Fossils |
| Franklin Countywide | Pyrite |
Where To Find Flint In Ohio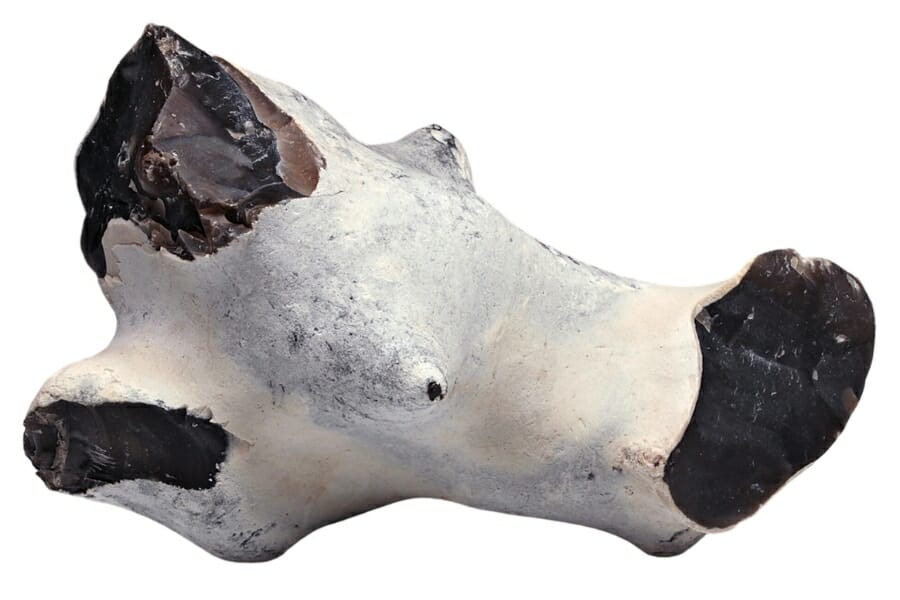 Flint is a type of microcrystalline quartz that's highly prized for its unique properties and uses. It's known for its glassy appearance, hardness, and ability to produce sparks when struck against steel, making it valuable for creating fire-starting tools. It has been utilized by humans for thousands of years, from ancient toolmaking to the ignition systems of early firearms.
Flint found in Ohio holds a special significance due to its historical and cultural significance in the region. Our state is renowned for its abundance of high-quality Flint deposits, particularly in our eastern and central regions. Ohio flint, often referred to as "Ohio Flint Ridge Flint," is highly sought after for its exceptional quality, beautiful colors, and knapping properties.
Benton Township is our favorite place to look for Flint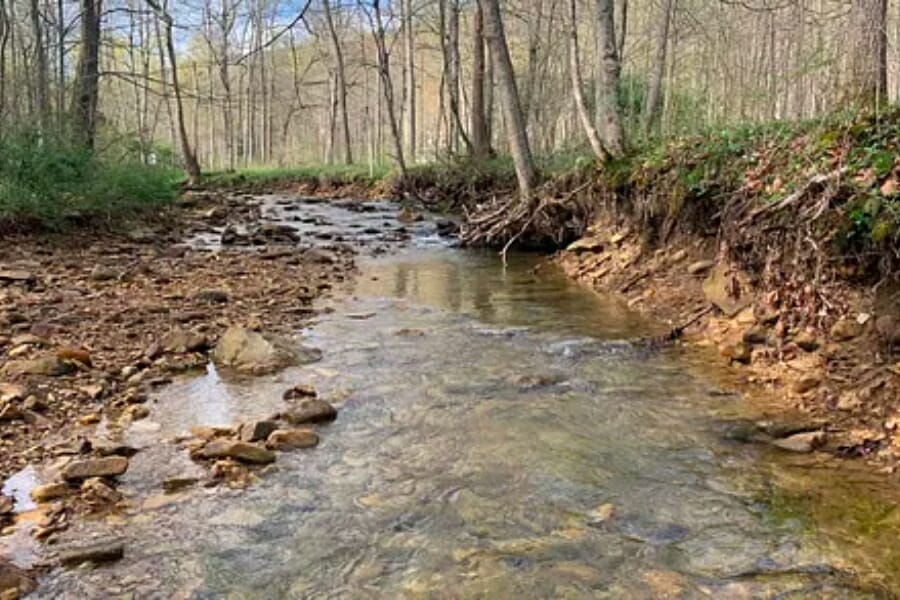 Benton Township is a prime location for those searching for Flint. Situated in Licking County, which is known for its rich deposits of high-quality flint, this area offers a promising landscape for Flint hunting. It's part of the renowned Flint Ridge formation, a geological formation that spans several counties in eastern and central Ohio.
Characterized by its limestone and shale layers, Benton Township has the ideal conditions for Flint preservation. The Flint Ridge formation in this area boasts of an impressive variety of colors and patterns, ranging from vibrant hues of blue, gray, and brown to stunning banded and mottled designs. When you go here, you can discover Flint nodules and fragments scattered across fields, creek beds, and exposed outcrops.
Other good options to find Flint
Licking County, in stream beds, road cuts
Muskingum County, in stream beds, road cuts, gravels, and exposures
Perry County
Tuscarawas River near Zoar, in limestone outcrops
Public Rockhounding Options For Kids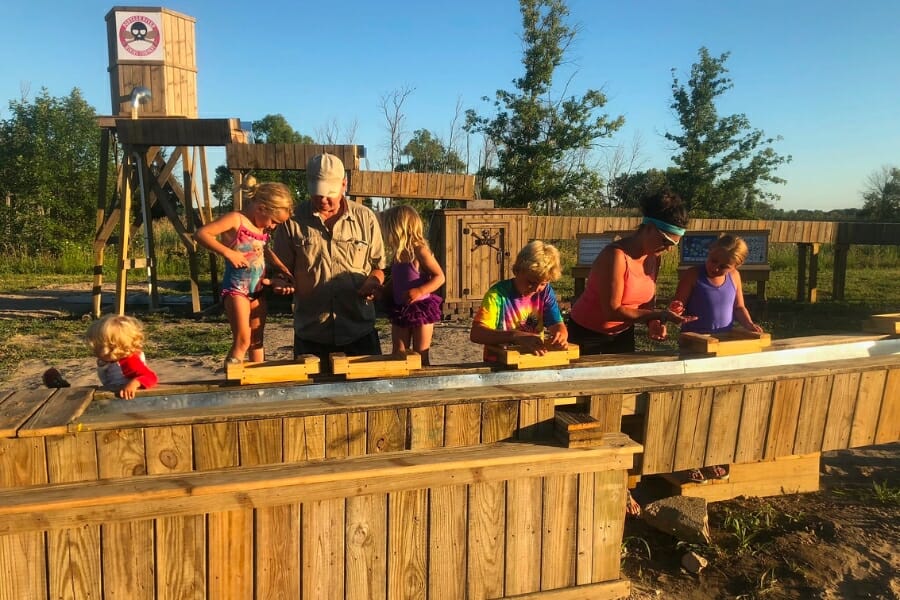 Ohio is blessed with many rockhounding sites, but not all of them are kid-friendly. In fact, a handful of them may be challenging for children, especially in terms of accessibility and terrain. Good thing, there are also plenty of family-friendly rockhounding spots in Ohio that can be ideal for getting kids interested in the hobby.
Ohio Rockhounding Clubs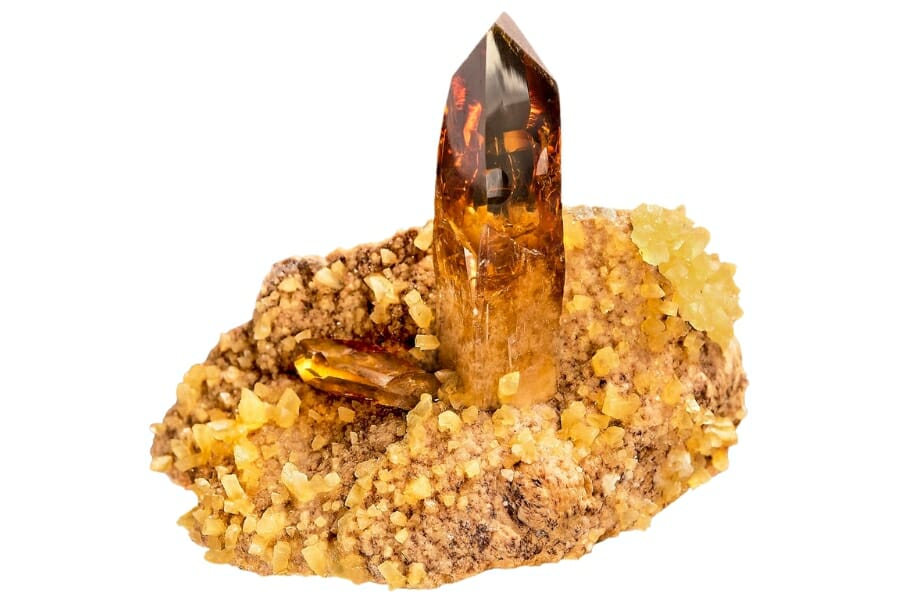 Rockhounding clubs are a fantastic resource, offering a wealth of benefits and opportunities to engage in the exciting world of rockhounding. Joining one in Ohio can be especially rewarding for both beginners and experienced rockhounds due to our state's rich geological diversity and the club's focus on local knowledge and experiences.
Beyond the educational aspect, rockhounding clubs foster a sense of community and camaraderie among members. Rockhounding can be a solitary pursuit, but joining a club provides opportunities for socializing, networking, and making lasting friendships with like-minded individuals.
Rockhounding clubs in Ohio worth checking out
Ohio Rockhounding Laws And Regulations
Rockhounding in Ohio is legal, but it's essential for you to adhere to all local and state laws and regulations concerning collection. Our state has specific guidelines in place to ensure the responsible and sustainable practice of rockhounding, while preserving our natural resources.
The Ohio Department of Natural Resources (ODNR) is responsible for regulating rockhounding activities here. They oversee the management of public lands and resources, including the collection of rocks, minerals, and fossils. Before visiting here, familiarize yourself with the specific rules and regulations set forth by the ODNR, such as obtaining permits or adhering to collection limits in certain areas.
The Best Rock And Mineral Shops In Ohio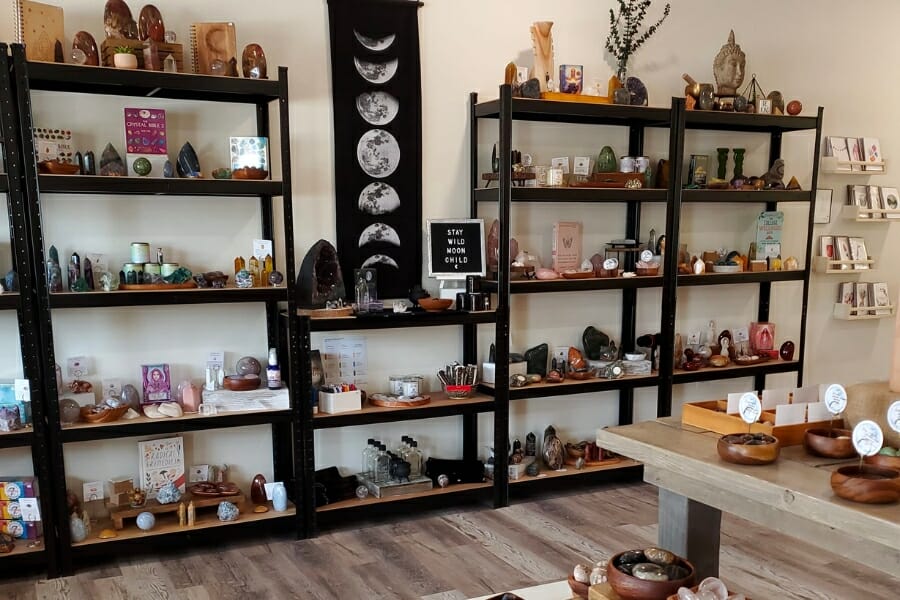 The thrill of stumbling upon specific rocks or minerals in their natural environment in Ohio can be challenging, as it requires extensive knowledge, time, and luck. If you are passionate about expanding your collections, but prefer a more curated and accessible experience, visiting specialized shops in our state is an excellent alternative.
Here are some of our local rock and gem shops that have great selections:
Additional Rockhounding Places In Nearby States
If you want to extend your rockhounding adventure to nearby states, check out the following guides that we prepared for you:
If you have any recommendations that we haven't covered yet, please leave them in the comments below!