Some of the most beautiful geodes in the world can be found in Wisconsin but finding these beauties can be like looking for a needle in a haystack. Without the right guidance, you might as well be trying to find a snowball in a blizzard.
However, once you discover one of these hidden gems, it's like striking gold. They are truly a sight to behold. They appear to be just another rock from the outside, but once you crack them open, the real magic begins and all the time you invested to find geodes in Wisconsin feels worthwhile!
Fortunately, for those willing to brave the hunt, there are plenty of opportunities to hit the jackpot, whether you're a seasoned geode hunter or a beginner just starting out. From the shores of Lake Michigan to the depths of the Driftless Area, there are a variety of locations to explore.
With a little research and perseverance, you're sure to find a geode or two that will take your breath away. So grab your pickaxe, don your hard hat, and get ready to experience the thrill of the hunt!
What Are Wisconsin Geodes Anyway?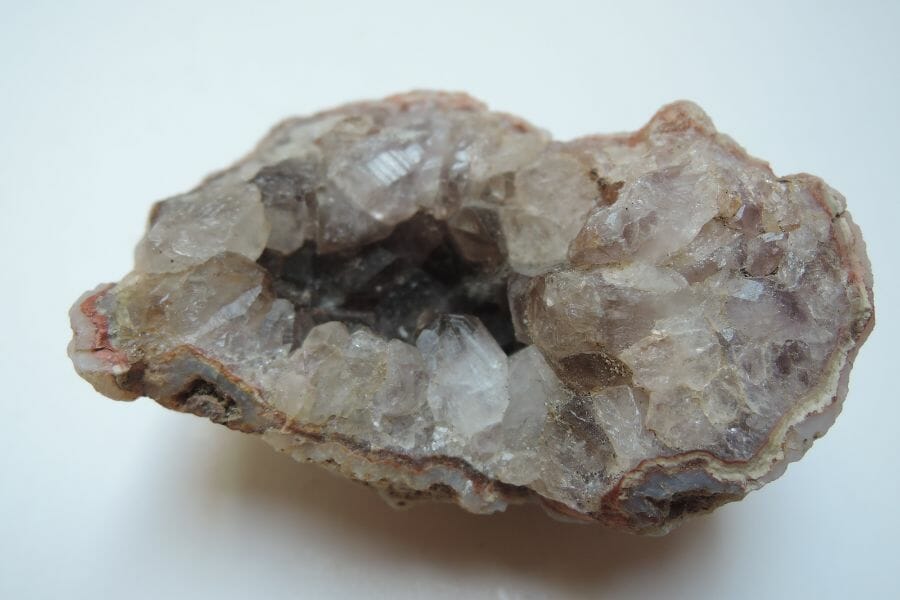 Geodes are like hidden treasures buried in plain sight. They look like any old rock on the outside, but inside, they're a whole different story. Think of them like a piñata, but they're filled with crystals instead of candy.
Geodes are hollow rocks that contain a cavity lined with crystals or other minerals. They come in all shapes and sizes and are formed through a process that can take thousands of years. Some are big enough to fit in your hand, while others can be as large as a basketball.
We've also developed a guide for geode identification if you want a more extensive explanation.
Geodes are found all over the world, from the deserts of Arizona to the beaches of Brazil. The exceptional geology of Wisconsin makes it easy for geodes to form. People love to collect them because they're so unique and beautiful. They're like nature's little surprises, just waiting to be discovered. So, keep your eyes peeled for these little wonders next time you're exploring. You never know what kind of treasures you might find!
The Types Of Geodes Found In Wisconsin
Geodes can take many different shapes and are found all over the world. The kind of crystal the geode has inside determines the value of a geode and its charm. Here in Wisconsin, you can find the following geodes:
How We Found The Best Geode Locations in Wisconsin
When it comes to choosing the best options for finding Wisconsin geodes there are plenty of things we consider. Many of the best locations are closely guarded secrets which can make it really difficult for more casual geode hunters to find success. The key factors in our recommendations are:
The deep experience and understanding of our team about the area
Recommendations from local groups and clubs
How easy it is to get the a particular location
Safety and potential hazards when collecting
Weighing private and public locations
The ability for both experienced and novice geode enthusiasts to find great samples
With these factors in mind we've been able to put together a fantastic list that just about anyone can use!

The Best Places To Find Geodes in Wisconsin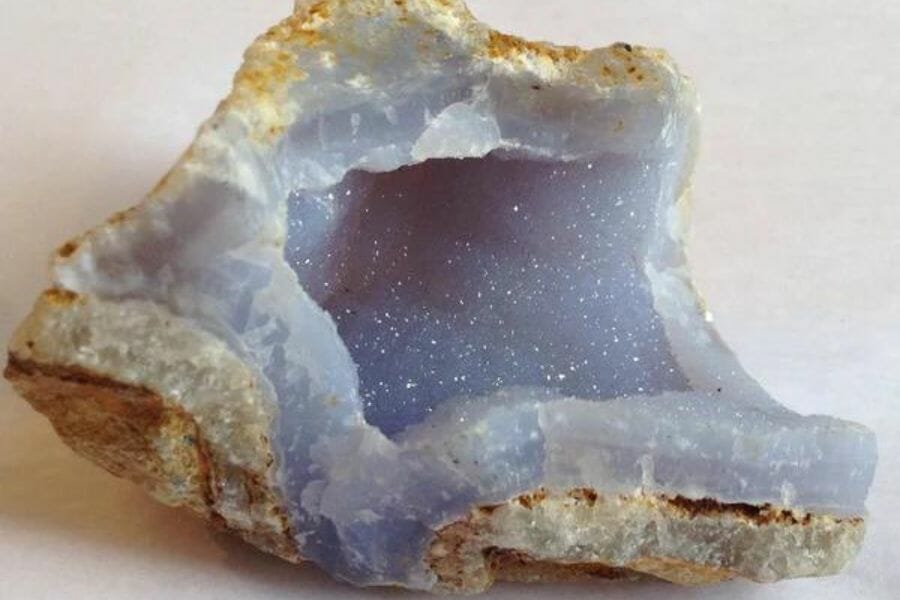 Check for our best suggestions for geode spots around the state to get things started. While there are many wonderful places to mine for gems in Wisconsin, only a select few are ideal for looking for geodes. Some places have always given us great search possibilities while being uncommon.
Always Confirm Access and Collection Rules!
Before heading out to any of the locations on our list you need to confirm access requirements and collection rules for both public and private locations.
These requirements are subject to change without notice and may differ from what we state below.
Always get updated information directly from the source ahead of time to ensure responsible rockhounding.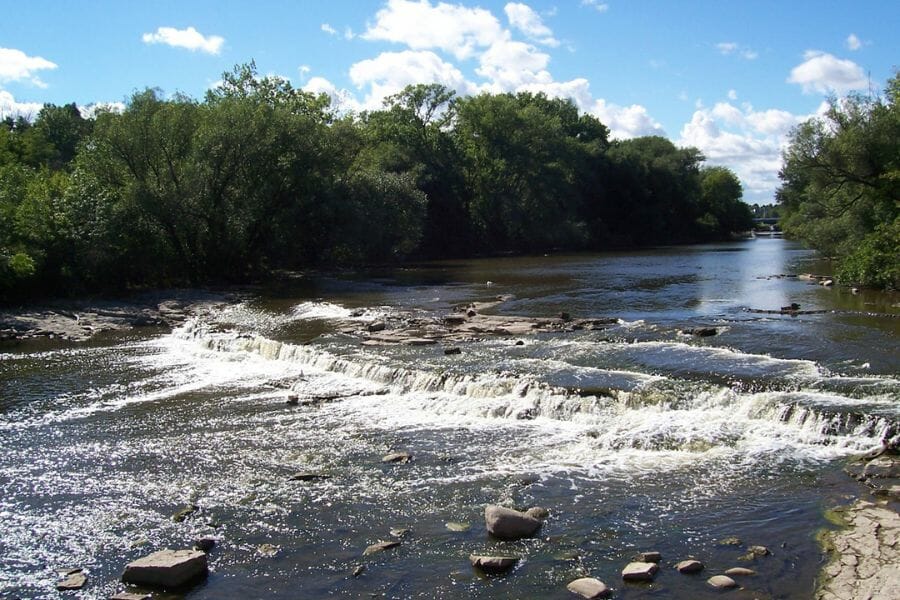 Milwaukee County is a place that's full of character and charm. The county is located in the state's southeastern part and is known for its diverse geology, terrain, and geography. It's like a patchwork quilt of different landscapes that come together to create a beautiful picture. The terrain in Milwaukee County is varied, with rolling hills, flat farmland, and forested areas.
The county is located on the western shore of Lake Michigan, meaning it has a lot of flat land that's great for farming. But as you move away from the lake, the terrain becomes more hilly and forested. The county is also home to several rivers and streams that add to the beauty of the landscape.
Regarding geology, Milwaukee County is located on a bedrock of sedimentary rock over 400 million years old. Glacial deposits cover the bedrock from the last ice age, which makes for some interesting geological features like eskers, kettles, and moraines. These features were created by the movement of glaciers and are a testament to the power of nature.
Be sure you've researched the most recent Wisconsin State collecting laws before bringing your unearthed treasures home.
Where we found geodes in Milwaukee County
Our search has shown that the following areas are the finest locations:
At Estabrook Park in the Milwaukee area, on the west bank of the Milwaukee River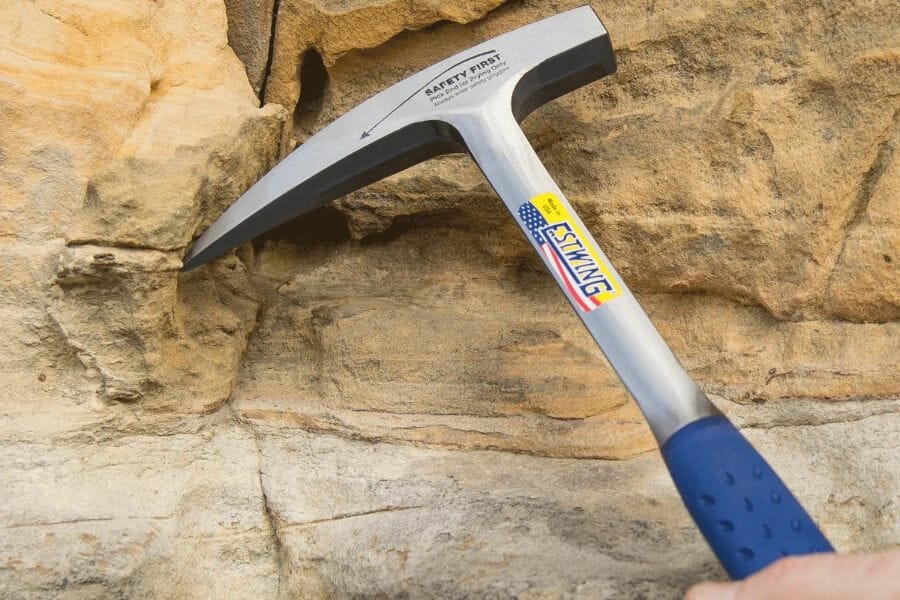 The tools every geode hunter will need
When you're out looking for geodes having the right tools for the job is very important. You don't need a lot for most trips but there are a handful that are critical and will make your life a lot easier.
We get asked a lot about the equipment we use. Over the years we've found a handful of tools that we recommend to both new and experienced geode hunters which we outline in great detail in our complete rockhounding tools and kit guide. These are quality options that also happen to be relatively inexpensive.
Below are the basic tools that make your life so much easier and save you a ton of time. Check out the full guide to see everything we recommend bringing. One quick note, as an Amazon Associate I earn from qualifying purchases but we try very hard to only recommend gear we would use ourselves and often recommend brands you can't find on Amazon.
At a minimum you should have:
1 - Sturdy rock hammer: The Estwing Rock Pick is our standard
2 - Rugged chisels: Try Kendo' 3-piece Chisel Set
3 - Compact shovel: The Koleiya 28-inch shovel works well
4 - Rock screen pan: The Wazakura Soil Sieve Set fits the bill
5 - Eye protection: DeWalt Safety Glasses are cheap and comfortable
6 - Head protection: Malta's Safety Helmet has been our go-to
7 - Jewelers lens with at least 20x magnification: Jarlink's Jewelers Loop is perfect
The geode-finding books that we use most
There are also a few books that have been extremely helpful in the search for gems. These books have great recommendations and tips:
National Audubon Society Field Guide to Rocks and Minerals: North America 
Northeast Treasure Hunter's Gem & Mineral Guide 
Earth Treasures: The Northeastern Quadrant 
We provide links to find these tools on Amazon but some can also be found at your local hardware stores. For more recommendations check out the link to our full tool guide above.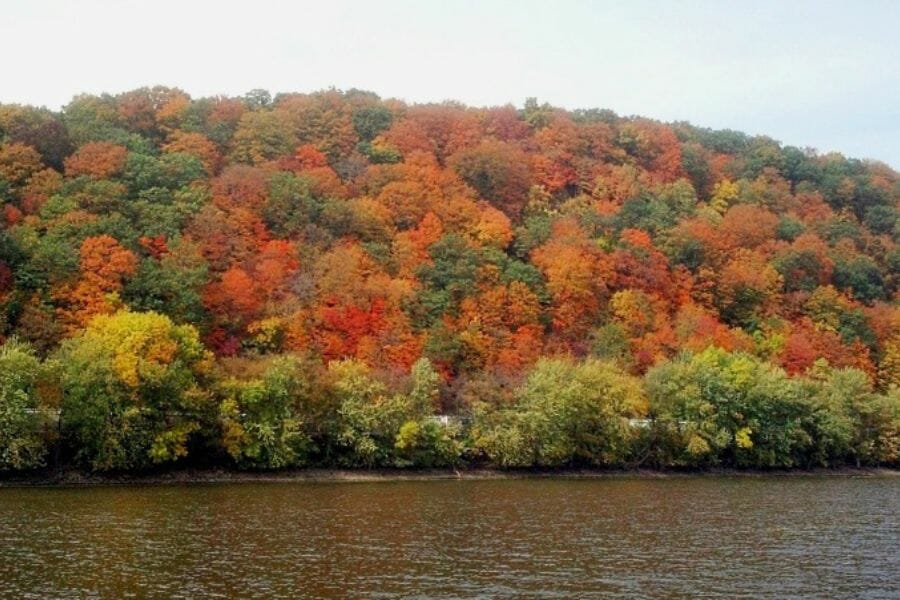 Pepin County is a hidden gem waiting to be discovered. The county is located in the west-central part of the state and is known for its rugged terrain, picturesque landscape, and interesting geology. It's like a little slice of heaven!
The terrain in Pepin County is mostly hilly and forested, with some flat farmland as well. The county is in the Driftless Area, meaning glaciers did not flatten it during the last ice age. This has led to some interesting geological features like bluffs, valleys, and ridges, which make it a great place to find Wisconsin crystals as well.
The county is also home to several rivers and streams that flow through the landscape, adding to its beauty. In terms of geology, Pepin County is home to several types of sedimentary rock that are over 400 million years old. These rocks have been sculpted by the forces of nature over millions of years, creating some of the most beautiful and interesting landscapes in the state.
Whether you're interested in hiking, fishing, or just taking in the sights, Pepin County has something to offer!
Where we found geodes in Pepin County
Near Big Hill Road
Very close to Prairie du Chien
Common Geode-Hunting Questions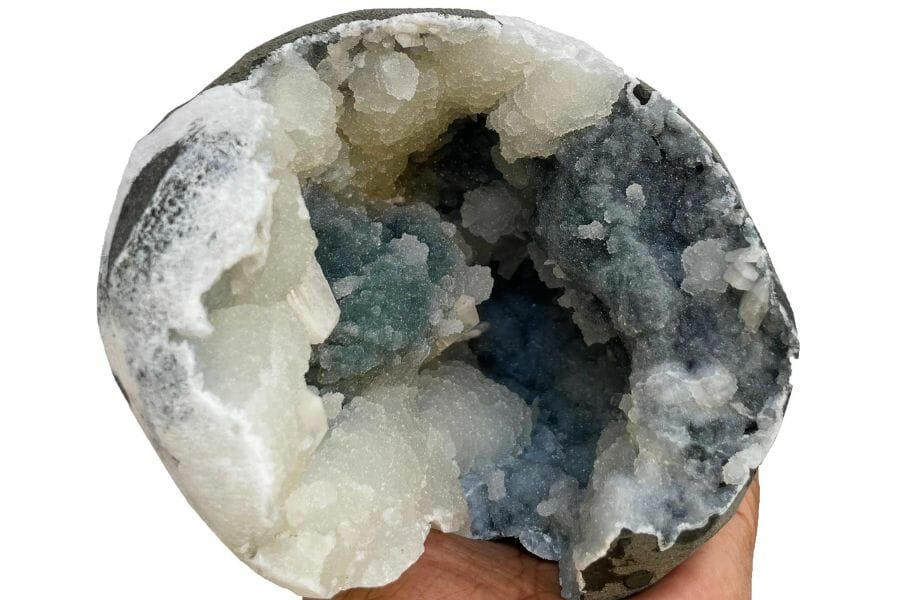 The following list of frequently asked questions about geodes in Wisconsin must be answered:
Where can you find amethyst geodes in Wisconsin?
Amethyst geodes are available for purchase in many Wisconsin rock shops, despite not being natively found there. Moreover, keep an eye out for vendors selling amethyst geodes at rock shows.
Is it illegal to collect geodes in Wisconsin?
As long as you follow local regulations, collecting geodes is legal in Wisconsin. If you're in a public area, follow any local regulations that could be in force. If you're on private property, make sure you also have the authorization to collect.
The Best Places To Buy Geodes In Wisconsin
Not everyone enjoys spending hours searching for geodes outside. Sometimes all you need them for is to have them on display in your workspace or to add to your collection.
These are some additional locations where our favorite local rock shops sell stunning geodes.
Dells Mining Co – 427 Broadway Ave, Wisconsin Dells, WI 53965, United States
Amazon – We discovered that Amazon carries an extensive selection of geodes. There are also full kits that include geodes to break open for individuals who would prefer to do it themselves.
Door County Rock and Gem – 2849 Shannon Ln, Ephraim, WI 54234, United States
The Gem Shop – W64N723 Washington Ave, Cedarburg, WI 53012, United States
Mystic Moraine Minerals – 500 W Milwaukee St, Janesville, WI 53548, United States
Steven's Rocks and Gifts – 134 E Main St, Marshall, WI 53559, United States
Additional places to find geodes in nearby states
Check out our guides for nearby states if you've already tried all of our suggestions above or if you're planning a trip outside of the state:
If you have any recommendations for our list, please leave a comment below!