Known for its diverse geology and abundant natural resources, Michigan is, without a doubt, a paradise for rockhounds! Our state offers a wide variety of rocks and minerals, including some rare and unique specimens that are hard to find anywhere else.
Michigan's geology is shaped by its location on the edge of the Canadian Shield, which is one of the oldest rock formations on Earth. In this article, we'll share with you the greatest Michigan rockhounding sites here.
From exploring the beaches of the Great Lakes to digging for rocks in abandoned mines, you can spend days or even weeks discovering our state's natural treasures. There are a wide variety of Michigan rocks and minerals so you'll never run out of places to explore.
So, grab your pickaxe and experience the thrill of rockhounding in one of the most geologically-diverse states in the country.
How We Found The Best Places For Rockhounding in Michigan
We spent a lot of time putting together the list of which of the many options for Michigan rockhounding we were going to recommend. We wanted to have a nice variety of locations for experienced and novice rockhounds in a variety of settings. Here are the main factors we used when determining the recommendations we set out :
The extensive local experience and understanding of our team
Input from multiple local rockhounds and rockhound groups
The accessibility of the various locations
Safety and potential hazards when collecting
Private and public locations
A desire to include locations for both experienced rockhounds and those who are just starting out
Using these weights we think we've put together the best list out there for those who love finding new rocks, gems, and minerals for our collections!

What You Can Find Rockhounding In Michigan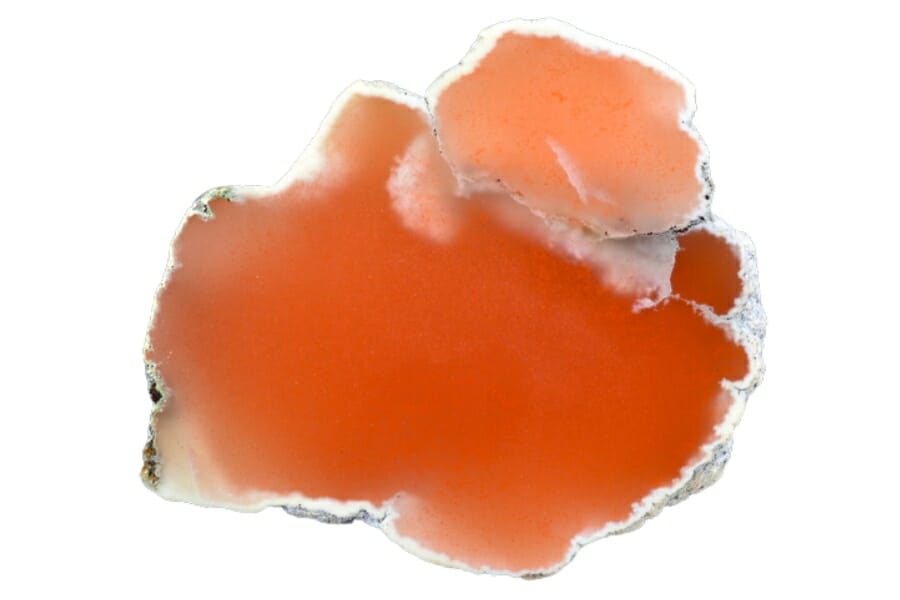 Michigan offers plenty of opportunities to discover breathtaking rocks and minerals from its different nooks and crannies. No wonder our state's mineral-rich deposits have been attracting rockhounds and mineral collectors from all over the country for decades now. When you visit here, you can find the following:
Rare rocks and minerals found in Michigan
Chlorastrolite (Isle Royale Greenstone)
Copper
Datolite
Greenstone
Lake Superior Agate
Petoskey Stone
Thomsonite
More common desirable rocks, minerals, and gems found here
In-depth guides to finding specific types of rocks in Michigan
If you're looking for comprehensive guides to locate specific specimens in our state, we've put together several ones that will surely come in handy:
If you're after a full guide to rockhounding near you, we've also covered over 3,000 sites in the country!
Make sure to check out those guides only if you're looking for those specific types of rocks and minerals. Otherwise, continue reading here because we'll share more in-depth Michigan rockhounding information.
The Best Places To Find Rocks and Minerals in Michigan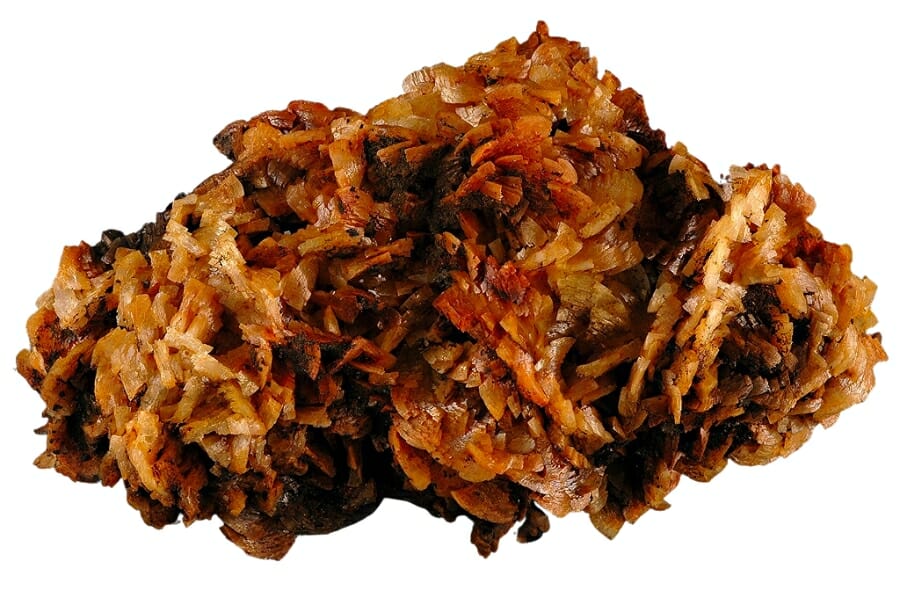 With a state as rich as a treasure trove, Michigan rockhounds are lucky! There are plenty of great rockhounding locations throughout our state, each with its unique geological features and specimens. And some of these places stand out from the rest.
Here are 5 of our favorite sites for rockhounding in Michigan, offering rewarding experiences for those in search for geological wonders.
Always Confirm Access and Collection Rules!
Before heading out to any of the locations on our list you need to confirm access requirements and collection rules for both public and private locations.
These requirements are subject to change without notice and may differ from what we state below.
Always get updated information directly from the source ahead of time to ensure responsible rockhounding.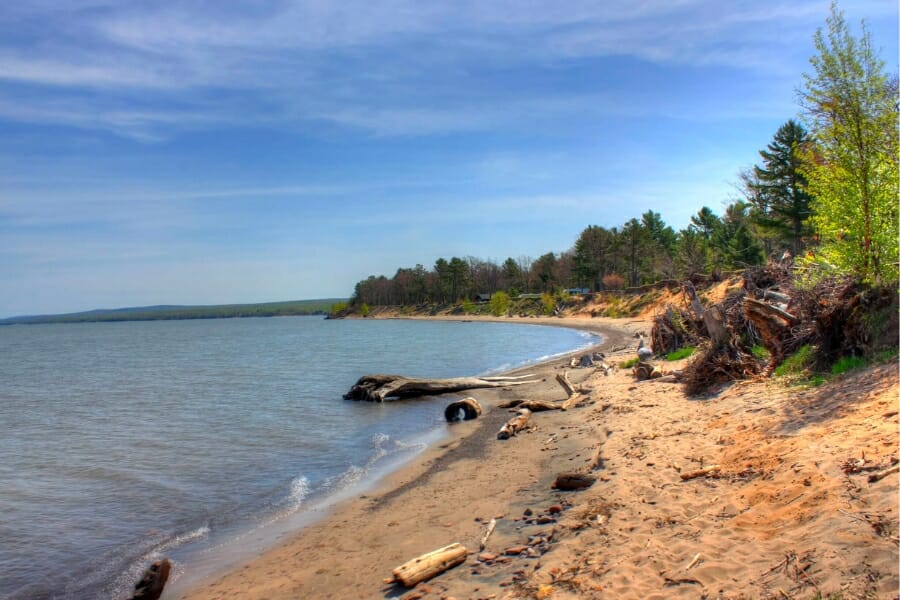 A popular recreational area, McLain State Park is located on the Keweenaw Peninsula. While it's well-known for its beautiful Lake Superior shoreline and abundant outdoor activities, it's also a great rockhounding site.
Rockhounds can explore the park's shoreline and adjacent wood for interesting specimens and treasures. Its rocky shoreline is especially fruitful for rockhounding, with its mix of igneous and sedimentary rocks.
In addition, there are several abandoned copper mines near the park that can offer a glimpse into Michigan's mining history and opportunities to find copper specimens. With its scenic location, abundant natural resources, and rich geological history, McLain State Park is a must-visit!
What you can find there
Some of the most abundant rocks and minerals that you can find in McLain State Park are Adularia, Chalcedony, Chert, Jasper, Keweenaw Agate, and Thomsonite.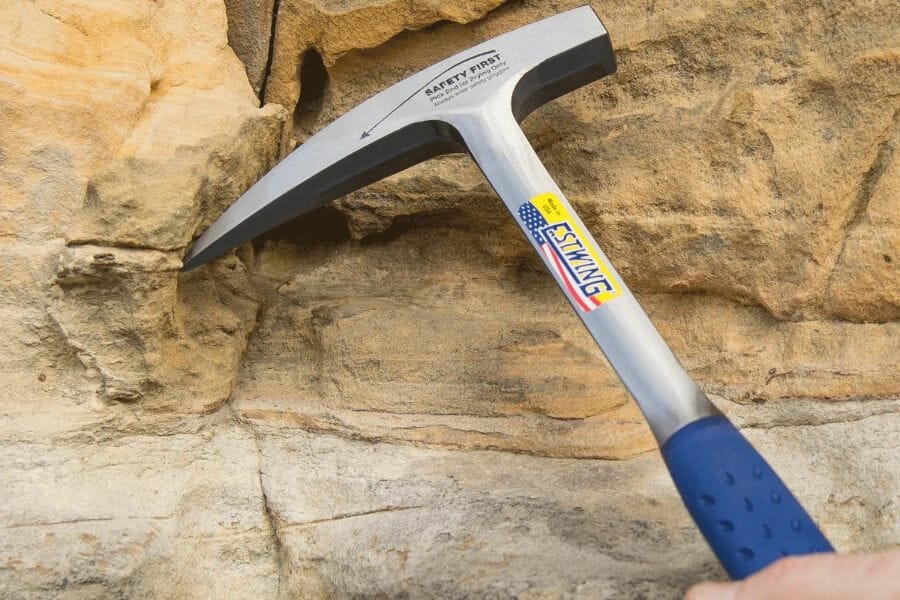 The tools every rockhound will need
When you're out looking for rocks and minerals having the right tools for the job is really going to make or break your success. You don't need a lot for most trips but there are a handful that are critical and will make your life a lot easier.
We get asked a lot about the equipment we use. Over the years we've found a handful of tools that we recommend to both new and experienced rockhounds which we outline in great detail in our complete rockhounding tools and kit guide. These are quality options that also happen to be relatively inexpensive.
Below are the basic tools that make your life so much easier and save you a ton of time. Check out the full guide to see everything we recommend bringing. One quick note, as an Amazon Associate I earn from qualifying purchases but we try very hard to only recommend gear we would use ourselves and often recommend brands you can't find on Amazon.
At a minimum you should have:
1 - Sturdy rock hammer: The Estwing Rock Pick is our standard
2 - Rugged chisels: Try Kendo' 3-piece Chisel Set
3 - Compact shovel: The Koleiya 28-inch shovel works well
4 - Rock screen pan: The Wazakura Soil Sieve Set fits the bill
5 - Eye protection: DeWalt Safety Glasses are cheap and comfortable
6 - Head protection: Malta's Safety Helmet has been our go-to
7 - Jewelers lens with at least 20x magnification: Jarlink's Jewelers Loop is perfect
The rockhounding books that we use most
There are also a few books that have been extremely helpful in the search for gems. These books have great recommendations and tips:
National Audubon Society Field Guide to Rocks and Minerals: North America 
Northeast Treasure Hunter's Gem & Mineral Guide 
Earth Treasures: The Northeastern Quadrant 
We provide links to find these tools on Amazon but some can also be found at your local hardware stores. For more recommendations check out the link to our full tool guide above.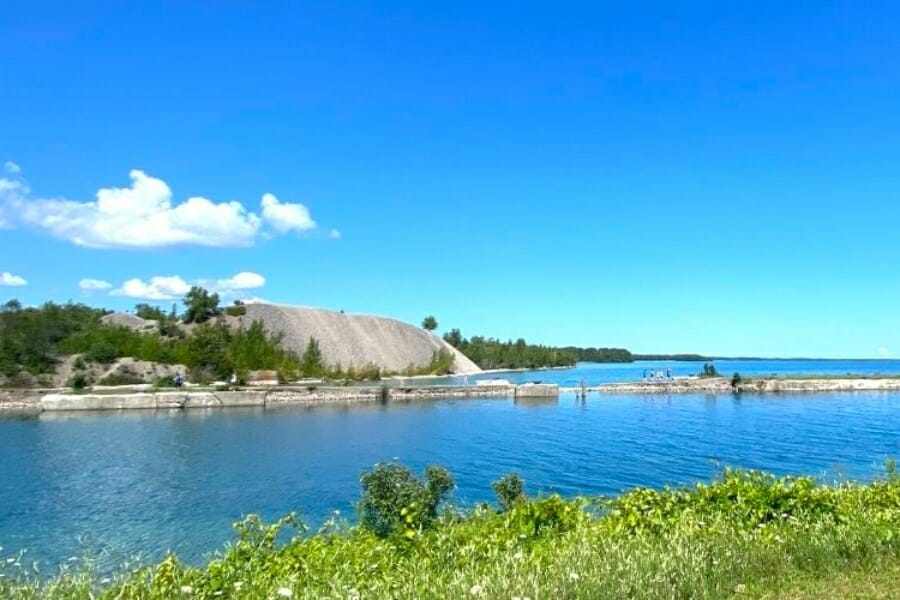 Located on the northern shore of Lake Huron, Rockport State Recreational Area is named after the nearby Rockport Quarry, which was once a significant source of limestone for the Great Lakes region.
Today, it's a popular destination for outdoor recreation and is an excellent site for rockhounding in Michigan, with a rich diversity of minerals and rocks to discover.
Rockport's primary attraction for rockhounds is its limestone deposits, which are loaded with fossils. It's also known for its unique geology, including large blocks of dolomite and fossilized stromatolites.
What you can find there
When you go here, you can find abundant specimens of Fossils, Petoskey Stones, and Pyrite.
Area Beach Gravels of Lake Huron in Presque Isle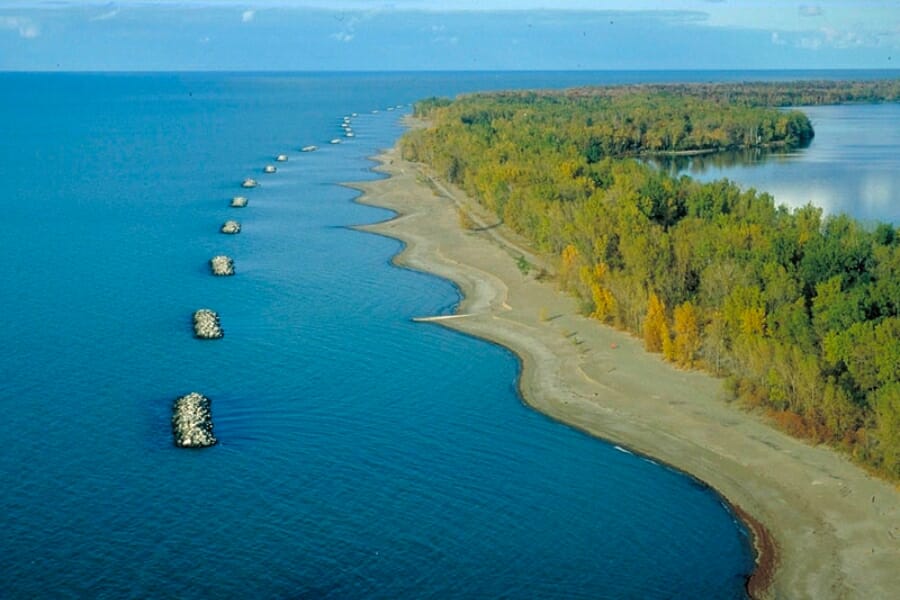 Presque Isle is a scenic area located on the northeastern shore of our state's Lower Peninsula, bordering Lake Huron. It's known for its rugged shoreline, stunning views of Lake Huron, and numerous recreational activities such as hiking, fishing, and camping.
Aside from these, Presque Isle is also a fantastic rockhounding site!
The area's beach gravels have been shaped over time by the relentless forces of Lake Huron, revealing an array of specimens from the surrounding geology. Rockhounds will definitely have a blast exploring this area as they can find a variety of rocks and minerals here.
What you can find there
This location has many different kinds of rocks and minerals that are just waiting to be discovered, such as Agate, Chalcedony geodes, and gemmy brown Sandstone veined with Calcite.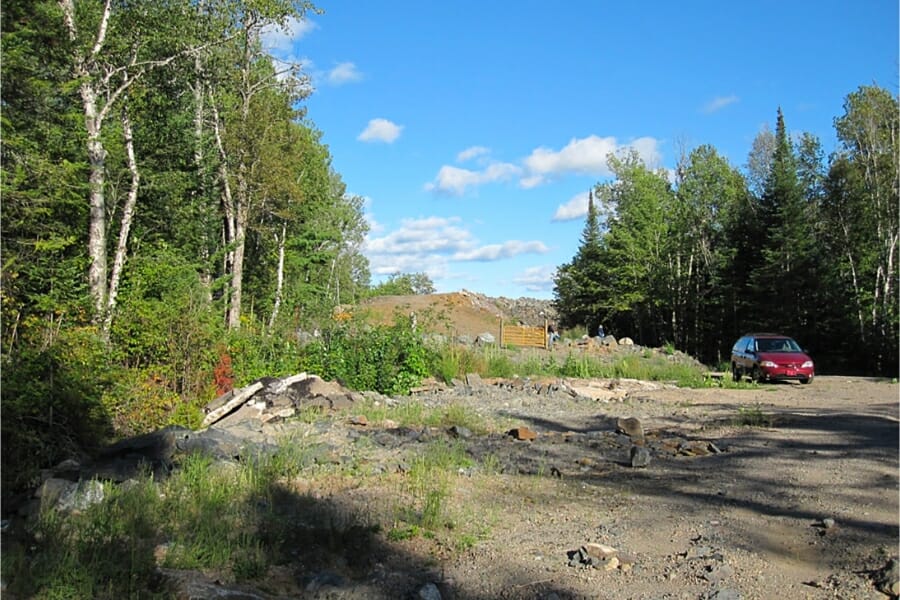 Michigamme Mine is an abandoned copper mine near the town of Michigamme. It was active in the late 1800s and early 1900s, producing significant amounts of copper and other minerals.
Today, it's a popular destination for rockhounding enthusiasts, offering a unique opportunity to explore our state's mining history and discover a variety of minerals and rocks.
Because of its history, Michigamme Mine is known for its copper specimens, which can be found in various forms, including native copper and copper inclusions in other rocks. You can explore its adits and tailings piles to find interesting specimens and treasures.
What you can find there
You can get your hands on a rich variety of rocks and minerals here, such as Chalcedony, Copper, Hematite, and Jaspilite.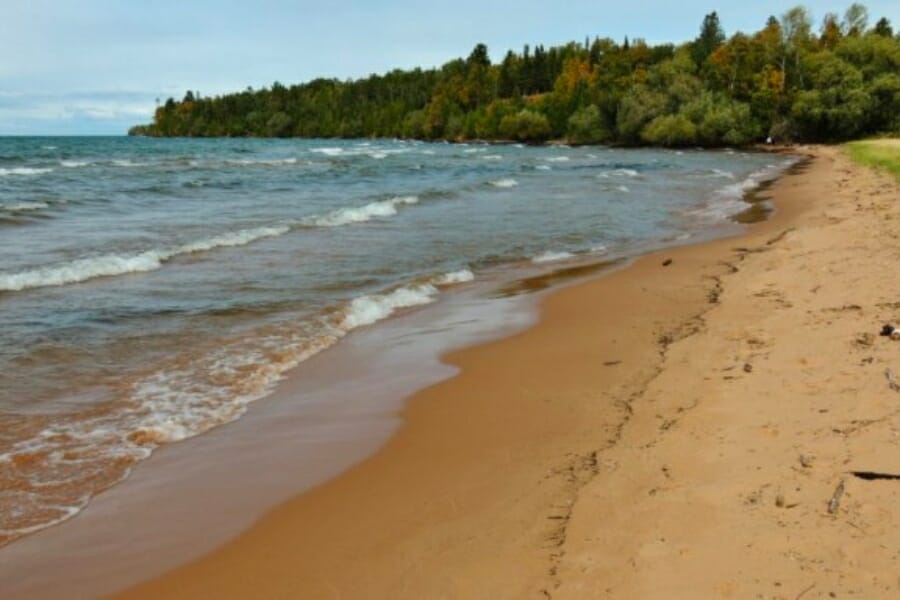 Siskiwit Lake is a pristine lake located on Isle Royale, a remote island in Lake Superior off the coast of our state's Upper Peninsula. The lake's south shore is home to a unique rockhounding site, offering a diverse array of rocks and minerals for collectors to discover.
The unique geology of this area is due to the island's volcanic history, which has resulted in a mix of igneous and metamorphic rocks. The rocks found along the south shore of Siskiwit Lake offer a rare glimpse into the island's geological past and contain a variety of interesting specimens for rockhounds to collect.
In addition to the rocks and minerals, the area is also known for its scenic beauty, offering stunning views of the lake and surrounding forest.
What you can find there
You can find the rare Chlorastrolite or Isle Royale Greenstone when you explore this place.
Our Other Favorite Spots Around Michigan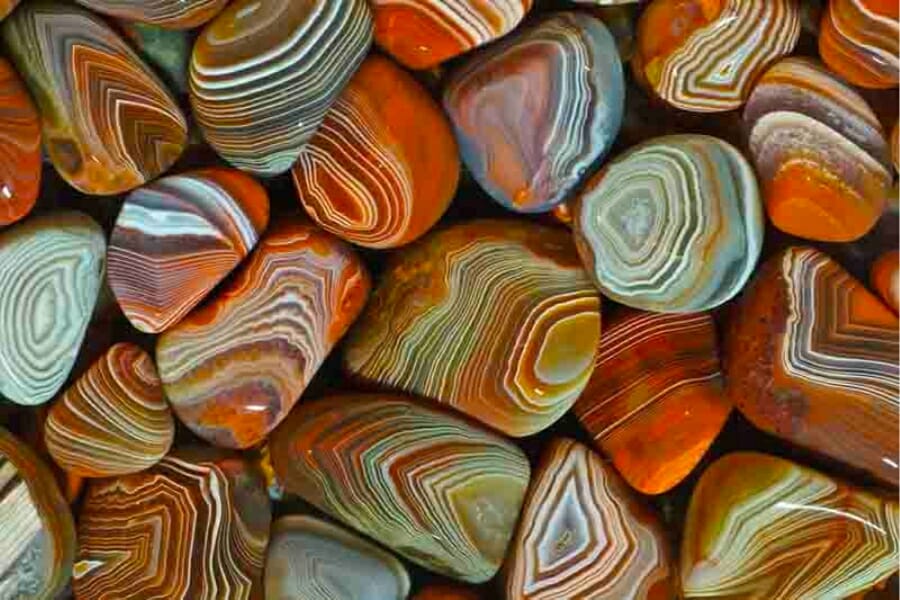 Aside from our favorite Michigan rockhounding sites, there are plenty other places here that can satisfy the rockhound in you. To help you understand it better, we'll be sharing these sites with you depending on their location within the state.
You can even plan your Michigan rockhounding itinerary based on it!
Rockhounding sites along the Lake Superior coast
Counties along the Lake Superior coast are a rockhound's paradise with a diverse mix of rocks and minerals.
The area is known for its rugged landscapes, pristine beaches, and crystal-clear waters, making it an ideal destination for those looking to combine their love of rocks with outdoor adventures.
| | |
| --- | --- |
| Location | Minerals & Rocks |
| Mass area mine dumps | Ankerite, Calcite, Chlorastrolite, Copper, Silver and Copper-Silver, Datolite, Domeykite, Epidote, Laumontite, Prehnite, Quartz, and Tenorite with Chrysocolla |
| Quincy Mine dump in Houghton | Ankerite, Calcite, Copper, Chlorastrolite, Chrysocolla, and Datolite |
| Northeast along beaches to Eagle Harbor in Eagle River | Adularia, Agate, Lake Superior Agate, Chalcedony, Chert, Chrysocolla, Jasper, Jaspilite, Specularite, and Thomsonite |
| Imperial Heights area | Jaspilite |
| Lake Shaft in Ishpeming | Hematite, Greenstone, Jasper, Quartz |
| North shore beaches of Grand Island | Lake Superior Agate |
| Along shoreline of Muskallonge Lake in Deer Park | Lake Superior Agate |
| Scott's Quarry in Trout Lake | Agatized Coral, Chert, and Flint |
Rockhounding sites along the Lake Michigan coast
This area is known for its beautiful beaches, clear waters, and stunning sunsets, making it an idyllic location for rockhounding adventures.
With its mix of geological formations, including ancient dunes, limestone cliffs, and glacial deposits, the Lake Michigan coast offers a diverse range of rockhounding opportunities.
| | |
| --- | --- |
| Location | Minerals & Rocks |
| All regional iron mine dumps in Bessemer, Ironwood, and Wakefield | Hematite and Specularite |
| Iron mines and dumps in Amasa, Crystal Falls, Iron River, Mineral Hills, and Stambaugh | Hematite and Specularite |
| Metro-Nite Quarry in Randville | Fluorite, Phlogopite, Pyrite, Pyroxene, and various ore minerals |
| Howe Creek and Scott Creek in Spalding | Garnet |
| Whitedale area quarries and pits | Silicified Coral |
| Pointe aux Chenes in St. Ignace | Gypsum |
| All regional quarries in Petoskey | Petoskey Stone |
| Charlevoix area gravel pits | Fossil and Petoskey Stone |
| Along lake and river shorelines, in road cuts, fields, and ditches of Traverse City area | Fossil and Petoskey Stone |
| Along the shores of Torch Lake in Eastport Area | Fossil and Petoskey Stone |
| Below the dam along both shorelines of the Manistee River | Petoskey Stone |
| Crystal Lake beach gravels in Hart | Fossil and Petoskey Stone |
| 2 miles northwest in Eastmanville | Quartz Geode |
Rockhounding sites along the Lake Huron coast
With an abundance of fascinating rocks and minerals waiting to be discovered, the counties along the Lake Huron coast offer yet another prime destination for rockhounds.
It's known for its picturesque shoreline, clear waters, and rugged terrain that offer endless opportunities for rock collecting and exploration.
| | |
| --- | --- |
| Location | Minerals & Rocks |
| Around the lighthouse in Pointe aux Barques area | Marcasite |
| Upstream in Cass River and its tributaries in Caro | Pearl |
| Alabaster area quarries | Alabaster and Gypsum |
| Alpena area quarries and gravel pits | Fossil and Petoskey Stone |
| Onaway area gravel pits | Fossil and Petoskey Stone |
| Along the shores of Burt Lake in the Indian River area | Petoskey Stone |
Rockhounding sites in south Michigan
Counties in South Michigan may not have the rugged terrain and stunning shoreline of the Lake Superior, Lake Michigan, or Lake Huron coasts, but they still offer plenty of opportunities for rockhounding enthusiasts.
The area is known for its rolling hills, fertile farmland, and historic towns with a mix of geological formations, including glacial deposits and ancient sedimentary rocks.
| | |
| --- | --- |
| Location | Minerals & Rocks |
| Shore of Cook Lake in La Grange | Diamond |
| Stream gravel of Dowagiac area | Diamond |
| Scofield Quarry in Maybee | Calcite and Celestite |
| France Stone Company Quarry in Monroe | Calcite and Dolomite |
| Sylvania Sandstone Quarry in Rockwood | Chalcedony Geode |
Rockhounding sites in central Michigan
With their mix of rolling hills, forests, and farmland, counties in Central Michigan offer a unique rockhounding experience. Home to a variety of geological formations, including glacial deposits, ancient sedimentary rocks, and volcanic rocks, the area's diverse geology also means that rockhounds can discover a wide range of rocks and minerals here.
| | |
| --- | --- |
| Location | Minerals & Rocks |
| Cheney Quarry in Bellevue | Calcite, Marcasite, and Pyrite |
| American Aggregate Quarry in Brighton | Agate |
| Oakland county-wide in Gravel pits | Agate |
| Grandville area gypsum quarries | Alabaster and Gypsum |
| Walling Gravel Pit in St. John's area | Chert |
Where To Find Petoskey Stone In Michigan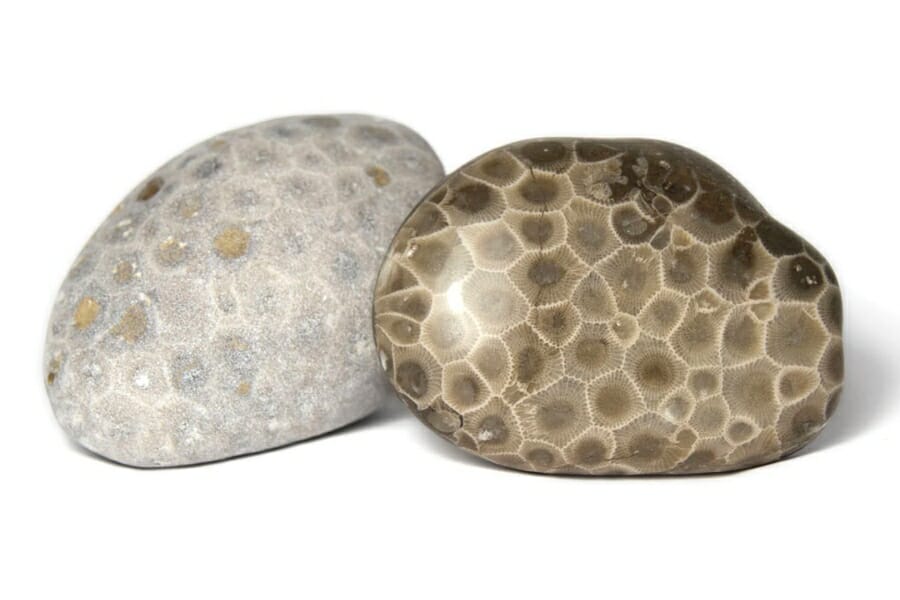 Petoskey Stone is a type of fossilized coral that can be found along the beaches and in the shallow waters of the Great Lakes. It's prized by rock collectors for its unique appearance and history.
The stone features distinctive patterns of hexagonal cells that are remnants of the coral polyps that lived over 350 million years ago in a shallow sea that covered what is now Michigan.
As the corals died, their skeletons were left behind and were eventually buried by layers of sediment, which over time turned into the limestone rock formations that are prevalent in our state today.
The beaches of Traverse Bay is our favorite place to look for Petoskey Stones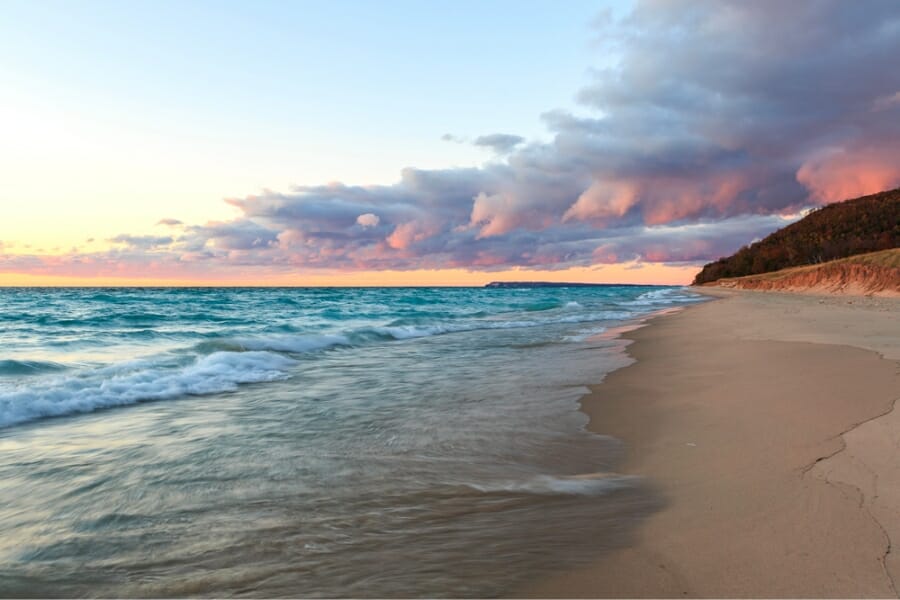 Traverse Bay is a popular destination for beachgoers and Michigan rockhounds, particularly those searching for Petoskey Stones. The beaches along the bay are known for their abundance of these unique fossils, which can be found in the shallow waters and along the shoreline.
The limestone rock formations that make up the beaches of Traverse Bay were formed over millions of years, and as the rocks erode, they release these fossilized coral. These stones are often polished and smooth, making them easy to spot among the other rocks and pebbles along the beach.
Other good options to find Petoskey Stones
Area quarries and gravel pits of Alpena
Along Lake Michigan beaches
Area quarries of Afton
Beach gravels of Burt Lake
All regional gravels of Petoskey
Where To Find Copper In Michigan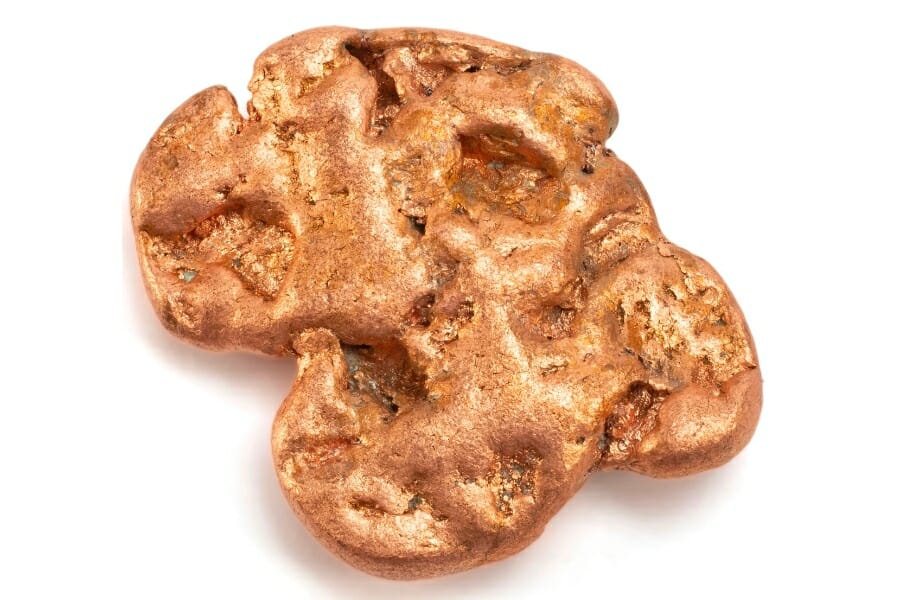 Copper is a reddish-brown chemical element that is valued for its high thermal and electrical conductivity. It's one of the most important metals in modern industry, used in everything from electrical wiring to construction materials.
Michigan has a rich history of copper mining, and it's home to some of the largest copper deposits in North America. Native Americans and early European settlers were among the first to mine copper in the region, using it for tools, weapons, and trade.
In addition to its industrial uses, copper is also prized by rock collectors and mineral enthusiasts today for its unique beauty and color.
Keweenaw Peninsula is our favorite place to look for Copper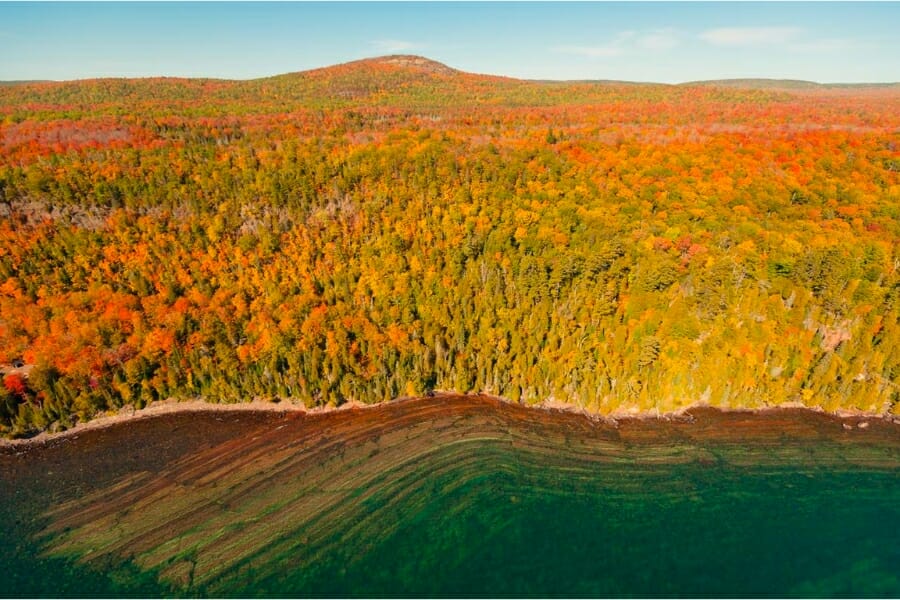 The Keweenaw Peninsula is widely considered one of the best places in the world to find copper. The area has a rich mining history dating back thousands of years, with the indigenous people of the region mining copper for tools and trade long before European settlers arrived.
The peninsula's unique geology and mineral-rich environment make it an ideal location for copper deposits. Known as the "Copper Country", it's home to numerous copper mines, many of which are now abandoned and have become popular rockhounding sites.
Visitors to the Keweenaw Peninsula can explore old mines and rock piles to search for copper specimens, which can range in size from tiny flakes to massive boulders.
Other good options to find Copper
Area dumps of the Arcadian and Quincy mines in Hancock
Copper Range mines and prospects
Copper mines in Ahmeek
Dumps of the Allouez Mine
Copper Falls Mine Dumps
Public Rockhounding Options For Kids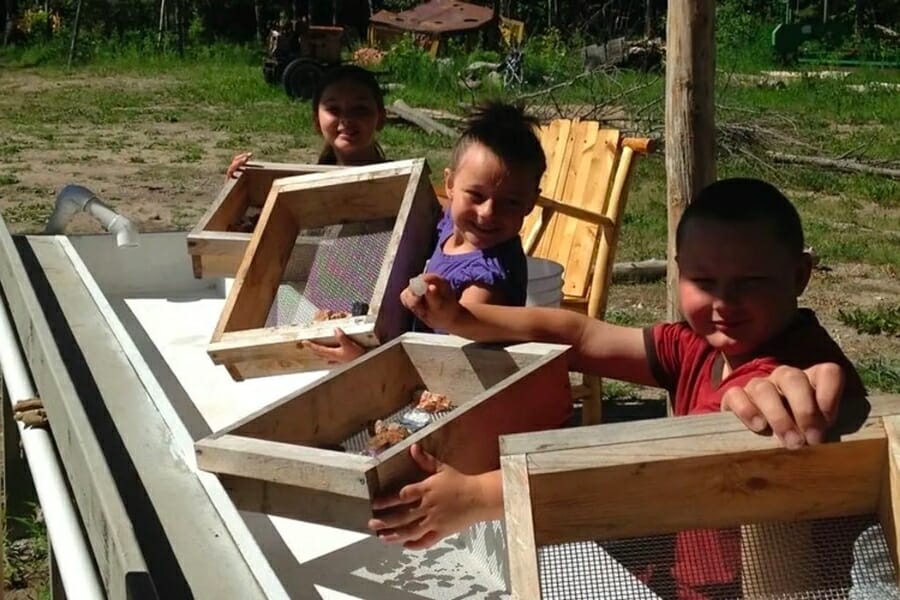 While Michigan is home to many great rockhounding spots, some of them can be tough on kids due to rough terrain or other hazards.
Don't worry, though, because there are also many family-friendly rockhounding spots throughout our state that kids will surely enjoy while getting into the hobby. Some of these sites also offer guided tours or educational programs that can help kids learn more about geology and the natural world.
Michigan Rockhounding Clubs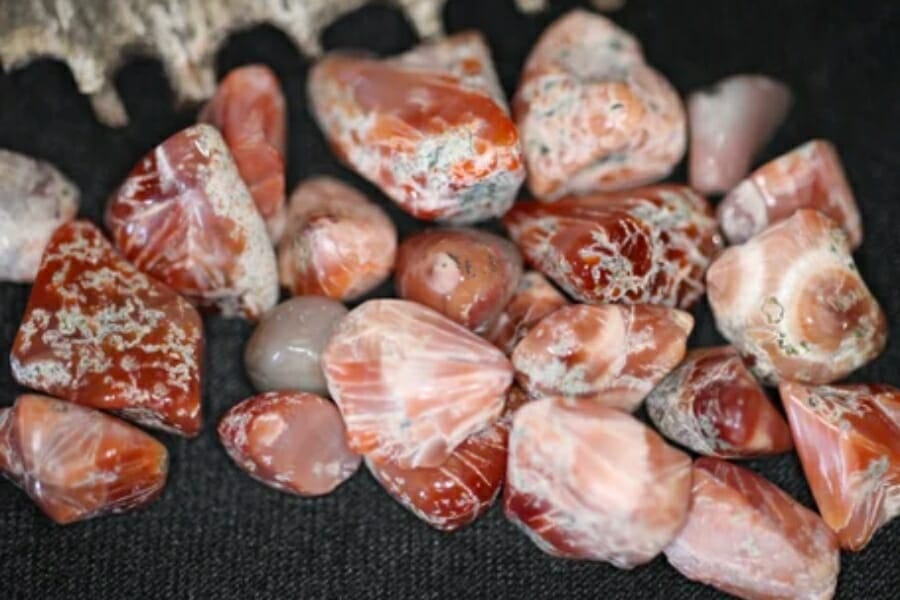 Rockhounding clubs are an excellent resource for rockhounds of all experience levels. Whether you're new to the hobby or a seasoned collector, joining one can provide you with a wealth of knowledge and opportunities to explore new sites.
In Michigan, there are several rockhounding clubs that offer regular meetings, field trips, and workshops, where members can share their experiences, knowledge, and discoveries. By joining a club, you'll be able to meet other enthusiasts, learn about new techniques and tools, and gain access to exclusive sites and events.
Rockhounding clubs in Michigan worth checking out
Michigan Rockhounding Laws And Regulations
Rockhounding and collecting rocks and minerals in Michigan is legal, as long as you follow all local and state laws regarding it. It's important to respect private property rights and obtain permission from landowners before collecting rocks and minerals.
Additionally, permits may be required to collect rocks and minerals from certain areas, such as state or national parks.
The Michigan Department of Environment, Great Lakes, and Energy (DEGLE) regulates rockhounding here through the Michigan Natural Resources and Environmental Protection Act, which includes regulations regarding the collection of rocks and minerals. It's important to familiarize yourself with these regulations and obtain any necessary permits before engaging in rockhounding activities in Michigan.
The Best Rock And Mineral Shops In Michigan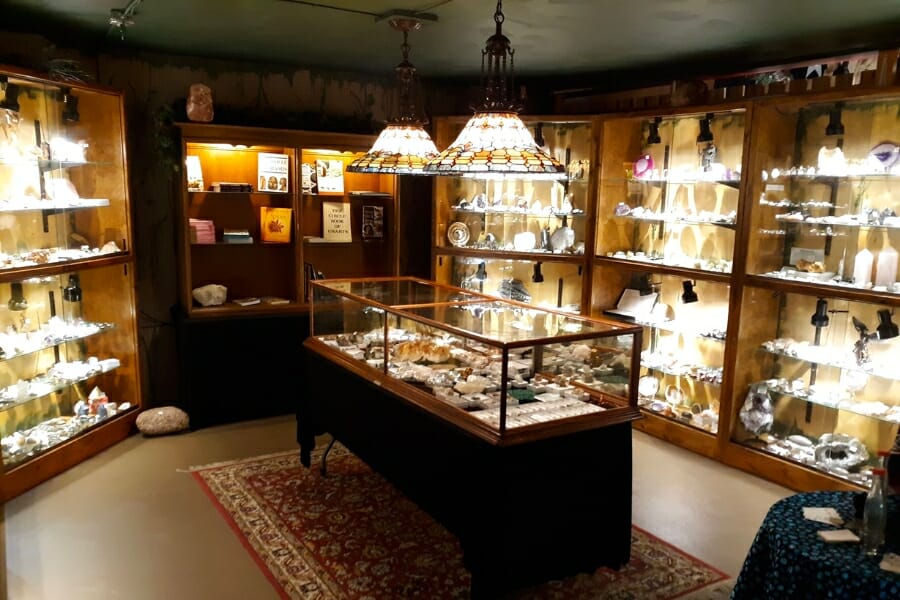 While rockhounding can be an exciting hobby, not everyone has the time, resources, or interest to venture into the wilderness to find specific rocks and minerals. Fortunately, Michigan has some great options for those who prefer to purchase them from shops and dealers.
These shops offer a wide range of options and expertise, and they can be great resources for people who want to expand their collections or learn more about the rocks and minerals of our state.
Additional Rockhounding Places In Nearby States
If you want to extend your rockhounding adventure to nearby states, check out the following guides that we prepared for you:
If you have any recommendations that we haven't covered yet, please leave them in the comments below!