The state is a hidden gem for finding unique rocks and minerals. Minnesota has everything from the famous Lake Superior agates to various gemstones. Whether you're a seasoned rockhound or just starting, there are numerous opportunities to explore and discover remarkable specimens.
One of the great things about rockhounding in Minnesota is the abundance of options available. The state boasts an impressive array of rockhounding spots that cater to different interests and skill levels.
Whether you're seeking adventure, seeking to expand your collection, or simply indulging in the joy of discovery, Minnesota provides a welcoming and rewarding environment for rockhounding enthusiasts of all levels. So grab your tools and prepare for an exciting rockhounding adventure in the Land of 10,000 Lakes!
How We FoundThe Best Places For Rockhounding in Minnesota
We spent a lot of time putting together the list of which of the many options for Minnesota rockhounding we were going to recommend. We wanted to have a nice variety of locations for experienced and novice rockhounds in a variety of settings. Here are the main factors we used when determining the recommendations we set out :
The extensive local experience and understanding of our team
Input from multiple local rockhounds and rockhound groups
The accessibility of the various locations
Safety and potential hazards when collecting
Private and public locations
A desire to include locations for both experienced rockhounds and those who are just starting out
Using these weights we think we've put together the best list out there for those who love finding new rocks, gems, and minerals for our collections!

What You Can Find Rockhounding In Minnesota
Due to its enormous diversity, we didn't get to list every rock and mineral that Minnesota may contain. Rock hunters in the state typically look for the following more common and rare specimens:
Rare rocks and minerals found in Minnesota
Chalcedony
Rhodochrosite
Staurolite
Thomsonite
More common desirable rocks, minerals, and gems found here
In-depth guides to finding specific types of rocks in Minnesota
If you're seeking something particular, you could look at the numerous guides we have created to find specific specimens.
Our thorough list of where rockhound places nearby are, has more than 3,000 magnificent locations. Read this article to find out more about what Minnesota has to offer.
The Best Places To Find Rocks and Minerals in Minnesota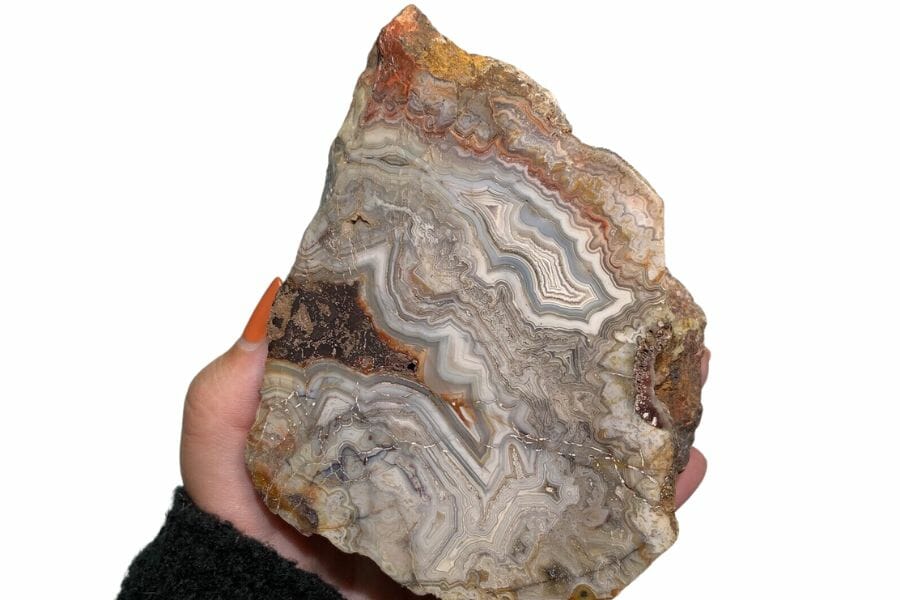 We'll be discussing some of our favorite rockhounding locations in Minnesota. Despite having several options, we focused on our top choices. Undoubtedly, you'll appreciate visiting these places and discovering beautiful rocks and minerals.
Always Confirm Access and Collection Rules!
Before heading out to any of the locations on our list you need to confirm access requirements and collection rules for both public and private locations.
These requirements are subject to change without notice and may differ from what we state below.
Always get updated information directly from the source ahead of time to ensure responsible rockhounding.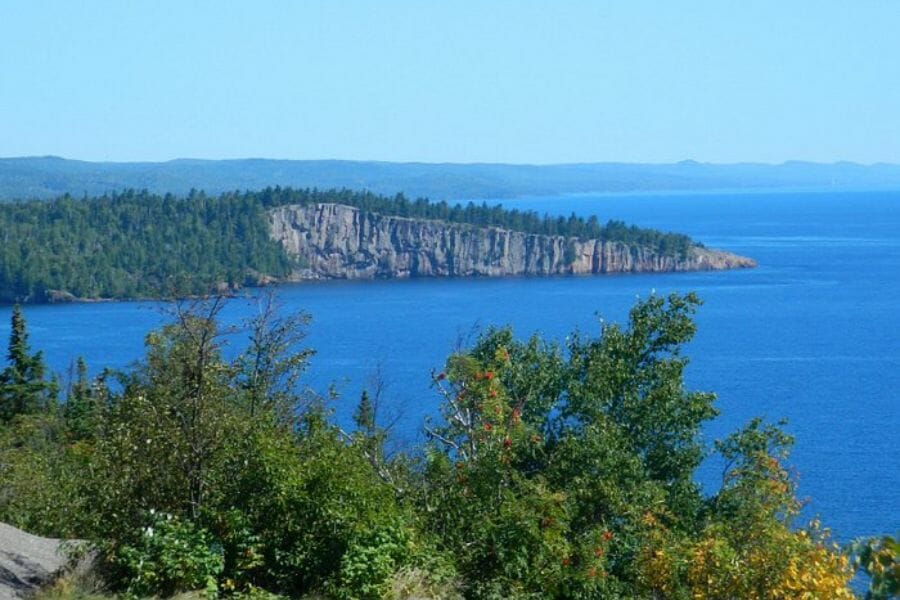 Beaver Bay has its historical significance and natural beauty. Originally settled in the 1850s as a trading post, Beaver Bay grew into a bustling community known for its timber industry. Today, it serves as a gateway to the mesmerizing rockhounding opportunities the region offers.
Beaver Bay is an excellent destination for rockhounding enthusiasts due to its geological diversity and the abundance of Lake Superior agates. These agates, with their distinctive banded patterns and vibrant colors, are highly sought after by collectors. Beaver Bay's rocky shores and pebble beaches are ideal for finding these treasures.
What you can find there
The area is known for its agate-filled gravel pits, where lucky rockhounds can uncover an array of agates in various sizes and hues.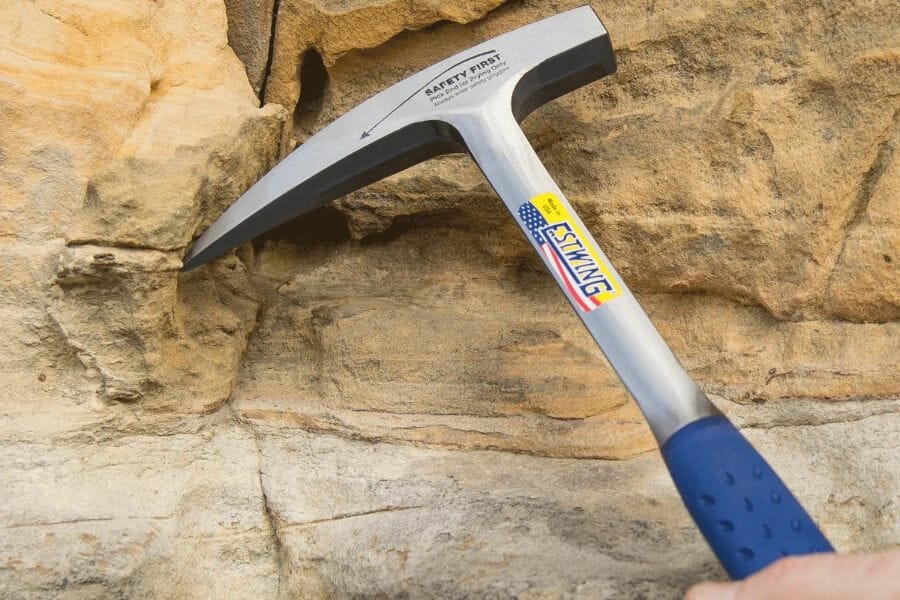 The tools every rockhound will need
When you're out looking for rocks and minerals having the right tools for the job is really going to make or break your success. You don't need a lot for most trips but there are a handful that are critical and will make your life a lot easier.
We get asked a lot about the equipment we use. Over the years we've found a handful of tools that we recommend to both new and experienced rockhounds which we outline in great detail in our complete rockhounding tools and kit guide. These are quality options that also happen to be relatively inexpensive.
Below are the basic tools that make your life so much easier and save you a ton of time. Check out the full guide to see everything we recommend bringing. At a minimum you should have:
1 - Sturdy rock hammer: The Estwing Rock Pick is our standard
2 - Rugged chisels: Try Kendo' 3-piece Chisel Set
3 - Compact shovel: The Koleiya 28-inch shovel works well
4 - Rock screen pan: The Wazakura Soil Sieve Set fits the bill
5 - Eye protection: DeWalt Safety Glasses are cheap and comfortable
6 - Head protection: Malta's Safety Helmet has been our go-to
7 - Jewelers lens with at least 20x magnification: Jarlink's Jewelers Loop is perfect
The rockhounding books that we use most
There are also a few books that have been extremely helpful in the search for gems. These books have great recommendations and tips:
National Audubon Society Field Guide to Rocks and Minerals: North America 
Northwest Treasure Hunter's Gem & Mineral Guide 
Earth Treasures: The Northwestern Quadrant 
We provide links to find these tools on Amazon but some can also be found at your local hardware stores. For more recommendations check out the link to our full tool guide above.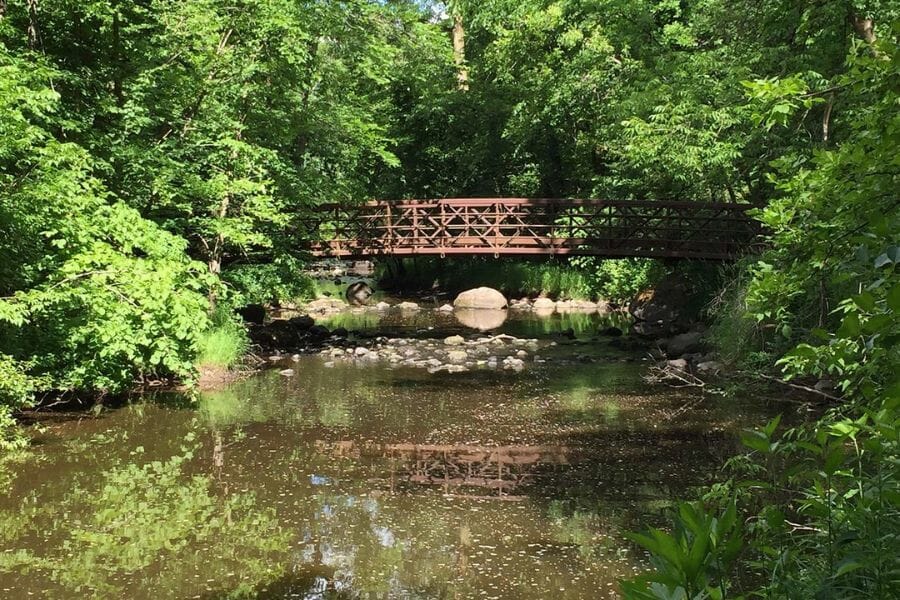 Charles Lindbergh State Park is a beautiful natural retreat and a place of historical significance. Named after the famous aviator Charles Lindbergh, the park encompasses the childhood home of this aviation pioneer.
You can explore the historic site and learn about Lindbergh's life while enjoying the park's serene surroundings. Moreover, Charles Lindbergh State Park offers an exciting opportunity for rockhounding enthusiasts.
The park is in the heart of Morrison County, known for its rich geological diversity. The diverse landscapes, including forests, wetlands, and rolling hills, create a prime environment for rockhounding adventures. The rocky terrain and exposed outcrops within the park provide opportunities to search for various rocks and minerals.
What you can find there
Rockhounds can hunt for intriguing specimens such as agates, quartz, jasper, and staurolites.
Gooseberry Falls State Park is a haven for nature lovers and outdoor enthusiasts. Steeped in natural beauty, the park boasts a fascinating history dating back to the early 19th century. Originally inhabited by the Ojibwe people, Gooseberry Falls was later discovered by European settlers who were drawn to its stunning waterfalls and scenic landscapes.
Gooseberry Falls State Park presents a unique opportunity for rockhounding enthusiasts to explore its geological wonders. The park is in the Duluth Complex, a geological formation known for its volcanic rock formations.
What you can find there
You can uncover various intriguing rocks and minerals, including basalt, amethyst, agates, and even Thomsonite, a rare mineral in the area.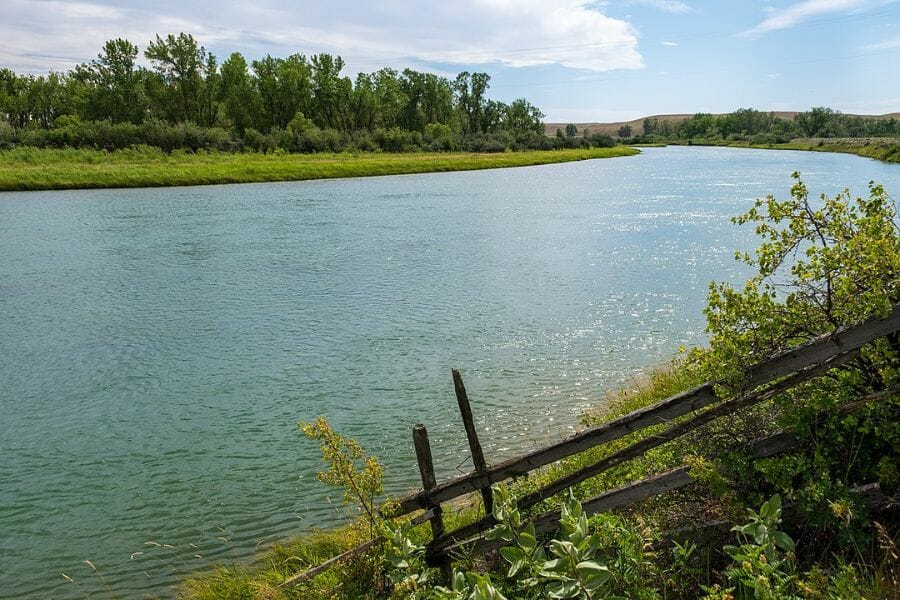 Little Marais River is a hidden gem for nature and rock-hounding enthusiasts alike. With a history steeped in the region's logging industry, the river served as a vital transportation route for timber in the late 19th and early 20th centuries.
Little Marais River is a hidden gem for nature enthusiasts and rockhounding enthusiasts alike. With a history steeped in the region's logging industry, the river served as a vital transportation route for timber in the late 19th and early 20th centuries.
What you can find there
Whether you search along the riverbanks or explore the gravel bars of Little Marais River, you'll likely discover a wide array of agates and thomsonites in different sizes and hues.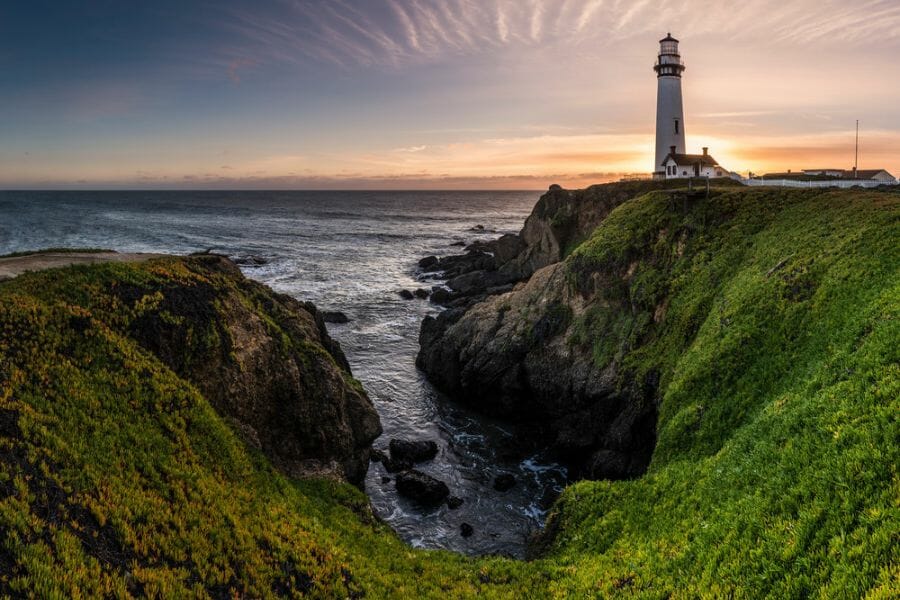 Pigeon Point is known for its rugged cliffs, pebble beaches, and rock formations, making it an ideal destination for rockhounding enthusiasts. It's a treasure trove for rockhounding enthusiasts due to its unique geological features and diverse range of rocks and minerals.
The ever-changing nature of Lake Superior's shoreline provides a constant supply of rocks to explore and collect. With its stunning vistas and a wealth of geological treasures, Pigeon Point beckons rockhounding enthusiasts to embark on an exciting adventure of discovery.
What you can find there
The rocky cliffs and exposed rock formations offer an opportunity to discover a variety of specimens, including agate, jasper, and pyrite.
Our Other Favorite Spots Around Minnesota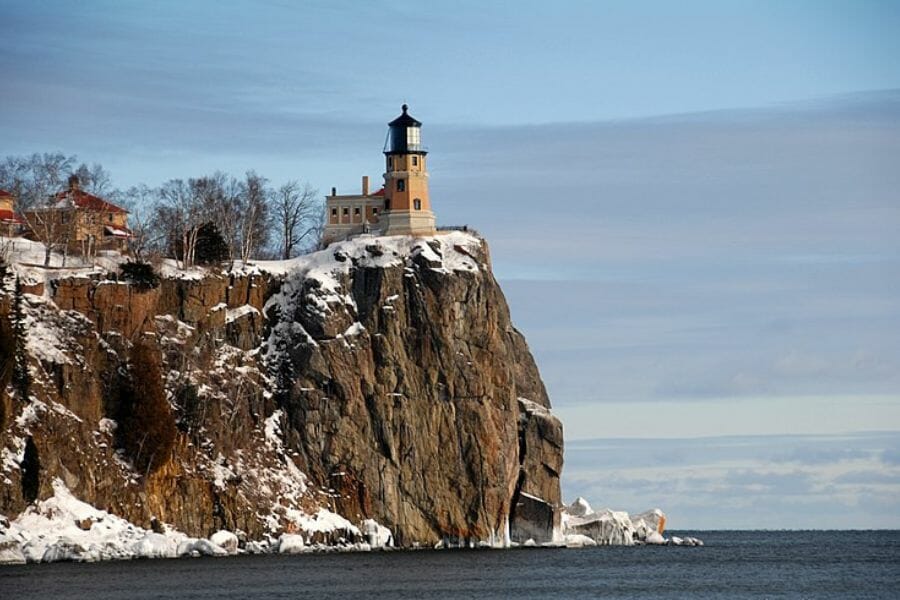 Many fine and rare rocks and minerals can be found in Minnesota. You can look through the choices below to locate other specimens besides the top ones.
Rockhounding sites in Northern Minnesota
Northern Minnesota is a rockhound's paradise, boasting a wealth of geological wonders and a breathtaking natural landscape. This region is renowned for its diverse rocks and minerals, making it a haven for those passionate about rockhounding.
Northern Minnesota provides various treasures waiting to be discovered. From the glittering Lake Superior agates found along its picturesque coastlines to the interesting Thomsonite, the gemstone unique to the North Shore.
| | |
| --- | --- |
| Location | Minerals & Rocks |
| Carter Gravel Pit | Agate |
| Moose Lake | Agate |
| Good Harbor Bay | Agate |
| Two Islands Beach | Agate |
| Hopkins Mine | Rhodochrosite |
| Cuyuna Range | Agate, Chalcedony, Jasper |
| Mary Ellen Mine | Agate, Jasper |
| Vermillion Range | Chalcedony, Jasper, Quartz |
| Grand Rapids | Agate, Jasper |
| French River | Agate |
| Knife River Beaches | Agate |
| Gull Rock | Agate |
| Thomsonite Beach | Thomsonite |
Rockhounding sites in Southern Minnesota
Southern Minnesota offers a delightful playground for rockhounding enthusiasts, showcasing its unique geological treasures and landscapes. With its rolling prairies, picturesque rivers, and ancient limestone formations, this region presents an excellent opportunity for rockhounds to explore and uncover fascinating specimens.
| | |
| --- | --- |
| Location | Minerals & Rocks |
| Lake Winona | Agate |
Rockhounding sites in Central Minnesota
Central Minnesota beckons rockhounds with its abundant natural beauty and a treasure trove of rocks and minerals waiting to be discovered. This region offers a diverse landscape encompassing lush forests, sparkling lakes, and ancient glacial formations, making it an ideal destination for rockhounding enthusiasts.
| | |
| --- | --- |
| Location | Minerals & Rocks |
| Elk Creek | Garnet, Staurolites |
| Blanchard Dam | Garnet, Staurolites |
| Little Falls | Agate, Garnet, Staurolites |
| St. Croix River | Agate |
Public Rockhounding Options For Kids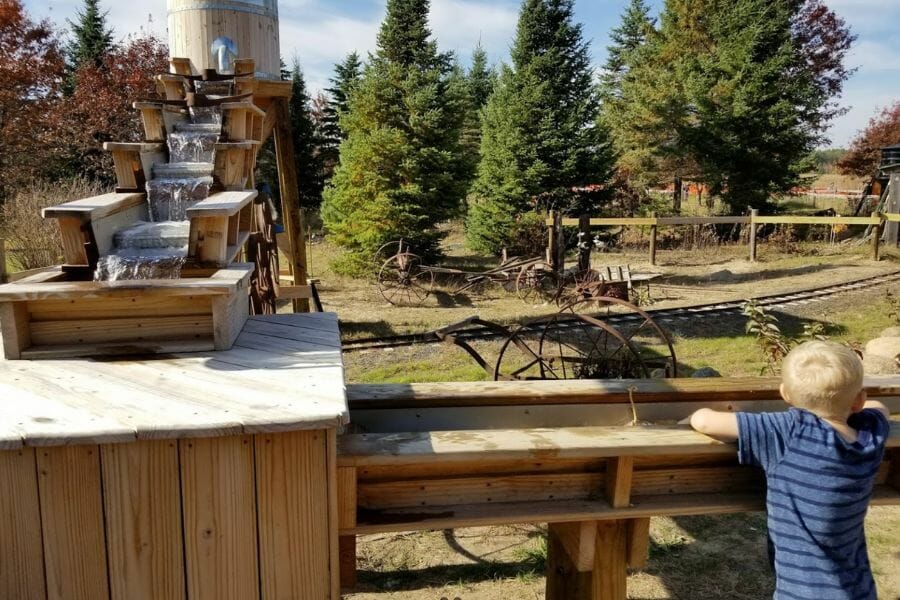 Even though it can be challenging to locate many excellent rockhounding places, kids may find rockhounding an engaging and educational exercise. Many unusual rockhounding places are also fantastic for drawing kids into the sport.
The easier-to-access landscape and discovering specimens in these locations will appeal to the entire family.
Minnesota Rockhounding Clubs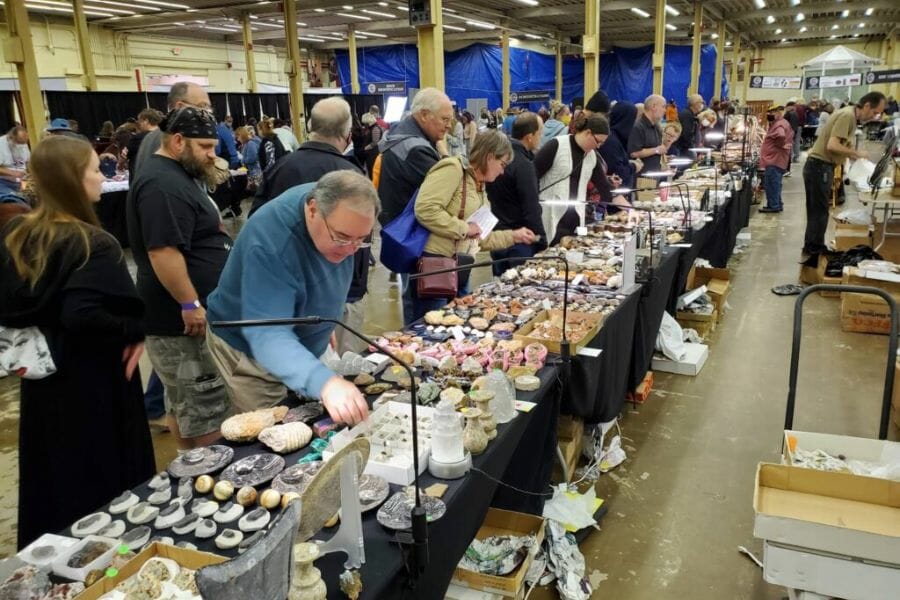 As a rockhound in Minnesota, you'll find a supportive and enthusiastic community of fellow rock enthusiasts. There are rockhounding clubs and organizations that share knowledge, host field trips, and foster a sense of community among rockhounding enthusiasts.
The camaraderie, shared passion, and access to a network of fellow enthusiasts make rockhounding clubs a valuable resource for anyone interested in expanding their knowledge and enhancing their rockhounding experience.
Joining a rockhounding club also provides an invaluable opportunity to learn from experienced members who can offer guidance on identifying rocks, using tools, and finding prime collecting locations.
Rockhounding clubs in Minnesota worth checking out
Minnesota Rockhounding Laws And Regulations
Rockhounding and collecting in Minnesota is legal and provides a beautiful opportunity to explore the state's diverse geological wonders. However, rockhounding enthusiasts must adhere to all local and state laws and regulations regarding collection. Permission from the Minnesota Department of Natural Resources (DNR) is needed before you collect anything from the state.
While rockhounding is generally allowed on public lands, one must familiarize oneself with specific rules and restrictions that may apply to certain areas. Some locations may restrict the use of tools or collection in sensitive ecological areas, so respecting and following any posted guidelines is crucial.
Our Favorite Rock And Mineral Shops In Minnesota
Some people enjoy scouting expeditions to find rocks and minerals, while others prefer the convenience of purchasing specimens from reputable rock shops. The top Minnesota rock and mineral shops below carry many unique and premium specimens.
Additional places to rockhound in nearby states
When you're done exploring each location on the list above, you can make use of the guides we've created below to rockhound in neighboring states:
If you have any recommendations we haven't covered, please leave them in the comments below!