If you're curious about the rockhounding opportunities in Georgia, then you should know that it sparkles with a treasure trove of rocks and minerals! With its diverse geological wonders, our charming state offers an extraordinary variety of these natural wonders.
One of the reasons Georgia is a mecca for rockhounding is its rich geological history. Our state is blessed with a remarkable array of geological formations, from the ancient Appalachian Mountains to the coastal plains. These diverse landscapes provide a kaleidoscope of mineral deposits, making our state a geologist's dream come true.
If you're seeking a rockhounding adventure of a lifetime, Georgia is the place for you. And we'll share with you the verified rockhounding sites here to help you have an equally successful as it is exciting journey. Let's begin!
How We Found The Best Places For Rockhounding in Georgia
We spent a lot of time putting together the list of which of the many options for Georgia rockhounding we were going to recommend. We wanted to have a nice variety of locations for experienced and novice rockhounds in a variety of settings. Here are the main factors we used when determining the recommendations we set out :
The extensive local experience and understanding of our team
Input from multiple local rockhounds and rockhound groups
The accessibility of the various locations
Safety and potential hazards when collecting
Private and public locations
A desire to include locations for both experienced rockhounds and those who are just starting out
Using these weights we think we've put together the best list out there for those who love finding new rocks, gems, and minerals for our collections!

What You Can Find Rockhounding In Georgia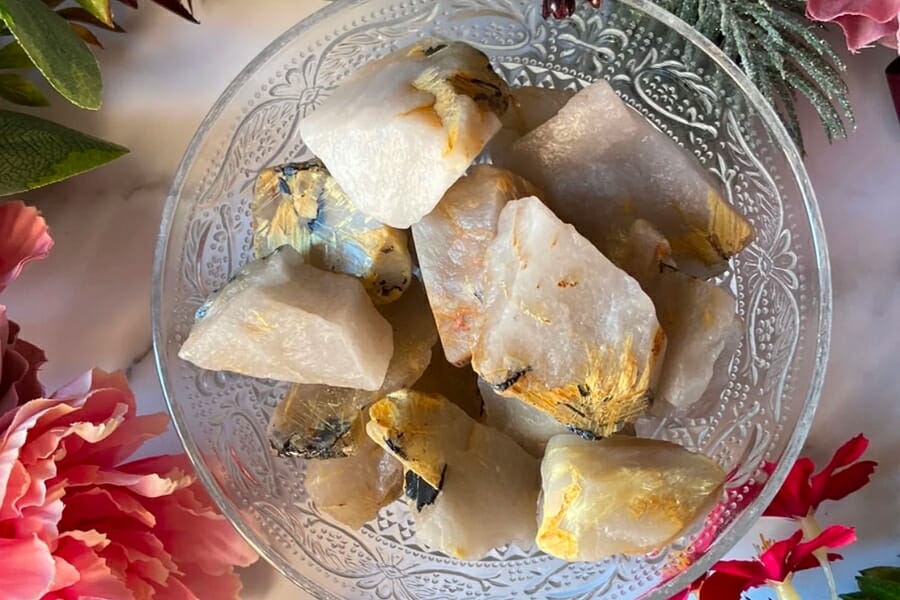 As a land of geological marvels, Georgia holds a myriad of hidden treasures for rockhounds. Our scenic state offers a bountiful playground for those with a passion for exploration. Its rich geological history has shaped its landscapes, leaving behind a rich tapestry of specimens. Some of these sought-after natural treasures include:
Rare rocks and minerals found in Georgia
More common desirable rocks, minerals, and gems found here
In-depth guides to finding specific types of rocks in Georgia
If you're out here to look for specific types of rocks and minerals, make sure to checkout these guides that we created on finding them:
We also identified over 3,000 rockhounding sites in the country in this full guide to rockhunting places near you.
For more in-depth information on Georgia's rockhounding opportunities in store for you, continue reading here as we lay down our highly-recommended places for your next exploration.
The Best Places To Find Rocks and Minerals in Georgia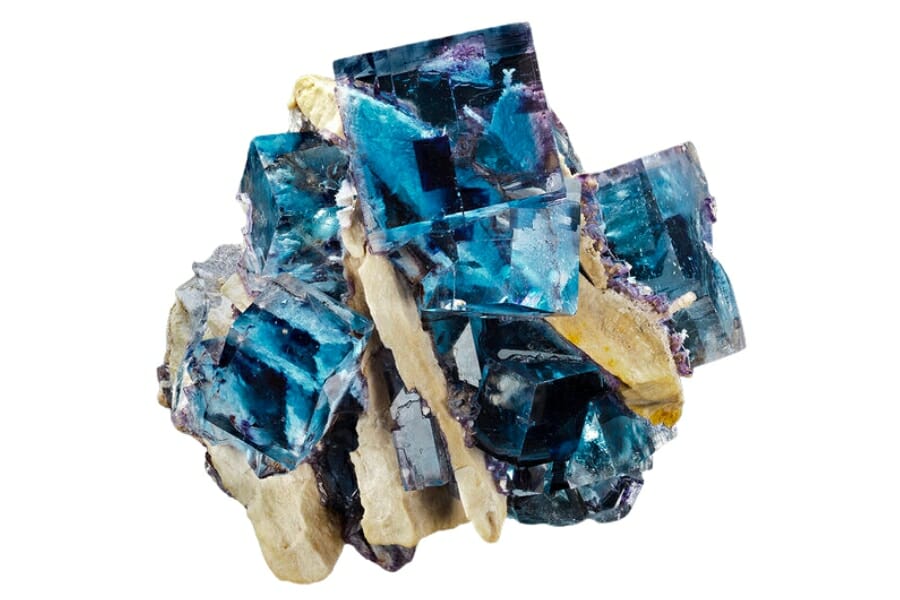 Since Georgia abounds in rockhounding sites, it can be overwhelming to choose which ones to visit, that's why we're sharing with you our most recommended verified places to explore here. Our recommendations are based on our personal experiences here and also on the experiences of other rockhounds who've visited here.
Always Confirm Access and Collection Rules!
Before heading out to any of the locations on our list you need to confirm access requirements and collection rules for both public and private locations.
These requirements are subject to change without notice and may differ from what we state below.
Always get updated information directly from the source ahead of time to ensure responsible rockhounding.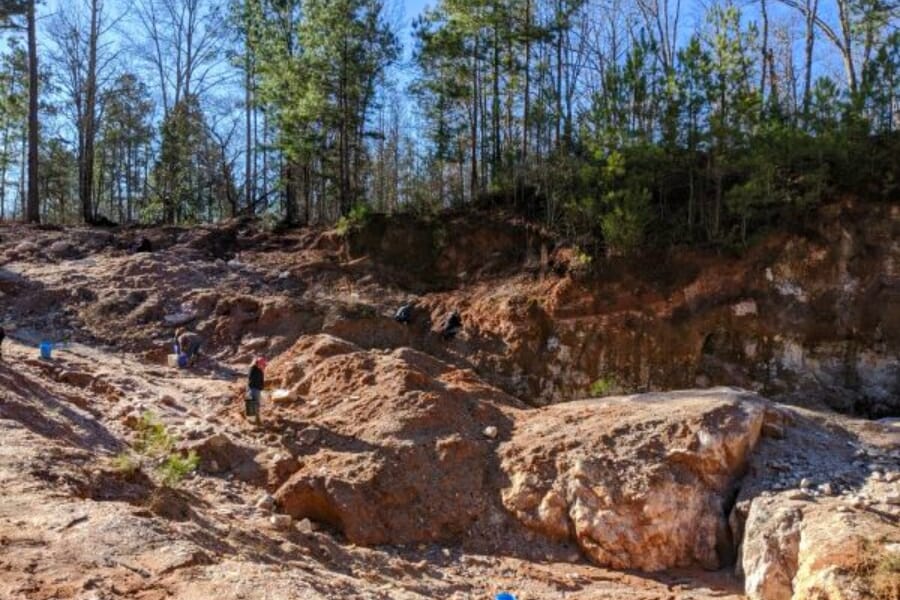 Located in LaGrange, Hogg Mine is renowned among rockhounding enthusiasts for its abundant and diverse mineral specimens. The mine offers a unique and exciting experience, as you can directly search for crystals in the mine's tailings or purchase buckets of dirt from the mine to sift through.
Hogg Mine known for producing crystals with exceptional clarity and distinct geometric shapes, making it a treasure trove for collectors and hobbyists.
This site stands out as an excellent rockhounding site for several reasons. Firstly, its accessibility and affordability make it an attractive destination for enthusiasts of all ages and experience levels. Unlike some other mines that require extensive permits or expensive equipment, this mine allows visitors to engage in hands-on prospecting with minimal entry fees. Additionally, its rich mineral deposits ensure a high chance of finding valuable crystals, providing a thrilling and rewarding experience for rockhounds.
What you can find there
Hogg Mine is incredibly endowed with different rocks and minerals, such as Amethyst, Aquamarine, Beryl, Garnet, Mica, Quartz, and Tourmaline.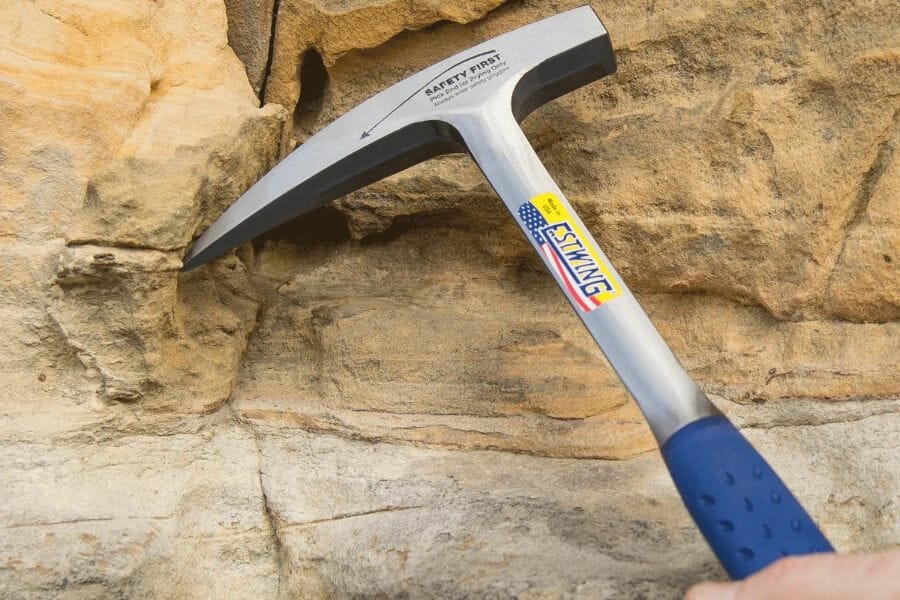 The tools every rockhound will need
When you're out looking for rocks and minerals having the right tools for the job is really going to make or break your success. You don't need a lot for most trips but there are a handful that are critical and will make your life a lot easier.
We get asked a lot about the equipment we use. Over the years we've found a handful of tools that we recommend to both new and experienced rockhounds which we outline in great detail in our complete rockhounding tools and kit guide. These are quality options that also happen to be relatively inexpensive.
Below are the basic tools that make your life so much easier and save you a ton of time. Check out the full guide to see everything we recommend bringing. At a minimum you should have:
1 - Sturdy rock hammer: The Estwing Rock Pick is our standard
2 - Rugged chisels: Try Kendo' 3-piece Chisel Set
3 - Compact shovel: The Koleiya 28-inch shovel works well
4 - Rock screen pan: The Wazakura Soil Sieve Set fits the bill
5 - Eye protection: DeWalt Safety Glasses are cheap and comfortable
6 - Head protection: Malta's Safety Helmet has been our go-to
7 - Jewelers lens with at least 20x magnification: Jarlink's Jewelers Loop is perfect
The rockhounding books that we use most
There are also a few books that have been extremely helpful in the search for gems. These books have great recommendations and tips:
National Audubon Society Field Guide to Rocks and Minerals: North America 
Southeast Treasure Hunter's Gem & Mineral Guide 
Earth Treasures: The Southeastern Quadrant 
We provide links to find these tools on Amazon but some can also be found at your local hardware stores. For more recommendations check out the link to our full tool guide above.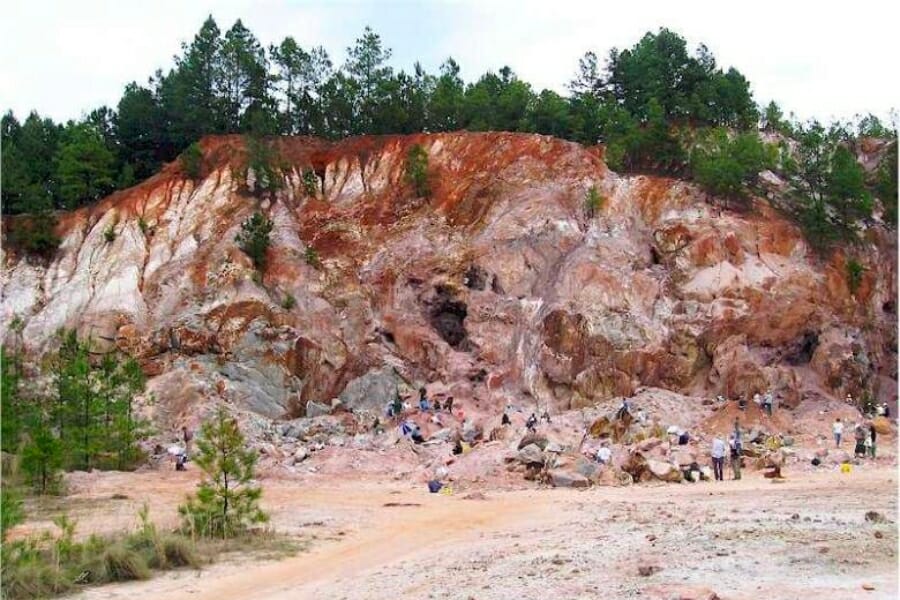 Graves Mountain is another popular rockhounding site in Georgia that attracts mineral collectors and enthusiasts from far and wide. This unique geological formation is rich in a variety of rocks minerals. It's is particularly famous for its vibrant blue Lazulite crystals, which are highly sought after by collectors.
Grave Mountain's mineral diversity ensures that rockhounds can find a wide range of specimens, satisfying both beginners and seasoned enthusiasts. Its accessibility is another highlight, as it welcomes visitors of all ages and expertise levels. In fact, you can search for minerals on the surface or dig deeper in search of buried treasures.
Best of all, the community around Graves Mountain is vibrant and welcoming, with experienced rockhounds often sharing their knowledge and experiences with newcomers.
What you can find there
Exploring here give you a chance to get your hands on stunning samples of Lazulite, gem-quality, deep red Rutile, and Pyrophyllite crystals.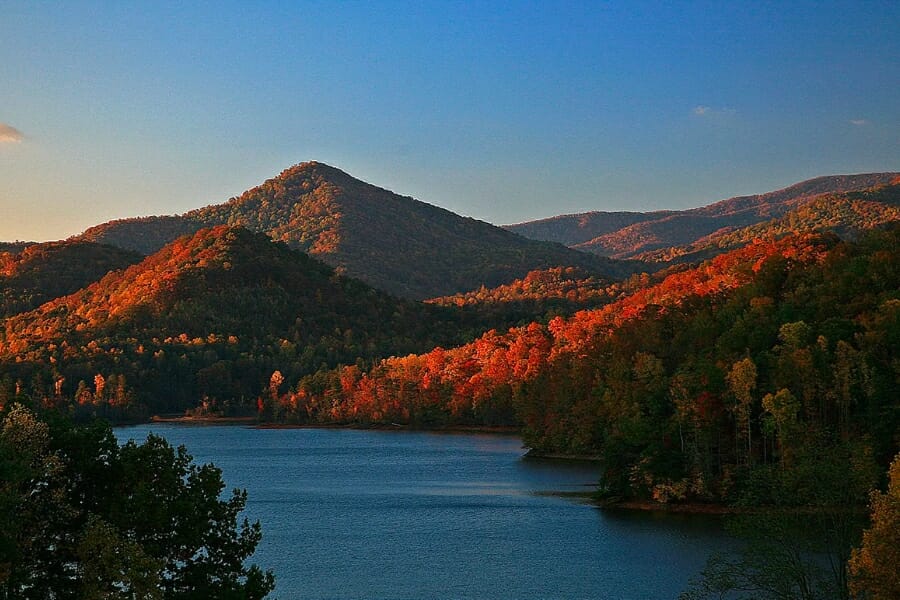 Located in the picturesque North Georgia Mountains, Lake Chatuge is a scenic destination that offers more than just stunning natural beauty— it also presents excellent rockhounding opportunities!
Nestled within the Appalachian Mountains, the lake is known for its rich geological history. You can explore the surrounding areas and discover a variety of interesting rocks and minerals. Its diverse terrain and the presence of ancient rock formations make the lake an intriguing and rewarding rockhounding site.
Lake Chatuge and its surrounding areas are easily accessible, so you will have no problem going here. Also, its scenic beauty will add to your overall rockhounding experience here.
What you can find there
This spot is known for having beautiful specimens of Corundum, Garnet, Kyanite, Quartz crystals, and Rutile.
Some more common rocks have certain similarities that make it hard to tell them apart. Lucky for you, we created a few guides that will help you identify these finds:
Sharp Top Mountain
The picturesque Sharp Top Mountain is situated within the Chattahoochee National Forest. It offers a unique geological environment that's ideal for finding Staurolite crystals.
This mountain belongs to our top recommendations because of its geological composition. It's composed of schist, a metamorphic rock known for its rich concentration of Staurolite. The combination of specific mineral assemblages, geological processes, and the natural erosion of the mountain over time has resulted in the abundant presence of these crystals.
When you go here, you can also enjoy the breathtaking scenery and a tranquil natural setting that Sharp Top Mountain has to offer. You can revel in the beauty of the surrounding forests, hike through diverse ecosystems, and enjoy the serenity of the wilderness.
What you can find there
Sharp Top Mountain is home to amazing samples of Staurolite, Georgia's official state mineral.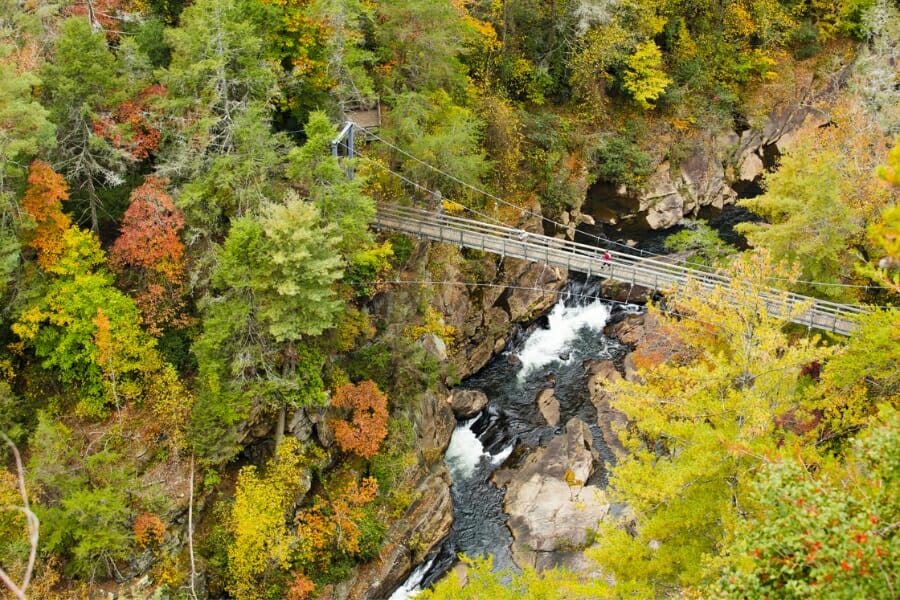 Tallulah Falls is not only a magnificent natural wonder, but also an excellent rockhounding site. This iconic destination is known for its stunning series of cascading waterfalls and deep canyons carved by the Tallulah River.
The geological formations found here offer an abundance of collecting opportunities. The area boasts of a variety of rocks that have been shaped by millions of years of natural forces, resulting in an array of interesting formations and mineral deposits.
You can explore the surrounding trails and riverbeds of the falls and creeks, carefully examining the exposed rocks and sediment for hidden treasures. The best thing is that you can do this while enjoying the picturesque setting of Tallulah Falls. Its combination of breathtaking waterfalls, lush forests, and rugged canyons creates a truly immersive and enchanting atmosphere for you.
What you can find there
When you visit here, you can find astonishing samples of Citrine and both Clear and Smoky Quartz crystals.
Our Other Favorite Spots Around Georgia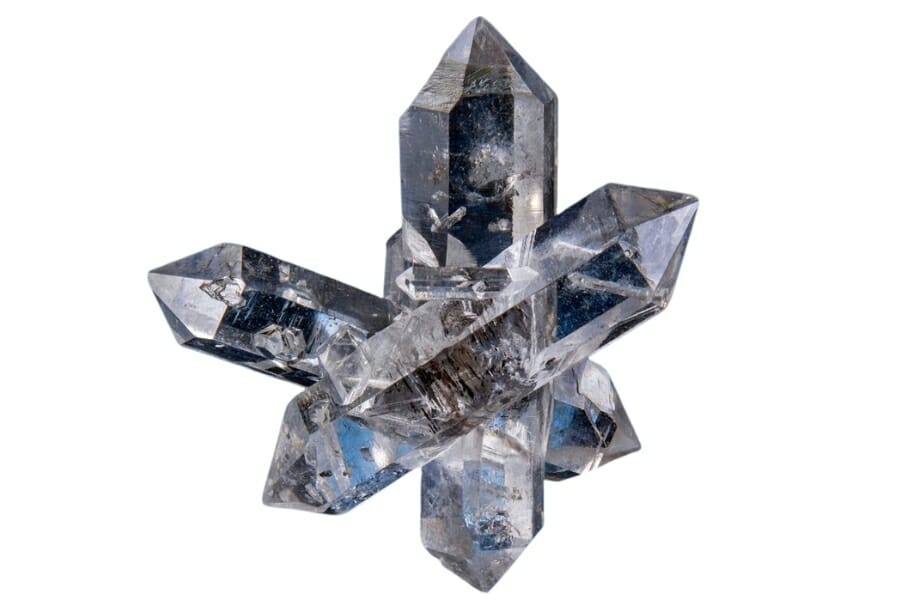 Since our top recommendations above are quite popular rockhounding sites, there's a big chance you've already been to them. If you have, you don't need to worry because Georgia has plenty other sites that you can explore!
We've listed them down by region below to make it easier for you to plan your itinerary.
Rockhounding sites in Northern Georgia
Northern Georgia is blessed with a rich and complex geological history, resulting in a wide variety of collecting opportunities. The Appalachian Mountains, which traverse this region, are home to ancient rocks that have undergone intense metamorphism over millions of years. These often contain fascinating minerals and crystals, making Northern Georgia an enticing destination for collectors.
| | |
| --- | --- |
| Location | Minerals & Rocks |
| Along Tarr Creek | Jasper |
| Eton area mines | Barite, Talc |
| Fannin Countywide | Staurolite |
| Teece Creek Valley | Kyanite |
| Charlies Creek | Amethyst |
| Horshaw Mine | Diamond |
| Williams Mica Mine | Topaz |
| Gilmer County | Staurolite |
| Black Marble Quarry | Calcite, Fluorite, Pyrite, Serpentine, Talc |
Rockhounding sites in Southern Georgia
Southern Georgia is characterized by its coastal plain, which showcases a distinct geological history. The sedimentary rocks found here reveal a story of ancient marine environments and the deposition of materials over millions of years. This makes it an intriguing destination for rockhounding enthusiasts looking to explore a different geological context.
| | |
| --- | --- |
| Location | Minerals & Rocks |
| South of Withalacoochee River | Fossils |
| Flint River | Jasper |
| Osierfield area | Tektites |
| 300 yards south of bridge on the west bank of Muckalee Creek | Diamond |
| Cordele area | Moss Agate |
Rockhounding sites in Eastern Georgia
Characterized by its diverse geological formations and a rich assortment of rocks and minerals, Eastern Georgia offers a captivating landscape for rockhounds. This region is influenced by the ancient Piedmont Plateau, which has undergone extensive geological processes over millions of years. It showcases a mix of metamorphic and igneous rocks, providing a fascinating playground for rockhounds.
| | |
| --- | --- |
| Location | Minerals & Rocks |
| John A. Wilson prospect | Amethyst |
| Tugaloo Overlook Mine | Corundum, Ruby |
| 2.1 miles south of the Stephens County border | Quartz |
| Hartwell Dam quarry on the right | Beryl |
| Yellow Hill Mine | Aquamarine |
| Beck Beryl Mine | Beryl, Quartz |
Rockhounding sites in Western Georgia
Western Georgia features a diverse range of geological formations and a fascinating array of rocks and minerals. This region is influenced by the ancient Appalachian Mountains, which have shaped the land over millions of years. It presents a unique blend of sedimentary, metamorphic, and igneous rocks, providing ample opportunities for rockhounds to explore and discover remarkable specimens.
| | |
| --- | --- |
| Location | Minerals & Rocks |
| East slope of Rising Fawn | Halloysite |
| 3 miles east-southeast on US-27 in Summerville | Agate, Chert, Serpentine |
| Area bauxite mines at Hermitage | Bauxite, Chert, Jasper, Lignite, Marcasite, Pyrite |
| Cedartown area iron mines | Hematite, Limonite, Rhodochrosite |
| Fields of Bremen | Quartz |
Rockhounding sites in Central Georgia
Central Georgia offers a unique charm and intriguing geological formations that captivate rockhounds. This region is endowed with rolling hills and diverse landscapes, providing a variety of rocks and minerals to discover. It's primarily composed of sedimentary rocks, which have been shaped by ancient marine environments and the deposit of materials over time.
| | |
| --- | --- |
| Location | Minerals & Rocks |
| Joe Persons Mine | Apatite, Moonstone |
| Holton Quarry | Agate |
| Ocmulgee River tributary | Diamond |
| Along the lake shores of Gordon | Opalite, Clear Quartz, Smoky Quartz |
| Hugh Taubutton property | Quartz |
| Baldwin Countywide | Pearl |
| Round Oak | Agate, Jasper |
| Mines and prospects of Culloden | Biotite, Feldspar, Mica, Muscovite |
Where To Find Staurolite In Georgia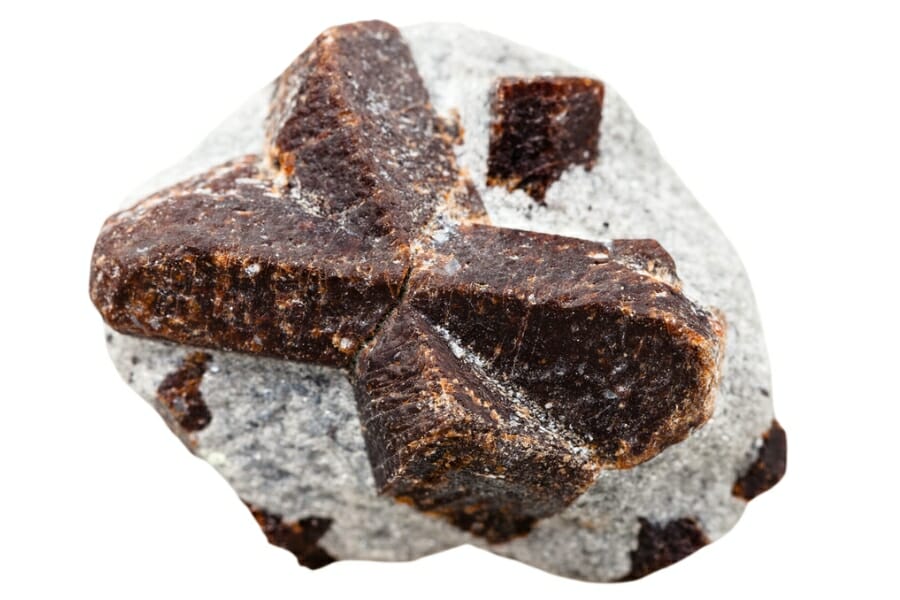 Staurolite is a unique and captivating mineral that holds a special place in the hearts of rockhounds. Known as the "fairy stone" or "fairy cross," it's a complex silicate mineral that forms prismatic or cross-shaped crystals that are formed by intergrowth of two perpendicular crystals, creating a striking and symbolic appearance.
Staurolite crystals can range in color from brown to reddish-brown, and they exhibit a vitreous to resinous luster. It holds a significant cultural and historical value, often associated with folklore and legends. In Georgia, Staurolite is particularly abundant and has even become our state mineral. In fact, specimens of this crystals from Georgia are known for their exceptional quality.
Turkey Hill is our favorite place to look for Staurolite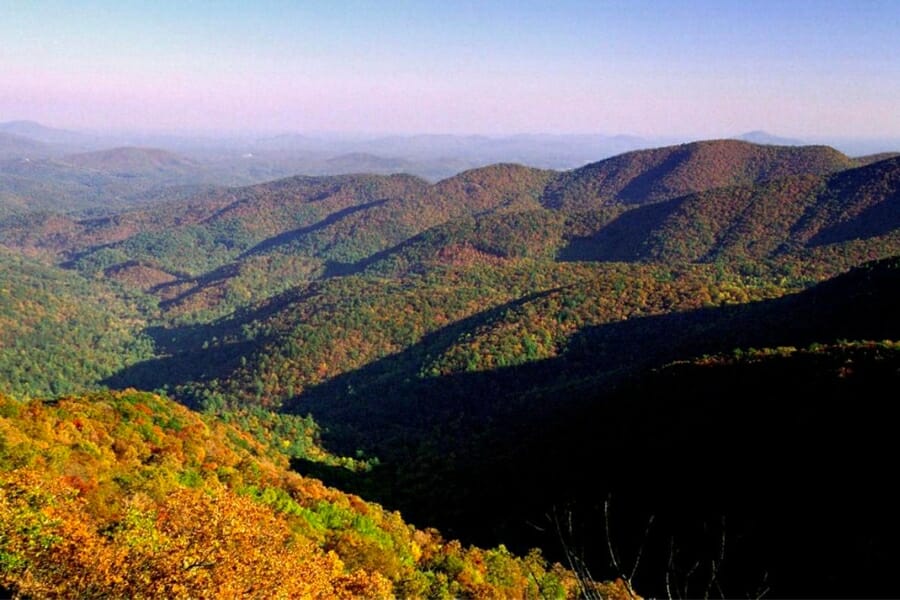 Turkey Hill is known for its abundant Staurolite occurrences, attracting rockhounds from near and far. The mineral-rich soils and weathered rock outcrops on the hillside offer ample opportunities for collectors to discover these well-formed crystals.
The Staurolite found here often exhibit the characteristic cross-shaped formations. You can explore the hillside and carefully scan the ground for these fascinating specimens, while immersing yourself in the beauty of the surroundings.
Other good options to find Staurolite
Dolly Cherry Property
Bluff Creek
Fields and streams of Ball Ground
Windy Ridge and Mineral Bluff
Cole's Crossing
Public Rockhounding Options For Kids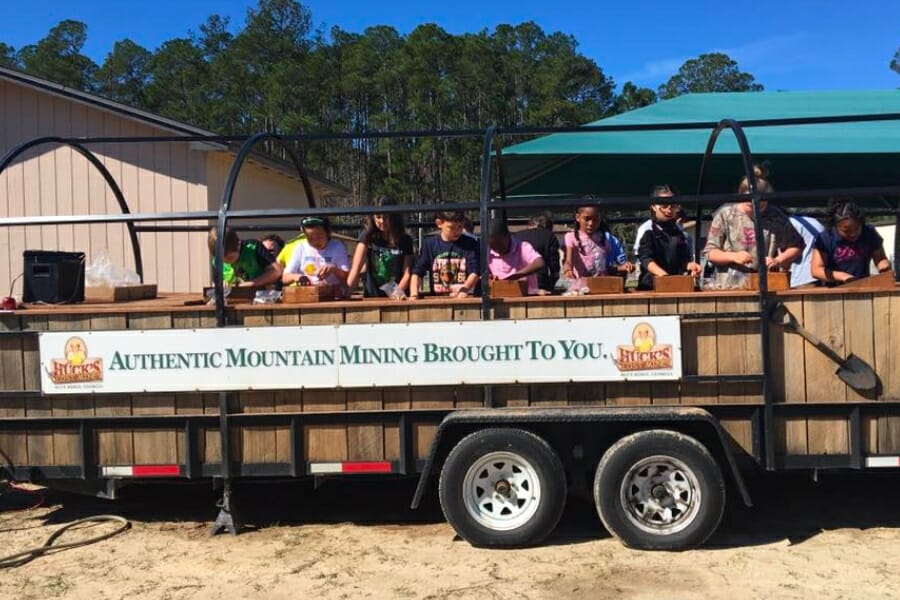 As you may have already deduced from our discussion above, Georgia offers numerous excellent rockhounding spots. However, many of these locations are challenging for younger rockhounds as they involve difficult terrain, strenuous hikes, or require specialized equipment.
Good thing, Georgia also has plenty of child and family-friendly rockhounding spots that offer easier access, gentle trails, and a higher likelihood of finding fascinating rocks and minerals. Below are some of them:
Georgia Rockhounding Clubs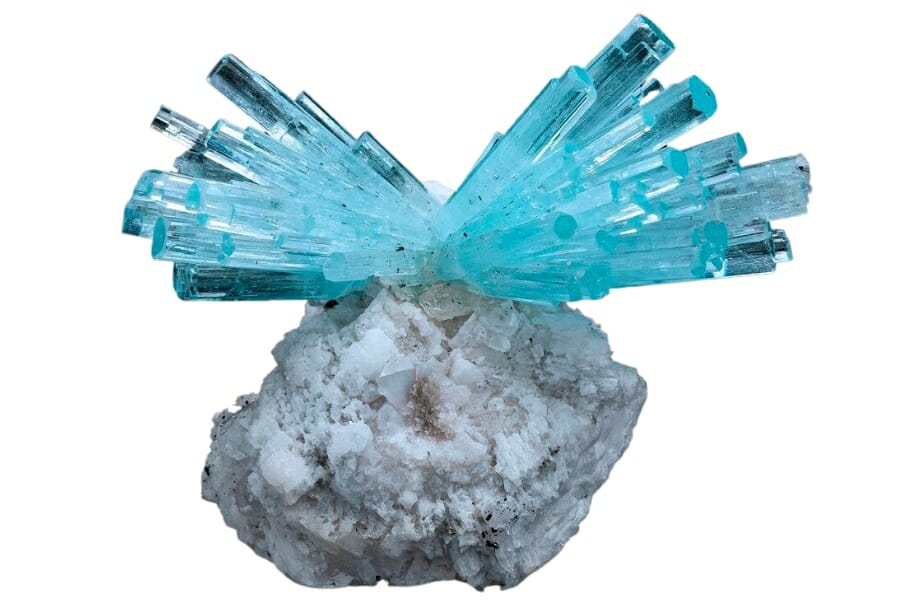 Rockhounding clubs are an invaluable resource for both newcomers and experienced collectors in the world of rockhounding, and joining one can greatly enhance your overall experience. This holds true especially for rockhounds in Georgia, where a variety of clubs provide a supportive and engaging community for rockhounds.
Joining a rockhounding club in our state offers additional advantages. Club members often possess in-depth knowledge of the local geology and can provide insider information about the best collecting spots here.
Rockhounding clubs in Georgia worth checking out
Georgia Rockhounding Laws And Regulations
It's legal to engage in rockhounding in Georgia if you adhere to all our local and state laws regarding collection. While it's generally permitted on public lands, it's crucial to respect any specific regulations in the area that you will explore. Obtain permission when accessing private property for rockhounding purposes and always leave the area as you found it, practicing good stewardship of our land.
The Georgia Department of Natural Resources (GADNR) is the state agency responsible for regulating rockhounding and mineral collecting here. They oversee the management of public lands and provide valuable information on the rules and guidelines related to rockhounding activities.
The Best Rock And Mineral Shops In Georgia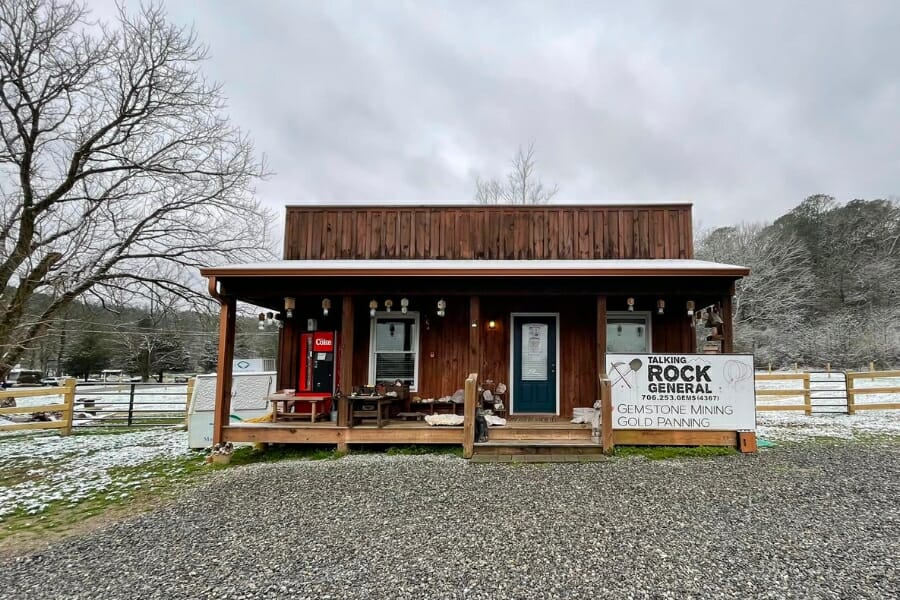 Exploring nature to collect rocks and minerals can be an exhilarating experience for some, but not for all. If you're looking to expand your collection with specific rocks, minerals, and gems, visiting our local rock and gem shops is an excellent alternative.
Below are several exceptional shops across our state that you can pay a visit to:
Additional Rockhounding Places In Nearby States
If you want to extend your rockhounding adventure to nearby states, check out the following guides that we prepared for you:
If you have any recommendations that we haven't covered yet, please leave them in the comments below!