If you have an interest and a love for rocks and minerals, North Carolina is the place for you! With its diverse geological history, our state offers a treasure trove of unique specimens that will keep any rockhound on their feet.
The remarkable variety of geological formations in our state make it the rockhound paradise that it is. From the ancient Appalachian Mountains to the coastal plains, North Carolina is truly endowed with a geological tapestry that spans millions of years. This rich diversity has resulted in a wide array of rocks and minerals— even the Carolina Queen Emerald that's considered one of the rarest gemstones in the world.
Whether you're an experienced rockhound or just starting your journey, North Carolina rockhounding is an experience of a lifetime for you. And we're here to point you to our favorite places that you should explore here.
How We Found The Best Places For Rockhounding in North Carolina
We spent a lot of time putting together the list of which of the many options for North Carolina rockhounding we were going to recommend. We wanted to have a nice variety of locations for experienced and novice rockhounds in a variety of settings. Here are the main factors we used when determining the recommendations we set out :
The extensive local experience and understanding of our team
Input from multiple local rockhounds and rockhound groups
The accessibility of the various locations
Safety and potential hazards when collecting
Private and public locations
A desire to include locations for both experienced rockhounds and those who are just starting out
Using these weights we think we've put together the best list out there for those who love finding new rocks, gems, and minerals for our collections!

What You Can Find Rockhounding In North Carolina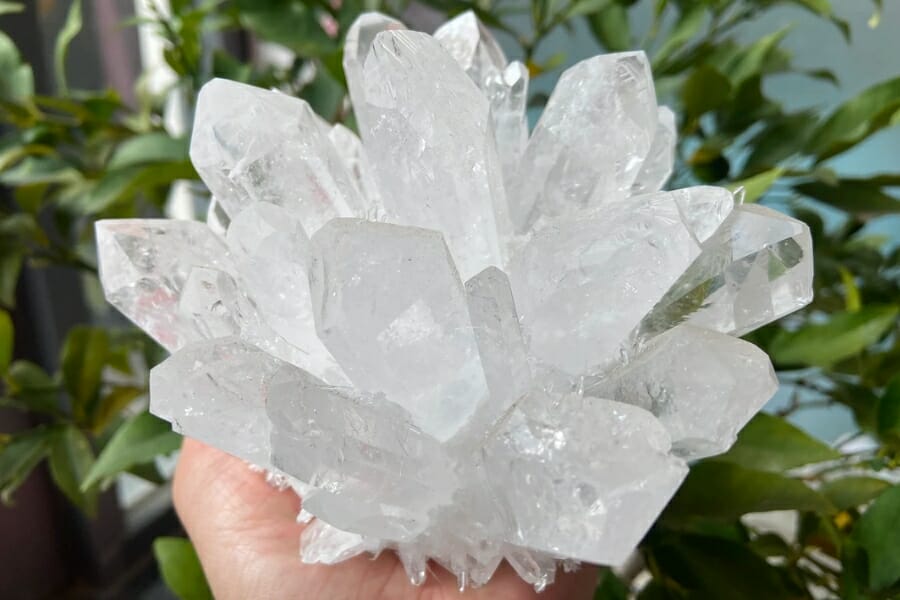 With its diverse geological landscape, North Carolina provides a playground for avid rockhounds. Our state's bountiful soil holds the promise of exciting discoveries at every turn. Below are some of the most sought-after rocks and minerals that you can find here:
Rare rocks and minerals found in North Carolina
More common desirable rocks, minerals, and gems found here
In-depth guides to finding specific types of rocks in North Carolina
We've prepared a few guides to help you locate specific types of rocks and minerals. Check them out!
We also created an informative rockhounding map that will show you more than 3,000 proven sites all over the country. But if you want to learn more specifically about the wonderful rockhounding opportunities in North Carolina, keep reading here.
The Best Places To Find Rocks and Minerals in North Carolina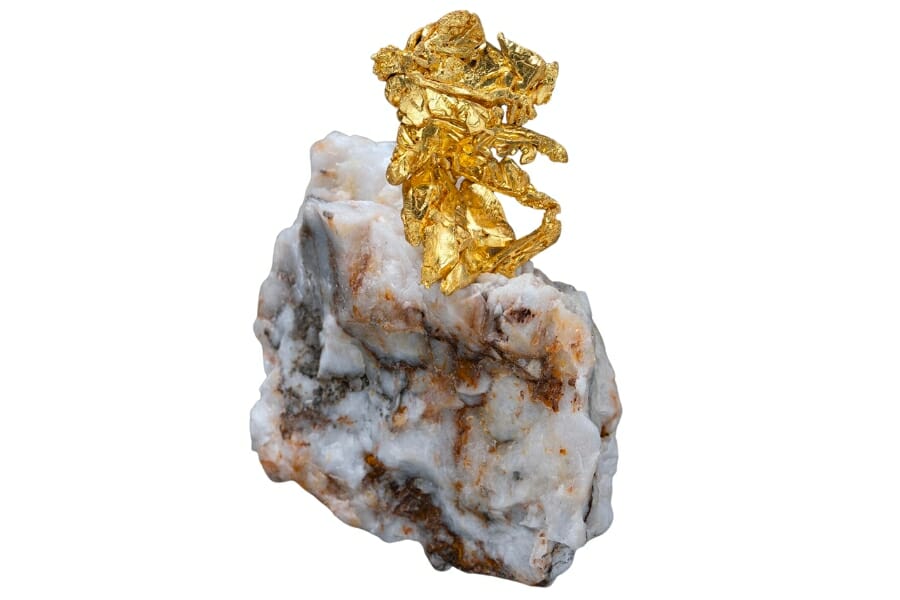 Because of its diverse natural wonders just waiting to be discovered, it can be difficult to select the best sites to visit here. And that's where we come in! Below are our preferred rockhounding sites in North Carolina where we had the best success finding rocks and minerals:
Always Confirm Access and Collection Rules!
Before heading out to any of the locations on our list you need to confirm access requirements and collection rules for both public and private locations.
These requirements are subject to change without notice and may differ from what we state below.
Always get updated information directly from the source ahead of time to ensure responsible rockhounding.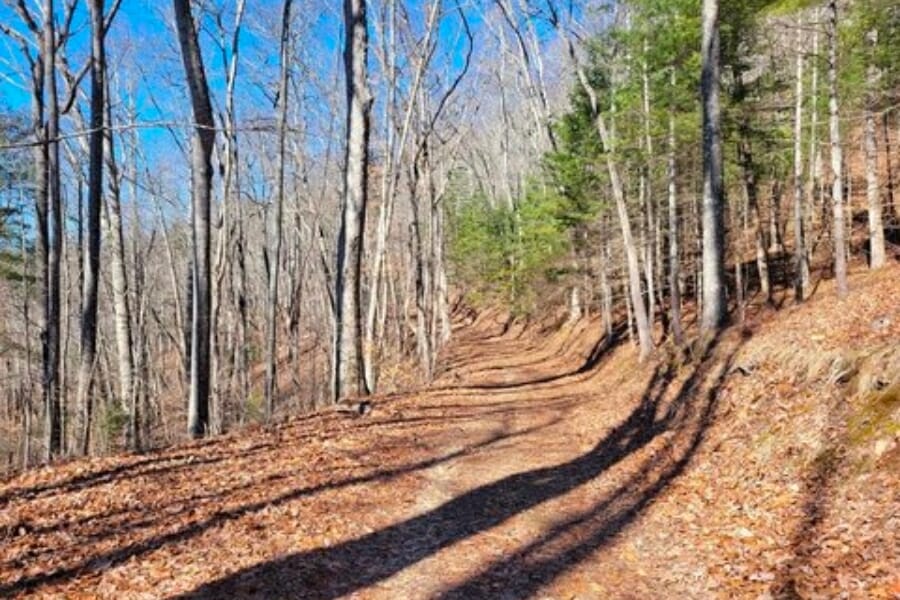 Nestled in the picturesque region of Macon County, Corundum Hill stands as a renowned rockhounding site that promises excitement and discovery for avid collectors. This site has captivated rockhounds for decades due to its abundance of corundum crystals.
What makes Corundum Hill truly special is the accessibility it offers to rockhounding enthusiasts. Unlike some remote and inaccessible locations, it welcomes visitors with its relatively easy accessibility and ample opportunities for exploration.
The thrill of finding vibrant corundum crystals, ranging in hues from rich reds to dazzling blues, is an experience that draws rockhounds from far and wide. With some luck and a discerning eye, you can unearth your very own treasures and create lasting memories here.
What you can find there
As its name suggests, Corundum Hills has plenty deposits of Corundum. But aside from that, it's also blessed with other rocks and minerals such as Chromite, Olivine, Ruby, and Sapphire in blue, green, and pink hues.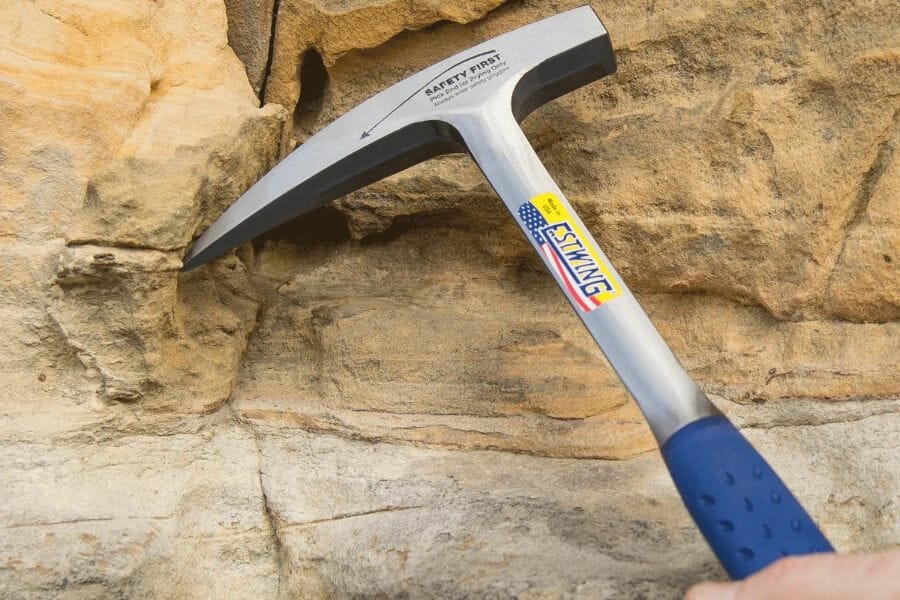 The tools every rockhound will need
When you're out looking for rocks and minerals having the right tools for the job is really going to make or break your success. You don't need a lot for most trips but there are a handful that are critical and will make your life a lot easier.
We get asked a lot about the equipment we use. Over the years we've found a handful of tools that we recommend to both new and experienced rockhounds which we outline in great detail in our complete rockhounding tools and kit guide. These are quality options that also happen to be relatively inexpensive.
Below are the basic tools that make your life so much easier and save you a ton of time. Check out the full guide to see everything we recommend bringing. One quick note, as an Amazon Associate I earn from qualifying purchases but we try very hard to only recommend gear we would use ourselves and often recommend brands you can't find on Amazon.
At a minimum you should have:
1 - Sturdy rock hammer: The Estwing Rock Pick is our standard
2 - Rugged chisels: Try Kendo' 3-piece Chisel Set
3 - Compact shovel: The Koleiya 28-inch shovel works well
4 - Rock screen pan: The Wazakura Soil Sieve Set fits the bill
5 - Eye protection: DeWalt Safety Glasses are cheap and comfortable
6 - Head protection: Malta's Safety Helmet has been our go-to
7 - Jewelers lens with at least 20x magnification: Jarlink's Jewelers Loop is perfect
The rockhounding books that we use most
There are also a few books that have been extremely helpful in the search for gems. These books have great recommendations and tips:
National Audubon Society Field Guide to Rocks and Minerals: North America 
Southeast Treasure Hunter's Gem & Mineral Guide 
Earth Treasures: The Southeastern Quadrant 
We provide links to find these tools on Amazon but some can also be found at your local hardware stores. For more recommendations check out the link to our full tool guide above.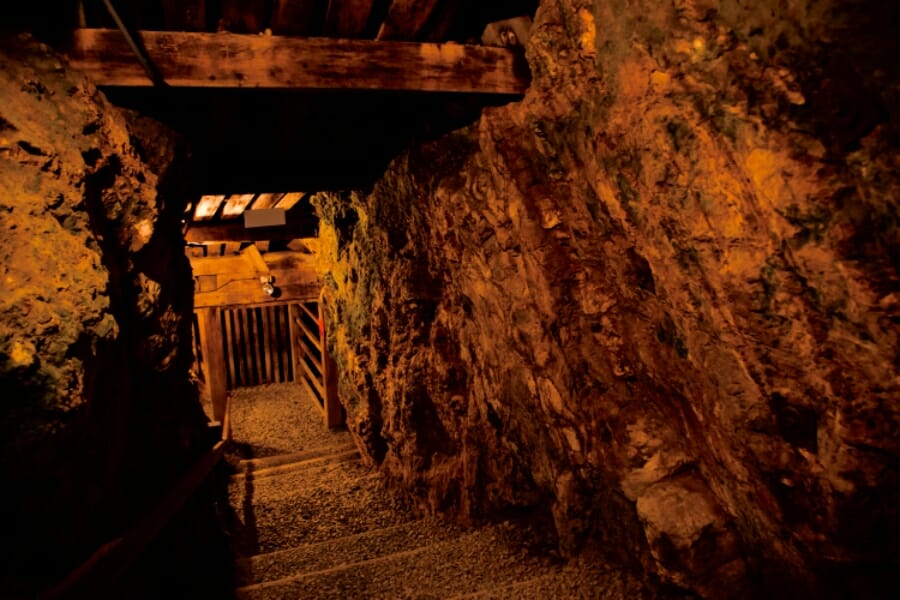 Located in Cabarrus County, Reed Gold Mine holds a significant place in history as the site of the first authenticated gold discovery in the United States. This historic mine not only offers a glimpse into the gold rush era, but also presents rockhounds with a unique opportunity to search for their own specks of gold.
When you visit Reed Gold Mine, you can explore the remnants of the historic mining operations, including underground tunnels and exhibits that provide insights into the techniques and tools used during the gold rush. The mine also offers panning for gold in the nearby streams. While the quantities of gold found may be small, the joy of finding even the tiniest flakes creates a sense of connection to the rich mining heritage of North Carolina.
Truly, Reed Gold Mine is not only a rockhounding site but also a destination that offers a blend of history, education, and the thrill of prospecting for gold.
What you can find there
When we say Reed Gold Mine is a dream come true for rockhounds, we are not overstating! Aside from Gold, you can find amazing specimens of different rocks and minerals here, like Azurite, Barite, Cuprite, Galena, Malachite, Quartz crystals, Scheelite, Siderite, and Sphalerite.
Cowee Creek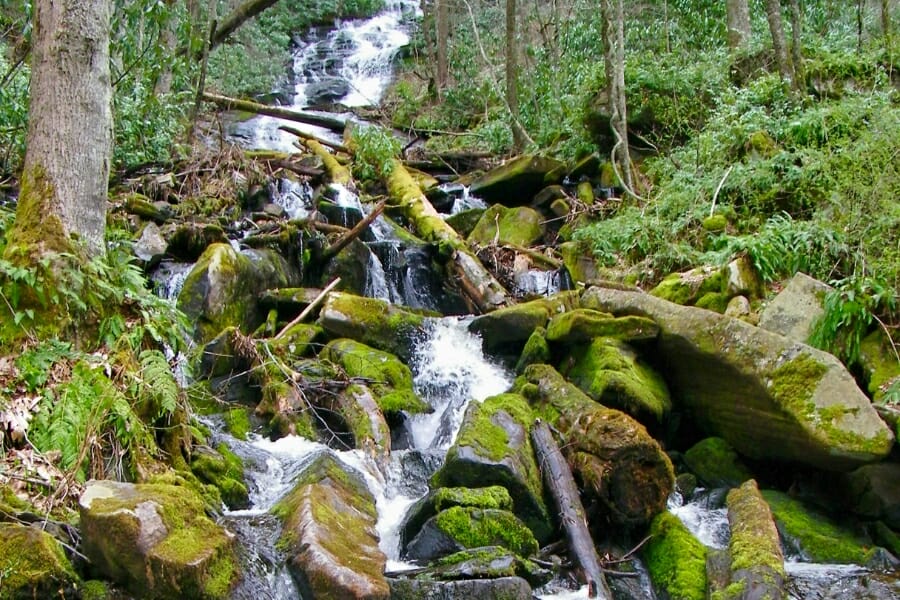 Cowee Creek and its surrounding area mines have established themselves as a prime rockhounding destination. Its rich mineral deposits and historical significance make it an excellent site for enthusiasts of all levels.
Cowee Creek has a storied history, harkening back to the heyday of gemstone and mineral extraction in our state. With its accessible locations and the potential for unearthing unique specimens, this site is a treasure trove for rockhounds seeking a memorable experience in North Carolina's mineral-rich terrain.
Immerse yourself in the rich geological heritage, explore the historic mines, and embark on a quest to discover your own rocks and minerals when you visit Cowee Creek.
What you can find there
Explore the area mines of Cowee Creek to find stunning samples of Beryl, Corundum, Garnet, Hornblende, Kyanite, Pyrite, Quartz, Ruby, Rutile, Sapphire, and Staurolite.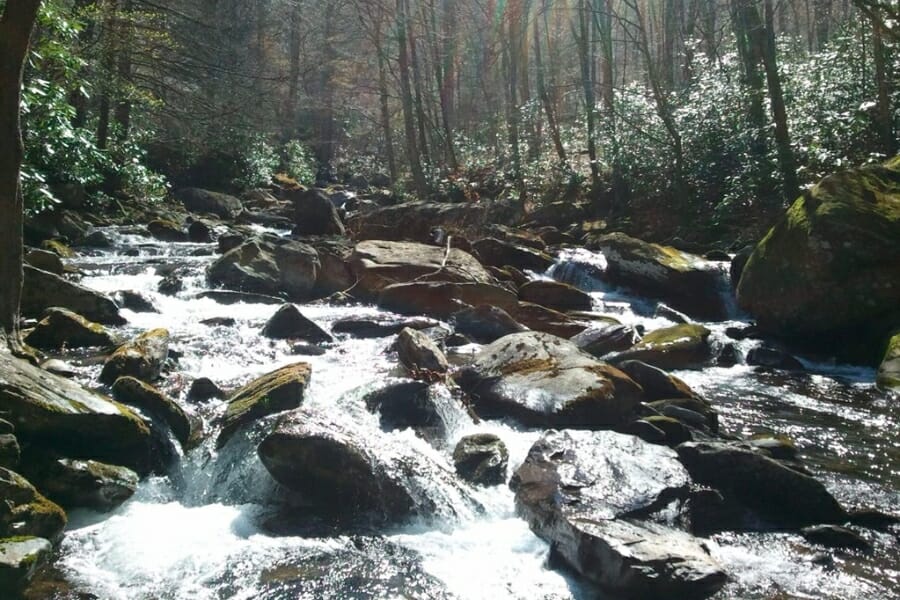 Because it's situated in the scenic Appalachian Mountains of Yancey County, it's no surprise that Burnsville has become a fantastic rockhounding site. This charming town boasts of a rich geological landscape, making it a treasure trove for rock and mineral collectors.
Burnsville's mountainous terrain, winding rivers, and lush forests provide not only a picturesque backdrop for rockhounding adventures, but also the potential for uncovering unique specimens and hidden gems.
Apart from its mineral-rich landscape, this site offers a warm and welcoming community of rockhounding enthusiasts. Local shops, museums, and gemstone festivals celebrate the area's rich geological heritage, providing educational resources and opportunities to connect with fellow collectors.
What you can find there
This place abounds in different varieties of rocks and minerals, including Albite, Amazonite, Apatite, Aquamarine, Autunite, Beryl, Emerald, Fluorite, Garnet, Kyanite, Muscovite, Feldspar, Rutile, Quartz, Sunstone, and Tourmaline.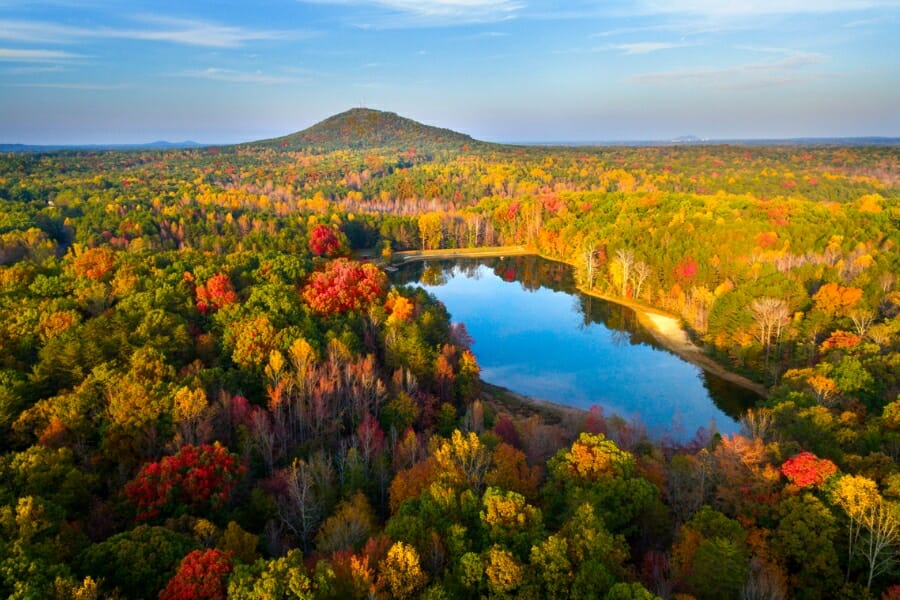 Crowders Mountain State Park offers, not only breathtaking natural beauty, but also an excellent rockhounding experience for enthusiasts. This stunning park is home to the towering peaks of Crowders Mountain and Kings Pinnacle, providing a unique opportunity to explore ancient rock formations and discover a variety of geological specimens.
With its accessibility, scenic trails, and the potential to find interesting rocks and minerals, this state park is an ideal destination for rockhounds of all levels. The park's diverse geological features, including exposed rock faces and rugged cliffs, make it an exciting site for rockhounding.
You can explore the park's trails and observe fascinating rock formations that reveal the geological history of the region. The thrill of discovering unique rocks and mineral specimens amidst the park's stunning landscapes adds an extra layer of adventure to any rockhounding excursion.
What you can find there
If you explore Crowders Mountain State Park well enough, you can find here amazing specimens of Barite, Chalcopyrite, Corundum, gold-bearing Galena, Gold, Garnet, Hematite, Limonite, Magnetite, gem-quality Kyanite, Rutile, Topaz, and Tourmaline.
Our Other Favorite Spots Around North Carolina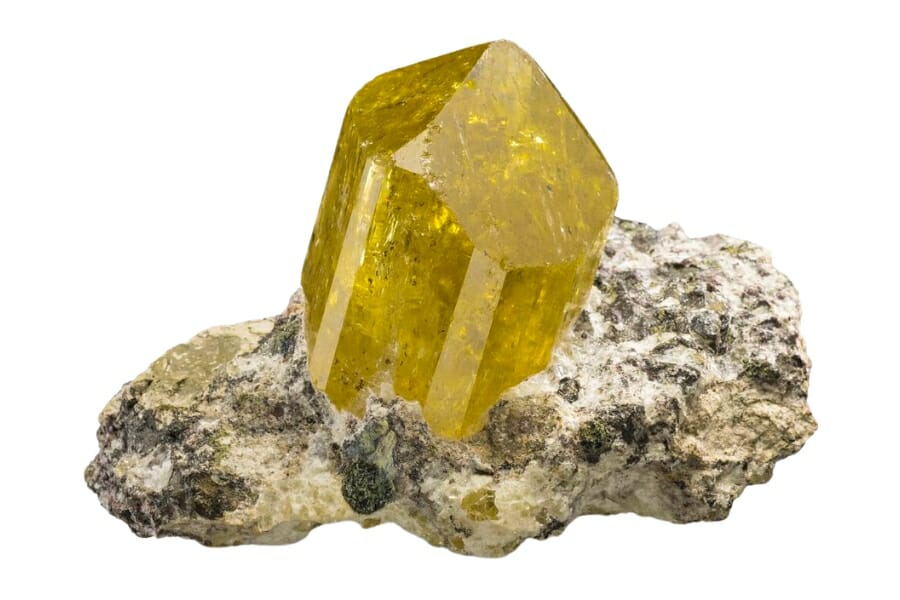 As a rockhound's paradise, North Carolina is packed with plenty other rockhounding sites aside from the ones that we've already shared with you. We've arranged these sites according to region to make it easier for you to refer to this when making your rockhounding itinerary here.
Rockhounding sites in Northern North Carolina
The Northern area of North Carolina offers a haven for rockhounds, with its diverse geological landscape and rich deposits of rocks and minerals. From the majestic Blue Ridge Mountains to the rolling hills and river valleys, this region offers a unique combination of geological formations that attract rockhounds from near and far.
| | |
| --- | --- |
| Location | Minerals & Rocks |
| Alston Mine | Beryl, Muscovite, Perthite, Quartz |
| Townsville area | Huebernite |
| Quarry 2 miles east of Wilton | Calcite, Epidote, Feldspar, Molybdenite, Quartz |
| Durgy Copper Mine | Malachite |
| Prospect 3 miles west in Leasburg | Chlorite, Epidote, Tourmaline |
| Short Tom Smith Mine (aka Ben Smith Mine) | Garnet, Mica, Pethite, Plagioclase, Quartz |
| Dan River | Carnelian |
| Fields near Cross Road Church | Pyrite |
Rockhounding sites in Southern North Carolina
North Carolina's southern region is a haven for rockhounds, offering a diverse array of geological wonders and a wealth of interesting rocks and minerals. It provides a fertile ground for exploration and discovery, with its unique geological formations and diverse landscapes. From the sandy shores of the Atlantic coastline to the rolling hills and ancient riverbeds, this region is ripe for exploration.
| | |
| --- | --- |
| Location | Minerals & Rocks |
| Bonnie Belle Mine (aka Washington Mine) | Chalcopyrite, Gold, Pyrite |
| Ansonville area mines | Calcite, Galena, Garnet, Gold, Pyrite, Rutile, Siderite, Sphalerite |
| Cumberland Countywide | Agate, Chalcedony, Chert, Jasper, Opal, Petrified Wood |
| C.B. McSwain Mine | Biotite, Feldspar, Garnet, Plagioclase, Potash, Quartz, Sillimanite |
| W.B. Turner property | Aquamarine, Beryl, Biotite, Emerald, Muscovite, Olivine, Quartz, Tourmaline |
| Martin Mine | Calcite, Chalcopyrite, Marcasite, Muscovite, Perthite, Plagioclase, Pyrite, Pyrrhotite, Quartz |
| Dycus Mine | Beryl, Quartz |
Rockhounding sites in Northwestern North Carolina
The northwestern part of North Carolina beckons rockhounds with its rich geological diversity and abundant treasures. Encompassing the beautiful Blue Ridge Mountains, this area offers a fantastic playground for rockhounds. From ancient mountain formations to vibrant river valleys, this site provides a wealth of opportunities for exploration and the chance to uncover a variety of interesting rocks and minerals.
| | |
| --- | --- |
| Location | Minerals & Rocks |
| South Hardin Mica Mine | Aquamarine, Beryl |
| 1.7 miles north of Colletsville | Epidote, Pyrite |
| Cranberry Iron Mine | Epidote, Garnet, Kyanite, Limonite, Magnetite, Olivine, Samarskite |
| Hawk Mica Mine | Albite, Bytownite, Moonstone, Oligoclase, Steatite, Thulite |
| Big Crabtree Mountain | Emerald, Feldspar, Garnet, Gummite, Quartz, Tourmaline |
| Yancey County Kyanite Mines | Albite, Beryl, Biotite, Bornite, Chalcocite, Chalcopyrite, Feldspar, Galena, Garnet, Kyanite, Muscovite, Pyrite, Pyrrhotite, Sphalerite |
| Mas Celo Mines | Albite, Apatite, Beryl, Biotite, Chalcocite, Chalcopyrite, Galena, Garnet, Kyanite, Muscovite, Pyrite, Pyrrhotite, Sphalerite |
Rockhounding sites in Western North Carolina
With a captivating blend of scenic beauty and geological wonders, Western North Carolina is a haven for rockhounds. It's renowned for its rugged mountain ranges, pristine rivers, and diverse ecosystems. This area boasts of an impressive variety of rocks and minerals, ensuring an exciting and rewarding experience for collectors and explorers.
| | |
| --- | --- |
| Location | Minerals & Rocks |
| Moss Creek | Staurolite |
| Hyatt Creek | Calcite |
| Cullakanee Mine | Amphibolite, Corundum, Ruby |
| Roy Mason Mine | Ruby, Sapphire |
| Sheep Knob Mountain | Aquamarine |
| Deep Creek Campground | Kyanite, Staurolite |
| Small streams in Wolf Mountain | Ruby, Sapphire (Blue, Yellow) |
| Slopes of Shining Rock | Quartz (Rose) |
Rockhounding sites in Central North Carolina
The Central area of North Carolina offers a rich and diverse geological landscape. It's characterize by a combination of rolling hills, fertile valleys, and winding rivers, providing a fertile ground for the discovery of intriguing rocks and minerals. This area offers a balance between accessibility and geological variety, making it an ideal destination for both seasoned collectors and newcomers to the hobby.
| | |
| --- | --- |
| Location | Minerals & Rocks |
| G.W. Partin property | Amethyst |
| Bennett area mines and prospects | Azurite, Chalcedony, Chalcocite, Chalcopyrite, Copper, Cuprite, Jasper, Malachite, Pyrite, Pyrolusite, Pyrrhotite, Quartz (Rose) |
| Glendon area mines | Fluorite, Hematite, Lazulite, Pyrite, Pyrophyllite |
| Staley | Prophyllite |
| Swicegood property in Tyro | Amethyst |
| Walden property in Barium Springs | Amethyst |
Where To Find Emerald In North Carolina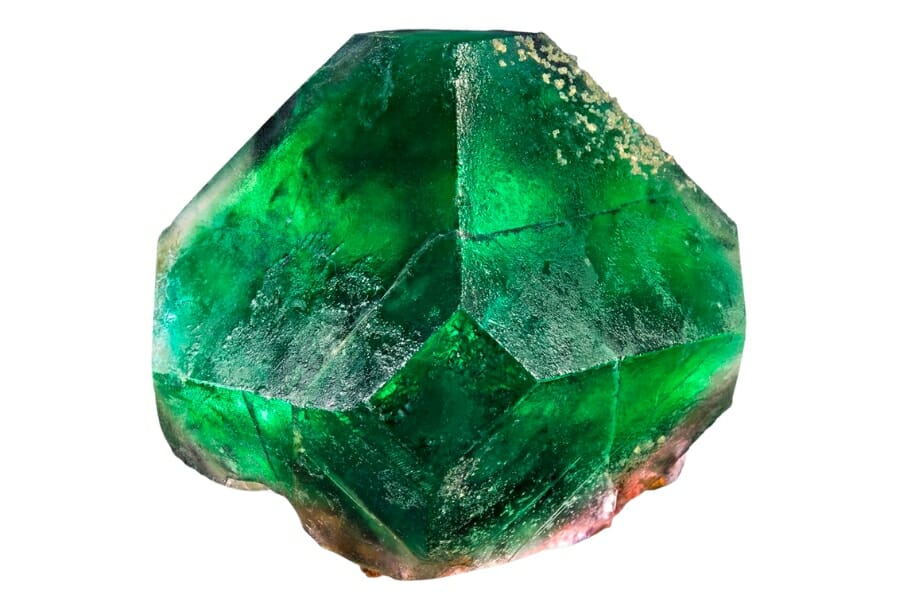 Emeralds are exquisite gemstones renowned for their captivating green hue and timeless beauty. Belonging to the beryl mineral family, they are treasured for their rarity, vibrant color, and exceptional clarity. Emeralds have been highly prized throughout history, adorning the jewelry of royalty and the elite.
In North Carolina, Emerald holds a special place as it is the state gemstone, symbolizing our state's rich geological heritage and natural beauty. And the specimens found here are truly breathtaking.
Crabtree Emerald Mine is our favorite place to look for Emerald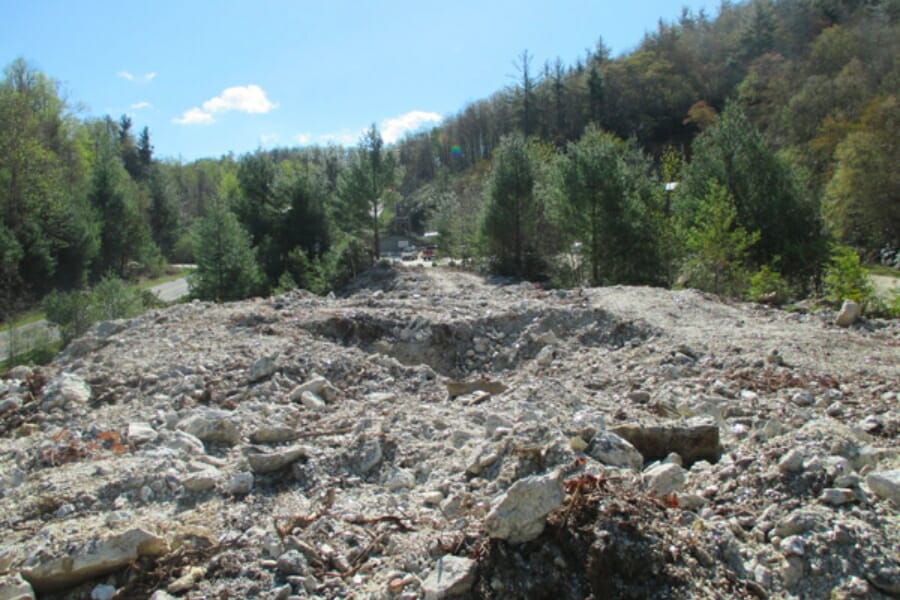 Crabtree Emerald Mine is a renowned destination for rockhounds and gem enthusiasts seeking the thrill of finding Emeralds. This historic mine, located near Little Switzerland, offers a unique opportunity to search for these precious gemstones in a picturesque setting.
When you go here, you can immerse in the experience of prospecting for Emeralds. With the necessary tools and equipment, you can sift through the soil and gravel, carefully examining each find to uncover a glimmering Emerald treasure. The mine's knowledgeable staff is on hand to guide and educate visitors, offering insights into the history, geology, and techniques of Emerald hunting.
Other good options to find Emerald
Area mines and gravels of Hiddenite
Stice Shoal Lake Dam
Emerald Hollow Mine
Elijah Mountain Gem Mine
Public Rockhounding Options For Kids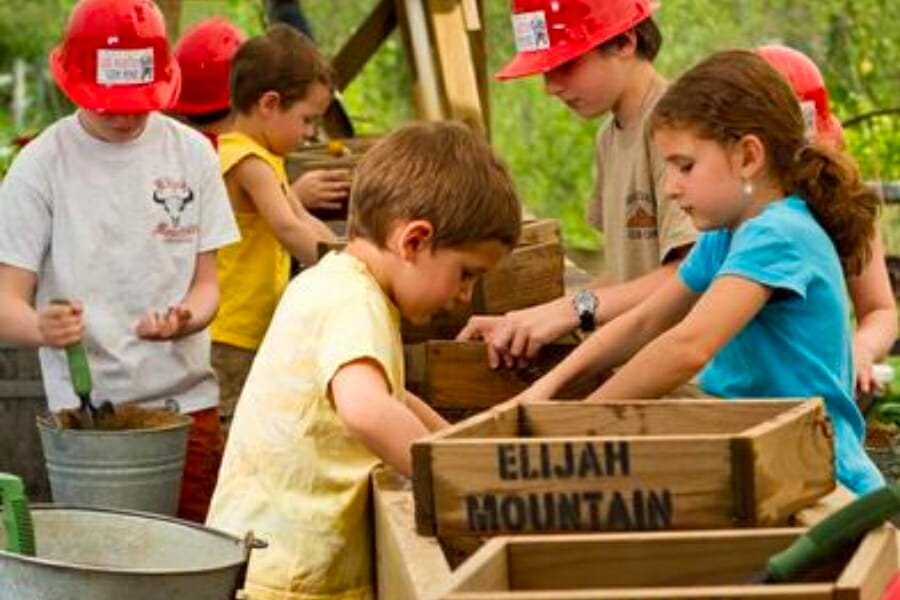 If you plan on going rockhounding with children, it's important to note that some locations that we shared above may be challenging for young rockhounds. However, there are plenty of family-friendly rockhounding sites in North Carolina that provide a great opportunity to ignite a passion for the hobby in children.
Below are some of the most popular ones that you can visit:
North Carolina Rockhounding Clubs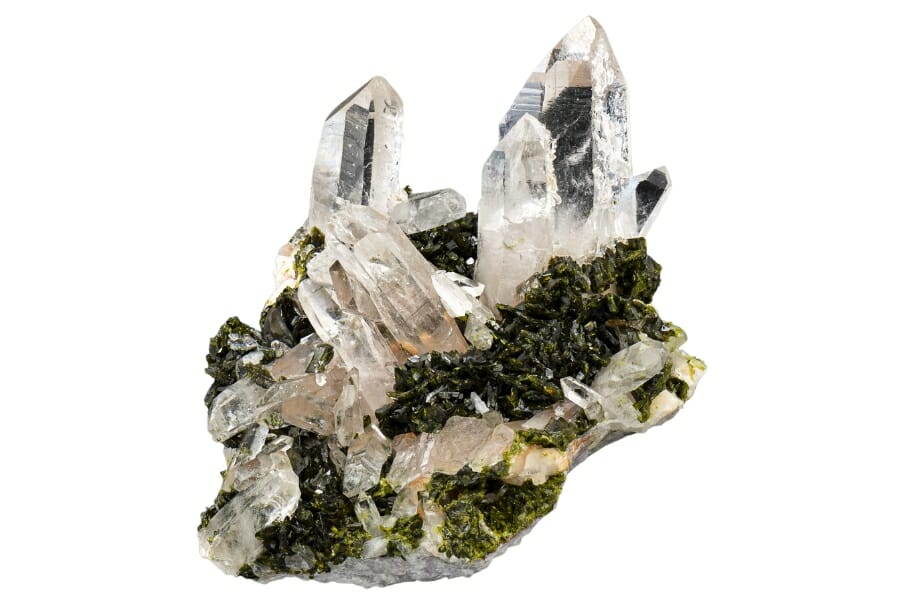 Rockhounding clubs serve as fantastic resources and communities for both newbies and experienced collectors, offering a wealth of benefits that enhance the rockhounding experience. This is especially true for those who join rockhounding clubs in North Carolina, where the vibrant community of enthusiasts provides a unique platform for learning, sharing, and exploring our state's rich geological wonders.
Members of rockhounding clubs here gain access to firsthand information about the best rockhounding sites, ensuring that they can explore the most promising locations. The club's network can also provide insights into the local geology, mineralogy, and any regulatory information specific to North Carolina, which can enhance their rockhounding experience and ensure adherence to rules and guidelines.
Rockhounding clubs in North Carolina worth checking out
North Carolina Rockhounding Laws And Regulations
Rockhounding is legal in North Carolina if you respect and abide by all our local and state laws regarding rock and mineral collection. The North Carolina Department of Environmental Quality (DEQ) is responsible for regulating rockhounding activities to ensure the preservation of natural resources and the environment.
To engage in responsible rockhounding, you should familiarize yourself with the specific regulations and restrictions that apply to your desired collecting sites. Some areas may have restrictions on the type and quantity of rocks and minerals that can be collected, as well as guidelines on excavation methods.
It's advisable to contact the DEQ or local authorities to obtain up-to-date information and permits, if required, before embarking on any rockhounding excursions.
The Best Rock And Mineral Shops In North Carolina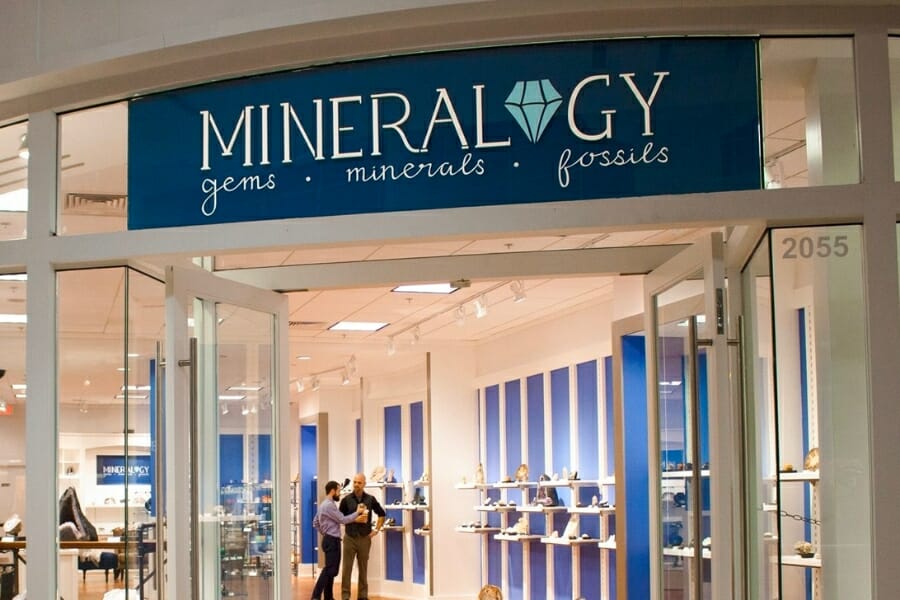 Searching for specific rocks and minerals in their natural environment can be challenging and time-consuming, especially if you're seeking rare or specific specimens. Luckily, North Carolina is home to a plethora of exceptional rock and mineral shops that cater to individuals who want to expand their collection without the need for extensive fieldwork.
Below are some of our reputable rock and mineral shops here:
Additional Rockhounding Places In Nearby States
If you want to extend your rockhounding adventure to nearby states, check out the following guides that we prepared for you:
If you have any recommendations that we haven't covered yet, please leave them in the comments below!