Alabama offers many fantastic options that guarantee an exciting and fruitful experience. From stunning gemstones to ancient fossils, our state has it all. Whether you're a seasoned collector or a curious beginner, there's something here to satisfy everyone's rockhounding cravings.
The state is known for its beautiful agates, mesmerizing geodes, and even the occasional sparkling diamond. With its rich geological history, Alabama offers a treasure trove of hidden gems waiting to be discovered. The thrill of unearthing a perfectly formed crystal or a rare mineral specimen is an experience that every rockhound cherishes.
Moreover, Alabama provides numerous accessible and productive rockhounding sites throughout the state. From the rocky outcrops of the Appalachian Mountains to the banks of the Tennessee River, there are plenty of places to explore. Whether you prefer solo adventures or joining fellow rockhounding enthusiasts, Alabama offers ample opportunities for a successful and enjoyable experience!
How We FoundThe Best Places For Rockhounding in Alabama
We spent a lot of time putting together the list of which of the many options for Alabama rockhounding we were going to recommend. We wanted to have a nice variety of locations for experienced and novice rockhounds in a variety of settings. Here are the main factors we used when determining the recommendations we set out :
The extensive local experience and understanding of our team
Input from multiple local rockhounds and rockhound groups
The accessibility of the various locations
Safety and potential hazards when collecting
Private and public locations
A desire to include locations for both experienced rockhounds and those who are just starting out
Using these weights we think we've put together the best list out there for those who love finding new rocks, gems, and minerals for our collections!

What You Can Find Rockhounding In Alabama
Due to its immense diversity, we couldn't identify every rock and mineral that Alabama might contain. Rock hunters typically search for the more frequent and uncommon species listed below throughout the state.
Rare rocks and minerals found in Alabama
More common desirable rocks, minerals, and gems found here
In-depth guides to finding specific types of rocks in Alabama
If you're looking for something specific, you can browse the many guides we've written to help you locate particular specimens.
More than 3,000 breathtaking places are included in our comprehensive list of rock hunter places near you. To learn more about what Alabama has to offer, read this article.
The Best Places To Find Rocks and Minerals in Alabama
We'll talk about some of Alabama's best spots for rock-hounding. Despite having many possibilities, we concentrated on our best picks. You'll undoubtedly like visiting these locations and finding stunning rocks and minerals.
Always Confirm Access and Collection Rules!
Before heading out to any of the locations on our list you need to confirm access requirements and collection rules for both public and private locations.
These requirements are subject to change without notice and may differ from what we state below.
Always get updated information directly from the source ahead of time to ensure responsible rockhounding.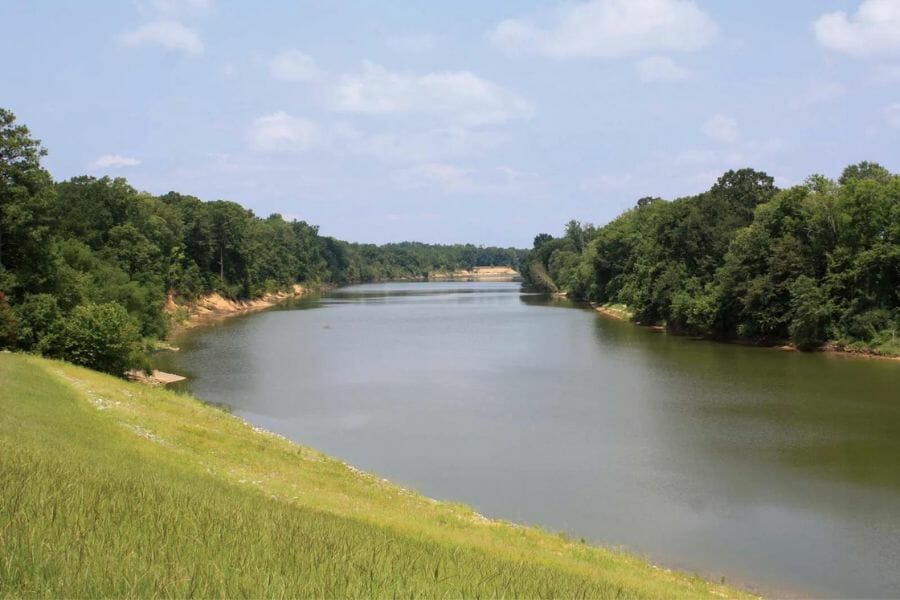 The Black Warrior River is an excellent waterway with natural beauty and rich history. Named after the Native American tribe that once inhabited the area, the Black Warrior River has played a significant role in the region's development. Its origins can be traced back millions of years, and the river has shaped the surrounding geology, making it an enticing destination for rock-hounding enthusiasts.
Aside from its rockhounding appeal, the Black Warrior River offers a serene setting for outdoor enthusiasts. The river's lush surroundings, teeming with wildlife and vegetation, provide a peaceful backdrop as you embark on your rockhounding expedition.
What you can find there
The river's meandering path has carved out unique rock formations, exposing a variety of minerals and fossils along its banks. The river's sedimentary deposits hold countless treasures, including agate, chalcedony, hematite, jasper, kyanite, and quartz, waiting to be discovered by eager rockhounds.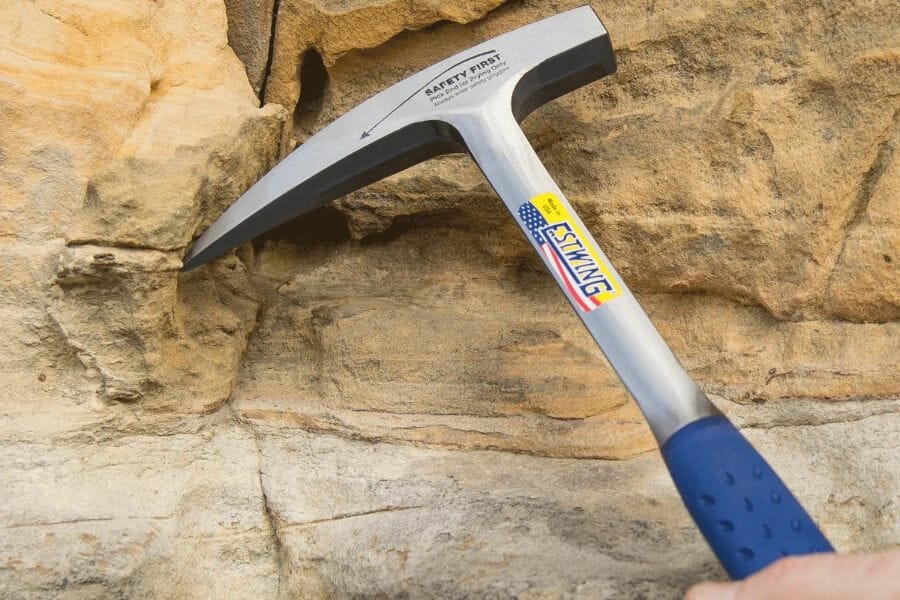 The tools every rockhound will need
When you're out looking for rocks and minerals having the right tools for the job is really going to make or break your success. You don't need a lot for most trips but there are a handful that are critical and will make your life a lot easier.
We get asked a lot about the equipment we use. Over the years we've found a handful of tools that we recommend to both new and experienced rockhounds which we outline in great detail in our complete rockhounding tools and kit guide. These are quality options that also happen to be relatively inexpensive.
Below are the basic tools that make your life so much easier and save you a ton of time. Check out the full guide to see everything we recommend bringing. At a minimum you should have:
1 - Sturdy rock hammer: The Estwing Rock Pick is our standard
2 - Rugged chisels: Try Kendo' 3-piece Chisel Set
3 - Compact shovel: The Koleiya 28-inch shovel works well
4 - Rock screen pan: The Wazakura Soil Sieve Set fits the bill
5 - Eye protection: DeWalt Safety Glasses are cheap and comfortable
6 - Head protection: Malta's Safety Helmet has been our go-to
7 - Jewelers lens with at least 20x magnification: Jarlink's Jewelers Loop is perfect
The rockhounding books that we use most
There are also a few books that have been extremely helpful in the search for gems. These books have great recommendations and tips:
National Audubon Society Field Guide to Rocks and Minerals: North America 
Southeast Treasure Hunter's Gem & Mineral Guide 
Earth Treasures: The Southeastern Quadrant 
We provide links to find these tools on Amazon but some can also be found at your local hardware stores. For more recommendations check out the link to our full tool guide above.
Crooked Creek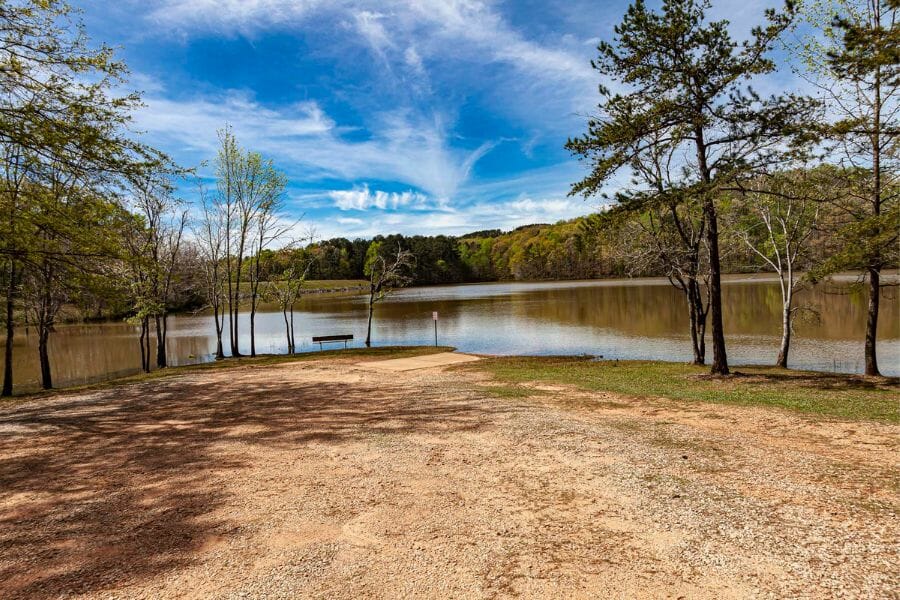 Crooked Creek's geology offers a wide array of rocks and minerals waiting to be discovered. The creek's meandering path has exposed ancient sedimentary rock layers, creating an ideal environment for finding fossils, agates, and other geological wonders.
The accessibility of Crooked Creek, coupled with its unique rock formations, makes it an attractive location for rock-hounding enthusiasts of all levels. Whether you're a seasoned collector or a curious beginner, this creek provides ample opportunities to delve into the fascinating world of rockhounding.
What you can find there
You may come across beautiful beryl, garnet, quartz, and tourmaline crystals as you explore its banks.
The enchanting waterway of Hatchett Creek has a rich history, with evidence of human occupation dating back thousands of years. Named after John Hatchett, an early settler, the creek has served as a vital resource for the surrounding communities.
Hatchett Creek provides a picturesque backdrop for outdoor exploration. Surrounded by lush forests and scenic landscapes, the creek offers a serene and immersive experience. The peaceful ambiance, accompanied by the gentle water flow, invites rockhounds to connect with nature while indulging in their passion for collecting rocks and minerals.
What you can find there
Hatchett Creek is renowned for its colorful azurites and malachites, offering a delightful range of finds for rock-hounding enthusiasts.
Originally built in the early 1920s, Lake Martin was created by damming the Tallapoosa River. The lake's construction resulted in the submergence of surrounding forests and the formation of numerous islands, which now provide a unique opportunity for rockhounding adventures.
Lake Martin's islands and shorelines are home to diverse geological formations and hidden treasures. Various rocks, minerals, and fossils become exposed as the water recedes or during low tide periods, making it an excellent place for rockhounding.
Whether you prefer combing the shorelines or exploring the islands, the lake's constantly changing landscape creates an exciting and rewarding experience for rock-hounding enthusiasts.
What you can find there
Lake Martin offers a chance to uncover natural geological wonders, including quartz crystals.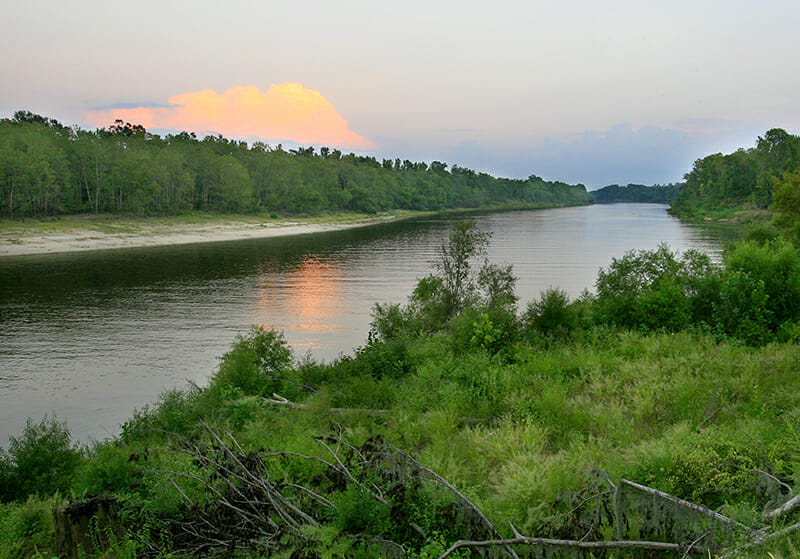 The Tombigbee River's geological formations provide a rich canvas for rockhounding adventures. As the river winds through the state, it exposes various rocks, minerals, and fossils along its shores and sedimentary deposits.
The accessibility of the river's banks and sandbars, coupled with its ever-changing water levels, make it an excellent place to search for unique specimens. The surrounding wildlife and diverse ecosystem create a peaceful and immersive environment, enhancing the overall rockhounding experience.
What you can find there
The river holds a treasure trove of hidden gems for rockhounding enthusiasts, like agates and chalcedony.
Our Other Favorite Spots Around Alabama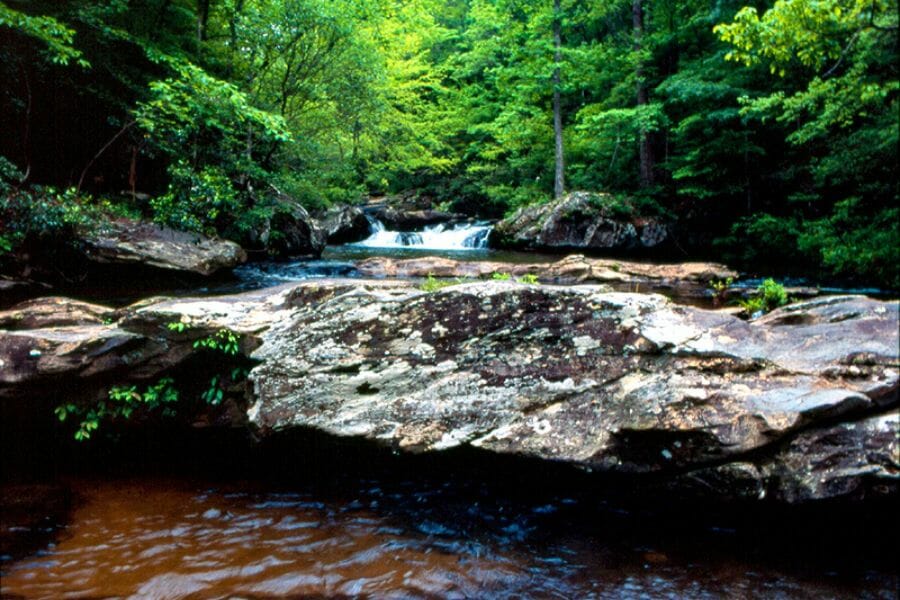 Alabama is home to many beautiful and uncommon rocks and minerals. To find specimens other than the ones mentioned, go through the options below.
Rockhounding Sites in Northern Alabama
Northern Alabama is a haven for rockhounds, offering a wealth of geological wonders waiting to be discovered. This region boasts a diverse landscape shaped by ancient geological processes, making it a prime destination for rock-hounding enthusiasts.
| | |
| --- | --- |
| Location | Minerals & Rocks |
| Holly Pond | Agate |
| Weiss Reservoir | Calcite, Fluorite |
| Lowe Farm | Amethyst |
| M&G Mine | Garnet, Kyanite, Smoky Quartz |
| Delta Mine | Beryl, Kyanite, Tourmaline |
| Talladega Creek | Beryl, Tourmaline |
| Hobbs Farm | Turquoise |
| Dyne Creek | Kyanite |
| Jim Flemming Mine | Beryl, Garnet, Kyanite, Quartz, Tourmaline |
| Morris Mica Mine | Garnet, Kyanite, Quartz |
| Creens Creek Valley | Barite |
| Jacobs Mountain | Agate, Jasper |
| Great Southern Mine | Aquamarine, Beryl, Garnet, Tourmaline |
| Liberty Mine | Garnet, Tourmaline |
Rockhounding Sites in Southern Alabama
Southern Alabama offers a rockhounding paradise for enthusiasts seeking unique geological treasures. This region's geological diversity, influenced by the Gulf Coast and ancient formations, makes it an exceptional destination for rockhounding adventures.
From the banks of Mobile Bay to the sandy shores of the Gulf of Mexico, Southern Alabama presents an abundance of rocks and minerals to discover. The coastal influences and rich sedimentary deposits create a fertile ground for exploration, making Southern Alabama an exciting and rewarding destination for rockhounding enthusiasts.
| | |
| --- | --- |
| Location | Minerals & Rocks |
| Clarke County banks and road cuts especially around Saltipa | Septarian Nodules |
| Tallahatta Formation | Agate |
Rockhounding Sites in Eastern Alabama
Eastern Alabama offers various rocks, minerals, and fossils for enthusiasts. The remnants of ancient sea beds and geological formations provide a treasure trove of hidden gems waiting to be unearthed.
Whether exploring the banks of the Coosa River, sifting through gravels, or venturing into the forests, Eastern Alabama presents an exciting opportunity for rockhounding enthusiasts to immerse themselves in the fascinating world of geology and unearth remarkable specimens.
| | |
| --- | --- |
| Location | Minerals & Rocks |
| Pond Mine | Garnet, Moonstone, Quartz, Tourmaline |
| Jack's Creek | Epidote, Garnet, Lepidolite, Topaz, Tourmaline |
| Camp Hill | Garnet, Smoky Quartz, Tourmaline |
| Sandy Creek | Sapphire |
| Wind Creek | Epidote Quartz |
Rockhounding Sites in Western Alabama
Western Alabama is a beautiful region with many opportunities for rockhounding enthusiasts. With its diverse geology and fascinating landscapes, this area offers a rich tapestry of rocks, minerals, and fossils.
This region provides an exciting and rewarding experience for rockhounding enthusiasts, inviting them to uncover the hidden geological wonders beneath its surface.
| | |
| --- | --- |
| Location | Minerals & Rocks |
| Cahaba River | Calcite, Celestite, Fluorite |
| Mulberry Creek | Gold, Kyanite |
Public Rockhounding Options For Kids
Even though it can be challenging to find many great rockhounding locations that are fit for kids, they may still find rockhounding to be a fun activity. Many unusual rockhounding places are also fantastic for drawing kids into the sport.
The entire family will enjoy exploring more accessible landscape and finding specimens in these areas.
Alabama Rockhounding Clubs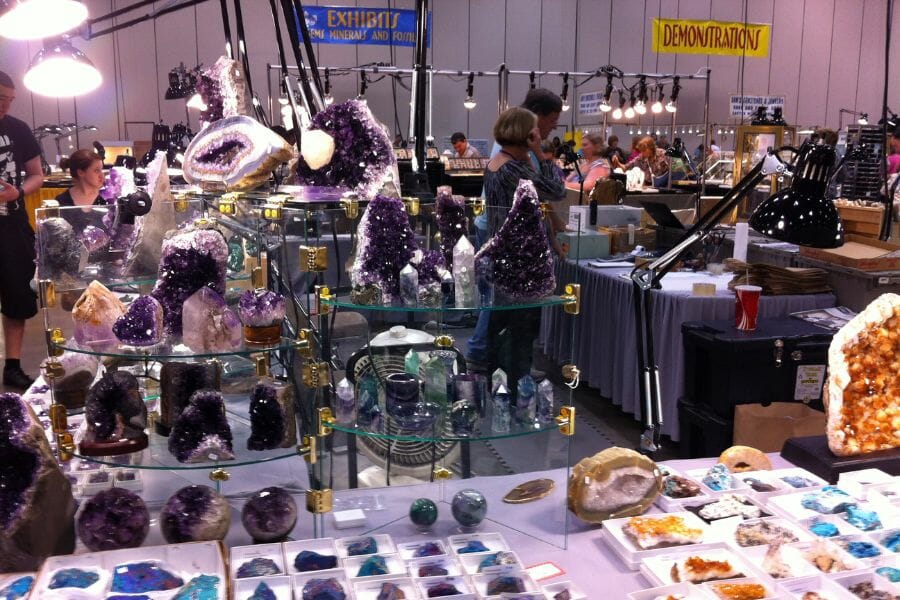 Rockhounding clubs provide invaluable opportunities for newcomers and seasoned collectors in the world of rockhounding. These clubs offer beginners a supportive and educational environment, guiding rock identification and collecting techniques, and the chance to learn from experienced members.
Club activities such as field trips, workshops, and guest speakers offer unique experiences and access to exclusive collecting sites, enriching the rockhounding journey for all members. The sense of community, camaraderie, and collective passion within rockhounding clubs make them an essential resource for individuals looking to enhance their skills, expand their collections, and foster lifelong connections with fellow rockhounds.
Rockhounding clubs in Alabama worth checking out
Alabama Rockhounding Laws And Regulations
Rockhounding and collecting rocks, minerals, and fossils in Alabama is a legal and enjoyable activity for enthusiasts. However, it's essential to adhere to all local and state laws governing collection to ensure the sustainability of natural resources and respect for landowners' rights.
Alabama law allows the collecting of rocks, minerals, and fossils on public lands, such as state parks, national forests, and designated rock-hounding sites. It's crucial to familiarize oneself with specific regulations and guidelines of the explored area, particularly the ones governed by the Alabama Department of Conservation and Natural Resources (ADCNR).
Some locations may have restrictions on digging, using tools, or removing certain specimens, so it is vital to research and obtain the necessary permits or permissions where required.
Our Favorite Rock And Mineral Shops In Alabama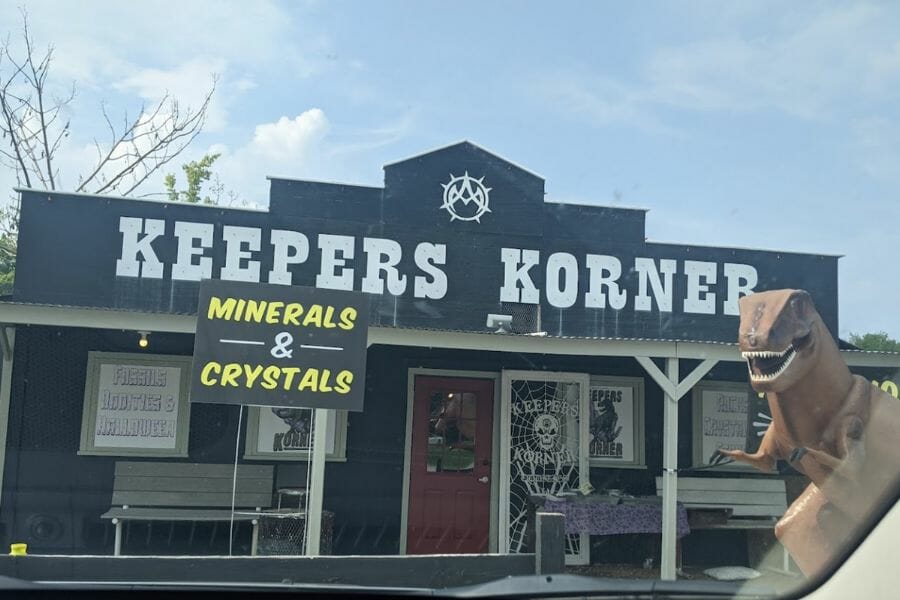 While some people enjoy going on scouting trips to find rocks and minerals, others prefer the convenience of buying specimens from reputable rock shops. The top Alabama rock and mineral shops below carry many unique, premium specimens.
Additional places to rockhound in nearby states
When you've gotten the chance to explore every location on the list we've suggested above, use the recommendations we've made below to rockhound in neighboring states if you're also planning to travel there:
If you have any recommendations we haven't covered, please leave them in the comments below!