If you're in South Carolina, then you should know by now that our state is one of the ultimate destinations for rockhounds in the country! From the rolling Appalachian Mountains to the stunning coastal plains, it boasts a diverse geological landscape that is sure to satisfy every rockhound's cravings.
What makes South Carolina truly special is its remarkable variety of rocks and minerals. When you visit here, you'll be delighted to find a kaleidoscope of specimens, including its iconic state rock, Blue Granite, and its highly sought-after state gemstone, Amethyst.
With such a rich array of rocks and minerals to discover, our state promises a truly captivating experience for you. So what are you waiting for? Read on this helpful guide before you don your favorite hiking boots, grab your trusty rock hammer, and embark on an adventure through this geologist's paradise!
How We Found The Best Places For Rockhounding in South Carolina
We spent a lot of time putting together the list of which of the many options for South Carolina rockhounding we were going to recommend. We wanted to have a nice variety of locations for experienced and novice rockhounds in a variety of settings. Here are the main factors we used when determining the recommendations we set out :
The extensive local experience and understanding of our team
Input from multiple local rockhounds and rockhound groups
The accessibility of the various locations
Safety and potential hazards when collecting
Private and public locations
A desire to include locations for both experienced rockhounds and those who are just starting out
Using these weights we think we've put together the best list out there for those who love finding new rocks, gems, and minerals for our collections!

What You Can Find Rockhounding In South Carolina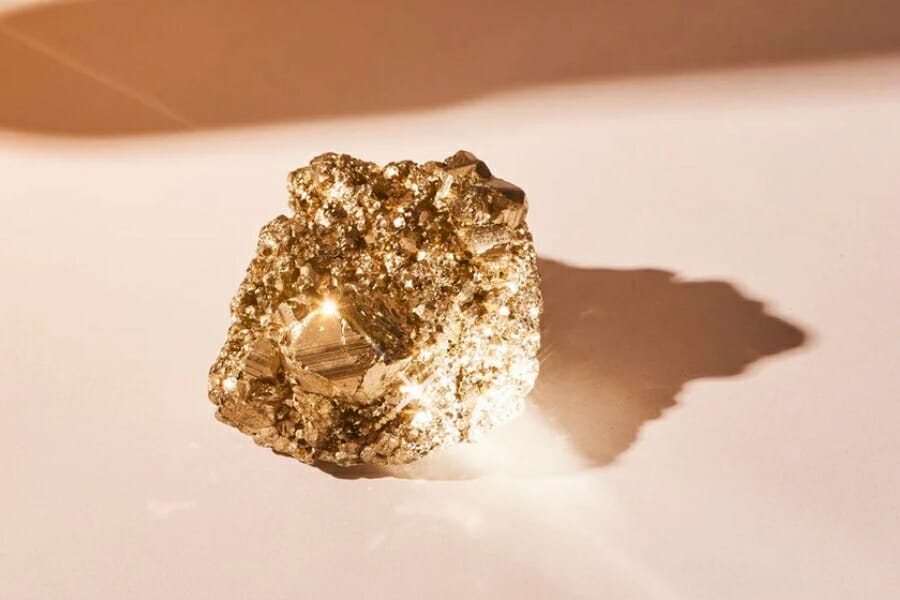 South Carolina beckons with a wealth of geological wonders. It offers a diverse range of rocks and minerals that hide in its landscape that's rich in geological diversity. With each step, you may stumble upon hidden treasures, vibrant specimens, and fascinating formations that tell stories millions of years in the making.
Here's a list of some of our state's most sought-after natural wonders:
Rare rocks and minerals found in South Carolina
More common desirable rocks, minerals, and gems found here
In-depth guides to finding specific types of rocks in South Carolina
If you're intent on finding specific types of rock and minerals in South Carolina, we've created several guides that you should check out. These guides will point you to the right places to look for them:
We also came up with a full guide to rock hunting places near you, covering over 3,000 sites in different parts of the US. But if you're keen on information focused on the rockhounding opportunities in South Carolina, continue reading here.
The Best Places To Find Rocks and Minerals in South Carolina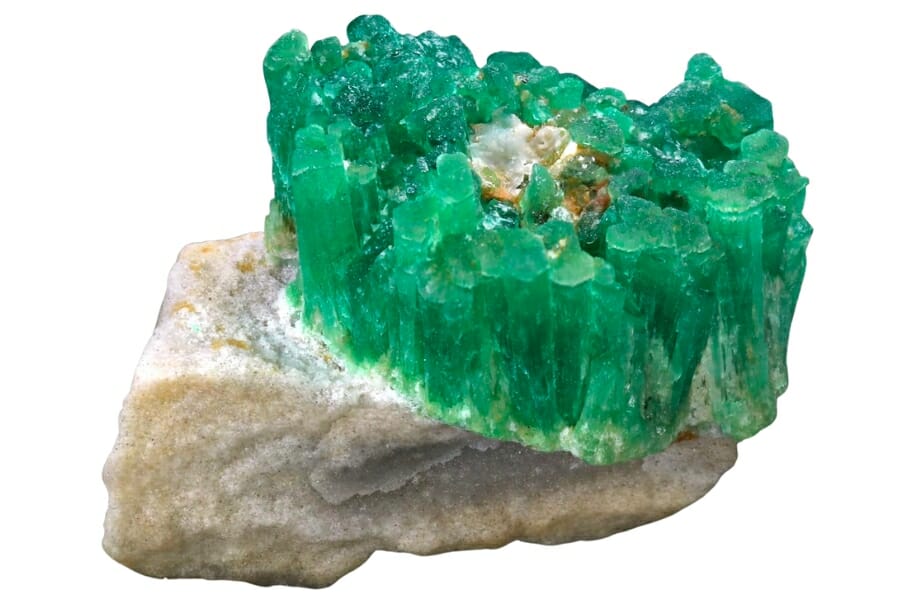 With the overwhelming number of authentic South Carolina rockhounding sites, it can be difficult to choose the best ones to visit. So we selected our favorite sites based on our experience, research, and recommendations of other rockhound who have visited here.
Always Confirm Access and Collection Rules!
Before heading out to any of the locations on our list you need to confirm access requirements and collection rules for both public and private locations.
These requirements are subject to change without notice and may differ from what we state below.
Always get updated information directly from the source ahead of time to ensure responsible rockhounding.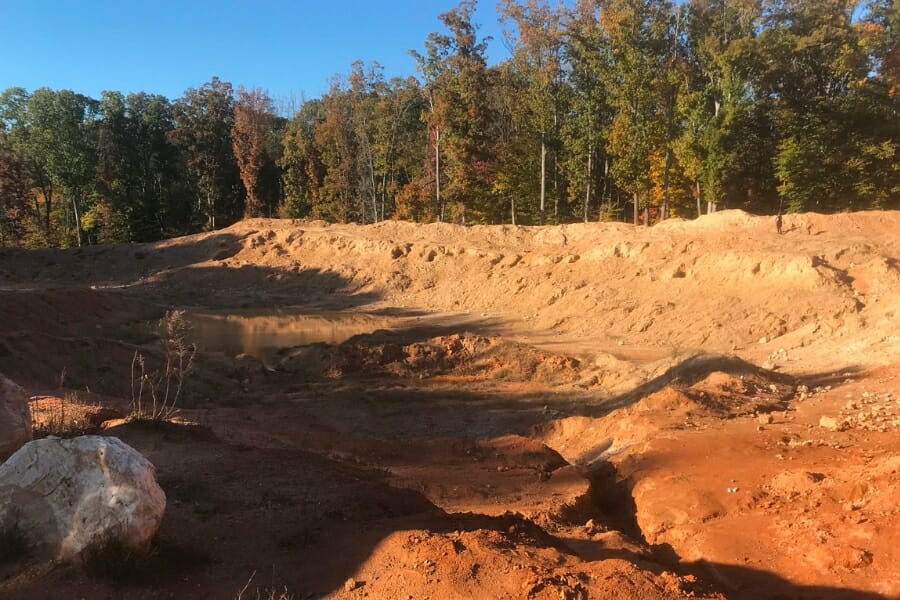 Diamond Hill Mine promises an exciting and rewarding experience for gem and mineral enthusiasts. Situated in Abbeville County, this renowned mine offers the opportunity to dig for a wide range of rocks and minerals.
This mine is particularly famous for its Quartz crystals, which can be found in various sizes and colors. When you go here, you will be provided with tools and equipment necessary for digging, along with the guidance of the mine's operators.
Here, you can engage in hands-on exploration, learn about mineral identification, and uncover hidden rocks and minerals. If this isn't enticing enough, you should know that Diamond Hill Mine is also family-friendly. Open to the public, the site also hosts events and gatherings that foster a sense of community among rockhounds, providing opportunities to share knowledge, stories, and passion for minerals.
What you can find there
You can find amazing specimens of the following rocks and minerals at Diamond Hill Mine: Amethyst, Beryl, Epidote, Garnet, and Clear and Smoky Quartz.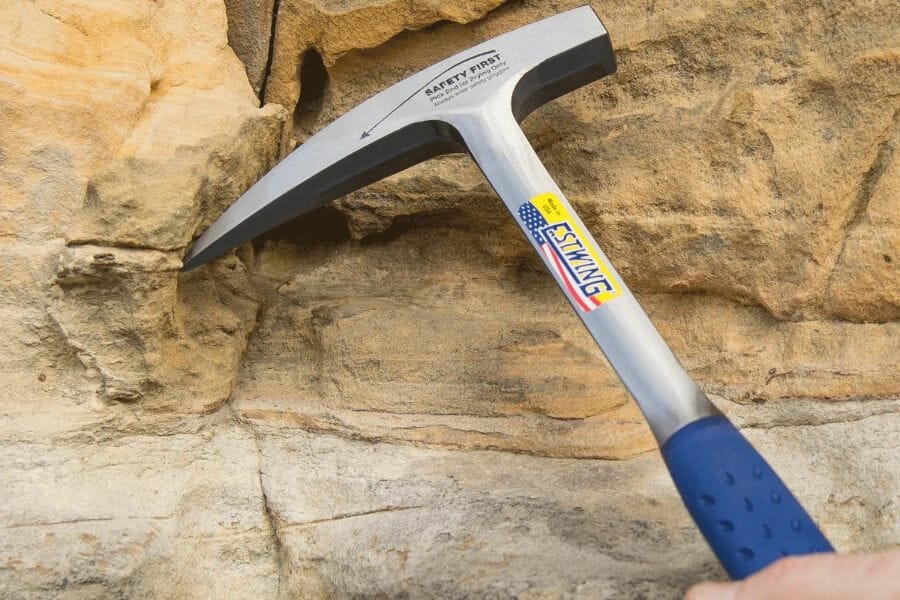 The tools every rockhound will need
When you're out looking for rocks and minerals having the right tools for the job is really going to make or break your success. You don't need a lot for most trips but there are a handful that are critical and will make your life a lot easier.
We get asked a lot about the equipment we use. Over the years we've found a handful of tools that we recommend to both new and experienced rockhounds which we outline in great detail in our complete rockhounding tools and kit guide. These are quality options that also happen to be relatively inexpensive.
Below are the basic tools that make your life so much easier and save you a ton of time. Check out the full guide to see everything we recommend bringing. One quick note, as an Amazon Associate I earn from qualifying purchases but we try very hard to only recommend gear we would use ourselves and often recommend brands you can't find on Amazon.
At a minimum you should have:
1 - Sturdy rock hammer: The Estwing Rock Pick is our standard
2 - Rugged chisels: Try Kendo' 3-piece Chisel Set
3 - Compact shovel: The Koleiya 28-inch shovel works well
4 - Rock screen pan: The Wazakura Soil Sieve Set fits the bill
5 - Eye protection: DeWalt Safety Glasses are cheap and comfortable
6 - Head protection: Malta's Safety Helmet has been our go-to
7 - Jewelers lens with at least 20x magnification: Jarlink's Jewelers Loop is perfect
The rockhounding books that we use most
There are also a few books that have been extremely helpful in the search for gems. These books have great recommendations and tips:
National Audubon Society Field Guide to Rocks and Minerals: North America 
Southeast Treasure Hunter's Gem & Mineral Guide 
Earth Treasures: The Southeastern Quadrant 
We provide links to find these tools on Amazon but some can also be found at your local hardware stores. For more recommendations check out the link to our full tool guide above.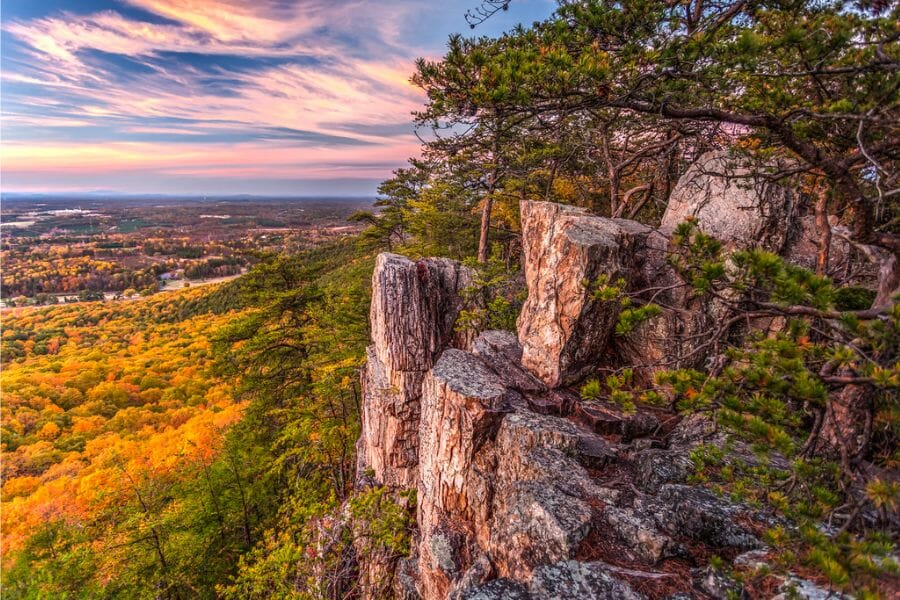 Aside from being a remarkable rockhounding site, Henry's Knob also offers a unique glimpse into our state's geological heritage. Situated in the Piedmont region, this prominent hill showcases an array of rocks and minerals and presents an excellent opportunity to collect fascinating specimens.
The hill was once the site of extensive iron mining operations, leaving behind a tapestry of minerals and rock formations for exploration. You can discover remnants of different minerals embedded within the landscape. Truly, Henry's Knob offers a unique opportunity to uncover geological treasures while also delving into our industrial past.
Aside from this, the accessibility and educational value of Henry's Knob make it an ideal destination for rockhounds. The hill features well-maintained trails that lead visitors to different areas of geological interest. Along the way, interpretive signs and information panels provide insights into the site's geology and history, enhancing your overall rockhounding experience.
What you can find there
Henry's Knob is blessed with different natural treasures, such as Andalusite, gem-quality Kyanite, Lazulite, Staurolite, and even Tourmaline.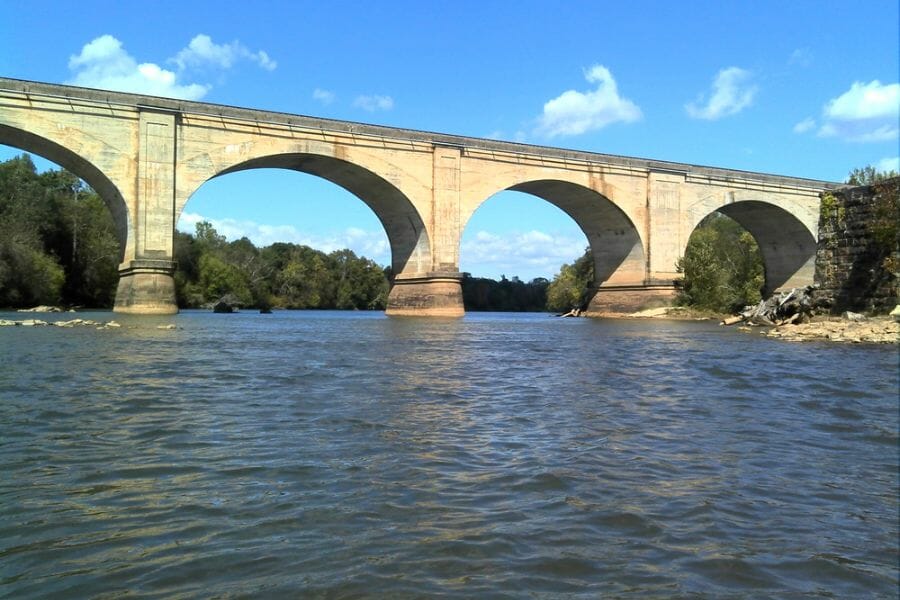 Located in the eastern part of our state, Bowens River is a scenic waterway that boasts of a rich geological history that has resulted in a diverse array of rocks and minerals. The river's banks and surrounding areas are teeming with opportunities to find fascinating specimens, making it a must-visit site for rockhounds.
The geological diversity of Bowens River makes it a rockhound's haven. The river cuts through ancient rock formations, exposing a variety of rocks and minerals and presenting a wide range of possibilities for rockhounds to explore and collect. Its scenic beauty adds to the allure, providing a picturesque backdrop for rockhounding adventures.
Best of all, Bowens River offers easy access and ample opportunities for exploration. Whether you prefer sifting through riverbeds, examining exposed rock outcrops, or combing the shoreline for hidden treasures, this site has something for rockhounds of different levels.
What you can find there
If you explore Bowens River and its tributaries, you can find stunning samples of different rocks and minerals, such as Amethyst, Corundum, Emerald, Garnet, Quartz, Rutile, Sapphire, Topaz, and Zircon.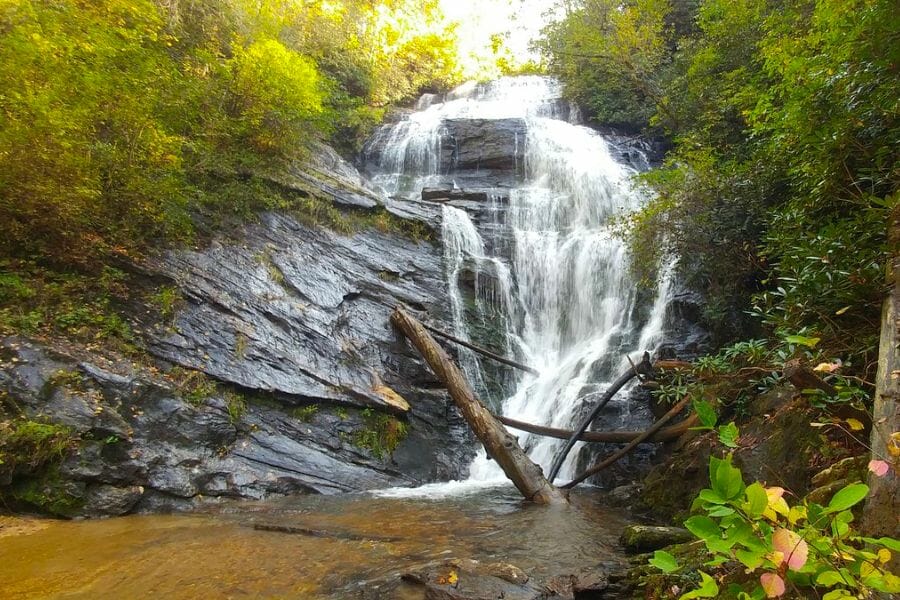 Another exceptional rockhounding site in South Carolina is King's Creek, located in the western part. This picturesque creek meanders through stunning landscapes, providing ample opportunities for rockhounds to explore and collect fascinating rocks, minerals, and even fossils.
Its rich mineral diversity makes King's Creek worth the visit. As you traverse the creek's banks and sift through the gravel, you may stumble upon beautiful crystals, intriguing rock formations, and even fossilized remains from prehistoric times. Surrounded by lush forests and tranquil water, the creek provides a serene and scenic setting for exploration.
More importantly, the variety of specimens found at King's Creek offers a thrilling opportunity, not only to expand your collection, but to also learn more about the geological history of the region.
What you can find there
Explore the area mines of King's Creek where you can find a variety of rocks and minerals like Barite, Chalcopyrite, Galena, Kyanite, Pyrite, Quartz, and Sillimanite.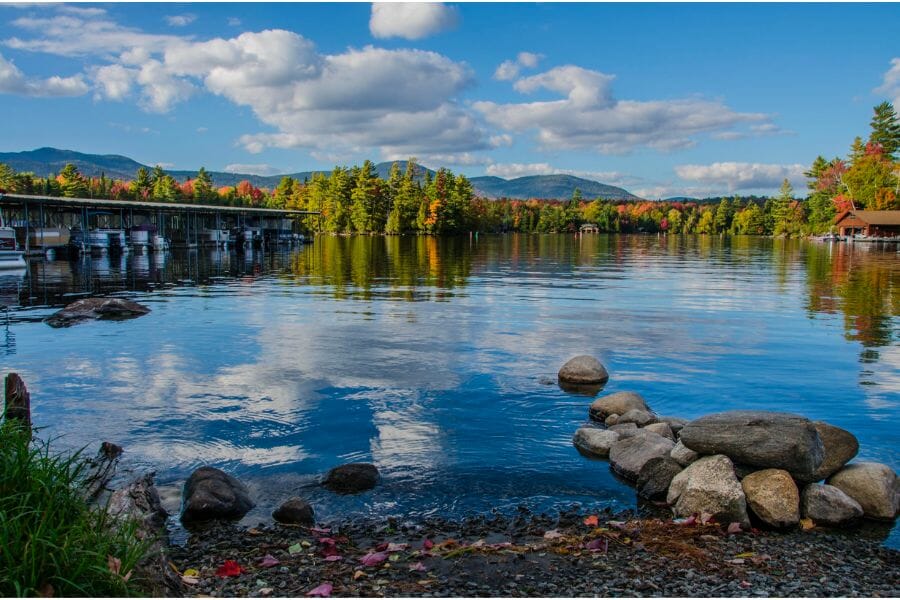 Paris Mountain State Park is a captivating destination that offers a wealth of opportunities for exploration and discovery of fascinating geological treasures. Nestled in the rolling hills of the Piedmont region, this picturesque park showcases an array of rocks and minerals.
Despite its diverse terrain, Paris Mountain State Park has accessible and well-maintained trails, making it an ideal location for rockhounding adventures. The park sits atop an ancient mountain range, providing a rich foundation for a variety of rocks and minerals.
As you explore the park's trails, you may come across intriguing specimens already. Additionally, Paris Mountain State Park offers a family-friendly and accessible environment for rockhounding enthusiasts of all ages and experience levels. Its tranquil setting and educational opportunities make it a fantastic destination for rockhounding.
What you can find there
This state park is rich in natural wonders, including Beryl, Garnet, Clear and Smoky Quartz, Sillimanite, and Tourmaline.
Our Other Favorite Spots Around South Carolina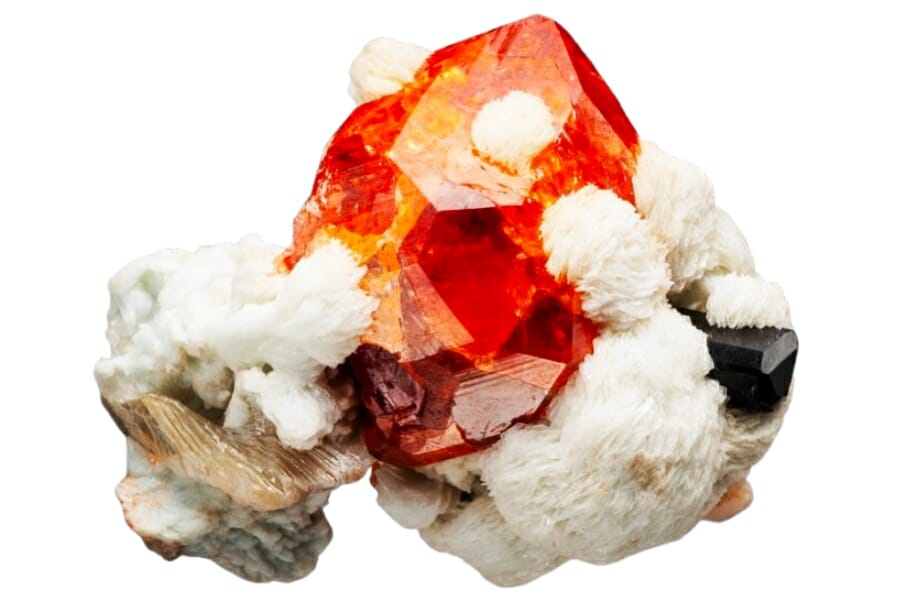 Since there's a plethora of rockhounding sites in South Carolina, we ought to share you the other authentic spots that you can visit here. We've listed them down by region so that you can easily refer to this guide while creating your itinerary of visit here.
Rockhounding sites in Northern South Carolina
The northern region of South Carolina is a dream come true for rockhounds, offering a myriad of opportunities to explore and discover fascinating rocks and minerals. From the foothills of the Blue Ridge Mountains to the banks of the Catawba River, this area provides a rich tapestry of geological wonders.
| | |
| --- | --- |
| Location | Minerals & Rocks |
| Cowpens Mica Mine | Garnet, Quartz, Tourmaline |
| Spartanburg Countywide | Diamond |
| Broad River and its tributaries | Emerald, Sapphire, Topaz, Zircon |
| Andrew Moore property | Emerald, Sapphire |
| Slopes of Worth Mountain | Andalusite, Kyanite, Lazulite, Staurolite |
| Magnolia Mine | Gold, Malachite |
| Union Countywide | Gold |
| Nott Mine | Copper, Gold, Pyrite |
Rockhounding sites in Northwestern South Carolina
An area of our state that's also offers an abundance of geological wonders is its northwestern region. It's characterized by its unique geological formations, ranging from ancient mountain ranges to rolling hills and valleys. The diversity of rocks and minerals here ensures that rockhounds will have an exhilarating experience.
| | |
| --- | --- |
| Location | Minerals & Rocks |
| Leroy property | Sillimanite |
| Davis prospect | Feldspar, Garnet, Quartz, Tourmaline |
| McConnell Mica prospect | Aquamarine, Beryl, Emerald, Garnet, Limonite, Pyrite, Quartz, Topaz, Tourmaline |
| W.T. Sherard property | Amethyst |
| Thomas property | Corundum, Garnet, Quartz, Zircon |
| Willimon Mine | Amazonite, Feldspar, Kyanite, Rutile, Xenotime |
Rockhounding sites in Eastern South Carolina
Although there's fairly limited rockhounding spots in Eastern South Carolina, this region can still ignite the excitement of any passionate rockhound. While the landscape of this area is predominantly characterized by flat plains and coastal areas, there are hidden pockets of geological treasures here.
| | |
| --- | --- |
| Location | Minerals & Rocks |
| Florence Countywide | Petrified Wood |
| 4 miles south of Blenheim | Fossils |
| South along Bellyache Creek | Petrified Wood |
| Seaside beach gravels of Myrtle Beach | Agate, Chalcedony, Fossils, Quartz |
Rockhounding sites in Western South Carolina
South Carolina's western region is known for its diverse and picturesque landscapes, encompassing parts of the Blue Ridge Mountains and the Piedmont Plateau. The combination of ancient mountain ranges, rolling hills, and meandering rivers creates an ideal environment for a variety of rocks and minerals, making this area a paradise for rockhounds.
| | |
| --- | --- |
| Location | Minerals & Rocks |
| Ellis-Jones Amethyst Mine | Amethyst |
| Area streambeds of McCormick | Gold |
| Log Creek along road in Edgefield | Serpentine |
| Perry Gravel Company | Amethyst, Chalcedony, Ilmenite, Monzanite, Quartz (Blue, Rutilated, Smoky), Rutile, Staurolite, Zircon |
| Gravel pits in Clearwater | Amethyst, Chalcedony, Ilmenite, Monzanite, Quartz (Rutilated, Smoky), Rutile, Zircon |
| Along the west shore of Lake Greenwood | Unakite |
Rockhounding sites in Central South Carolina
The central area of South Carolina is a hidden gem for rockhounding enthusiasts, offering a unique blend of geology. Characterized by rolling hills, rivers, and diverse landscapes, this region provides an ideal environment for a variety of rocks and minerals. With its accessibility and geological diversity, it presents a promising destination for rockhounds here.
| | |
| --- | --- |
| Location | Minerals & Rocks |
| Tributary of Catawba River near Wateree Reservoir | Quartz (Smoky), Zircon |
| Anderson Quarry | Granite, Kyanite, Pyrite |
| Along the east shore of Lake Murray | Amethyst |
| Prosperity area | Rutile |
| Below dam on both sides of Congaree River | Garnet, Kyanite |
| Dead Mans Cut on the railroad | Corundum, Garnet |
Identifying rocks and minerals may seem overwhelming, but our guides are here to simplify the process:
Public Rockhounding Options For Kids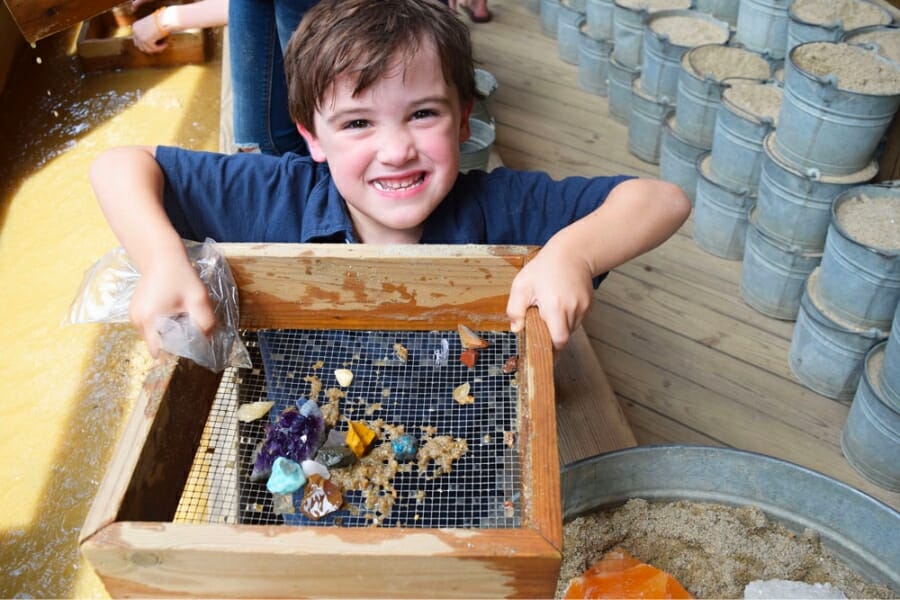 If you're looking to get your children interested in rockhounding, it's worth noting that some of South Carolina's rockhounding sites can be challenging for kids. Rockhounding often involves traversing uneven terrains, navigating rocky areas, and using tools that may require adult supervision.
But the great thing is that there are also family-friendly rockhounding places in our state that can provide an excellent opportunity to nurture kids' interest in geology. Here are some of them:
South Carolina Rockhounding Clubs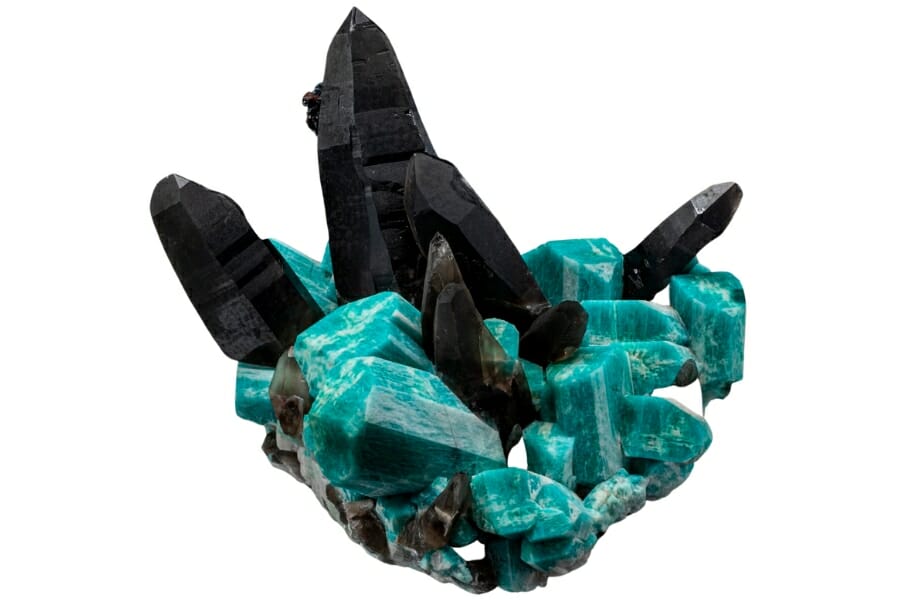 Whether you're a beginner in rockhounding or an experienced collector already, joining rockhounding clubs in South Carolina, in particular, can offer a vibrant community of like-minded individuals who share a passion for the hobby.
Joining one further enhances your experience since rockhounding clubs connect members to local experts, so you can access specific knowledge about the region's geological treasures. These clubs also often organize outings to renowned rockhounding sites in our state, providing opportunities to explore new locations and uncover unique specimens.
Rockhounding clubs in South Carolina worth checking out
South Carolina Rockhounding Laws And Regulations
Rockhounding is a legal activity in South Carolina, but it's important to adhere to all local and state laws governing it. While our state offers ample opportunities for rockhounding, it's crucial to respect the environment and follow regulations to preserve its natural beauty. The South Carolina Department of Natural Resources (SCDNR) is responsible for managing and regulating rockhounding activities here.
To ensure compliance with the laws, you should be familiar with the specific regulations regarding rock and mineral collection in the area that you plan to explore. Some sites may have restrictions or require permits, while others may have guidelines regarding the amount or type of specimens that can be collected.
It's advisable to contact the SCDNR or consult their website for detailed information on the rules and regulations in specific locations. By following the laws and regulations, you can enjoy your hobby responsibly, while preserving the natural resources and geological treasures of South Carolina for future generations to appreciate.
The Best Rock And Mineral Shops In South Carolina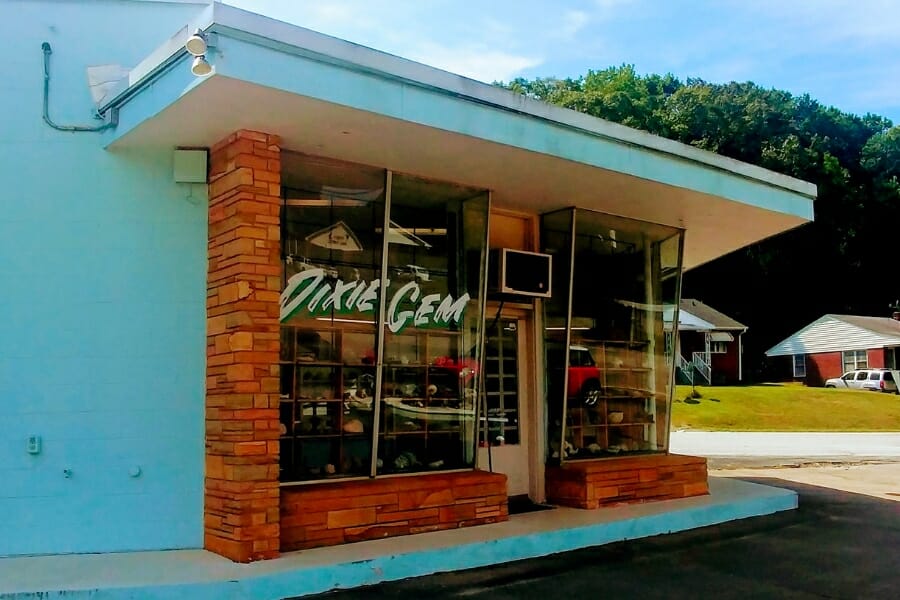 Exploring different places regardless of terrain and collecting rocks and minerals firsthand may not be everyone's cup of tea, but there are still plenty of ways to expand your collection.
Aside from its bountiful rockhounding sites, South Carolina is also home to a variety of exceptional rock and mineral shops, where you can see and buy a curated selection of specimens from around the world. Below are some of these shops:
Additional Rockhounding Places In Nearby States
If you want to extend your rockhounding adventure to nearby states, check out the following guides that we prepared for you:
If you have any recommendations that we haven't covered yet, please leave them in the comments below!