Rockhounding in Florida offers an exciting and rewarding experience for enthusiasts of all levels. With its diverse geology and unique formations, the state presents a treasure trove of opportunities for rockhounds to uncover fascinating specimens. Florida has something for everyone, from fossil hunting along the coast to scouring inland areas for gemstones and crystals.
Whether you're a seasoned rockhound or a curious beginner, the Sunshine State is sure to impress with its variety of collecting sites. One of the significant aspects of rockhounding is the thrill of discovery. There's an indescribable joy in stumbling upon a rare gemstone, an intricately preserved fossil, or a stunning crystal formation.
In Florida, you'll find many collecting locations where such discoveries are possible. The state is filled with surprises, from the renowned agate rocks and petrified wood to the hidden crystal pockets and geodes waiting to be cracked open. With a bit of patience and a keen eye, any rockhound can strike it lucky and uncover something truly remarkable!
How We FoundThe Best Places For Rockhounding in Florida
We spent a lot of time putting together the list of which of the many options for Florida rockhounding we were going to recommend. We wanted to have a nice variety of locations for experienced and novice rockhounds in a variety of settings. Here are the main factors we used when determining the recommendations we set out :
The extensive local experience and understanding of our team
Input from multiple local rockhounds and rockhound groups
The accessibility of the various locations
Safety and potential hazards when collecting
Private and public locations
A desire to include locations for both experienced rockhounds and those who are just starting out
Using these weights we think we've put together the best list out there for those who love finding new rocks, gems, and minerals for our collections!

What You Can Find Rockhounding In Florida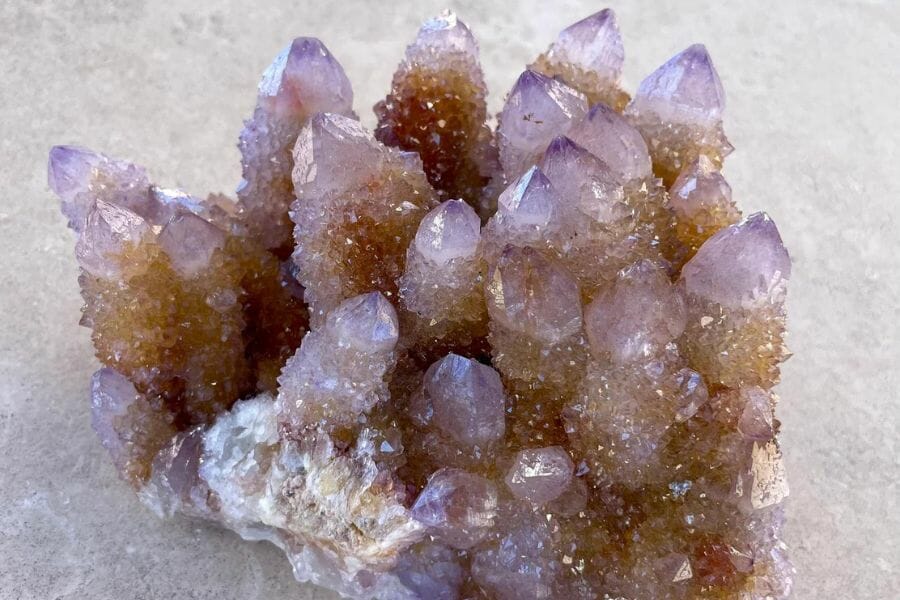 Since Florida's rocks and minerals are so diverse, we could not cover all of them. Most of the famous and uncommon specimens that rockhounds look for in the state include the following:
Rare rocks and minerals found in Florida
More common desirable rocks, minerals, and gems found here
In-depth guides to finding specific types of rocks in Florida
You should also look at the additional guides we've already developed to locate specific specimens if you're seeking something specific.
Our comprehensive guide to rockhounds near you contains more than 3,000 locations nationally. Continue reading for more details on the best places for rockhounding in Florida.
The Best Places To Find Rocks and Minerals in Florida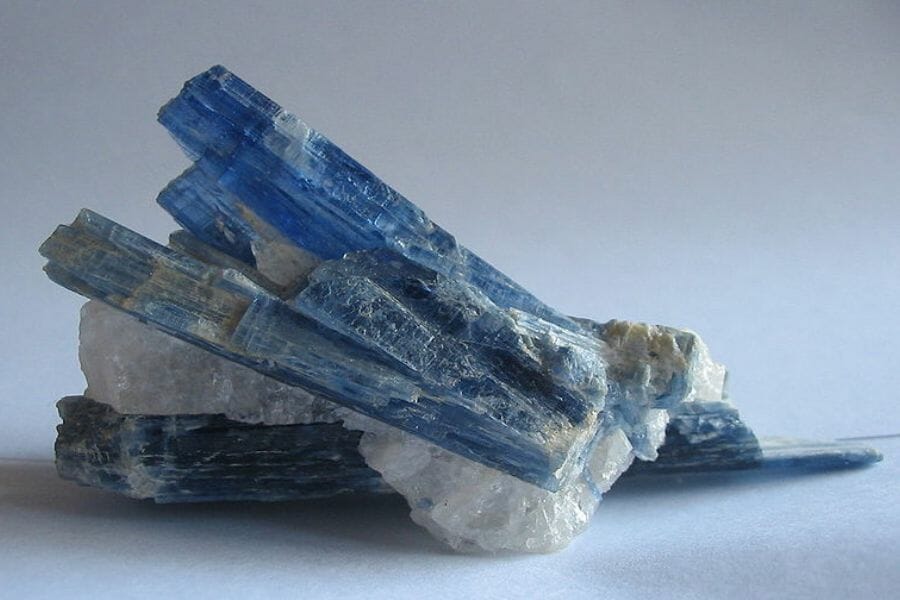 We wanted to include some of our favorite rockhounding spots in Florida to get things started. We considered our best alternatives despite having several options. You could look around these places and find some gorgeous rocks and minerals.
Always Confirm Access and Collection Rules!
Before heading out to any of the locations on our list you need to confirm access requirements and collection rules for both public and private locations.
These requirements are subject to change without notice and may differ from what we state below.
Always get updated information directly from the source ahead of time to ensure responsible rockhounding.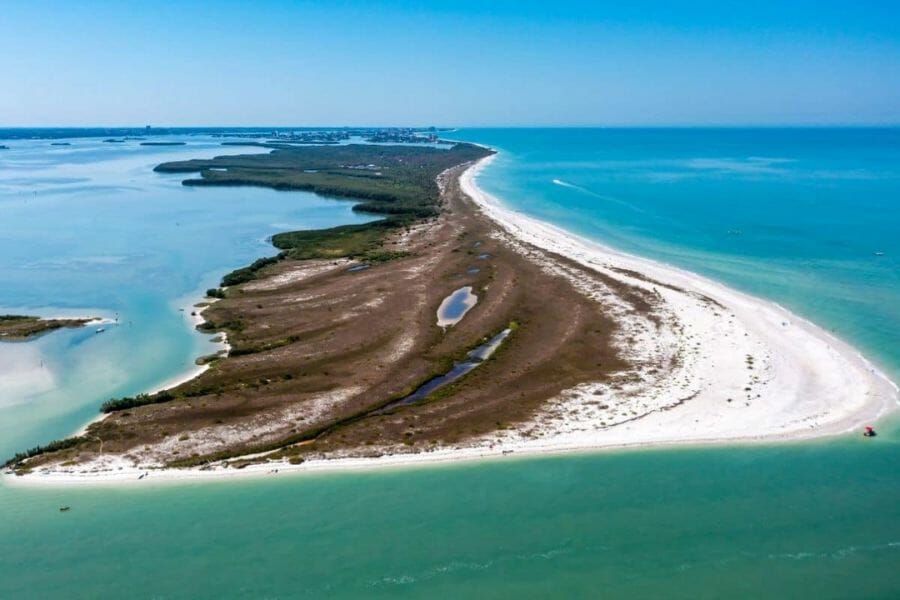 Caladesi Causeway is a picturesque destination with stunning natural beauty and an excellent opportunity for rockhounding enthusiasts. Historically, Caladesi Island was once part of a more significant barrier island known as Hog Island. Over time, natural processes such as currents and storms transformed the area, creating Caladesi Island and the Caladesi Causeway that connects it to the mainland.
One of the reasons why Caladesi Causeway is an excellent place for rockhounding is its diverse geological formations. The island's shoreline is rich in rocks, shells, and fossils, which avid rockhounds can collect. Whether searching for unique seashells, fossilized shark teeth, or intriguing rock specimens, Caladesi Causeway provides a wide range of treasures waiting to be discovered.
With the gentle waves lapping the shore and the coastal winds carrying a sense of tranquility, rockhounding at Caladesi Causeway becomes a delightful and immersive experience for nature enthusiasts and collectors alike.
What you can find there
Some minerals commonly found in the Caladesi Causeway region include agate, calcite, chalcedony, geodes, and quartz.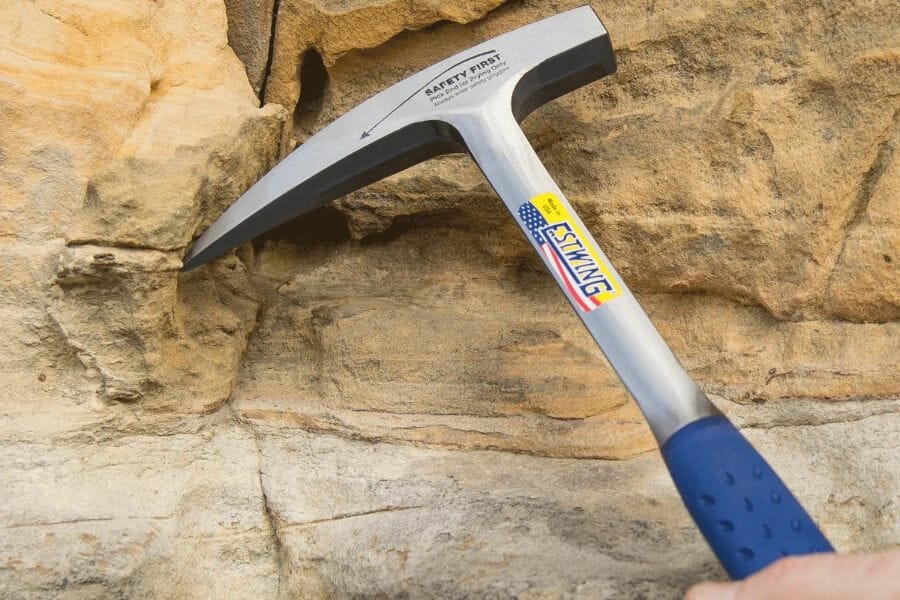 The tools every rockhound will need
When you're out looking for rocks and minerals having the right tools for the job is really going to make or break your success. You don't need a lot for most trips but there are a handful that are critical and will make your life a lot easier.
We get asked a lot about the equipment we use. Over the years we've found a handful of tools that we recommend to both new and experienced rockhounds which we outline in great detail in our complete rockhounding tools and kit guide. These are quality options that also happen to be relatively inexpensive.
Below are the basic tools that make your life so much easier and save you a ton of time. Check out the full guide to see everything we recommend bringing. At a minimum you should have:
1 - Sturdy rock hammer: The Estwing Rock Pick is our standard
2 - Rugged chisels: Try Kendo' 3-piece Chisel Set
3 - Compact shovel: The Koleiya 28-inch shovel works well
4 - Rock screen pan: The Wazakura Soil Sieve Set fits the bill
5 - Eye protection: DeWalt Safety Glasses are cheap and comfortable
6 - Head protection: Malta's Safety Helmet has been our go-to
7 - Jewelers lens with at least 20x magnification: Jarlink's Jewelers Loop is perfect
The rockhounding books that we use most
There are also a few books that have been extremely helpful in the search for gems. These books have great recommendations and tips:
National Audubon Society Field Guide to Rocks and Minerals: North America 
Southeast Treasure Hunter's Gem & Mineral Guide 
Earth Treasures: The Southeastern Quadrant 
We provide links to find these tools on Amazon but some can also be found at your local hardware stores. For more recommendations check out the link to our full tool guide above.
Crystal River
Crystal River offers a unique blend of natural beauty and geological wonders, making it an ideal place to explore if you're interested in rockhounding. The crystal-clear waters of Crystal River also offer excellent visibility for snorkeling and diving, allowing rockhounds to search for these fascinating relics with ease.
One of the main attractions of Crystal River for rockhounding enthusiasts is the abundance of fossilized marine life in the area. The river and its surrounding waterways are home to an array of ancient sea creatures that lived millions of years ago. The area also boasts various rocks and minerals found while exploring its shores.
What you can find there
While the area is not known for rare minerals, interesting specimens remain to be discovered. Some of the minerals commonly found in Crystal River include calcite and quartz.
Hillsborough River State Park
The park is nestled along the scenic Hillsborough River and showcases diverse ecosystems, picturesque landscapes, and abundant geological wonders. Hillsborough River State Park provides a perfect blend of exploration and discovery for those interested in rockhounding.
Hillsborough River State Park's tranquil environment adds to the allure of rockhounding. The park's natural beauty provides a peaceful escape where rockhounds can immerse themselves in their surroundings while hunting for treasures. Whether you're a seasoned collector or a novice enthusiast, the park's trails and riverbeds present ample opportunities to find unique specimens.
What you can find there
Hillsborough River State Park in Florida offers a variety of minerals that rockhounding enthusiasts, including agate, calcite, and quartz can find.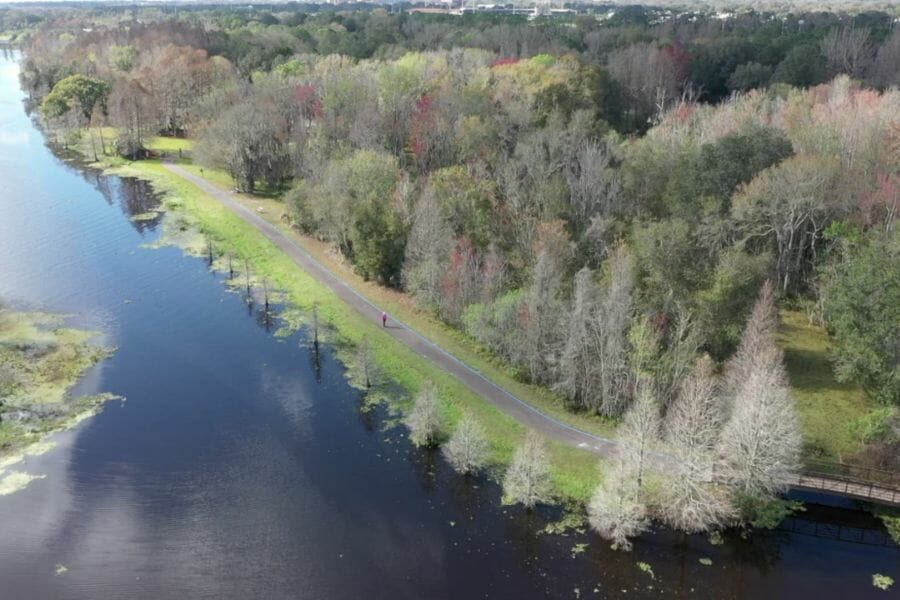 Lake Parker offers accessibility and convenience for rockhounding activities. The lake is easily accessible, with various public access points, parks, and recreational areas surrounding its shoreline. This makes it convenient for rockhounds to explore different sections of the lake and its vicinity.
Steeped in history, Lake Parker was initially named "Lake Bonny" until it was renamed in honor of E.W. Parker, a prominent local businessman. The lake's shoreline and surrounding areas boast a variety of rocks and minerals, which avid rockhounds can collect.
What you can find there
Being a freshwater lake, the mineral diversity in the lake itself is limited. However, you may still find some interesting specimens in the surrounding areas and along the lake's shoreline. The few minerals that can potentially be found in Lake Parker are chalcedony and quartz.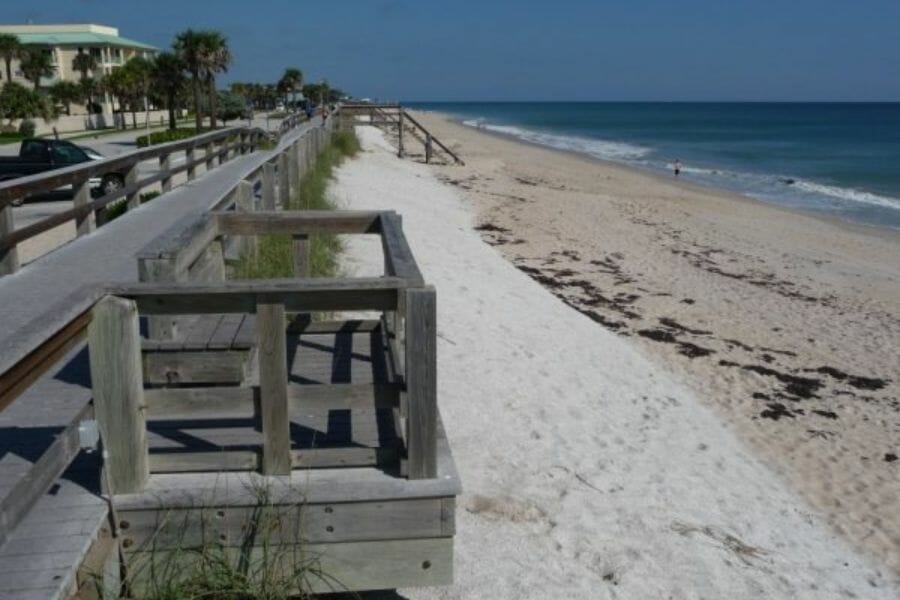 Vero Beach is an excellent rock-hounding place because of its coastal location and abundant beachcombing opportunities. The beaches in Vero Beach are known for their diverse shell deposits and potential for finding fossilized shark teeth. Beachgoers can scour the sands, particularly after high tides or storms, to discover various seashells and marine fossils.
Vero Beach offers a range of other rockhounding opportunities beyond the beaches. Inland areas near Vero Beach feature unique geological formations and limestone outcrops. It's also home to various rock and gem shops where enthusiasts can expand their collections or learn more about the area's geological wonders.
What you can find there
While Vero Beach is not known explicitly for rare minerals, there are still exciting specimens to be discovered, like calcite, corals, and quartz.
Our Other Favorite Spots Around Florida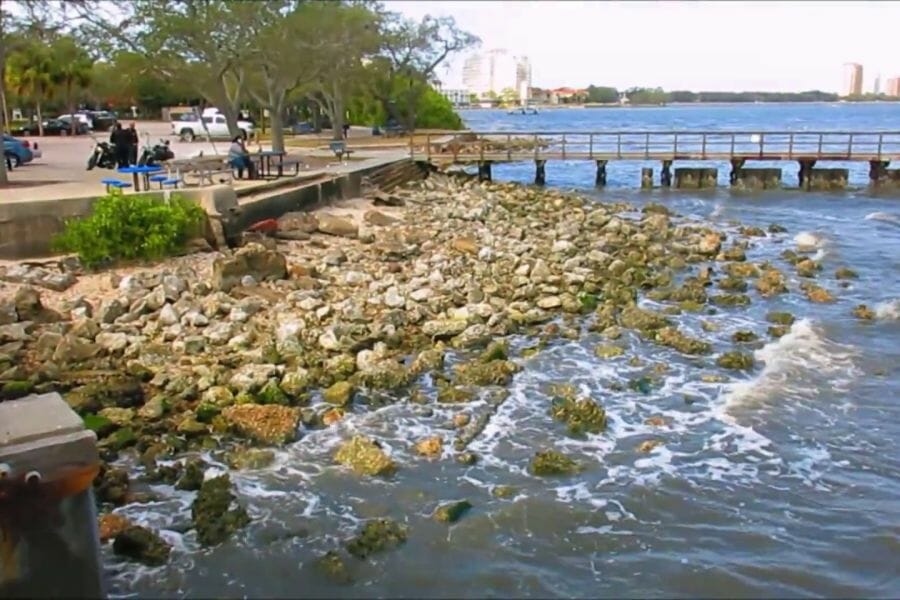 Florida is home to many magnificent and unique rocks and minerals. You can explore the selections below and the top picks mentioned above.
Rockhounding sites in Northern Florida
Northern Florida is a haven for rockhounding enthusiasts, offering many opportunities to explore its diverse geology and discover fascinating rocks and minerals. The region's unique geological history has left a treasure trove of specimens waiting to be unearthed. Northern Florida provides a rich canvas for rockhounds to indulge in their passion, from the ancient limestone formations to the mineral-rich riverbeds.
| | |
| --- | --- |
| Location | Minerals & Rocks |
| Highland Mine | Ilmenite, Zircon |
| Trail Ridge Plant | Staurolite |
| Skinner Mine | Ilmenite, Zircon |
| Stephen Foster Memorial Park | Agate |
| Dowling Park | Malachite |
| Taylor County lakes and streams | Pearl |
Rockhounding sites in Southern Florida
Southern Florida provides an excellent landscape for rockhounding enthusiasts, showcasing a unique blend of coastal beauty and geological treasures. The region's diverse geology, influenced by ancient coral reefs and limestone formations, offers an array of interesting rocks and minerals to discover.
| | |
| --- | --- |
| Location | Minerals & Rocks |
| Charlotte County lakes and streams | Pearl |
| Wayne Ranch | Calcite |
| Port of Miama | Chalcedony |
Rockhounding sites in Central Florida
Central Florida is a remarkable destination for rockhounding enthusiasts, offering a wealth of geological wonders and diverse landscapes. The region's geological composition, shaped by ancient seas and the presence of limestone, provides a fertile ground for exciting rockhounding adventures.
| | |
| --- | --- |
| Location | Minerals & Rocks |
| Citrus County lakes and streams | Pearls |
| Brooksville | Calcite |
| Ballast Point | Carnelian, Chalcedony, Geodes |
| Pasco County Lakes and streams | Pearl |
| Bailey's Bluff | Chalcedony |
| Pinellas County lakes and streams | Pearl |
| Tarpon Springs | Chalcedony |
| Polk County lakes and streams | Pearl |
Public Rockhounding Options For Kids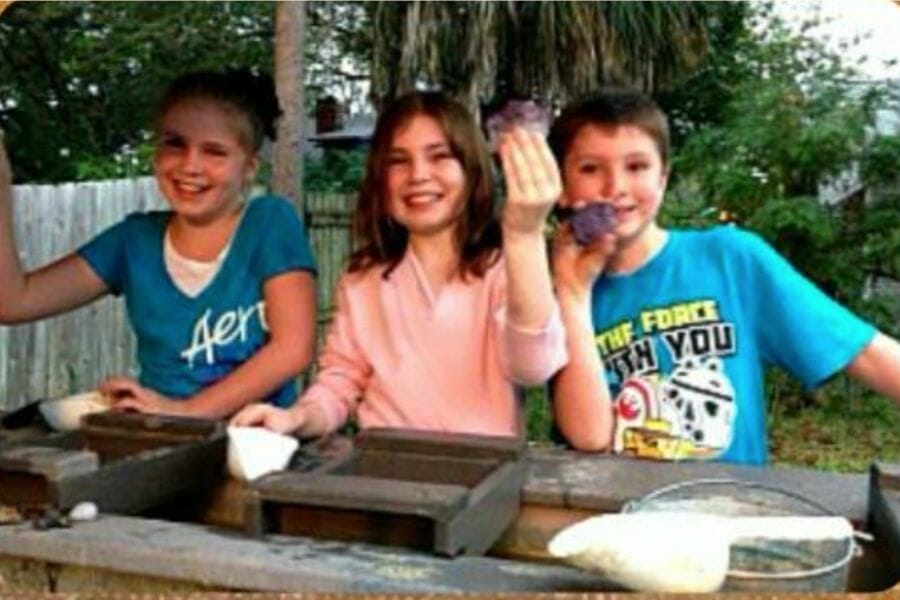 The terrain may make some rockhounding areas difficult for kids to access. But, other family-friendly locations might pique their interest in the hobby. These family-friendly locations frequently have simpler access, gentler slopes, and safer environments, enabling kids to take part in the excitement of rockhounding.
These family-friendly rockhounding locations in Florida offer quality time together and encourage a love of the outdoors, geology, and the thrill of finding unusual rocks and minerals.
Florida Rockhounding Clubs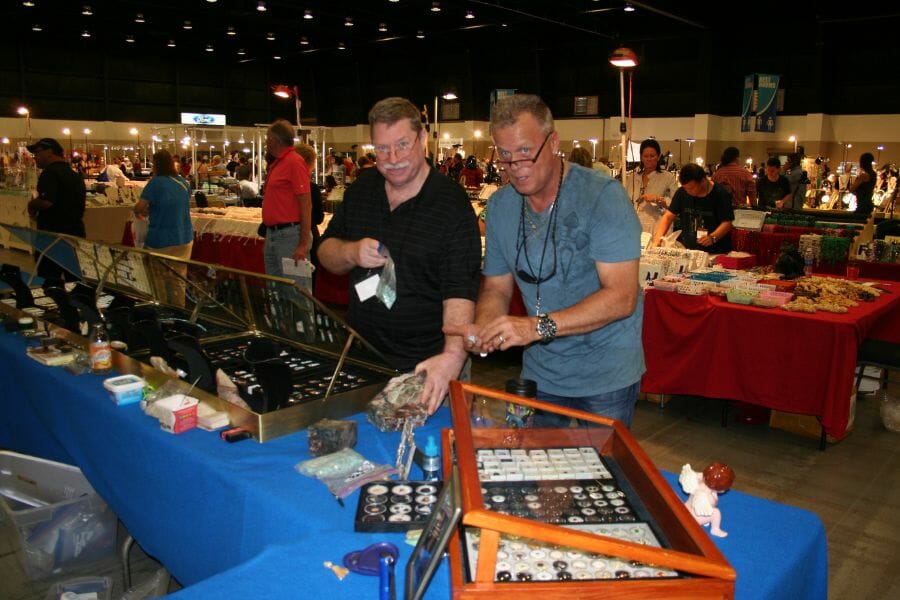 Rockhounding clubs are invaluable for beginners and seasoned collectors, providing a supportive community and numerous benefits. For newcomers, joining a rockhounding club offers a wealth of knowledge and guidance from experienced members who can help identify rocks, share collecting techniques, and provide tips on finding great locations. Clubs often organize field trips, where members can explore new areas and learn from one another.
Rockhounding clubs in Florida worth checking out
Florida Rockhounding Laws And Regulations
Rockhounding and collecting rocks and minerals is legal in Florida, but enthusiasts must adhere to the Florida Department of Environmental Protection regulations regarding collection. While Florida generally allows rockhounding on public lands, specific rules may vary depending on the location.
Some areas may restrict the collection of certain minerals or fossils, while others may require permits or permission from landowners. Researching and familiarizing yourself with the regulations applicable to the specific area you plan to explore is crucial.
Responsible rockhounding also entails respecting private property and obtaining proper permission before collecting on private lands. Trespassing is strictly prohibited and can result in legal consequences. Additionally, it is essential to leave the environment undisturbed, practicing ethical collection methods that minimize the impact on the ecosystem.
Our Favorite Rock And Mineral Shops In Florida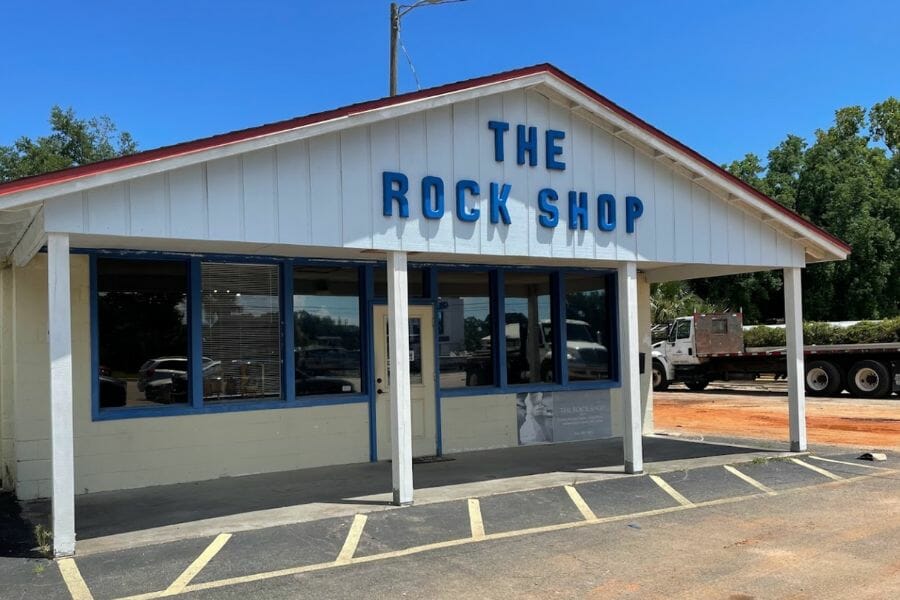 While some people like going on scouting expeditions in search of rocks and minerals, others prefer the convenience of buying specimens from reliable rock stores. The following list includes the top Florida rock and mineral stores where you may find a variety of exceptional specimens.
Additional places to rockhound in nearby states
Check out our guides for the states that border Florida if you've already tried all the locations we've recommended above or if you're planning a trip around the neighboring states:
If you have any recommendations we haven't covered please leave them in the comments below!