Georgia may not be the first state that comes to mind when you think of geode hunting, but don't let that fool you because there are plenty of hidden gems waiting to be discovered here! As geode enthusiasts, we know firsthand that finding these unique rock formations can be a challenge, but with a little persistence and some insider knowledge, it's definitely possible.
In this article, we'll take you on a journey through the different regions of our state— from the forests of Cartersville and the rolling hills of Emerson to the winding river of Rome— in search of the best spots to find geodes in Georgia. We'll explore some of our state's most promising locations, so if you're ready to dig in and start uncovering some geodes, read on!
What Are Georgia Geodes?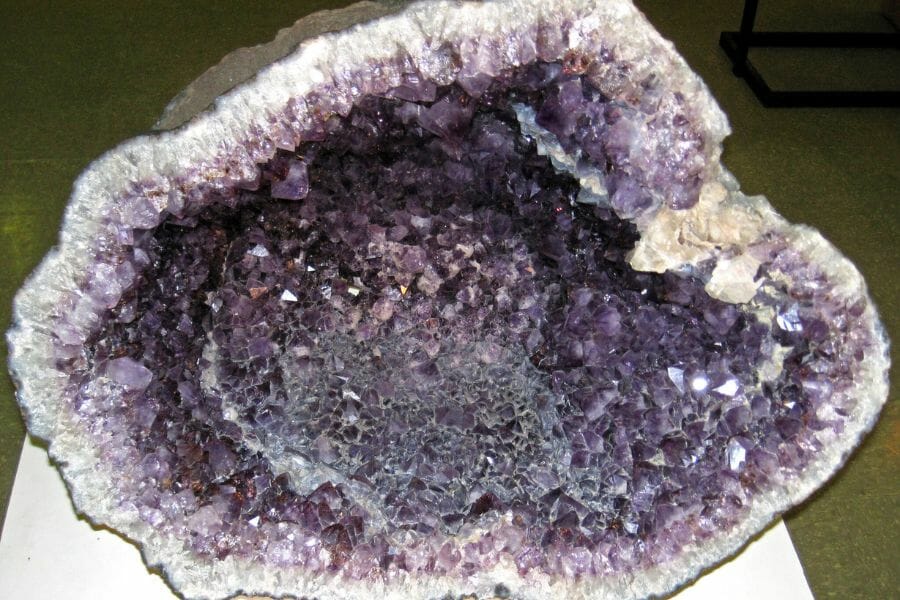 Short for "geological nodes," geodes are hollow, spherical rocks that contain crystal formations inside. They're typically found in clusters and their sizes can vary from a few centimeters to several meters in diameter. They are formed when mineral-rich groundwater seeps into cavities in volcanic or sedimentary rocks and slowly deposits minerals over time. And Georgia's unique geology made the formation of geodes pretty easy!
Here's a handy guide in case you're still wondering what does a geode look like.
The best thing about these natural wonders is they can be cut open to reveal the intricate crystal formations inside, which come in a variety of colors and shapes depending on the types of minerals present. Just imagine how fascinating it would be to look at a newly opened geode!
The Types Of Geodes Found In Georgia
There are a wide variety of this natural wonder that's spread in different regions of the world and a geode's value vary depending on it. Here are the varieties you'll find in Georgia:
Barite geodes
Calcite geodes
How We Found The Best Geode Locations in Georgia
When it comes to choosing the best options for finding Georgia geodes there are plenty of things we consider. Many of the best locations are closely guarded secrets which can make it really difficult for more casual geode hunters to find success. The key factors in our recommendations are:
The deep experience and understanding of our team about the area
Recommendations from local groups and clubs
How easy it is to get the a particular location
Safety and potential hazards when collecting
Weighing private and public locations
The ability for both experienced and novice geode enthusiasts to find great samples
With these factors in mind we've been able to put together a fantastic list that just about anyone can use!

The Best Places To Find Geodes in Georgia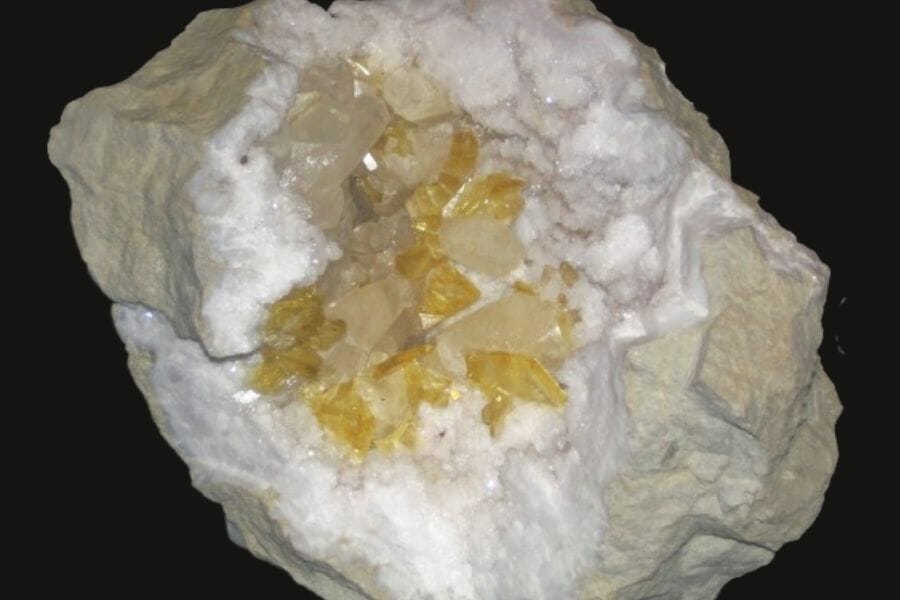 To start off, we'll share with you the top 3 incredible places where you can find Georgia geodes. You might be aware that we have some of the best places to mine gems here in Georgia. Unfortunately, not all of them have geodes. The locations that we're going to discuss below may not be as well known, but they are definitely your best chance at finding geodes in Georgia!
Always Confirm Access and Collection Rules!
Before heading out to any of the locations on our list you need to confirm access requirements and collection rules for both public and private locations.
These requirements are subject to change without notice and may differ from what we state below.
Always get updated information directly from the source ahead of time to ensure responsible rockhounding.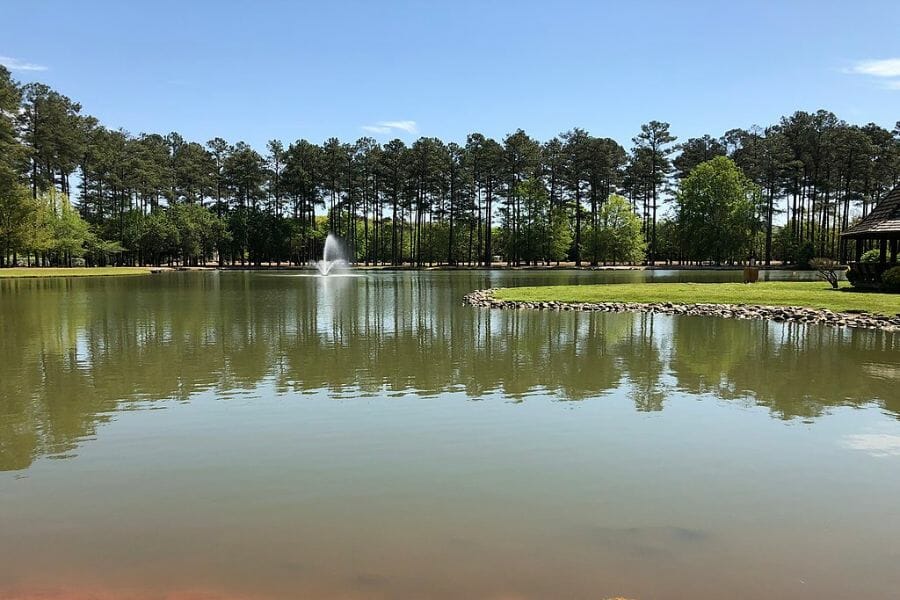 Cartersville is characterized by its beautiful hills, valleys, forests, and rivers. It's known for its unique red clay, which is a result of the iron oxide in the soil. This clay is used for all sorts of things like pottery and construction. There's also a lot of limestone and other types of rocks in the area, which makes for some pretty interesting scenery.
Looking to get here? Cartersville is right off of I-75, so you can take the interstate straight there. Once you're in town, you'll find that it's easy to get around. We've got a good public transportation system here and our sidewalks are readily accessible.
But before you come here and bring home any geode, rock, mineral, or gem, make sure to check the most recent guidelines from the State of Georgia.
Where we found geodes in Cartersville
The area pits and mines of Cartersville in Bartow County are the best parts of the city that you'd want to look into if you are looking for geodes. What's more, aside from geodes, there are also other rocks and minerals that you can discover in this area.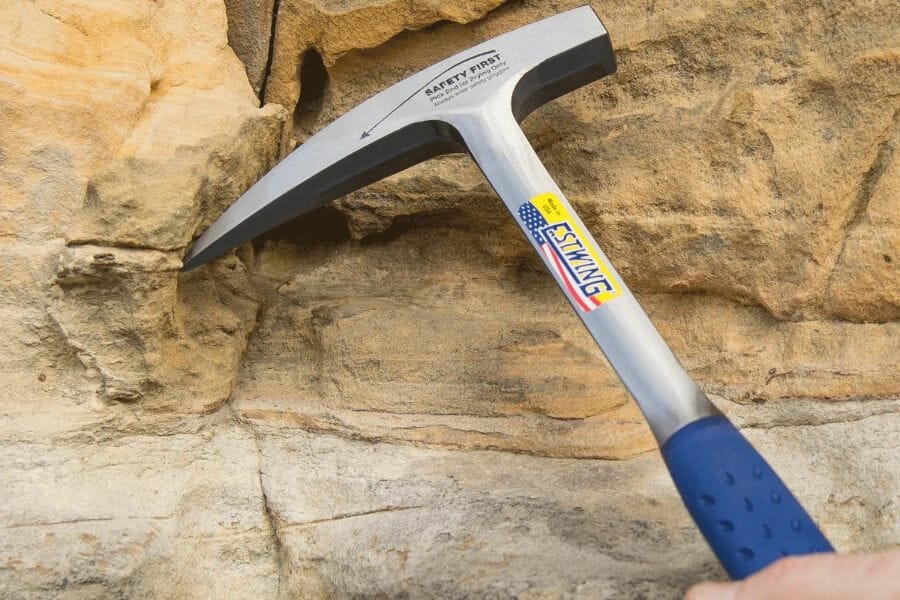 The tools every geode hunter will need
When you're out looking for geodes having the right tools for the job is very important. You don't need a lot for most trips but there are a handful that are critical and will make your life a lot easier.
We get asked a lot about the equipment we use. Over the years we've found a handful of tools that we recommend to both new and experienced geode hunters which we outline in great detail in our complete rockhounding tools and kit guide. These are quality options that also happen to be relatively inexpensive.
Below are the basic tools that make your life so much easier and save you a ton of time. Check out the full guide to see everything we recommend bringing. One quick note, as an Amazon Associate I earn from qualifying purchases but we try very hard to only recommend gear we would use ourselves and often recommend brands you can't find on Amazon.
At a minimum you should have:
1 - Sturdy rock hammer: The Estwing Rock Pick is our standard
2 - Rugged chisels: Try Kendo' 3-piece Chisel Set
3 - Compact shovel: The Koleiya 28-inch shovel works well
4 - Rock screen pan: The Wazakura Soil Sieve Set fits the bill
5 - Eye protection: DeWalt Safety Glasses are cheap and comfortable
6 - Head protection: Malta's Safety Helmet has been our go-to
7 - Jewelers lens with at least 20x magnification: Jarlink's Jewelers Loop is perfect
The geode-finding books that we use most
There are also a few books that have been extremely helpful in the search for gems. These books have great recommendations and tips:
National Audubon Society Field Guide to Rocks and Minerals: North America 
Southeast Treasure Hunter's Gem & Mineral Guide 
Earth Treasures: The Southeastern Quadrant 
We provide links to find these tools on Amazon but some can also be found at your local hardware stores. For more recommendations check out the link to our full tool guide above.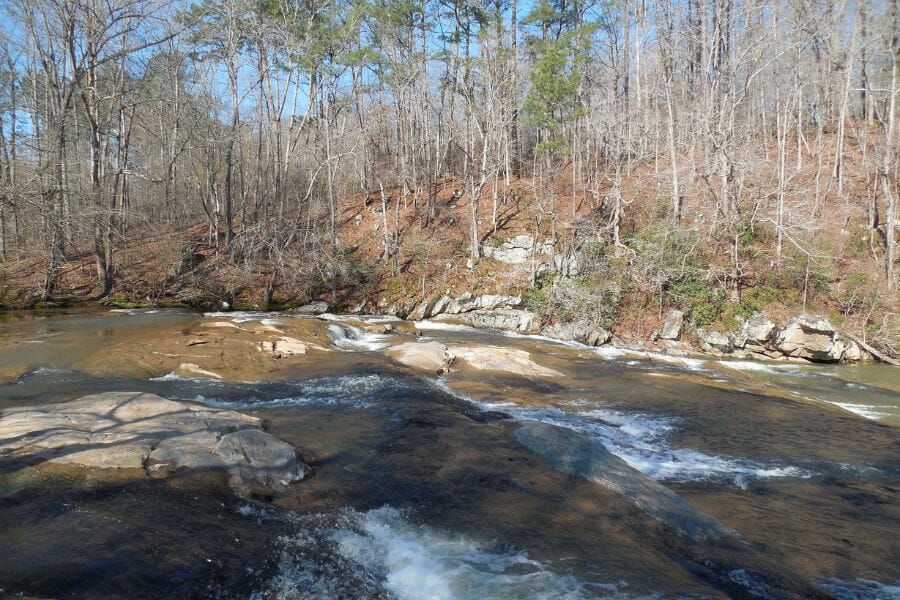 Emerson is a pretty cool spot in our state that you might want to check out if you're in the area. It's has great geography, with rolling hills and forests all around. And the terrain is perfect for just about any outdoor activity!
This town is located near the Etowah River, which means there's a lot of limestone in the area. You'll be able to find some cool specimens if you know where to look. Plus, there are some old quarries in the area that are worth checking out. You might even find Georgia crystals when you explore here.
If you want to visit here, just know that it's right off of I-75, so you can take the interstate and get off at the Emerson exit. Once you're there, it's easy to get around!
Where we found geodes in Emerson
Interestingly, this town has some of the best geodes in the state and they are usually found in the pits near US 41 bridge.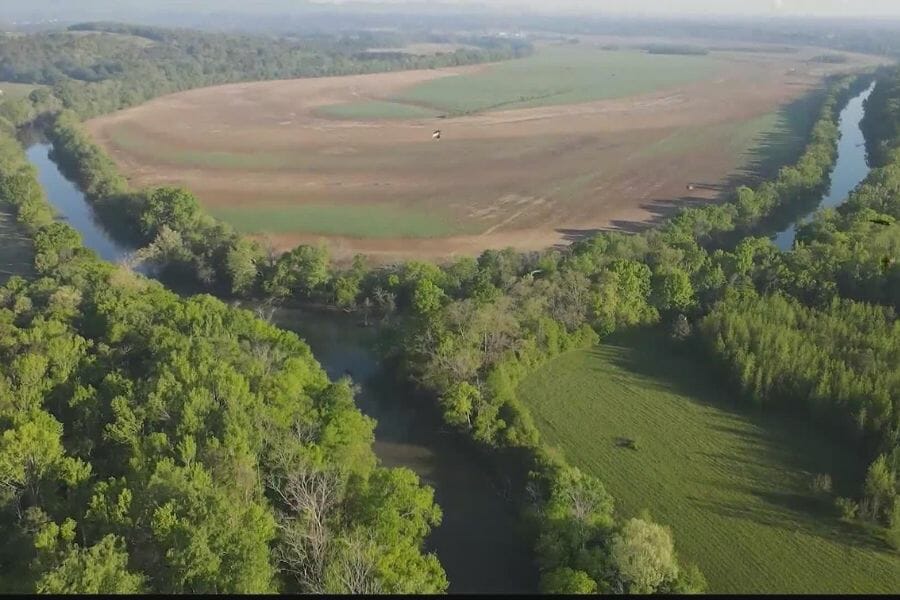 Rome's geography is amazing, with the Etowah River winding through the town and with hills and valleys all around.
It's the perfect spot if you're into finding rocks because it's surrounded by all sorts of different types of rocks and minerals. Plus, there are some really cool caves in the area that are worth exploring.
Getting to Rome is pretty easy, too. It's right off of I-75, so you can take the interstate and get off at the Rome exit. All in all, Rome is a really cool spot to check out!
Where we found geodes in Rome
The area surrounding the Rice Springs Lake is the best part of Rome where you can find cool geodes.
Other Great Places To Dig For Georgia Geodes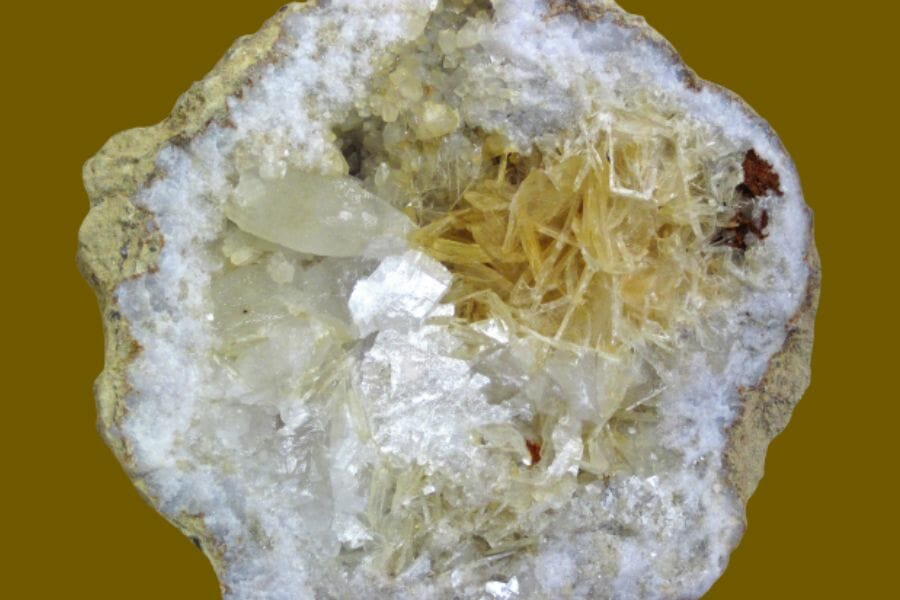 Aside from the places we discussed above, there are other locations where you can find geodes in Georgia. We've listed them down by county below to make it easier for you. For places where we put "county wide," we've provided more specific recommendations right after them.
Our recommendations by county
| | |
| --- | --- |
| County | Location |
| Bartow | County wide |
| Bartow | In the area pits and mines of Cartersville |
| Bartow | In the pits near US 41 bridge of Emerson |
| Floyd | County wide |
| Floyd | In the Rice Springs Lake of Rome |
Additional areas you should try
A few of our recommendations above say "county wide," so if you're wondering where specifically should you be looking for geodes there, here are some of the key places that you should visit.
Lake Beds
One of the best places to find geodes is in lake beds. Why? Because of the way they form! Over time, the minerals in the water settle on the bottom of the lake and they create these little pockets where geodes can form. Once the lake dries up, you're left with a whole bunch of geodes just waiting to be discovered.
But hunting for geodes in lake beds can be pretty tough work. You'll need good tools, like a pickaxe or a hammer, and you'll probably be getting pretty dirty in the process. But when you crack open that first geode and see what's inside, it'll be all worth it!
Streams and Creeks
Streams and creeks are so great for finding geodes because of the way they get deposited in the sediment. Over time, the water will move the sediment around, and sometimes a geode can get caught up in the flow and deposited in the streambed.
Just keep in mind that to find geodes in streams and creeks, you'll need some good waders and a good eye for spotting the right spots. But once you find that sweet spot, you'll be in geode heaven.
Mines and Mine Dumps
Mines and mine dumps are also great places for geode hunting because they can be rich in mineral deposits, which compose geodes. It's as good as saying geodes are just sitting in mines and mine dumps, waiting to be discovered!
We'll be honest: hunting for geodes here can be a bit challenging. You'll need to have the right gear, like a hardhat and sturdy boots, and you'll need to be careful of any loose rocks or unstable terrain. But if you're up for the adventure, it can be an exciting and rewarding experience!
Lake Shores
Lake shores are also great spots to find geodes. Geodes are often found in sedimentary rock, and many lakes have formed in areas where sedimentary rocks are present. Over time, the water erodes the rock and expose geodes that were once hidden.
One thing to keep in mind is that not all lakes are created equal when it comes to geodes present. Some lakes may not have the right types of rock formations, while others may be off-limits for collecting. So make sure to do your research beforehand and get any necessary permits before you head out.
Common Geode-Hunting Questions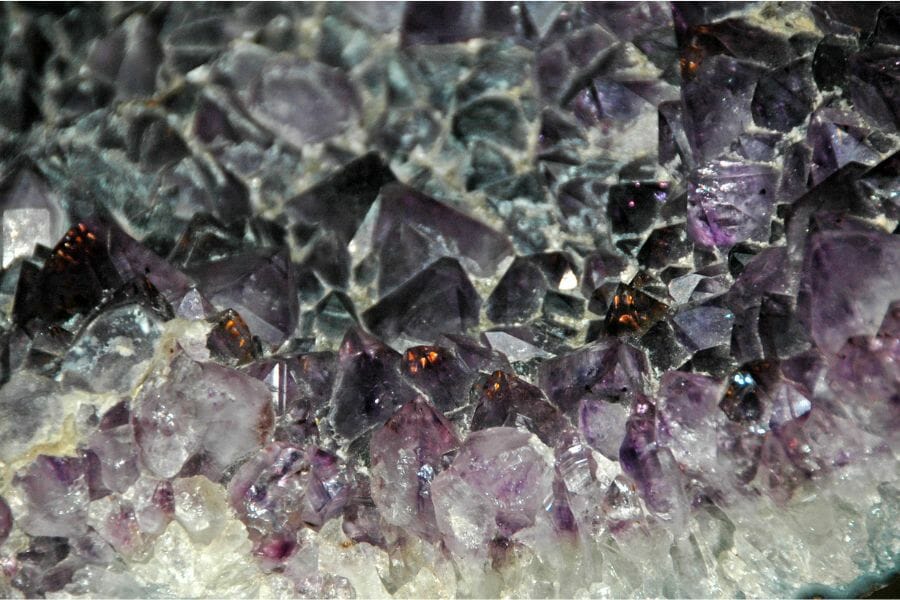 Rockhounds who are looking for geodes in Georgia often have frequently asked questions. Here, we'll answer some of them so that you won't have to ask them elsewhere:
Where can you find amethyst geodes in Georgia?
Amethyst geodes don't naturally occur in Georgia, but you'll be surprised at the plentiful rock and gems shops here that sell them. We made a list of some of these shops below, so be sure to check them out.
Is it illegal to collect geodes in Georgia?
Collecting geodes in Georgia is perfectly legal for as long as you obey our state's local collection laws. If you're planning to collect from government lands, comply with any imposed local regulations. And if you're planning to explore private lands, seek permission first from the owner, then you're good to go.
The Best Places To Buy Geodes In Georgia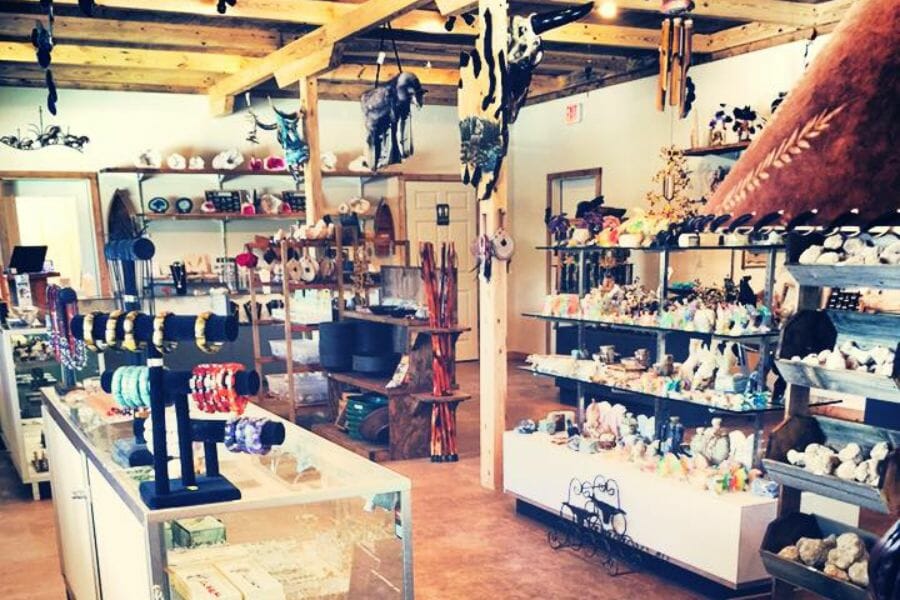 We get it: not all geode lovers are geode hunters. So if you don't want to break a sweat finding geodes in Georgia, you might be wondering where you can purchase one.
Here are some incredible local shops where you can find and buy geodes of your choice:
Huck's Lost Mine – 1470 Appalachian Hwy Blue Ridge, GA 30513
Amazon – Did you know that they have lots of options for geodes? You can even find geodes that are ready to be opened and whole kits to crack them.
Outpost Gold & Gem Panning, Gift Shop, and Jewelry Store – 7901 South Main Street, Helen, GA 30545
The Mineral Gallery – 155 Mill Rd #13, McDonough, GA 30253
Stoneage Natural Rocks & Crystals – 3393 Peachtree Rd NE Suite 4003 Atlanta, GA 30326
Cornerstone Minerals & Natural History – 36 Whitaker St, Savannah, GA 31401
World of Geode and Exotic Stones – 11 Fieldstone Ct, Savannah, GA 31419
Naturally Cool Gems and Jewels – 123 W Broad Ave, Doerun, GA 31744
12 Stones and Lavender – 2549 Trade Center Drive, Suite 3 Evans, GA 30809
Stillwell's Emporium – 945 Main St, Stone Mountain, GA 30083
Uniquely Gifted – 105B Stonewall Ave E, Fayetteville, GA 30214
Cottage House Crystals – 145 Forest Blvd Suite 405 Dawsonville, GA. 30534
Additional places to find geodes in nearby states
Check out our guides for nearby states if you've already tried all of our suggestions above or if you're planning a trip outside of the state:
If you have any recommendations for our list please leave a comment below!