Finding geodes in New Jersey can be quite a challenge without the proper guidance. You can spend hours combing through rock formations, digging through dirt, and scraping away at stones with no success.
It can be downright frustrating.
But don't give up just yet, because geodes are worth the hunt! These natural wonders are incredibly beautiful and unique, with their crystal formations and vibrant colors. They can take your breath away and leave you in awe of the wonders of the natural world.
Luckily, we've done the hard work for you and found some great options for any geode hunter looking to be successful. With the right tools and knowledge, you can uncover these hidden gems and add them to your collection.
So grab your rock hammer and chisel, and get ready to explore some of the best geode-hunting sites in New Jersey! You're sure to find some incredible geodes that will make your effort, well, worth it. So what are you waiting for? Let's go find some geodes!
What Are New Jersey Geodes Anyway?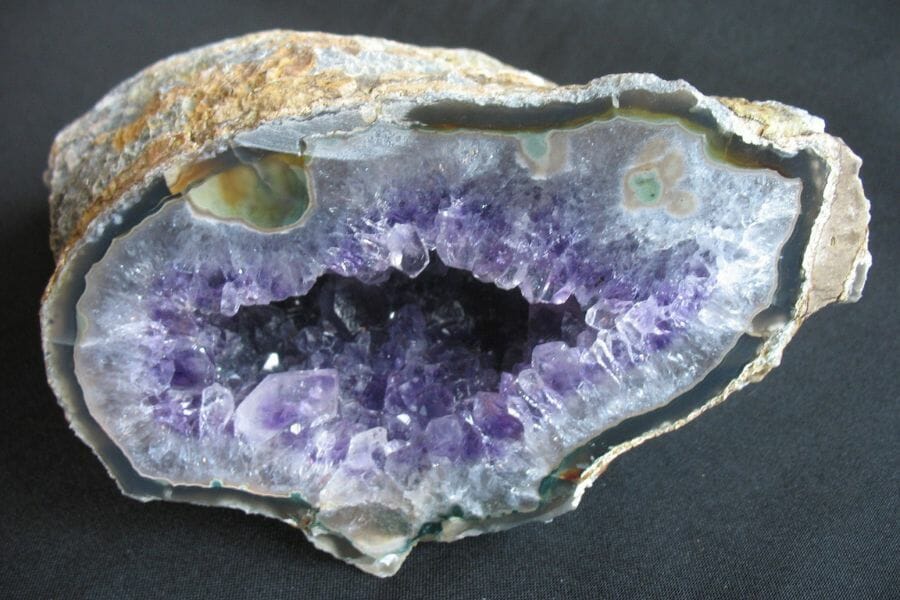 Geodes are like nature's treasure chests – they're rocks with a surprise waiting for you inside. They're round, hollow rocks that contain beautiful crystals, minerals, and other cool stuff.
They're like a secret hiding spot for some of the most stunning and unique natural creations. Geodes come in all sorts of shapes and sizes and can be found all over the world.
Some are as small as a golf ball, while others are as big as a basketball. They're often rough and unassuming on the outside, but inside, they're a whole different story.
To aid you with your search, we've produced a detailed guide that will help you identify how to find a geode.
Geodes are formed when mineral-rich water seeps into hollow spaces in rocks, creating a DIY chemistry experiment. Over time, the water evaporates and leaves behind crystals, creating the incredible formations we see today.
If you're lucky enough to find one, you'll be rewarded with a glimpse into the amazing wonders of the natural world. New Jersey minerals are incredibly diverse and unique which creates multiple great environments for geodes to form.
The Types Of Geodes Found In New Jersey
Earth is filled with geodes, which come in various shapes. The type of crystal a geode has inside affects the geode's value and allure. The following geodes can be discovered right here in New Jersey:
Amethyst geodes
Quartz geodes
How We Found The Best Geode Locations in New Jersey
When it comes to choosing the best options for finding New Jersey geodes there are plenty of things we consider. Many of the best locations are closely guarded secrets which can make it really difficult for more casual geode hunters to find success. The key factors in our recommendations are:
The deep experience and understanding of our team about the area
Recommendations from local groups and clubs
How easy it is to get the a particular location
Safety and potential hazards when collecting
Weighing private and public locations
The ability for both experienced and novice geode enthusiasts to find great samples
With these factors in mind we've been able to put together a fantastic list that just about anyone can use!

The Best Places To Find Geodes in New Jersey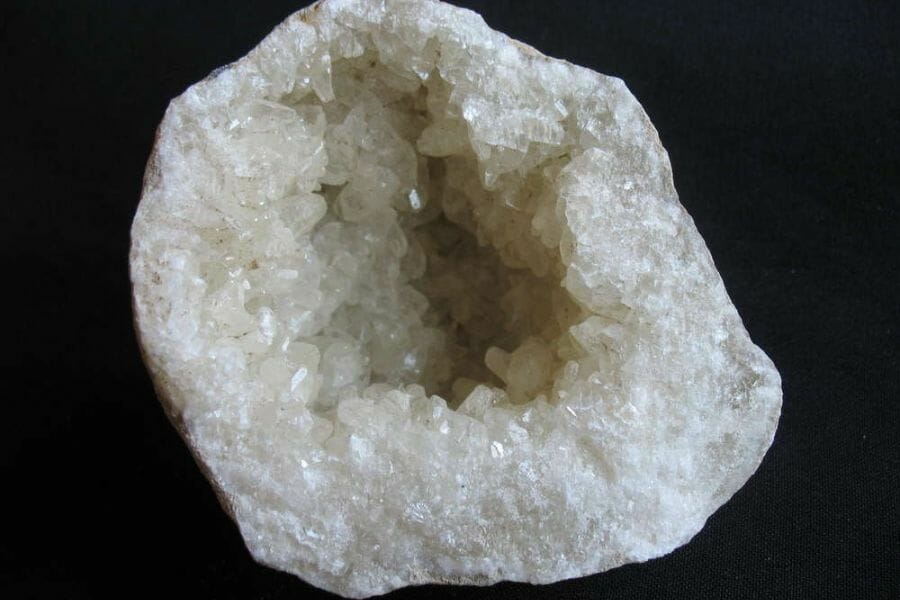 Check out our best recommendations for where you can find geodes around the state to start your hunt. The finest places to seek geodes are not quite in areas where you can mine for gems in New Jersey, although there are a handful of them.
Always Confirm Access and Collection Rules!
Before heading out to any of the locations on our list you need to confirm access requirements and collection rules for both public and private locations.
These requirements are subject to change without notice and may differ from what we state below.
Always get updated information directly from the source ahead of time to ensure responsible rockhounding.
Bergen County has a unique mix of geography and geology, making it a great place for nature lovers and history buffs. The county is located in the state's northeast corner and is bordered by the Hudson River to the east and the Ramapo Mountains to the west. It has a diverse landscape – hills, valleys, and even flat areas. The county is known for its high population density and urban areas, but there are also plenty of parks and nature preserves to explore.
Geologically speaking, Bergen County is pretty cool. It's part of the Piedmont physiographic province, which means that the rocks here are some of the oldest in the state. The Ramapo Mountains are a great example of this – they're made up of ancient Precambrian rocks that are more than a billion years old. There are also a lot of fault lines in the area, which have contributed to the formation of some pretty interesting landforms. In terms of terrain, Bergen County has a lot of forests and streams, which are great for hiking and hunting geodes.
Be sure you've researched on the most recent New Jersey State collecting laws and regulations before bringing your unearthed treasures home.
Where we found geodes in Bergen County
Almost all of the basalt and diabase outcrops and exposures in the county.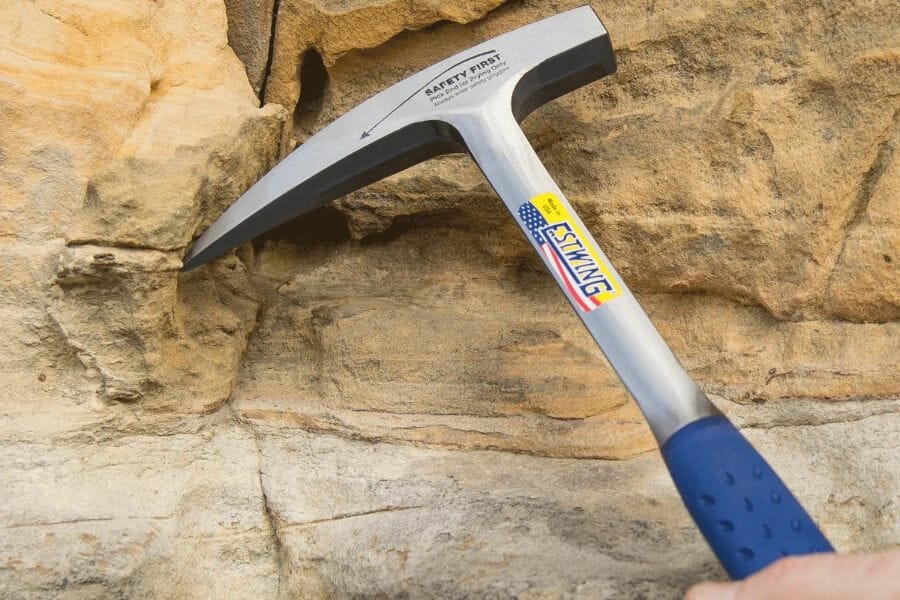 The tools every geode hunter will need
When you're out looking for geodes having the right tools for the job is very important. You don't need a lot for most trips but there are a handful that are critical and will make your life a lot easier.
We get asked a lot about the equipment we use. Over the years we've found a handful of tools that we recommend to both new and experienced geode hunters which we outline in great detail in our complete rockhounding tools and kit guide. These are quality options that also happen to be relatively inexpensive.
Below are the basic tools that make your life so much easier and save you a ton of time. Check out the full guide to see everything we recommend bringing. One quick note, as an Amazon Associate I earn from qualifying purchases but we try very hard to only recommend gear we would use ourselves and often recommend brands you can't find on Amazon.
At a minimum you should have:
1 - Sturdy rock hammer: The Estwing Rock Pick is our standard
2 - Rugged chisels: Try Kendo' 3-piece Chisel Set
3 - Compact shovel: The Koleiya 28-inch shovel works well
4 - Rock screen pan: The Wazakura Soil Sieve Set fits the bill
5 - Eye protection: DeWalt Safety Glasses are cheap and comfortable
6 - Head protection: Malta's Safety Helmet has been our go-to
7 - Jewelers lens with at least 20x magnification: Jarlink's Jewelers Loop is perfect
The geode-finding books that we use most
There are also a few books that have been extremely helpful in the search for gems. These books have great recommendations and tips:
National Audubon Society Field Guide to Rocks and Minerals: North America 
Northeast Treasure Hunter's Gem & Mineral Guide 
Earth Treasures: The Northeastern Quadrant 
We provide links to find these tools on Amazon but some can also be found at your local hardware stores. For more recommendations check out the link to our full tool guide above.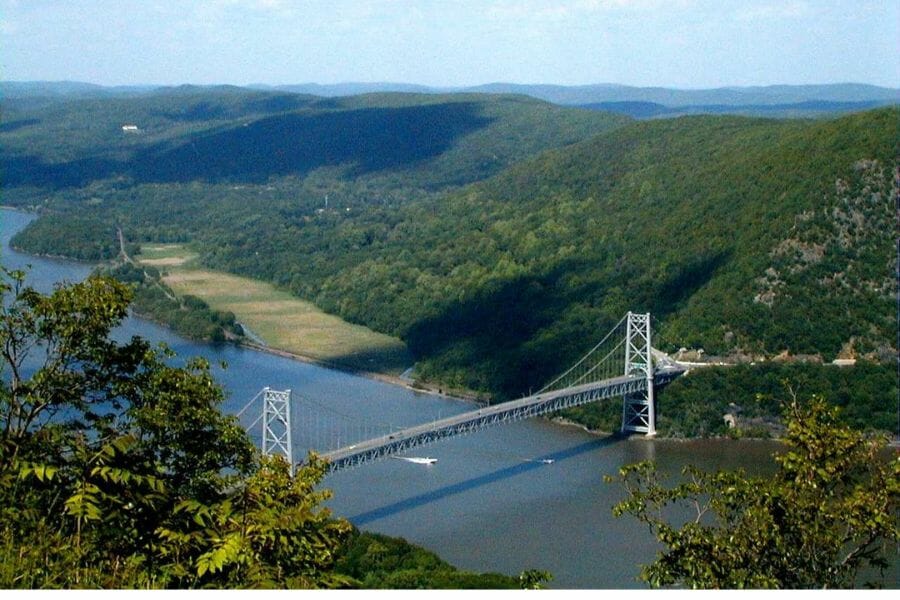 Hudson County is a small but mighty county located in northeastern New Jersey. It's bordered by the Hudson River to the east and Newark Bay to the south, making it a prime spot for waterfront activities. In terms of geology, Hudson County is part of the Coastal Plain physiographic province. This means that the rocks here are relatively young – they were formed during the Mesozoic era, which was about 65-250 million years ago.
The terrain is generally flat, with some low hills and ridges. In terms of geography, the county is pretty diverse. There are the waterfront areas mentioned above, but there are also some great views of the New York City skyline, as well as some wooded areas and wetlands. Hudson County may be small, but it's definitely got a lot to offer, including wonderful New Jersey crystals.
Where we found geodes in Hudson County
Any exposures, such as road cuts and railroad cuts, in Bergen Hill close to the Hudson River.
Passaic County is a gem of northern New Jersey, with plenty of things to see and do. It's located in the Piedmont physiographic province, which means that the rocks here are some of the oldest in the state. This gives the area a unique geology that's perfect for geode hunters and nature lovers. The terrain is pretty hilly, with some rugged ridges and valleys. There are also a lot of forests and streams, making it a great place for searching geodes.
Geologically speaking, plenty of rocks and minerals can be found here, from granite to gneiss to quartz. The area is also home to the Great Falls of the Passaic River, which are an impressive sight to see. In terms of geography, Passaic County has a mix of urban and rural areas. There are some great cities to explore, like Paterson and Clifton, but some small towns and villages are worth checking out. Passaic County is a great place to go if you're looking for a mix of history, nature, and adventure.
Where we found geodes in Passaic County
At the Paterson area, near the end of Planten Avenue, in a large quarry in Prospect Park.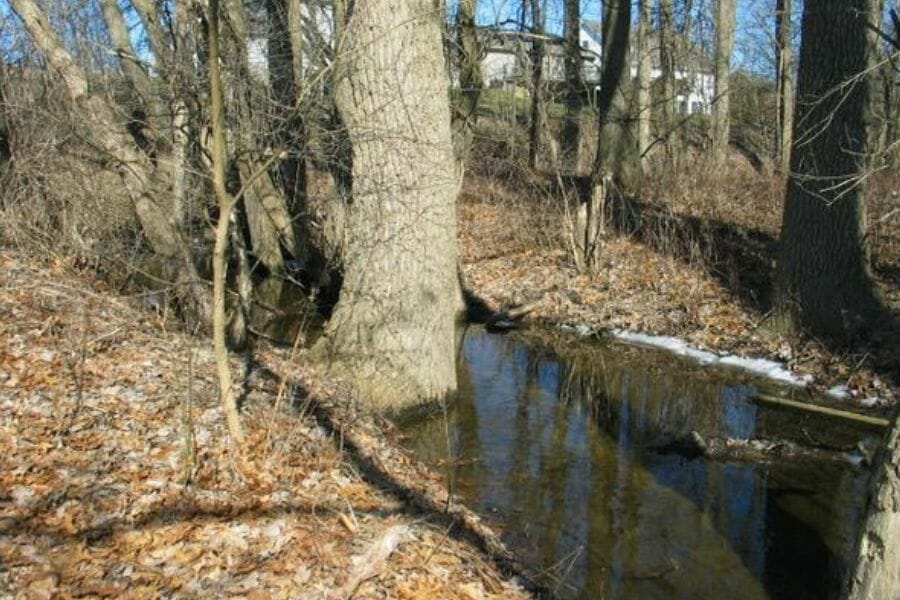 Somerset County, located in central New Jersey, is a great spot for anyone who loves the outdoors. The Raritan River borders it to the north and the Delaware and Raritan Canal to the south. The terrain here is pretty varied, with some rolling hills, flat farmland, and even some rocky ridges. In terms of geology, Somerset County is part of the Piedmont physiographic province. This means that the rocks here are some of the oldest in the state, and there are plenty of opportunities to explore them. The Sourland Mountains, for example, are a great spot for geode hunting and hiking.
In terms of geography, Somerset County is pretty diverse. There are plenty of small towns and villages to explore, as well as some great cities like Somerville and Franklin Township. Overall, Somerset County is a great spot for anyone who loves nature, history, and adventure.
Where we found geodes in Somerset County
Barnardsville area quarries
Common Geode-Hunting Questions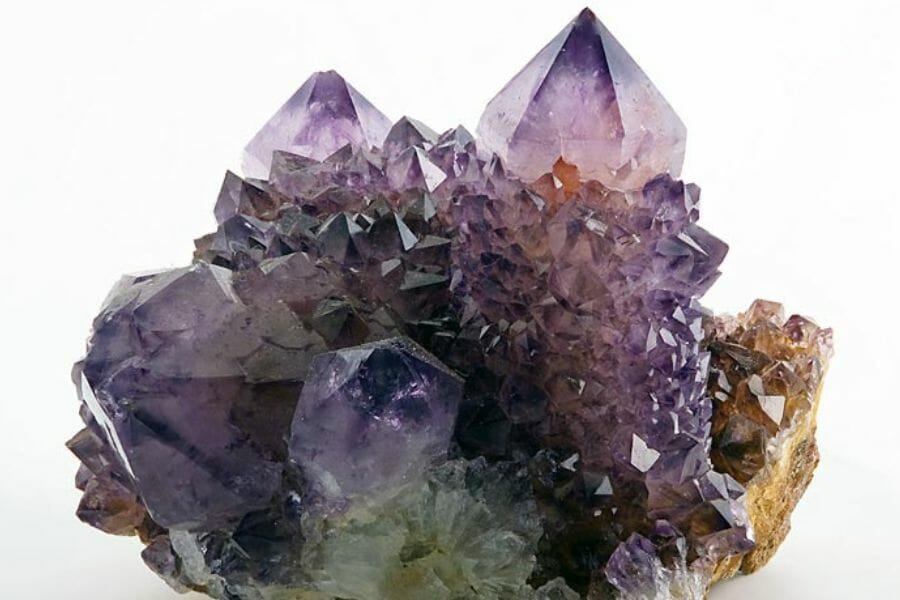 The following list of frequently asked questions about New Jersey's geodes must be addressed.
Where can you find amethyst geodes in New Jersey?
While New Jersey is not particularly known for amethyst geodes, there are a few places where you can find them. Some of these places are Bergen County, Passaic County, and Somerset County.
Is it illegal to collect geodes in New Jersey?
Geode collection is legal in New Jersey as long as you follow local regulations. Make sure you abide by all relevant local laws if you're on public property. If you're on private land, be sure you also have permission to collect.
The Best Places To Buy Geodes In New Jersey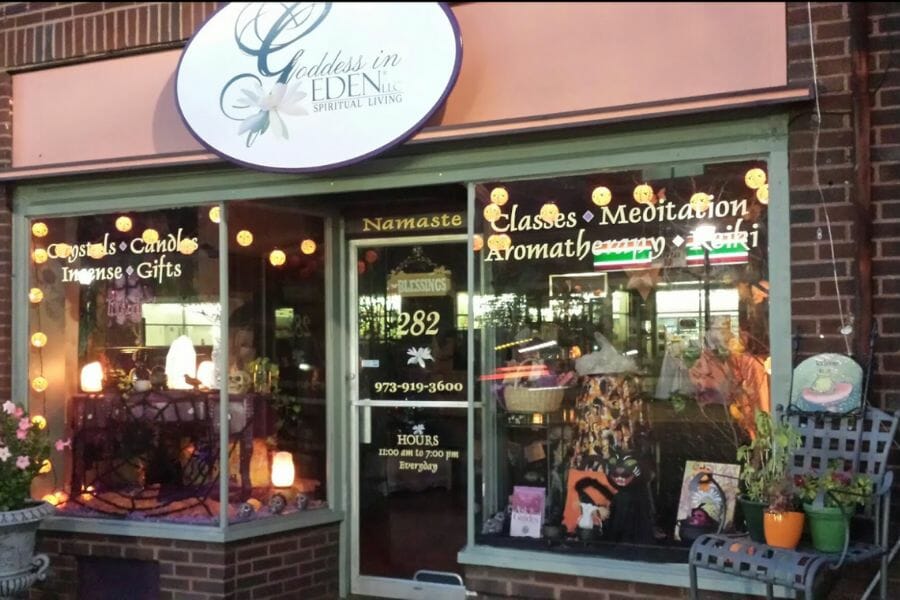 Not everyone enjoys spending hours searching for geodes outside. Sometimes, all you need is to display them in your workplace or add them to your collection.
Here are some additional locations where you can get your geodes from.
Freedom Rocks – 550 Cookman Ave Suite 106, Asbury Park, NJ 07712, United States
Amazon – We've discovered that Amazon has such a large selection of geodes. Even full kits with geodes to break open are available for those who prefer to do it themselves.
Gary's Gem Garden – 3119 NJ-38, Mt Laurel Township, NJ 08054, United States
Goddess in Eden – 282 Bloomfield Ave, Verona, NJ 07044, United States
Moe's Rock Shop – 1850 River Rd building #113, Lambertville, NJ 08530, United States
Rocky's Crystals and Minerals – 304 Millburn Ave, Millburn, NJ 07041, United States
Additional places to find geodes in nearby states
Check out our guides for nearby states if you've already tried all of our suggestions above or if you're planning a trip outside of the state:
If you have any recommendations for our list, please leave a comment below!