Delaware may not be the first state that comes to mind when considering geode hunting, but you'd be surprised at the number of great options available to any budding rockhound! With a little bit of research, you'll be able to find plenty of spots throughout the state where geodes can be found.
Of course, it's important to remember that finding geodes in Delaware can be challenging without the right guidance. It's not like they're just lying around waiting to be picked up, after all! But with some persistence, you'll surely come across some amazing finds.
If you're lucky enough to find a particularly beautiful or unique geode, it can make an incredible addition to any rock collection. So if you're up for the hunt and want to experience the thrill of uncovering a stunning geological specimen, geode hunting in the state is definitely worth a shot!
What Are Geodes Anyway?
The world is home to interesting geological formations called geodes. In essence, they are hollow rocks with crystals or other minerals inside. Geodes can range in size and shape from tiny pebbles to massive boulders. They develop when minerals and gases are imprisoned inside a rock hole and gradually crystallize over time.
The geode's exterior is frequently rough or unimpressive, but when you crack it open, you can see an incredible variety of colors and patterns. Depending on the location where they were formed, geodes can include a diverse range of minerals. Quartz, amethyst, calcite, and agate are a few of the minerals most frequently discovered inside geodes.
We created an article that describes the outside of a geode so you'll know what you're looking for.
The geode's crystals can have a wide range of sizes and forms, and their arrangement can result in stunning patterns. After you crack it open, the crystal inside dramatically influences how much a geode is worth and its charm. For their beauty and originality, geodes are treasured by collectors and rockhounds, and they are beautiful complements to any collection.
How We Found The Best Geode Locations in Delaware
When it comes to choosing the best options for finding Delaware geodes there are plenty of things we consider. Many of the best locations are closely guarded secrets which can make it really difficult for more casual geode hunters to find success. The key factors in our recommendations are:
The deep experience and understanding of our team about the area
Recommendations from local groups and clubs
How easy it is to get the a particular location
Safety and potential hazards when collecting
Weighing private and public locations
The ability for both experienced and novice geode enthusiasts to find great samples
With these factors in mind we've been able to put together a fantastic list that just about anyone can use!

The Best Places To Find Geodes in Delaware
You've probably struggled to find geodes that naturally exist in Delaware. This is because Delaware's geodes are more uncommon than those in other states. There are no known places where you would have a high chance of locating one because they are uncommon.
On the other hand, we can advise you on the best locations in Delaware to look for rock and gem formations that most closely resemble geodes.
Always Confirm Access and Collection Rules!
Before heading out to any of the locations on our list you need to confirm access requirements and collection rules for both public and private locations.
These requirements are subject to change without notice and may differ from what we state below.
Always get updated information directly from the source ahead of time to ensure responsible rockhounding.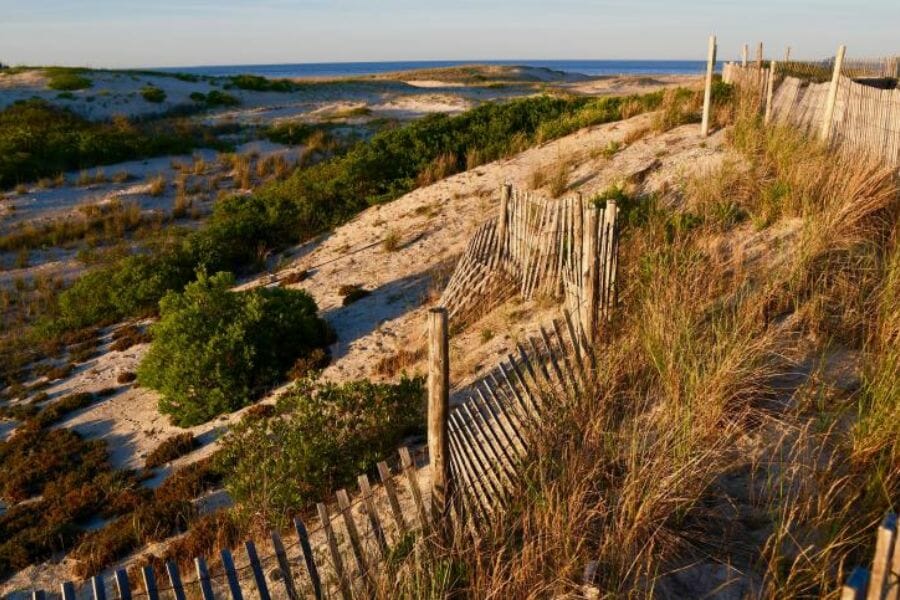 Sussex County is a great spot for anyone who loves exploring the outdoors. Located in the southern part of Delaware, it has some incredible geological features that make it a paradise for rockhounds and nature enthusiasts. The county's terrain is varied, with rolling hills, fertile farmland, and miles of beautiful coastline.
The region's geology is also quite interesting, with layers of sedimentary rock that date back millions of years. The county also has several state parks, including Cape Henlopen State Park and Delaware Seashore State Park. These parks offer miles of hiking and biking trails and beautiful beaches where you can soak up the sun and enjoy the ocean breeze.
Where we found geode-like formations
Quartz crystals are found on both sides of the point's beach at Cape Henlopen.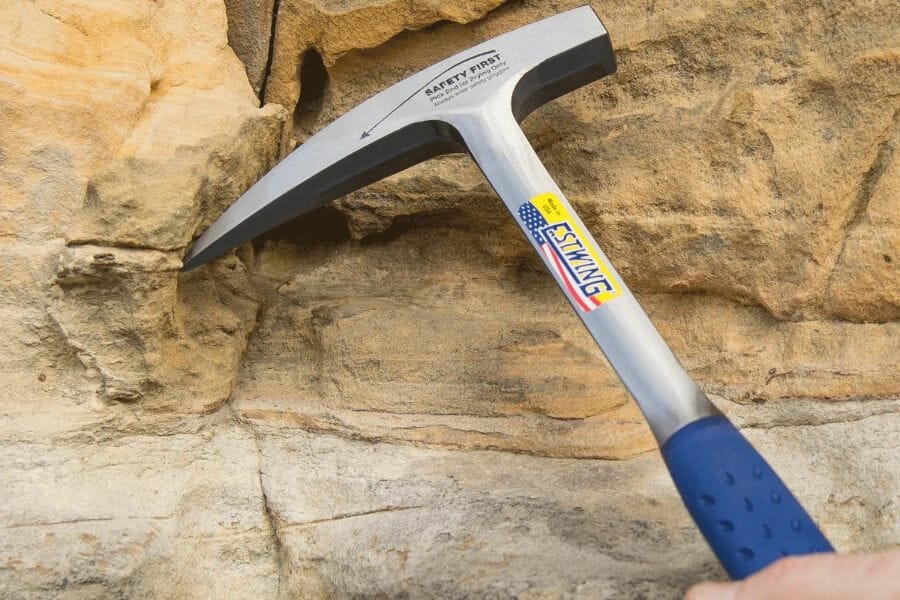 The tools every geode hunter will need
When you're out looking for geodes having the right tools for the job is very important. You don't need a lot for most trips but there are a handful that are critical and will make your life a lot easier.
We get asked a lot about the equipment we use. Over the years we've found a handful of tools that we recommend to both new and experienced geode hunters which we outline in great detail in our complete rockhounding tools and kit guide. These are quality options that also happen to be relatively inexpensive.
Below are the basic tools that make your life so much easier and save you a ton of time. Check out the full guide to see everything we recommend bringing. One quick note, as an Amazon Associate I earn from qualifying purchases but we try very hard to only recommend gear we would use ourselves and often recommend brands you can't find on Amazon.
At a minimum you should have:
1 - Sturdy rock hammer: The Estwing Rock Pick is our standard
2 - Rugged chisels: Try Kendo' 3-piece Chisel Set
3 - Compact shovel: The Koleiya 28-inch shovel works well
4 - Rock screen pan: The Wazakura Soil Sieve Set fits the bill
5 - Eye protection: DeWalt Safety Glasses are cheap and comfortable
6 - Head protection: Malta's Safety Helmet has been our go-to
7 - Jewelers lens with at least 20x magnification: Jarlink's Jewelers Loop is perfect
The geode-finding books that we use most
There are also a few books that have been extremely helpful in the search for gems. These books have great recommendations and tips:
National Audubon Society Field Guide to Rocks and Minerals: North America 
Northeast Treasure Hunter's Gem & Mineral Guide 
Earth Treasures: The Northeastern Quadrant 
We provide links to find these tools on Amazon but some can also be found at your local hardware stores. For more recommendations check out the link to our full tool guide above.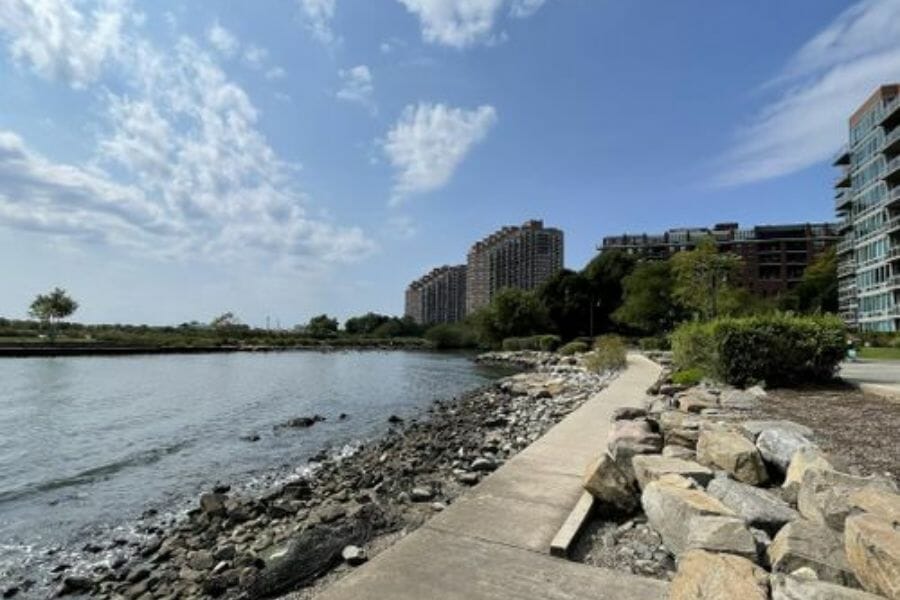 If you're going to travel, you might as well head a little further north and east to look for some geodes in New Jersey. The state is arguably the easiest to go to find geodes near Delaware.
Bergen Hill is a small but significant geological formation located in the northeastern part of New Jersey. The hill is essentially a ridge that runs along the Hudson River, separating the cities of Jersey City and Hoboken. The terrain is quite steep, with a significant incline that can make it challenging to traverse. But for those who are up for the climb, the views from the top are truly spectacular.
The geology of Bergen Hill is quite interesting, with layers of rock that date back millions of years. The hill comprises a mix of sedimentary and igneous rocks, including sandstone, shale, and granite. These rocks have been shaped by erosion and other natural forces, creating truly breathtaking formations like geodes.
Where we found geodes in Bergen Hill
Particularly road cuts, railroad cuts, and other exposures close to the Hudson River.
Common Delaware Geode-Hunting Questions
To answer any issues you might have about finding geodes, we've encountered some typical problems below.
Where can you find amethyst geodes in Delaware?
Unfortunately, amethyst geodes are not found naturally in Delaware. Although you can't truly dig for them here, there are numerous nearby rock shops where you may buy them. Below is a list of a few of these.
Is it illegal to collect geodes in Delaware?
In Delaware, collecting geodes is legal if you abide by local regulations. Make sure to read the rules carefully or get in touch with the owner first. Public and private laws are often distinct for each property.
The Best Places To Buy Geodes In Delaware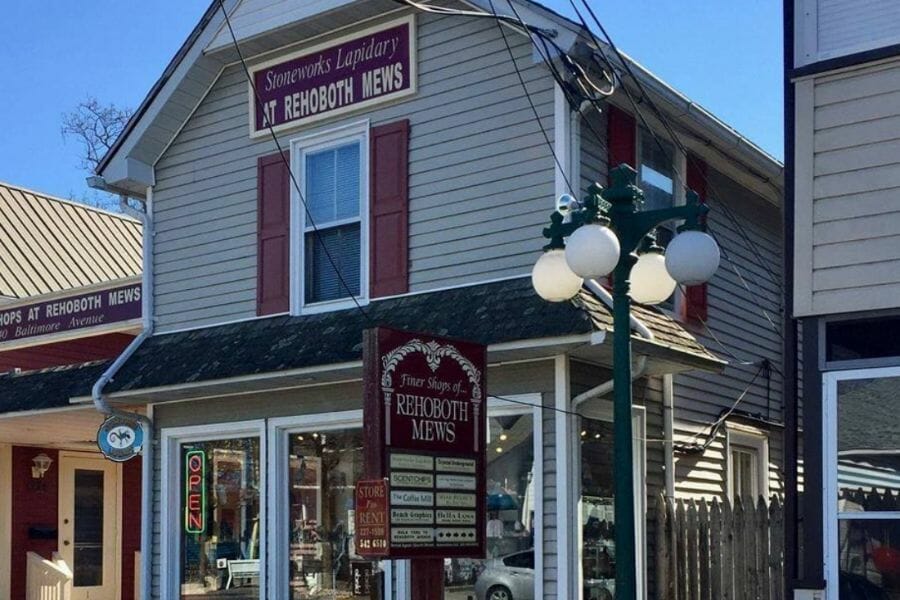 Only a number of the best rock shops in Delaware carry geodes. We are fortunate to have so many options because this state is great for collecting lovely rocks and minerals.
Crystal Maniacs – 10912 County Seat Hwy Unit 6 & 7, Laurel, DE 19956, United States
Amazon – You can find a wide variety of geodes on Amazon. Moreover, entire geode kits are available to crack them open. It's amazing.
Find Your Harmony – 2403 Ogletown Rd, Newark, DE 19711, United States
Finding Avalon – 102 S Main St, Camden, DE 19934, United States
She's Got Rocks In Her Head – 10912 County Seat Hwy, Laurel, DE 19956, United States
Stoneworks Lapidary – 40 Baltimore Ave, Rehoboth Beach, DE 19971, United States
Additional places to find geodes in nearby states
Check out our guides for nearby states if you've already tried all of our suggestions above or if you're planning a trip outside of the state:
If you have any recommendations for our list, please leave a comment below!