Idaho is a scenic state that offers a treasure trove of rocks and minerals, presenting a geological playground for collectors and adventurers. Whether you're an amateur rockhound or a seasoned prospector, our state's bountiful landscapes and abundant mineral resources make it an irresistible destination.
From vibrant gemstones to ancient fossils, there's something for everyone to uncover in Idaho. Picture yourself stumbling upon stunning specimens of Jasper, Opal, and Agate, which are just a few of the precious gems hidden beneath the surface. And let's not forget about Idaho's rare finds, like the dazzling Star Garnets found exclusively here.
Imagine exploring the towering peaks of the Sawtooth Mountains, delving into deep canyons, or sifting through sedimentary layers in picturesque river valleys. These stunning natural surroundings provide the perfect backdrop for your rockhounding adventures. As you read on, allow us to take you to more outstanding rockhounding places in Idaho!
How We Found The Best Places For Rockhounding in Idaho
We spent a lot of time putting together the list of which of the many options for Idaho rockhounding we were going to recommend. We wanted to have a nice variety of locations for experienced and novice rockhounds in a variety of settings. Here are the main factors we used when determining the recommendations we set out :
The extensive local experience and understanding of our team
Input from multiple local rockhounds and rockhound groups
The accessibility of the various locations
Safety and potential hazards when collecting
Private and public locations
A desire to include locations for both experienced rockhounds and those who are just starting out
Using these weights we think we've put together the best list out there for those who love finding new rocks, gems, and minerals for our collections!

What You Can Find Rockhounding In Idaho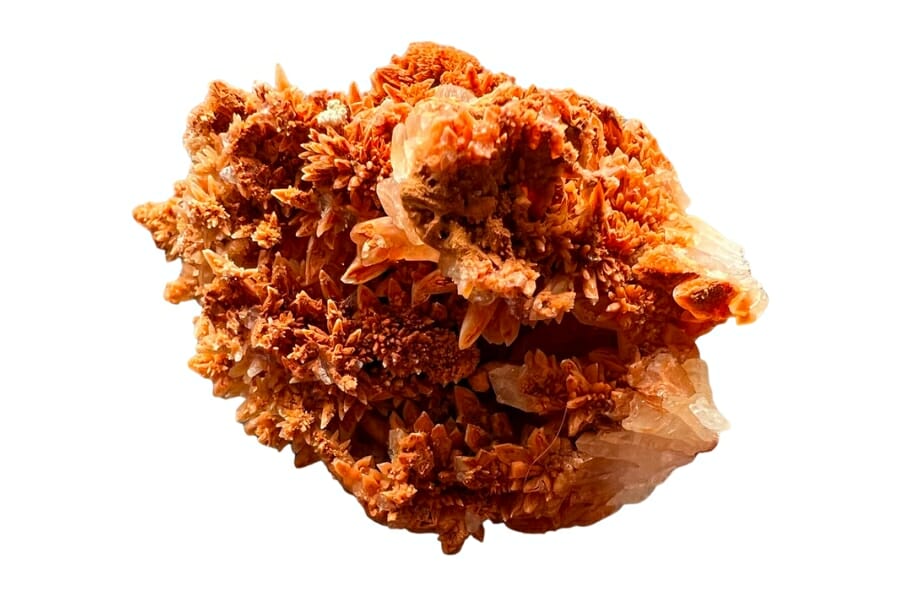 From its rugged mountain ranges to deep canyons and picturesque river valleys, Idaho's diverse terrain sets the stage for an exhilarating rockhounding adventure. As you explore its vast expanses, you'll stumble upon an array of captivating specimens, such as the following:
Rare rocks and minerals found in Idaho
More common desirable rocks, minerals, and gems found here
In-depth guides to finding specific types of rocks in Idaho
In case you're in Idaho to find specific types of rocks and minerals, here are a few guides we've created that you can checkout:
We also have a full guide to rock hunting places near you with other 3,000 sites all around the country. You can check it out if you want to explore other states' rockhounding opportunities. But if you're focused on Idaho, continue reading here.
The Best Places To Find Rocks and Minerals in Idaho
Idaho is extremely blessed with plenty of outstanding rockhounding sites, making it naturally difficult to select the best ones to visit. That's why we're sharing with you first our top recommendations based on our personal visit to these places and also on the experiences of other rockhounds in our area.
Always Confirm Access and Collection Rules!
Before heading out to any of the locations on our list you need to confirm access requirements and collection rules for both public and private locations.
These requirements are subject to change without notice and may differ from what we state below.
Always get updated information directly from the source ahead of time to ensure responsible rockhounding.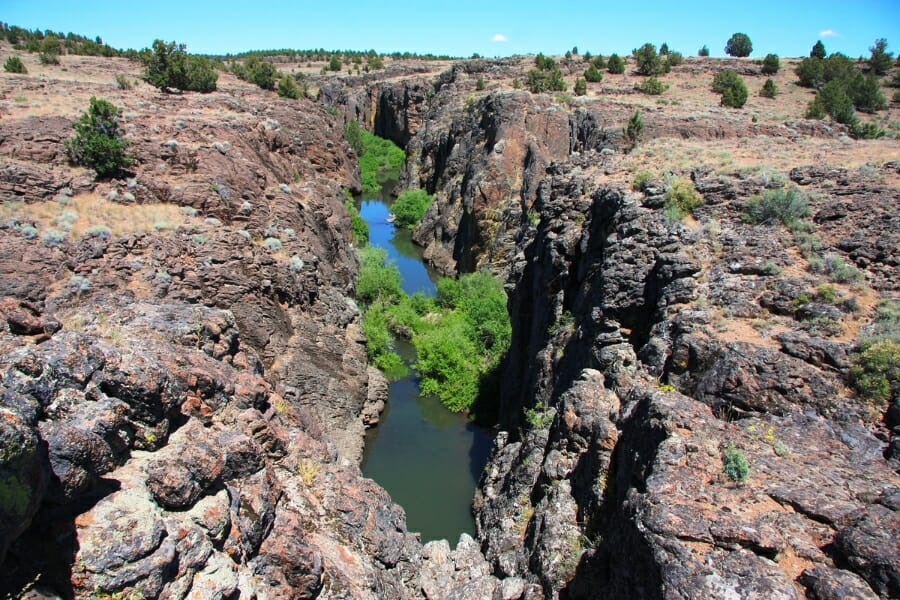 Pole Creek stands out as a remarkable rockhounding site that promises both beauty (just look at the photo!) and abundant geological treasures. Located in the western part of our state, near the town of Challis, this site is renowned among rockhounds for its diverse range of rocks and minerals.
As you can see, the area is characterized by its rugged terrain, carved by the flowing waters of Pole Creek, creating an ideal environment for the formation and exposure of various geological specimens.
With its natural beauty and rich geological offerings, this area is a must-visit destination for rockhounding enthusiasts eager to uncover the hidden treasures of the Earth.
What you can find there
In Pole Creek lie stunning samples of elusive Geodes with Chalcedony, Amethyst, and Quartz crystals inside.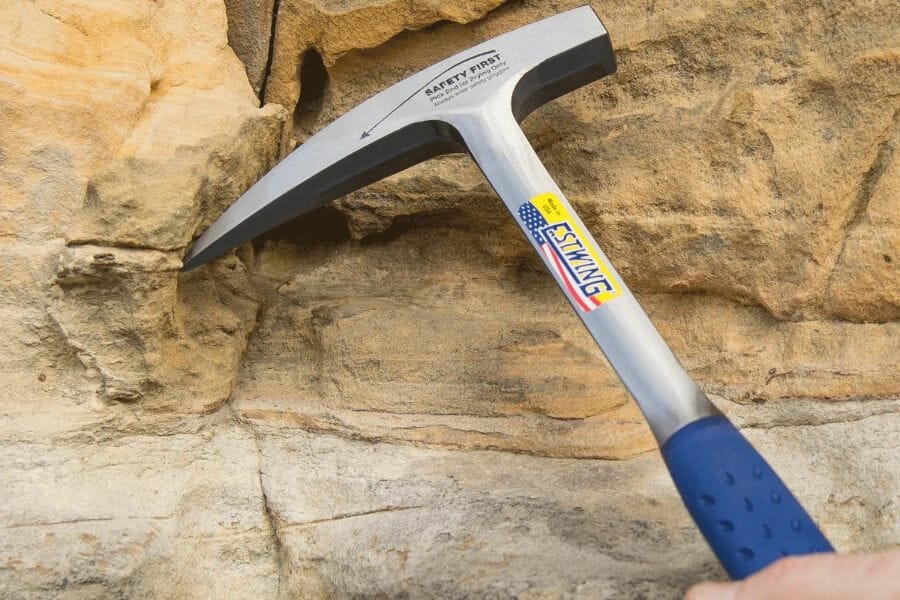 The tools every rockhound will need
When you're out looking for rocks and minerals having the right tools for the job is really going to make or break your success. You don't need a lot for most trips but there are a handful that are critical and will make your life a lot easier.
We get asked a lot about the equipment we use. Over the years we've found a handful of tools that we recommend to both new and experienced rockhounds which we outline in great detail in our complete rockhounding tools and kit guide. These are quality options that also happen to be relatively inexpensive.
Below are the basic tools that make your life so much easier and save you a ton of time. Check out the full guide to see everything we recommend bringing. One quick note, as an Amazon Associate I earn from qualifying purchases but we try very hard to only recommend gear we would use ourselves and often recommend brands you can't find on Amazon.
At a minimum you should have:
1 - Sturdy rock hammer: The Estwing Rock Pick is our standard
2 - Rugged chisels: Try Kendo' 3-piece Chisel Set
3 - Compact shovel: The Koleiya 28-inch shovel works well
4 - Rock screen pan: The Wazakura Soil Sieve Set fits the bill
5 - Eye protection: DeWalt Safety Glasses are cheap and comfortable
6 - Head protection: Malta's Safety Helmet has been our go-to
7 - Jewelers lens with at least 20x magnification: Jarlink's Jewelers Loop is perfect
The rockhounding books that we use most
There are also a few books that have been extremely helpful in the search for gems. These books have great recommendations and tips:
National Audubon Society Field Guide to Rocks and Minerals: North America 
Southwest Treasure Hunter's Gem & Mineral Guide 
Earth Treasures: The Southwestern Quadrant 
We provide links to find these tools on Amazon but some can also be found at your local hardware stores. For more recommendations check out the link to our full tool guide above.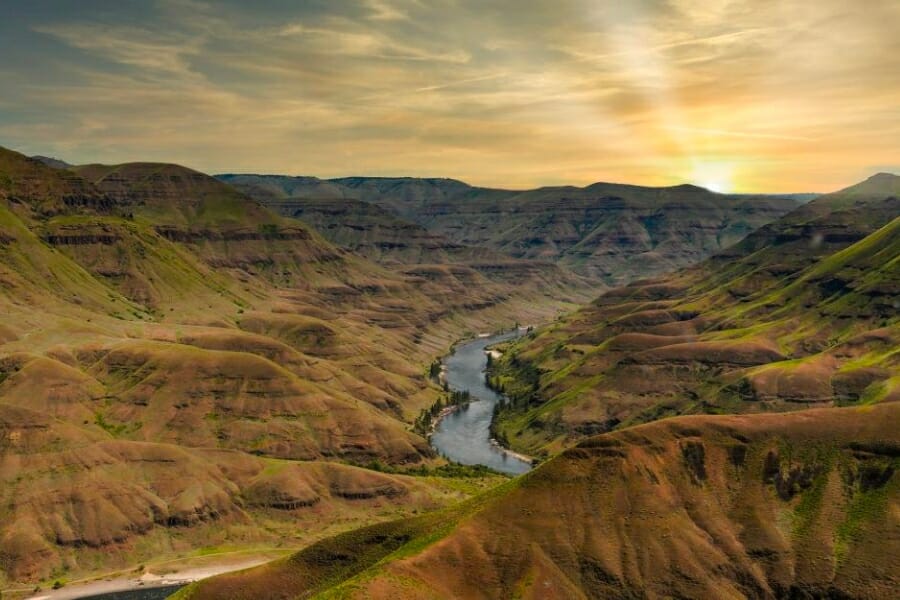 Lewiston serves as a captivating gateway to a world of rockhounding opportunities. Situated at the confluence of the Snake and Clearwater rivers, this site offers a unique combination of scenic beauty and geological diversity. The surrounding area is rich in minerals, providing rockhounds with a plethora of specimens to discover.
Lewiston and its surrounding areas are known for their abundant deposits of different rocks and minerals. These treasures are waiting to be unearthed in its riverbeds and surrounding landscapes, making it a fantastic rockhounding site for both beginners and experienced collectors.
What you can find there
You can find Agate, Aquamarine, Garnet, Gold, Opal (Hyalite), and Quartz crystals in all area streams and creeks in Lewiston.
It can be very easy to confuse some of the more common rocks and minerals that are found here, so we created a few guides to telling specific finds apart: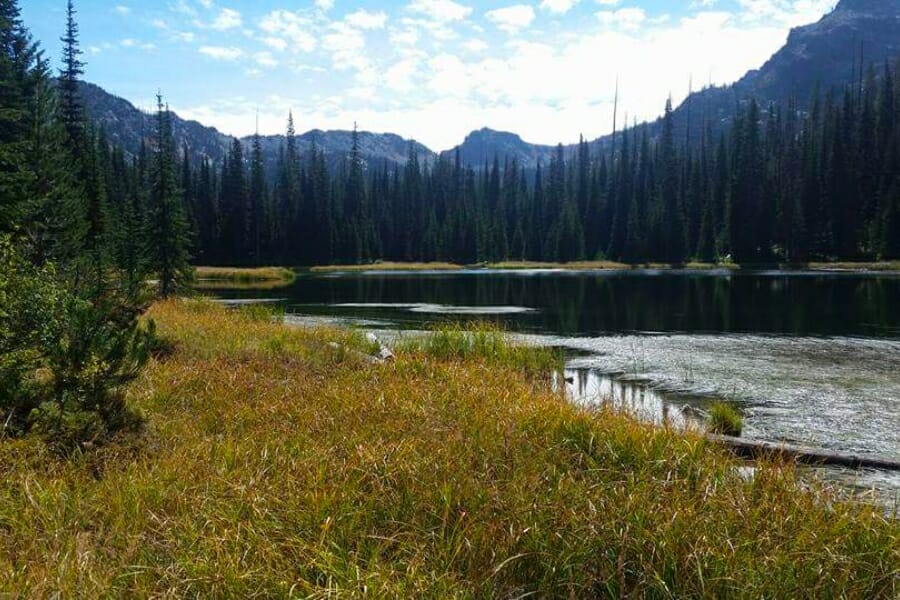 Emerald Creek is a pristine area nestled within the St. Joe National Forest. It offers a remarkable opportunity to unearth one of nature's most prized treasures: Star Garnets. In fact, Emerald Creek is renowned for being one of the few places in the world where Star Garnets can be found, making it a truly exceptional rockhounding site.
The Garnets found here possess a unique natural phenomenon called asterism, where a stunning six-rayed star appears to shimmer and dance across the surface, that's why it's called Star Garnet. These rare and mesmerizing gems are formed through a combination of geological processes over millions of years.
When you visit here, you have the chance to dig for your own Star Garnets. With its serene natural setting, the thrill of discovery, and the opportunity to find these extraordinary gems, Emerald Creek is undoubtedly a must-visit destination for you!
What you can find there
You can find Almandine variety of Garnet in the general area of Emerald Creek, while in its east fork lie stunning specimens of highly sought-after Star Garnets.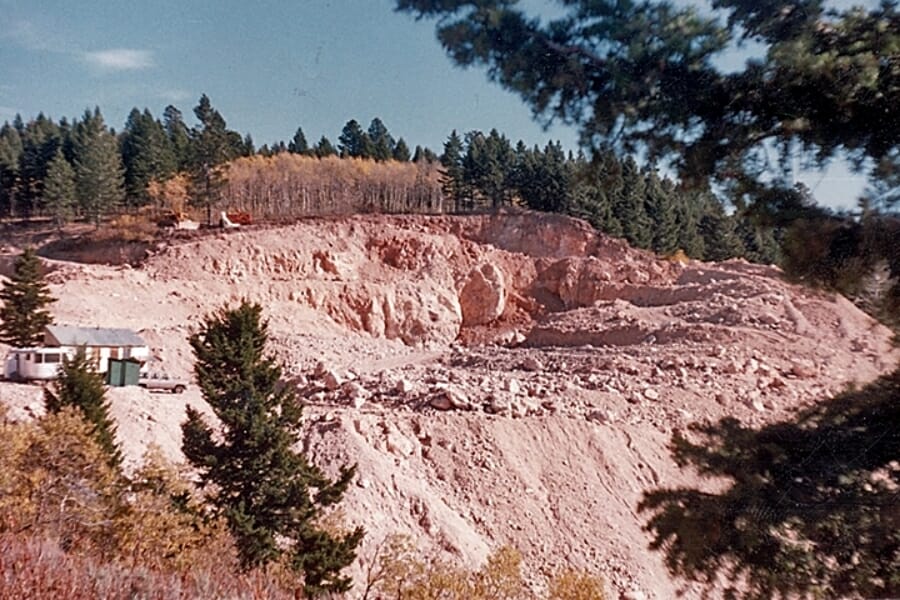 Spencer Opal Mines are a remarkable rockhounding site, offering a rare opportunity to uncover the vibrant beauty of Opal gemstones. Located near the town of Spencer, this unique destination attracts rockhounds from far and wide.
The mines are known for their precious Opals, which display an array of stunning colors and captivating play-of-color phenomena. Exploring the Spencer Opal Mines allows you to witness the magic of Opal formation and experience the thrill of finding your very own specimen.
As you delve into the mine's rich deposits, you can uncover opals embedded within the earth, revealing their captivating iridescence. With its beautiful natural surroundings and the chance to discover these mesmerizing gemstones, it's no wonder that the Spencer Opal Mines are considered a premier destination for opal enthusiasts.
What you can find there
Highly sought-after Fire Opals naturally occur in this place.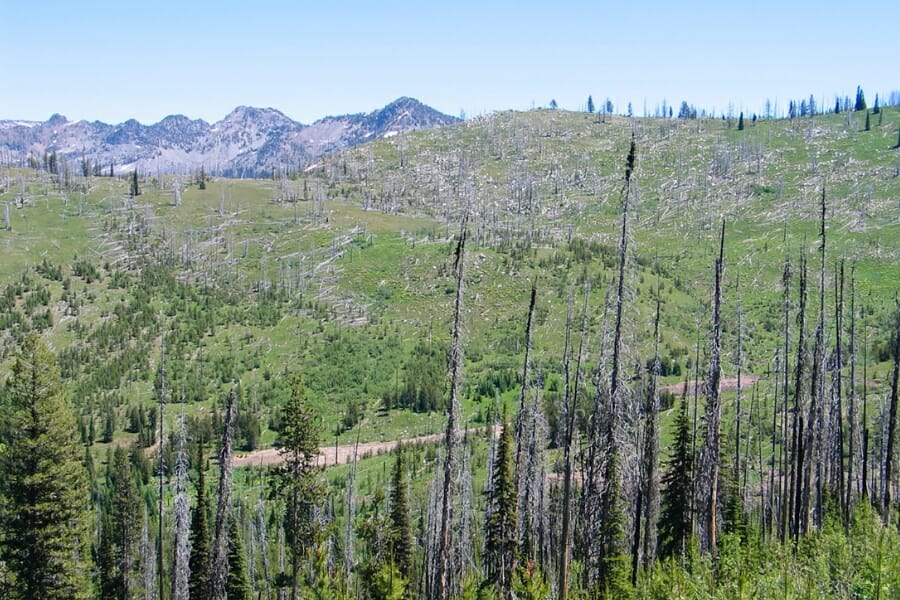 In the Seven Devils Mining District, stunning natural beauty combines seamlessly with a rich history of mining and mineral exploration. Located in the remote Seven Devils Mountains, this site offers a treasure trove of geological wonders waiting to be discovered.
What makes the Seven Devils Mining District particularly enticing for rockhounds is the opportunity to explore and collect minerals in a breathtaking alpine environment. The rugged terrain, towering peaks, and deep canyons provide a dramatic backdrop for your rockhounding adventures.
Whatever natural wonder you're searching for, the district offers a chance to experience the thrill of uncovering them in a breathtaking scenery. With its combination of geological diversity, scenic landscapes, and a glimpse into Idaho's mining history, it's truly an extraordinary rockhounding site!
What you can find there
When you explore the different mines of Seven Devils Mining District, you can find specimens of Epidote, Red and Pink Garnet, Malachite, Thulite, and Zoisite.
Our Other Favorite Spots Around Idaho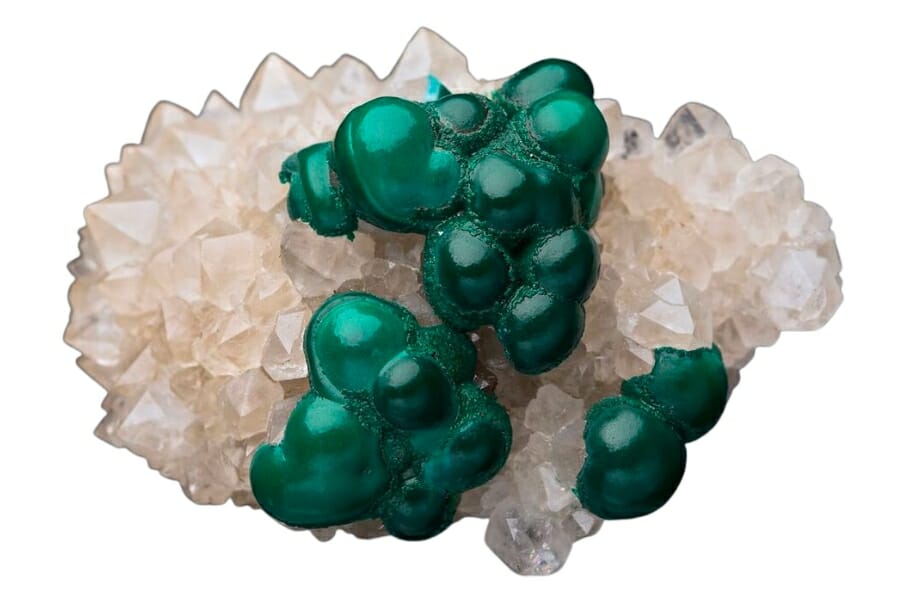 If you've already explored our top recommendations above, don't worry, because there are still plenty other rockhounding sites that you can visit in Idaho. We've listed them below by region to make your itinerary planning easier using this guide.
Rockhounding sites in Northern Idaho
The picturesque Northern Idaho is known for its diverse landscapes, ranging from majestic mountain ranges to pristine lakes and dense forests, creating a perfect backdrop for rockhounding adventures. Its geological diversity and rich mineral deposits make it a paradise for enthusiasts eager to uncover unique specimens.
| | |
| --- | --- |
| Location | Minerals & Rocks |
| Series of mines at Porthill | Gold, Lead, Silver |
| Mines downstream along Clark Fork | Azurite, Chalcocite, Chalcopyrite, Copper, Cuprite, Malachite |
| Hypotheek Mine | Anglesite, Galena |
| Bathtub Mountain area | Staurolite |
| Sunshine Mine | Siderite, Tetrahedrite |
| Coeur d'Alene | Linarite, Pyromorphite |
| Setters | Opal |
| Area where Ruby Gulch meets St. Maries River | Garnet (Almandine) |
Rockhounding sites in Southern Idaho
Southern Idaho offers a rich tapestry of geological wonders, making it an exceptional destination for rockhounds seeking diverse treasures. Its unique geology, shaped by ancient volcanic activity and the forces of nature, is home to a wide range of rocks and minerals, including some truly captivating finds.
| | |
| --- | --- |
| Location | Minerals & Rocks |
| 3 miles south-southwest of Almo in Moulton | Topaz |
| Both sides of US-93, but especially on the west side | Chalcedony Geodes |
| Along banks of Salmon Falls Creek | Chalcedony Geodes |
| Downstream from mouth of Rabbit Creek to mouth of Hardtrigger Creek | Chalcedony, Opal |
| Poorman Mine | Adularia, Chloragyrite, Pyragyrite |
Rockhounding sites in Eastern Idaho
With its diverse landscapes, including rugged mountains, fertile valleys, and scenic rivers, Eastern Idaho provides an ideal setting for rockhounding explorations. Its diverse range of rocks and minerals invites rockhounds to uncover unique specimens.
| | |
| --- | --- |
| Location | Minerals & Rocks |
| Crystal Butte | Andesine |
| Sand Creek (aka Willow Creek) | Petrified Wood |
| 3 miles south of Soda Springs | Gypsum, Sulphur |
| Lava Hot Springs area mines | Manganese |
| Hummingbird Mine | Quartz |
Rockhounding sites in Western Idaho
Western Idaho presents an exciting site for rockhounds, ensuring that every expedition holds the potential for unique and fascinating discoveries. Its varied landscapes— ranging from expansive valleys to rugged mountains— provide a rich tapestry of rocks and minerals.
| | |
| --- | --- |
| Location | Minerals & Rocks |
| Feeder Creek of Southward-flowing tributary of the Lochsa River | Corundum |
| Head of Little Goose Creek Canyon | Diamond, Garnet, Ruby, Sapphire, Zircon |
| New Meadows | Amethyst, Gold, Topaz |
| Hog Creek | Agate, Chalcedony |
| Area diggings in rock walls of Horseshoe Bend | Opal |
| Along Squaw Creek, below mouth of Little Squaw Creek | Chalcedony, Opal |
| Graveyard Point | Agate |
Rockhounding sites in Central Idaho
Endowed with a wealth of geological wonders, Central Idaho is a captivating region that holds immense appeal for rockhounds. Encompassing expansive forests, majestic mountains, and winding rivers, its landscapes provide a perfect backdrop for rockhounding adventures.
| | |
| --- | --- |
| Location | Minerals & Rocks |
| Upper reaches of Big Lost Creek valley | Chalcedony Geodes |
| Centerville | Aquamarine |
| Dixie area mines | Stibnite |
| Along all shorelines of Fish Creek Reservoir | Jasper, Petrified Wood |
| Upstream and down along the Wood River | Agate, Jasper |
| Series of mines along Lava Creek | Manganese, Tourmaline |
| Rocky Bar area mines | Gold |
| Bayhorse | Linarite |
Identifying rocks and minerals can be a puzzle, but our guides are the missing pieces that make it easier. Read the following articles, and you'll soon be able to tell them apart without breaking a sweat:
Public Rockhounding Options For Kids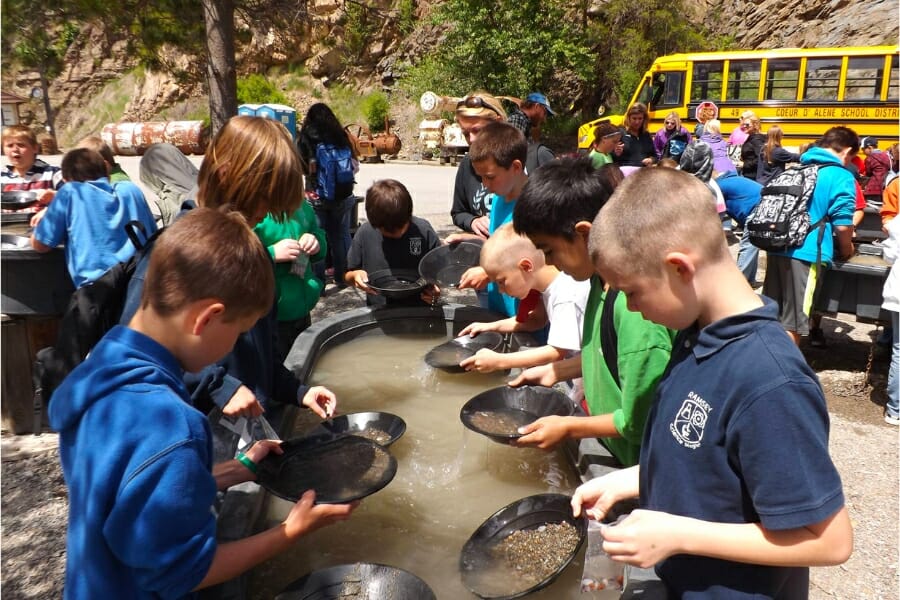 While Idaho offers a multitude of excellent rockhounding spots, some of them are challenging younger rockhounds. The rugged terrains and demanding conditions of certain sites may not be suitable for children.
So if you want some more family-friendly spots that can ignite your kids' interest in the rockhounding, you might want to consider visiting these places:
Idaho Rockhounding Clubs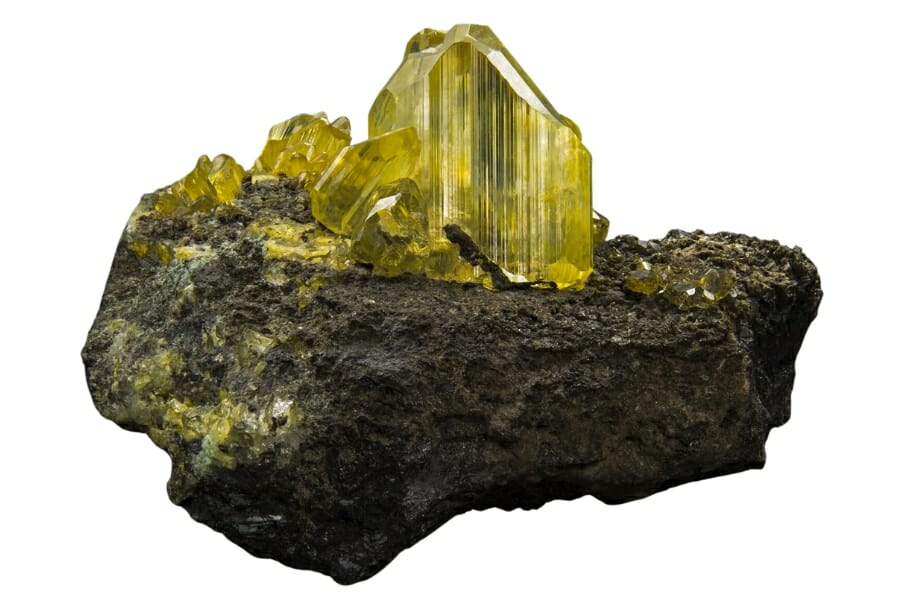 Joining a rockhounding club in Idaho, without a doubt, is advantageous for you, given our state's abundance of geological wonders. These clubs bring together individuals with a shared passion for rocks, minerals, and fossils, fostering a sense of community and camaraderie among like-minded enthusiasts.
For beginners, rockhounding clubs allow them to learn from experienced members who can provide insights on identification, collecting techniques, and safe practices. For experienced collectors, these clubs offer a platform to connect and exchange knowledge with fellow enthusiasts.
By joining a rockhounding club in Idaho, you can gain access to a network of local experts who possess intimate knowledge of our region's geology. This opens doors to exclusive information on new discoveries, hotspots, and even private mining claims.
Rockhounding clubs in Idaho worth checking out
Idaho Rockhounding Laws And Regulations
Rockhounding is legal in Idaho, but it's essential to adhere to all local and state laws and regulations when it comes to collecting. These laws aim to protect the natural environment, maintain the integrity of public lands, and ensure sustainable rockhounding practices.
The Idaho Department of Lands (IDL) and the Idaho Department of Environmental Quality (DEQ) are the state agencies that regulate rockhounding in our state. The IDL manages state lands and provides permits for commercial rockhounding operations, while the DEQ protects the environment and water quality, providing guidelines for proper waste disposal and land use during rockhounding activities.
To ensure a positive and legal rockhounding experience here, familiarize yourself with the specific regulations and guidelines set forth by the IDL and DEQ. By following them, you'll not only enjoy your hobby responsibly, but also help preserve the natural beauty and geological heritage of Idaho for future generations.
The Best Rock And Mineral Shops In Idaho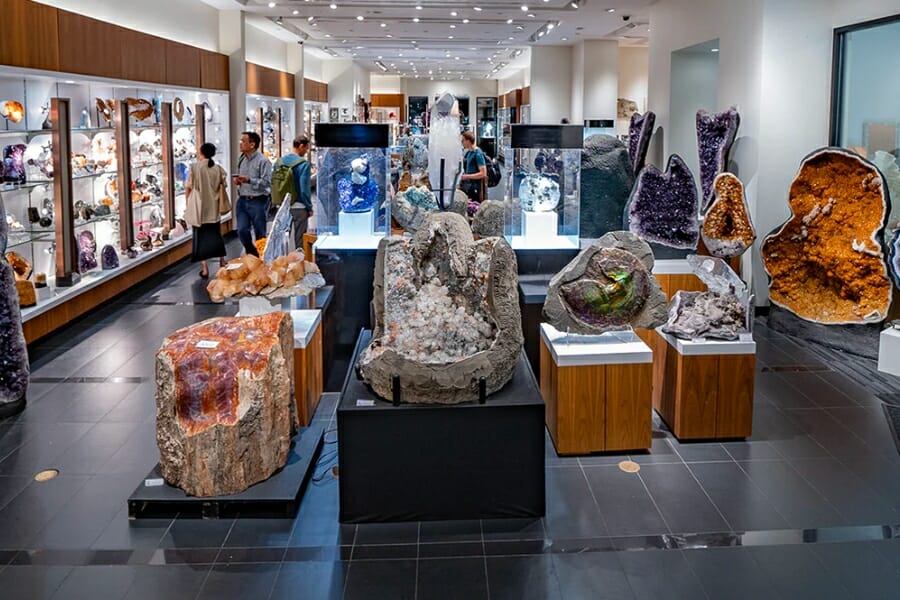 If you're after specific rocks and minerals, the reality is that them in their natural environment in Idaho can be quite challenging, if not impossible, especially if they are rare specimens. But there are exceptional rock and mineral shops here that cater to those looking to expand their collections without the need for outdoor exploration.
In the specialized shops below, you can browse through a vast array of meticulously curated rocks, minerals, and gems from various locations around the world, including Idaho itself.
Additional Rockhounding Places In Nearby States
If you want to extend your rockhounding adventure to nearby states, check out the following guides that we prepared for you:
If you have any recommendations that we haven't covered yet, please leave them in the comments below!