Here in West Virginia, the rocks and minerals are as abundant as the smiles on our friendly residents' faces! Nestled in the heart of the Appalachian Mountains, our charming state offers a treasure trove for rockhounds. With its diverse geology and rich mining history, West Virginia is a must-visit destination for those eager to unearth stunning specimens.
But that's not all! Beyond its stunning rocks and minerals, our state is blessed with a breathtaking landscape that will make your rockhounding adventures even more memorable. Picture yourself exploring the rugged mountains, meandering rivers, and verdant valleys, all while hunting for that perfect specimen.
Whether you're an experienced rockhound or a curious beginner, West Virginia welcomes you with open arms and an abundance of hidden treasures. As you prepare to embark on an unforgettable rockhounding journey here, allow us to share with you the certified spots that you can explore for these natural wonders.
How We Found The Best Places For Rockhounding in West Virginia
We spent a lot of time putting together the list of which of the many options for West Virginia rockhounding we were going to recommend. We wanted to have a nice variety of locations for experienced and novice rockhounds in a variety of settings. Here are the main factors we used when determining the recommendations we set out :
The extensive local experience and understanding of our team
Input from multiple local rockhounds and rockhound groups
The accessibility of the various locations
Safety and potential hazards when collecting
Private and public locations
A desire to include locations for both experienced rockhounds and those who are just starting out
Using these weights we think we've put together the best list out there for those who love finding new rocks, gems, and minerals for our collections!

What You Can Find Rockhounding In West Virginia
As you explore West Virginia's rugged terrain and winding rivers, you'll stumble upon a diverse range of rocks and minerals that have been hiding beneath the surface for millions of years. If you got the chance to explore here, below are some of the amazing finds you can uncover:
Rare rocks and minerals found in West Virginia
More common desirable rocks, minerals, and gems found here
In-depth guides to finding specific types of rocks in West Virginia
To help you locate specific types of rocks and minerals here, you can checkout these several guides that we've created:
Also, visit our rockhounding map that contains over 3,000 sites all over the country.
But if you prefer to focus on the rockhounding opportunities in West Virginia, keep reading here as we'll share more in-depth information below.
The Best Places To Find Rocks and Minerals in West Virginia
Here are our top recommended rockhounding spots in West Virginia that will certainly make your adventure memorable. We highly recommended these places, not only based on our personal rockhounding experience, but also on the experiences of other rockhounds in the area.
Always Confirm Access and Collection Rules!
Before heading out to any of the locations on our list you need to confirm access requirements and collection rules for both public and private locations.
These requirements are subject to change without notice and may differ from what we state below.
Always get updated information directly from the source ahead of time to ensure responsible rockhounding.
Spanning over 900,000 acres of diverse terrain, the vast wilderness of the Monongahela National Forest offers a wealth of opportunities to explore and discover fascinating rocks and minerals. It's home to a rich geological history, with ancient formations and unique rock formations for rockhounds of all levels of expertise to discover.
What sets the Monongahela National Forest apart as a premier rockhounding site is its accessibility and variety of collecting areas. The forest features an extensive network of trails and roads that wind through its rugged landscapes, making it easy to access prime rockhounding spots.
Whether you're searching along creek beds, exploring exposed rock faces, or sifting through gravel bars, you'll have ample opportunities to find interesting specimens. The forest's diverse ecosystems, including old-growth forests and scenic valleys, add to the allure of rockhounding in this remarkable wilderness.
What you can find there
When you get the chance to explore here, you can find varied samples of rocks and minerals, including Calcite, Dolomite, Quartz crystals, and even Geodes.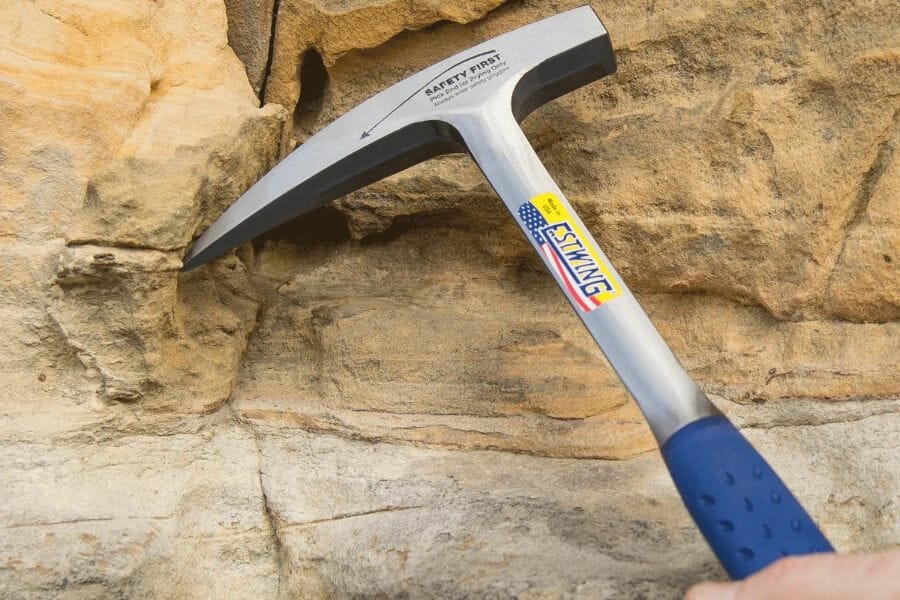 The tools every rockhound will need
When you're out looking for rocks and minerals having the right tools for the job is really going to make or break your success. You don't need a lot for most trips but there are a handful that are critical and will make your life a lot easier.
We get asked a lot about the equipment we use. Over the years we've found a handful of tools that we recommend to both new and experienced rockhounds which we outline in great detail in our complete rockhounding tools and kit guide. These are quality options that also happen to be relatively inexpensive.
Below are the basic tools that make your life so much easier and save you a ton of time. Check out the full guide to see everything we recommend bringing. One quick note, as an Amazon Associate I earn from qualifying purchases but we try very hard to only recommend gear we would use ourselves and often recommend brands you can't find on Amazon.
At a minimum you should have:
1 - Sturdy rock hammer: The Estwing Rock Pick is our standard
2 - Rugged chisels: Try Kendo' 3-piece Chisel Set
3 - Compact shovel: The Koleiya 28-inch shovel works well
4 - Rock screen pan: The Wazakura Soil Sieve Set fits the bill
5 - Eye protection: DeWalt Safety Glasses are cheap and comfortable
6 - Head protection: Malta's Safety Helmet has been our go-to
7 - Jewelers lens with at least 20x magnification: Jarlink's Jewelers Loop is perfect
The rockhounding books that we use most
There are also a few books that have been extremely helpful in the search for gems. These books have great recommendations and tips:
National Audubon Society Field Guide to Rocks and Minerals: North America 
Southeast Treasure Hunter's Gem & Mineral Guide 
Earth Treasures: The Southeastern Quadrant 
We provide links to find these tools on Amazon but some can also be found at your local hardware stores. For more recommendations check out the link to our full tool guide above.
Berkeley Springs is a captivating town that offers both natural beauty and rich rockhounding opportunities. Renowned for its natural mineral springs, this charming destination attracts visitors seeking relaxation and rejuvenation.
But beneath its surface lies a hidden gem for rockhounds. Its surrounding area is abundant in diverse geological formations, making Berkeley Springs an excellent site for rockhounding adventures.
Within close proximity to Berkeley Springs, you can also explore the Cacapon Mountain and its surrounding valleys, which offer a wide range of rocks and minerals. Whether you prefer surface collecting or venturing into creek beds and stream banks, Berkeley Springs have ample opportunities to find unique specimens.
What you can find there
In the area quarries of Berkeley Springs, you can find specimens of Calcite, Jasper, Pyrite, Quartz, and Selenite.
Smoke Hole Caverns offer a captivating rockhounding experience for adventurers of all ages. This underground wonderland is home to a vast network of stunning caverns adorned with breathtaking rock formations, making it a dream destination for rockhounding enthusiasts.
As you descend into the depths of Smoke Hole Caverns, you'll be treated to a spectacle of intricate stalactites, stalagmites, and other unique mineral formations that have been sculpted over thousands of years.
This site not only provides a visually stunning experience, but also offers an opportunity for you to explore and collect unique mineral specimens. While you won't be able to take rocks directly from the caverns themselves, the surrounding area offers ample opportunities to find interesting rocks and minerals.
What you can find there
You can find stunning samples of Gypsum, Pyrite, and Fossils here. Luckily, Chalcedony Geodes are also among the amazing finds that you can spot here.
Rising majestically, the North Fork Mountains present a captivating destination for rockhounds. This rugged and scenic mountain range is known for its unique geological formations and diverse array of rocks and minerals.
As you explore the North Fork Mountains, you'll have the opportunity to uncover natural treasures that will captivate you.
This exceptional rockhounding site is made even worthy of visiting because of the accessibility of its many collecting areas. Hikers and rockhounds can traverse the network of trails that crisscross the range, leading to prime locations for specimen hunting.
What you can find there
Among the interesting rocks and minerals that you can find here are Calcite, Celestite, Dolomite, and Travertine.
Knobly Mountain
Knobly Mountain is an ancient mountain range that's characterized by its distinctive knobs and ridges, provides a wealth of opportunities for discovering unique rocks and minerals.
As you explore its rugged terrain, you may already encounter a diverse range of specimens. Its exposed rock formations and geological diversity make the Knobly Mountain a prime location for rockhounding adventures.
What makes this site particularly appealing for rockhounding is its remote and untouched nature. The mountain range is known for its tranquil and secluded atmosphere, providing a serene environment for you to immerse in your search for hidden wonders.
What you can find there
This site is endowed with plenty types of rocks and minerals, such as Chalcedony, Calcite, Celestite, Dolomite, Fluorite, Quartz, Sphalerite, and Sulfur.
Our Other Favorite Spots Around West Virginia
Apart from our top recommendations, there are other great rockhounding sites in West Virginia that you can visit and explore. We've arranged them by region below so that you can easily refer to this guide when creating your rockhounding itinerary in our state.
Rockhounding sites in Northern West Virginia
Northern West Virginia is blessed with a variety of rocks and minerals due to its complex geological history. From the ancient Appalachian Mountains to the winding rivers and lush valleys, this area provides a wealth of collecting opportunities for rockhounds.
| | |
| --- | --- |
| Location | Minerals & Rocks |
| Connellsville Coal Company No. 1 Mine | Calcite, Marcasite, Petrified Wood, Pyrite |
| Headwaters of Scott Run | Opal |
| 2.5 miles north of Coopers Rock | Hematite |
| Monongalia Countywide | Barite, Sphalerite |
| Along SR-7 in Greer | Calcite |
| Road cut through hillside of Booths Creek | Melanterite, Pyrite |
| Sandstone cliff above the railroad track in Westover | Barite, Calcite, Melanterite, Selenite, Siderite |
Rockhounding sites in Southern West Virginia
Characterized by rugged mountains, deep valleys, and winding rivers, Southern West Virginia is a rockhound's paradise with a diverse and fascinating landscape. It's known for its rich coal deposits, which have shaped the region's history and geology.
While coal may not be the primary focus for rockhounds, it often occurs alongside intriguing minerals and rocks that make this area an exciting destination for collectors.
| | |
| --- | --- |
| Location | Minerals & Rocks |
| US-21 bypass in Bluefield | Chert |
| Abandoned quarry in Willowtown | Calcite |
| Vacant lot within city limits of Peterstown | Diamond |
| Turkey Creek | Quartz |
| Crest and southeast side of Moss Mountain | Chert, Psilomelane, Quartz (Clear and Smoky) |
Rockhounding sites in Northeastern West Virginia
Northeastern West Virginia is a hidden gem for rockhounding enthusiasts, offering a remarkable blend of natural beauty and geological treasures. It's renowned for its rich deposits of shale, sandstone, and limestone, which provide a foundation for a wide range of fascinating rocks and minerals.
| | |
| --- | --- |
| Location | Minerals & Rocks |
| Howell Zinc Prospect | Dolomite, Galena, Sphalerite |
| Pennsylvania Glass Sand Corporation Quarry | Calcite, Dolomite, Pyrite, Quartz |
| 2 miles north from SR-9 at Snickers Gap | Epidote, Quartz |
| Road cut south on US-340 near the Virginia border | Tourmaline, Zircon |
| Martin Marietta Company quarries | Calcite, Dolomite, Fluorite, Travertine |
| Berkeley Countywide | Calcite, Dolomite, Quartz |
Rockhounding sites in Southeastern West Virginia
Southeastern West Virginia is a captivating region, with its rolling hills, deep forests, and picturesque rivers which promise exciting discoveries. It is known for its abundance of sedimentary rocks, including sandstone, shale, and limestone, which usually hold a rich variety of minerals and fossils.
| | |
| --- | --- |
| Location | Minerals & Rocks |
| Area of Eckle School | Calcite, Celestite, Dolomite, Oolite, Pyrite, Quartz, Sphalerite |
| Williamsburg | Fossils, Hematite, Quartz |
| Alvon area manganese mines | Psilomelane |
| West Virginia Road Commission Stone Quarry | Anhydrite, Calcite, Celestite, Dolomite, Fluorite, Gypsum |
| Locust Creek | Fossils |
Rockhounding sites in Central Eastern West Virginia
With its fascinating blend of geological wonders and scenic beauty, Central Eastern West Virginia is a captivating region. Its accessible landscapes and abundant geological treasures make it a must-visit destination for rockhounds.
| | |
| --- | --- |
| Location | Minerals & Rocks |
| Cosner Gap | Hematite |
| Abandoned quarry at Petersburg | Calcite, Chert, Dolomite, Quartz |
| SR-42 in Maysville | Quartz |
| 3.2 miles west on US-250 in Cheat Bridge | Calcite, Pyrite, Quartz |
| Paulina Limestone Quarry | Calcite |
| 2.5 miles south on US-219 | Fossils |
| Limestone quarry at Judy Gap | Calcite, Dolomite, Quartz, Travertine |
| Onego Quarry | Calcite, Fluorite, Travertine |
Public Rockhounding Options For Kids
If you would like to get your children interested in rockhounding, take note that some locations can be challenging for younger rockhounds. The rugged terrains, difficult access points, or the need for specialized tools might pose obstacles for children to fully engage in the hobby.
However, there are plenty of family-friendly rockhounding spots in West Virginia that can foster a love for the hobby among kids. These spots often provide easier access, safer environments, and opportunities to find rocks and minerals that capture children's curiosity and interest, such as the following:
West Virginia Rockhounding Clubs
Rockhounding clubs are invaluable resources for both newcomers and seasoned collectors, and joining one can greatly enhance your rockhounding experience. This is especially true in the vibrant rockhounding scene of West Virginia, where the clubs provide a supportive and engaging community of members who share their knowledge, experiences, and passion for rocks and minerals.
For beginners, these clubs offer a wealth of guidance and mentorship, helping them navigate the intricacies of rockhounding, from identifying different specimens to learning proper collecting techniques. For experienced collectors, rockhounding clubs offer a platform to connect with like-minded individuals who share their enthusiasm.
Rockhounding clubs in West Virginia worth checking out
West Virginia Rockhounding Laws And Regulations
Rockhounding is a legal activity in West Virginia if you comply with all relevant local and state laws to ensure responsible collecting. It's crucial to respect private property rights, obtain permission from landowners when necessary, and follow any posted regulations on rockhounding.
The West Virginia Department of Environmental Protection (WVDEP) plays a vital role in regulating rockhounding activities within our state. Through its Office of Abandoned Mine Lands and Reclamation, the WVDEP oversees the proper management of land and mineral resources. They ensure compliance with environmental regulations, monitor land use, and promote responsible collecting practices.
By familiarizing yoursel with the guidelines and regulations set forth by the WVDEP, you can enjoy rockhounding while preserving the natural beauty and integrity of West Virginia's landscapes for future generations to appreciate.
The Best Rock And Mineral Shops In West Virginia
There is another— much easier, but not exactly cheaper— way to update your collection with the specific type of rock and minerals you're looking for and that is to visit our local shops here.
Below are some of our exceptional shops that contain great selections that you can choose from:
Additional Rockhounding Places In Nearby States
If you want to extend your rockhounding adventure to nearby states, check out the following guides that we prepared for you:
If you have any recommendations that we haven't covered yet, please leave them in the comments below!