Virginia is a geological wonderland where rockhounding enthusiasts are in for a treat! From the picturesque Blue Ridge Mountains to the scenic Atlantic coastline, its diverse terrain offers a treasure trove of rocks and minerals. Our state will surely have you digging up fascinating finds in no time!
This region has witnessed a remarkable array of geological processes, resulting in a wide variety of rocks and minerals. So whether you're hunting for crystals, fossils, or gemstones, Virginia has got you covered. In fact, it's one of the few places in the world where you can find rare wonders, like Amazonite and Staurolite.
If you're a passionate collector or simply one who enjoys the thrill of discovery, Virginia promises an unforgettable rockhounding experience, with nothing but the best scenic backdrop!
How We Found The Best Places For Rockhounding in Virginia
We spent a lot of time putting together the list of which of the many options for Virginia rockhounding we were going to recommend. We wanted to have a nice variety of locations for experienced and novice rockhounds in a variety of settings. Here are the main factors we used when determining the recommendations we set out :
The extensive local experience and understanding of our team
Input from multiple local rockhounds and rockhound groups
The accessibility of the various locations
Safety and potential hazards when collecting
Private and public locations
A desire to include locations for both experienced rockhounds and those who are just starting out
Using these weights we think we've put together the best list out there for those who love finding new rocks, gems, and minerals for our collections!

What You Can Find Rockhounding In Virginia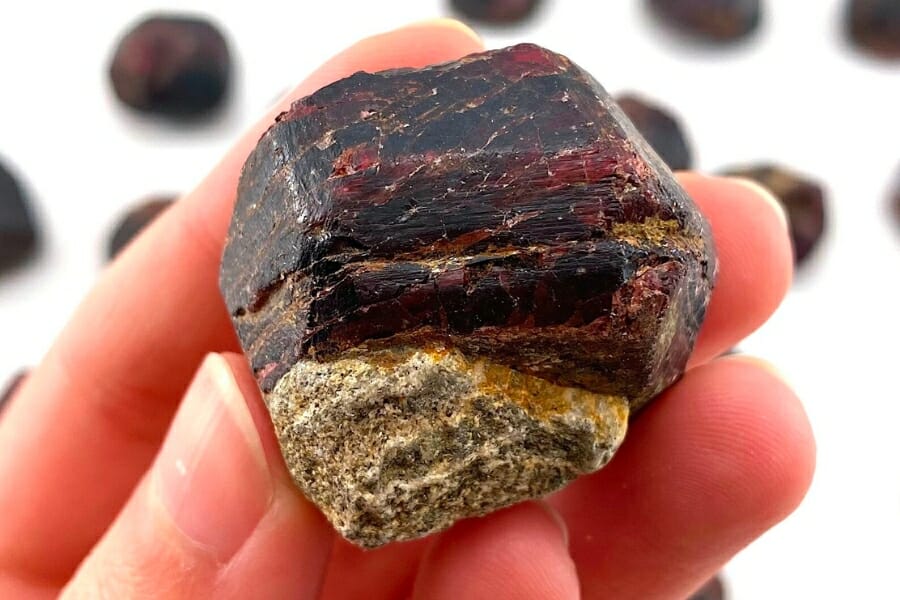 If you're curious about what you will find in Virginia, just imagine what a haven for rockhounds of all levels has got to offer. With its diverse landscapes and rich geological history, every region in our state holds its own surprises. Expect to unearth a fascinating assortment of rocks and minerals, each with its own unique story to tell, such as the ones below:
Rare rocks and minerals found in Virginia
Amazonite
Epidote
Kyanite
Sodalite
Staurolite
Vesuvianite
More common desirable rocks, minerals, and gems found here
In-depth guides to finding specific types of rocks in Virginia
If you're looking for a specific specimen of a specific kind, then the focused guides that we've already created will come in handy for you. Here are some of them:
You can also use our full guide to rock hunting near you with an incredible 3,000+ sites covered nationwide!
Feel free to keep coming back to these guides ONLY if you're looking for those specific types of rocks and minerals. Otherwise, stay reading because we're sharing our favorite places to go rockhounding in Virginia.
The Best Places To Find Rocks and Minerals in Virginia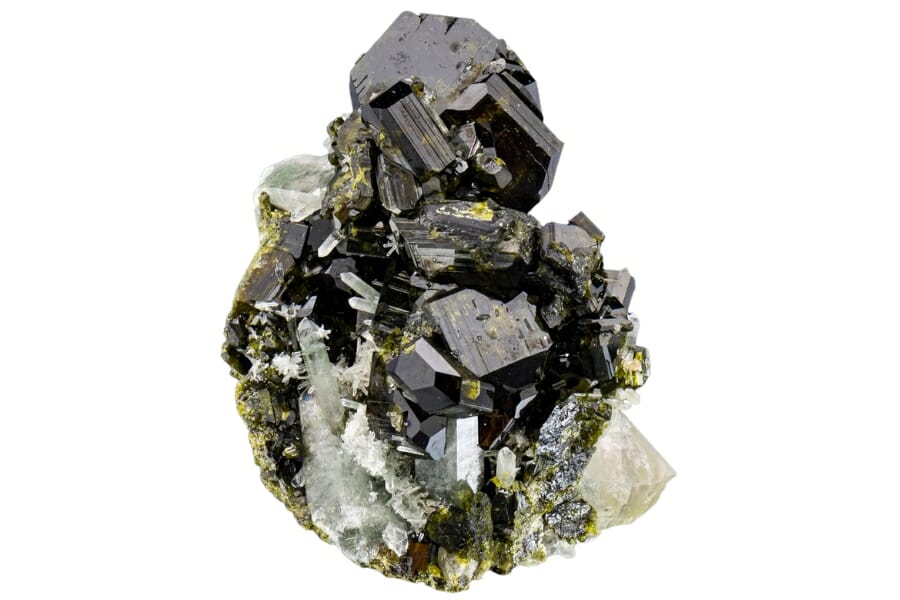 With an abundance of excellent Virginia rockhounding sites, it can be tricky to select the ones that you should prioritize visiting, so we did the rough work for you! Here are five of the best locations that offer an unparalleled experience for rockhounds like you.
Always Confirm Access and Collection Rules!
Before heading out to any of the locations on our list you need to confirm access requirements and collection rules for both public and private locations.
These requirements are subject to change without notice and may differ from what we state below.
Always get updated information directly from the source ahead of time to ensure responsible rockhounding.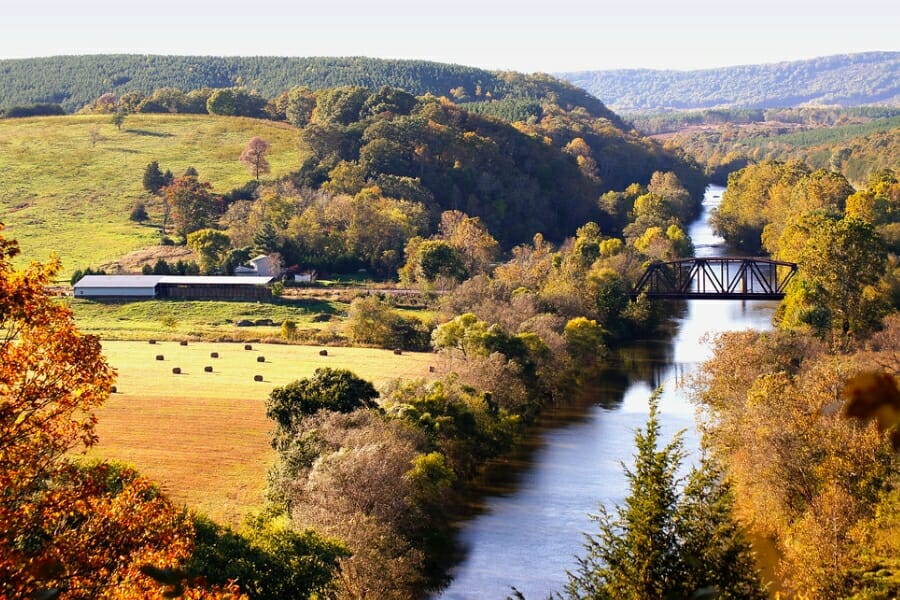 Nestled in the picturesque Blue Ridge Mountains, the Tye River Gap is a rockhounding paradise that offers a unique and rewarding experience. Renowned for its geological diversity and abundance of minerals, the river has carved through ancient rock formations, exposing a wide range of rocks and minerals for avid collectors to discover.
You can expect to find an assortment of intriguing specimens here, but the region is particularly known for its deposits of quartz crystals that come in various sizes and colors.
With its stunning natural beauty and the opportunity to uncover a diverse array of rocks and minerals, the Tye River Gap is an excellent destination for you.
What you can find there
If you explore the area outcrops just west of Tye River Gap, you will find amazing specimens of Beryl, Epidote, Quartz, and Unakite.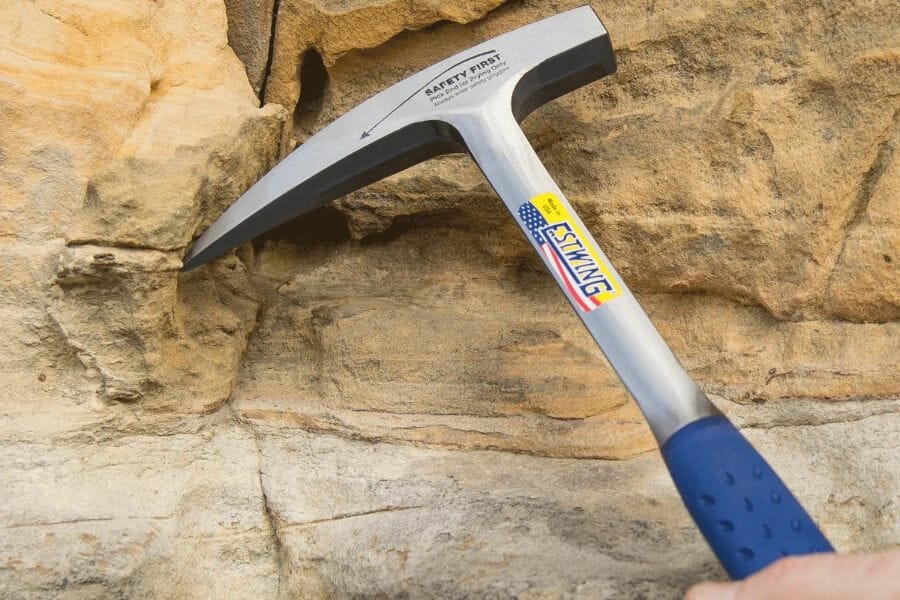 The tools every rockhound will need
When you're out looking for rocks and minerals having the right tools for the job is really going to make or break your success. You don't need a lot for most trips but there are a handful that are critical and will make your life a lot easier.
We get asked a lot about the equipment we use. Over the years we've found a handful of tools that we recommend to both new and experienced rockhounds which we outline in great detail in our complete rockhounding tools and kit guide. These are quality options that also happen to be relatively inexpensive.
Below are the basic tools that make your life so much easier and save you a ton of time. Check out the full guide to see everything we recommend bringing. At a minimum you should have:
1 - Sturdy rock hammer: The Estwing Rock Pick is our standard
2 - Rugged chisels: Try Kendo' 3-piece Chisel Set
3 - Compact shovel: The Koleiya 28-inch shovel works well
4 - Rock screen pan: The Wazakura Soil Sieve Set fits the bill
5 - Eye protection: DeWalt Safety Glasses are cheap and comfortable
6 - Head protection: Malta's Safety Helmet has been our go-to
7 - Jewelers lens with at least 20x magnification: Jarlink's Jewelers Loop is perfect
The rockhounding books that we use most
There are also a few books that have been extremely helpful in the search for gems. These books have great recommendations and tips:
National Audubon Society Field Guide to Rocks and Minerals: North America 
Southeast Treasure Hunter's Gem & Mineral Guide 
Earth Treasures: The Southeastern Quadrant 
We provide links to find these tools on Amazon but some can also be found at your local hardware stores. For more recommendations check out the link to our full tool guide above.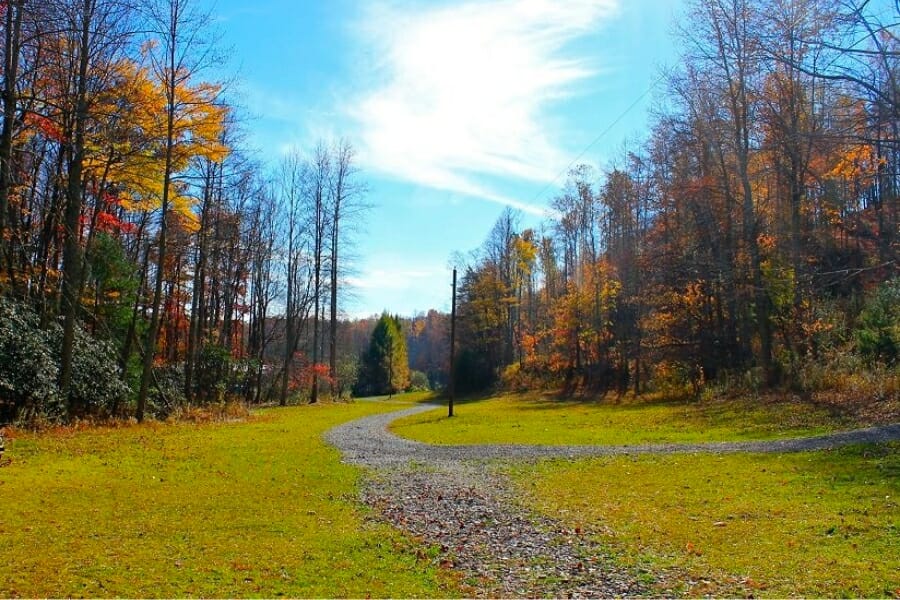 Located in the heart of Patrick County, Stuart is a charming town surrounded by an abundance of natural beauty, making it an ideal destination if you're seeking unique geological treasures. With its diverse geology and rich mining history, this place offers a great rockhounding experience.
One of the main attractions here is the nearby Stuart Mines, which were once active in the 19th century. The remnants of these mines provide an opportunity to discover a variety of rocks and minerals.
In addition to the mining remnants, Stuart is surrounded by picturesque landscapes, including rolling hills and scenic rivers. You can enjoy exploring the riverbeds and creek banks here, where you may stumble upon fossils, unique rocks, and colorful minerals.
What you can find there
In the area stream gravels and road cuts of Stuart, you can find samples of Corundum, Garnet (almandine), Kyanite, and Staurolite.
Ashland Mill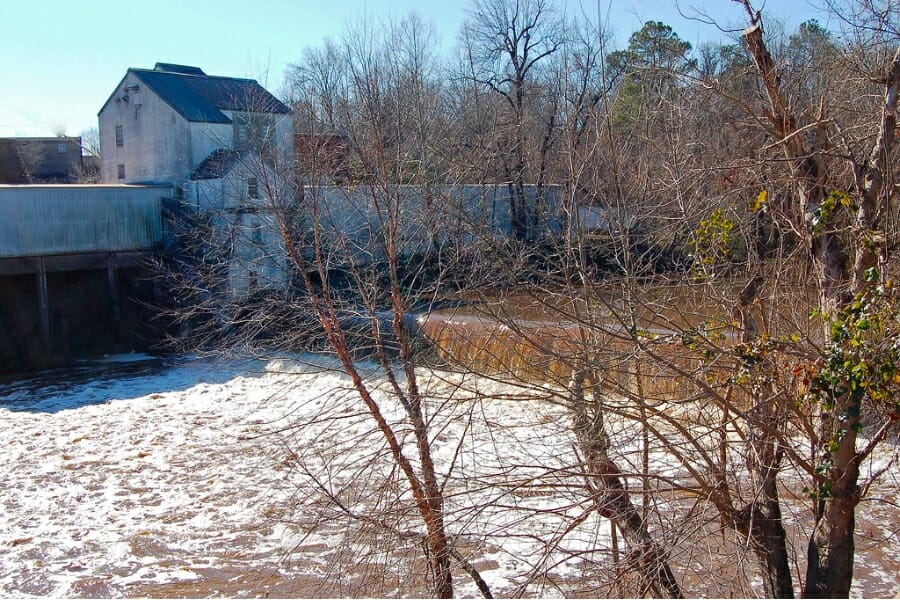 Located in Hanover County, Ashland Mill is a historic landmark that's also known for its rich geology. Its surrounding area is rich in rocks and mineral deposits. It provides an excellent starting point for rockhounding enthusiasts as it offers access to several interesting sites in the region.
One of the most notable sites for rockhounding around Ashland Mill is the nearby Richmond Quarry, which has yielded a wide range of minerals over the years. You can explore the quarry's exposed walls and search for specimens in its mineral-rich soil.
What you can find there
Exploring the area mines, stream gravels and fields of Ashland Mill will make it possible for you to find stunning specimens of Amazonite, Feldspar, Kyanite, Mica, Moonstone, and Quartz.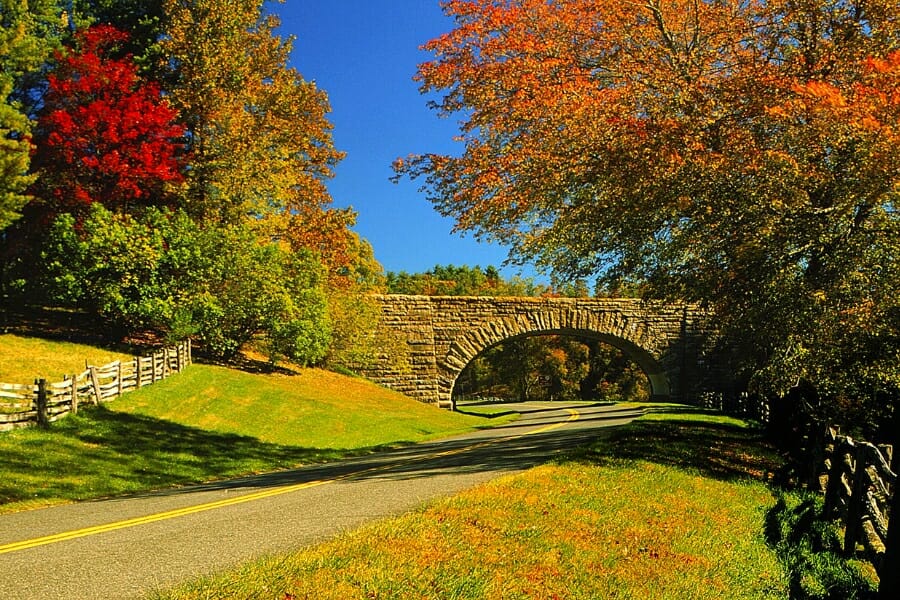 Galax, located in the picturesque Blue Ridge Mountains, is surrounded by an abundance of natural beauty. It boasts of a rich geological history, making it an ideal destination for Virginia rockhounds.
One of the main attractions for rockhounding in Galax is the nearby New River, which offers an opportunity to discover various rocks and minerals. The river's erosion over time has exposed fascinating geological formations, making it a great spot where you can search for treasures along the riverbanks and in the riverbed itself.
Galax's surrounding mountains are also home to various rock formations, such as metamorphic rocks and ancient volcanic remnants, offering a wide range of collecting opportunities.
What you can find there
You can find different kinds of rocks and minerals in Galax, including Apatite, Calcite, Chalcopyrite, Pyrite, Rutile, Selenite, Siderite, and Vivianite.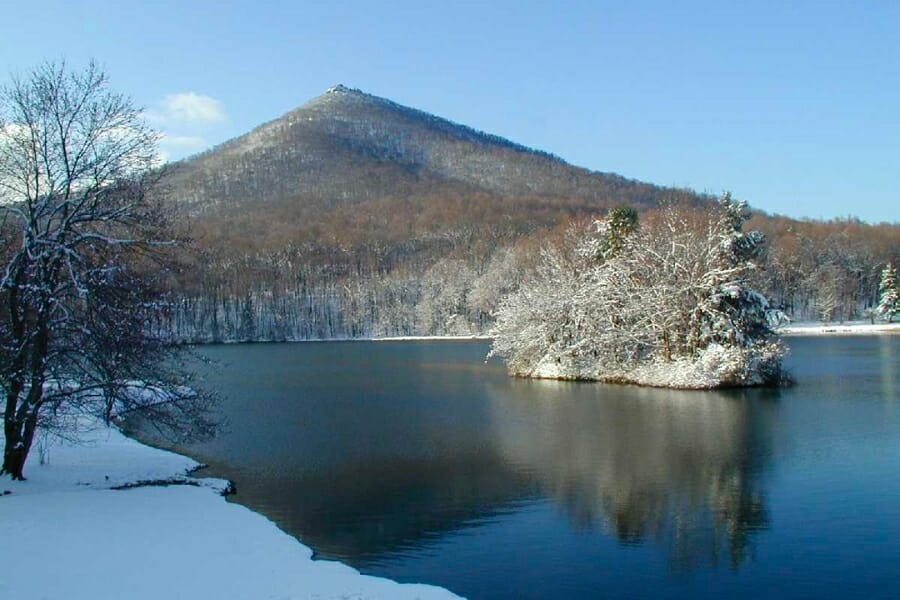 Another awesome rockhounding site is situated in the stunning Blue Ridge Mountains. Peaks of Otter is a picturesque area that's home to a diverse geological landscape with excellent opportunities for rockhounding. Its rugged peaks, lush forests, and pristine streams provide a beautiful backdrop for discovering a variety of rocks and minerals.
When you visit the Peaks of Otter, you can explore the creeks and streams that flow through the mountains, where you may uncover interesting specimens. The exposed rock formations in the area, including sedimentary and metamorphic rocks, also provide a rich hunting ground.
On a side note, the nearby trails and hiking paths of this place also offer an opportunity to observe and appreciate its natural beauty while engaging in the exciting pursuit of rockhounding.
What you can find there
This is a must-visit in our list because you can find several kinds of rocks and minerals here, such as Amethyst, Beryl, Columbite, Feldspar, Garnet, Quartz, and Tourmaline.
Our Other Favorite Spots Around Virginia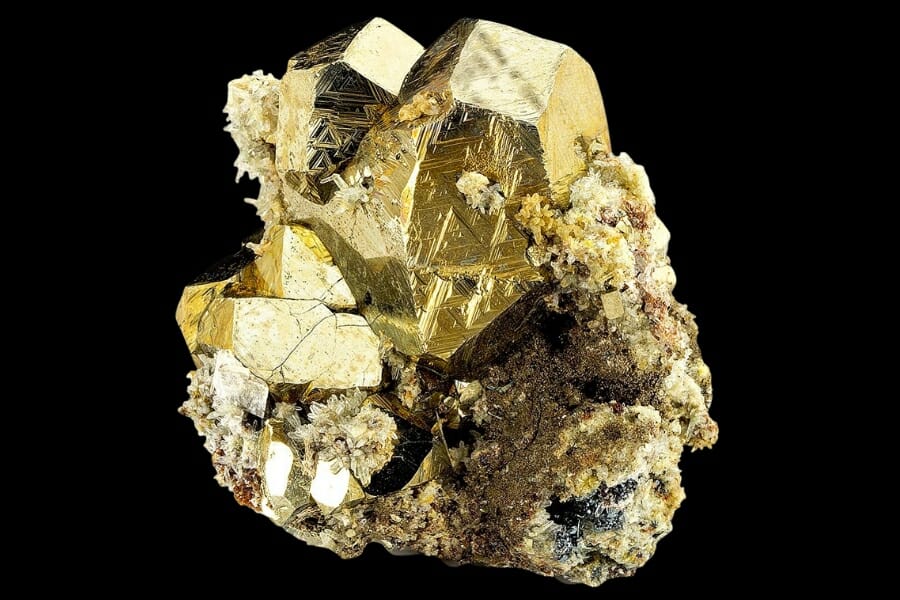 Virginia is not one to run out of great rockhounding sites just as easily, so aside from our favorite ones, there are still plenty other locations here that you can consider visiting. We've arranged them by location, so you won't have a hard time referring to this guide.
Rockhounding sites in northern Virginia
Northern Virginia is known for its rich geological history and varied terrain. From rolling hills and river valleys to the scenic Blue Ridge Mountains, it presents a captivating landscape for rockhounds to delve into. With its abundance of fascinating rocks and minerals, you can embark on a thrilling exploration of this area.
| | |
| --- | --- |
| Location | Minerals & Rocks |
| Marble Quarry in Highcamp road | Marble, Serpentine |
| Bull Run Soapstone Quarry | Agate, Apophyllite, Prehnite |
| 3 miles of Front Royal | Apatite, Chlorite, Dolomite, Epidote, Ilmenite, Leucoxene, Magnetite, Perovskite, Phlogopite, Pyrite |
| Gravels of East Hawkbill Creek | Azurite, Chrysolite, Cuprite, Epidote, Hematite, Jasper, Malachite |
| Powells Fort Mine | Manganite |
| Eagle Mine and Rappahannock Mine | Gold |
| South River Mine across Vesuvius | Chert, Goethite, Hematite, Psilomelane, Quartz |
Rockhounding sites in southern Virginia
Southern Virginia boasts of a diverse landscape that ranges from rolling hills to expansive valleys— all providing an ideal environment for rockhounding adventures. Here, you can encounter a fascinating array of rocks and minerals, such as the ones listed below.
| | |
| --- | --- |
| Location | Minerals & Rocks |
| Howell prospect dumps | Calcite, Pyrite, Quartz, Sphalerite |
| Bull Mountain exposures | Corundum, Kyanite, Margarite |
| Old Woman's Creek | Chlorite, Cordierite, Muscovite, Paragonite, Staurolite |
| Hottinger Mine on John Mitchell property | Biotite, Garnet, Muscovite, Perthite, Plagioclase, Pyrite, Quartz |
| Copper prospect in Lynch Station area | Turquoise |
| Leigh Mountain | Garnets, Kyanite, Rutile, Staurolite, Topaz |
Rockhounding sites in eastern Virginia and along the Chesapeake Bay
With its rich geological heritage and diverse landscapes, Eastern Virginia is a captivating destination. Its coastal location and proximity to the Chesapeake Bay provide unique geological formations and an abundance of marine-related specimens. With its combination of coastal treasures, clay deposits, and intriguing minerals, this region is truly a playground for rockhounds seeking new discoveries.
| | |
| --- | --- |
| Location | Minerals & Rocks |
| In gravel pits of Petersburg | Chalcedony |
| Last Chance Mine | Beryl |
| Area pastures of Gum Tree | Amazonite, Feldspar, Kyanite, Quartz, Rutile |
| Itterdale and Skinquarter areas | Petrified and Opalized Wood |
Rockhounding sites in western Virginia
Characterized by rugged landscapes, there's plenty of different rocks and minerals to uncover in Western Virginia. Counties here are blessed with stunning mountain ranges, picturesque valleys, and rich geological diversity, making it an ideal destination for rockhounding adventures.
| | |
| --- | --- |
| Location | Minerals & Rocks |
| 0.5 mile east of East Stone Gap | Celestite, Hexahydrite, Leonhardtite |
| Exposures of shale along SR-19 in Moccasin Ridge | Glauconite |
| Old Roverside Mine | Hematite, Maghemite, Magnetite |
| Gillispie farm | Diamond |
| Myers-Copenhaver Mine | Barite |
| Higgins Prospect | Ilmenite, Quartz, Spessartite |
| Speedwell Cave | Hydromagnesite |
| Clear Fork | Manganite |
| Salem Rock Corporation Quarry | Calciostrontianite, Calcite, Celestite |
| Burks Creek | Copper, Epidote, Feldspar |
Rockhounding sites in central Virginia
One paragraph intro about the region, why it's great for rockhounds, and maybe a few of the more interesting types of rocks and minerals that can be found there.
| | |
| --- | --- |
| Location | Minerals & Rocks |
| State Limestone Quarry | Bornite, Chalcopyrite, Sphalerite |
| Old Copper Mine | Ilmenite |
| Lone Jack Quarry | Calcite, Chalcopyrite, Chlorite, Dolomite, Fluorite, Goethite, Marcasite, Melanterite, Montmorillonite, Palygorskite, Sphalerite |
| Old Faber Mine | Cerrusite |
| Willis Mountain mines | Apatite, Barite, Corundum, Feldspar, Garnet, Hematite, Kyanite, Limonite, Magnetite, Manganese, Pyrite, Rutile, Sphalerite, Spinel, Staurolite, Topaz, Zircon |
| Old Sulphur Mine | Allanite, Actinolite, Magnetite |
| Edenton Mica mine | Beryl, Feldspar, Quartz |
Where To Find Amazonite In Virginia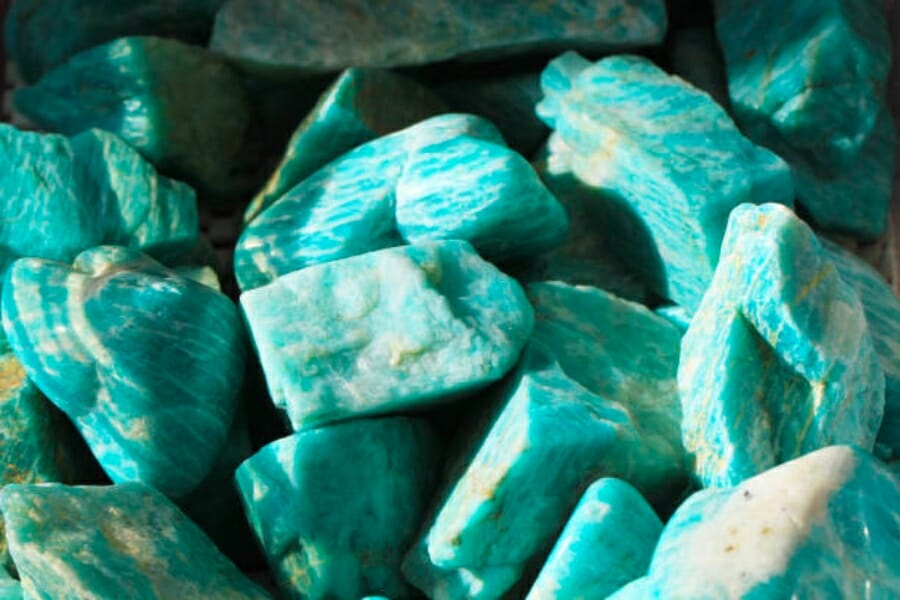 Amazonite is a captivating gemstone that belongs to the feldspar family. It's characterized by its beautiful blue-green color, often described as resembling the hues of the Amazon rainforest, from which it derives its name. Its unique color, ranging from pale green to vibrant turquoise, makes it highly sought after by jewelry makers and collectors.
Morefield Mine is our favorite place to look for Amazonite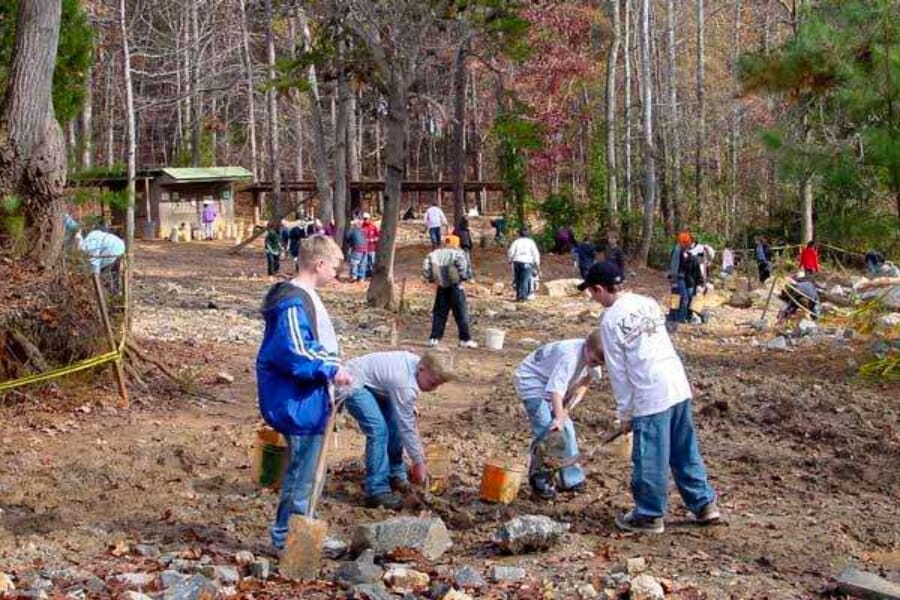 Morefield Mine, located in Amelia County, is a premier mine known for its abundance of large, high-quality Amazonite. The accessibility and abundance of this captivating natural wonder at Morefield Mine make it a popular spot for rockhounding and gemstone enthusiasts.
When you visit here, you'll have the opportunity to dig for Amazonite directly in the mine's open pit. You may even find ones that come in impressive sizes!
Other good options to find Amazonite
Dobbin Prospect
Mottley Mine
Nettie Taylor Mine
International Mine
Captain Tim Prospect
Where To Find Staurolite In Virginia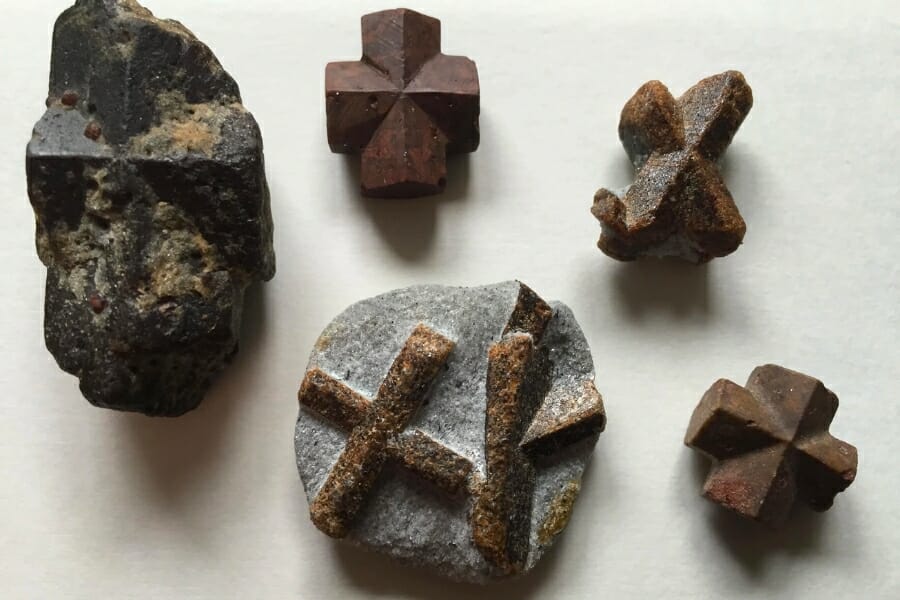 Staurolite is a remarkable mineral that holds both geological and symbolic significance. Commonly known as "fairy stones" or "cross stones," it's a unique mineral due to its distinctive cruciform shape, resembling a cross. It forms in specific geological conditions where the minerals grow in intersecting angles, resulting in the characteristic cross-shaped crystals.
Virginia Staurolite often occurs in dark brown to blackish crystals, which are renowned for their well-defined cross-shaped formations. It can vary in size, from tiny grains to larger, more intricate specimens.
Fairy Stone State Park is our favorite place to look for Staurolite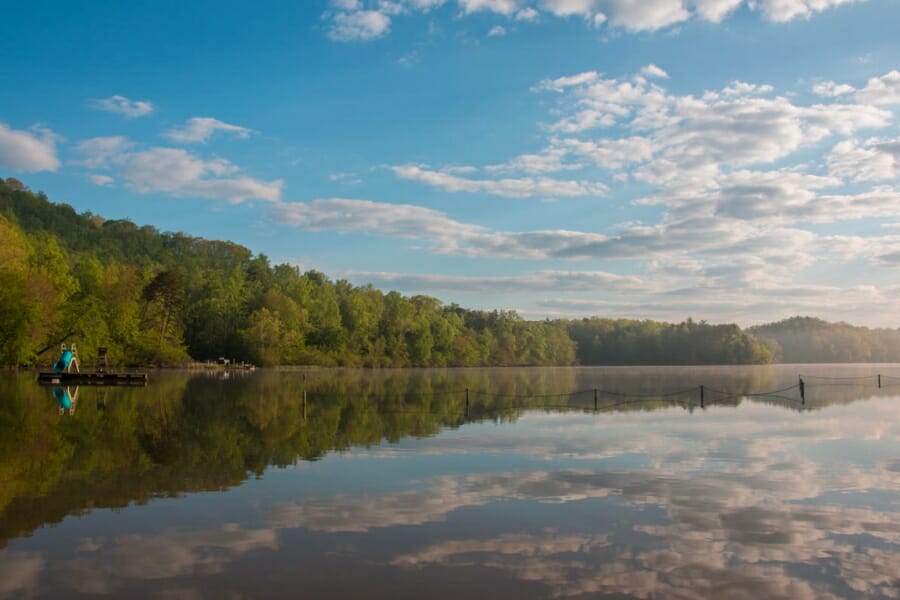 Fairy Stone State Park is a unique place with picturesque surroundings, including wooded areas, streams, and shorelines. It's renowned for its abundance of Staurolite crystals that can be found scattered throughout its landscape. These specimens are often shaped like crosses, adding to their charm and allure.
Other good options to find Staurolite
Blue Ridge
Town of Stuart
Leigh Mountain
Ashland area fields
Public Rockhounding Options For Kids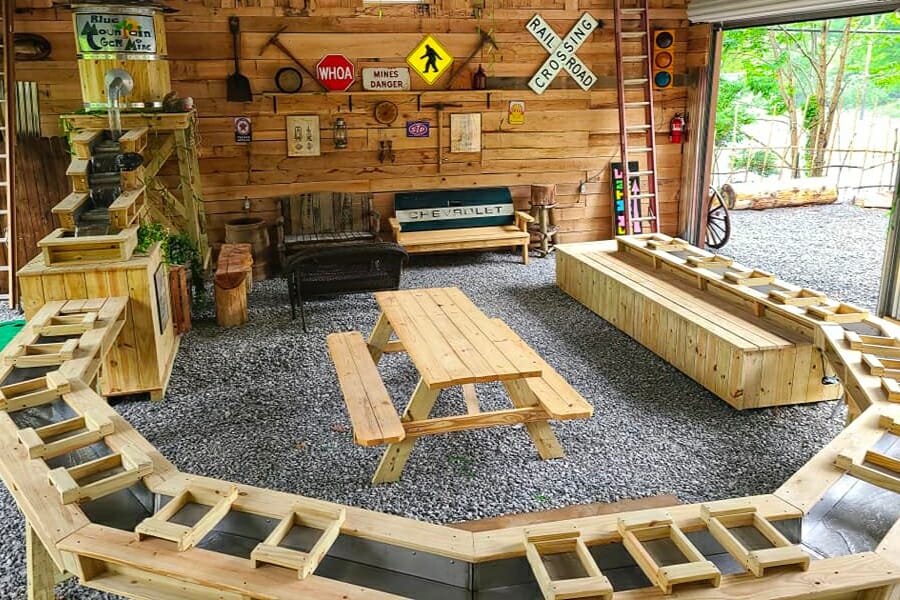 While Virginia offers many fantastic rockhounding spots, it's true that some locations can be challenging for younger rockhounds. The terrain, accessibility, and difficulty level of certain sites may not be ideal for kids who are just starting to explore the hobby.
Good thing there are family-friendly rockhounding spots here that provide a great opportunity to introduce children to the world of rocks, and minerals! Below are some of them:
Virginia Rockhounding Clubs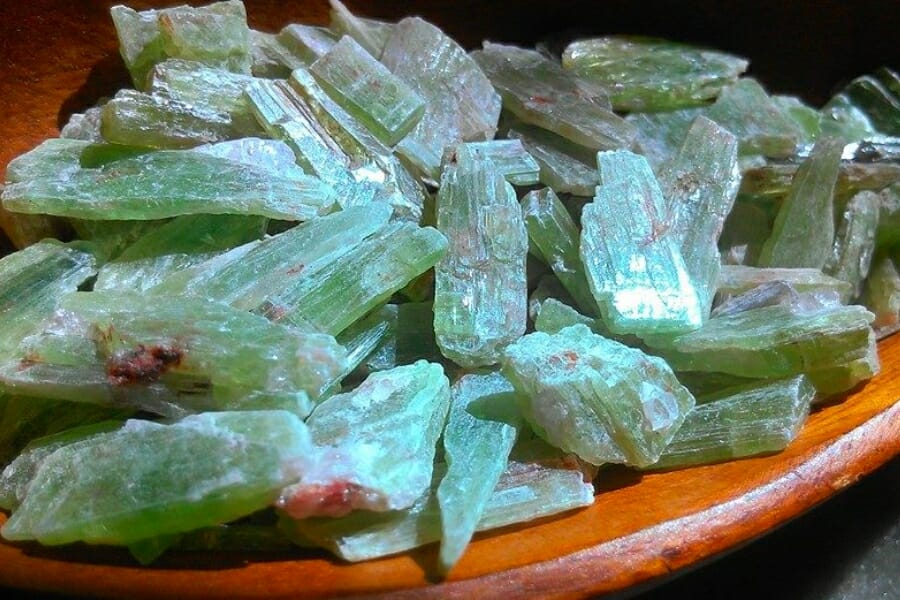 Rockhounding clubs offer a wealth of benefits for both newcomers and experienced collectors. They provide a supportive community of like-minded individuals who share a passion for rocks, minerals, and fossils. Joining one opens doors to a world of knowledge, experiences, and opportunities.
Virginia is home to a vibrant rockhounding community, and being part of a local club will allow you to tap into the collective knowledge of experienced collectors who have explored the region extensively. They often organize field trips to notable Virginia rockhounding sites, providing exclusive access to exceptional collecting opportunities.
Rockhounding clubs in Virginia worth checking out
Virginia Rockhounding Laws And Regulations
Rockhounding in Virginia is a rewarding and enjoyable activity, but it's important to adhere to local and state laws, especially those from the Virginia Department of Mines, Minerals, and Energy (DMME). They offer guidance on collecting guidelines, permissible areas, and any specific regulations that may apply to certain locations.
Rockhounding is generally permitted in many areas, but it's crucial to respect private property rights and obtain permission before entering private lands. Additionally, some public lands may have specific regulations or restrictions in place, so it's essential to research and understand the rules of the area you plan to explore.
The Best Rock And Mineral Shops In Virginia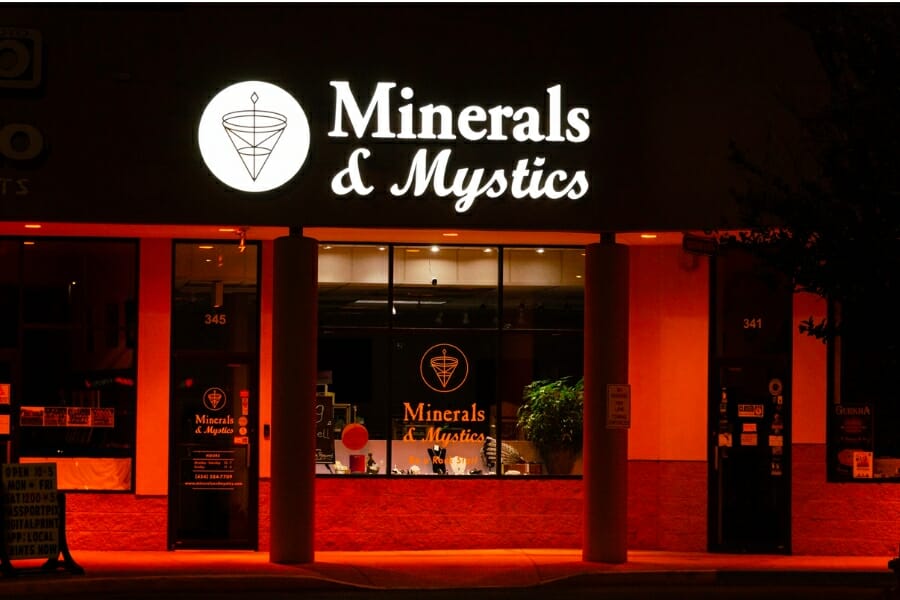 While rockhounding is undoubtedly an exciting prospect for many, it may not be everyone's cup of tea. The truth is, finding specific rocks and minerals for your collection can be a challenging task, even in a state as richly endowed as Virginia.
That's why if you're after a specimen that has specific characteristics, you're best chance to find them is by visiting our excellent rocks and mineral shops and dealers here. Below are some stores that have diverse selections of these natural wonders:
Additional Rockhounding Places In Nearby States
If you want to extend your rockhounding adventure to nearby states, check out the following guides that we prepared for you:
If you have any recommendations that we haven't covered yet, please leave them in the comments below!