Nestled along the Atlantic coast, Maryland offers a diverse geological landscape that's perfect for indulging in the thrill of rockhounding. From the rolling hills of the Piedmont to the majestic Appalachian Mountains, our state provides a unique opportunity to discover an array of captivating specimens.
Maryland is home to an impressive assortment of rocks and minerals waiting to be unearthed. Among the notable finds here are our tantalizing state gem, the Patuxent River Stone, with its mesmerizing patterns and colors. Our state also boasts of the intriguing gem-quality Serpentine called Williamsite, which can display vibrant shades of green.
With its diverse collection of rocks and minerals, you're sure to have an unforgettable rockhounding experience here in Maryland!
How We Found The Best Places For Rockhounding in Maryland
We spent a lot of time putting together the list of which of the many options for Maryland rockhounding we were going to recommend. We wanted to have a nice variety of locations for experienced and novice rockhounds in a variety of settings. Here are the main factors we used when determining the recommendations we set out :
The extensive local experience and understanding of our team
Input from multiple local rockhounds and rockhound groups
The accessibility of the various locations
Safety and potential hazards when collecting
Private and public locations
A desire to include locations for both experienced rockhounds and those who are just starting out
Using these weights we think we've put together the best list out there for those who love finding new rocks, gems, and minerals for our collections!

What You Can Find Rockhounding In Maryland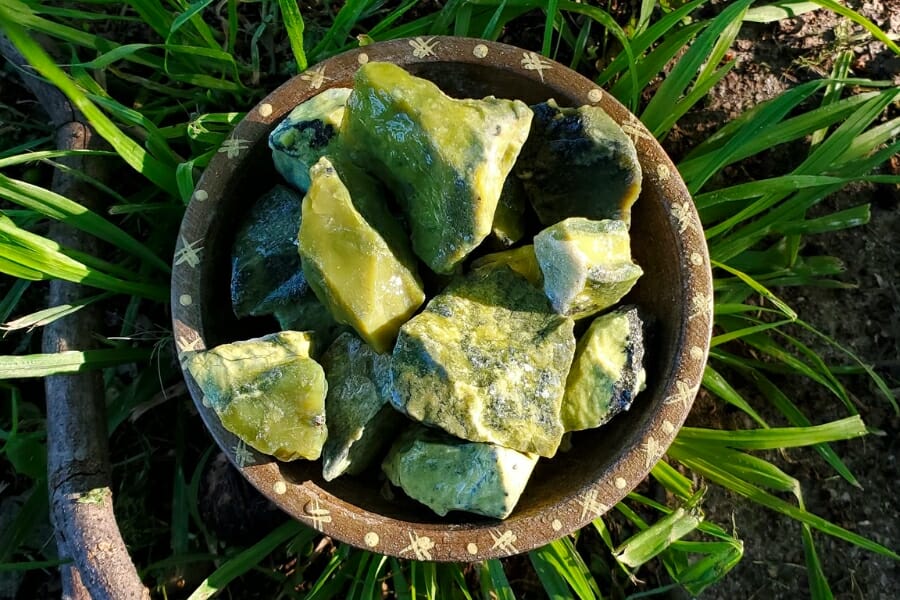 Maryland holds a wealth of fascinating specimens waiting to be discovered. Its varied terrain provides ample opportunities for rockhounds to unearth a wide array of stunning rocks and minerals. With its rich deposits and geological formations, below are the vast natural wonders you may find here:
Rare rocks and minerals found in Maryland
Apatite
Bixbite (Red Beryl)
Patuxent River Stone
Prehnite
Vesuvianite
Williamsite
More common desirable rocks, minerals, and gems found here
In-depth guides to finding specific types of rocks in Maryland
We've created several informative guides to finding specific specimens in Maryland. If you're looking to find them, better checkout these guides first:
You can also checkout our complete Rockhounding map detailing over 3,000 sites in the country!
Remember, the guides listed above are only for limited, specific specimens. If you're after all kinds of rocks and minerals here, keep reading because we've got tons more of information to share with you.
The Best Places To Find Rocks and Minerals in Maryland
Maryland may be one of the smallest states in the country, but it's jam-packed with different awesome rockhounding sites. We've selected some of our favorite ones that we highly recommend you visit on your next rockhounding trip here.
Always Confirm Access and Collection Rules!
Before heading out to any of the locations on our list you need to confirm access requirements and collection rules for both public and private locations.
These requirements are subject to change without notice and may differ from what we state below.
Always get updated information directly from the source ahead of time to ensure responsible rockhounding.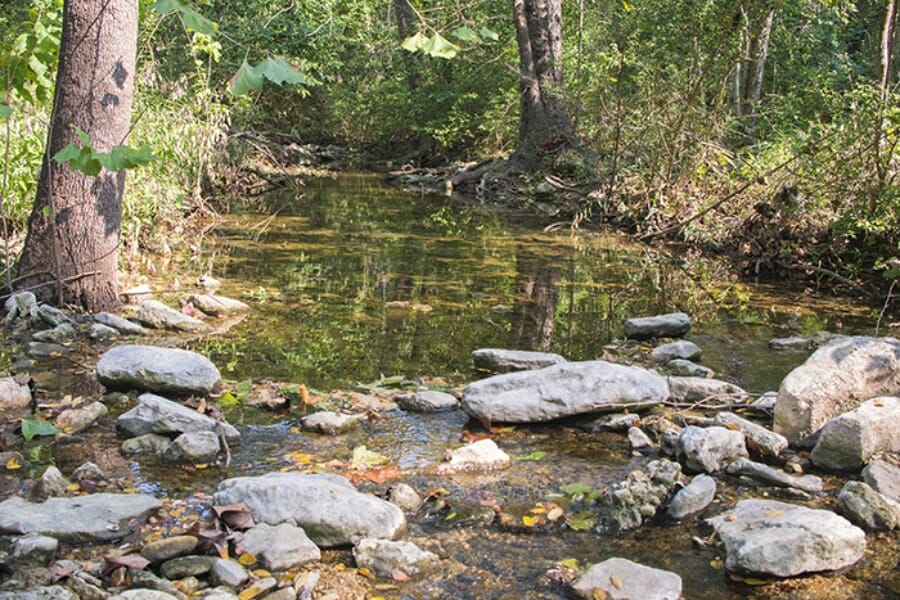 Located in the central part of our state, Dollyhyde Creek offers a rich geological tapestry that makes it an excellent site for rockhounding adventures. The creek meanders through diverse terrain, revealing an array of fascinating rocks and minerals along its banks and within its waters.
Dollyhyde Creek is renowned for its abundance of sedimentary rocks, including limestone and shale, which provide ample opportunities for fossil hunting. Fossilized marine life, such as brachiopods, gastropods, and trilobites, can be discovered among the layers of ancient rock formations. The creek is also known to yield other interesting rocks and minerals that attract rockhounds eager to uncover these natural treasures.
What you can find there
When you explore here, you can find beautiful samples of Bornite, Calcite (pink), Covellite, Malachite, and Quartz crystals.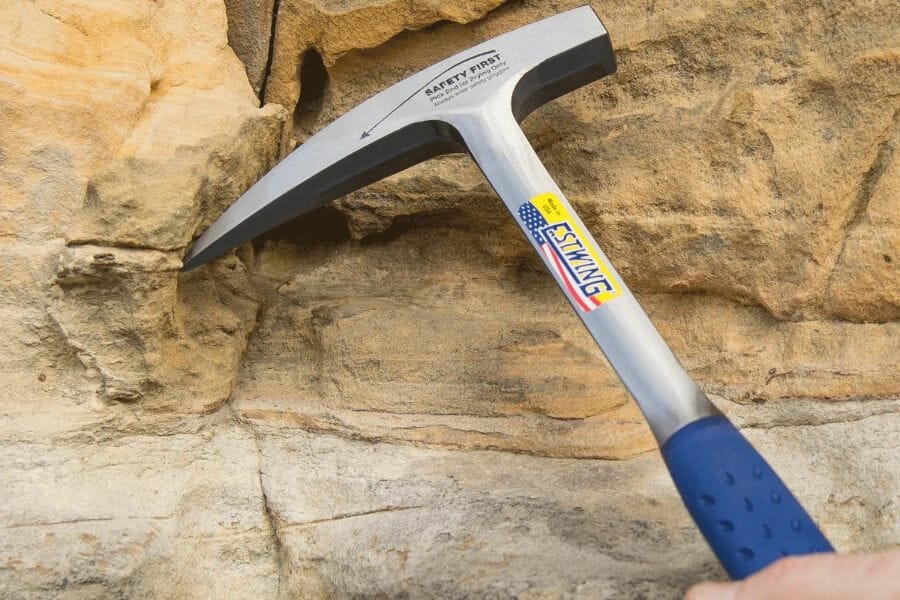 The tools every rockhound will need
When you're out looking for rocks and minerals having the right tools for the job is really going to make or break your success. You don't need a lot for most trips but there are a handful that are critical and will make your life a lot easier.
We get asked a lot about the equipment we use. Over the years we've found a handful of tools that we recommend to both new and experienced rockhounds which we outline in great detail in our complete rockhounding tools and kit guide. These are quality options that also happen to be relatively inexpensive.
Below are the basic tools that make your life so much easier and save you a ton of time. Check out the full guide to see everything we recommend bringing. At a minimum you should have:
1 - Sturdy rock hammer: The Estwing Rock Pick is our standard
2 - Rugged chisels: Try Kendo' 3-piece Chisel Set
3 - Compact shovel: The Koleiya 28-inch shovel works well
4 - Rock screen pan: The Wazakura Soil Sieve Set fits the bill
5 - Eye protection: DeWalt Safety Glasses are cheap and comfortable
6 - Head protection: Malta's Safety Helmet has been our go-to
7 - Jewelers lens with at least 20x magnification: Jarlink's Jewelers Loop is perfect
The rockhounding books that we use most
There are also a few books that have been extremely helpful in the search for gems. These books have great recommendations and tips:
National Audubon Society Field Guide to Rocks and Minerals: North America 
Northeast Treasure Hunter's Gem & Mineral Guide 
Earth Treasures: The Northeastern Quadrant 
We provide links to find these tools on Amazon but some can also be found at your local hardware stores. For more recommendations check out the link to our full tool guide above.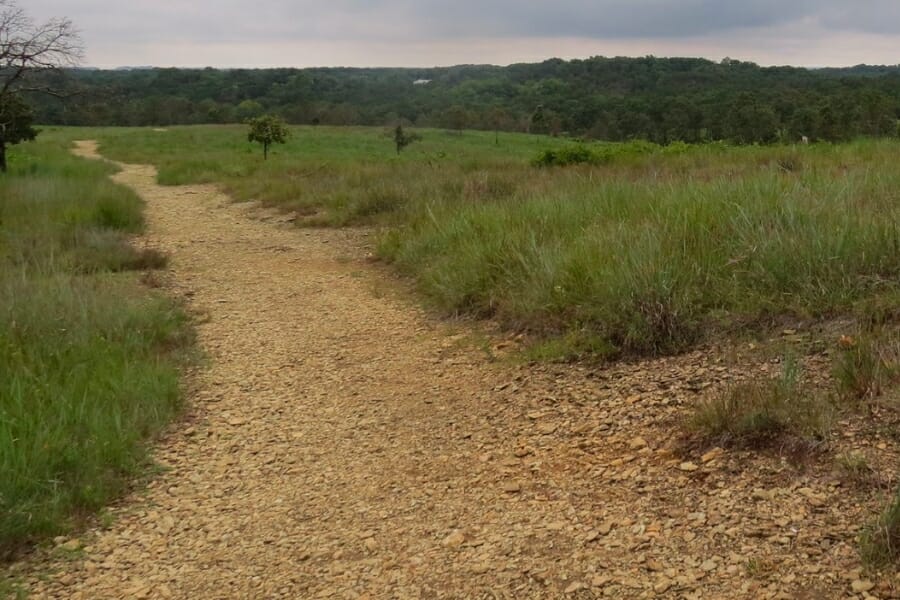 Soldier's Delight Natural Environment Area encompasses approximately 1,900 acres of preserved land, characterized by its rare serpentine ecosystem. The rocks found here provides a rich source of mineral diversity, making it a prime location for rockhounding adventures.
Soldier's Delight is renowned for its abundance of minerals and rocks not commonly found in other regions. Rockhounds visiting here have the opportunity to discover unique specimens and gain insights into the fascinating geological processes that have shaped this extraordinary landscape.
Apart from its geological allure, this place is also home to rare and endangered plant species, making it a designated Wildland Area and a Natural Heritage Area. Its picturesque trails and open meadows create a tranquil setting for your rockhounding adventures.
What you can find there
You can find amazing specimens of Chromite, Feldspar, Magnesite, and Quartz when you explore here.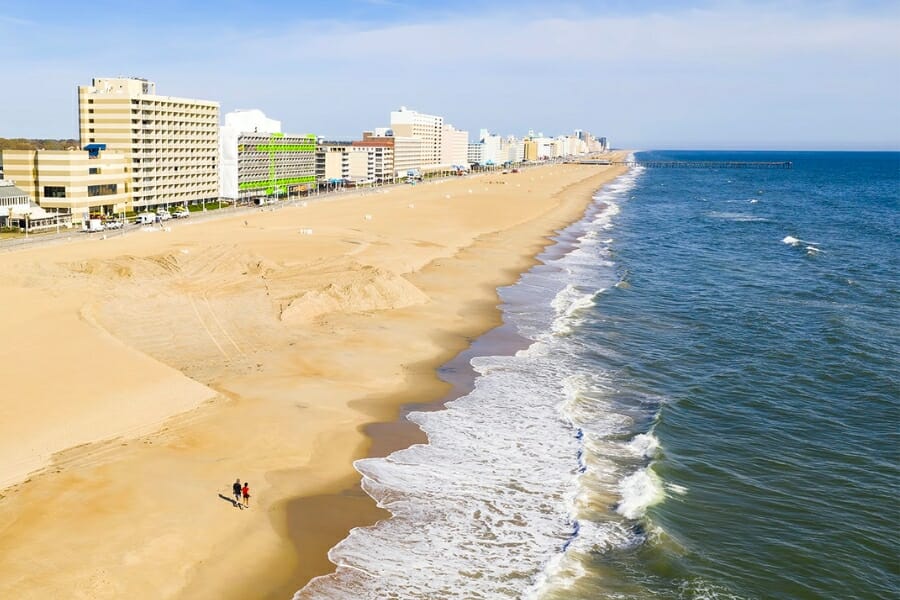 Ocean City, renowned for its beautiful beaches, has sandy shores that are not only perfect for sunbathing and swimming, but also provide opportunities to discover a variety of fascinating rocks and minerals. As the tides wash ashore, these shores unveil treasures that have been smoothed and shaped by the ocean currents.
The beaches of Ocean City offer a diverse selection of rocks and minerals. The area is also known for its fossil finds, particularly shark teeth, which have become a sought-after prize for rockhounding enthusiasts.
The combination of scenic ocean views, warm sandy beaches, and the thrill of discovering unique rocks and fossils make Ocean City a great rockhounding site that appeals to both seasoned collectors and casual beachcombers.
What you can find there
The beaches of Ocean City are a great place to find Quartz crystals also known as the "Cape May Diamonds".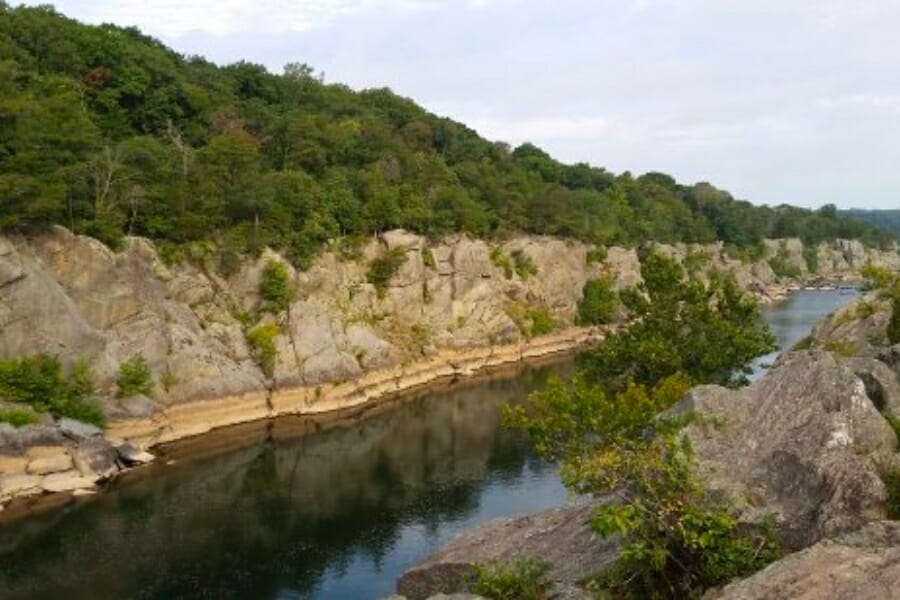 Situated in the Chesapeake Bay, Bear Island offers a remarkable opportunity to explore its geological wonders. Comprising a mix of sandy beaches, marshes, and woodlands, the island has a diverse range of rocks and minerals.
Bear Island's isolation and natural beauty make it an ideal destination for rockhounding, allowing you to immerse in a serene environment while enjoying the thrill of uncovering unique geological treasures.
The island also provides a chance to observe the ecological interactions between land and water. Its marshes and coastal areas are home to an array of plant and animal species, offering a rich biodiversity to explore alongside rockhounding adventures. The tranquil setting, coupled with the opportunity to discover fascinating rocks and minerals, makes Bear Island an excellent destination for nature-loving rockhounds.
What you can find there
You can have a chance to get your hands on stunning specimens of Apatite, Amphibolite, Epidote, Sphene, and Zircon when you visit here.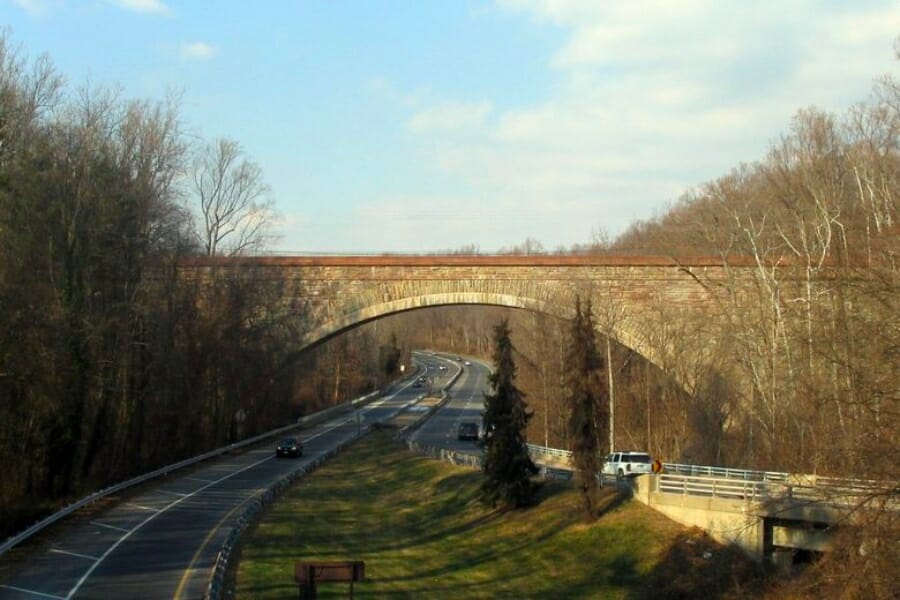 Union Bridge is not only a remarkable architectural marvel but also an unexpected haven for rockhounding enthusiasts. This historic bridge, spanning the Monocacy River, presents a unique opportunity to explore its surrounding areas and uncover a wealth of intriguing rocks and minerals.
As the river flows beneath the bridge, it has shaped the landscape and exposed a variety of geological formations, making it a hidden gem for rockhounding. Its scenic beauty and the opportunity to engage in rockhounding adventures in a historically significant location make the Union Bridge a great destination for both amateur collectors and experienced rockhounds.
What you can find there
This breathtaking location abounds in Marble deposits, particularly those in pink and green hues.
Our Other Favorite Spots Around Maryland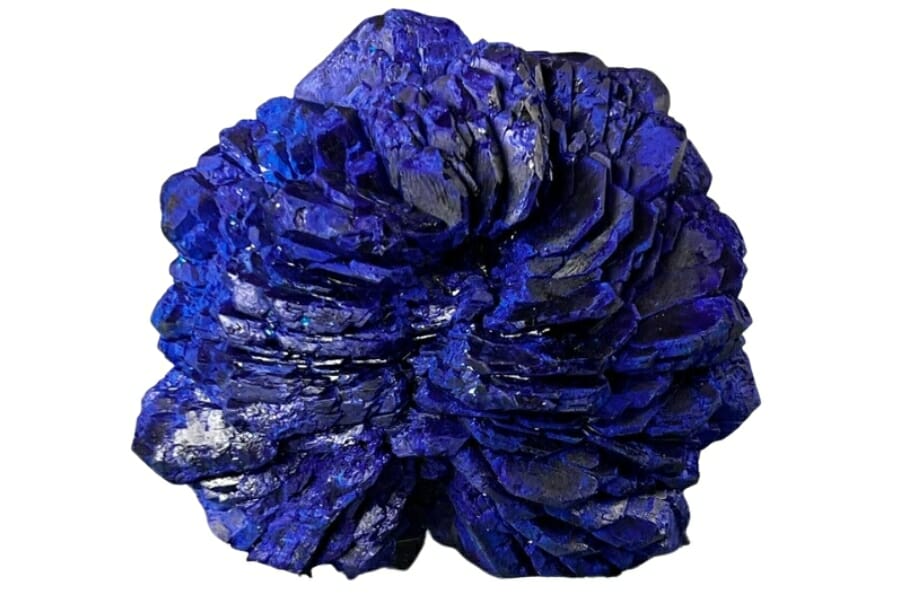 Aside from our favorite Maryland rockhounding sites, there are plenty other spots that you can visit here. We've listed them down by region below so that you could easily refer to this guide when planning you itinerary.
Rockhounding sites in northern Maryland
Northern Maryland is characterized by a diverse mix of landscapes— ranging from rolling hills to wooded areas and picturesque river valleys— making it an ideal destination for rockhounding adventures. With its varied geology and accessible locations, this region provides ample opportunities to discover an array of interesting rocks and minerals.
| | |
| --- | --- |
| Location | Minerals & Rocks |
| Sykesville area | Actinolite, Epidote, Garnet, Hematite, Malachite, Williamsite, Soapstone, Tremolite, Zoisite |
| Springfield Mine | Hematite, Malachite |
| Patapsco Mine | Pyrite |
| Baltimore City Water Tunnel | Hornblende, Plagioclase |
| H.T. Campbell Quarry | Calcite, Diopside, Quartz, Tourmaline |
| West on Nicodemus Road to quarry | Chalcedony, Jasper, Serpentine |
| Green Marble Quarry | Chrysotile, Williamsite |
| Wilkins Chrome Mine | Serpentine |
| Granite area quarries | Garnet, Quartz, Tourmaline |
Rockhounding sites in southern Maryland
Encompassing the southernmost portion of our state, this region is characterized by a mix of coastal areas, tidal marshes, and forested terrain. Its unique geology, scenic coastlines, and diverse ecosystems present a diverse range of rocks and minerals waiting to be uncovered.
| | |
| --- | --- |
| Location | Minerals & Rocks |
| Point Lookout area | Amber, Quartz (Cape May Diamond) |
| Cove Point to Breezy Point in Calvert Cliffs | Fossils |
Rockhounding sites in eastern Maryland and along the coasts of Chesapeake Bay and Atlantic Ocean
Encompassing the easternmost part of our state along the Chesapeake Bay and the Atlantic Ocean, this region holds a special appeal for rockhounds with its diverse geological treasures. It offers a blend of coastal landscapes, estuaries, and fertile farmland, providing a wealth of opportunities to uncover unique rocks and minerals.
| | |
| --- | --- |
| Location | Minerals & Rocks |
| Quarry on east bank of Elk Creek | Beryl, Garnet |
| Cecil Countywide | Pearl |
| Kent Countywide | Pearl |
| Point Lookout in Ocean City | Quartz (Cape May Diamond) |
Rockhounding sites in western Maryland
Western Maryland encompassing the Appalachian Mountains, is characterized by rugged terrain, lush forests, and picturesque valleys. Its diverse geology provides a rich assortment of rocks and minerals waiting to be discovered, ensuring a thrilling and rewarding rockhounding experience for any visitor.
| | |
| --- | --- |
| Location | Minerals & Rocks |
| Abandoned coal mine in Frostburg | Barite, Siderite |
| Pennsylvania Sand Corporation | Quartz |
| Repp Mine | Azurite, Calcite, Chrysocolla, Malachite, Pyrite, Quartz |
| Beaver Dam Creek | Barite, Calcite |
| Hammond Prospect | Bornite, Calcite, Covellite, Malachite, Quartz |
| Liberty Mine | Anglesite, Azurite, Barite, Calcite, Cerussite, Chrysoberyl, Chrysocolla, Galena, Hematite, Jasper, Malachite, Pyrite, Smithsonite, Sphalerite |
Rockhounding sites in central Maryland
| | |
| --- | --- |
| Location | Minerals & Rocks |
| Surrounding fields of Fort Dorsey | Jet |
| Old limonite iron ore pits | Jet |
| Rockville Crushed Stone Quarry | Calcite, Diopside, Garnet, Idocrase, Opal, Serpentine, Steatite |
| Seneca Creek | Serpentine, Steatite |
| South and southwest of Baltimore | Fossils |
| In railroad cuts and road cuts of Baltimore to Washington, D.C. | Petrified Woods |
| Tunnel Road | Garnet, Staurolite |
| Beltsville area iron mines | Opal, Petrified Woods, Quartz |
| In streams to north of Beltsville | Petrified Wood |
Where To Find Williamsite In Maryland
Williamsite is a rare and captivating mineral named after J. Francis Williams, an American mineralogist who first described it. It's primarily composed of serpentine, a green-colored mineral formed from the alteration of ultramafic rocks.
What makes Williamsite so remarkable is its beautiful and vibrant green color, which ranges from pale green to a deep, rich green hue. The intense green coloration is due to the presence of chromium within the mineral's crystal structure. This distinct coloration sets this natural wonder apart from other serpentine minerals and makes it highly sought after by collectors and enthusiasts.
Funks Pond Recreational Area is our favorite place to look for Williamsite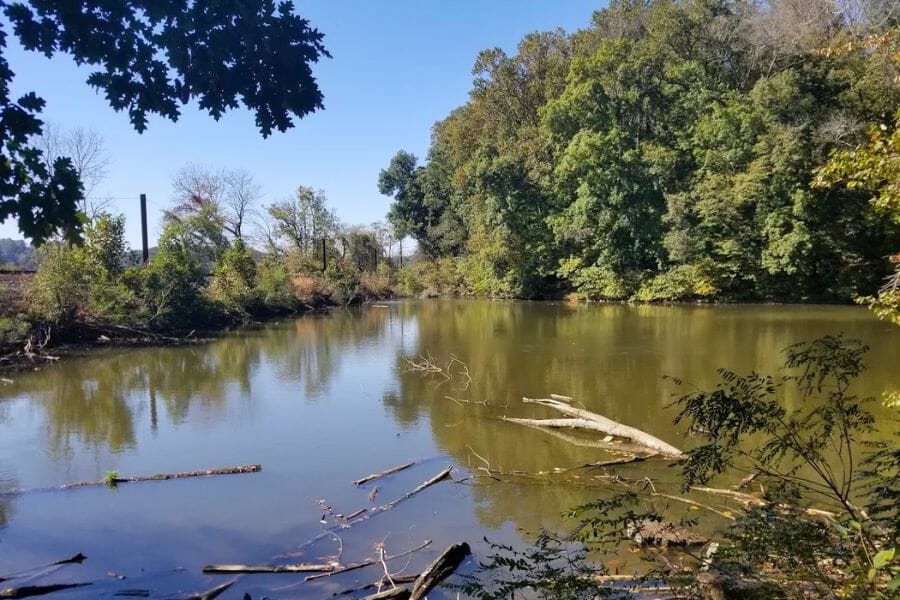 Funks Pond Recreational Area is a serene and picturesque location that offers an excellent opportunity to uncover beautiful green-hued Williamsite specimens. The area surrounding Funks Pond is known for its serpentine deposits, which provide the ideal conditions for the formation of Williamsite.
When you venture through the park, you can search along the streambeds and within the serpentine rocks to discover this captivating mineral. The vibrant green color of Williamsite, often speckled with dark veins and patterns, creates a stunning contrast against the surrounding rock formations.
Other good options to find Williamsite
Quarries, pits, and gravels of Cecil County
Rock Springs
Public Rockhounding Options For Kids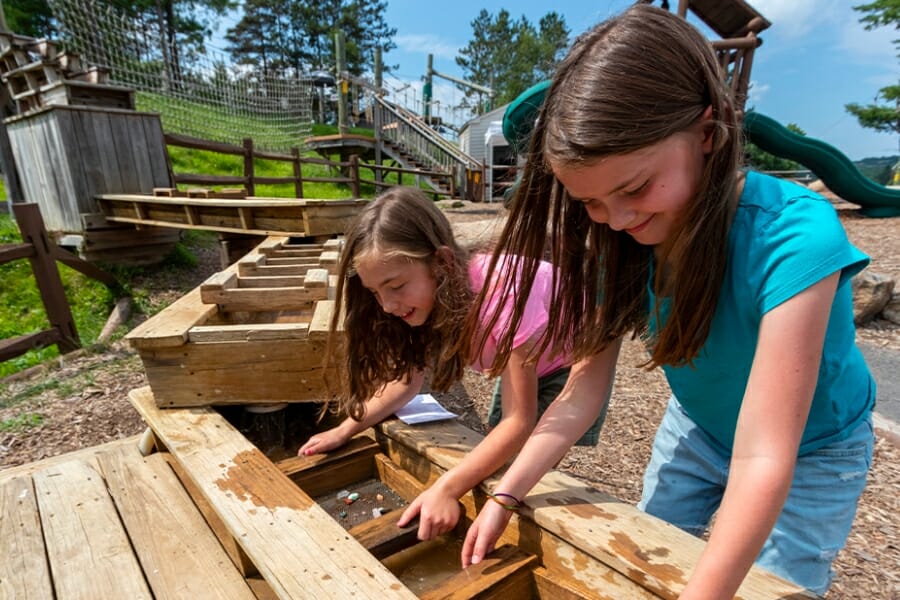 Maryland may have tons of excellent rockhounding site, but some can be challenging for kids because of the difficulty of the terrain or limited accessibility. If you plan on rockhounding in Maryland with kids, considering visiting the following family-friendly rockhounding spots here:
Maryland Rockhounding Clubs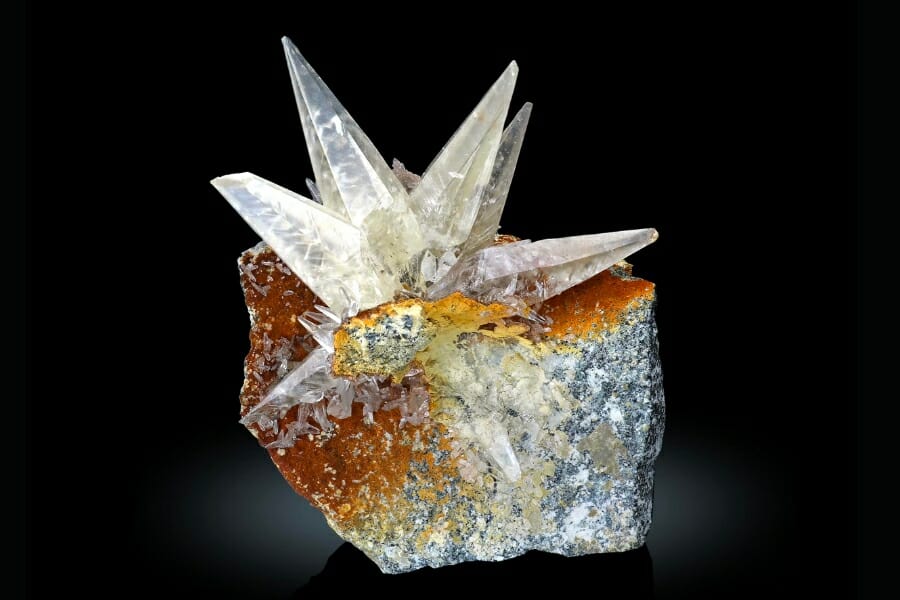 Rockhounding clubs are a fantastic resource for both newcomers and experienced collectors in the world of rockhounding, and joining a rockhounding club in Maryland can offer numerous benefits. These clubs provide a supportive community of like-minded individuals who share a passion for rocks, minerals, and the thrill of the hunt.
If you join a club in Maryland, you will be able to connect with fellow rockhounds who have intimate knowledge of our state's geology and can offer insights into local collecting hotspots.
Rockhounding clubs in Maryland worth checking out
Maryland Rockhounding Laws And Regulations
Rockhounding in Maryland is legal, but it's important to abide by all local and state laws and regulations regarding collection. These laws are in place to protect the environment, preserve natural resources, and ensure the sustainability of rockhounding activities here.
The Maryland Department of Natural Resources (DNR), which regulates rockhounding and collecting in Maryland, sets guidelines and rules to maintain the balance between recreational collecting and the conservation of natural areas. Some areas may have restrictions on the use of tools or limits on the quantities that can be collected, so it's essential to familiarize yourself with the specific regulations related to your chosen collecting sites.
The Best Rock And Mineral Shops In Maryland
While venturing into the great outdoors to collect rocks and minerals is an exciting pursuit, it's simply not everyone's cup of tea. If you're eager to expand your collection or acquire specific rocks and minerals that are otherwise challenging to find in the wild, turn to some of our trusted local rock and gem shops here.
Additional Rockhounding Places In Nearby States
If you want to extend your rockhounding adventure to nearby states, check out the following guides that we prepared for you:
If you have any recommendations that we haven't covered yet, please leave them in the comments below!