Nevada offers a treasure trove of opportunities for rockhounding enthusiasts. From colorful minerals to dazzling gemstones, the state has it all. With its diverse geological landscape and rich mineral deposits, Nevada presents a playground for those eager to uncover nature's hidden treasures.
One of the fantastic things about rockhounding is the sheer variety of options available in Nevada. You won't be disappointed if you're searching for garnets, opals, turquoise, or even fossils. The state has numerous locations where you can dig, sift, and explore to your heart's content. From the opal-rich Virgin Valley to the garnet-laden hills of Ely, there's something for every rockhound's taste.
Rockhounds have uncovered fabulous finds and stunning specimens. You, too, may join the ranks of prosperous rockhounds in Nevada with some information, planning, and a keen eye. Prepare your stuff and embark on a thrilling journey to discover Nevada's natural beauties!
How We FoundThe Best Places For Rockhounding in Nevada
We spent a lot of time putting together the list of which of the many options for Nevada rockhounding we were going to recommend. We wanted to have a nice variety of locations for experienced and novice rockhounds in a variety of settings. Here are the main factors we used when determining the recommendations we set out :
The extensive local experience and understanding of our team
Input from multiple local rockhounds and rockhound groups
The accessibility of the various locations
Safety and potential hazards when collecting
Private and public locations
A desire to include locations for both experienced rockhounds and those who are just starting out
Using these weights we think we've put together the best list out there for those who love finding new rocks, gems, and minerals for our collections!

What You Can Find Rockhounding In Nevada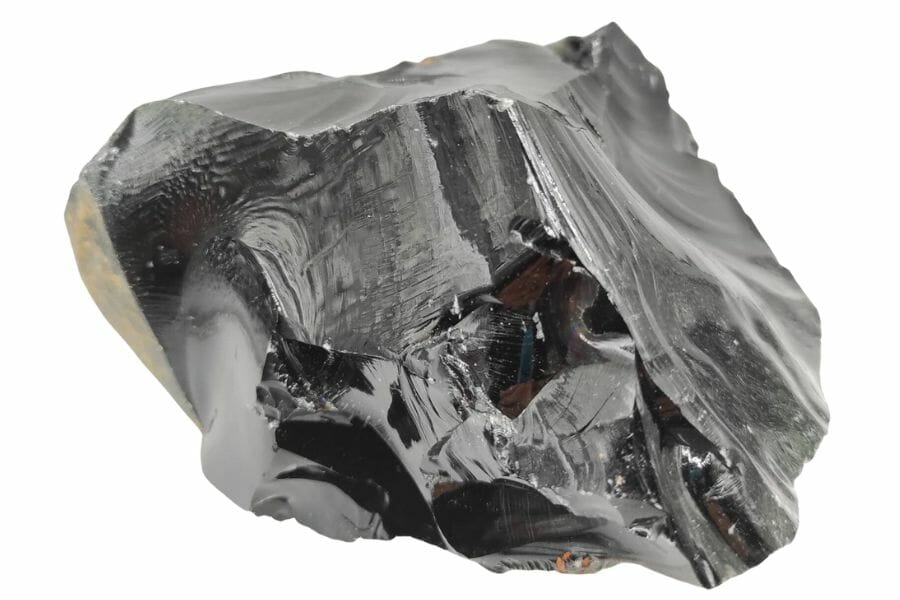 Due to the enormous diversity of the rocks and minerals found in Nevada, we cannot list every possible specimen. The majority of the more common and uncommon specimens that rockhounds look for in the state include the following:
Rare rocks and minerals found in Nevada
More common desirable rocks, minerals, and gems found here
In-depth guides to finding specific types of rocks in Nevada
You can find the specific specimen you're looking for through our other guides.
On our list, there are more than 3,000 rockhounding locations near you. Read this article to learn more about the rocks and minerals Nevada contains.
The Best Places To Find Rocks and Minerals in Nevada
To start things off, we've included some of our favorite rockhounding spots in Nevada. Despite having many possibilities, we concentrated on our best picks. You might enjoy visiting these locations to see the beautiful rocks and minerals.
Always Confirm Access and Collection Rules!
Before heading out to any of the locations on our list you need to confirm access requirements and collection rules for both public and private locations.
These requirements are subject to change without notice and may differ from what we state below.
Always get updated information directly from the source ahead of time to ensure responsible rockhounding.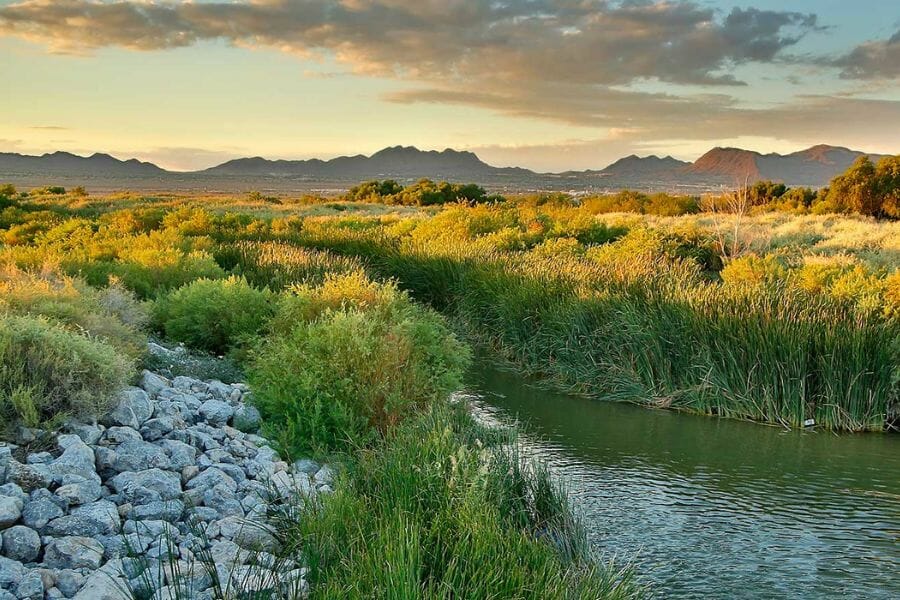 Las Vegas Wash is a fascinating destination that offers a unique blend of natural beauty and rockhounding opportunities. This stretch of land is historically significant as it was once a vital waterway for the indigenous Paiute people and later became a crucial water source for early settlers in the Las Vegas Valley. Over time, the area has transformed into an urbanized channel but retains its natural charm.
With its diverse geological formations, the wash presents a playground for rock-hounding enthusiasts. You can discover an array of interesting rocks, minerals, and fossils scattered throughout the wash. The wash's unique blend of urban and natural environments makes it an intriguing destination for rockhounding, allowing you to experience the thrill of discovery in the heart of the bustling Las Vegas Valley.
What you can find there
Although there are other minerals you can find at Las Vegas Wash, amethyst is the most prevalent.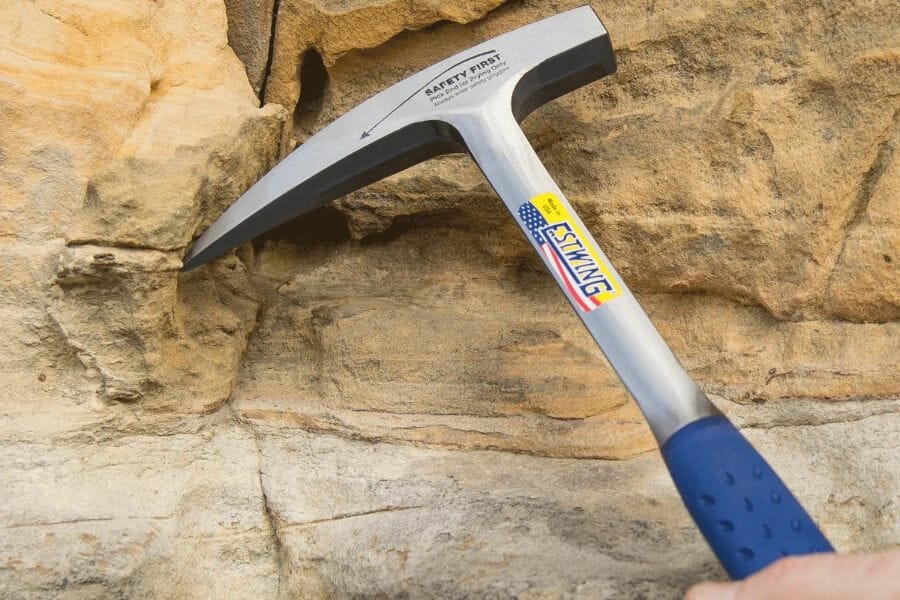 The tools every rockhound will need
When you're out looking for rocks and minerals having the right tools for the job is really going to make or break your success. You don't need a lot for most trips but there are a handful that are critical and will make your life a lot easier.
We get asked a lot about the equipment we use. Over the years we've found a handful of tools that we recommend to both new and experienced rockhounds which we outline in great detail in our complete rockhounding tools and kit guide. These are quality options that also happen to be relatively inexpensive.
Below are the basic tools that make your life so much easier and save you a ton of time. Check out the full guide to see everything we recommend bringing. One quick note, as an Amazon Associate I earn from qualifying purchases but we try very hard to only recommend gear we would use ourselves and often recommend brands you can't find on Amazon.
At a minimum you should have:
1 - Sturdy rock hammer: The Estwing Rock Pick is our standard
2 - Rugged chisels: Try Kendo' 3-piece Chisel Set
3 - Compact shovel: The Koleiya 28-inch shovel works well
4 - Rock screen pan: The Wazakura Soil Sieve Set fits the bill
5 - Eye protection: DeWalt Safety Glasses are cheap and comfortable
6 - Head protection: Malta's Safety Helmet has been our go-to
7 - Jewelers lens with at least 20x magnification: Jarlink's Jewelers Loop is perfect
The rockhounding books that we use most
There are also a few books that have been extremely helpful in the search for gems. These books have great recommendations and tips:
National Audubon Society Field Guide to Rocks and Minerals: North America 
Southwest Treasure Hunter's Gem & Mineral Guide 
Earth Treasures: The Southwestern Quadrant 
We provide links to find these tools on Amazon but some can also be found at your local hardware stores. For more recommendations check out the link to our full tool guide above.
Lost Creek Canyon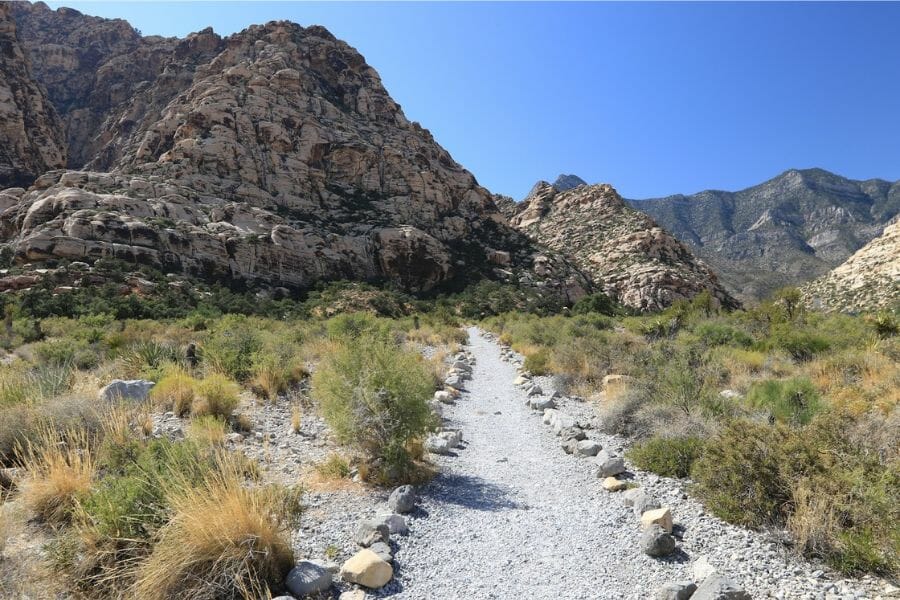 Lost Creek Canyon is a hidden gem for rock-hounding enthusiasts. With its rich history and abundant geological wonders, this canyon offers an exciting adventure for those eager to discover nature's treasures. Lost Creek Canyon gets its name from the creek that flows through it, adding to the picturesque charm of the area.
The canyon is known for its diverse range of minerals and rocks, waiting to be unearthed by intrepid explorers. Exploring the canyon allows you to connect with nature and delve into the region's cultural heritage.
What you can find there
Obsidian is one of the many popular minerals at Lost Creek Canyon.
Confusing rocks and minerals is a common challenge, but fear not! Our handy guides break down the key characteristics, making it simple to distinguish between them: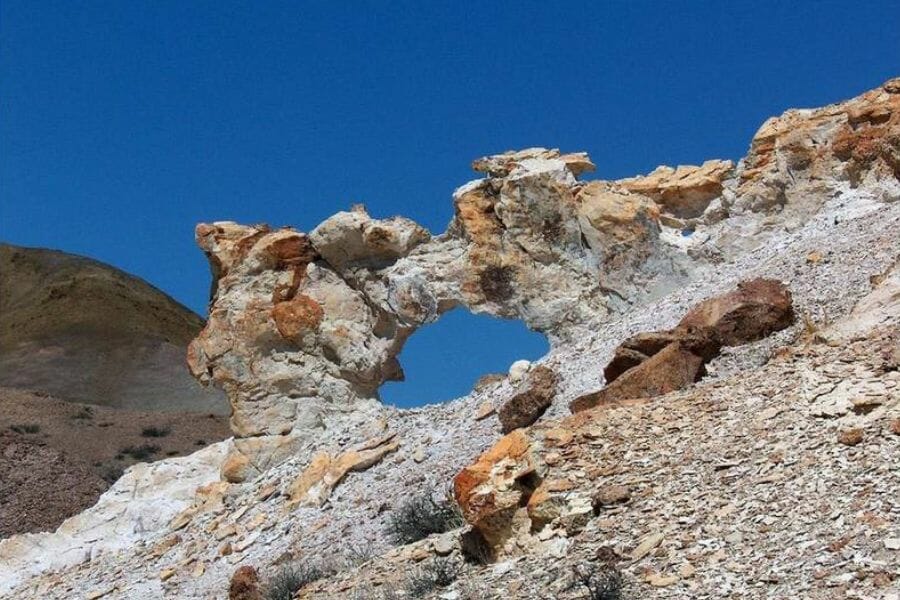 The Monte Cristo Range carries a sense of history and mystique. As you explore the mountains, you'll encounter remnants of the mining era, such as old mineshafts and structures. These echoes of the past serve as reminders of the region's rich mining heritage.
It was named after the famous Monte Cristo mine, which produced silver, gold, and other valuable minerals during that era. While the mining activities have long ceased, the Monte Cristo Range continues to attract rockhounding enthusiasts with its diverse geological formations.
With its varied terrain, the range offers a vast array of rocks, minerals, and gemstones waiting to be discovered. The remote and rugged nature of the Monte Cristo Range adds to the thrill of rockhounding, providing a sense of exploration and discovery.
What you can find there
Many minerals are produced in the area, including agate, jasper, and turquoise.
Queen Mountain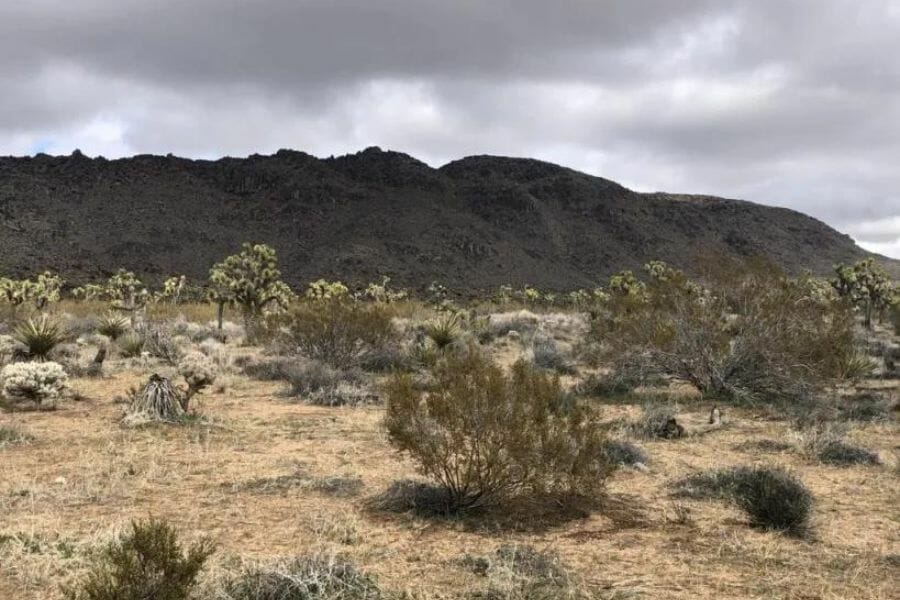 Queen Mountain is a fantastic destination if you're itching to embark on a rock-hounding expedition. The mountain boasts diverse minerals and rocks, making it a treasure trove for eager rockhounds.
The rugged terrain and unique geological features add to the beauty as you navigate the slopes and valleys in search of hidden treasures. Queen Mountain allows you to connect with nature, immerse yourself in the thrill of exploration, and uncover remarkable specimens that will leave you in awe.
Queen Mountain offers breathtaking vistas and a tranquil atmosphere. As you delve into your rockhounding adventure, take a moment to soak in the natural beauty. The stunning desert landscapes, rugged cliffs, and expansive views create a serene and picturesque setting.
What you can find there
The most abundant mineral that you can find at Queen Mountain is obsidian.
Sugarloaf Peak
Rising majestically in the landscape, the iconic Sugarloaf Peak gets its name from its resemblance to a traditional sugarloaf shape. While the peak may not have a significant historical background, its geological composition and accessibility make it an excellent spot for rockhounding adventures.
As you hike the trails and scour the rocky outcrops, the thrill of discovery awaits. The picturesque landscapes and panoramic views add to the allure, making your rockhounding expedition a genuinely immersive experience in the heart of Nevada's natural beauty.
What you can find there
Turquoise is one of Sugarloaf Peak's most prevalent minerals and rocks.
Our Other Favorite Spots Around Nevada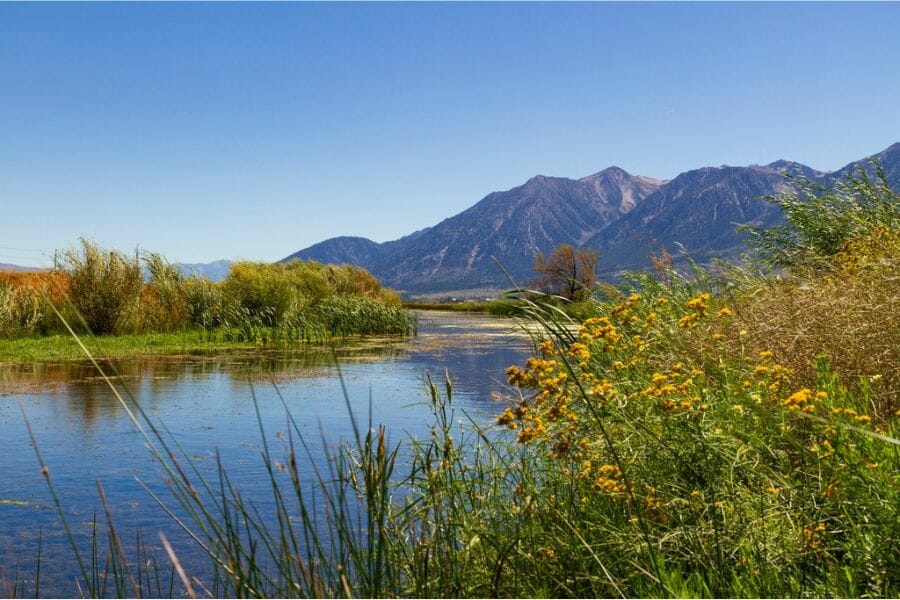 Many magnificent and uncommon rocks and minerals can be found in Nevada. To view more specimens, look through the selections below.
Rockhounding sites in Northern Nevada
Northern Nevada is a rockhound's paradise, offering many opportunities for enthusiasts to explore its diverse geological wonders. With its rugged mountains, vast deserts, and historic mining regions, this region provides an ideal backdrop for rockhounding adventures.
From the majestic Sierra Nevada Range to the remote valleys and canyons, northern Nevada boasts an impressive variety of rocks, minerals, and gemstones waiting to be discovered.
| | |
| --- | --- |
| Location | Minerals & Rocks |
| Pine Nut Mountain | Topaz |
| Wilson Canyon | Agate, Chalcedony, Jasper, Turquoise |
| Walker Lake | Agate, Chalcedony, Turquoise |
| Cold Springs Valley | Azurite, Chrysocolla, Hematite, Malachite, Sphalerite |
| Pyramind Lake | Azurite |
Rockhounding sites in Northeastern Nevada
This area, characterized by its vast open spaces, rugged mountains, and arid deserts, provides a perfect playground for rockhounds to explore. Northeastern Nevada is renowned for its diverse range of rocks and minerals, including precious opals, vibrant agates, and stunning jaspers.
The region also holds the potential for uncovering other intriguing finds, such as fossils, petrified wood, and even gold. Whether you're sifting through the ancient lake beds of the Great Basin, traversing the picturesque Ruby Mountains, or venturing into the remote valleys, northeastern Nevada promises a rockhounding adventure like no other.
| | |
| --- | --- |
| Location | Minerals & Rocks |
| Tuscarora Mountain | Turquoise |
| Ruby Hill | Azurite, Malachite |
| Rainbow Ridge Mine | Opal, Rhodonite |
| Agate Point | Agate, Chalcedony, Jasper |
| Rock Creek | Chalcedony, Cinnabar |
| Gypsy Queen Canyon | Quartz |
| Robinson Canyon | Garnet |
Rockhounding sites in Southern Nevada
This region, known for its arid deserts and iconic mountain ranges, holds a treasure trove of rocks and minerals waiting to be discovered. From the vibrant red jasper in the Valley of Fire State Park to the stunning opals of Virgin Valley, southern Nevada offers various specimens for rockhounding enthusiasts.
Other interesting finds in the area include agates, turquoise, petrified wood, and fossils. Whether exploring the vast desert plains or delving into the hidden canyons, southern Nevada beckons rockhounds with its geological treasures and promises an adventure filled with remarkable discoveries and breathtaking natural beauty.
| | |
| --- | --- |
| Location | Minerals & Rocks |
| El Dorado Canyon Camp | Garnet |
| Crescent Peak | Turquoise |
Rockhounding sites in Central Nevada
This vast and rugged area, with its expansive deserts, towering mountain ranges, and ancient volcanic formations, presents a paradise for rockhounds. Central Nevada is known for its wide variety of rocks and minerals, including vibrant fluorescent minerals like scheelite and hyalite, intriguing specimens of chalcedony, fascinating geodes, and colorful agates.
With its untouched wilderness and countless opportunities for discovery, central Nevada is an ideal destination for rockhounding adventures that combine the thrill of exploration with the natural beauty of the rugged landscapes.
| | |
| --- | --- |
| Location | Minerals & Rocks |
| White Mountains | Cinnabar |
| Montezuma Mountains | Chalcedony, Jasper, Obsidian, Quartz |
| Palmetto Canyon | Agate, Citrine, Jasper, Quartz |
Where To Find Garnet In Nevada
Garnet can be challenging to locate, but our state is fortunate to have access. Garnet has a long history of being prized for its rarity and brilliance. They are now highly prized by rock collectors and rockhounds.
Garnet Hill Recreation Area is our favorite place to look for Garnet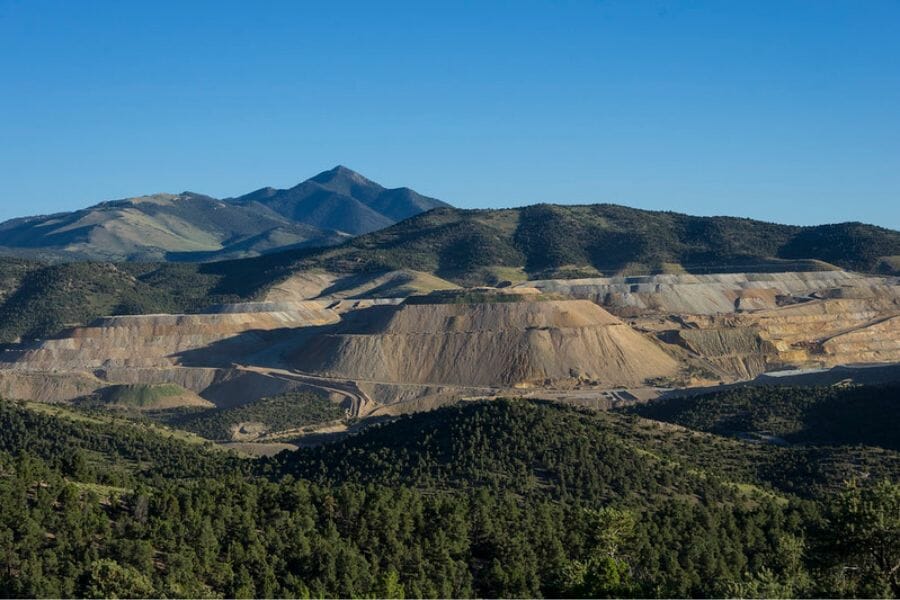 Garnet Hill Recreation Area in Nevada is a rockhound's paradise, offering a delightful mix of history and abundant garnet discoveries. Located in White Pine County, this area has a fascinating backstory. In the early 1900s, when the demand for garnets surged, the site became a bustling hub of mining activity. Today, it's a testament to Nevada's rich mineral heritage and attracts rockhounding enthusiasts from far and wide.
Other good options to find Garnet
Garnet Ridge
Pahranagat Range
Ruby Mountains
Virgin Valley
Where To Find Opal In Nevada
The availability of opal in our state is a blessing because it can be challenging to find. The rarity and brilliance of opal have long made it a coveted gem.
Opal Mountain is our favorite place to look for Opal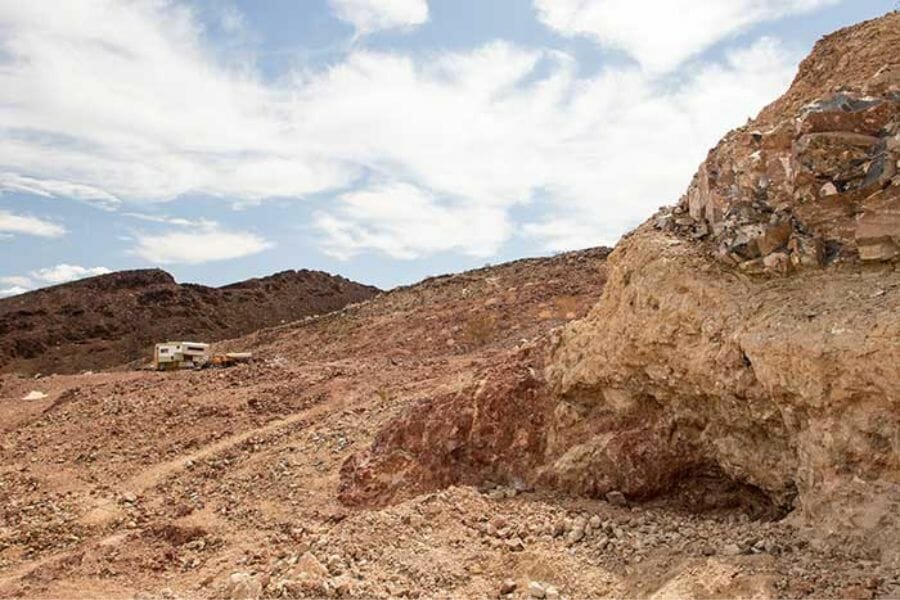 Opal Mountain was once an active mining site during the early 20th-century opal boom. Miners flocked to this region for precious opals, highly sought after for their dazzling play of color. Today, Opal Mountain continues to captivate rockhounding enthusiasts with its opal-rich deposits and the opportunity to find their shimmering gemstones.
Other good options to find Opal
Rainbow Ridge Opal Mine
Royal Peacock Opal Mine
Spencer Opal Mine
Virgin Valley
Where To Find Turquoise In Nevada
Turquoise is readily available in our state, which is fortunate as it can be hard to find. Turquoise has long been priced for its rarity and beauty as a jewel.
Pilot Mountain is our favorite place to look for Turquoise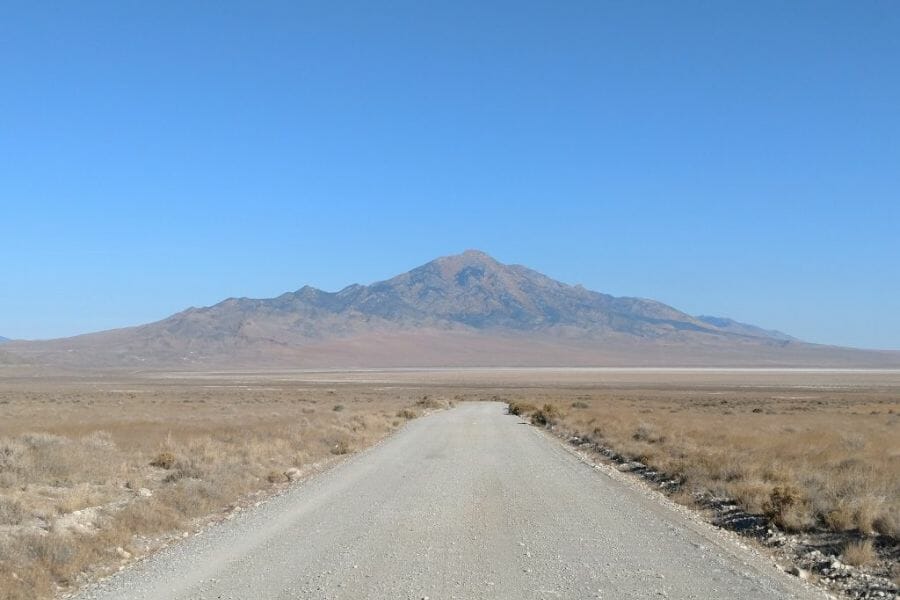 If you're itching to uncover remarkable specimens, Pilot Mountain is the perfect destination. The mountain is renowned for its stunning turquoise and vibrant blue chalcedony. These captivating gemstones can be found throughout the area, nestled within the rocky outcrops or hidden among the desert floor. Imagine the thrill of stumbling upon a precious turquoise piece or discovering a unique chalcedony specimen.
Other good options to find Turquoise
Blue Gem Mine
Candelaria Hills
Carico Lake
Royston District
Public Rockhounding Options For Kids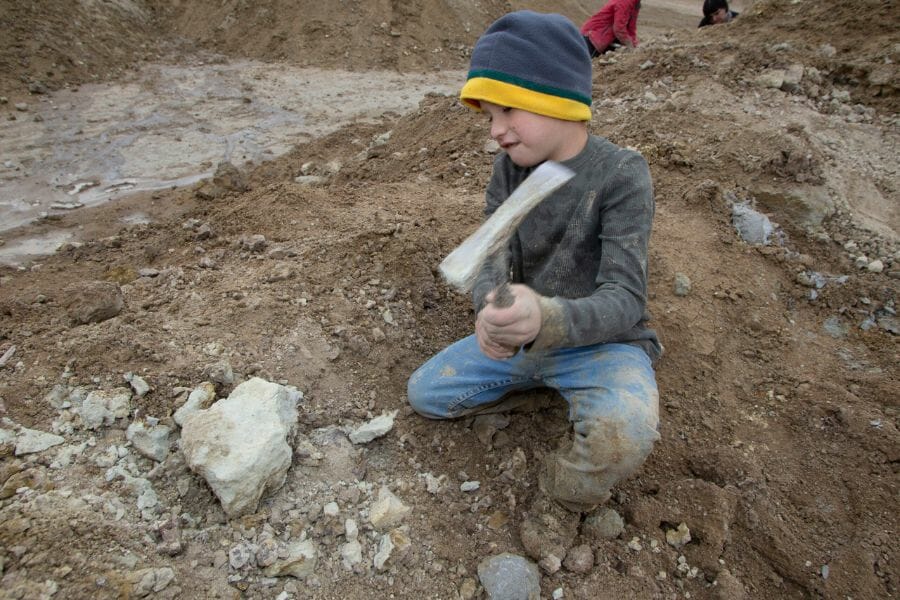 Finding the ideal rock-hounding locations cannot be simple, although it can be enjoyable and educational for kids. Finding kid-friendly rockhounding areas could be a terrific way to introduce children to the activity.
These sites are great for the whole family due to the easier terrain and opportunity for locating specimens.
Nevada Rockhounding Clubs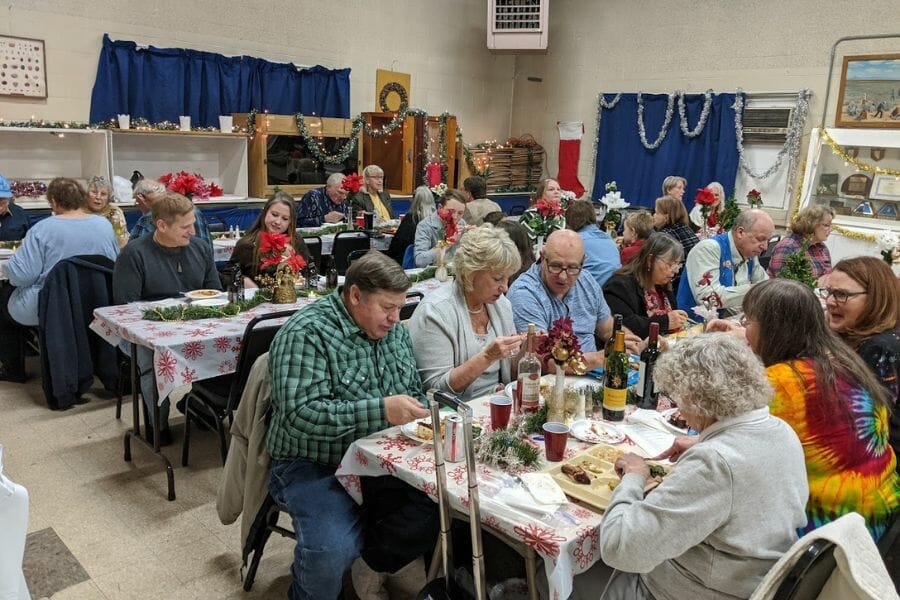 For beginners, these clubs provide valuable guidance and mentorship from experienced members who can share their rockhounding techniques, locations, and identification knowledge. It's a wonderful way to learn the ropes, gain practical skills, and connect with a community of fellow enthusiasts who share your passion.
Even for experienced collectors, rockhounding clubs offer opportunities to expand their network, exchange information about new finds, and participate in group outings to exclusive or lesser-known rockhounding sites.
Being part of a club provides access to many resources, such as workshops, presentations, and field trips, where you can deepen your understanding of geology, minerals, and fossils. Joining a rockhounding club enhances your rockhounding experience and fosters a sense of camaraderie and lifelong friendships with like-minded individuals who share your love for the treasures of the Earth.
Rockhounding clubs in Nevada worth checking out
Nevada Rockhounding Laws And Regulations
Rockhounding and collecting are legal activities in Nevada, allowing enthusiasts to explore the state's rich geological diversity. However, observing and abiding by all local and state laws when engaging in rockhounding activities is crucial. Nevada has specific regulations and restrictions in place, like the ones by the Nevada Division of Minerals, to protect natural resources and preserve the integrity of public lands.
To ensure a responsible and legal rockhounding experience, it's essential to research and familiarizes oneself with the laws about the specific area of interest. Some areas may require permits or have specific guidelines for collecting minerals, rocks, or fossils.
Obtaining any necessary permits and adhering to any restrictions set by land management agencies or private property owners is essential. Respecting private property rights and leaving the land as you found it is fundamental principles of responsible rockhounding.
Our Favorite Rock And Mineral Shops In Nevada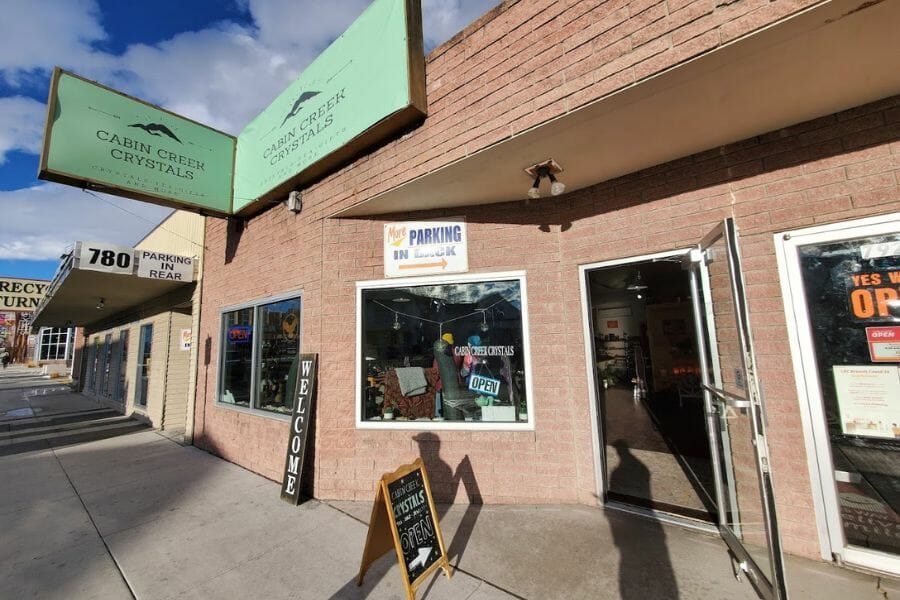 While some collectors like going outside and get their hands dirty to find rocks and minerals, other prefer the convenience of buying specimens from reputable rock shops. The best rock and mineral shops in Nevada are listed here, where you can find a variety of unusual specimens.
Additional Places To Rockhound In Nearby States
If you've already tried all of our recommendations above or are planning a trip out of the state you should check out our guides for neighboring states:
If you have any recommendations we haven't covered please leave them in the comments below!