Utah is home to some of the most breathtaking landscapes in the world, and hidden within these landscapes are treasures waiting to be discovered. Among these treasures are geodes and finding them has become a popular activity for outdoor enthusiasts and rockhounds alike here.
In this article, we'll take you on a journey through different areas of our state to discover some of the best spots for fidning geodes in Utah. From Simpson Springs, Dugway Geodes Bed, and Deep Creek Mountain to the areas of Newcastle and Central, we will explore the unique geological formations that make Utah a prime destination for geode hunters.
Whether you're a seasoned rockhound or a beginner, our guide will provide you with the information you need to make the most of your adventure here. So grab your hammer and chisel, and let's go find some beautiful geodes!
What Are Utah Geodes?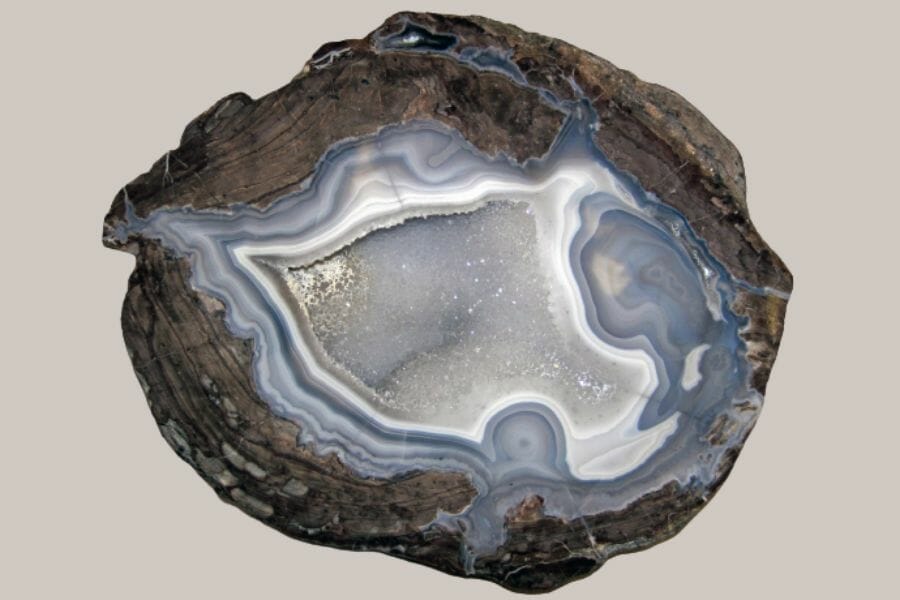 Geodes are spherical or oblong rock formations that are hollow on the inside and lined with crystals. They're formed by the gradual accumulation of minerals within cavities in volcanic or sedimentary rocks. They can be found all around the world, and Utah's unique geology is perfect for geode formation.
The exterior of a geode is typically rough and nondescript, but the inside is where the real beauty lies. The crystals that line its interior can vary in color, size, and shape, depending on the minerals that were present during its formation. Truly, geodes are an awe-inspiring sight to behold!
Here's a great article in case you're wondering what do geodes look like. This will surely come in handy during your actual geode hunt!
The Types Of Geodes Found In Utah
These natural wonders come in many different types and varying geode values. In Utah, there are specific ones that are commonly found. Here is a list of some of them:
Chalcedony geodes
Dugway geodes
Quartz geodes
How We Found The Best Geode Locations in Utah
When it comes to choosing the best options for finding Utah geodes there are plenty of things we consider. Many of the best locations are closely guarded secrets which can make it really difficult for more casual geode hunters to find success. The key factors in our recommendations are:
The deep experience and understanding of our team about the area
Recommendations from local groups and clubs
How easy it is to get the a particular location
Safety and potential hazards when collecting
Weighing private and public locations
The ability for both experienced and novice geode enthusiasts to find great samples
With these factors in mind we've been able to put together a fantastic list that just about anyone can use!

The Best Places To Find Geodes in Utah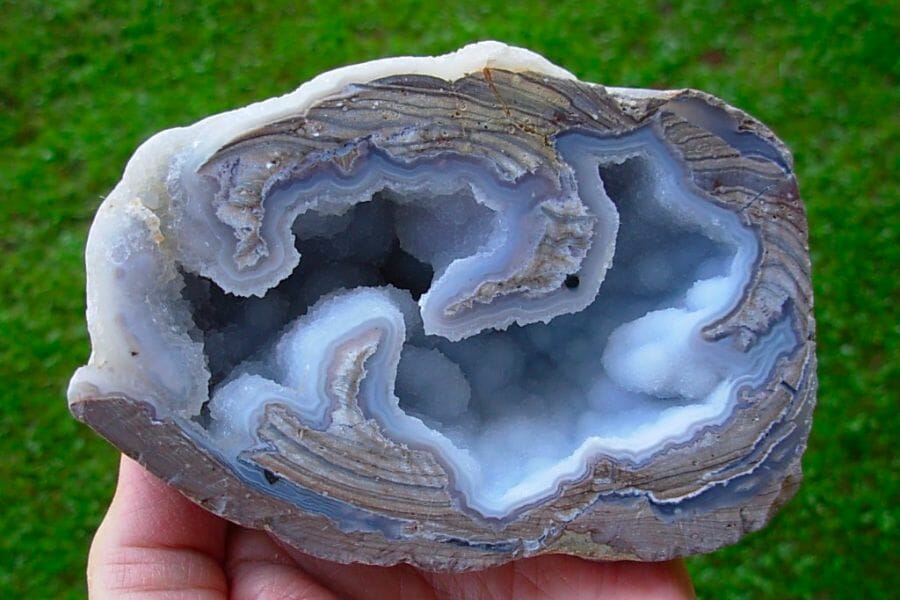 While you may be familiar with excellent gem-mining locations in Utah, not all of them have geodes, too. The location we are sharing with you below may not be as well-known, but they are the places where you can surely find geodes in Utah!
Always Confirm Access and Collection Rules!
Before heading out to any of the locations on our list you need to confirm access requirements and collection rules for both public and private locations.
These requirements are subject to change without notice and may differ from what we state below.
Always get updated information directly from the source ahead of time to ensure responsible rockhounding.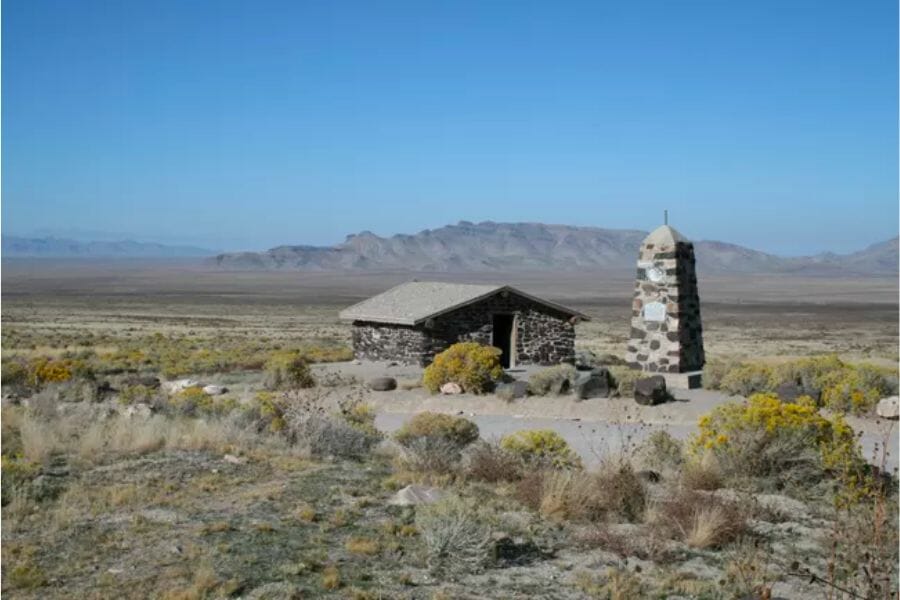 Simpson Springs is a fantastic place to check out if you're looking for some unique geodes! Its terrain is pretty wild, with towering red rock formations and sandy washes. When you visit here, you'll find yourself surrounded by some seriously cool geology. The rocks in this area are full of unique patterns and colors, and there are plenty of opportunities to find some wicked awesome geodes.
The trek to get to Simpson Springs isn't too gnarly, despite its terrain. You'll have to drive on a dirt road for a while, but it's easy to find and navigate. Overall, it's a great spot to visit if you're looking for a bit of adventure and some stunning natural beauty.
But before you plan your trip here to find some geodes, checkout first the latest collecting guidelines of Utah.
Where we found geodes at Simpson Springs
To find geodes here, go on the west side of the Camel Back Range in the far south central part of county. When you reach Simpson Springs, you can explore and start your hunt on its area draws and washes.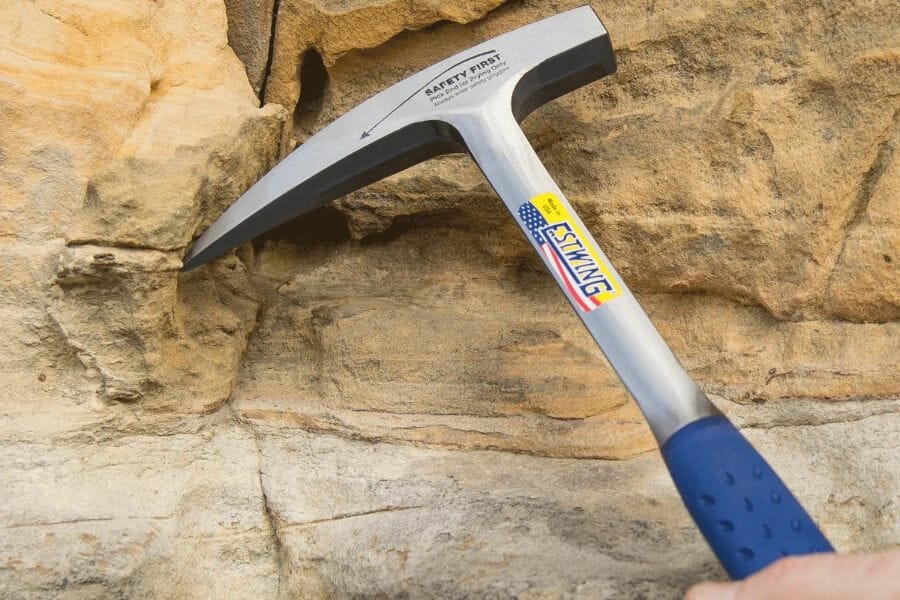 The tools every geode hunter will need
When you're out looking for geodes having the right tools for the job is very important. You don't need a lot for most trips but there are a handful that are critical and will make your life a lot easier.
We get asked a lot about the equipment we use. Over the years we've found a handful of tools that we recommend to both new and experienced geode hunters which we outline in great detail in our complete rockhounding tools and kit guide. These are quality options that also happen to be relatively inexpensive.
Below are the basic tools that make your life so much easier and save you a ton of time. Check out the full guide to see everything we recommend bringing. One quick note, as an Amazon Associate I earn from qualifying purchases but we try very hard to only recommend gear we would use ourselves and often recommend brands you can't find on Amazon.
At a minimum you should have:
1 - Sturdy rock hammer: The Estwing Rock Pick is our standard
2 - Rugged chisels: Try Kendo' 3-piece Chisel Set
3 - Compact shovel: The Koleiya 28-inch shovel works well
4 - Rock screen pan: The Wazakura Soil Sieve Set fits the bill
5 - Eye protection: DeWalt Safety Glasses are cheap and comfortable
6 - Head protection: Malta's Safety Helmet has been our go-to
7 - Jewelers lens with at least 20x magnification: Jarlink's Jewelers Loop is perfect
The geode-finding books that we use most
There are also a few books that have been extremely helpful in the search for gems. These books have great recommendations and tips:
National Audubon Society Field Guide to Rocks and Minerals: North America 
Southwest Treasure Hunter's Gem & Mineral Guide 
Earth Treasures: The Southwestern Quadrant 
We provide links to find these tools on Amazon but some can also be found at your local hardware stores. For more recommendations check out the link to our full tool guide above.
Situated in the western desert part of our state, Dugway Geodes Bed is quite a sight to behold. Its terrain is quite challenging, so you'll need to watch out for some sharp rocks and navigate through some uneven ground.
At Dugway Geodes Bed, you'll be surrounded by some of the coolest geology you've ever seen. The rocks are full of crystals, and it's a prime spot for finding some sweet geodes. In fact, many people go to this side of Utah just to find geodes here. And since it's full of crystals, it's also among the best crystal hunting sites in Utah.
The drive to get here is a bit of a haul, but it's totally worth it once you've arrived. Just make sure to bring plenty of water and even some extra gas as the area is a bit isolated and remote, but that's part of what makes it so rad.
Where we found geodes at Dugway Geode Beds
To locate geodes here, you can search approximately one to two miles north/northeast of the turnoff. The most straightforward approach is to look for an area with previous digging activities and begin digging there, too, until you reach the layer where geodes are abundant.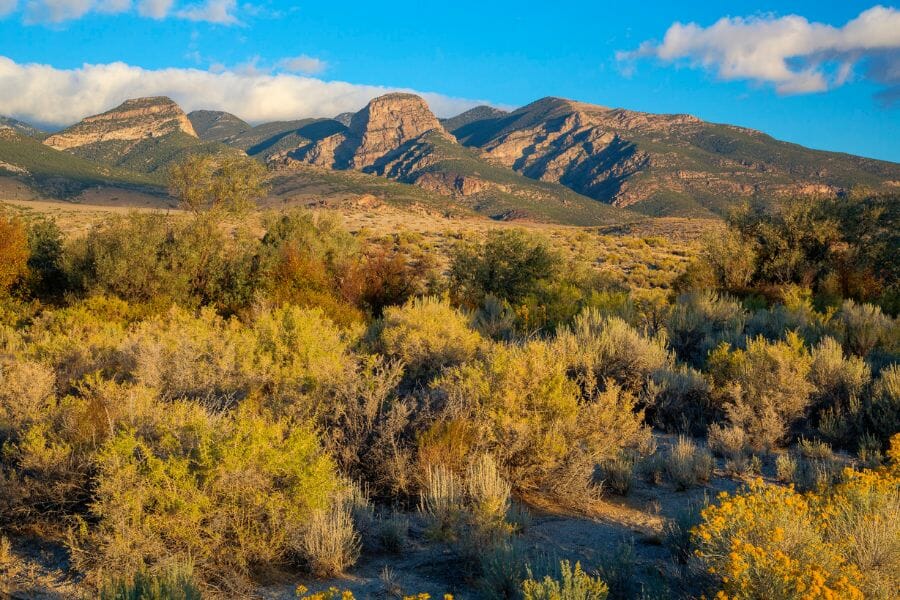 Deep Creek Mountains is located in the western part of our state. It has a rough terrain, and you'll need to be prepared for some steep inclines and rocky terrain. It's all worth it, though, when you get there because the views are stunning and the geology is incredible!
As a prime spot for geode hunting, people go here to find sweet geodes that are full of crystals and unique patterns.
If you want to go here, too, make sure you're ready for a drive that's quite the trek. The area can also get pretty windy, so be sure to dress warmly. All in all, if you're looking for an epic adventure and some cool geodes, Deep Creek Mountains is the place to be!
Where we found geodes at Deep Creek Mountains
You can find some amazing Quartz geode if you explore 0.25 mile west to Deep Creek Mountains. The best collection spot there is the northern part of the mountains.
Newcastle
Newcastle in Iron County is located in the northern part of our state. It has a unique geology that's full of layers of volcanic ash and sedimentary rocks. Because of this, it's a prime spot for finding geodes in Utah.
The area around Newcastle is also pretty picturesque: you'll see some stunning rock formations and sweeping views of the surrounding valleys. If you're after some picturesque view, you'll love it here.
It's a good thing that Newcastle is relatively easy to get to. The drive is chill, and the terrain is pretty smooth. Just a heads up, though, if you're planning to visit here in the summer, the area can get pretty hot, so make sure to bring plenty of water and sunscreen.
Where we found geodes in Newcastle
You can find some pretty chalcedony geodes in all the regional washes, draws, flats, and hillsides of Newcastle. In short, you have plenty of geode-hunting spots to explore here. Double the adventure, triple the fun!
Central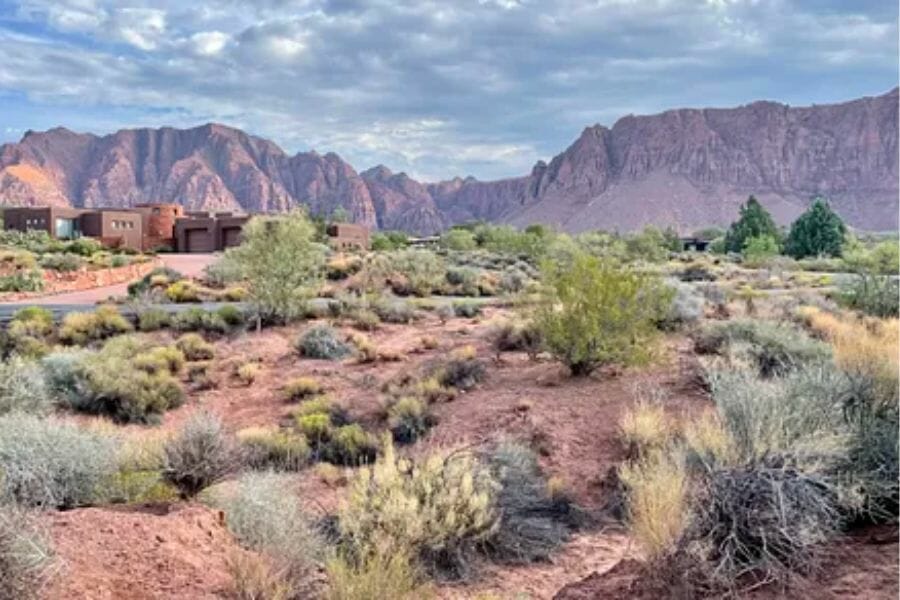 Central area of Washington County is located in the southwestern part of our state. Its terrain is pretty rocky, but it's not too steep. And the geology of this area is wild! There are layers upon layers of sedimentary rocks and the geodes here are top-notch.
One thing to note, though, is that the area around Central can get pretty crowded during peak season. So if you're going here, make sure you plan your trip at the right time. Getting here is also pretty easy. The drive is a bit of a haul, but it's mostly flat and easy to navigate.
Overall, if you're looking for a chill spot with some killer geodes, Central area is a must-visit!
Where we found geodes in Central
If you want to explore this place to find geodes, you can head 24 miles north of St. George on Route 18. Once you're there, do your search at the area basalt exposures of Central area. This spot has some of the best chalcedony geodes in our state.
Other Great Places To Dig For Utah Geodes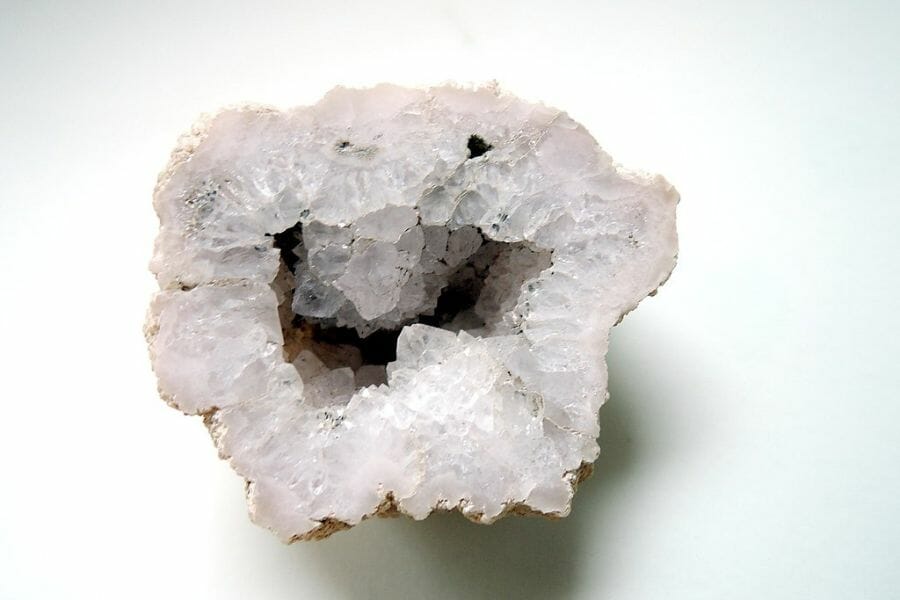 The places we shared above may be our favorites, but there are plenty of other spots we can recommend for your next geode-hunting trip here. We listed these places below by county so it will be easier for you.
Our recommendations by county
| | |
| --- | --- |
| County | Location |
| Iron | All regional washes, draws, flats, hillsides of Newcastle |
| Juab | Dugway Geode Beds |
| Sevier | Area to northeast of Glenwood |
| Summit | At the shorelines and downstream along the outflow of twin lakes, 1 mile south-southwest of the summit of Hayden Peak |
| Tooele | Area draws, washes of Simpson Springs |
| Tooele | 0.25 mile west to Deep Creek Mountain |
| Tooele | The trail at right to the Dugway diggings |
| Washington | Area basalt exposures of Central area |
Common Geode-Hunting Questions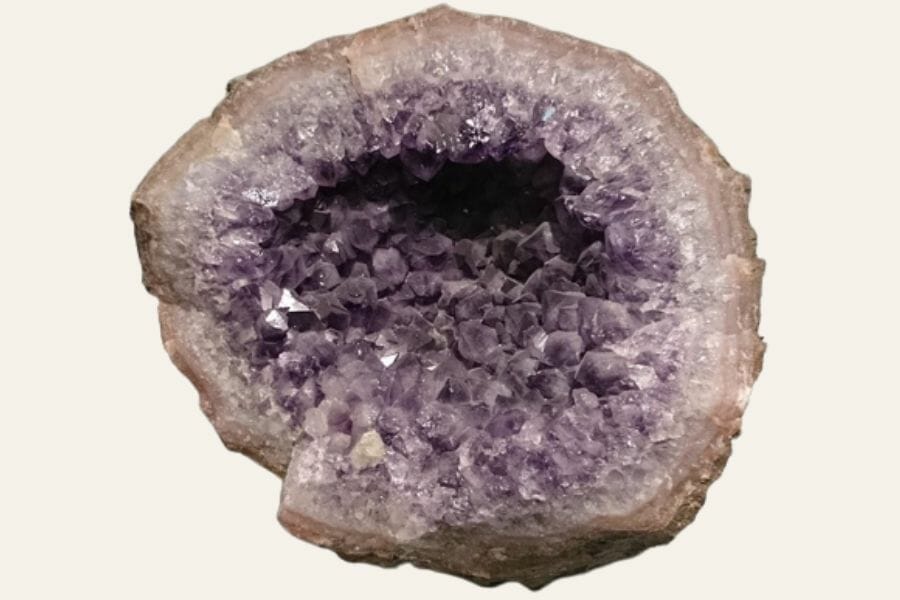 As we're writing this article, we came across some commonly asked questions and we thought it would be helpful to address them here, in case you have similar inquiries.
Where can you find amethyst geodes in Utah?
Unfortunately, Utah has no naturally occurring amethyst geodes. But our state has plenty of local shops where you can buy them! We listed down some of these stores below so you can check them out.
Is it illegal to collect geodes in Utah?
It's legal to collect geodes in Utah, but it's important to follow our state's local collecting laws. Be sure to also comply by any specific regulations for government-owned lands in the area. Additionally, it's crucial to get permission before exploring any privately-owned land.
The Best Places To Buy Geodes In Utah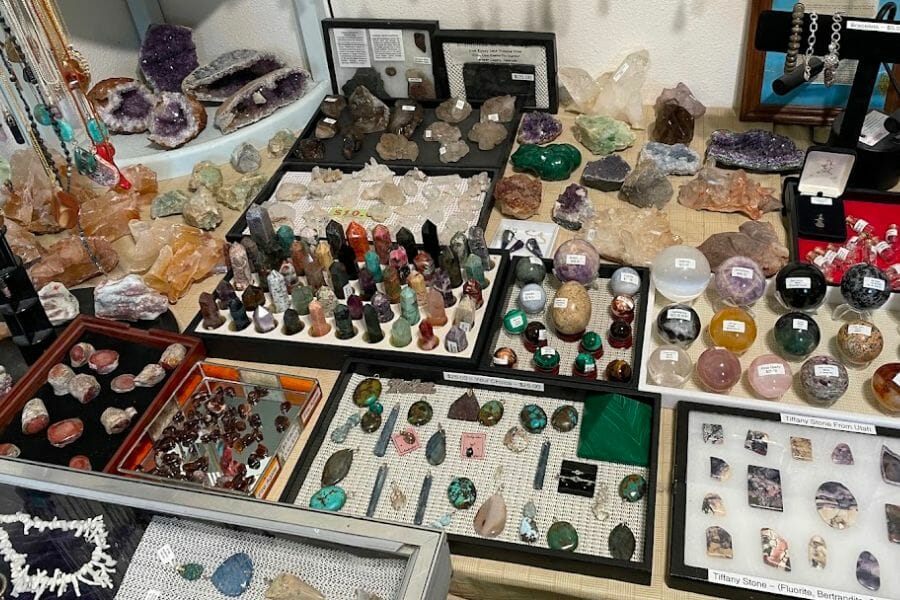 For geode enthusiasts and collectors, finding and holding these treasures fresh from the ground can be a truly rewarding experience, but the search process may not be enjoyable for everyone.
If you're want to get geodes without getting your hands dirty, below are some of our top picks for local shops where you can purchase them.
Healing Mountain Crystals – 363 S 500 E #210, Salt Lake City, UT 84102
Amazon – Surprisingly, Amazon has some pretty good selection of geodes. They even offer complete kits to break geodes open, including geodes ready to be cracked.
Jim's Gem & Jewelry – 362 E 1090 N, Orem, UT 84057
Crystals By Rob – 1261 Clubhouse Dr Apt 3413, Taylorsville, UT 84123
Treasures N Creations – 3419 S State St, Salt Lake City, UT 84115
Wandering Stones – 439 S Pleasant Grove Blvd, Pleasant Grove, UT 84062
Dixie Rocks and Fossils – 946 W Sunset Blvd # I, St. George, UT 84770
Zion Prospector Adventures – 694 Zion Park Blvd, Springdale, UT 84767
Inclusions RockShop – 48 S Main St, Brigham City, UT 84302
Additional places to find geodes in nearby states
Check out our guides for nearby states if you've already tried all of our suggestions above or if you're planning a trip outside of the state:
If you have any recommendations for our list please leave a comment below!