Any rockhound will love the experience of rockhounding in Connecticut! The state provides many prospects for exploration and discovering remarkable specimens due to its diversified geology and abundant mineral resources.
Connecticut's rockhounding scene is filled with excitement and surprises. The thrill of uncovering sparkling minerals can't be beaten! Whether a seasoned rockhound or a beginner, the state provides many options to satisfy your geological curiosity. You might even stumble upon rare and unique specimens that make your collection exceptional.
What's excellent about rockhounding in Connecticut is that there are numerous locations to choose from. With some research and exploration, you'll discover hidden treasures in Connecticut's rich mineral deposits.
How We FoundThe Best Places For Rockhounding in Connecticut
We spent a lot of time putting together the list of which of the many options for Connecticut rockhounding we were going to recommend. We wanted to have a nice variety of locations for experienced and novice rockhounds in a variety of settings. Here are the main factors we used when determining the recommendations we set out :
The extensive local experience and understanding of our team
Input from multiple local rockhounds and rockhound groups
The accessibility of the various locations
Safety and potential hazards when collecting
Private and public locations
A desire to include locations for both experienced rockhounds and those who are just starting out
Using these weights we think we've put together the best list out there for those who love finding new rocks, gems, and minerals for our collections!

What You Can Find Rockhounding In Connecticut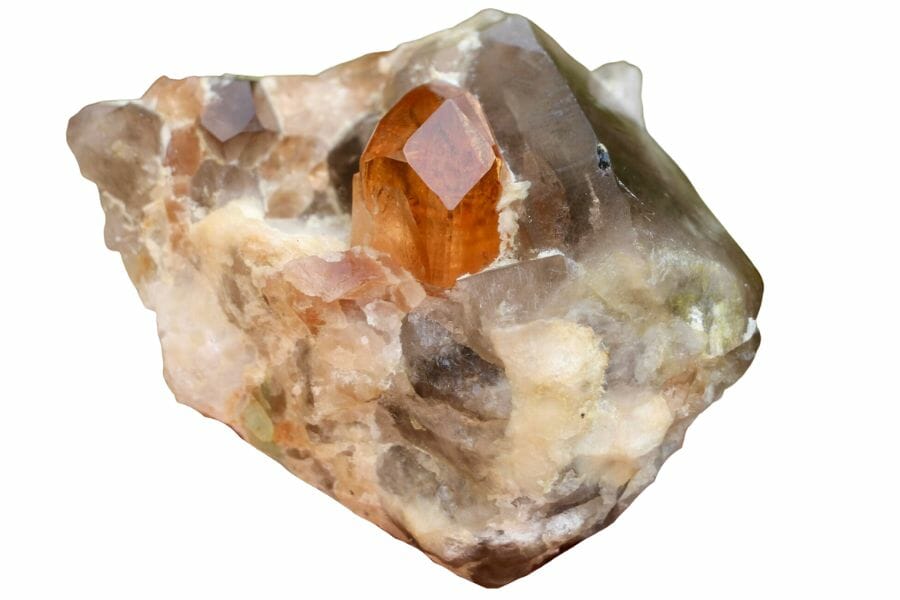 Due to their extreme diversity, we could not cover all of the rocks and minerals that might be present in Connecticut. The majority of the more popular and rare specimens that rock hunters search for in the state include the following:
Rare rocks and minerals found in Connecticut
More common desirable rocks, minerals, and gems found here
Beryl
Smoky Quartz
Tourmaline
In-depth guides to finding specific types of rocks in Connecticut
If you're looking for a specific specimen, look at the additional directions we've created to find it.
We've produced a list of more than 3,000 unique rock-hunting places near you. Learn more about the riches Connecticut has to offer by reading this article further.
The Best Places To Find Rocks and Minerals in Connecticut
We wanted to include some of our favorite rock-hunting locations in Connecticut to kick things off. Despite having several options, we focused on our top choices. You might appreciate visiting these places and viewing the stunning rocks and minerals.
Always Confirm Access and Collection Rules!
Before heading out to any of the locations on our list you need to confirm access requirements and collection rules for both public and private locations.
These requirements are subject to change without notice and may differ from what we state below.
Always get updated information directly from the source ahead of time to ensure responsible rockhounding.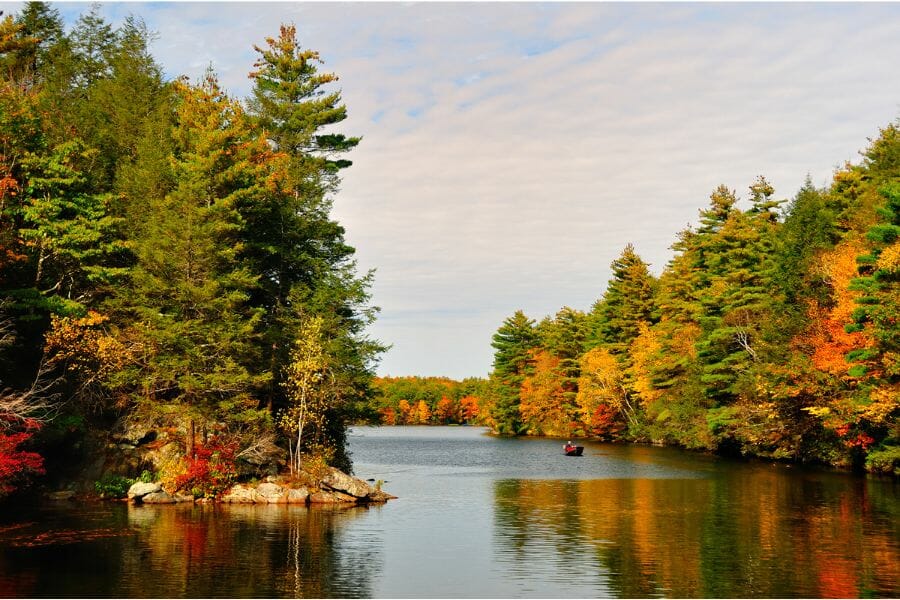 Bigelow Pond is a picturesque destination offering natural beauty and an excellent opportunity for rockhounding enthusiasts. This scenic pond was created in the 19th century by damming a tributary of the Quinebaug River. Its tranquil surroundings, dense forests, and serene waters make it an ideal spot for outdoor activities, including rockhounding.
The pond's surrounding area is known for its geological diversity and various minerals. Rockhounds can explore the shoreline and surrounding woodlands for interesting rocks, minerals, and even fossils. The diverse geological formations in the region have the potential to yield a range of treasures.
What you can find there
Moonstone is the most prevalent mineral in Bigelow Pond, though you can also find other minerals there.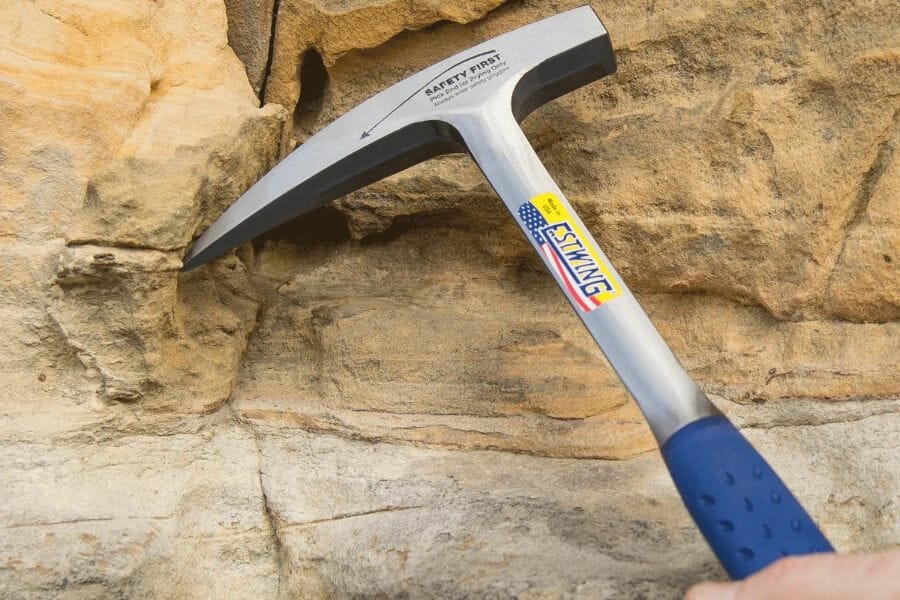 The tools every rockhound will need
When you're out looking for rocks and minerals having the right tools for the job is really going to make or break your success. You don't need a lot for most trips but there are a handful that are critical and will make your life a lot easier.
We get asked a lot about the equipment we use. Over the years we've found a handful of tools that we recommend to both new and experienced rockhounds which we outline in great detail in our complete rockhounding tools and kit guide. These are quality options that also happen to be relatively inexpensive.
Below are the basic tools that make your life so much easier and save you a ton of time. Check out the full guide to see everything we recommend bringing. One quick note, as an Amazon Associate I earn from qualifying purchases but we try very hard to only recommend gear we would use ourselves and often recommend brands you can't find on Amazon.
At a minimum you should have:
1 - Sturdy rock hammer: The Estwing Rock Pick is our standard
2 - Rugged chisels: Try Kendo' 3-piece Chisel Set
3 - Compact shovel: The Koleiya 28-inch shovel works well
4 - Rock screen pan: The Wazakura Soil Sieve Set fits the bill
5 - Eye protection: DeWalt Safety Glasses are cheap and comfortable
6 - Head protection: Malta's Safety Helmet has been our go-to
7 - Jewelers lens with at least 20x magnification: Jarlink's Jewelers Loop is perfect
The rockhounding books that we use most
There are also a few books that have been extremely helpful in the search for gems. These books have great recommendations and tips:
National Audubon Society Field Guide to Rocks and Minerals: North America 
Northeast Treasure Hunter's Gem & Mineral Guide 
Earth Treasures: The Northeastern Quadrant 
We provide links to find these tools on Amazon but some can also be found at your local hardware stores. For more recommendations check out the link to our full tool guide above.
Collins Hill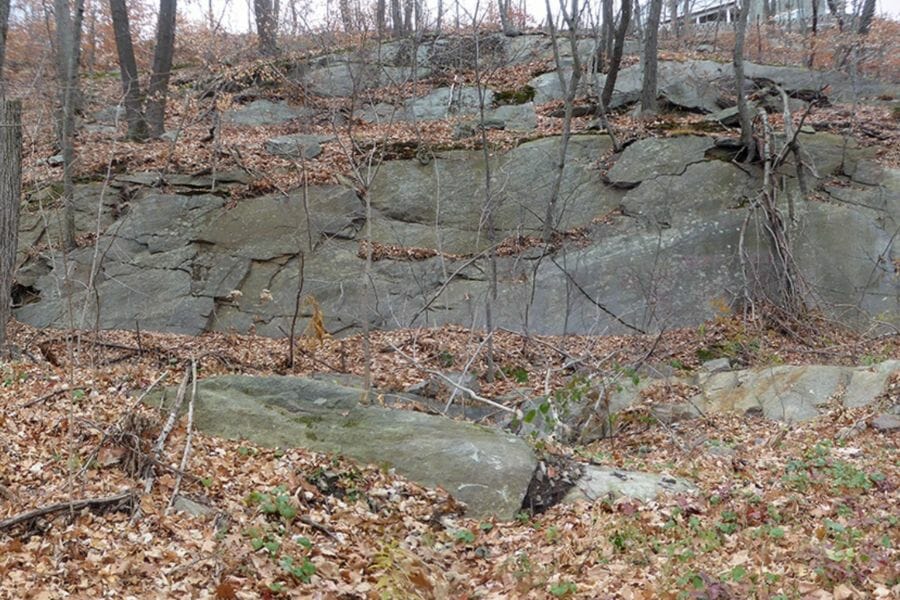 Collins Hill is a well-known destination for rockhounding enthusiasts seeking an exciting adventure. This historic site has a rich geological history and offers a variety of minerals for collectors and enthusiasts to discover.
The history of Collins Hill dates back to the 19th century when it was a popular quarrying site. The area was known for its brownstone, a type of sandstone used to construct numerous buildings in New York City.
Collins Hill is particularly enticing for rockhounding because of its diverse mineralogy. The exposed rock layers at Collins Hill make accessing and exploring various geological strata easy, increasing the chances of finding exciting specimens.
Some more common crystals are easy to confuse among each other, so to help you tell them apart, here are some guides that we created:
What you can find there
Various minerals are produced at Collins Hill, including aquamarine, beryl, citrine, morganite, quartz, rose quartz, and tourmaline.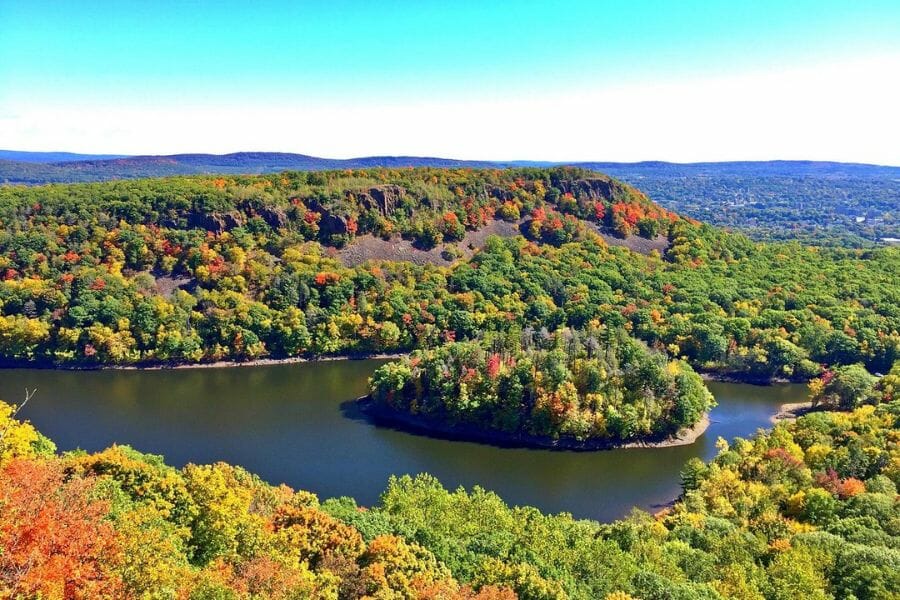 Hubbard Park is a beloved outdoor destination offering much more than beautiful scenery. This expansive park, spanning over 1,800 acres, is home to the iconic Castle Craig and an excellent opportunity for rockhounding enthusiasts. With its diverse terrain and accessible trails, Hubbard Park is an ideal place to go if you want to combine outdoor exploration with the thrill of rockhounding.
Hubbard Park originated in the early 20th century when Walter Hubbard gave it to the city. Local industrialist Hubbard had an idea for a public park where people might enjoy the outdoors and participate in leisure activities.
Within the park, you can find an assortment of rocks and minerals. The diverse geological formations and exposed bedrock provide ample opportunities for rockhounds to explore and discover fascinating specimens.
What you can find there
One of the minerals that are known to be produced at Hubbard Park is quartz.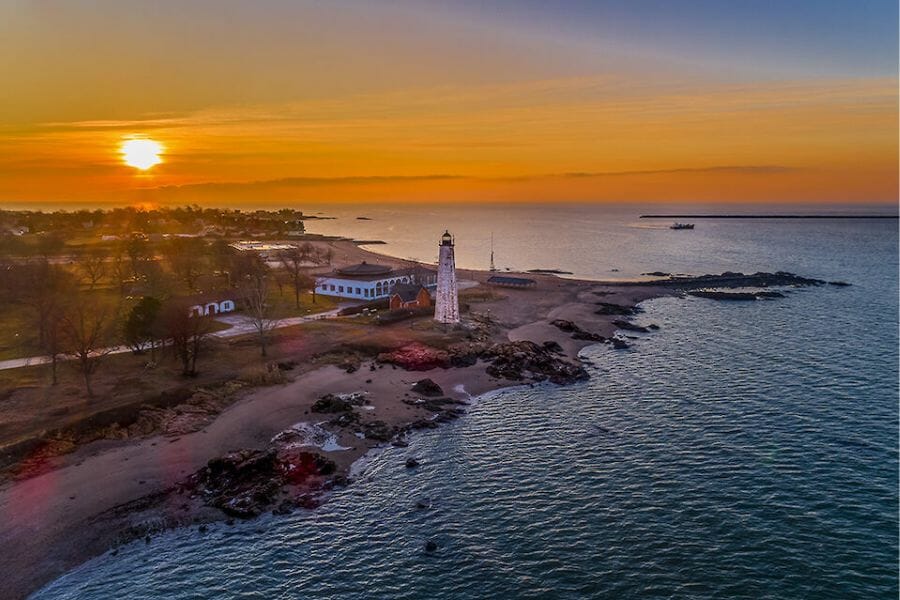 Long Island Sound is an expansive body of water that offers a unique, rock-hounding experience. With its rich geological history and diverse marine ecosystem, the Sound presents an intriguing opportunity for rockhounding enthusiasts. Exploring the shoreline and beaches along Long Island Sound can lead to discovering fascinating rocks, minerals, and even fossils.
The Sound resulted from glacial activity during the last Ice Age, as the retreating glaciers carved out the deep basin and left behind various rocks and sediments. The constant ebb and flow of tides and wave action contribute to the continuous depositing and eroding of rocks along the shoreline.
This dynamic environment offers a treasure trove of interesting rocks and minerals that can be found while beachcombing or exploring tidal pools.
What you can find there
Agate and moonstone are unique geological rocks that can be discovered near the Long Island Sound.
Morris Reservoir
Initially created as a reservoir for water supply, Morris Reservoir now offers a tranquil environment where visitors can indulge in rockhounding adventures. Its peaceful surroundings and diverse geological formations present an excellent opportunity to discover exciting rocks and minerals.
Morris Reservoir's geology is attractive, making it an appealing rock-hounding spot. The exposed bedrock formations and shoreline provide ample opportunities to explore and discover a variety of rocks and minerals. The peaceful ambiance of Morris Reservoir enhances the rockhounding experience, allowing visitors to immerse themselves in nature while searching for hidden treasures.
What you can find there
Morris Reservoir is home to many minerals and rocks, such as smoky quartz.
Our Other Favorite Spots Around Connecticut
Connecticut is home to various exquisite and uncommon rocks and minerals. You can choose and visit from the options below to find more specimens.
Rockhounding sites in Northern Connecticut
Northern Connecticut is a haven for rockhounds, offering many opportunities to explore and discover fascinating rocks and minerals. This region, characterized by its diverse geological formations and prosperous mining history, provides an ideal environment for rockhounding enthusiasts.
From the picturesque valleys and rolling hills to the pristine rivers and streams, northern Connecticut offers a captivating landscape where one can embark on exciting rock-hounding adventures. Some of the more interesting rocks and minerals can be found in this area.
| | |
| --- | --- |
| Location | Minerals & Rocks |
| East Hill | Amethyst |
| Howe Quarry | Amethyst, Beryl |
| Case Quarries | Amethyst, Aquamarine, Beryl |
| Simpson Quarry | Aquamarine, Smoky Quartz |
Rockhounding sites in Southern Connecticut
Southern Connecticut is a beautiful region that offers many opportunities for rock-hounding enthusiasts. Its diverse geological history and scenic landscapes make it an ideal destination for exploring and discovering exciting rocks and minerals.
From the picturesque coastal areas to the rolling hills and river valleys, southern Connecticut provides a rich and varied terrain that promises exciting rockhounding adventures. Some of the more attractive rocks and minerals can be found in this area.
| | |
| --- | --- |
| Location | Minerals & Rocks |
| Haddam Neck | Amazonite, Aquamarine, Beryl, Garnet, Quartz, Tourmaline |
| Turkey Hill Mine | Fluorite, Smoky Quartz |
| Riverside Quarry | Aquamarine, Beryl |
| White Rocks Quarry | Aquamarine, Beryl |
| Portland Reservoir | Citrine, Quartz |
| New Haven Traprock Quarry | Amethyst |
| Mystic River | Pearls |
Rockhounding sites in Western Connecticut
Western Connecticut is a captivating destination for rockhounding enthusiasts, offering a diverse and captivating geological landscape. This region is known for its rolling hills, scenic river valleys, and rocky outcrops, providing abundant opportunities for exploration and discovery.
Western Connecticut is particularly appealing for rockhounds due to its varied mineralogy. With its accessible locations and a wide variety of collectible specimens, it presents an exciting playground for rockhounds eager to uncover the geological treasures that lie beneath its picturesque surface.
| | |
| --- | --- |
| Location | Minerals & Rocks |
| Old Feldspar Quarry | Aventurine, Beryl, Kunzite, Quartz |
| Long Hill | Calcite, Fluorite, Pyrite, Topaz |
| Merryall Mine | Aquamarine, Beryl, Harnet, Smoky Quartz, Tourmaline |
| Shepaug River | Pearl |
| Flanders Quarry | Agate, Beryl, Quartz |
Where To Find Garnets In Connecticut
Although it's not always simple to find garnet, our state is fortunate to have access to it. For their scarcity and brilliance, garnets have long been valued. Today, rockhounds and collectors place a high value on them.
Roxybury Falls Mine is our favorite place to look for Garnet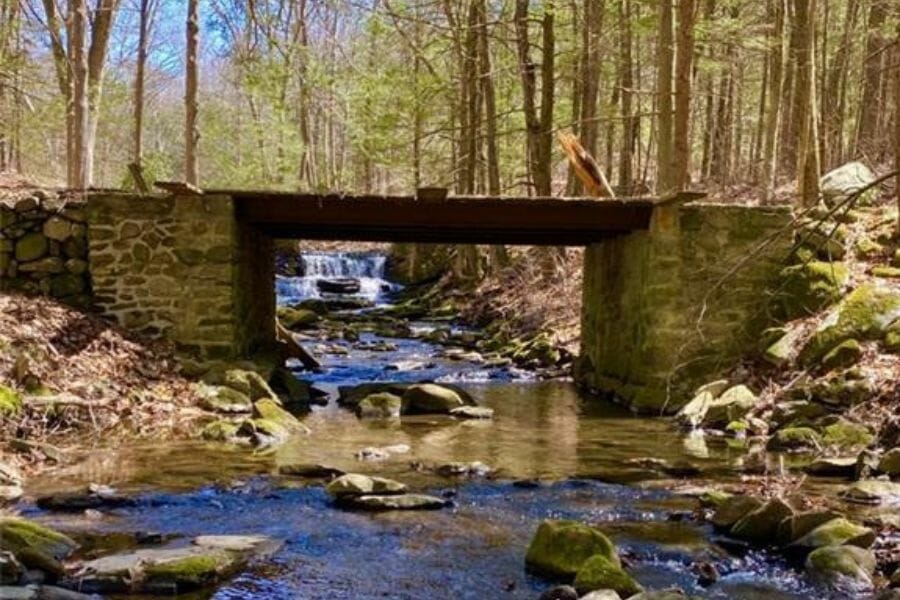 Roxbury Falls Mine is a well-known location for garnet hunting in Connecticut. It has produced high-quality garnets, including almandine and spessartine varieties. Often embedded in the host rock, these garnets offer a delightful challenge for rock-hounding enthusiasts.
Other good options to find Garnet
Case Quarry
Hammonasett Beach State Park
Strickland Quarry
Public Rockhounding Options For Kids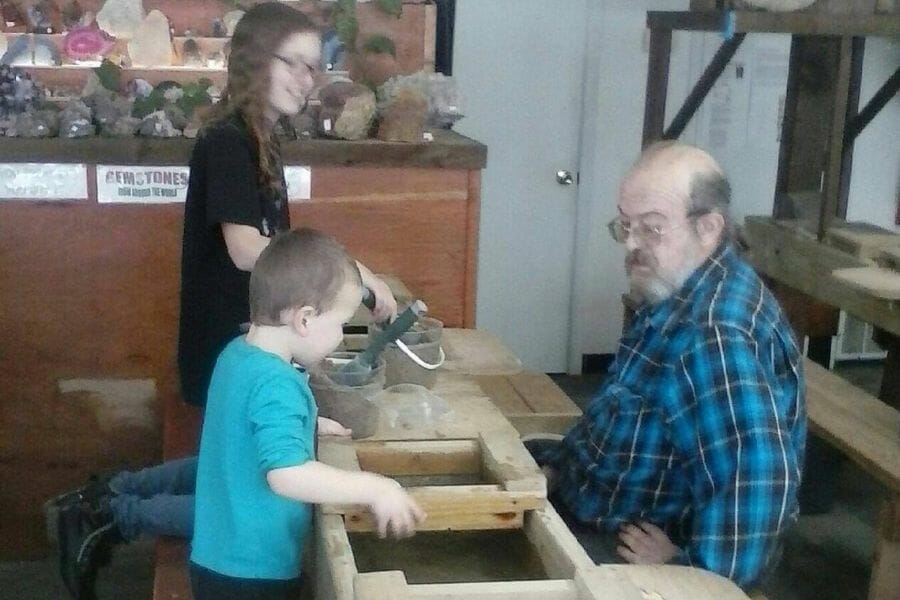 Although rockhounding can be fun and instructive for kids, finding the right spots for them can be difficult. Going to kid-friendly rockhounding locations might be a great way to pique their interest in the activity.
The whole family will enjoy these areas due to the more accessible topography and potential for finding easily located specimens:
Connecticut Rockhounding Clubs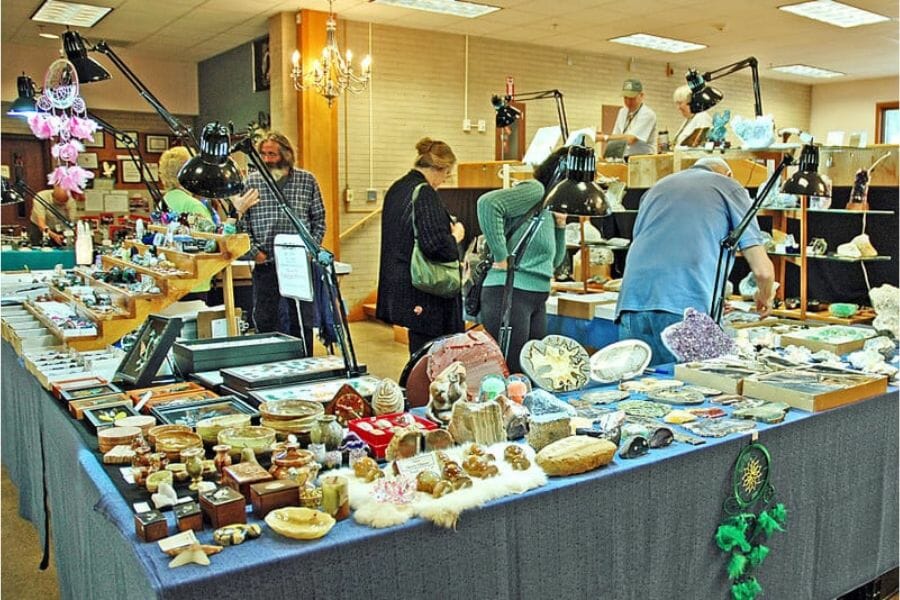 The knowledge provided by rockhounding clubs can be pretty beneficial to both beginners and seasoned collectors. These groups offer newcomers a friendly, knowledgeable setting where they may pick the brains of more experienced members and learn about the best locations, techniques, and procedures for identifying rocks and minerals.
Rockhounding clubs in Connecticut worth checking out
Connecticut Rockhounding Laws And Regulations
In Connecticut, collecting rocks, minerals, and fossils from public lands for personal use is generally permissible as long as it does not involve excavation or cause damage to the environment. However, obtaining proper permission and permits when collecting on private lands and from Connecticut's Department of Energy and Environmental Protection (DEEP) is always essential.
It's also advisable to practice ethical rockhounding by filling any holes or disturbances made during the collection process, respecting boundaries and private property, and leaving the area as you found it. By adhering to local and state laws and regulations, rockhounding enthusiasts can enjoy their hobby while ensuring Connecticut's natural resources' long-term sustainability and preservation.
Our Favorite Rock And Mineral Shops In Connecticut
Some people enjoy hiking to look for rocks and minerals, but others prefer the convenience of purchasing specimens from reputable rock shops. Here's a list of Connecticut's top rock and mineral shops, where you may find various rare specimens.
Additional Places To Rockhound In Nearby States
If you've already tried all of our recommendations above or are planning a trip out of the state you should check out our guides for neighboring states:
If you have any recommendations we haven't covered please leave them in the comments below!