Finding Texas geodes can be a rewarding and exciting experience. While it may not be as easy as finding them in other parts of the country, there are still plenty of opportunities to find some fantastic examples. With the proper guidance, you can easily find a variety of beautiful and unique geodes in Texas.
These gorgeous and fascinating rocks form when dissolved minerals fill cavities within other rocks or sedimentary material. They often contain stunning crystals and come in various shapes and sizes.
Digging for geodes can be difficult, but with our help, you can successfully find these beauties in these great options we're recommending. From public lands to private ranches, we've identified some fantastic sites you can visit to find these incredible rocks.
So don't wait any longer – start your geode-hunting adventure today!
What Are Texas Geodes Anyway?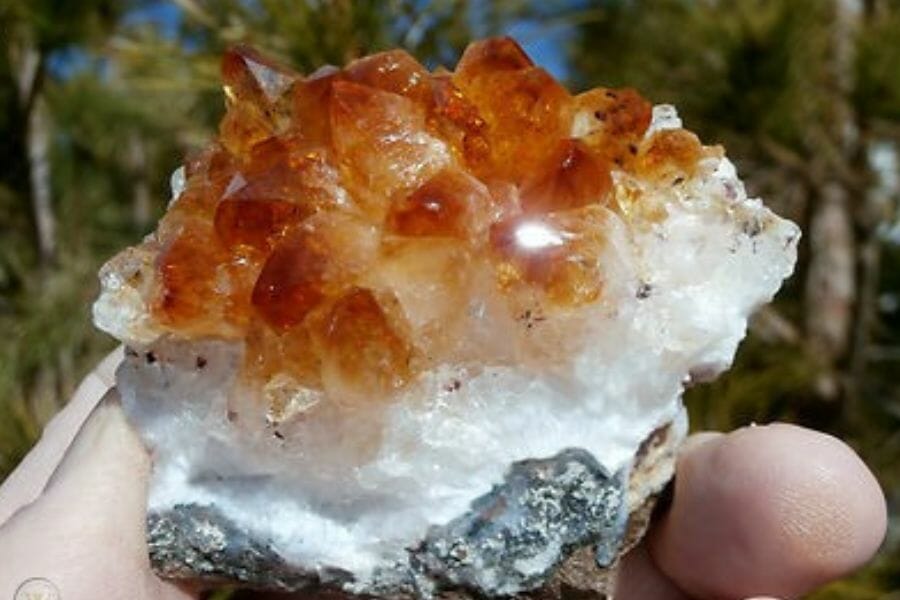 Geodes are pretty cool. They're like rocks with a surprise inside! They look like any other rock on the outside, but when you crack them open, there's usually a crystal-filled cavity inside. So geodes are an excellent option if you're looking for a unique gift or something to spruce up your living space. They come in all shapes and sizes and can be found in various places, so you're bound to find one that's just right for you.
If you're interested in a more thorough explanation, we've also created a guide on how to spot a geode.
When hot volcanic ash or silt is contained inside a gas bubble, the bubble gently cools and hardens over time, forming geodes. As the bubble cools, minerals from the nearby rock seep inside, creating the crystals that line the geode's interior. The distinctive geology of Texas makes it very simple for geodes to form.
The Types Of Geodes Found In Texas
Geodes come in various types and are found all over the world. The appearance and price of a geode are influenced by the kind of crystal inside it. You can find the following in Texas:
Agate geodes
Amber geodes
Barite geodes
Blue Topaz geodes
Calcite geodes
Celestite geodes
Chalcedony geodes
Jasper geodes
Quartz geodes
How We Found The Best Geode Locations in Texas
When it comes to choosing the best options for finding Texas geodes there are plenty of things we consider. Many of the best locations are closely guarded secrets which can make it really difficult for more casual geode hunters to find success. The key factors in our recommendations are:
The deep experience and understanding of our team about the area
Recommendations from local groups and clubs
How easy it is to get the a particular location
Safety and potential hazards when collecting
Weighing private and public locations
The ability for both experienced and novice geode enthusiasts to find great samples
With these factors in mind we've been able to put together a fantastic list that just about anyone can use!

The Best Places To Find Geodes in Texas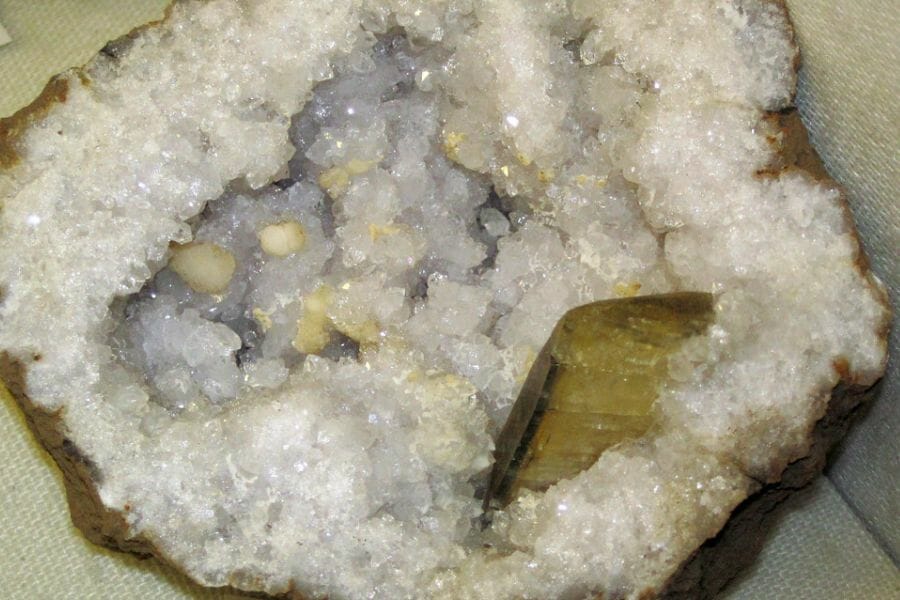 We'll begin by enumerating our absolute favorite locations to discover geodes in Texas. There are many fantastic locations for gem mining in Texas, but only a few are ideal for what we're looking for. Even though some of these locations are not widely known, they have regularly provided us with excellent selections when we're looking.
Always Confirm Access and Collection Rules!
Before heading out to any of the locations on our list you need to confirm access requirements and collection rules for both public and private locations.
These requirements are subject to change without notice and may differ from what we state below.
Always get updated information directly from the source ahead of time to ensure responsible rockhounding.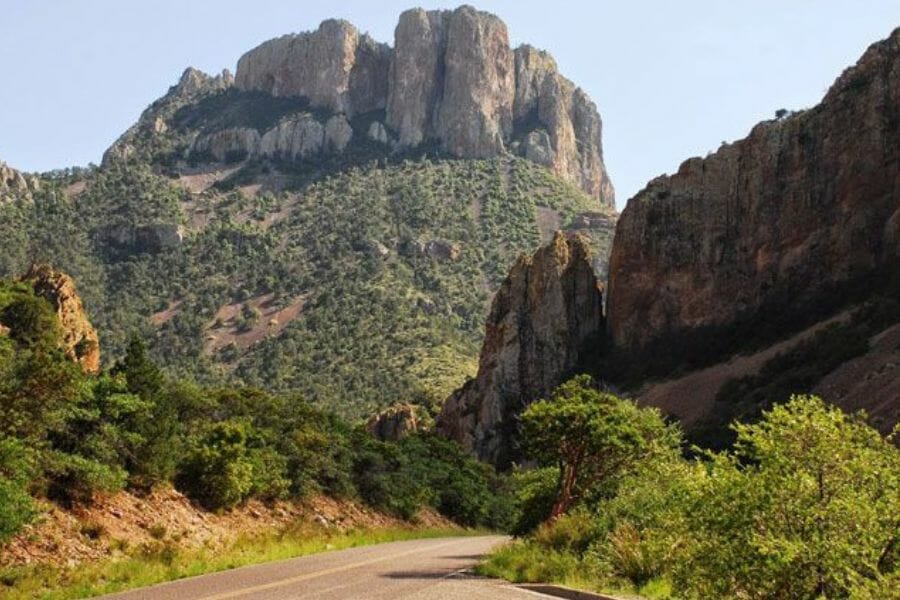 Brewster County is located in the far western corner of Texas, bordered by New Mexico and Mexico. It's a sprawling county, with an area of 6,208 square miles – that's almost the same size as Connecticut! It's terrain is mostly desert-like and mountainous. Geologically, Brewster County is part of the Basin and Range Province. Alternating mountain ranges and valleys characterize this province, created millions of years ago by tectonic activity.
The main rock types in Brewster County are limestone and shale, which are thought to have been deposited during the Permian period. With its rugged terrain and dry climate, Brewster County is a popular destination for outdoor enthusiasts looking to explore the great outdoors!
Remember that it's always important to know the state's updated guidelines on collecting and hunting rocks before doing these activities.
Where we found geodes in Brewster County
Geodes can be found in many places in Brewster County, Texas, along the Rio Grande banks, and in areas with exposed limestone. They can also be found in dry river beds, gravel pits, quarries, and road cuts.
In the Alpine area, 6 miles southwest on US90 to RR water tank, beyond the tank of the valley.
Banks and beds of Terlingua creek.
In the Big Bend area.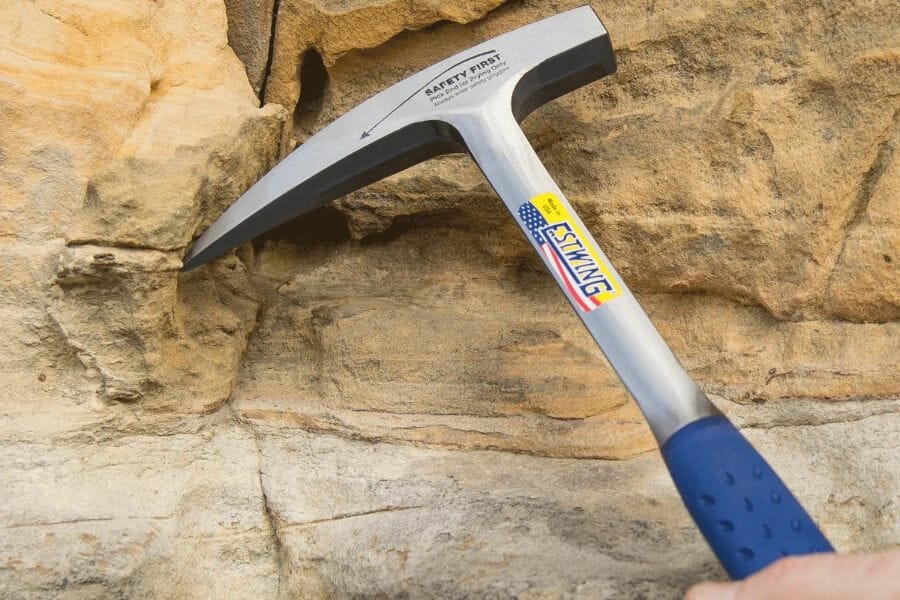 The tools every geode hunter will need
When you're out looking for geodes having the right tools for the job is very important. You don't need a lot for most trips but there are a handful that are critical and will make your life a lot easier.
We get asked a lot about the equipment we use. Over the years we've found a handful of tools that we recommend to both new and experienced geode hunters which we outline in great detail in our complete rockhounding tools and kit guide. These are quality options that also happen to be relatively inexpensive.
Below are the basic tools that make your life so much easier and save you a ton of time. Check out the full guide to see everything we recommend bringing. One quick note, as an Amazon Associate I earn from qualifying purchases but we try very hard to only recommend gear we would use ourselves and often recommend brands you can't find on Amazon.
At a minimum you should have:
1 - Sturdy rock hammer: The Estwing Rock Pick is our standard
2 - Rugged chisels: Try Kendo' 3-piece Chisel Set
3 - Compact shovel: The Koleiya 28-inch shovel works well
4 - Rock screen pan: The Wazakura Soil Sieve Set fits the bill
5 - Eye protection: DeWalt Safety Glasses are cheap and comfortable
6 - Head protection: Malta's Safety Helmet has been our go-to
7 - Jewelers lens with at least 20x magnification: Jarlink's Jewelers Loop is perfect
The geode-finding books that we use most
There are also a few books that have been extremely helpful in the search for gems. These books have great recommendations and tips:
National Audubon Society Field Guide to Rocks and Minerals: North America 
Southwest Treasure Hunter's Gem & Mineral Guide 
Earth Treasures: The Southwestern Quadrant 
We provide links to find these tools on Amazon but some can also be found at your local hardware stores. For more recommendations check out the link to our full tool guide above.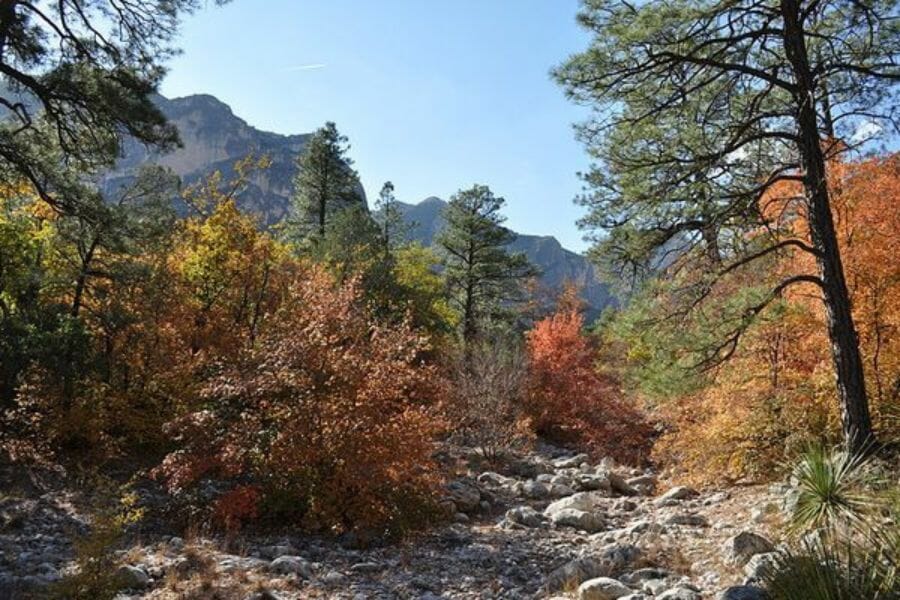 Culberson County is a rugged, rural landscape full of history and culture. With its expansive desert terrain and rolling hills, it's a great place to explore on foot or by horseback. From its vast ranches to charming small towns like Van Horn, there's plenty to see and do.
The area has been inhabited for centuries by Native American tribes such as the Mescalero Apache and Comanche. Today, Culberson County is home to a diverse population of ranchers, farmers, retirees, and other folks who make the county their home.
Where we found geodes in Culberson County
Geodes can be found in the limestone outcrops of the county.
Van Horn area
Seven Hearts Gap area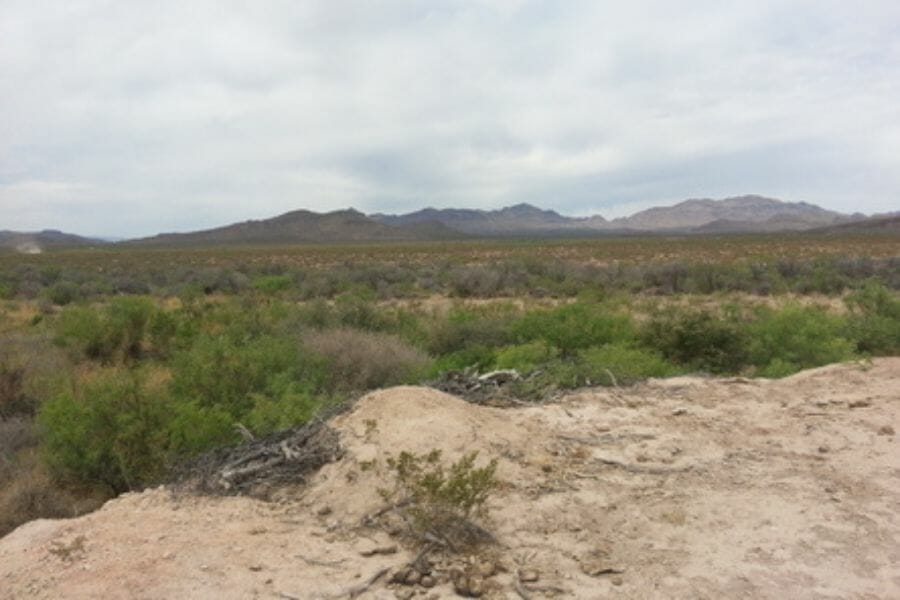 Hudspeth County, in far West Texas, is a land of contrasts. Its vast desert terrain is dotted with rugged mountains and canyons, while the Rio Grande River runs along its southern border. The county is composed of sedimentary rocks from the Paleozoic Era. Its topography ranges from flat plains to high peaks and deep canyons. In between are rolling hills, mesas, and badlands. The soil is mostly sandy or clay-based and prone to erosion.
The area's climate ranges from hot summers to cold winters, with occasional snowfall in the higher elevations. It's a dry place – drought is a common occurrence – but it's also home to several species of cacti, yucca plants, and other desert succulents that thrive in this harsh environment. Despite its remote location and challenging terrain, Hudspeth County has plenty of outdoor opportunities for those willing to explore its wild beauty.
Where we found geodes in Hudspeth County
Near the Mexican border
Sierra Blanca area
Southern face of the Quitman Mountains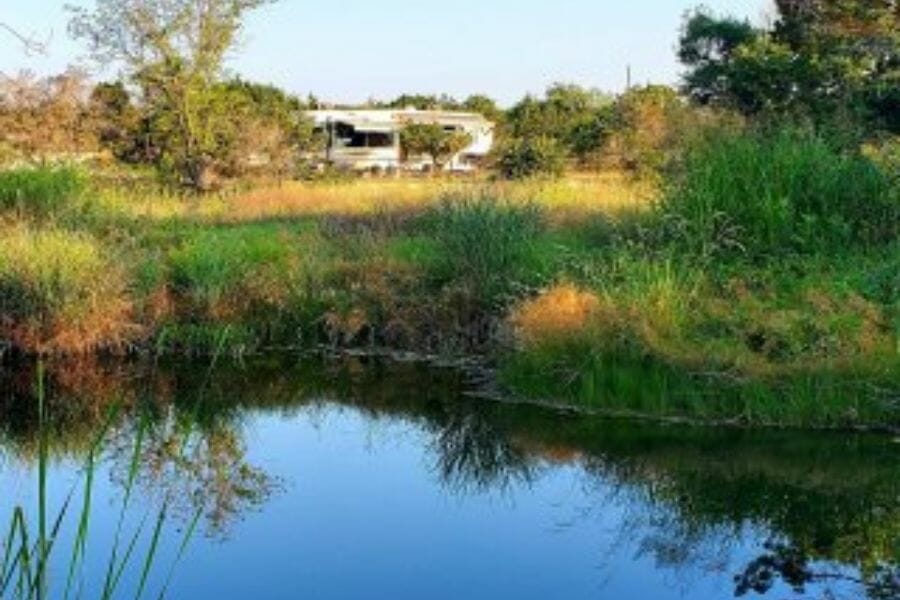 Little Lucy Creek is a scenic spot tucked away in the Texas Hill Country. It's a hidden gem, with its rolling hills, lush vegetation, and tranquil waters. The terrain varies and includes rocky outcroppings, grassy meadows, and wooded areas.
Geologically speaking, the creek is fed by underground springs that emerge from limestone bedrock. Little Lucy Creek is an idyllic spot for hunting geodes and simply taking in some of Mother Nature's beauty.
Where we found geodes at Little Lucy Creek
You can search by the creek bed and banks for sedimentary rocks containing geodes. You can also search the nearby hills and outcroppings to locate geodes.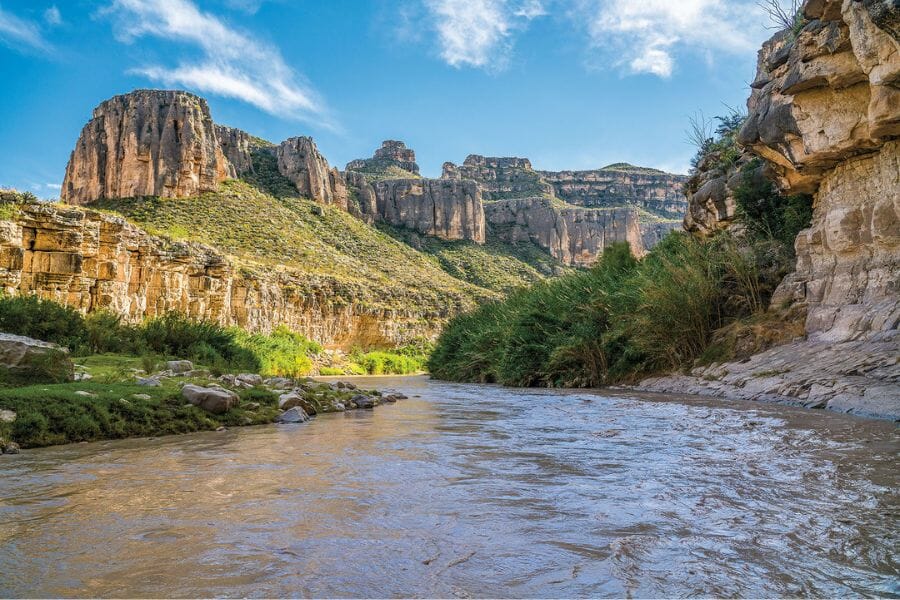 The Rio Grande, or Rio Bravo as it's known south of the border, is a river of many faces. It winds through the Lone Star State of Texas, forming a natural border between Mexico and the US. With its diverse geography, terrain, and geology, the Rio Grande provides a unique landscape for travelers.
The Rio Grande begins in Colorado and flows southward for 1,885 miles before emptying into the Gulf of Mexico at Brownsville. The terrain along its course is varied – filled with rolling hills and canyons to flatlands and desert – while geology ranges from limestone formations to sandstone bluffs. This diversity of landscapes contributes to the river's beauty, making it a popular destination for outdoor enthusiasts seeking adventure.
Where we found geodes at the Rio Grande River
Geodes can sometimes be found along the banks of the river and its gravel beds. They are also commonly found in sedimentary rock formations, such as limestone and sandstone, deposited by the river over millions of years.
Other Great Places To Dig For Texas Geodes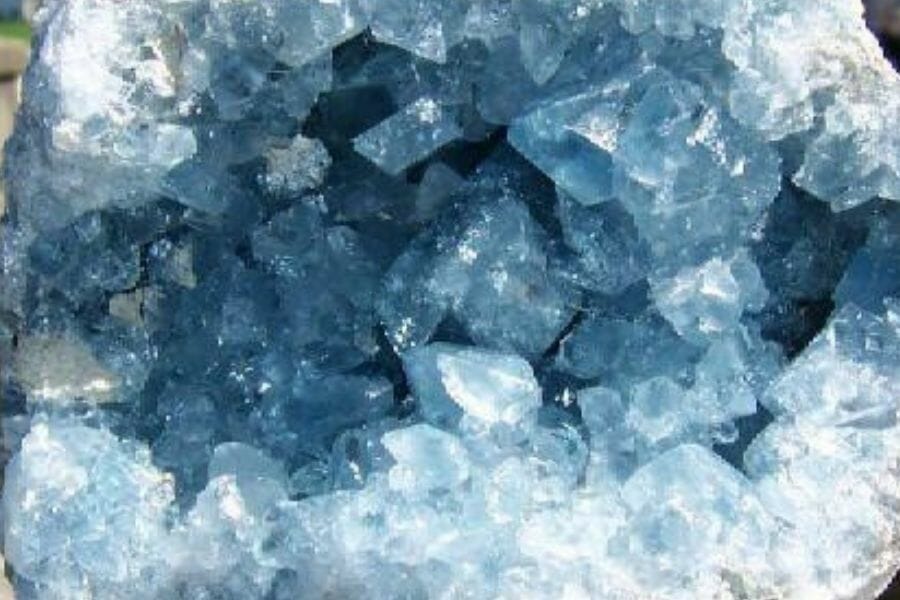 We wanted to share the rest of our top picks now that we've given you our favorites. We listed our suggestions by the county before moving on to more general areas where we've had great success locating geodes. We'll offer more detailed recommendations in the next section for any recommendation that we refer to as "county wide".
Our recommendations by county
| | |
| --- | --- |
| County | Location |
| Brewster | In Alpine area, travel 6 miles southwest on US 90 to the RR water tank, which is past the valley's tank. |
| Brewster | Big Bend area |
| Brewster | Banks and beds of Terlingua creek |
| Cameron | Rio Grande River gravel beds |
| Culberson | Van Horn area |
| Culberson | Seven Hearts Gap area |
| Edwards | Edwards Plateau |
| Hudspeth | Near the Mexican border |
| Hudspeth | Sierra Blanca area |
| Hudspeth | Southern face of the Quitman Mountains |
| Lampasas | In Lampasas area, upstream and down along Little Lucy Creek |
| Real | In the Leakey area, proceed south about half a mile downhill, close to the Horsecollar Roadside Park to reach the steep bank on the west. |
| Travis | West lake hills area at Mt. Bonell |
Additional areas you should try
You'll see that we refer to "county wide" quite a bit in our suggestions. The area to hunt for these pretty rocks in Texas is vast, so we want to help you search. You should look into these significant Texas areas where geodes are frequently found:
Rivers and riverbanks
Rivers and riversides are great hunting grounds for geode collectors. They provide a unique setting to find these rocks formed by the natural elements of water and time. The rocks have been tumbling around in the river, creating interesting shapes and sizes that can't be found anywhere else.
In addition, riversides often have an abundance of rocks exposed to the elements, making them more likely to contain geodes. Plus, they're easily accessible compared to other areas where geodes can be found.
Roadcuts
Roadcuts are an excellent spot for geode collectors to find their treasure. Not only are they easy to access, but they're also full of hidden gems. Roadcuts expose sedimentary layers that can contain geodes, and the rock faces often reveal them in all their glory – just waiting for someone to come along and snatch them up!
Plus, it's a great way to get an up-close look at how the Earth's layers have formed over time. And since roadcuts are usually located in remote areas, there's less competition when finding those elusive specimens. It can be worthwhile if you're lucky enough to find a big one!
Sediment deposits
Sediment deposits are a great place to find geodes for collectors. They're usually formed in sedimentary rock, made of particles deposited over time by wind, water, and ice. These particles can get trapped in pockets or cracks and eventually form hollowed-out rocks.
These are often filled with quartz, calcite, and other minerals that make them attractive to collectors. Plus, sedimentary rocks tend to be much softer than different rocks, so it's easier to crack them open and see what's inside. The best part is that sediment deposits are usually found near rivers or oceans, making them easy to access for most collectors.
Streams and creeks
For collectors, streams and creeks are ideal locations to find geodes. Water flows over rocks and down the stream and can erode and expose previously hidden ones. The motion of the water also helps break open these rocks, revealing the colorful crystals inside.
Streams are often located in areas with a lot of geological activity, meaning they could have a larger variety than other areas. And if you're lucky enough to come across a stream with an exposed bed of limestone or sandstone, you're sure to find some prime specimens!
Common Geode-Hunting Questions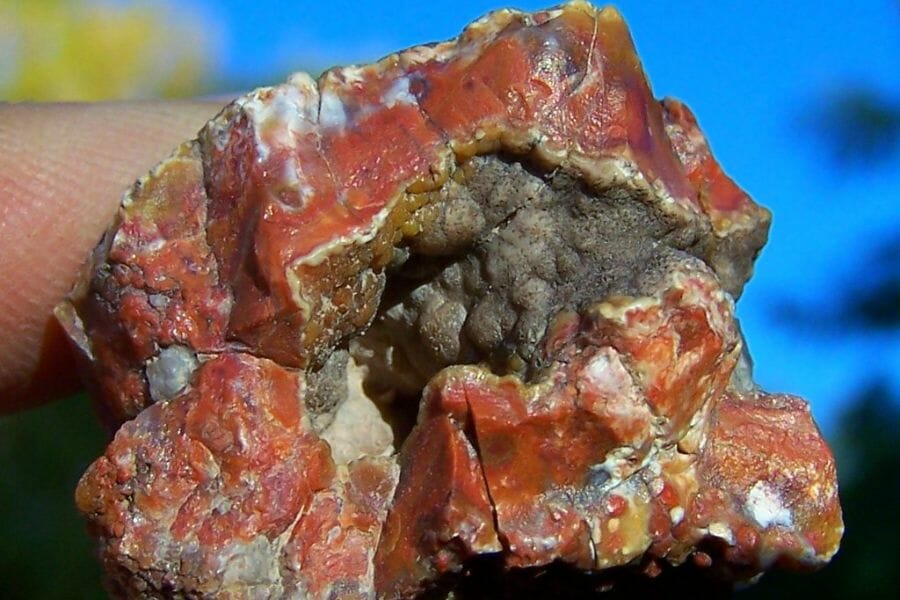 It's important to answer certain generally asked questions concerning geodes from Texas.
Where can you find amethyst geodes in Texas?
Amethyst geodes can't be found at natural locations in the state, but these are available to purchase in many of the rock and mineral shops throughout Texas. You can also search for mineral shows in your area to find vendors who may sell amethyst geodes.
Is it illegal to collect geodes in Texas?
Geode collecting is legal in Texas if you abide by local collecting regulations. Just ensure you're following applicable local laws, and if you're on private property, make sure you have permission to collect.
The Best Places To Buy Geodes In Texas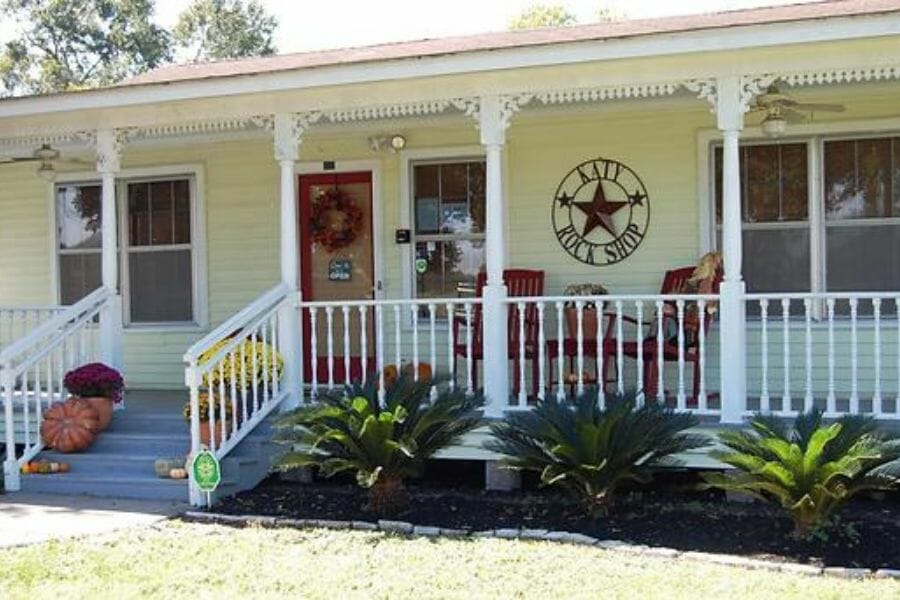 Not everyone enjoys long hikes through the bushes in search of geodes. Sometimes all you want is something lovely to add to your collection or to place on your desk.
Here are some additional places where you can purchase incredibly amazing geodes in your area that we like:
Enchanted Rocks and Jewelry – 805 Berry St, Llano, TX 78643, United States
Amazon – It's surprising that Amazon offers a good variety of geodes. For those who prefer to do it themselves, there are even complete kits containing geodes to crack open.
Katy Rock Shop – 535 Pin Oak Rd, Katy, TX 77494, United States
Nature's Gallery – 1102 S Elm St Ste 102, Carrollton, TX 75006, United States
Old Wizard's Rock Shop – 14005 African Hill Rd, Willis, TX 77378, United States
Rock and Fossil Deposit – 16111 San Pedro Ave Suite 103, Hollywood Park, TX 78232, United States
Additional places to find geodes in nearby states
Check out our guides for nearby states if you've already tried all of our suggestions above or if you're planning a trip outside of the state:
If you have any recommendations for our list, please leave a comment below!