Illinois has some of the most abundant reserves of geodes compared to most states in the US, but finding them here will require some stretching and a lot more of research than you think. Don't worry though because as they say: Nothing great comes easy! Lucky you, we did the ground work and put together a list of the BEST locations where you can find geodes in Illinois based on our own personal experience.
So if you're ready to find your next best collection piece, below are some of the best recommendations that can help you.
What Are Illinois Geodes?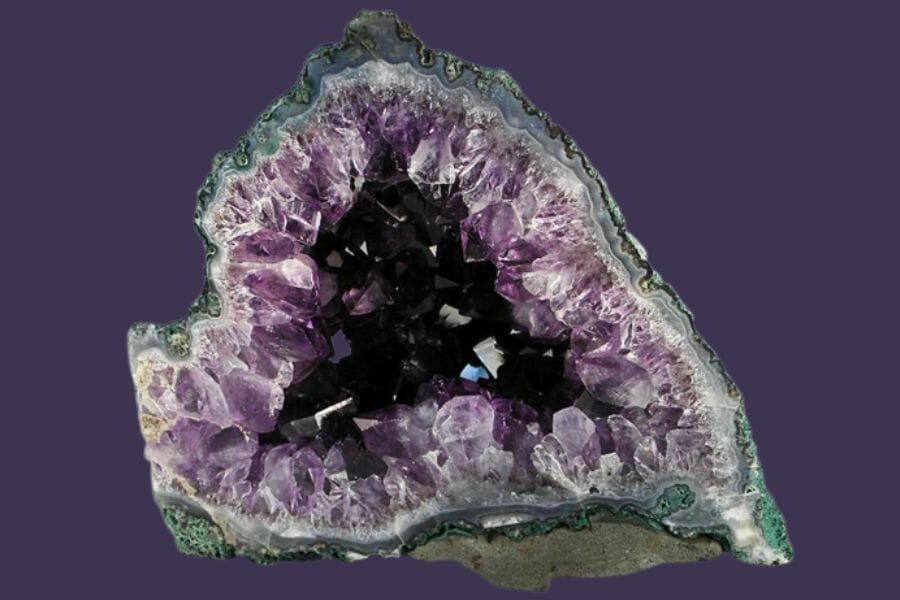 Geodes are spherical rocks that contain hollow cavities lined with crystals. These unique materials are formed when mineral-rich water seeps into a cavity or bubble in volcanic or sedimentary rock and then evaporates over time, leaving behind layers of minerals that form crystals on the inner walls of the cavity.
It's fairly easy to identify this natural wonder in its environment if you follow our simple guide on how to recognize a geode.
One of the most fascinating things about geodes is the diversity of crystals that can be found inside them. Depending on the mineral content of the water that formed it, its crystals can range from clear quartz to vibrant amethyst, from shiny pyrite to delicate calcite. Illinois' unique geology makes possible the formation of geodes!
The Types Of Geodes Found In Illinois
There are tons of different varieties of this natural wonder all over the world, and how much a geode is worth may depend on it. In Illinois, here are some of the ones you'll find:
Amethyst geodes
Aragonite geodes
Barite geodes
Calcite geodes
Chalcedony geodes
Chalcopyrite geodes
Dolomite geodes
Malachite geodes
Marcasite geodes
Pyrite geodes
Quartz geodes
Selenite geodes
Smithsonite geodes
Sphalerite geodes
How We Found The Best Geode Locations in Illinois
When it comes to choosing the best options for finding Illinois geodes there are plenty of things we consider. Many of the best locations are closely guarded secrets which can make it really difficult for more casual geode hunters to find success. The key factors in our recommendations are:
The deep experience and understanding of our team about the area
Recommendations from local groups and clubs
How easy it is to get the a particular location
Safety and potential hazards when collecting
Weighing private and public locations
The ability for both experienced and novice geode enthusiasts to find great samples
With these factors in mind we've been able to put together a fantastic list that just about anyone can use!

The Best Places To Find Geodes in Illinois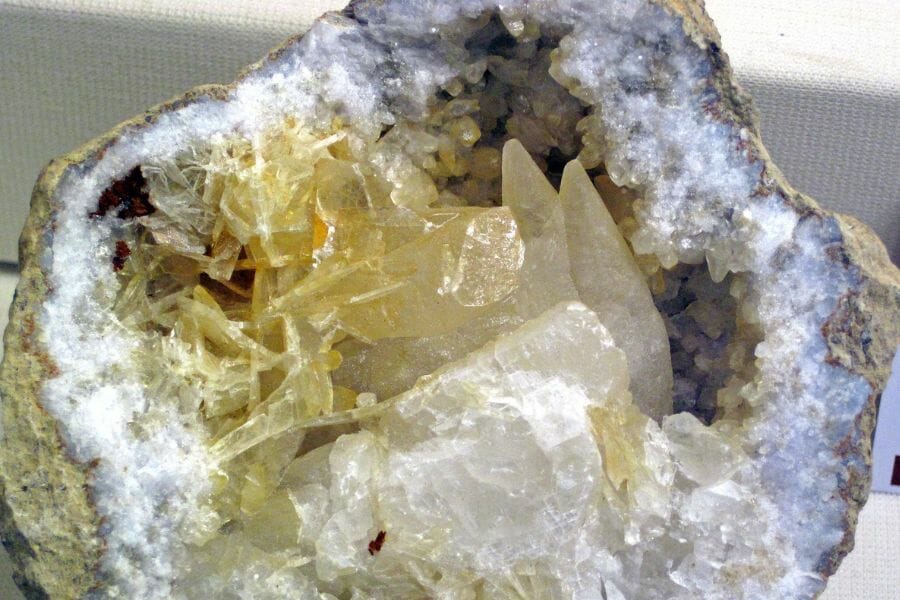 We're thrilled to share with you the best places where you can find Illinois geodes. And while you might already know about the great places to mine gems in Illinois, not all of them have geodes. The locations we're sharing with you below may not be the most well-known, but they sure are the best options to find geodes in Illinois!
Always Confirm Access and Collection Rules!
Before heading out to any of the locations on our list you need to confirm access requirements and collection rules for both public and private locations.
These requirements are subject to change without notice and may differ from what we state below.
Always get updated information directly from the source ahead of time to ensure responsible rockhounding.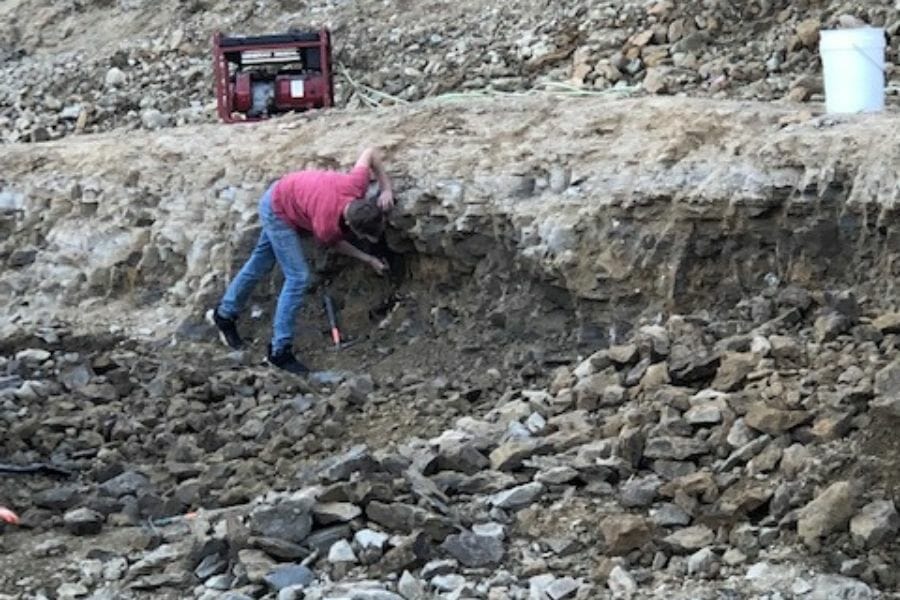 Keokuk Geode Beds is an absolute treasure trove for rockhounds and geology enthusiasts. It's located in the Mississippi River Valley, about 4 hours southwest of Chicago. To get here, you have to take some back roads, but trust us, it's worth it!
The terrain is pretty rugged and hilly, with lots of trees and vegetation. You have to be careful where you step, because there's a lot of poison ivy and thorny plants around. This place's geology is also super interesting— the geodes are formed in the Mississippian-age Warsaw Formation, which is full of limestone and dolomite. The geodes themselves are pretty big, some as large as a basketball, so you have to crack them open with a hammer or rock pick to see the crystals inside!
But before you bring home any of your finds, make sure to check the updated guidelines from the State of Illinois.
Where we found geodes on Keokuk Geode Beds
The largest amount and variety of geodes in the Keokuk Geode Beds can be found in the outcropping of the Mississippian lower Keokuk bed, which is located within a 70-mile radius of the intersection of the Mississippi and Des Moines Rivers. The primary source of these geodes is the stream beds here. However, you have to get permission from the landowners before accessing the area for geode hunting.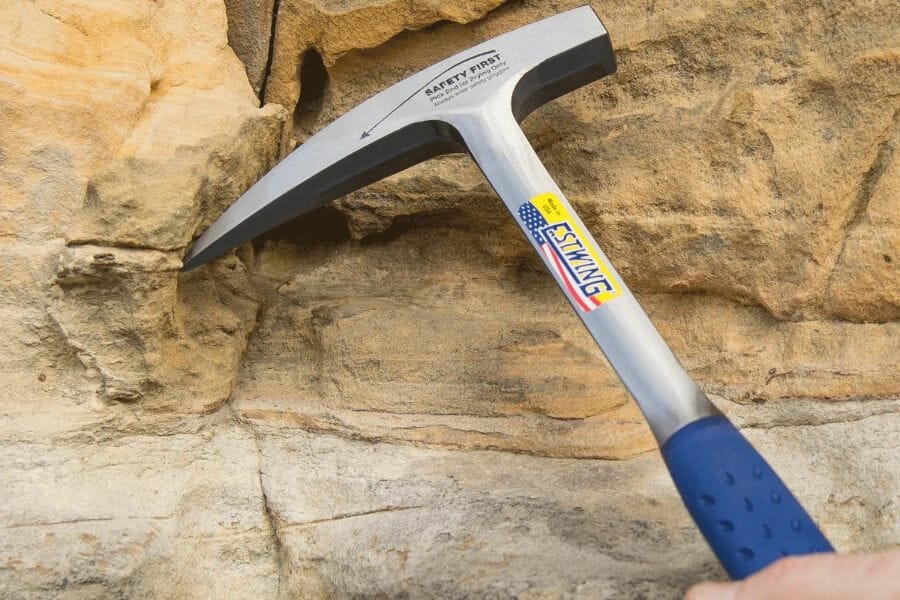 The tools every geode hunter will need
When you're out looking for geodes having the right tools for the job is very important. You don't need a lot for most trips but there are a handful that are critical and will make your life a lot easier.
We get asked a lot about the equipment we use. Over the years we've found a handful of tools that we recommend to both new and experienced geode hunters which we outline in great detail in our complete rockhounding tools and kit guide. These are quality options that also happen to be relatively inexpensive.
Below are the basic tools that make your life so much easier and save you a ton of time. Check out the full guide to see everything we recommend bringing. One quick note, as an Amazon Associate I earn from qualifying purchases but we try very hard to only recommend gear we would use ourselves and often recommend brands you can't find on Amazon.
At a minimum you should have:
1 - Sturdy rock hammer: The Estwing Rock Pick is our standard
2 - Rugged chisels: Try Kendo' 3-piece Chisel Set
3 - Compact shovel: The Koleiya 28-inch shovel works well
4 - Rock screen pan: The Wazakura Soil Sieve Set fits the bill
5 - Eye protection: DeWalt Safety Glasses are cheap and comfortable
6 - Head protection: Malta's Safety Helmet has been our go-to
7 - Jewelers lens with at least 20x magnification: Jarlink's Jewelers Loop is perfect
The geode-finding books that we use most
There are also a few books that have been extremely helpful in the search for gems. These books have great recommendations and tips:
National Audubon Society Field Guide to Rocks and Minerals: North America 
Northeast Treasure Hunter's Gem & Mineral Guide 
Earth Treasures: The Northeastern Quadrant 
We provide links to find these tools on Amazon but some can also be found at your local hardware stores. For more recommendations check out the link to our full tool guide above.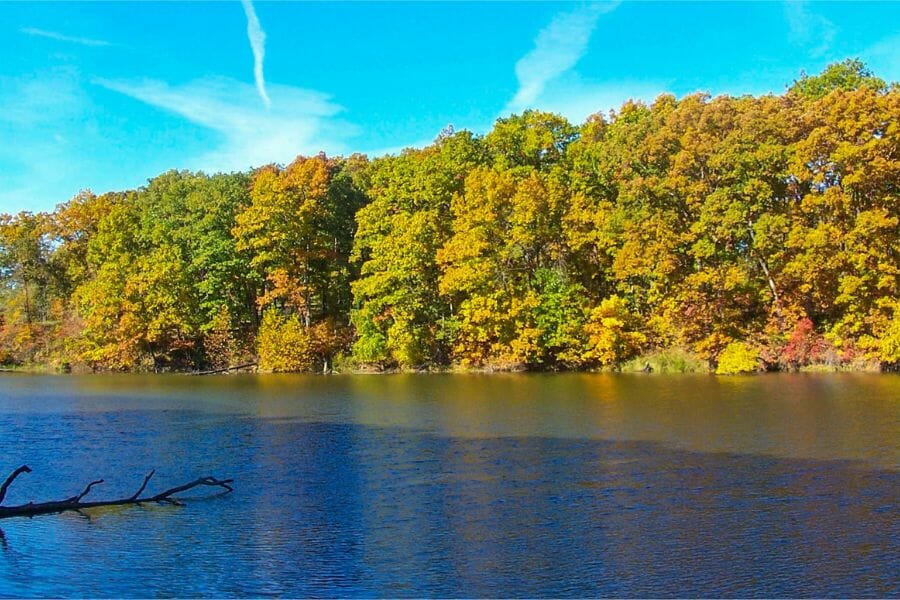 With its rolling hills, lush green fields, and gorgeous vistas as far as the eye can see, Hancock County is without a doubt the heart of the Midwest. Its terrain is pretty amazing with flat areas and hilly and rocky parts. There's a bunch of forests and nature preserves, too, so if you're into hiking or birdwatching, you'll love it here!
When it comes to geology, this county is pretty interesting. It's situated on the edge of the Illinois Basin, which is full of coal and oil deposits. And let's not forget about the geodes! You can find some of the best ones here.
To get here by driving, you'd have to travel for about 3 hours from Chicago or St. Louis. Since the terrain can be pretty rugged, make sure you have a good vehicle if you're gonna go off-road. Oh, and watch out for the potholes, they can be a doozy! Visit these areas as well for an abundance of crystals you can find in Illinois.
Where we found geodes in Hancock County
This county is endowed with amazing geodes, so while you can find it all over here, we listed down some of the best spots that you may want to check first:
The area gravels, streams, and pits of Niota
The area stream and creek tributaries of Nauvoo
At the bed of Railroad Creek
The area gravels of Hamilton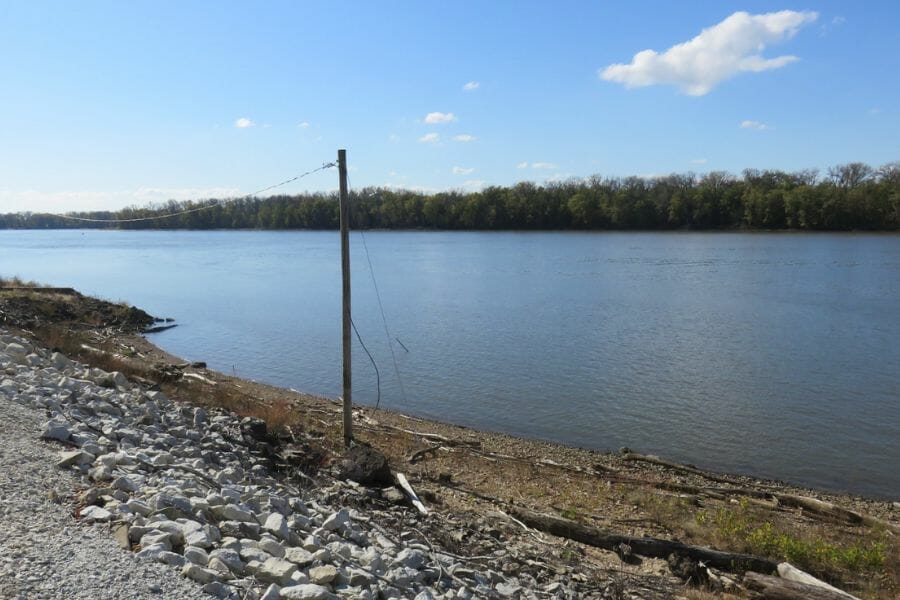 Located in the southwest corner of our state, Calhoun County is surrounded by the Mississippi River on three sides, making it a haven for water-loving folks! Aside from water, rolling hills and valleys and dense forests abound here. It's hilly and rocky in some places, so you'll want to bring some good hiking boots if you plan on doing any exploring.
As for geology, Calhoun County is located in the Illinois Basin and is home to some unique rock formations, including limestone, shale, and sandstone. There are also plenty of interesting geodes and fossils to be found here, so make sure to keep your eyes peeled!
Getting here can be a bit of a trek, depending on where you're coming from. But if you're in the mood for a scenic drive, it's well worth it!
Where we found geodes at Calhoun County
The shores of the Mississippi River, in the Warsaw formation that surrounds
Warsaw, Hamilton, and Nauvoo in western Illinois, is the best area where you can find cool geodes here. A few examples of what you can get your hands on are Chalcedony, Amethyst, and Quartz geodes. Such diverse finds!
Crystal Glen Creek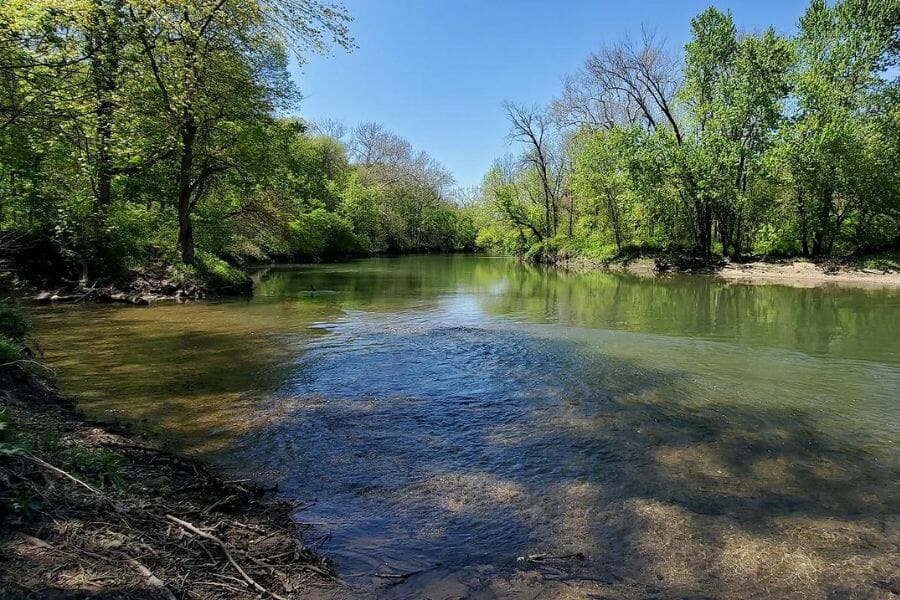 A usual favorite spot for outdoor adventures in our state, Crystal Glen Creek is located in the western part of Illinois. Little as it may seem, this creek packs a big punch in terms of scenery and geological diversity. The terrain can be a bit tricky to navigate in some spots, with lots of rocks and boulders in the creek bed. But the views you'll get along the way are worth it!
The creek itself is pretty small, but it's home to some amazing geological formations. You'll find all sorts of cool geodes and crystals in the creek bed, which makes it a popular spot for rockhounds and geology enthusiasts.
If you want to go here, it's pretty easy if you're in the surrounding area. Just hop on the highway and follow the signs to the nearest town. From there, it's just a short drive to the creek. But be warned, the roads can be pretty winding and narrow, so be sure to take it slow and steady.
Where we found geodes in Crystal Glen Creek
The extensive exposure South of town on Crystal Glen Creek is where you can find some of the most amazing geodes here, including Aragonite, Barite, Calcite, Dolomite, Goethite, Pyrite, Quartz, Selenite geodes.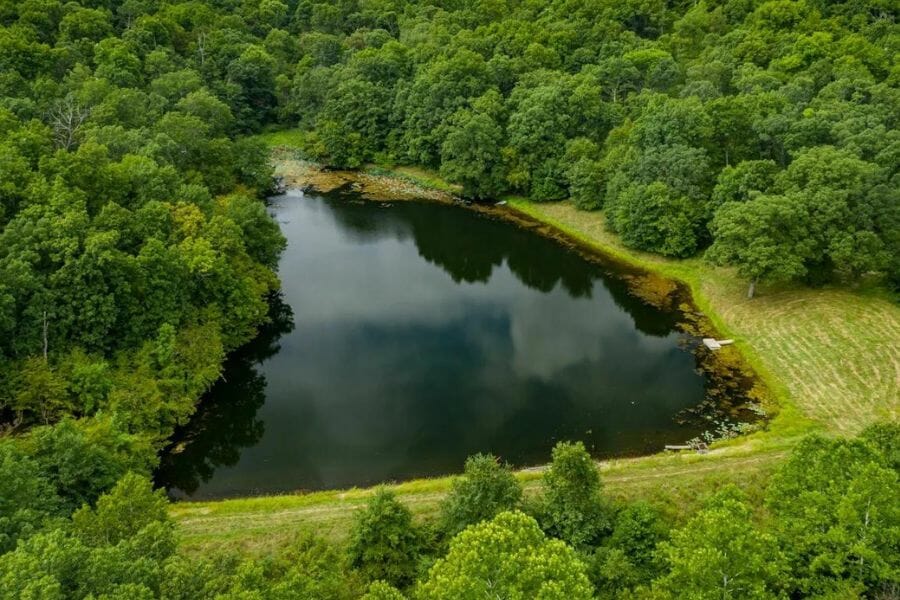 Pike County is a rural county in the west-central part of our state. It's full of rolling hills, forests, and plenty of rivers and creeks that'll amaze anyone who visits here. This county is pretty diverse, with a mix of farmland and forests. There are plenty of little towns and hamlets scattered throughout, but for the most part, it's a quiet and peaceful place to be.
Pike County's terrain can be a bit hilly in some spots, so if you're planning on doing some hiking or exploring, make sure you bring some good shoes. In terms of geology, it's home to a lot of limestone and sandstone, which can be seen in the rock formations throughout the area. Of course geodes are abundant here!
Driving is the best way to get here. Just be warned that the roads can be pretty bumpy and full of potholes, so be sure to take it slow and steady. And watch out for deers, because they're everywhere!
Where we found geodes in Pike County
If you're in this county, chances are you're near a geode which is so cool! But if you want to be sure you'll find one, we recommend going to the McKee Creek where you can find Calcite and Sphalerite geodes.
Other Great Places To Dig For Illinois Geodes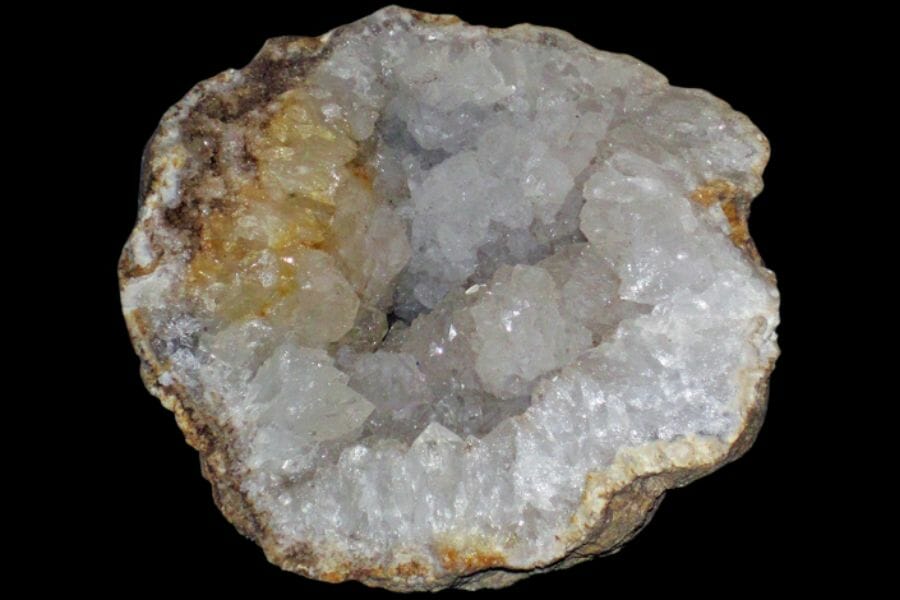 The places we discussed above may be our favorite spots to find geodes here, but we have tons of other places to recommend to you. To make it easier for you, we'll list them down by county. For places where we put, "county wide", we will provide more specific recommendations in the succeeding sections.
Our recommendations by county
| | |
| --- | --- |
| County | Location |
| Calhoun | County wide |
| Calhoun | Shores of the Mississippi River in the Warsaw formation |
| Hamilton | Banks and tributaries of Mississippi River |
| Hancock | County wide |
| Hancock | Area gravels of Hamilton City |
| Hancock | Bed of Railroad Creek |
| Hancock | On the Dallas Creek of Dallas City |
| Hancock | The extensive exposure South of town of Crystal Glen Creek |
| Hancock | Area stream and creek tributaries of Nauvoo |
| Hancock | Area gravels, streams, and pits of Niota |
| Hancock | Dewdrop Diamond Creek |
| Hancock | Tyson Creek |
| Hancock | Spillman Creek |
| Hancock | Hamilton Quarry |
| Henderson County | County wide |
| Henderson | On the Dallas Creek of Dallas City |
| Henry | County wide |
| Henry | Keokuk Geode Beds |
| Pike | County wide |
| Pike | McKee Creek |
Additional areas you should try
A number of our recommendations above say "county wide", but we understand that's too broad and too wide a search for geodes, so we'll narrow it down for you. Here are some of the key places that you should visit to find geodes:
Streams and Creeks
Streams and creeks are fantastic places for geode collectors! These little waterways offer the perfect conditions for geodes to form. Its flowing water helps to wash away the dirt and debris surrounding the geodes, making them easier to spot.
Geodes also tend to form in areas with porous rocks and minerals that allow water to penetrate and form the crystal-lined cavities we all know and love. And where do we find porous rocks and minerals? In and around streams and creeks!
Rivers and Riverbanks
Rivers and riverbanks are prime spots for any geode collector. W've found that rivers offer a unique environment that's perfect for geode formation. And since the water is constantly moving, it helps clean off the geodes, which can be covered in dirt and debris.
What's more, rivers and riverbanks are often made up of porous rocks and minerals, which are the perfect conditions for geodes to form. So, if you're looking for some real beauties, a river is where you want to be.
Quarries
Quarries are literally loaded with rocks, minerals, and of course geodes just waiting to be discovered! Its rock walls and layers of sediment provide the right conditions for geode formation.
Another cool thing about quarries is that you can often find geodes that are much larger than what you'd typically find in streams or riverbeds. Imagine geodes the size of a basketball— or even bigger! And you know there's nothing quite like cracking open a massive geode and seeing what's inside.
Lake Beds
Lake beds are ancient and have had millions of years to accumulate different kinds of rocks, minerals, fossils, and geodes. Over time, the geodes formed in its sediments are exposed on the surface.
The thing with lake beds is you just never know what size of geode you're going to find. That's why they're often off the beaten path and not as heavily explored as other sites. So if you're willing to put in the time and effort, you could be the one to discover the next big thing in lake beds.
Common Geode-Hunting Questions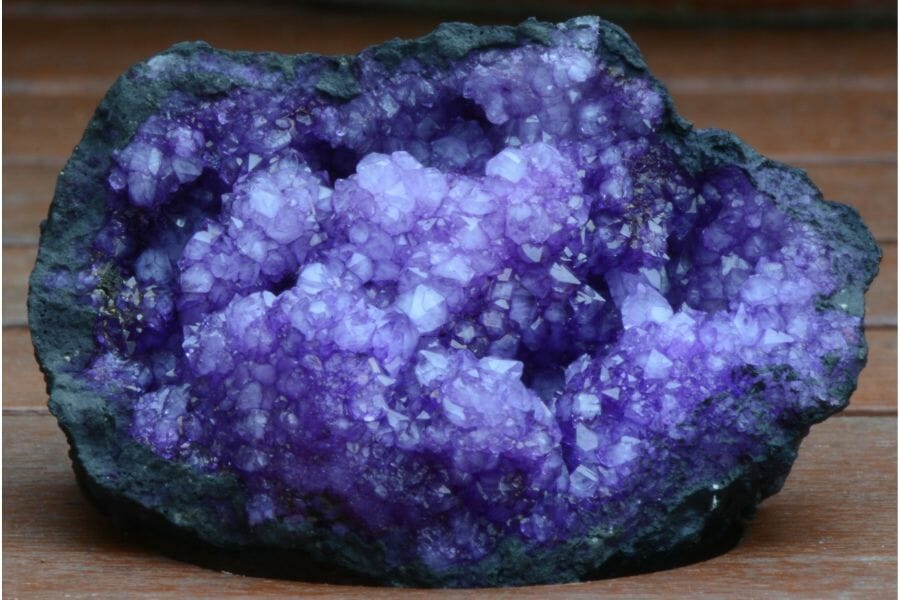 We found some frequently asked questions when people search for geodes in Illinois. And we figured you might have these questions, too, so we know they are worth answering here:
Where can you find amethyst geodes in Illinois?
If you're the kind of geode collector who dreams of finding an amethyst geode, then Illinois is your lucky place! You can find light purple amethyst geodes on the shores of the Mississippi River in the Warsaw formation of Calhoun County and on the banks and tributaries of Mississippi River of Hamilton County.
Is it illegal to collect geodes in Illinois?
Just make sure that you are abiding by the local collecting laws of our state and you're good to collect geodes in Illinois! If there are local regulations on government land, make sure you are obeying it. Lastly, always get permission before you explore any private land here.
The Best Places To Buy Geodes In Illinois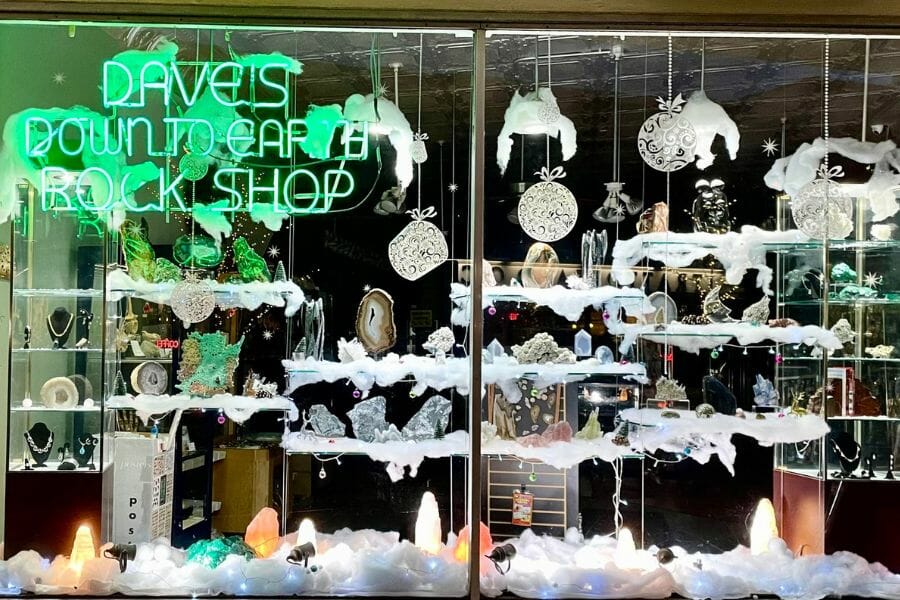 Getting your hands on geodes may be one of the best feelings in the world if you're an enthusiast or collector, but the process of getting there might not be for everyone. So if you're one of those who are looking for geodes without having to break some serious sweat, we've got you covered, too!
Here are some of our favorite local shops where you can find and buy geodes of your choice:
Dave's Down to Earth Rock Shop – 711 Main St. Evanston, IL 60202
Amazon – Yes! You'll be surprised at the wide range of choices for geodes that Amazon has. You can even find whole kits to break open your geodes with geodes ready to be cracked open.
Jacob's Geode Shop and Mine – 823 E Co Rd 1220, Hamilton, IL 62341
Lizzadro Museum of Lapidary Art – 1220 Kensington Road, Oak Brook, IL 60523
High Ho Gems, Inc. – 19622 Wolf Rd Unit 1, Mokena, IL 60448
Vickers Geodes – 511 S 9th St, Hamilton, IL 62341
Crystal Earth Rock Shop – 1125 S Main St J, Lombard, IL 60148
Additional places to find geodes in nearby states
Check out our guides for nearby states if you've already tried all of our suggestions above or if you're planning a trip outside of the state:
If you have any recommendations for our list please leave a comment below!