A captivating gemstone renowned for its stunning beauty, Amethyst has captivated us for centuries. With its regal purple hues ranging from pale lavender to deep violet, this gem is highly sought after by gemstone enthusiasts and jewelry lovers.
While Amethyst is treasured and cherished worldwide, finding this exquisite gem can prove to be a challenge, especially in regions such as Illinois. Without proper guidance and knowledge of the suitable locations, you may struggle to locate its deposits here.
Recognizing this difficulty, we've created a comprehensive yet simple guide to assist you in your quest for this beautiful gem in Illinois. Our guide provides valuable insights, including information on the geological formations and specific regions where Amethyst can be found. Let's get moving!
What is Illinois Amethyst?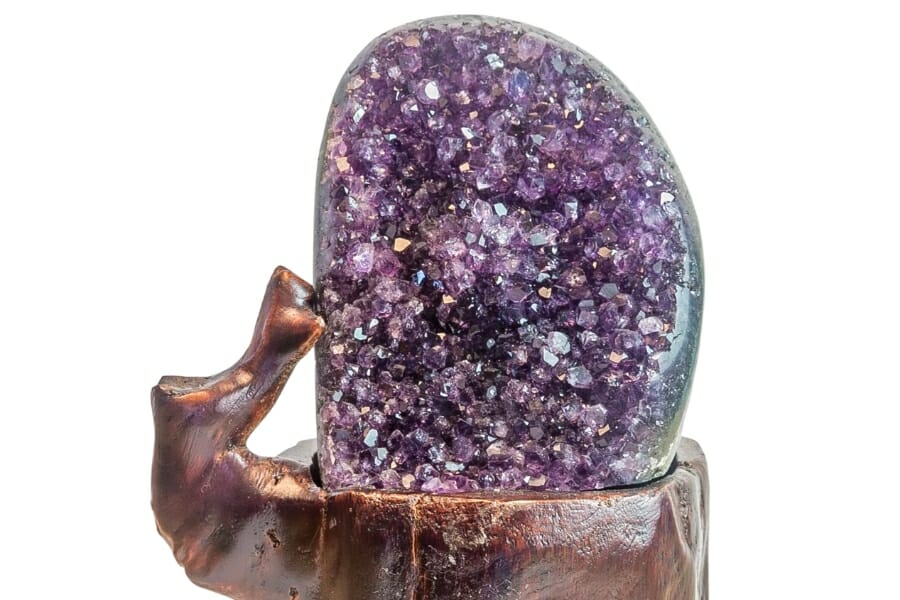 Known for its distinctive purple color, Amethyst belongs to the quartz family. It owes its violet hue to trace amounts of iron and other impurities in its crystal lattice. The intensity of the purple color can vary— ranging from pale lavender to deep violet, with deeper shades generally being more highly valued.
Amethyst has been cherished throughout history for its beauty and symbolism. Its name is derived from the Greek word "Amethystos," which means "not drunken." Ancient Greeks and Romans believed that wearing or drinking from vessels made of it could protect against intoxication and promote sobriety.
Deposits of this stunning gem can be found in various parts of the world, including Illinois. However, there are only very few locations in our state where you can find them, so we'll share with you where this location is along with other Amethyst-bearing spots in our bordering states.
How We Know About Great Locations For Amethyst in Illinois
The best locations to find amethyst in Illinois can be closely guarded secrets. Fortunately, we've been around long enough to know where many of the best spots are to find it. We might not know every one out there but we know some pretty good ones. The key factors in our recommendations are:
The deep experience and understanding of our team about the area
Recommendations from local groups and clubs
How easy it is to get the a particular location
Safety and potential hazards when collecting
Weighing private and public locations
The ability for both experienced and novice amethyst enthusiasts to find great samples
With these factors in mind we've been able to put together a fantastic list that just about anyone can use!

The Best Spot To Find Amethyst in Illinois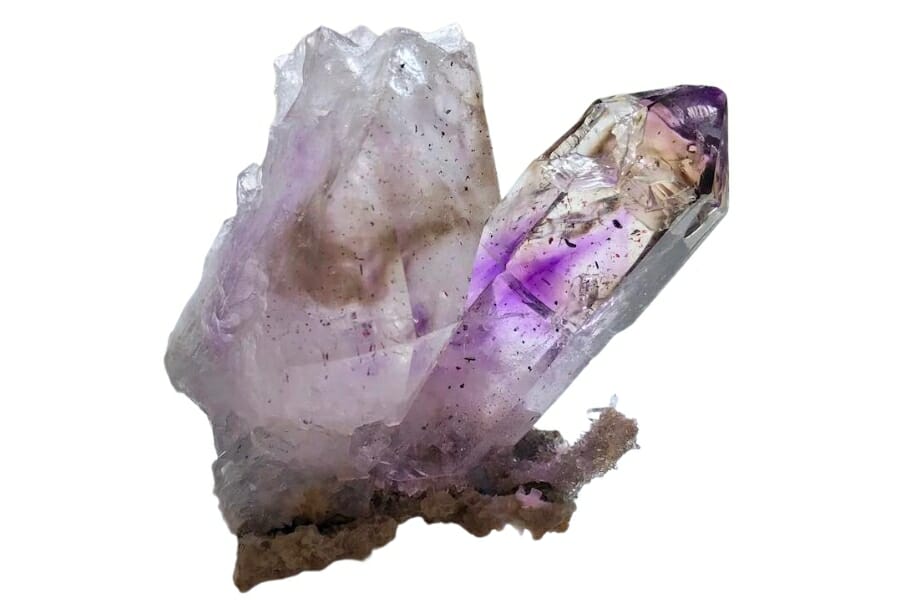 While there's a handful of great gem mining sites in Illinois, not all of them have naturally-occurring Amethysts. In fact, we went all over our state to find the sure sites where you can find them.
Since there are limited sites here (there is really only one good spot in Illinois that we know of), we also went across our bordering states to extend our search for these elusive wonders.
Always Confirm Access and Collection Rules!
Before heading out to any of the locations on our list you need to confirm access requirements and collection rules for both public and private locations.
These requirements are subject to change without notice and may differ from what we state below.
Always get updated information directly from the source ahead of time to ensure responsible rockhounding.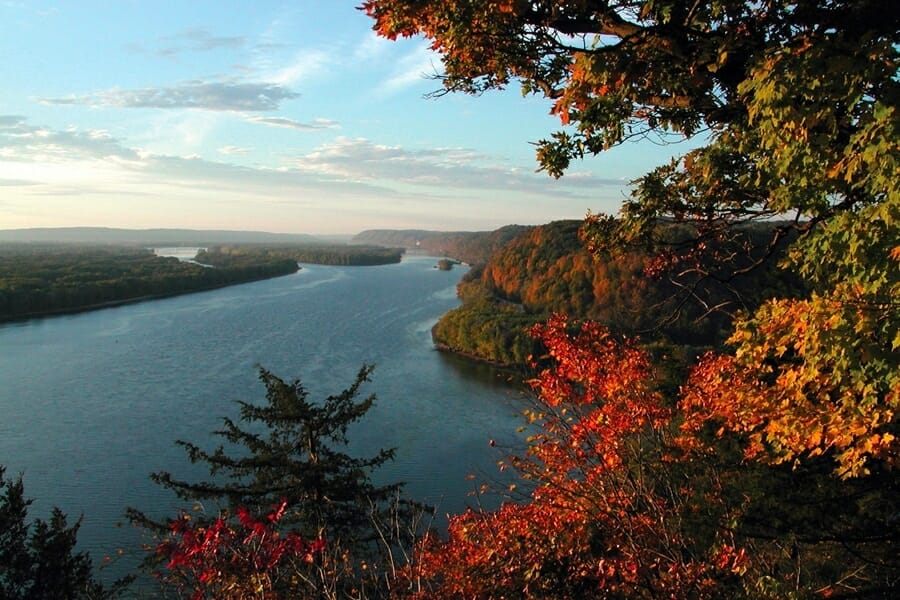 Stretching approximately 550 miles along the western border of our state, the Illinois section of the Mississippi River showcases a combination of lush forests, fertile farmlands, and dramatic bluffs. The river itself serves as a vital waterway for transportation and trade, with bustling ports and marinas dotting its shores.
The terrain along the Mississippi River varies from flat floodplains to rolling hills, providing a rich and diverse ecosystem. It's known for its scenic beauty, with towering limestone bluffs that offer breathtaking views of the river below. These bluffs not only add to the aesthetic appeal but also provide an ideal geological setting for the formation of various minerals, including Amethyst Geodes.
While finding Amethyst along the river shores can require some exploration and knowledge of the local geology, the accessibility is generally favorable. This area is well-connected to roads and highways, making it relatively easy for you to access and explore the area. But before heading out here, make sure to check out Illinois' collecting guidelines first.
Where we found amethyst in the Mississippi River
The shores of the Mississippi River especially along the Warsaw formation that surrounds Warsaw, Hamilton, and Nauvoo in western Illinois abounds in Geodes with pale Amethyst crystals.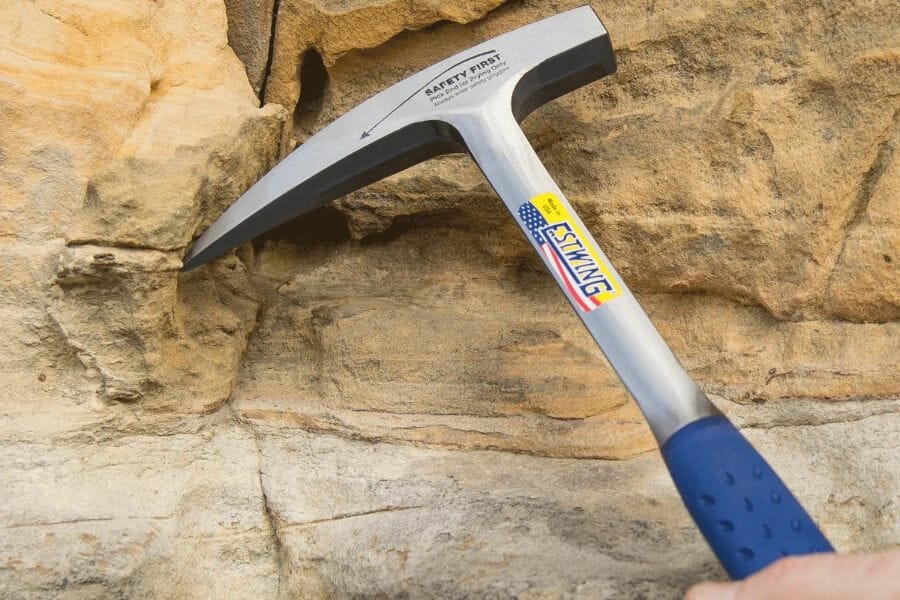 The tools every amethyst hunter will need
When you're out looking for amethyst having the right tools for the job is really going to make or break your success. You don't need a lot for most trips but there are a handful that are critical and will make your life a lot easier.
We get asked a lot about the equipment we use. Over the years we've found a handful of tools that we recommend to both new and experienced amethyst hunters which we outline in great detail in our complete rockhounding tools and kit guide. These are quality options that also happen to be relatively inexpensive.
Below are the basic tools that make your life so much easier and save you a ton of time. Check out the full guide to see everything we recommend bringing. At a minimum you should have:
1 - Sturdy rock hammer: The Estwing Rock Pick is our standard
2 - Rugged chisels: Try Kendo' 3-piece Chisel Set
3 - Compact shovel: The Koleiya 28-inch shovel works well
4 - Rock screen pan: The Wazakura Soil Sieve Set fits the bill
5 - Eye protection: DeWalt Safety Glasses are cheap and comfortable
6 - Head protection: Malta's Safety Helmet has been our go-to
7 - Jewelers lens with at least 20x magnification: Jarlink's Jewelers Loop is perfect
The amethyst-finding books that we use most
There are also a few books that have been extremely helpful in the search for gems. These books have great recommendations and tips:
National Audubon Society Field Guide to Rocks and Minerals: North America 
Northeast Treasure Hunter's Gem & Mineral Guide 
Earth Treasures: The Northeastern Quadrant 
We provide links to find these tools on Amazon but some can also be found at your local hardware stores. For more recommendations check out the link to our full tool guide above.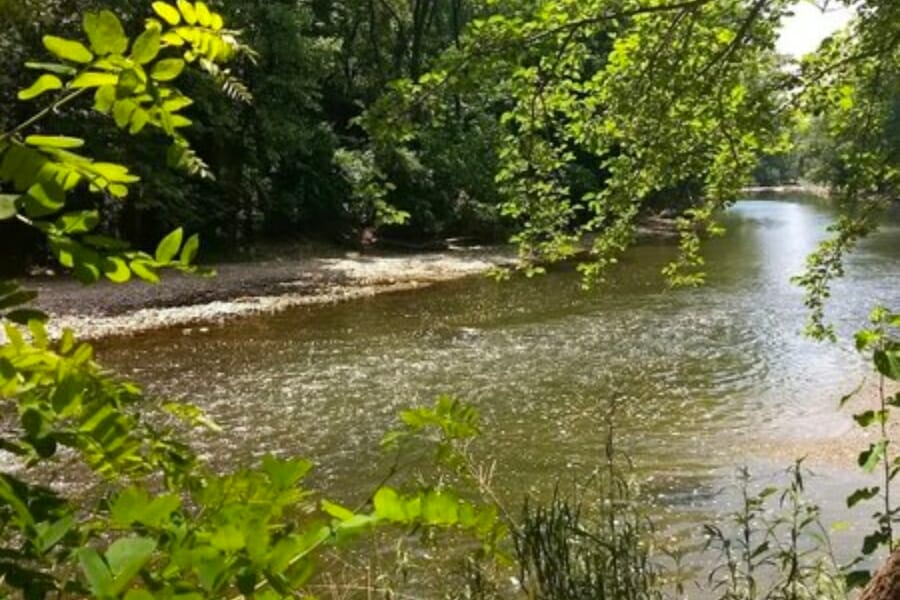 We've expanded our search for Amethyst-bearing sites to include locations in our bordering states. That's how we found Williams Creek, nestled in the beautiful state of Indiana, where you can embark on an amethyst-hunting adventure.
Geographically, Williams Creek flows through a scenic landscape that showcases the charm of the Midwest. The creek meanders through lush forests and serene meadows, creating a picturesque backdrop for your escapades. As you explore here, you'll encounter a mix of gently rolling hills, rocky outcrops, and sandy riverbanks.
The creek flows through an area rich in geologic formations that are known to host deposits of Amethyst. The underlying geology consists of ancient sedimentary rocks and mineral-rich veins, creating the ideal conditions for its formation. Keep your eyes peeled for pockets and crevices where these purple beauties may be hiding.
Where we found amethyst in Williams Creek
Explore the different nooks and crannies of this place to find Amethyst. Your effort will be well worth it, because this location is a pretty solid spot. That's also why it's among our list of Amethyst mining spots that's worth checking out.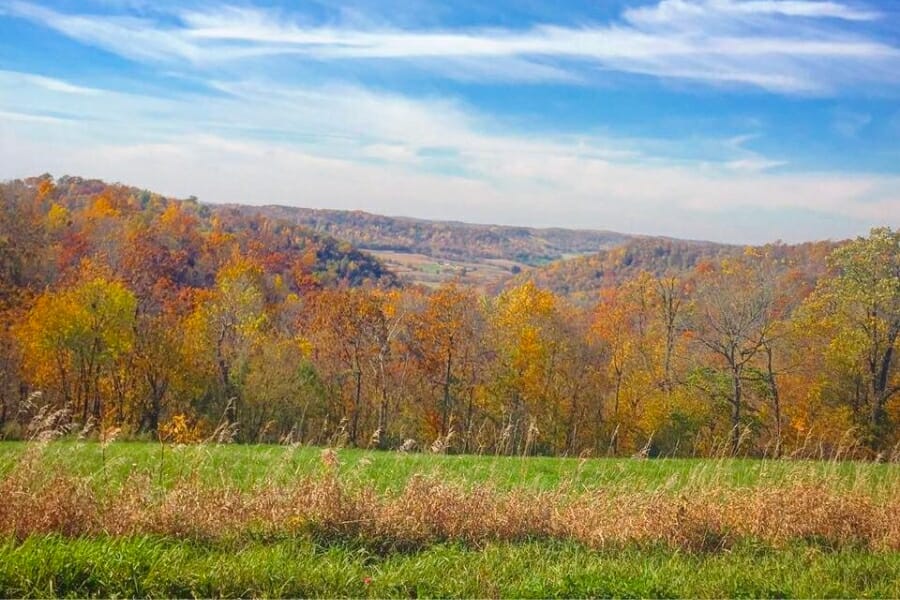 Whitehall, a charming town in the heart of Wisconsin, is a haven for Amethyst seekers! If you're in Illinois and itching to embark on an exciting Amethyst-hunting adventure, you may want to stretch your search to this delightful destination.
Whitehall is situated in a region blessed with natural beauty. Imagine picturesque rolling hills, lush forests, and scenic countryside. This idyllic backdrop sets the stage for your Amethyst quest, offering not only a thrilling gem-hunting experience but also a feast for the eyes.
Beneath the surface of Whitehall lie ancient rocks and mineral-rich veins, creating the perfect conditions for Amethyst to develop. And if the view is not enough to convince you to go here, you should know that Whitehall is an easily accessible destination by car for gem hunters from Illinois.
Where we found amethyst in Whitehall
Search for Amethyst in the road cuts and stream cuts just north of Whitehall area in Trempealeau County.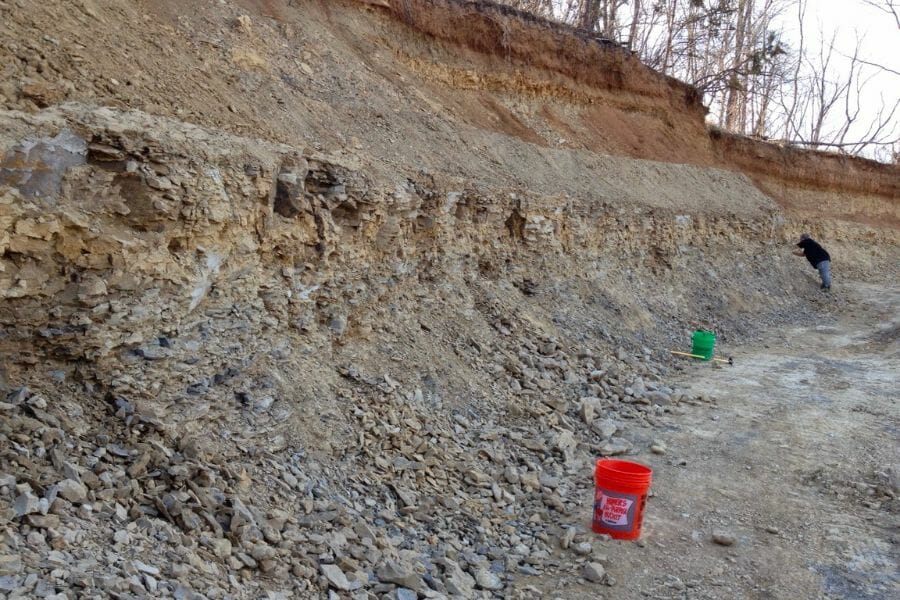 Another great location that's just a stone's throw away for Amethyst enthusiast in Illinois is the Keokuk Geode Beds. It's situated in the scenic state of Iowa, not far from the Illinois border. As you make your way to this treasure trove, you'll be greeted by rolling hills, meandering rivers, and breathtaking vistas.
Keokuk Geode Beds has a unique geological formation that gives birth to these fascinating hollow rocks filled with sparkling treasures. Over millions of years, volcanic activity and mineral-rich waters combined to create the perfect conditions for geodes to form. These natural wonders contain an array of breathtaking minerals, including beautiful Amethyst crystals.
Getting to the Keokuk Geode Beds is a breeze, making it a convenient destination for eager gem hunters from Illinois. Hop in your car and hit the road, as this gem-hunting hotspot is just a short drive away.
Where we found amethyst in Keokuk Geode Beds
Amethyst Geodes naturally occur in the Warsaw Formation at the Keokuk Geode Beds outcrop that lie around the junction of the Des Moines and Mississippi River.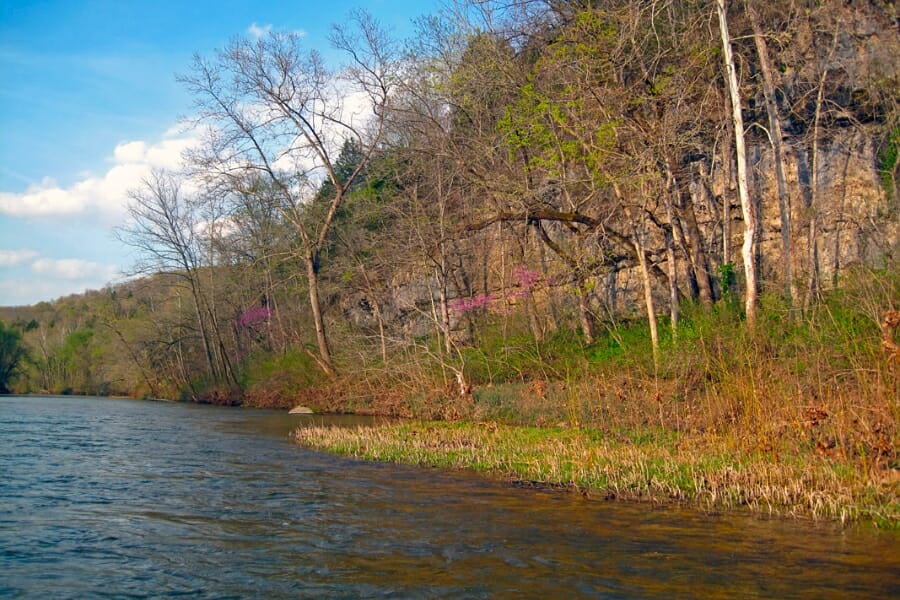 Just a hop, skip, and a jump away from Illinois is the Huzzah Conservation Area in Missouri. If you're seeking Amethyst treasures and a thrilling outdoor experience, look no further that this site.
Huzzah Conservation Area offers a diverse and picturesque landscape, surrounded by rolling hills, lush forests, and crystal-clear streams. The area boasts of a mix of rugged terrain, rocky outcrops, and serene valleys, creating a haven for gemstone enthusiasts and nature lovers.
This spot is known for its fascinating geological formations, which host Amethyst treasures. As you explore here, keep an eye out for signs of geologic activity, such as exposed rock formations or areas with high mineral content, because this is most probably where you can find them.
Where we found amethyst in Huzzah Conservation Area
You can find sparkling samples of Amethyst on the mine dumps along Highway 8 to Huzzah Conservation Area.
Common Amethyst-Hunting Questions
We've collected some of the most commonly-asked questions by Amethyst hunters who are interested to explore Illinois, and we'll answer them for you below:
Where can you find Amethyst Geodes in Illinois?
Lucky for you, Amethyst Geodes naturally occur in the shores of Mississippi River in Western Illinois. You can explore this area, particularly the Warsaw Formation, for Geodes with pale-colored Amethyst crystals.
Is it illegal to collect amethyst in Illinois?
It is legal to collect Amethyst in Illinois for as long as you comply with our state's local collecting guidelines. Do extra research also on the area that you're planning to explore, as they may have area-specific rules and regulations for collection.
The Best Places To Buy Amethyst In Illinois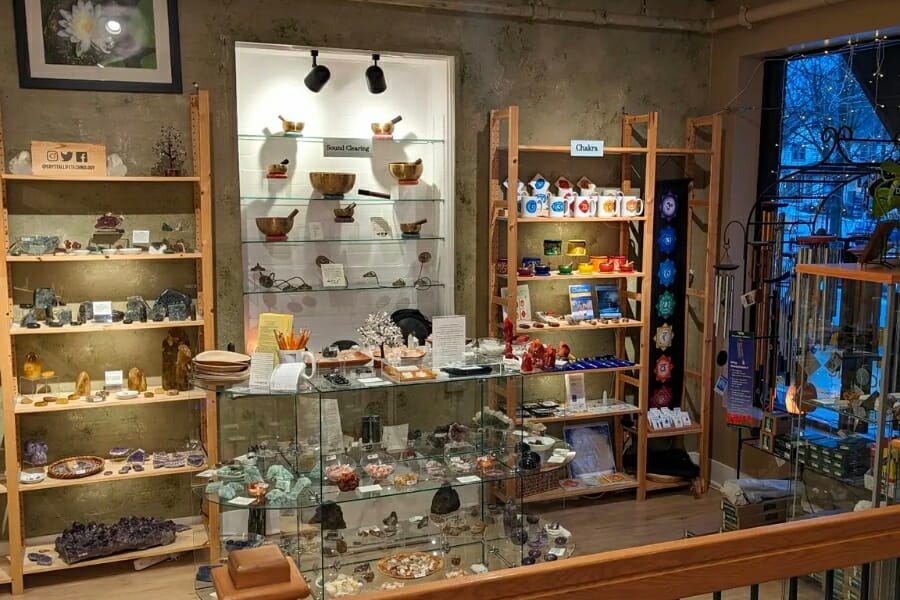 There is no doubt that Amethyst's beauty is breathtaking, but it can also be elusive at times. If you don't have much time, energy, or even patience locating these gems in its natural environment, we highly recommend visiting our local gem shops here.
The following gem shops have some of the best selections you can find in our state:
Crystal Earth Rock Shop – 1125 S Main St J, Lombard, IL 60148
Crystal Life Technology, Inc. – 121 S 3rd St, Geneva, IL 60134
Precious Possessions, Ltd. – 28 N Michigan Ave, Chicago, IL 60602
Rock Soul Love – 424 N Main St, Bloomington, IL 61701
The Rock and Soul – 229 S Clark St, North Utica, IL 61373
The Treasure Shop – 314 Franklin St, Geneva, IL 60134
Additional Places To Find Amethyst In Nearby States
Check out the guides we made for the nearby states where you can find amethysts as well:
If you have any recommendations for our list please leave a comment below!