Finding crystals in Florida can be such a thrilling experience! I've always felt it's like going on a treasure hunt. But like a treasure hunt, without the right knowledge, it can be a frustrating experience when you're spending hours digging through the sand and dirt only to come up empty-handed.
However, once you've located a great-looking crystal it's like you've hit jackpot! I'm going to help you find success while mining and digging for crystals by showing you some of the best spots around the state to look as well as some tips on how to be successful once you get there.
From Ruck's Pit in Okeechobee to Pinellas County in the Suncoast and everything in between there is a great location you need to try.
How I Picked The Best Places To Find Crystals in Florida
I spent a lot of time determining which of the many options for digging and mining for crystals that I have available would be recommended. I wanted to have a good mix of locations for experienced and novice crystals hunters in a variety of settings. Here are the main factors I used when determining the recommendations I set out :
The extensive local experience and understanding of our team
Input from multiple local crystal hunters and crystal collecting groups
The accessibility of the crystal mining locations
Safety and potential hazards when collecting
Private and public locations
A desire to include locations for both experienced crystal hunters and those who are just starting out
Using these weights I think I've put together the best list out there for those who love finding new crystals for our collections!

The Types Of Crystals You Can Find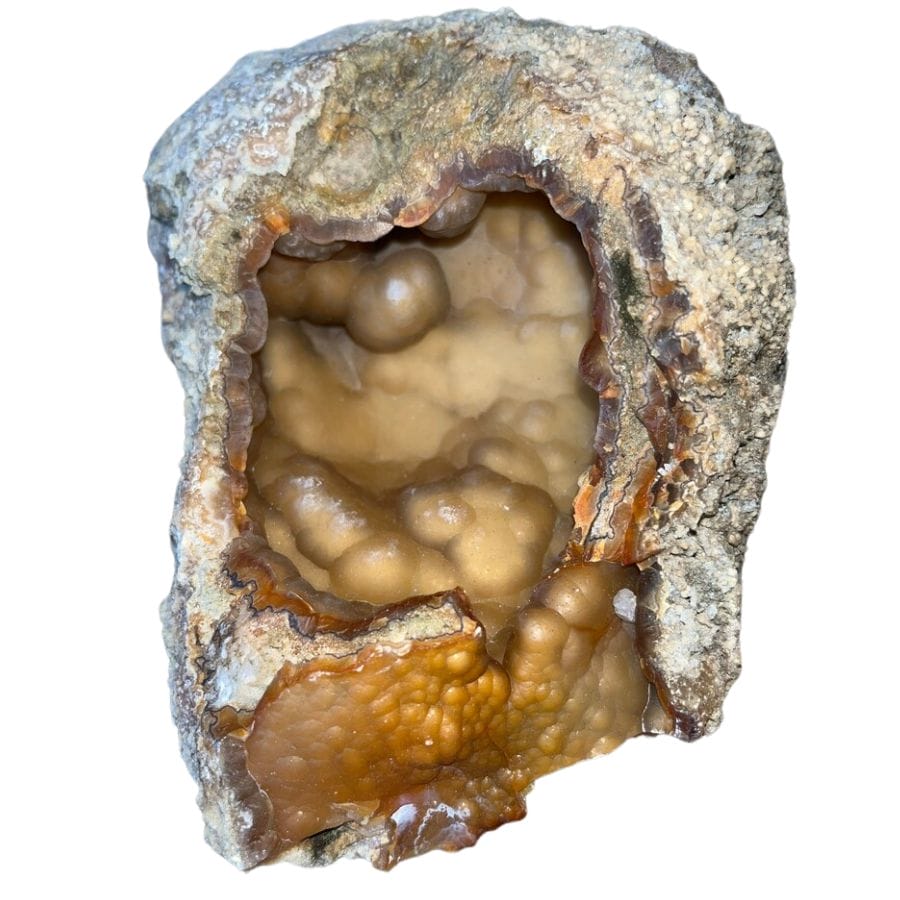 Florida might not be famous for mountains and mines, but it's home to some really interesting crystals. One of the most notable is agatized coral, which is the state stone.
It's a unique fossil where silica in groundwater replaces the original coral material, turning it into a form of quartz. Over millions of years, this process creates beautiful, sparkling crystals that have various colors and patterns.
You can also find calcite, which forms in limestone caves. Calcite is known for its transparent or white color and can have different crystal shapes.
In certain areas, phosphate mining uncovers fossilized shark teeth and bones that are often mineralized, turning them into natural stone-like objects.
While our state may not be a hot spot for precious gemstones (there are still a lot of great rockhounding spots, these intriguing and beautiful specimens make it a fascinating place for rockhounds to explore.
Rare crystals found in Florida
Agatized coral
Calcite clams
Carnelian
Kyanite
Malachite
More common crystals found here
The Best Locations For Crystal Mining We've Found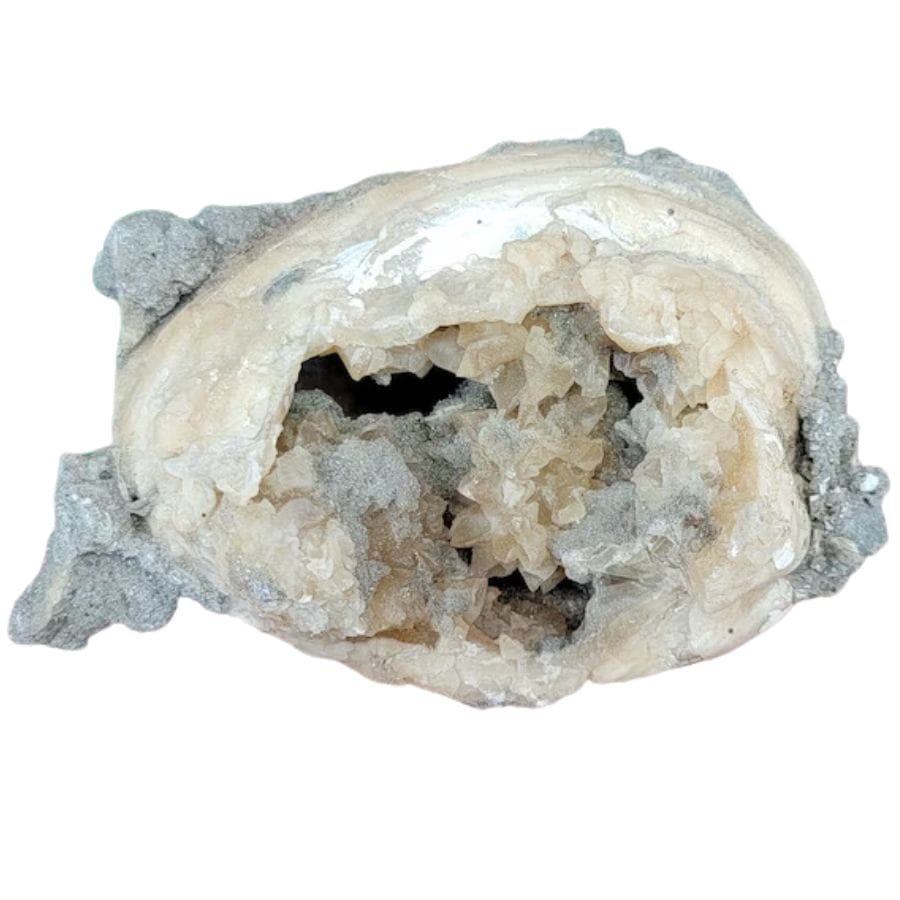 If you only have time to travel to a few places, check these locations out. We've had the most success in these areas, and we think you will too.
Always Confirm Access and Collection Rules!
Before heading out to any of the locations on our list you need to confirm access requirements and collection rules for both public and private locations.
These requirements are subject to change without notice and may differ from what we state below.
Always get updated information directly from the source ahead of time to ensure responsible rockhounding.
Ruck's Pitt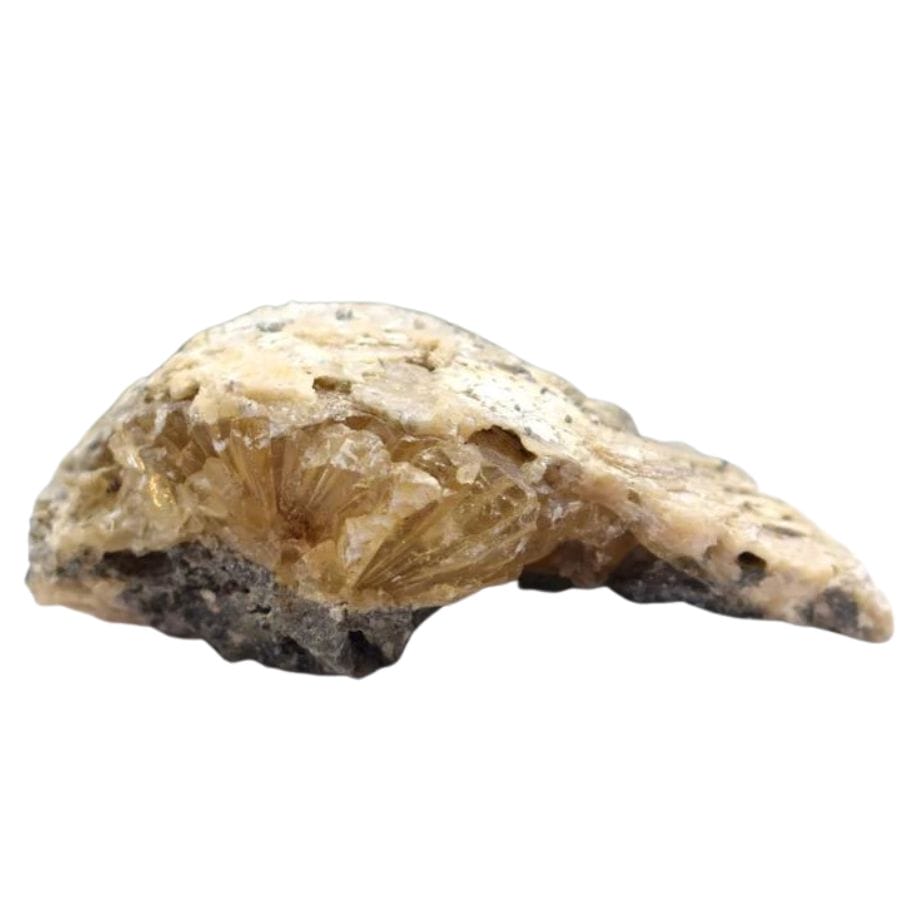 If you're near the Okeechobee area you need to check out Ruck's Pit or the Fort Drum Crystal Mine. This is easily one of the best places in the state to find golden honey calcite and fossilized calcite clams. It's quite unusual to be able to find both of these in a single place.
You'll be able to dig through various piles and mine dumps that are pretty accessible. Sometimes they even have hoses available to spray down your dig site to make it easier to find calcite and other sparkling gems.
The mine is often open to the public but you will want to call ahead and make sure you can get in on the day you're planning.
Where we found crystals at the Rucks Pit
The best place to look is going to be in the different piles and dumps that are available to dig through. That's going to be the easiest way to find the calcite clams and other calcite pieces.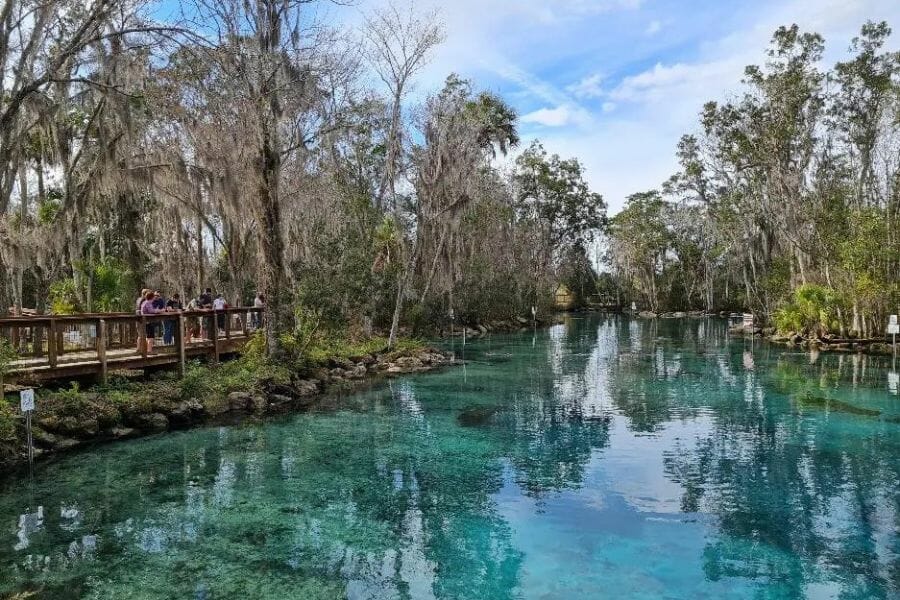 The Crystal River might be worth a look if you're seeking a nice location in the state to uncover some stunning crystals. It's not difficult to understand why crystal hunters have long considered this ancient site to be one of their favorite spots.
Located in Citrus County, the river gets its name from the crystal-clear water that flows through it. The river has a rich history, with evidence of human habitation dating back over 10,000 years.
This is also one of the greatest places to look for gems in Florida.
Where we found crystals at the Crystal River
We had the most success searching for calcite and quartz crystals in limestone quarry seams and vugs of Crystal River.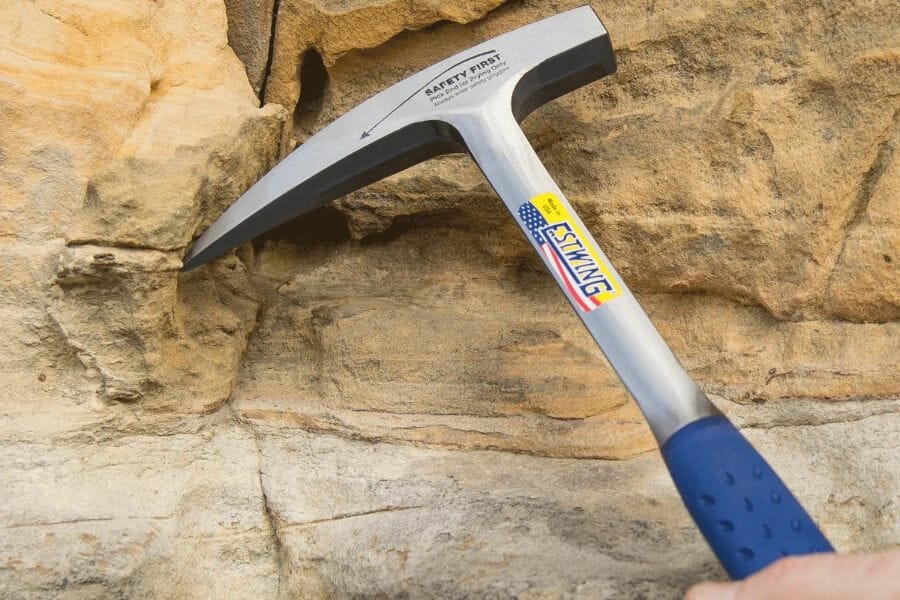 The tools every crystal hunter will need
When you're out looking for crystals having the right tools for the job is very important. You don't need a lot for most trips but there are a handful that are critical and will make your life a lot easier.
We get asked a lot about the equipment we use. Over the years we've found a handful of tools that we recommend to both new and experienced crystal miners which we outline in great detail in our complete rockhounding equipment guide. These are quality options that also happen to be relatively inexpensive.
Below are the basic tools that make your life so much easier and save you a ton of time. Check out the full guide to see everything we recommend bringing. One quick note, as an Amazon Associate I earn from qualifying purchases but we try very hard to only recommend gear we would use ourselves and often recommend brands you can't find on Amazon.
At a minimum you should have:
1 - Sturdy rock hammer: The Estwing Rock Pick is our standard
2 - Rugged chisels: Try Kendo' 3-piece Chisel Set
3 - Compact shovel: The Koleiya 28-inch shovel works well
4 - Rock screen pan: The Wazakura Soil Sieve Set fits the bill
5 - Eye protection: DeWalt Safety Glasses are cheap and comfortable
6 - Head protection: Malta's Safety Helmet has been our go-to
7 - Jewelers lens with at least 20x magnification: Jarlink's Jewelers Loop is perfect
The crystal-finding books that we use most
There are also a few books that have been extremely helpful in the search for gems. These books have great recommendations and tips:
National Audubon Society Field Guide to Rocks and Minerals: North America 
Southeast Treasure Hunter's Gem & Mineral Guide 
Earth Treasures: The Southeastern Quadrant 
We provide links to find these tools on Amazon but some can also be found at your local hardware stores. For more recommendations check out the link to our full tool guide above.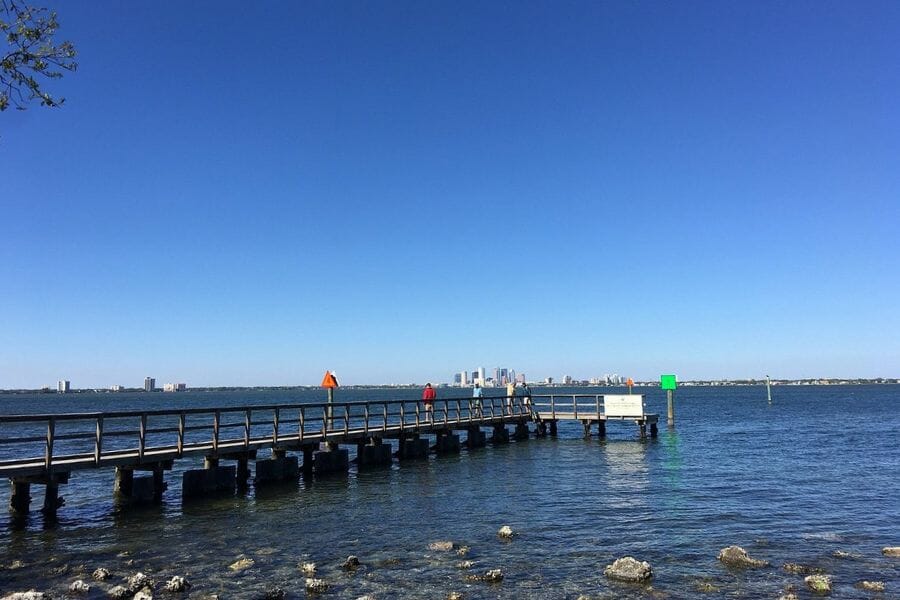 Hillsborough County is a diverse and vibrant location that's well worth a visit. The geography and geology make it a unique and fascinating location for crystal hunters. It's situated on the Gulf of Mexico and features a variety of terrain, including wetlands, forests, and coastal areas.
The underground aquifers that run through the county are rich in minerals, creating an environment where crystals can thrive. The county has several crystal mines and quarries where you can dig for your crystals and minerals.
These mines are often open to the public and provide a fun and educational experience for people of all ages.
Where we found crystals in Hillsborough County
There are plenty of excellent options accessible here. Try the following locations to get started:
Chalcedony may be found at the Interbay Boulevard and Bayshore Boulevard
You can also locate chalcedony crystals at Ballast Point's shoreline along Hillsborough Bay.
If you're wondering how much do crystals cost, we've made a thorough guide for you to learn more about them.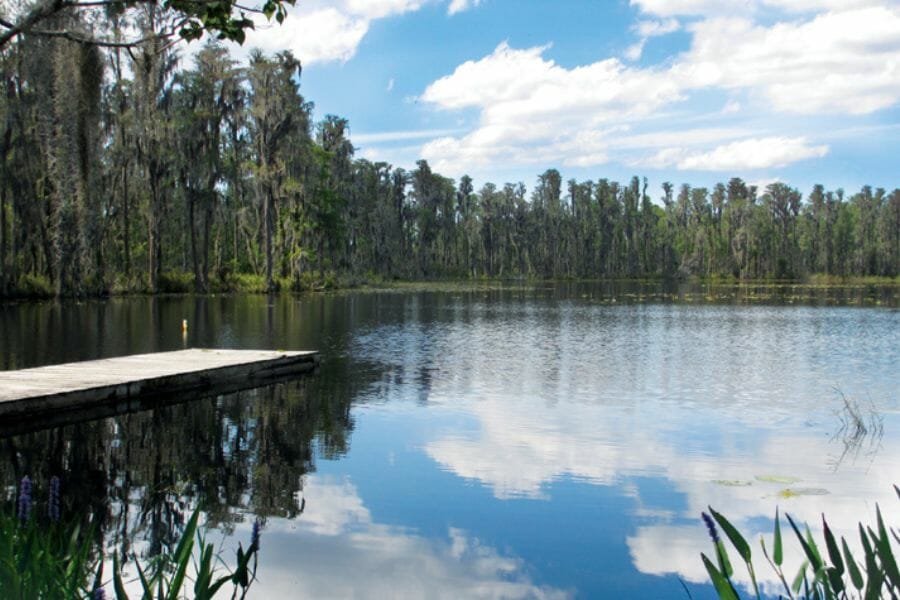 The Hillsborough River is a beautiful, winding waterway that you have to visit at least once. It's a great place to explore, especially if you're searching for crystals.
Its geography and geology make it an ideal spot for crystal hunters, as the river is known for its agate and quartz deposits. The water is usually warm and shallow enough to wade into, making it easy to find gems in the sand or shallow pools.
Where we found crystals in the Hillsborough River
We mostly found agate crystals in the banks and breaks along the Hillsborough River.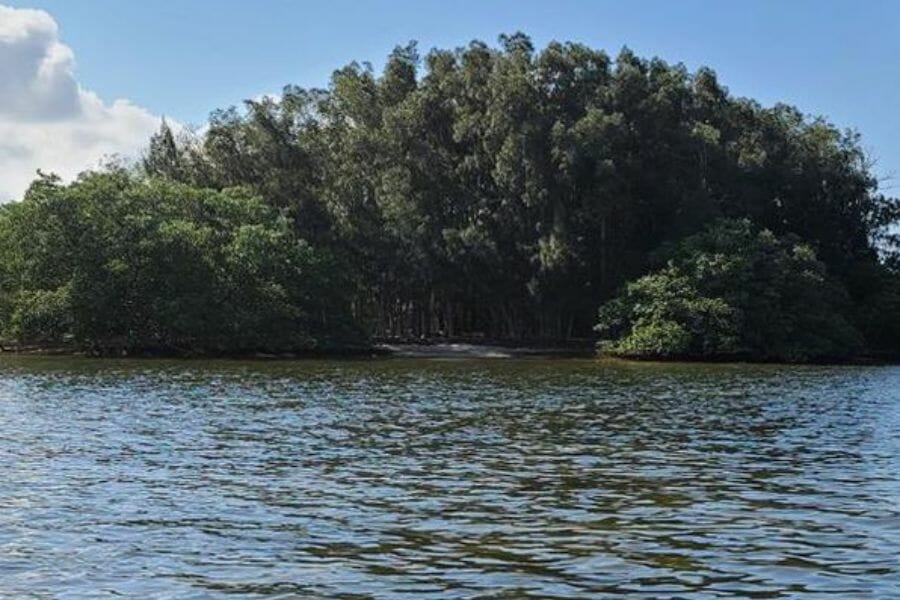 Pasco County is located in the western part of the state and is known for its limestone formations. The area has been known for crystal hunting since the late 1800s when miners discovered large deposits of crystals, like chalcedony and quartz, and other minerals.
The county's geography is mostly flat, with rolling hills and valleys, and its soils are generally sandy with limestone outcroppings. You can find some of the best spots for crystal hunting along the rivers, creeks, and springs that flow through the county.
Where we found crystals at the Pasco County
Calcite and Chalcedony are abundant in area quarries and excavations of New Port Richey and Bailey's Bluff in Pasco County.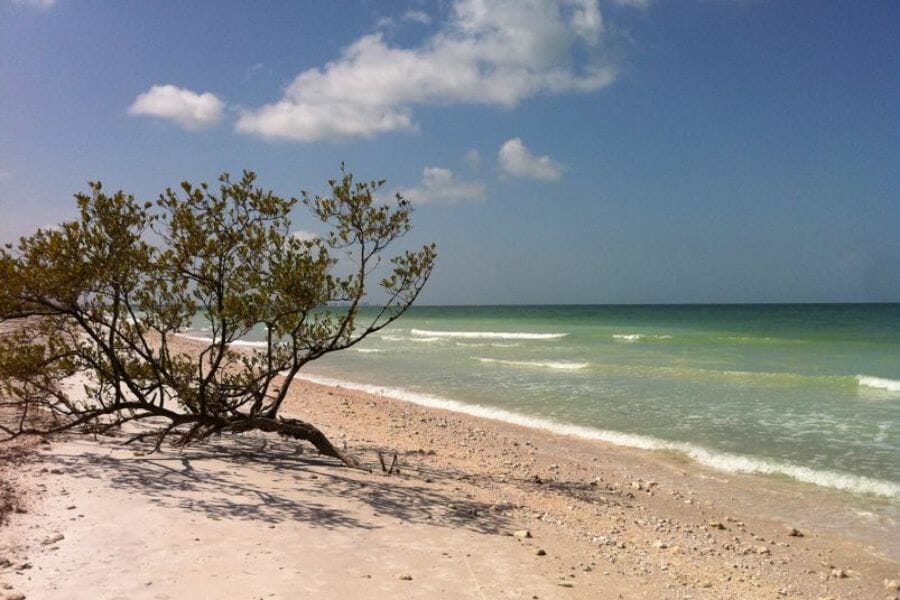 Pinellas County, located in the Suncoast region, has abundant crystal collecting opportunities if you want something unique.
With its limestone geology, Pinellas County is home to many beautiful crystal specimens. Some of the largest crystals ever found were unearthed in this area! Whether you like to scour the beaches or explore the woods, you'll have plenty of chances to come across beautiful crystals here.
Its mild climate and year-round sunshine make it easy to get outdoors and enjoy all Pinellas County offers.
Where we found crystals at Pinellas County
We had the best luck locating chalcedony at the banks of the Caladesi Causeway and the Tarpon Springs area. There are also agate, carnelian, and chalcedony in all regional excavations or dredging operations.
Our Other Favorite Places For Crystal Hunting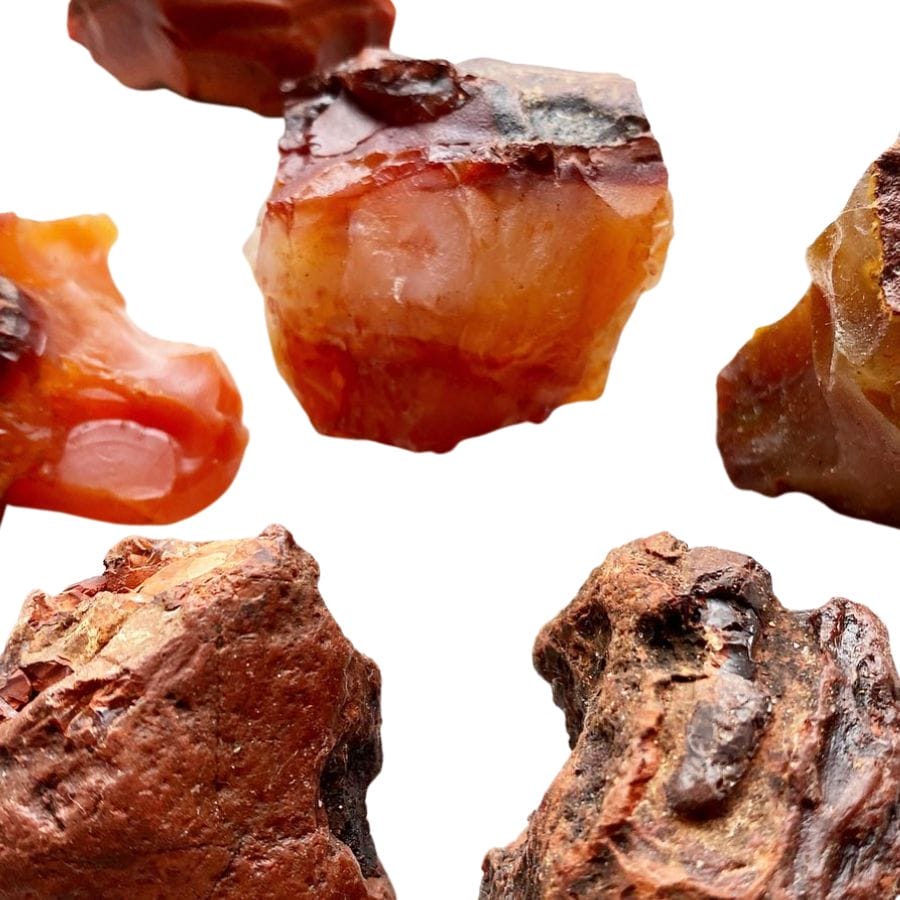 After sharing my top five locations above, I wanted to give you many more options. There are many wonderful places to hunt for crystals and geodes in a state the size of ours, especially with such geological diversity. Here are some other places to visit:
Where you can find crystals for free
Let's start by talking about several places where you can search for free (yes, for free!). Although many of the most amazing places have a fee, there are areas you can visit without paying for anything.
| | |
| --- | --- |
| County | Location |
| Charlotte | You can find calcite crystals in the Punta Gorda area |
| Hamilton | Collect agates in the creek beds of White Springs area |
| Hernando | Calcites are abundant in the Brooksville region |
| Hernando | Calcites are available in all dredging or deep-digging construction projects county wide |
| Jackson | Calcites are found in limestone quarries county wide |
| Polk | You can find chalcedony crystals in the northeast of Lakeland |
| Polk | Chalcedony crystals are available to find in new diggings of irrigation of Kathleen area |
| St. John's | Collect calcites along ocean beaches county wide |
| St. John's | Calcites are found in quarries county wide |
| Washington | In Chipley's sinkhole and roadcuts, you may find calcite crystals |
| Washington | Calcite crystals can be collected in the south of the airport and in a railroad cut in the Chipley area |
Other great places to dig for crystals
If you're willing to pay some money to find crystal, here are the other places to go. The cost will depend on the season; it can be free occasionally, so contact them beforehand.
| | |
| --- | --- |
| County | Location |
| Bradford | Highland Mine for kyanite |
| Suwannee | The mine in Dowling Parks for malachite |
How to find crystals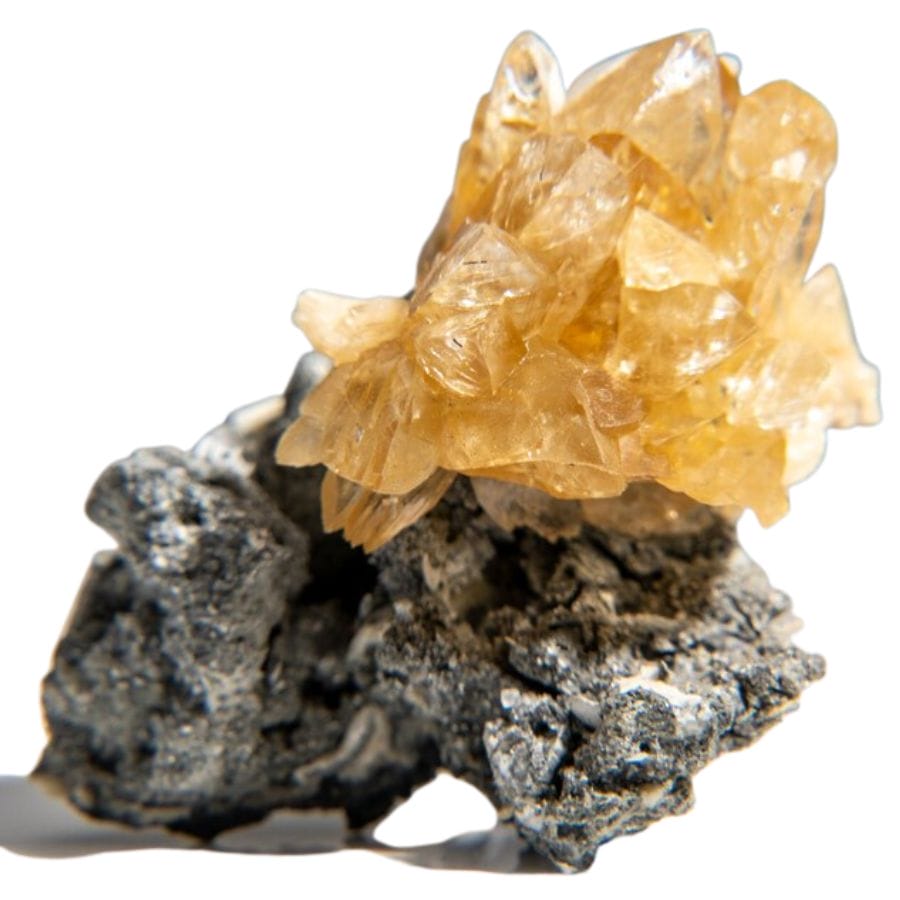 To help you find better success once you get to a particular place, like those listed above, here are some more specific recommendations on where to spend most of your time in a certain location. We go into this in more depth in our guide to Florida rocks, minerals, and gems. Some of the best places to look for crystals include the following:
Beaches
Searching for crystals on beaches is one of my favorite things to do. You can find all sorts of crystals hidden in the sand and rocks. The waves and the tides can do a lot of the work for you when it comes to revealing the hidden treasures lurking beneath the surface.
Being near the water is also one of the more relaxing places to spend a little time!
When searching on beaches, it's important to keep safety in mind. It's easy to get carried away looking for crystals and lose track of your location or how far out you are from shore. It's also a good idea to check the tide before heading out. You don't want to be stuck on the beach with no way back!
Quarries
Quarries are large-scale mining sites where huge chunks of rock are removed from the ground, leaving behind piles of gravel and soil. These piles are ripe with crystals unearthed by the quarry's diggers.
The quarry environment is also much safer than other crystal-hunting locations, as it is usually well-lit and easy to navigate. There's no need to worry about wild animals or poisonous plants. You'll only need to be careful of any heavy machinery running nearby.
Many quarries allow visitors to come and pick through their mine dumps but others do not. Always call ahead and make sure you have permission before showing up!
Rivers and riverbanks
Rivers are constantly eroding their banks and shifting their course, which means that minerals that have been underground for ages can be exposed. Quartz, amethyst, and other crystal formations are often found in rivers and riverbanks.
The current of the water can help you spot the crystals more easily. It's almost like they're sparkling in the sun! One thing to remember when searching for crystals in rivers is to pay attention to the current – it can be strong and dangerous.
Crystal Mining Laws And Regulations You Need To Know
The state of Florida has a few specific rules and regulations in place for those interested in crystal mining recreationally. It's important to note that only certain public lands are approved for recreational crystal mining, and the property owner must authorize any activity on private property.
Those wishing to participate in recreational crystal mining in the state must obtain a permit from the local county or municipality and the Department of Environmental Protection. Individuals should also familiarize themselves with all relevant laws and regulations concerning their activities, including resource protection and safety.
Furthermore, it's important to note that any collected minerals may not be sold or traded without obtaining approval from the appropriate government agency. By following these guidelines, individuals can ensure their activities are safe and legal.
The Best Crystal Shops In The Area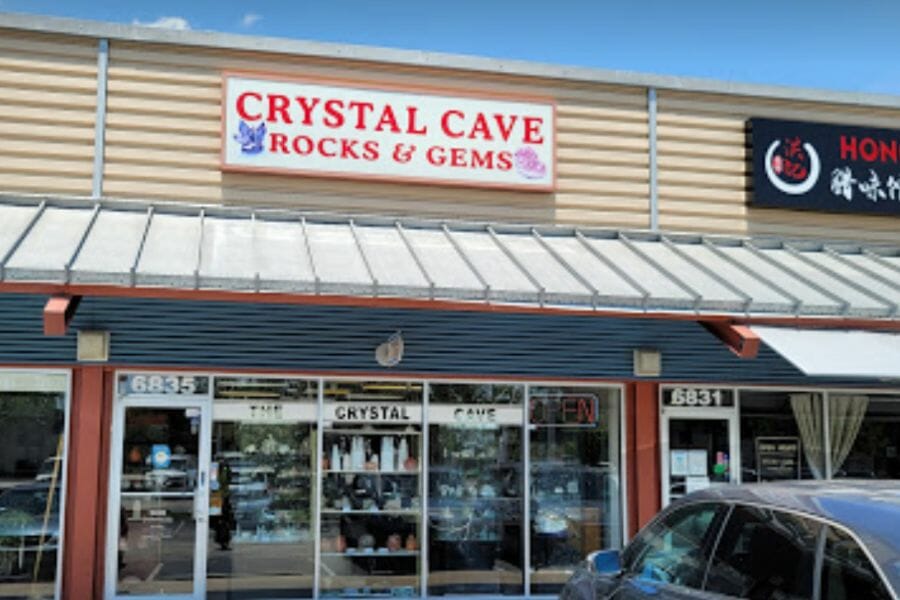 Many of us enjoy making little purchases to complete our collections because the state offers a wide range of crystals dispersed across such a huge area. These are the best crystal shops we've found if you're looking for distinctive and beautiful pieces for your collection.
Additional places to find crystals in nearby states
If you've already tried all of our recommendations above or are planning a trip out of the state, you should check out our guides for neighboring states:
If you have any recommendations we haven't covered please leave them in the comments below!