Finding geodes in Florida without the proper guidance can be a real challenge. You could wander around for days and never stumble across one. But if you know where to look, you can find some pretty incredible ones! Geodes are some of the most beautiful rocks on Earth. They come in all shapes, sizes, and colors – from deep blues to greens and purples. And inside each one is a unique crystal formation that's truly a sight to behold!
We've scoured the Sunshine State for the best spots to hunt for geodes and gathered great options for any budding collector looking to find gems. We provide detailed areas with directions, so you don't waste time searching in the wrong places. Our helpful guides are always on hand to answer questions or give pointers on finding those hidden beauties!
What Are Florida Geodes Anyway?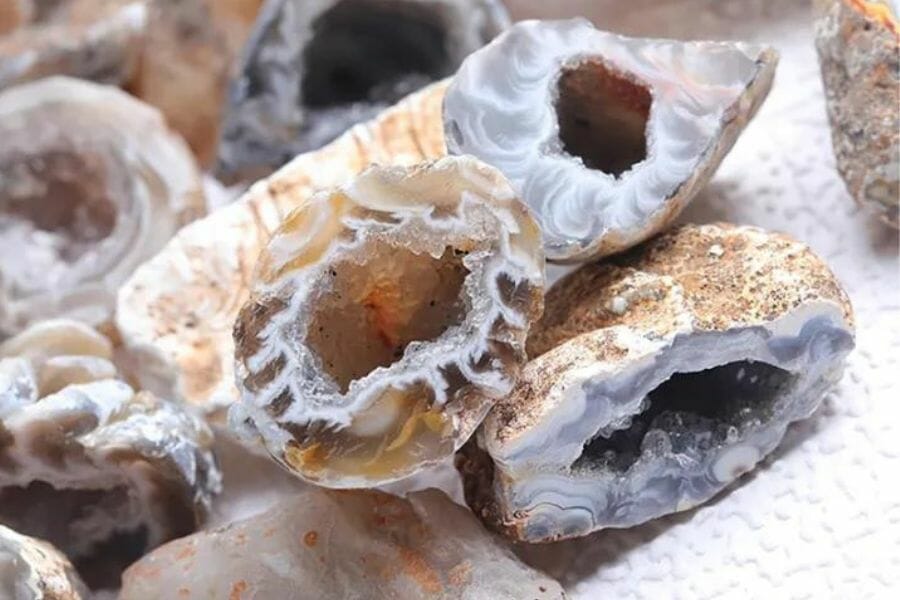 Geodes are geological wonders found worldwide, and they're like little treasure troves waiting to be cracked open. Basically, a geode is a round rock with a hollow center that's filled with crystals, minerals, or other cool stuff. They form when cavities in volcanic rocks or sedimentary beds get filled with mineral-rich solutions. Over time, the solution cools and hardens, leaving behind the geode's signature interior. The outside may look like any old rock, but it's like revealing a glittering gem inside when you break one open.
We've also developed a guide to help you to identify what geodes look like on the outside so you have an idea of what to look for.
These formations can range from the size of a pea to over six feet across, and every one is unique. Imagine stumbling upon one while exploring – talk about a real "jackpot" moment! Whether you're a collector or appreciate natural beauty, geodes are worth checking out. Geode creation is remarkably simple due to Florida's unusual geology.
The Types Of Geodes Found In Florida
Geodes are found around the globe and come in various shapes and sizes. The type of crystal inside a geode affects both its beauty and the value of a geode. The following geodes can be located in Florida:
Agate geodes
Coral geodes
Echinoid geodes
How We Found The Best Geode Locations in Florida
When it comes to choosing the best options for finding Florida geodes there are plenty of things we consider. Many of the best locations are closely guarded secrets which can make it really difficult for more casual geode hunters to find success. The key factors in our recommendations are:
The deep experience and understanding of our team about the area
Recommendations from local groups and clubs
How easy it is to get the a particular location
Safety and potential hazards when collecting
Weighing private and public locations
The ability for both experienced and novice geode enthusiasts to find great samples
With these factors in mind we've been able to put together a fantastic list that just about anyone can use!

The Best Places To Find Geodes in Florida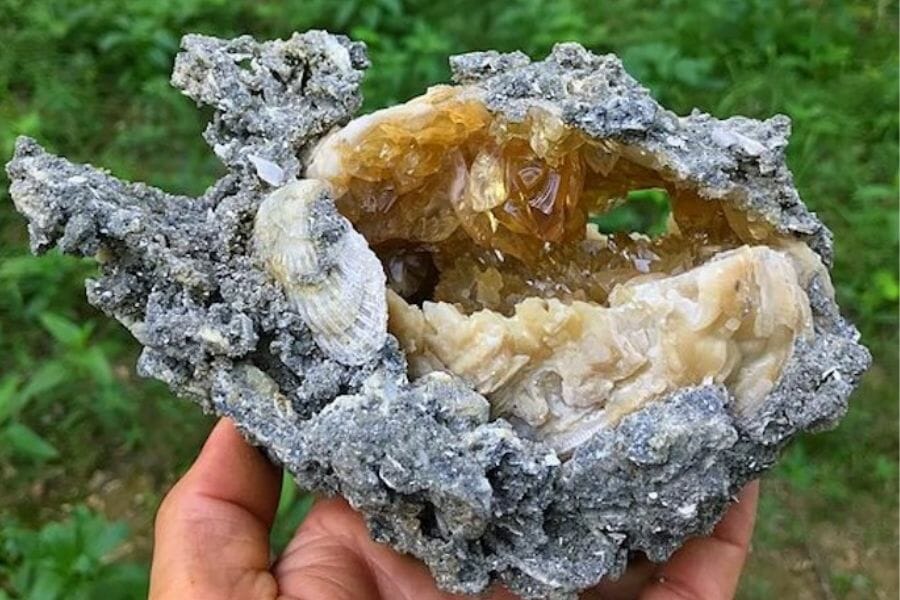 We'll start by listing our favorite spots in Florida to find geodes. There are a lot of great places to go gem mining in Florida, but just a few are perfect for what we're searching for. Even though some of these places are not well-known, they frequently give us great options when we're looking.
Always Confirm Access and Collection Rules!
Before heading out to any of the locations on our list you need to confirm access requirements and collection rules for both public and private locations.
These requirements are subject to change without notice and may differ from what we state below.
Always get updated information directly from the source ahead of time to ensure responsible rockhounding.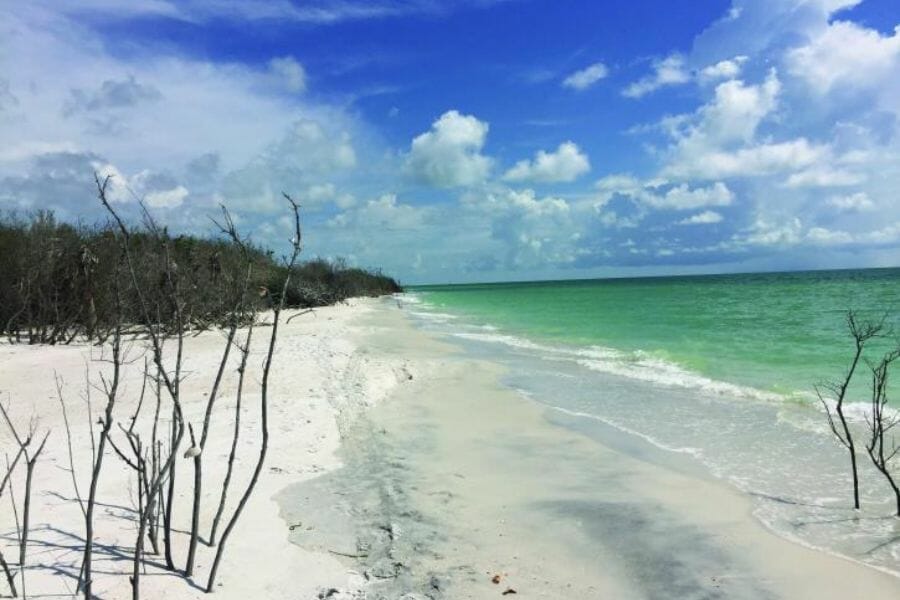 Caladesi Island State Park is a unique slice of paradise located in the Gulf of Mexico off the coast of Florida. It boasts some pristine beaches and crystal-clear waters you'll find anywhere. The park is accessible by ferry, kayak, or boat, with plenty of docking areas. The terrain is primarily flat, with some low-lying areas and plenty of dunes scattered along the shoreline. The island consists mainly of white sand beaches and mangrove forests, with a few small areas of dense vegetation.
The geology is quite fascinating, as well. Several limestone outcroppings jutting from the beach were formed over thousands of years by wave erosion and sedimentary deposition. These rocks provide an excellent opportunity to find geodes and exploration as you make your way around the island.
Make sure you've read up on the most recent collecting guidelines from the State of Florida before you bring anything home.
Where we found geodes in Caladesi Island State Park
Geodes are typically found in sedimentary rock formations, such as limestone, commonly found in the rocks and soils in Caladesi Island State Park.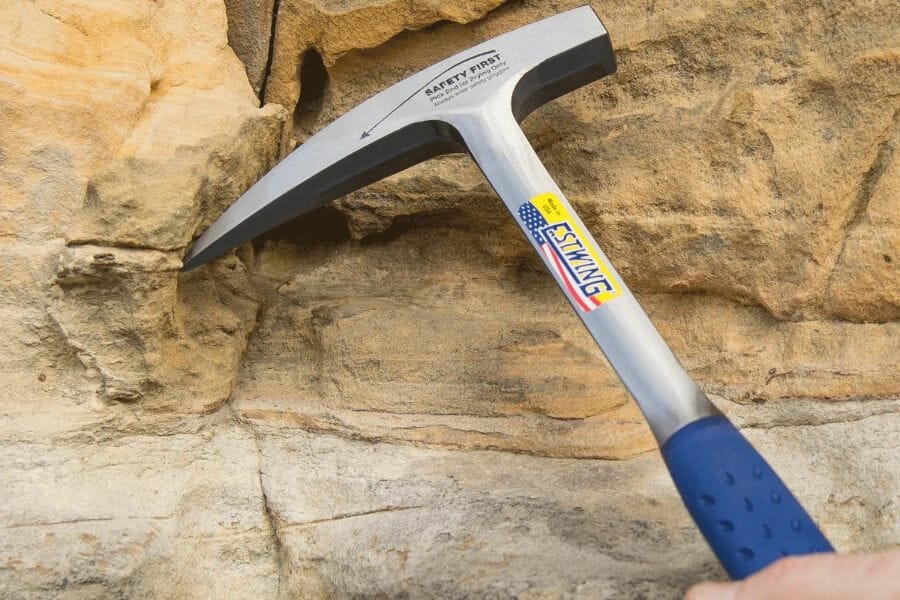 The tools every geode hunter will need
When you're out looking for geodes having the right tools for the job is very important. You don't need a lot for most trips but there are a handful that are critical and will make your life a lot easier.
We get asked a lot about the equipment we use. Over the years we've found a handful of tools that we recommend to both new and experienced geode hunters which we outline in great detail in our complete rockhounding tools and kit guide. These are quality options that also happen to be relatively inexpensive.
Below are the basic tools that make your life so much easier and save you a ton of time. Check out the full guide to see everything we recommend bringing. One quick note, as an Amazon Associate I earn from qualifying purchases but we try very hard to only recommend gear we would use ourselves and often recommend brands you can't find on Amazon.
At a minimum you should have:
1 - Sturdy rock hammer: The Estwing Rock Pick is our standard
2 - Rugged chisels: Try Kendo' 3-piece Chisel Set
3 - Compact shovel: The Koleiya 28-inch shovel works well
4 - Rock screen pan: The Wazakura Soil Sieve Set fits the bill
5 - Eye protection: DeWalt Safety Glasses are cheap and comfortable
6 - Head protection: Malta's Safety Helmet has been our go-to
7 - Jewelers lens with at least 20x magnification: Jarlink's Jewelers Loop is perfect
The geode-finding books that we use most
There are also a few books that have been extremely helpful in the search for gems. These books have great recommendations and tips:
National Audubon Society Field Guide to Rocks and Minerals: North America 
Southeast Treasure Hunter's Gem & Mineral Guide 
Earth Treasures: The Southeastern Quadrant 
We provide links to find these tools on Amazon but some can also be found at your local hardware stores. For more recommendations check out the link to our full tool guide above.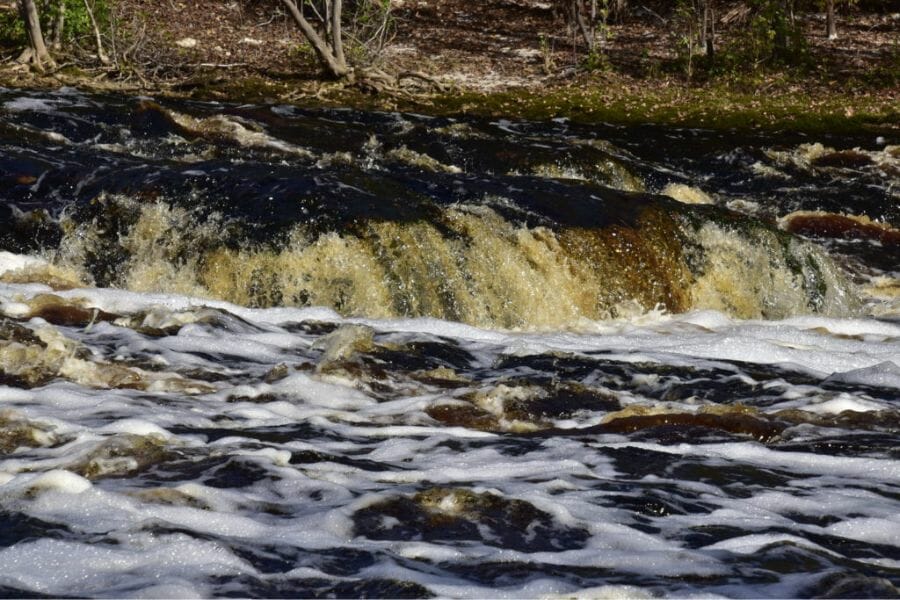 Hamilton County is a rural county with a unique geography. It covers an area of about 578 square miles and is bordered by the Suwannee and Alapaha Rivers and the Gulf of Mexico. The terrain is mostly flat and low-lying, with some rolling hills. The land is primarily covered in longleaf pines, but there are also cypress swamps, hardwood forests, and marshlands.
The area's geology consists mainly of sedimentary rocks such as limestone and sandstone that date back to the Cretaceous period. There are also deposits of phosphate which has made Hamilton County an important producer of this mineral in the state.
Where we found geodes in Hamilton County
Jasper area in phosphate mines
White Springs area phosphate mines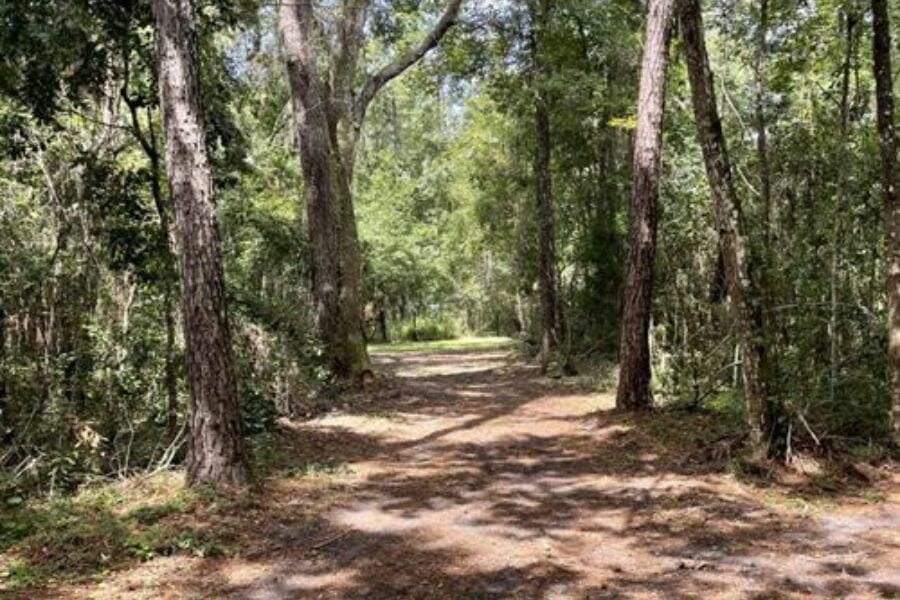 Hernando County is a great place to enjoy the outdoors. Its geography is diverse, with large stretches of flat terrain interspersed with rolling hills and small mountains. The county's terrain varies from coastal marshes to pine flatwoods and sandhill ecosystems. Geologically, the county is part of the Ocala Uplift – an area of uplifted limestone and sandstone that produces stunning karst formations.
In addition, there are numerous lakes and springs throughout the county. The climate in the area is generally mild, with warm summers and mild winters. Average temperatures range from the mid-60s in winter to the mid-90s in summer. The area receives an average of 52 inches of rainfall annually, making it an ideal spot for outdoor activities like geode hunting.
Where we found geodes In Hernando County
In limestone quarries around Brooksville.
Area dragline operations, cuts, quarries, and excavations.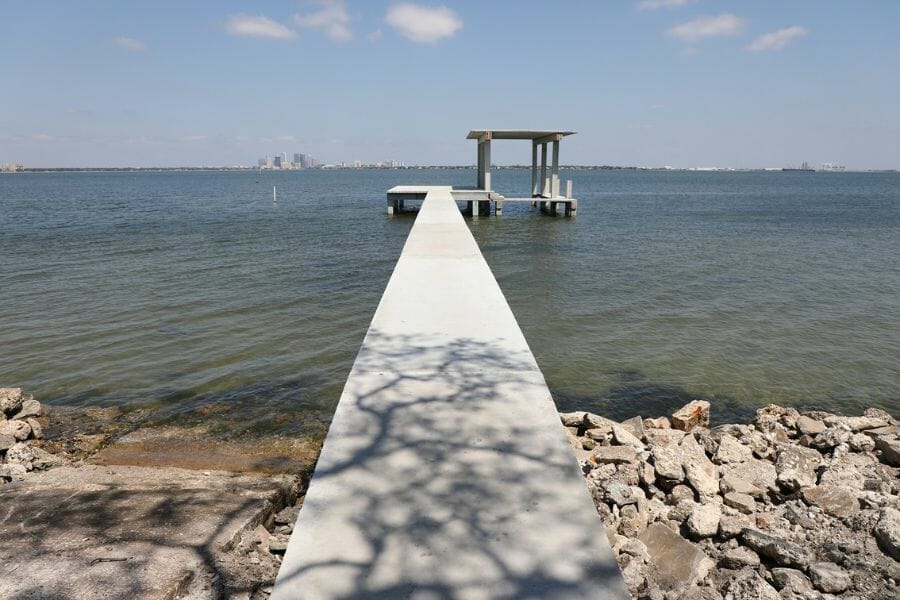 Hillsborough County, located in the Tampa Bay area of Florida, is a vibrant and diverse area. It's known for its beautiful beaches, lush green hills, and rolling terrain. The county is bordered by the Gulf of Mexico to the west and the Atlantic Ocean to the east, with a total land area of 1,266 square miles. It's home to some of Florida's most popular attractions, including Busch Gardens Tampa Bay, Adventure Island, and Lowry Park Zoo.
Historically, Hillsborough County is made up mostly of limestone and sandstone formations formed millions of years ago during the Miocene Epoch. The county is also home to numerous marshes and swamps fed by rivers such as the Hillsborough River and Alafia River. Additionally, multiple lakes in the area provide recreational activities such as looking for geodes.
Where we found geodes in Hillsborough County
Tampa, Ballast Point area in the city park.
Along Bayshore Boulevard and the eastern section of Interbay Boulevard, in exposed tidal flats at low tide.
Hillsborough river banks upstream along both shores from the mouth.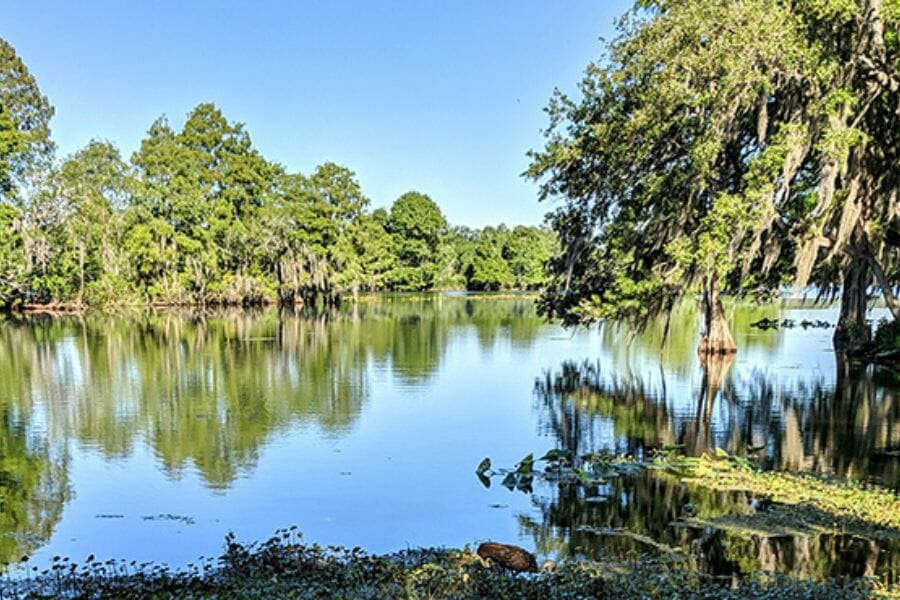 The Hillsborough River is a major river in the state, running for about 60 miles from the Green Swamp to Tampa Bay. Flowing through Hillsborough County, it's a popular spot for outdoor recreation, offering stunning views and plenty of activities. Its geography is varied, with sandy beaches, marshes, swamps, and forests. The terrain is hilly in spots and generally flat along the river. Geologically speaking, the Hillsborough River has formed over thousands of years from limestone deposits and sedimentary rocks. It also boasts several springs that feed into its various tributaries.
In addition to its natural beauty, it's also an important source of drinking water for the cities of Tampa and Temple Terrace. With its winding curves and cool waters, so many locals flock there on hot summer days for a swim or a canoe ride downriver.
Where we found geodes at Hillsborough River
We've found geodes along the Hillsborough River's banks. The best time to find them is after a flood or during low water levels. Some areas known to have geodes along the river include Sulphur Springs Park, Morris Bridge Park, and Hillsborough River State Park.
Other Great Places To Dig For Florida Geodes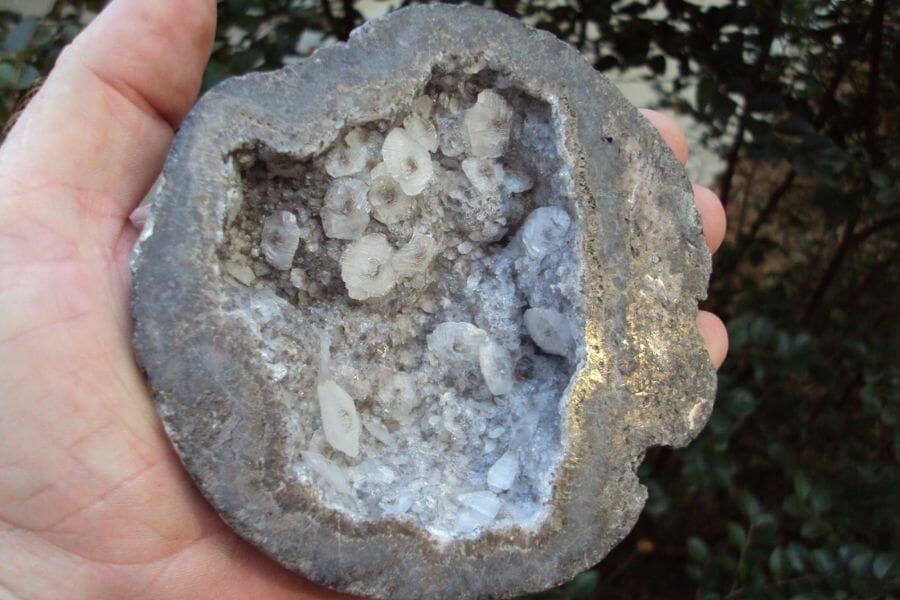 We wanted to share the other locations on our list with you now that we've mentioned our favorites. Next, we'll include some more general areas where we've had good results. We'll start by providing our recommendations per county. More detailed guidance are included in the following section for every recommendation that refers to as a "county wide" area.
Our recommendations by county
| | |
| --- | --- |
| County | Location |
| Gilchrist | County wide |
| Hamilton | Jasper area phosphate mines |
| Hamilton | White Springs area phosphate mines |
| Hernando | Limestone quarries around Brooksville |
| Hernando | Area dragline operations, cuts, quarries, and excavations |
| Hillsborough | Ballast Point, Tampa area in city park |
| Hillsborough | Along Bayshore Boulevard and the eastern section of Interbay Boulevard, in exposed tidal flats at low tide. |
| Hillsborough | Hillsborough River banks upstream along both shores from the mouth |
| Lafayette | County wide in quarries |
| Okeechobee | Ruck's Pit, northeastern of Okeechobee county, approximately 5km east of the small hamlet of Fort Drum |
| Pasco | New Port Richey area in quarries and any other excavation |
| Pinellas | West side of Dunedin on tidal exposures of Honey Island at the west end of the Caladesi Causeway |
Additional areas you should try
You'll notice that we make a lot of mentions of "county wide" in our recommendations. We want to assist you in your search because Florida has a large geode hunting area. Consider exploring through these notable locations where geodes are commonly discovered:
Mines and mine dumps
Mines and mine dumps are great places to find geodes for collectors. They offer a wide variety of geodes, so you're sure to find something that suits your tastes. Plus, they're often cheaper than buying geodes from a retailer. The best part is you can get your hands dirty and go out and explore yourself. You never know what kind of geode you might come across!
Mines are also great because they provide an opportunity to experience the earth's natural beauty in its rawest form. You can get up close and personal with nature, and there's nothing quite like the thrill of finding a unique geode in its natural environment.
Quarries
Quarries are great places for geode hunters to find the perfect specimens for their collections. Geodes are often found in sedimentary rock formations, so quarries are ideal. Quarries expose large amounts of sedimentary rock broken up and pushed aside, making it easier to find geodes. Miners have already worked many quarries, so you don't have to do all the digging yourself.
The ground is usually already littered with broken chunks of sedimentary rock that could be hiding a geode inside. You can easily sift through these pieces and see what you can find. Quarry workers often come across geodes while working and will put them aside for collectors who know where to look! With a bit of luck and determination, you can find some amazing geodes at local quarries that will make your collection really stand out!
Rivers and riverbanks
Rivers and riverbanks are great places for geode hunters to find their treasure. You can spot these geological gems just under the water's surface or peeking out from between rocks with the right eye. Geodes form in sedimentary and certain volcanic rocks, so it's no surprise that rivers and riverbanks are teeming with them.
Plus, the constant movement of water over time erodes rocks and other materials, which helps to expose any geodes that may be hiding inside. The current also helps move around larger stones, so you can look at them well without digging too deep. Geode collectors should also keep an eye out for clues like hollowed-out spots in the riverbank or nearby beach areas where waves have worn away at rocks over time. You never know what kind of sparkly surprise might be lurking beneath!
Streams and creeks
Streams and creeks are great places to hunt for geodes if you're a collector. They're often full of sedimentary rocks like limestone and sandstone that can contain these unique gems. Plus, there's a good chance of finding them near the water since they tend to form in areas with lots of volcanic activity.
It's easier to spot them than other rock formations since they often have an unusual shape or color. They're also usually easy to find since they tend to be heavier than surrounding rocks, so you can just pick them up with your hands or use a stick or magnet to get them out of the water. And the best part is that you don't need any special equipment – just some basic tools and your eyes! So if you're looking for cool geodes, creeks and streams are definitely the way to go.
Common Geode-Hunting Questions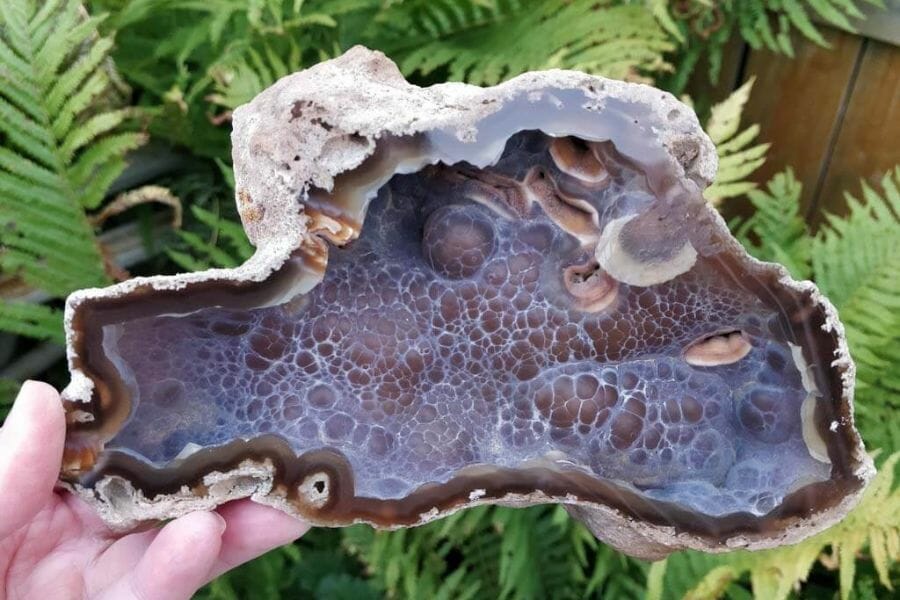 The following inquiries concerning geode hunting in Florida are frequently asked and should be addressed here as well:
Where can you find amethyst geodes in Florida?
Amethyst geodes aren't naturally found in the state, but they may be bought in many rock and mineral shops in Florida. You can also look for merchants selling amethyst geodes at local rock exhibitions.
Is it illegal to collect geodes in Florida?
If you follow local collection laws, geode collecting is permitted in Florida. Just make sure you abide by any local regulations that may apply, and if you're on private land, confirm that you have the authorization to collect.
The Best Places To Buy Geodes In Florida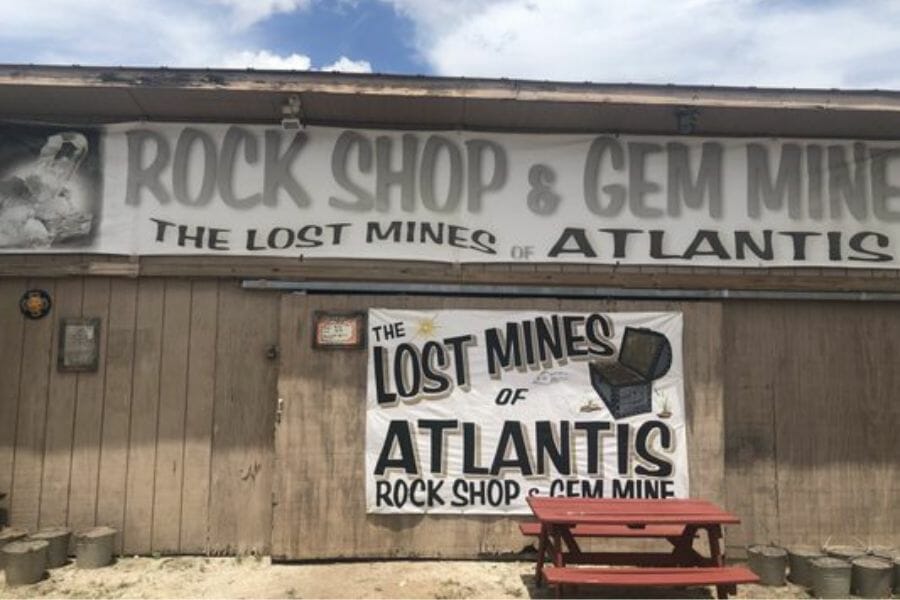 Long walks in the wilderness in quest of geodes are not everyone's cup of tea. Sometimes, all you awnt is something beautiful to sit on your desk or add to your collection.
Here are some more locations that we enjoy where you may get really wonderful geodes near you.
Anna Maria Rocks – 9908 Gulf Dr, Anna Maria, FL 34216, United States
Amazon – It's fascinating how Amazon has a decent selection of geodes. For thoes who prefer to do it themselves, whole kits containing geodes to break open are available to purchase.
Lost Mines of Atlantis – 10404 US Hwy 27 S, Sebring, FL 33876, United States
Pineapple Rocks – 1459 Main St, Sarasota, FL 34236, United States
Spigg Island – 15010 Madeira Wy, Madeira Beach, FL 33708, United States
We Rock Rocks – 3445 C, E Bay Dr, Largo, FL 33771, United States
Additional places to find geodes in nearby states
Check out our guides for nearby states if you've already tried all of our suggestions above or if you're planning a trip outside of the state:
If you have any recommendations for our list, please leave a comment below!