California is a rockhound's paradise with its diverse geological landscape and rich mineral resources. From stunning gemstones to ancient fossils, California offers many treasures waiting to be discovered. Whether you're a seasoned rockhound or starting, this state has something for everyone.
One of the best things about rockhounding in California is the sheer variety of locations available. There are countless spots to explore, from the picturesque beaches along the coast to the rugged mountains and deserts.
You can hunt for vibrant agates along the shoreline, dig for fossilized marine life in ancient seabeds, or uncover colorful minerals in remote desert regions. The possibilities are endless, and the thrill of unearthing a hidden gem or a rare specimen is exhilarating.
What makes rockhounding in California even better is the success rate. The state has large mineral-rich areas that have yielded remarkable finds thanks to its geological history. Whether you're searching for garnets, opals, jasper, or gold, California offers a great chance of striking it lucky.
So grab your tools, study your maps, and embark on an exciting rock-hounding adventure in the Golden State. Who knows? You might stumble upon a treasure that will leave you in awe and fuel your passion for rockhounding even more.
How We FoundThe Best Places For Rockhounding in California
We spent a lot of time putting together the list of which of the many options for California rockhounding we were going to recommend. We wanted to have a nice variety of locations for experienced and novice rockhounds in a variety of settings. Here are the main factors we used when determining the recommendations we set out :
The extensive local experience and understanding of our team
Input from multiple local rockhounds and rockhound groups
The accessibility of the various locations
Safety and potential hazards when collecting
Private and public locations
A desire to include locations for both experienced rockhounds and those who are just starting out
Using these weights we think we've put together the best list out there for those who love finding new rocks, gems, and minerals for our collections!

What You Can Find Rockhounding In California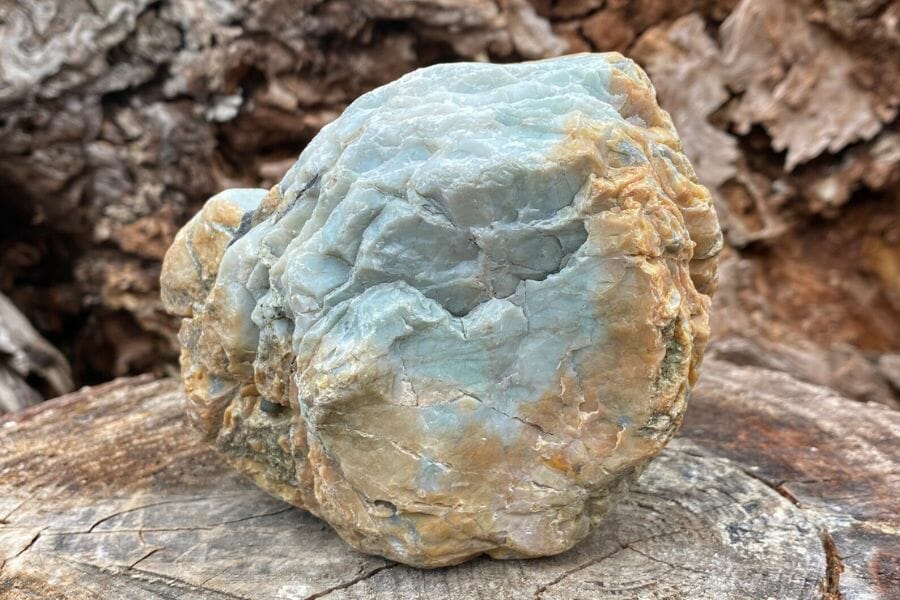 Because of their extreme diversity, we couldn't cover all of the rocks and minerals found in California. The majority of the more popular and rare specimens that rockhounds search for in the state include the following:
Rare rocks and minerals found in California
Benitoite
Cinnabar
Pink Danburite
Rhodochrosite
Serpentine
Turquoise
More common desirable rocks, minerals, and gems found here
In-depth guides to finding specific types of rocks in California
If you're looking for something specific, you should also look at the additional instructions we've created to find certain specimens.
You may locate our complete guide to rock hunting near you, which includes more than 3,000 locations nationwide. For more information on California's rockhounding options, keep reading.
The Best Places To Find Rocks and Minerals in California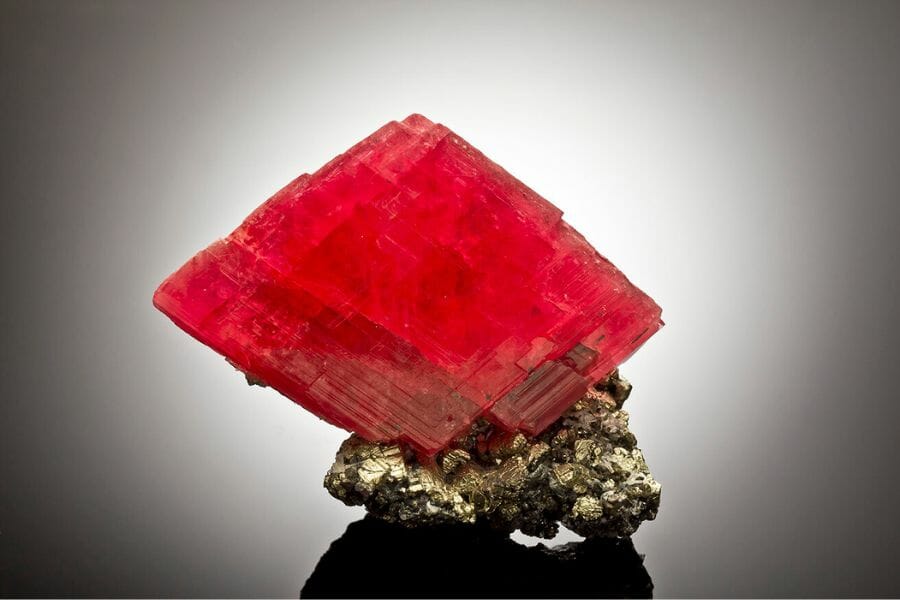 We wanted to start by sharing some of our favorite rockhounding California locations. There were many options, but we focused and made our selections. These are places where you can find some incredibly gorgeous rocks and minerals and have a great time exploring.
Always Confirm Access and Collection Rules!
Before heading out to any of the locations on our list you need to confirm access requirements and collection rules for both public and private locations.
These requirements are subject to change without notice and may differ from what we state below.
Always get updated information directly from the source ahead of time to ensure responsible rockhounding.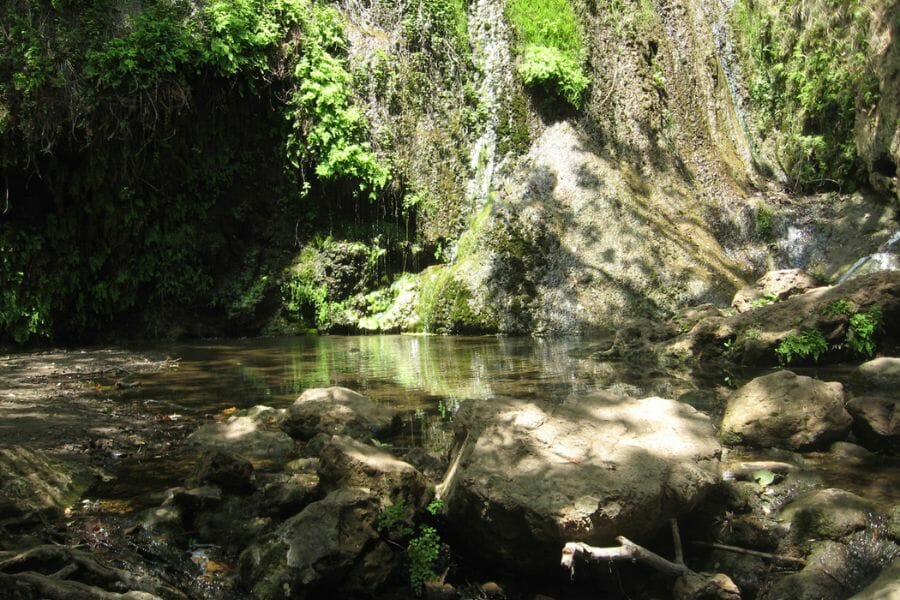 This picturesque Escondido Canyon offers a captivating blend of natural beauty and geological wonders. With a history dating back centuries, this area has attracted rockhounds from far and wide due to its rich deposits of diverse minerals and gemstones.
Escondido Canyon holds a fascinating historical significance as the Native American Tongva tribe once inhabited it. Over time, this region became a haven for rock and mineral enthusiasts drawn to its unique geological formations. Today, visitors can explore the canyon's diverse landscape, including striking cliffs, tranquil waterfalls, and meandering trails.
The canyon's geology, shaped by ancient volcanic activity, has created a treasure trove for collecting remarkable specimens. If you're eager to embark on a rockhounding adventure, Escondido Canyon should be on your radar.
What you can find there
In Escondido Canyon, rockhounds can potentially discover a variety of minerals, including Agate, Amethyst Geodes, Bloodstone, Garnet, Jasper, Quartz, and Serpentine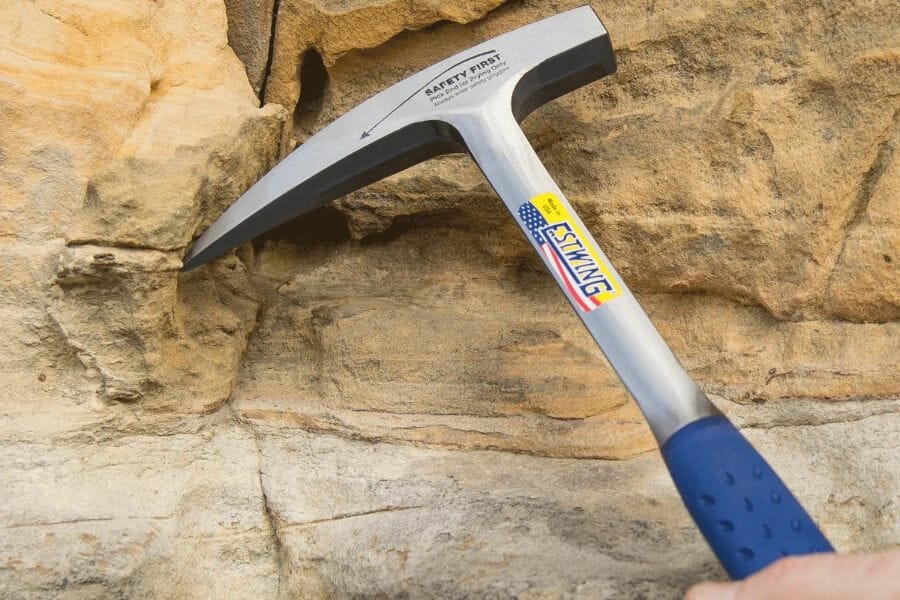 The tools every rockhound will need
When you're out looking for rocks and minerals having the right tools for the job is really going to make or break your success. You don't need a lot for most trips but there are a handful that are critical and will make your life a lot easier.
We get asked a lot about the equipment we use. Over the years we've found a handful of tools that we recommend to both new and experienced rockhounds which we outline in great detail in our complete rockhounding tools and kit guide. These are quality options that also happen to be relatively inexpensive.
Below are the basic tools that make your life so much easier and save you a ton of time. Check out the full guide to see everything we recommend bringing. At a minimum you should have:
1 - Sturdy rock hammer: The Estwing Rock Pick is our standard
2 - Rugged chisels: Try Kendo' 3-piece Chisel Set
3 - Compact shovel: The Koleiya 28-inch shovel works well
4 - Rock screen pan: The Wazakura Soil Sieve Set fits the bill
5 - Eye protection: DeWalt Safety Glasses are cheap and comfortable
6 - Head protection: Malta's Safety Helmet has been our go-to
7 - Jewelers lens with at least 20x magnification: Jarlink's Jewelers Loop is perfect
The rockhounding books that we use most
There are also a few books that have been extremely helpful in the search for gems. These books have great recommendations and tips:
National Audubon Society Field Guide to Rocks and Minerals: North America 
Northwest Treasure Hunter's Gem & Mineral Guide 
Earth Treasures: The Northwestern Quadrant 
We provide links to find these tools on Amazon but some can also be found at your local hardware stores. For more recommendations check out the link to our full tool guide above.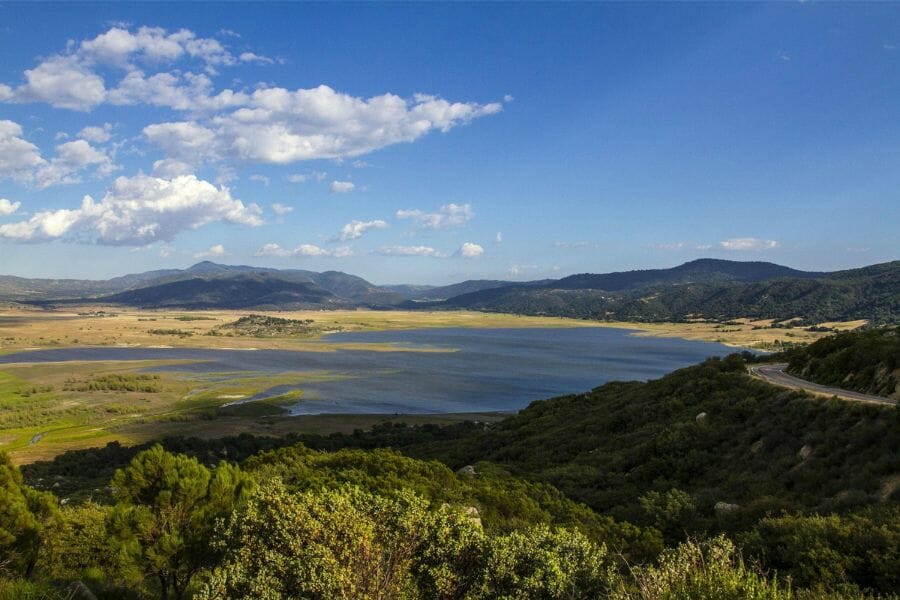 Lake Henshaw is a captivating destination for rockhounding enthusiasts. With a rich history and breathtaking surroundings, this serene lake and surrounding areas offer an ideal setting for those seeking to explore and collect unique minerals. Originally formed as a reservoir in the late 1920s, Lake Henshaw has become a popular recreational spot with a fascinating geological heritage.
Lake Henshaw's proximity to the nearby mountains and rugged terrain makes it an excellent place for rockhounding. The surrounding region is known for its diverse geological formations, which have deposed various minerals over millions of years.
What you can find there
The surrounding region of Lake Henshaw offers opportunities for rockhounding enthusiasts to discover various minerals, like aquamarine, beryl, lepidolite, morganite, quartz, smoky quartz, and tourmaline.
It can be very easy to confuse some of the more common rocks and minerals that are found here, so we created a few guides to telling them apart:
Perched majestically on the rugged coastline of California, Point Sur offers a captivating destination for rockhounding enthusiasts. Steeped in history, this iconic landmark has witnessed centuries of maritime activity and is a stunning backdrop for an unforgettable rockhounding adventure.
With its unique geological formations and diverse range of minerals, Point Sur entices rockhounds to explore its shores and uncover hidden treasures. When it comes to rockhounding, Point Sur provides a remarkable opportunity to discover a variety of minerals and gemstones.
The constant interaction of the ocean and cliffs has shaped the rocks, creating a visually stunning landscape for novice and experienced rockhounds to explore.
What you can find there
Rockhounds can search for colorful agates, jasper, and quartz along the shoreline, often found in pebbles or as larger specimens. Point Sur also contains minerals like jade, nephrite, and serpentine.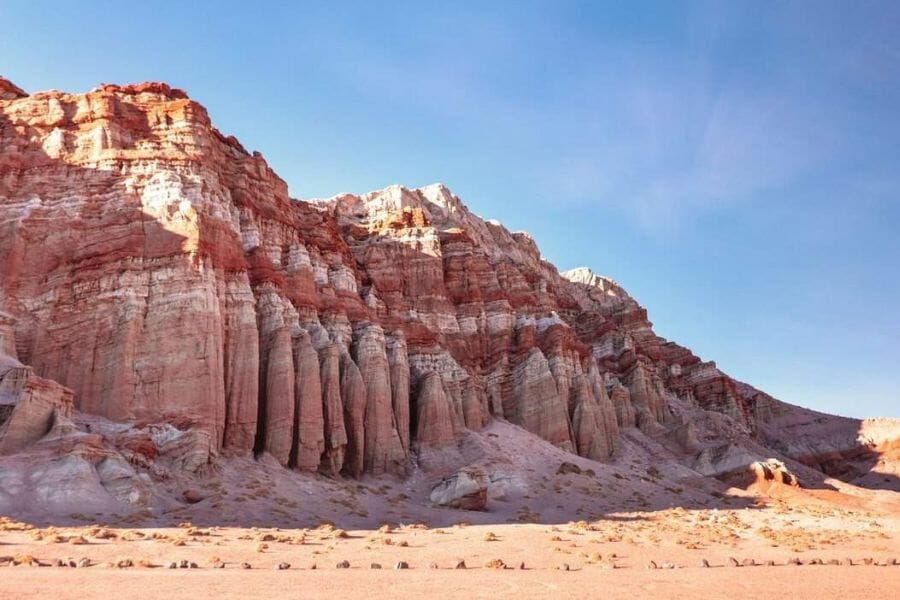 Red Rock Canyon, situated in the heart of California, offers a captivating destination for rockhounding enthusiasts. With its striking red sandstone formations and unique geological features, this scenic canyon beckons rockhounds to explore its rugged terrain and discover a plethora of fascinating minerals. With a history dating back millions of years, Red Rock Canyon is a testament to the forces of nature and a treasure trove waiting to be unearthed.
Formed through the erosion of sedimentary rocks over time, Red Rock Canyon showcases stunning geological formations and vibrant hues that make it a haven for rockhounding. The exposed layers of sedimentary rocks provide a unique opportunity for rockhounds to study the region's geological history while collecting beautiful and distinct minerals.
What you can find there
Red Rock Canyon in California offers a range of minerals that can be found amidst its captivating geological formations. Some minerals that rockhounding enthusiasts can potentially discover in the area include agate, chalcedony, jasper, opal, and quartz.
Storm Jade Mine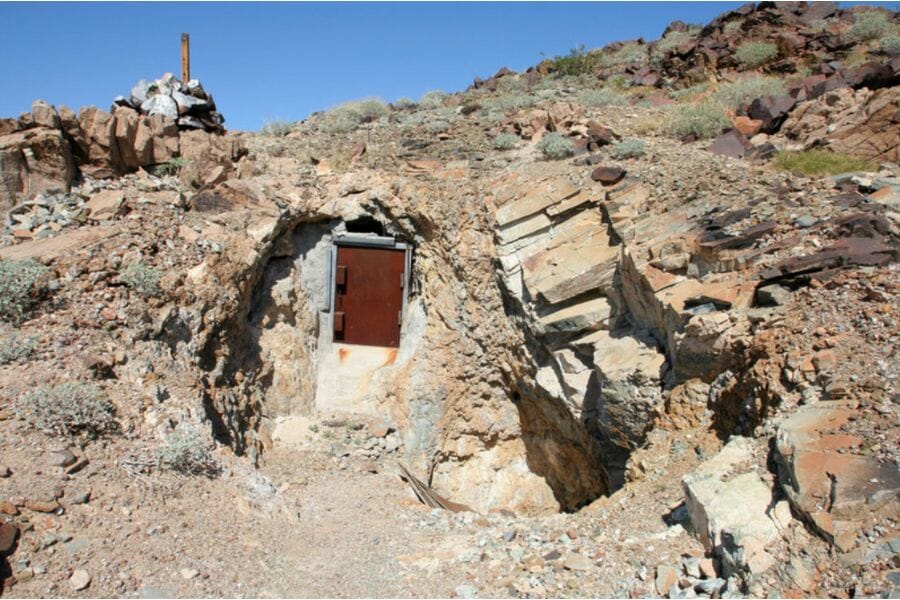 Storm Jade Mine is a captivating destination for rockhounding enthusiasts and jade aficionados. Steeped in history, this location has been a source of prized jade for over a century. With its picturesque landscapes and the allure of discovering this beautiful gemstone, the Storm Jade Mine is an ideal place to embark on an exciting rock-hounding adventure.
The history of the Storm Jade Mine dates back to the early 1900s when the discovery of jade in the area drew attention from miners and collectors. The mine has seen periods of intense activity as jade enthusiasts sought to uncover valuable specimens.
What you can find there
In addition to jade, there is a possibility of finding other minerals and rocks while rockhounding in the vicinity. These minerals include agate, quartz, serpentine, and vesuvianite.
Our Other Favorite Spots Around California
California is home to many magnificent and uncommon rocks and minerals. You can explore both our favorite options listed above and our other suggestions below.
Rockhounding sites in Northern California
Northern California is a haven for rockhounds, offering a diverse and rich landscape with abundant opportunities for exciting discoveries. From its rugged coastlines to majestic mountain ranges, this region is known for its geological diversity and wealth of minerals.
Some of the more notable specimens found in this region include jade, serpentine, agates, jasper, quartz, obsidian, and gold.
| | |
| --- | --- |
| Location | Minerals & Rocks |
| Thompson's Flat | Diamond |
| Feather River | Californite, Grossular Garnet, Serpentine |
| Sawmill Peak | Quartz |
| Manzanita Mine | Calcite, Cinnabar, Chalcopyrite |
| Stonyford Creek | Jade, Jasper, Serpentine |
| Woods Mine | Rhodochrosite |
| St. Patrick Point | Agate, Jasper |
| Willow Creek | Jade |
| Leach Lake | Jadeite |
| Pine Creek | Agate, Chalcedony, Jasper |
| Agate Flat | Agate, Bloodstone, Jasper |
| Trinity River | Chalcedony, Jasper, Nephrite Jade, Serpentine |
Rockhounding sites in North Central California
Northern Central California is a beautiful region with immense appeal for rock-hounding enthusiasts. With its diverse geology and varied landscapes, it offers an ideal destination for those passionate about discovering unique rocks and minerals. This area is renowned for its ancient volcanic activity, resulting in an array of fascinating geological formations and intriguing specimens.
| | |
| --- | --- |
| Location | Minerals & Rocks |
| Jackson Gulch and Rancheria | Amethyst, Diamond, Rose Quartz |
| Hughes Mine | Azurite, Malachite |
| Mokelumne River | Epidote |
| Hooten Ranch | Agate, Opal |
| Foothill Copper Belt | Azurite |
| Traverse Creek | Californite, Garnet |
| Pilot Hill | Agate |
| Sailor Flat | Agate, Chalcedony, Jasper, Opal |
| Shady Run | Garnet, Serpentine |
| Pocahontas Mine | Malachite, Rhodonite |
Rockhounding sites in Southern California
Southern California is a remarkable destination for rockhounding enthusiasts, offering a diverse and captivating landscape with many exploration and discovery opportunities. From its stunning coastline to its desert regions, this area boasts a rich geological history and an abundance of unique rocks and minerals.
| | |
| --- | --- |
| Location | Minerals & Rocks |
| Redondo Beach | Moonstone |
| Tourmaline Queen Mountain | Apatite, Aquamarine, Beryl, Kunzite, Lepidolite, Morganite, Quartz, Rose Quartz, Tourmaline |
| Hatfield Creek | Beryl, Smoky Quartz, Topaz, Tourmaline |
Rockhounding sites in Central California
With its diverse landscapes ranging from majestic mountains to scenic coastlines, Central California showcases various geological formations, rocks, and minerals. Rockhounds exploring this region can find treasures such as serpentine, jasper, agate, quartz, garnets, and petrified wood. The region's volcanic history has also gifted it with intriguing specimens like obsidian.
| | |
| --- | --- |
| Location | Minerals & Rocks |
| Grub Bulch | Epidote |
| Watts Creek | Californite, Garnet, Serpentine |
| Castle Butte | Agate, Chalcedony, Jasper |
| Gem Hill | Agate, Chalcedony, Jasper |
| Cache Creek Canyon | Agate, Chalcedony, Jasper |
| Ritter Range | Lazulite |
| Shadow Creek Canyon | Rhodonite |
| David Gulch | Jade |
| Lime Kiln Creek | Epidote, Quartz, Rhodonite |
| Santa Rite Peak | Garnet, Jadeite, Prehnite, Serpentine |
| Slickrock Canyon | Epidote, Garnet, Quartz |
Rockhounding sites in Bay Area California
The Bay Area in California offers a fascinating playground for rockhounds, combining natural beauty with a diverse geological landscape. This region is renowned for its unique combination of coastal environments, rolling hills, and nearby mountain ranges, providing a rich assortment of rocks and minerals waiting to be discovered.
Rockhounds exploring the Bay Area can encounter a variety of exciting specimens such as chert, jade, serpentine, fossils, and agates. The area's geological history, including tectonic activity and sedimentary deposits, has resulted in stunning rock formations and mineral deposits.
| | |
| --- | --- |
| Location | Minerals & Rocks |
| Berkeley Hills | Chalcedony |
| Mt. Diable | Cinnabar |
| Copper Prince Mine | Azurite, Malachite |
Rockhounding sites in Inland Desert California
Inland Desert, California presents a captivating landscape for rockhounding enthusiasts, with its arid and rugged terrain offering a unique and rewarding experience. This region, characterized by vast expanses of desert and striking rock formations, holds a wealth of geological wonders waiting to be explored.
| | |
| --- | --- |
| Location | Minerals & Rocks |
| Chocolate Mountains | Opal, Turquoise |
| Hauser Geode Beds | Agates, Geodes, Jasper |
| Palo Verde Pass | Agate, Carnelian, Jasper |
| Last Chance Range | Turquoise |
| San Carlos Mine | Datolite, Garnet, Lapis Lazuli, Opal |
| Black Mountains | Azurite |
| Cahuilla Mt. | Aquamarine, Beryl, Morganite |
| Blue Bell Mine | Chrysocolla, Malachite |
| Kramer Hills | Agate, Chalcedony, Jasper |
| Pisgah Crater | Agates, Chalcedony, Jasper, Obsidian |
Public Rockhounding Options For Kids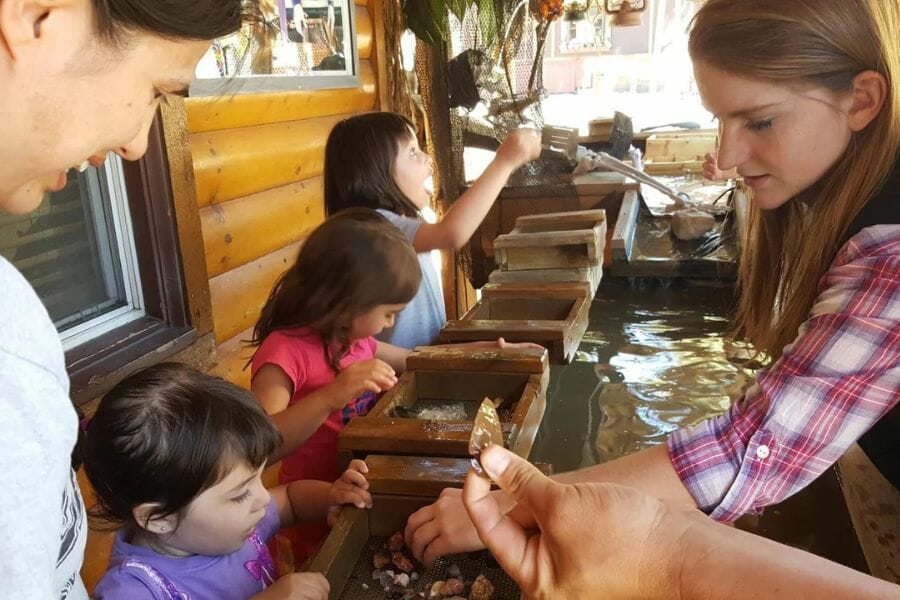 While some rockhounding spots can be challenging for kids due to rugged terrain or remote locations, there are also family-friendly locations that provide a great introduction to the hobby. These family-friendly spots offer easier access, shorter hikes, and a higher chance of finding interesting rocks and minerals.
They can be an excellent way to engage kids in the joys of rockhounding, sparking their curiosity and fostering a lifelong interest in geology and the natural world.
California Rockhounding Clubs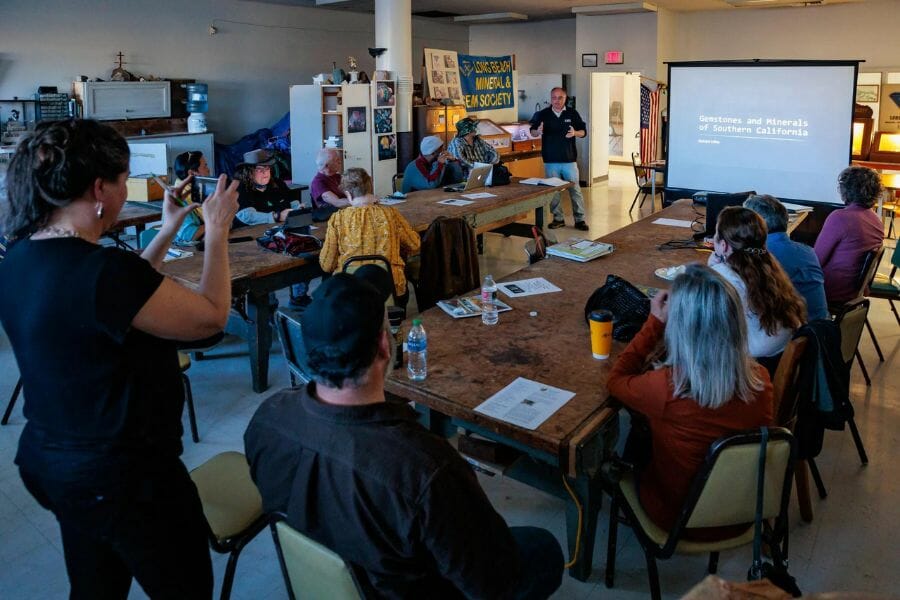 Rockhounding clubs provide both beginners and experienced collectors invaluable opportunities to enhance their rockhounding experiences. For newbies, joining a rockhounding club offers access to a wealth of knowledge and expertise shared by experienced members passionate about the hobby.
It's a supportive environment where beginners can learn about identifying rocks and minerals, discover new collecting sites, and receive guidance on proper techniques. Even for experienced collectors, rockhounding clubs provide a platform for networking, exchanging information, and participating in group outings and field trips to new and exciting locations.
Rockhounding clubs in California worth checking out
California Rockhounding Laws And Regulations
Rockhounding and collecting are legal activities in California, allowing enthusiasts to explore and collect rocks, minerals, and fossils. However, it's crucial to adhere to all local and state laws and regulations governing the collection of natural resources. Each county or area may have specific collection rules and restrictions, such as limitations on certain areas, permits, or seasonal restrictions.
Rockhounding enthusiasts are responsible for familiarizing themselves with these regulations by the California Department of Parks and Recreations and ensuring compliance to protect the environment and preserve natural resources for future generations.
Respecting the rules helps preserve the environment and ensures the long-term availability of collecting sites for everyone to enjoy. It's advisable to consult local land management agencies, park authorities, or rockhounding clubs to obtain accurate information about any permits required, specific collecting guidelines, and areas where collecting is prohibited.
Our Favorite Rock And Mineral Shops In California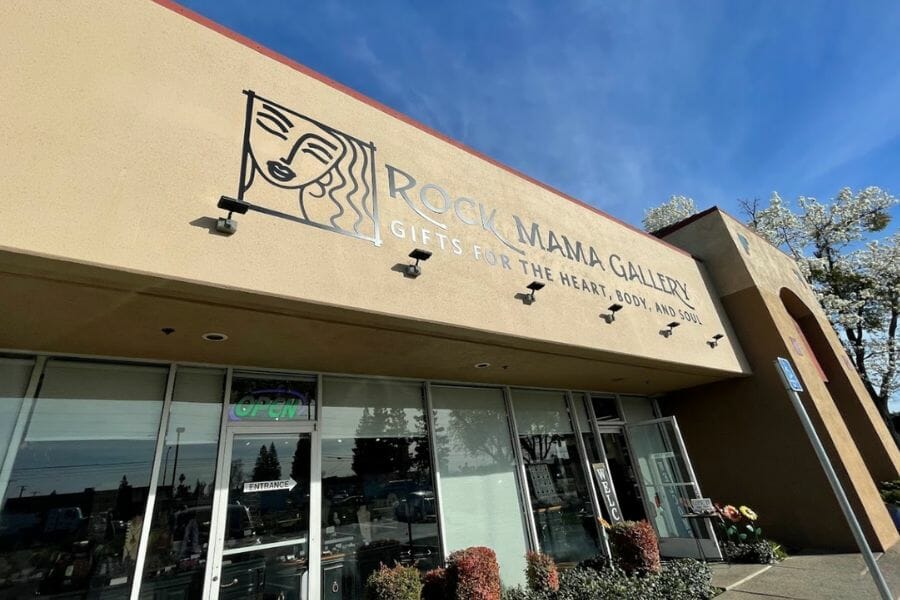 While some rockhounding enthusiasts thrive on the thrill of searching for rocks and minerals in the wild, it's essential to acknowledge that this approach may not suit everyone's preferences or circumstances.
Ultimately, the joy of rockhounding can be embraced in various ways, whether through hands-on collecting or sourcing unique specimens to expand one's collection and appreciation of the Earth's treasures. Here are some of our favorite rock shops in California:
Additional places to rockhound in nearby states
If you've already tried all of our recommendations above or are planning a trip out of the state you should check out our guides for neighboring states:
If you have any recommendations we haven't covered please leave them in the comments below!