North Carolina is one of the best places in the country if you're searching for gems. Gem mining is a popular activity for all ages, and you'll find some of the best spot to find what you're looking for here.
From the Smoky Mountains to the Outer Banks, there's no shortage of places to get your hands on some beautiful examples. Whether you're a first-timer or a seasoned gem hunter, you're sure to find a spot that's perfect for you. So, grab your gear, your friends, and family, and get ready for some gem mining fun!
The best places to mine gems here are in its rich mines and mine dumps, along rivers and creeks, in pay-to-dig mines, and in its luscious mountains and hills. Some of the best places in this area are the Gem Mountain, Sheffield Gem Mine, Rose Creek Mine, Thermal City Mine, and Emerald Hollow Mine that we will cover in more depth below.
How We Picked The Best Places For Gem Mining in North Carolina
In order to find the absolute best places in North Carolina for gem mining, we had to consider a lot of things. It can be really tough to find good information, so it took us a long time to put together a solid list like the one below. The main inputs to our recommendations are as follows:
The extensive local experience and understanding of our team
Input from several gem hunting groups and organizations
The accessibility of the mining locations
Safety and potential hazards when collecting
Private and public locations
A desire to include locations for both experienced gem hunters and those who are just starting out
Overall, we've been able to put together a great list that anyone can use to locate a lot of beautiful gems.

The Gemstones Found In North Carolina You Can Mine
North Carolina is fortunate to possess some incredible gemstones! We created several guides to help you discover gem mines near you, since we understand that every state is blessed differently from one another and not everyone has access to this knowledge. By having the right information and a bit of luck, you can find both rare and more common gems here.
Rare gemstone found in North Carolina
Emerald
Garnet
Ruby
Sapphire
More common gemstones found here
Agate
Amethyst
Apatite
Aquamarine
Azurite
Barite
Beryl
Calcite
Carnelian
Cerussite
Chalcedony
Chrysoprase
Citrine
Corundum
Cuprite
Diamond
Dolomite
Epidote
Feldspar
Fluorite
Jasper
Kyanite
Labradorite
Malachite
Monazite
Moonstone
Opal
Pyrophyllite
Quartz
Rhodochrosite
Rutile
Scheelite
Serpentine
Siderite
Sillimanite
Sphalerite
Spodumene
Staurolite
Talc
Topaz
Tourmaline
Our Favorite Places For Gem Mining In North Carolina
We prepared a list of our favorite places for gem hunting, for both adults and kids, because we truly belive this is an activity for everybody. In these places, adults can experience real gem mining. We also made sure to cover our recommendations of the best places for kids to discover and experience searching for gems.
Always Confirm Access and Collection Rules!
Before heading out to any of the locations on our list you need to confirm access requirements and collection rules for both public and private locations.
These requirements are subject to change without notice and may differ from what we state below.
Always get updated information directly from the source ahead of time to ensure responsible rockhounding.
385 Sheffield Farms Rd. Franklin, NC 28734
Sheffield Gem Mine, located in Spruce Pine, has been a popular tourist destination since the 1930s. It offers visitors a chance to experience the thrill of finding their own gems right from the source. You can purchase buckets of gravel that contain a variety of gems which can be taken home to be cut and polished. Sheffield Mine also offers guided tours and educational programs that will teach you about the history of gem mining and give you geological information about different types of gemstones.
The Types of Gems Found In The Sheffield Gem Mine
This location is known for its wide range of gemstones, but it is most known for having the following for those seeking out real gem mining experience:
The Best Time To Visit Sheffield Gem Mine
The best time to visit Sheffield Gem Mine is during the spring and early summer months, from late April to early June. While the summer months can be too hot and humid for comfortable gem mining, the weather during spring and early summer months is mild and the ground is dry, making it easier to find what you're looking for.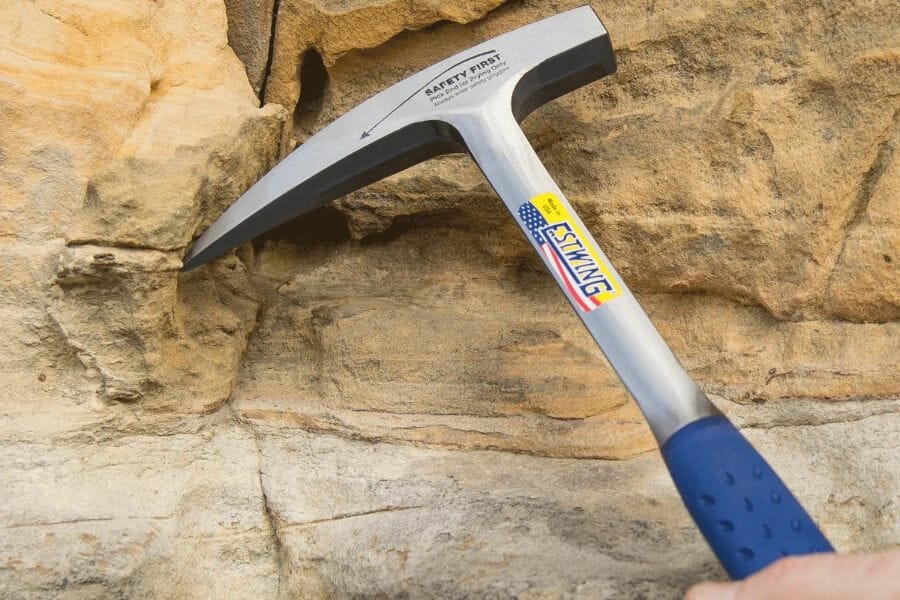 The tools every gem hunter will need
When you're out looking for gems it's very important that you bring the right tools with you. You don't need a lot for most trips but there are a handful that are critical and will make your life a lot easier.
We get asked a lot about the equipment we use. Over the years we've found a handful of tools that we recommend to both new and experienced gem miners which we outline in great detail in our complete rockhounding tools guide. These are quality options that also happen to be relatively inexpensive.
Below are the basic tools that make your life so much easier and save you a ton of time. Check out the full guide to see everything we recommend bringing. At a minimum you should have:
1 - Sturdy rock hammer: The Estwing Rock Pick is our standard
2 - Rugged chisels: Try Kendo' 3-piece Chisel Set
3 - Compact shovel: The Koleiya 28-inch shovel works well
4 - Rock screen pan: The Wazakura Soil Sieve Set fits the bill
5 - Eye protection: DeWalt Safety Glasses are cheap and comfortable
6 - Head protection: Malta's Safety Helmet has been our go-to
7 - Jewelers lens with at least 20x magnification: Jarlink's Jewelers Loop is perfect
The gem-finding books that we use most
There are also a few books that have been extremely helpful in the search for gems. These books have great recommendations and tips:
National Audubon Society Field Guide to Rocks and Minerals: North America 
Southeast Treasure Hunter's Gem & Mineral Guide 
Earth Treasures: The Southeastern Quadrant 
We provide links to find these tools on Amazon but some can also be found at your local hardware stores. For more recommendations check out the link to our full tool guide above.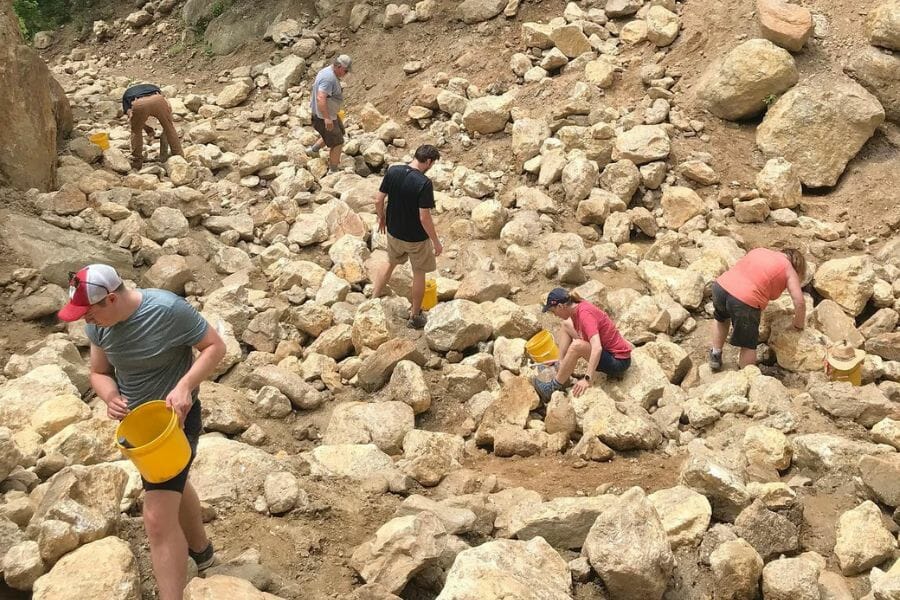 13780 Highway 226 Spruce Pine, NC 28777
Gem Mountain Gemstone Mine, a tourist attraction located in the mountains of Spruce Pine, offers the chance to dig from a real gemstone mine. It offers a variety of activities including sluicing, mining for gems, and panning for gold. You can also purchase buckets filled with dirt from various locations around the mine and then sift through it to find gemstones. The place also offers educational tours, where you can learn about geology and mining techniques.
The Types of Gems Found In The Gem Mountain Gemstone Mine
While doing mine trips in this location, these are the wide range of gemstones that you can find:
Amethyst
Aquamarine
Citrine
Emerald
Garnet
Moonstone
Ruby
Sapphire
The Best Time To Visit Gem Mountain Gemstone Mine
The best time to visit Gem Mountain Gemstone Mine is April through October. The mine is open year round, but the most productive months are April through October when the weather is mild and the water levels are low.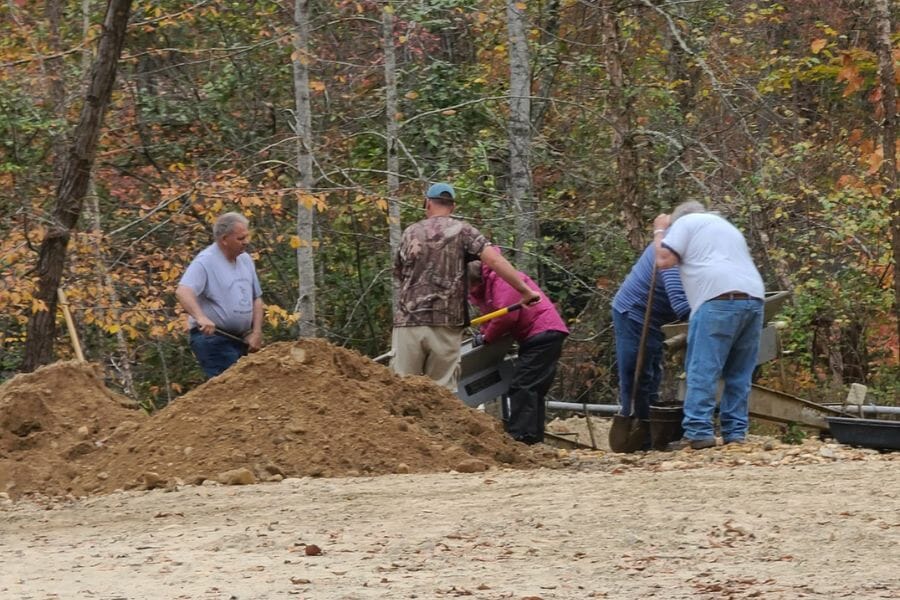 5240 US 221 North Highway, Union Mills, NC 28167
Thermal City Gold Mine, located about 50 miles west of Asheville, is the largest gold mine in the region. It has been in operation since 1933 and remains open to this day as one of the state's premier tourist attractions for those interested in gem mining or exploring its storied past. The mine offers a variety of gem mining experiences, where you can pan for gold and gems, explore an underground mine tunnel, or take a guided tour of the property.
The Types of Gems Found In The Thermal City Gold Mine
Aside from Gold, the following gemstones, both rare and more common ones, can be found abundantly here:
Citrine
Emerald
Moonstone
Rose Quartz
Ruby
Smoky Quartz
Tourmaline
The Best Time To Visit Thermal City Gold Mine
The best time to visit Thermal City Gold Mine is during the summer months of June, July and August. The weather is warmer and the days are longer, providing more opportunity for outdoor activities such as gem mining. The mine opens from April through October each year, but the summer months are ideal for gem mining due to the warmer temperatures.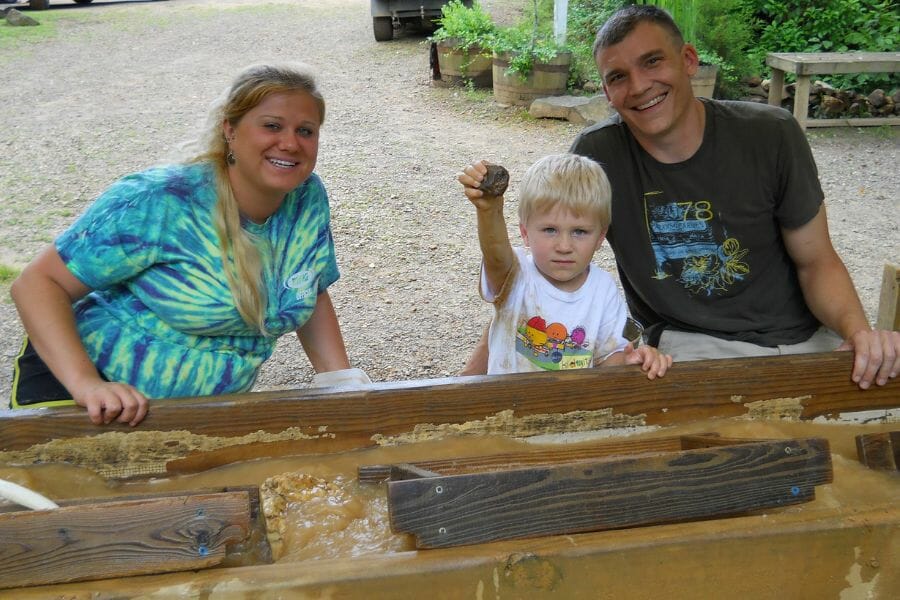 115 Terrace Ridge Drive Franklin, NC 28734
Rose Creek Mine is one of the oldest established mining operations in the state, having been in operation since 1889. You can purchase buckets of dirt that contain a variety of gems that you can search for and collect. The mine also offers classes on gem identification and cutting, as well as guided tours of the mine itself. The facility also sells jewelry made from the gems at the mine.
The Types of Gems Found In The Rose Creek Mine
This location is a great place for kids to experience searching for different varieties of gemstones. The following are some of them:
Amethyst
Citrine
Garnet
Moonstone
Rose Quartz
Ruby
Sapphire
Smoky Quartz
Topaz
The Best Time To Visit Rose Creek Mine
The best time to visit Rose Creek Mine is during the summer months, when the weather is warm and the days are long. The mine is open from April through October, with peak season in July and August. During these months, the creek is running at its fullest and there are plenty of gems to be found.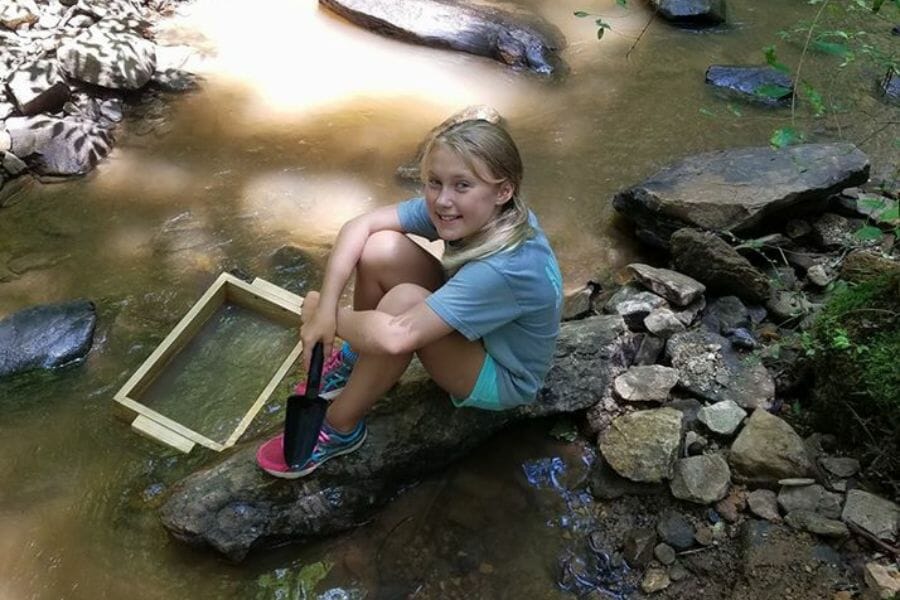 484 Emerald Hollow Mine Dr. Hiddenite, NC 28636
Emerald Hollow Mine was discovered in the late 1800s and has been a popular tourist attraction since then. It offers a hands-on experience with gem mining that is educational and fun for all ages. You can learn about gem formation and identification, screen your finds in sluice boxes, and take home any gems you find. The mine also offers special events, where you can learn more about geology and gemstones while having a great time.
The Types of Gems Found In The Emerald Hollow Mine
This place features different kinds of gems for kids to discover. The following are some of the rare and more common gems in this area:
Amethyst
Aquamarine
Citrine
Emerald
Garnet
Rutile
Sapphire
Topaz
Tourmaline
The Best Time To Visit Emerald Hollow Mine
The best time to visit Emerald Hollow Mine is during the summer months of June, July, and August. The weather is warm and the days are long, so you can maximize your time at the mine. If you are able to visit during the week instead of on weekends, you may have a more enjoyable experience as there are fewer crowds.
Other Great Options For Real Gem Mining in North Carolina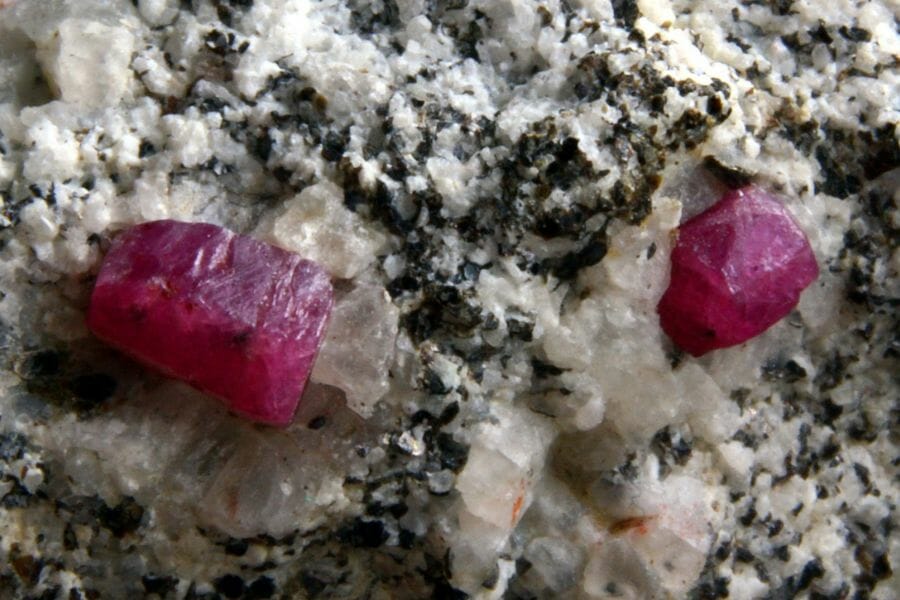 The state boasts of a vast number of different other places great for mining aside from the favorite places that we shared above. We have listed below some other great places for adults to experience real gem mining.
Cowee Mountain Ruby Mine – Amethyst, Emerald, Garnet, Rose Quartz, Ruby, Sapphire, Smokey, Topaz
Cherokee Ruby and Sapphire Mine – Kyanite, Moonstone, Pyrope Garnet, Rhodolite Garnet, Ruby, Rutile, Sapphire, Sillimanite
Crowders Mountain – Kyanite, Rutile, Topaz
Chunky Gal Mountain Mine – Corundum, Ruby
Lost River Gold – Feldspar, Garnet, Ruby, Sapphire, Smoky-Quartz, Topaz
Little Pine Garnet Mine – Garnet, Quartz
Ray Mica Mine – Apatite, Beryl, Black Garnet, Fluorite, Quartz, Tourmaline
Mason Farm Staurolite Prospect – Staurolite
Reed Gold Mine – Azurite, Malachite, Quartz, Sphalerite, Siderite, Cuprite, Malachite, Barite
The Reel Mine – Amethyst
Bowling's Mountain Mine – Pyrophyllite
Crabtree Emerald Mine – Emerald
Corundum Hill – Corundum, Ruby, Sapphire
Neuse River – Amethyst
Poplar Springs – Quartz, Rutile
Hyatt Creek – Garnet, Staurolite
Vengeance Creek – Calcite, Garnet, Quartz, Staurolite
South Mountains – Aquamarine, Beryl, Feldspar, Quartz
Pee Dee River – Chalcedony, Jasper
Cape Fear River – Agate, Chalcedony, Jasper, Opal
The Top Public Gem Mining Locations in North Carolina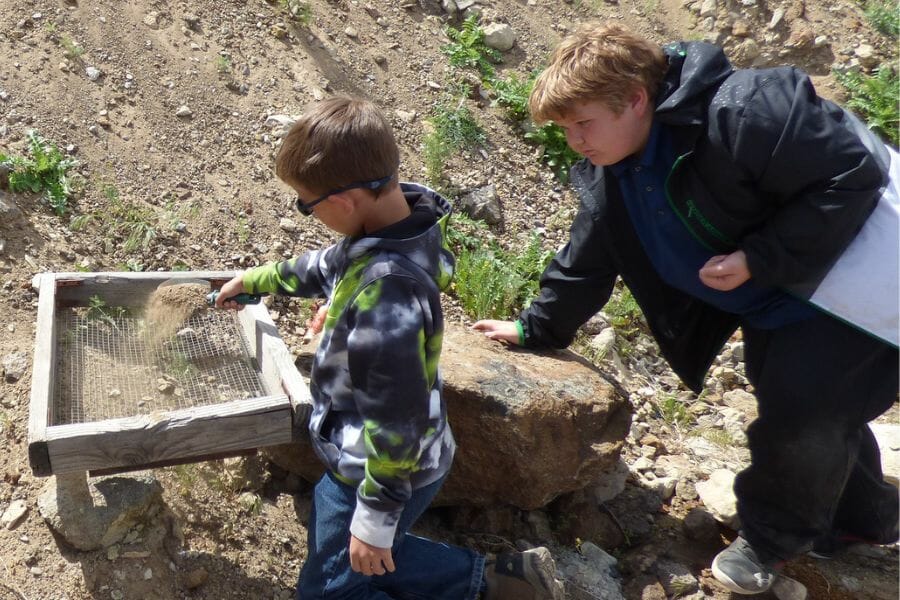 Here are also our other great recommendations for families who are looking to expose their children to the hobby of gem mining.
North Carolina Gem Mining Laws And Regulations
In North Carolina, recreational gem hunting is regulated by the North Carolina Department of Environmental Quality (DEQ). You must obtain a Recreational Mining Permit before you can begin collecting. The permit allows you to search for gems on public lands owned or managed by the state. It also allows you to take home up to 25 pounds of material per year. However, the permit does not allow you to use any type of mechanized equipment, such as a motorized vehicle or dredge, nor does it allow you to disturb any archaeological sites or other protected areas. It also prohibits you from entering private lands without permission from the landowner.
You should be aware that certain areas within a state park may be off limits to gem hunting. Additionally, some parks may require permits for certain activities such as panning for gold and collecting gems. Always check with park staff before beginning your gem hunting adventure.
For more information on the state's gem mining laws and regulations, visit the North Carolina Department of Environmental Quality link above.
Additional places to mine for gems in nearby states
If you've already visited every spot we've mentioned above, see our list of suggested areas to mine gems in the nearby states below if you're planning to travel there as well:
If you have any recommendations we haven't covered, please leave them in the comments below!