Crystals are exquisite creations of nature formed over millions of years. For those who love crystal hunting like we do, there is an unmatchable thrill in finding these precious gems hidden deep within the earth.
Maryland is home to some of the most beautiful crystals in the world, but without the right guidance, it can be challenging to find them. Through our personal experience as well as the recommendations of other seasoned collectors and enthusiasts, we curated a list of the most fruitful sites to find crystals in Maryland top billed by Bare Hills Historic District, Magothy River, Sullivans Cove, Soldier's Delight Natural Environment Area, and Funks Pond Recreational Area. Let the fun begin!
How We Picked The Best Places To Find Crystals in Maryland
We spent a lot of time determining which of the many options for digging and mining for crystals that we have available would be recommended. We wanted to have a good mix of locations for experienced and novice crystals hunters in a variety of settings. Here are the main factors we used when determining the recommendations we set out :
The extensive local experience and understanding of our team
Input from multiple local crystal hunters and crystal collecting groups
The accessibility of the crystal mining locations
Safety and potential hazards when collecting
Private and public locations
A desire to include locations for both experienced crystal hunters and those who are just starting out
Using these weights we think we've put together the best list out there for those who love finding new crystals for our collections!

The Types of Maryland Crystals You Can Find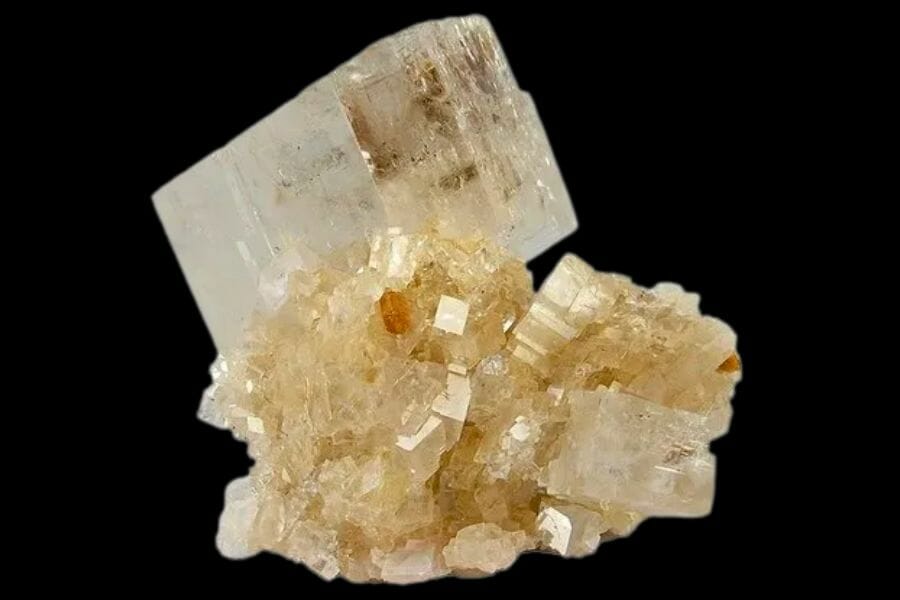 Maryland is rich in rock formations that have produced a wide range of crystals with beauty that is truly undeniable. From the rolling hills of the Piedmont to the rugged terrain of the Appalachians, our state is a treasure trove of varied kinds of crystals waiting to be discovered. Here's a list of what you might find here:
Rare crystals found in Maryland
Amber
Amethyst
Aquamarine
Magnesite
Serpentine
Tremolite
More common crystals found here
Agate (moss)
Apatite
Azurite
Calcite
Chrysocolla
Copper
Covellite
Epidote
Fluorite
Garnet
Hematite
Jasper
Malachite
Onyx
Pyrite
Quartz
Rutile
Tourmaline
The Best Locations For Crystal Mining in Maryland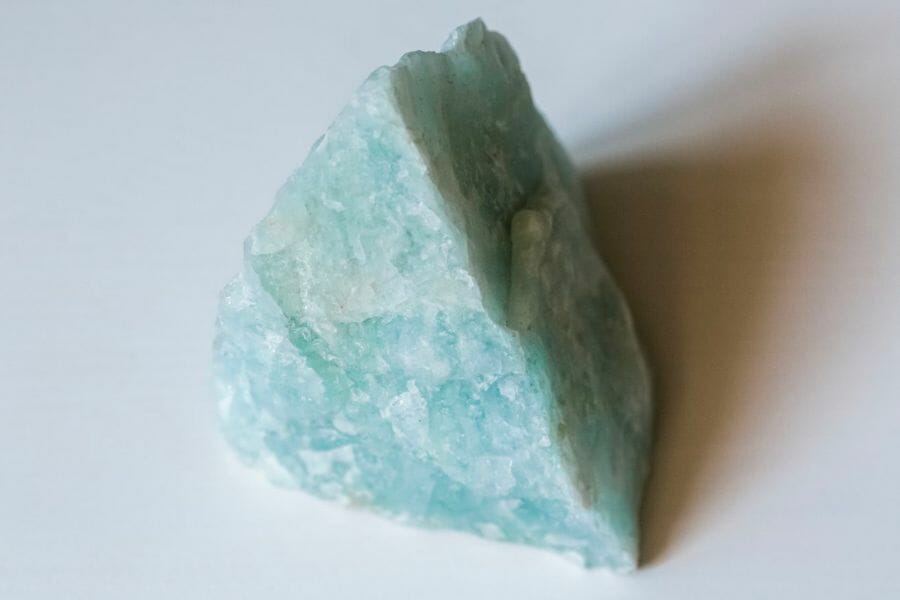 Here are THE BEST locations where you can find Maryland crystals. We had the best success exploring these places and we hope you will, too!
Always Confirm Access and Collection Rules!
Before heading out to any of the locations on our list you need to confirm access requirements and collection rules for both public and private locations.
These requirements are subject to change without notice and may differ from what we state below.
Always get updated information directly from the source ahead of time to ensure responsible rockhounding.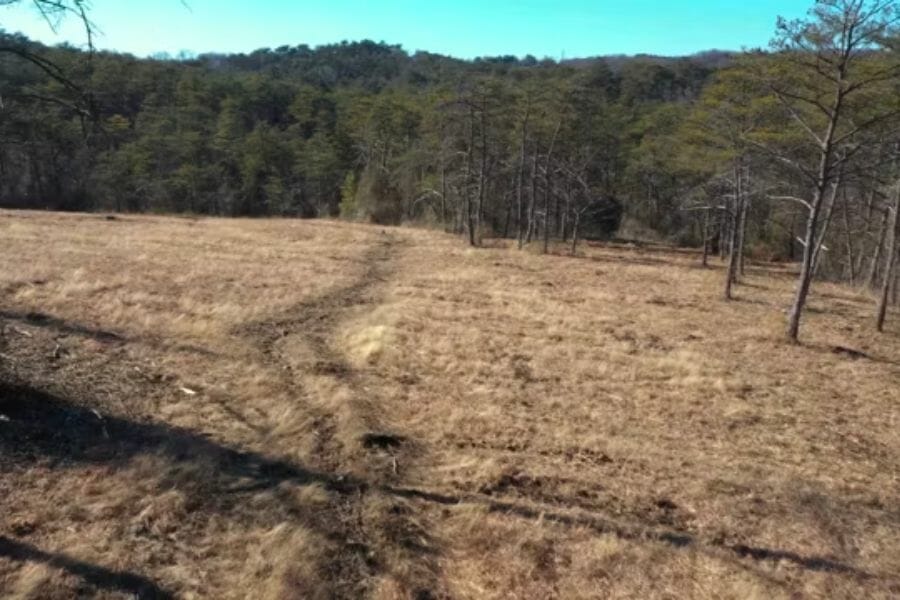 Towson, MD 21209
Located in Baltimore County, Bare Hills Historic District has a rich history and an abundance of crystals just waiting to be discovered. It's even a great place to mine gems in Maryland!
The history of this place dates back to the 17th century when English settlers arrived in the region. Its name comes from the bare, treeless hills that were a result of farming and logging practices (refer to the picture). Over time, the hills have become overgrown, but the name has stuck.
From a geological perspective, the Bare Hills area is part of the Piedmont Plateau, a region known for its rocky terrain and diverse mineral deposits. The area is comprised of Precambrian gneiss and granite, which have created ideal conditions for crystal formation. That's why it's our top recommended crystal hunting place here!
Where we found crystals at Bare Hills Historic District
You will have the best chance to find crystals like Moss Agate, Epidote, Garnet, Malachite, Pyrite, Quartz, Serpentine, and Tremolite in the metropolitan district of Bare Hills Historic District.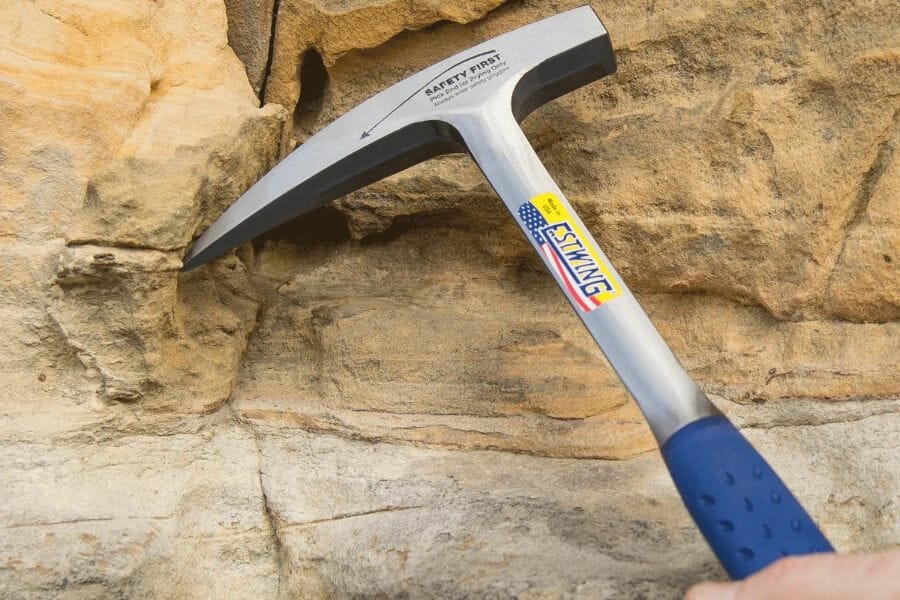 The tools every crystal hunter will need
When you're out looking for crystals having the right tools for the job is very important. You don't need a lot for most trips but there are a handful that are critical and will make your life a lot easier.
We get asked a lot about the equipment we use. Over the years we've found a handful of tools that we recommend to both new and experienced crystal miners which we outline in great detail in our complete rockhounding supplies guide. These are quality options that also happen to be relatively inexpensive.
Below are the basic tools that make your life so much easier and save you a ton of time. Check out the full guide to see everything we recommend bringing. One quick note, as an Amazon Associate I earn from qualifying purchases but we try very hard to only recommend gear we would use ourselves and often recommend brands you can't find on Amazon.
At a minimum you should have:
1 - Sturdy rock hammer: The Estwing Rock Pick is our standard
2 - Rugged chisels: Try Kendo' 3-piece Chisel Set
3 - Compact shovel: The Koleiya 28-inch shovel works well
4 - Rock screen pan: The Wazakura Soil Sieve Set fits the bill
5 - Eye protection: DeWalt Safety Glasses are cheap and comfortable
6 - Head protection: Malta's Safety Helmet has been our go-to
7 - Jewelers lens with at least 20x magnification: Jarlink's Jewelers Loop is perfect
The crystal-finding books that we use most
There are also a few books that have been extremely helpful in the search for gems. These books have great recommendations and tips:
National Audubon Society Field Guide to Rocks and Minerals: North America 
Northeast Treasure Hunter's Gem & Mineral Guide 
Earth Treasures: The Northeastern Quadrant 
We provide links to find these tools on Amazon but some can also be found at your local hardware stores. For more recommendations check out the link to our full tool guide above.
Anne Arundel County, MD
Magothy River has a rich history and diverse geology, making it a prime spot for crystal hunting. For background, the river is named after the Native American tribe that once inhabited the region. It has played an important role in the history of our state, serving as a major transportation route for goods and people.
The Magothy River area is part of the Coastal Plain region, that's why it's made up of sedimentary rocks that have been formed over millions of years through the deposition of sand, silt, and other materials. The river's flow has eroded the surrounding rocks over time, exposing various minerals and crystals.
To find crystals in Magothy River, make sure to obtain necessary permits and to bring appropriate tools for digging, such as a rock hammer, chisel, and gloves.
Where we found crystals at the Magothy River
We had the best of time exploring the area exposures of the Magothy River to find Pyrite and other crystals here. Before you go here, you might ask, "how much do crystals cost?" Read up on it in our article.
552 Ritchie Hwy, Severna Park, MD 21146
Sullivans Cove, located in Calvert County, is home to some truly unique and beautiful crystal specimens. It was used in the 17th century as a port for shipping tobacco.
Sullivans Cove is part of the Chesapeake Bay impact crater, which was formed over 35 million years ago when a meteorite struck the earth. This impact created a unique geological environment that has given rise to a variety of interesting minerals and crystals.
To visit, you can access the cove by boat or kayak, or you can hike in through nearby trails. Though it might sound a lot of work to get here, one thing's for sure: once you arrive, you'll have a blast finding crystals!
Where we found crystals at Sullivans Cove
If you explore the lignite seams along the Severn River, especially at Sullivans Cove, you will find bountiful reserves of Amber crystals.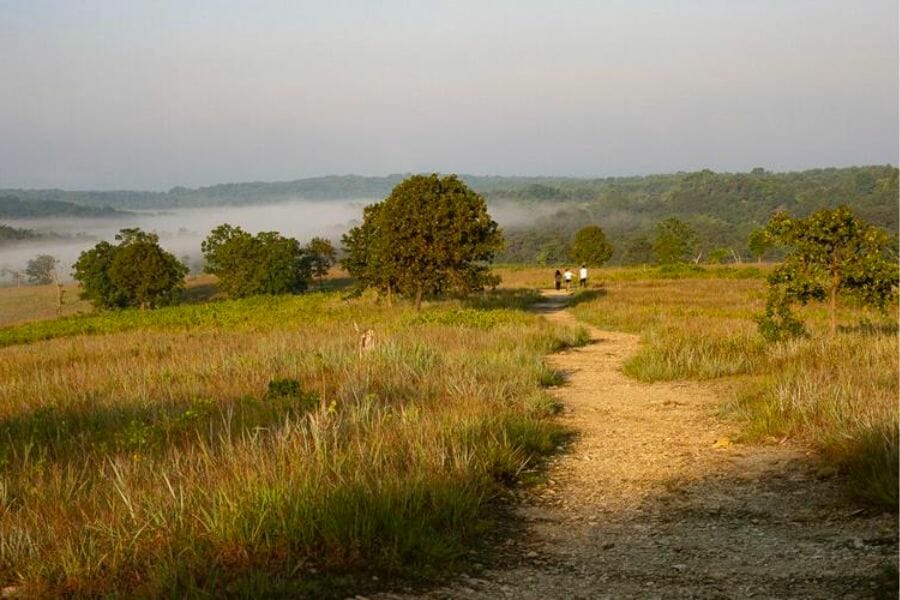 5100 Deer Park Rd, Owings Mills, MD 21117
To find Maryland crystals, look no further than Soldier's Delight Natural Environment Area. This place was once mined for chromite, a mineral used in the production of stainless steel. While the mining operation is no longer active, the abandoned mine pits and tunnels offer a unique opportunity for rockhounds to explore and discover a variety of crystals.
Soldier's Delight is part of the Piedmont Plateau, an area known for its complex and diverse geology. The rocks in this area date back to the Precambrian era, and have been subjected to intense heat and pressure over millions of years. This has resulted in the formation of a variety of crystals.
To get to Soldier's Delight, head to Owings Mills in Baltimore County. The natural environment area is open to the public for hiking, birdwatching, and, of course, rockhounding.
Where we found crystals at Soldier's Delight Natural Environment Area
We suggest exploring the old chrome mines in Soldier's Delight Natural Environment Area to find different kinds of crystals, especially Magnesite and Quartz.
Funks Pond Recreational Area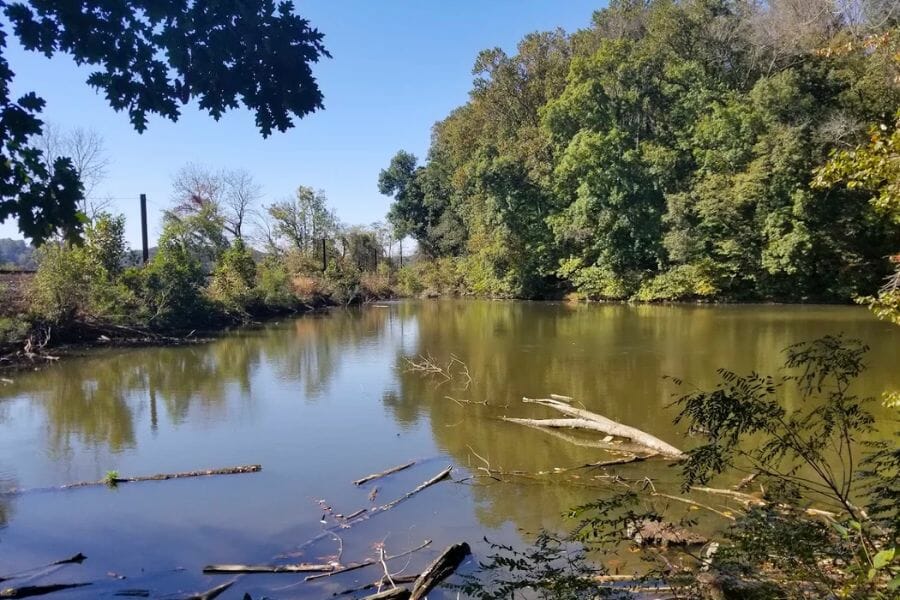 Conowingo, MD 21918
Funks Pond Recreational Area was originally a quarry that was used to mine gneiss, a type of metamorphic rock commonly used for building materials. Today, it is a recreational park that offers a range of outdoor activities, including hiking, fishing, and even rockhounding.
The area is located in the Piedmont Plateau region, which is known for its complex geology and diverse range of minerals. The rocks in this area are part of the Baltimore Gneiss Formation, which is a type of metamorphic rock formed from ancient sediments that have been subjected to intense heat and pressure over millions of years.
Getting to Funks Pond is easy. Located just south of Interstate 70 in Frederick County, the recreational area is open to the public year-round, so you have plenty of time to plan your visit.
Where we found crystals at Funks Pond Recreational Area
The gravels, tailings, and pits of Funks Pond Recreational Area contains some of the most magnificent samples of Magnesite and Serpentine crystals.
Our Other Favorite Places For Crystal Hunting
We had quite a difficult time selecting the top 5 places that we already shared with you here, because there are plenty other great crystal hunting sites in our state. Maryland may be small, but it's packed with these natural wonders! You can even find amazing Maryland geodes in some of these areas:
Where you can find crystals for free in Maryland
Firstly, we're sharing the free-to-search places here, where you don't have to spend anything to find and dig for crystals.
| | |
| --- | --- |
| County | Location |
| Allegany | Old mining town of Roberts and on west side of Wills Mountain |
| Anne Arundel | Area of North Ferry Point, in river bank lignite seams |
| Baltimore | At the Bare Hills in metropolitan district |
| Cecil | Abandoned State Line Pits |
| Harford | At the area quarries of Cambria, Broad Cheek, Cardiff, and Deer Creek |
| Howard | Exposures of Bear Island in the Potomac Gorge |
| Montgomery | Area quarries of Hunting Hill |
| St. Mary's | Point Lookout area |
| Washington | At the Cavetown Quarry |
Other great places to dig for crystals
As you may be aware, some of the best places to find crystals require a certain fee. If you're open to it, here's a list of some of them. Take note, the fees may change (or even be waived) depending on the season, so reach out to the place before heading out.
| | |
| --- | --- |
| County | Location |
| Baltimore | Area quarries or mines in pegmatites |
| Carroll | At the Springfield Mine in Sykesville area |
| Frederick | At the Mountain View Lead Mine, Repp Mine, Dolly Hyde Mine, and Liberty Mine |
| Howard | At the Day Mine, old Maryland Mica Mine, and on the Arrington property at Maryland Mine |
| Prince Georges | Beltsville area iron mines |
How to find crystals in Maryland
Many of the places we shared here cover fairly large areas, so to help you focus your efforts, here are some of the usual places that bear the best and most number of crystals in a location. We highly recommend exploring them when you get here!
Streams and Creeks
Streams and creeks are naturally occurring waterways that run through the land, creating a path for minerals to travel. As the water flows over rocks and sediment, it exposes new crystals and moves them downstream, where they can be found by intrepid rock collectors like us.
Mines and Mine Dumps
If you're looking for an exciting way to find crystals, you might want to consider exploring mines and mine dumps. These abandoned mines and piles of excavated rock can yield some incredible specimens that you won't find anywhere else. Since mines and mine dumps are the remnants of the state's rich mining history, they can be filled with all sorts of treasures, from beautiful crystals and gemstones to rare minerals and fossils.
Quarries
Quarries are one of the most exciting places for crystal hunting. A quarry is an open pit mine where stones and minerals are extracted. These mines are rich in minerals and crystals due to the mining activities that take place there. As mining activities create space for rocks to be moved and mined, it's common to find crystals buried within the layers of rock. How cool is that?
Maryland Crystal Mining Laws And Regulations
Crystal mining is legal in Maryland if you just follow the local collecting laws of our state, especially the ones implemented by the Maryland Department of Natural Resources (DNR). As a general rule, you should obtain any necessary permits and permissions from concerned government agencies before proceeding to any exploration or digging efforts for crystals. Also respect and abide by guidelines that help protect the environment and wildlife in our state.
The Best Crystal Shops In Maryland
Who wouldn't love to have all the time— and energy— in the world to search for crystals, right? If you don't have much of these but still want to take home these natural wonder, you can always checkout the local crystal shops in Maryland. Here are some of the best ones we found for you:
Additional places to find crystals in nearby states
If you've already tried all of our recommendations above or are planning a trip out of the state, you should check out our guides for neighboring states:
If you have any recommendations we haven't covered, please leave them in the comments below!