Crystals have fascinated humans for centuries, and finding them is nothing short of exciting and exhilarating. However, not all states have plenty crystal reserves— and Hawaii is one of them. While finding these natural wonders here can prove to be a challenge, it's not impossible with the right guide.
So we scoured our entire state for breathtaking sites to find crystals in Hawaii. Drawing from our own experiences as well as those of other experienced collectors and enthusiasts, we included in this guide a discussion of these places, specifically Manele Bay, Olowalu Valley, West Molokai Volcano, Kilauea, and Pohakea Pass. With our help, your crystal hunting journey will be an experience of a lifetime!
How We Picked The Best Places To Find Crystals in Hawaii
We spent a lot of time determining which of the many options for digging and mining for crystals that we have available would be recommended. We wanted to have a good mix of locations for experienced and novice crystals hunters in a variety of settings. Here are the main factors we used when determining the recommendations we set out :
The extensive local experience and understanding of our team
Input from multiple local crystal hunters and crystal collecting groups
The accessibility of the crystal mining locations
Safety and potential hazards when collecting
Private and public locations
A desire to include locations for both experienced crystal hunters and those who are just starting out
Using these weights we think we've put together the best list out there for those who love finding new crystals for our collections!

The Types of Hawaii Crystals You Can Find
Hawaii is known for its stunning natural beauty, and the crystals found in the state are no exception. Despite its limited crystal resources, there are still a variety of beautiful crystals that can be found. Here are some of them:
Rare crystals found in Hawaii
Labradorite
Peridot
Sunstone
More common crystals found here
Agate (Banded)
Jasper
Obsidian
Quartz
The Best Locations For Crystal Mining in Hawaii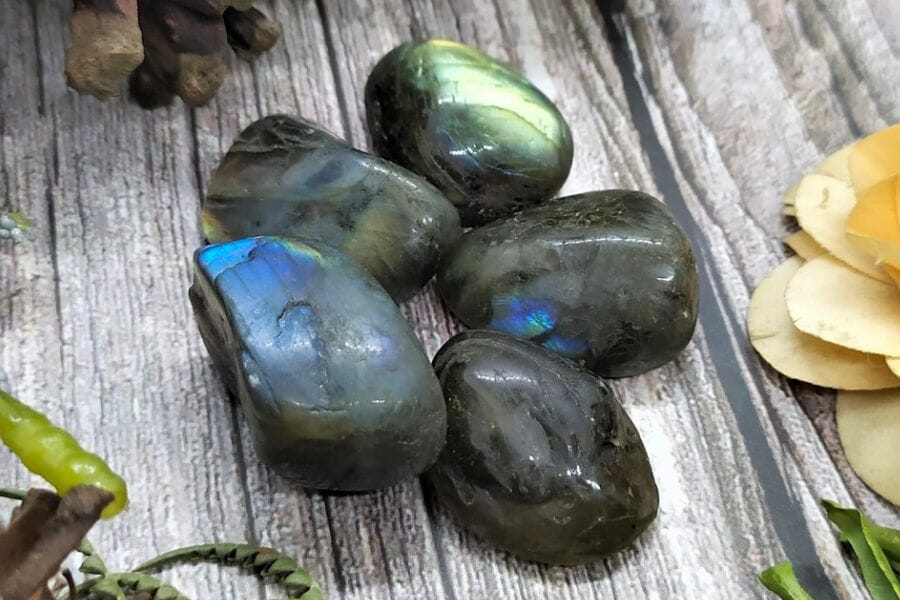 We recommend putting the following places on top of your to-visit list for crystal hunting in Hawaii.
Always Confirm Access and Collection Rules!
Before heading out to any of the locations on our list you need to confirm access requirements and collection rules for both public and private locations.
These requirements are subject to change without notice and may differ from what we state below.
Always get updated information directly from the source ahead of time to ensure responsible rockhounding.
Manele Bay is Our Favorite Crystal Mine in Hawaii
Lanai County, HI
Located on the island of Lanai, just a short ferry ride from Maui, Manele Bay is known for its crystal-clear waters and pristine beaches, but what many people don't realize is that it is also a breathtaking site for finding crystals. It's even a great spot to find stunning Hawaii gems.
The geology of Manele Bay is unique, with volcanic rocks and sedimentary formations that create the perfect environment for crystal growth. The history the bay is also fascinating. The area was once a major source of Obsidian, a volcanic glass that was highly prized by ancient Hawaiians for making tools and weapons. Today, you can still find pieces of obsidian scattered along the beach.
So, how do you get to Manele Bay? The easiest way is to take the ferry from Maui to Lanai. Once you arrive on Lanai, you can rent a car or take a shuttle to Manele Bay. There are also guided tours available if you want to learn more about the history and geology of the area.
Where we found crystals at Manele Bay
You can explore the southeast shore of Manele Bay, particularly in the cinder cone, to find stunning shiny samples of Sunstone crystals.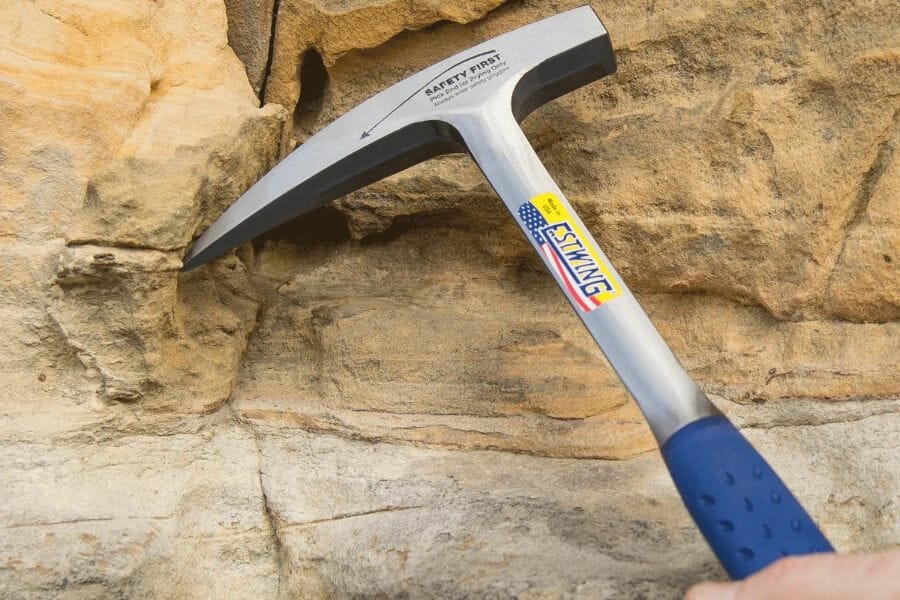 The tools every crystal hunter will need
When you're out looking for crystals having the right tools for the job is very important. You don't need a lot for most trips but there are a handful that are critical and will make your life a lot easier.
We get asked a lot about the equipment we use. Over the years we've found a handful of tools that we recommend to both new and experienced crystal miners which we outline in great detail in our complete rockhounding tools guide. These are quality options that also happen to be relatively inexpensive.
Below are the basic tools that make your life so much easier and save you a ton of time. Check out the full guide to see everything we recommend bringing. One quick note, as an Amazon Associate I earn from qualifying purchases but we try very hard to only recommend gear we would use ourselves and often recommend brands you can't find on Amazon.
At a minimum you should have:
1 - Sturdy rock hammer: The Estwing Rock Pick is our standard
2 - Rugged chisels: Try Kendo' 3-piece Chisel Set
3 - Compact shovel: The Koleiya 28-inch shovel works well
4 - Rock screen pan: The Wazakura Soil Sieve Set fits the bill
5 - Eye protection: DeWalt Safety Glasses are cheap and comfortable
6 - Head protection: Malta's Safety Helmet has been our go-to
7 - Jewelers lens with at least 20x magnification: Jarlink's Jewelers Loop is perfect
The crystal-finding books that we use most
There are also a few books that have been extremely helpful in the search for gems. These books have great recommendations and tips:
National Audubon Society Field Guide to Rocks and Minerals: North America 
Southwest Treasure Hunter's Gem & Mineral Guide 
Earth Treasures: The Southwestern Quadrant 
We provide links to find these tools on Amazon but some can also be found at your local hardware stores. For more recommendations check out the link to our full tool guide above.
Olowalu Valley
Maui County, HI
Olowalu Valley is known for its stunning scenery (just look it its picture!), rich history, and unique geology. This area was once home to ancient Hawaiian communities, and you can still see evidence of their presence in the form of petroglyphs and other archaeological sites.
The valley is part of the West Maui Mountains, which are volcanic in origin. The rocks here are rich in minerals and the unique combination of volcanic activity and erosion has enabled crystal formation.
To get here, you'll need to take the Honoapiilani Highway towards Lahaina. Look for the sign for Olowalu Village, and turn onto Olowalu Road. Follow the road until you see a dirt parking lot on the left-hand side. This is where you'll park your car and start your crystal-hunting adventure.
Where we found crystals at Olowalu Valley
We recommend exploring the different nooks and crannies of Olowalu Valley, where you can find Quartz crystals that people also often call "Maui Diamonds". To know more about how much these crystals are worth, read our guide on that.
Oahu County, HI
Located on the west end of Molokai, West Molokai Volcano is part of the larger Maui Nui volcanic chain. The volcano is a dormant shield volcano that's believed to have last erupted around 1.5 million years ago.
The geology of the West Molokai Volcano is what makes it such a great spot for finding crystals. The rocks here are rich in minerals. When lava cools and solidifies, it often creates pockets where crystals can form. These pockets are what you'll be looking for when you visit the volcano.
If you're planning to go here, you'll need to take the Kaulapapa Lookout Road, which is located off of Highway 460. This is a scenic drive that offers incredible views of the island's rugged coastline and lush forests. Once you arrive at the volcano, you'll need to do a bit of hiking to find the best spots for crystals.
Where we found crystals at West Molokai Volcano
You can find amazing samples of Banded Agates if you search in the gullies of the West Molokai Volcano. The crater of the volcano also reportedly contains this crystal.
Hawaii County, HI
Kilauea is one of the most active volcanoes in the world. Its eruptions have been documented for centuries, and it's an area steeped in history and tradition. The volcano is a shield volcano, which means that it has a broad, flattened shape that's distinctive from other types of volcanoes.
The lava that flows from the volcano is rich in minerals. When the lava cools and solidifies, it often creates pockets where crystals can form. These pockets can be difficult to spot, but with some patience and exploration, you can find some incredible treasures here.
Planning your trip here? Head to Hawaii Volcanoes National Park, which is located on the east side of the Big Island. The park is open 24 hours a day, seven days a week, so you can visit at any time that's convenient for you.
Where we found crystals at Kilauea
We recommend going around and exploring the different areas of Kilauea, where you can find Obsidian crystals, which are droplets also known as Pele's Tears.
Pohakea Pass
Waianai Range County, HI
Pohakea Pass is a hidden gem is tucked away in the mountains, but it's well worth the journey for anyone interested in collecting crystals. This area is part of the West Maui Mountains and is named after the Pohakea stream, which flows through it. The pass has a rich history and is considered sacred by many native Hawaiians. In the past, it was used for farming and ranching, but today it's mostly used for recreational activities like hiking and crystal hunting.
Pohakea Pass is rich in minerals, and the crystals here are often found in pockets of volcanic rock. These can be difficult to spot, but with some exploration and a keen eye, you can find some amazing specimens here.
To visit here, take a hiking trail that leads up into the mountains. The trail can be steep and rocky, so it's important to wear sturdy shoes and bring plenty of water. The trailhead is located near the village of Kahakuloa, and the hike can take anywhere from 1-3 hours depending on your pace and skill level.
Where we found crystals at Pohakea Pass
We had the best of time finding clear yellow Labradorites in the different parts of Pohakea Pass, and we're sure you'll experience the same when you explore here.
Our Other Favorite Places For Crystal Hunting
Aside from the breathtaking sites we've shared above, here are some additional crystal hunting spots here in Hawaii. The good news is that some of these locations also bear Hawaii geodes.
Where you can find crystals for free in Hawaii
These sites not only offer the best sights in our state (pun intended!), but also contains some of the best crystal reserves that you can search without paying a fee. After all, who wouldn't want to find and take home crystals for free, right?
| | |
| --- | --- |
| County | Location |
| Hawaii | in lava flow and in green beach sands of Oahu and South Point |
| Honolulu | Kapa'a Quarry |
| Oahu | On north shore in basalt ridges, in ravines from Mount Olokanu |
| Oahu | In Lanikai golf course washes |
| Oahu | In Wahiawa Valley |
| Oahu | On north shore, ridges in Koolau Range |
How to find crystals in Hawaii
Almost all of our additional recommendations cover wide areas, so to help you narrow down your search, here are the usual locations where you can find crystals. You may start your crystal mining journey here:
Beaches
Beaches offer a unique opportunity to find some of the most beautiful and rare crystals that the islands have to offer. Many of the beaches in Hawaii are made up of volcanic rock and sand, which can contain an abundance of crystals. With a little bit of luck and persistence, you may even come across some more rare and valuable crystals, aside from the common ones, here.
Quarries
Quarries can be found all over Hawaii and are often accessible to the public. Many quarries are located in areas with unique geological formations, which can produce a wide variety of crystals.
One of the benefits of searching in quarries is that you can often find specimens that are still in their natural form, making them even more special to add to your collection. Quarries can also provide an opportunity to learn more about the geological history of the area and the different types of rocks and minerals that can be found there.
Streams and Creeks
Hawaii's streams and creeks are home to a variety of crystals and minerals that are just waiting to be discovered. When rocks and minerals erode over time, they can wash down into nearby streams and creeks, making these waterways an ideal location to find crystals. Hawaii's streams and creeks can be especially fruitful, as they are surrounded by mineral-rich volcanic rock that can contain a wide range of crystals and minerals.
One of the benefits of searching in streams and creeks is that the flowing water can help to wash away dirt and debris, making it easier to spot crystals and minerals. Additionally, the constant movement of the water can help to uncover new specimens that may have been hidden just below the surface.
Hawaii Crystal Mining Laws And Regulations
For as long as you comply with Hawaii's local laws on crystal mining, you will have no legal problems engaging in this activity here. This is especially true for the laws mandated by the Hawaii Department of Land and Natural Resources (DLNR) which regulates crystal mining. It's no secret that Hawaii boasts of rich natural resources, so make sure you're aware and are observing any rules or regulation to protect and conserve the environment and biodiversity of our state. Also, always responsibly secure any necessary permits or permissions before starting your exploration.
The Best Crystal Shops In Hawaii
If you don't mind spending a few bucks for a chance to see and take home great crystal selections, you can also visit the local crystal shops here. We've listed down some of the great ones you'll find around Hawaii:
Kailua Crystals – 131 Hekili St #108, Kailua, HI 96734
Lemuria Crystal Shop – 315 Uluniu St suite 101, Kailua, HI 96734
Sedona Hawaii – 560 N Nimitz Hwy Ste 105A, Honolulu, HI 96817
Where Crystals Rock – 98-025 Hekaha St #110, Aiea, HI 96701
Aloha Crystals & Gems – 75-5799 Ali'i Dr B-6, Kailua-Kona, HI 96740
Pure Stone Shop – 2250 Kalākaua Ave #3, Honolulu, HI 96815
Rock Candy Hawaii – 1170 Auahi St SPACE 163, Honolulu, HI 96814
Crystals & Gems Gallery – 4489 Aku Rd, Hanalei, HI 96714
Ocean Queen Hawaii – 1450 Ala Moana Blvd, Honolulu, HI 96814
Angelite Om – 45-3577 Mamane St, Honokaa, HI 96727
If you have any recommendations we haven't covered, please leave them in the comments below!