Geodes are fascinating geological formations that are filled with crystals and minerals, making them a favorite of rock collectors and nature enthusiasts. In Kansas, geodes can be found in several locations that we have explored.
We scoured the guaranteed places to find geodes in Kansas, including Walnut River, Lone Star Quarry, Cottonwood Creek Trego, and the counties of Trego, Wallace, and Geary to provide you with detailed information on each of them, including what types of geodes can be found there.
Whether you are a seasoned rock collector or a curious amateur, hunting for geodes in our state is an adventure that you wouldn't want to miss. Join us as we explore the hidden wonders of our fascinating state and discover the beauty that lies beneath the surface!
What Are Kansas Geodes?
Geodes are geological formations that are formed when minerals and other substances are deposited in the hollow cavities of rocks. These cavities can be created by a variety of natural processes, such as volcanic activity, sedimentation, or erosion. Kansas' rich and unique geology is just right for geode formation!
When you cut a geode open, it reveals a sparkling array of crystals, minerals, and other materials within it (just look at the photo!). The colors and types of crystals found inside a geode can vary widely depending on the specific mineral deposits present in the surrounding rock. That's why many people enjoy finding and digging for geodes!
To help make your geode hunting successful, visit this simple guide on how to spot a geode that we've put together.
The Types Of Geodes Found In Kansas
There's a diverse range of this natural wonder's varieties throughout the world, and its type determines the price of a geode. Several types are commonly found in Utah, such as:
Calcite geodes
Chalcedony geodes
Quartz geodes
How We Found The Best Geode Locations in Kansas
When it comes to choosing the best options for finding Kansas geodes there are plenty of things we consider. Many of the best locations are closely guarded secrets which can make it really difficult for more casual geode hunters to find success. The key factors in our recommendations are:
The deep experience and understanding of our team about the area
Recommendations from local groups and clubs
How easy it is to get the a particular location
Safety and potential hazards when collecting
Weighing private and public locations
The ability for both experienced and novice geode enthusiasts to find great samples
With these factors in mind we've been able to put together a fantastic list that just about anyone can use!

The Best Places To Find Geodes in Kansas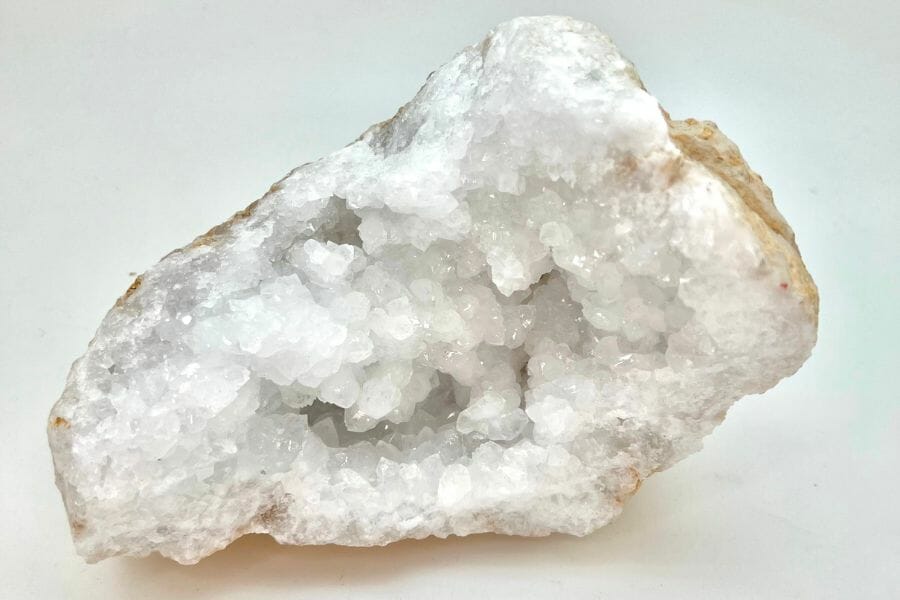 You might already be familiar with the exceptional gem mining sites in Kansas, but not all of them are home to geodes, too. The locations we're revealing to you below are guaranteed to contain geodes!
Always Confirm Access and Collection Rules!
Before heading out to any of the locations on our list you need to confirm access requirements and collection rules for both public and private locations.
These requirements are subject to change without notice and may differ from what we state below.
Always get updated information directly from the source ahead of time to ensure responsible rockhounding.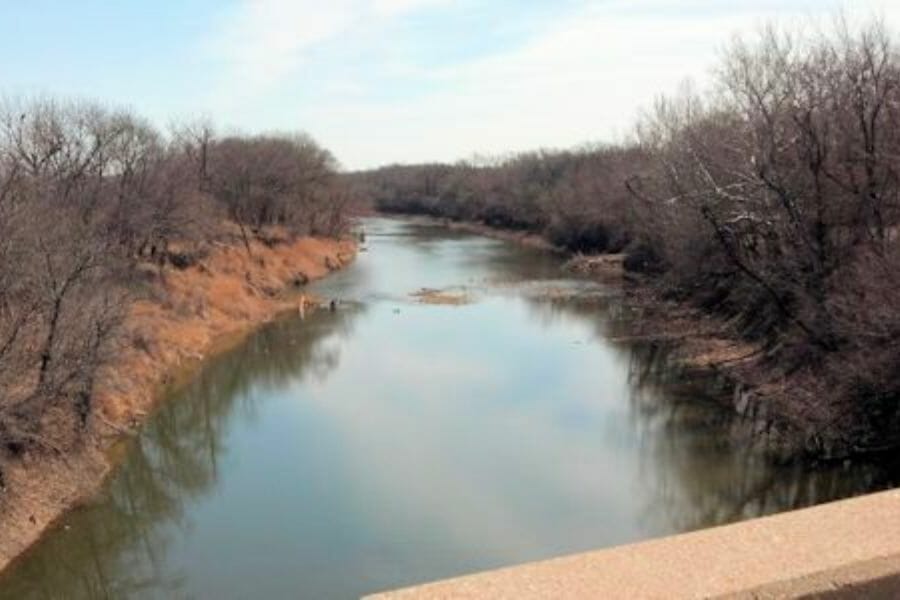 Walnut River flows for about 154 miles through some of the most beautiful countryside you've ever seen. The river starts in Butler County and meanders its way through the Flint Hills region before joining up with the Arkansas River.
The terrain around this river is something else! It has rocky cliffs, sandy banks, and lush forests all coexisting together. And the geology of the area is pretty cool, too. You can find different kinds of rocks, fossils, geodes, and other neat stuff if you know where to look.
Lucky for you, this area is easily accessible from several major highways, and there are plenty of parking areas and boat ramps along the river's edge. But before you go here and bring home any of your finds, make sure to check the latest collecting guidelines of Kansas.
Where we found geodes at Walnut River
You can find different kinds of geodes, mostly Calcite geodes, in the breaks and cut banks along the Walnut River. This river is in the south section of the Flint Hills of David City.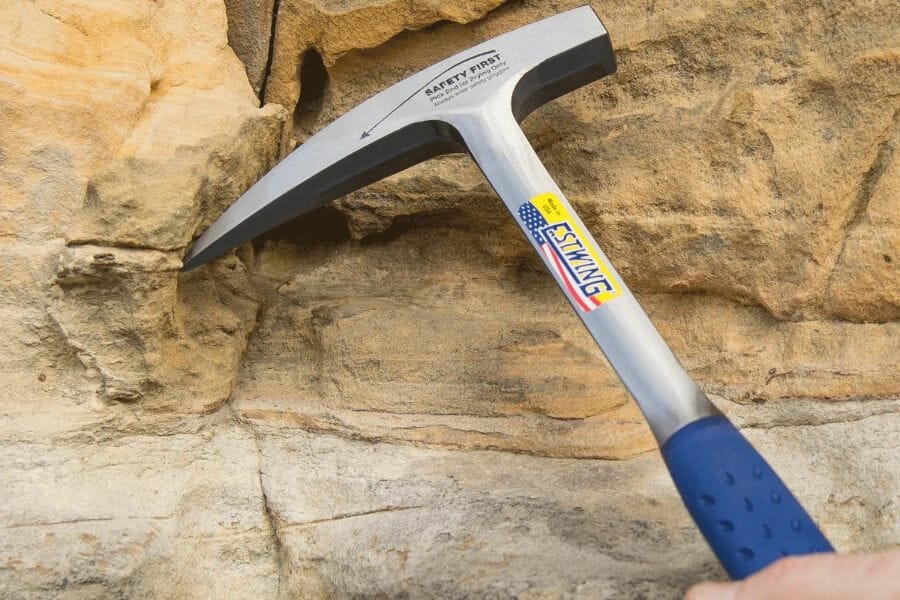 The tools every geode hunter will need
When you're out looking for geodes having the right tools for the job is very important. You don't need a lot for most trips but there are a handful that are critical and will make your life a lot easier.
We get asked a lot about the equipment we use. Over the years we've found a handful of tools that we recommend to both new and experienced geode hunters which we outline in great detail in our complete rockhounding tools and kit guide. These are quality options that also happen to be relatively inexpensive.
Below are the basic tools that make your life so much easier and save you a ton of time. Check out the full guide to see everything we recommend bringing. One quick note, as an Amazon Associate I earn from qualifying purchases but we try very hard to only recommend gear we would use ourselves and often recommend brands you can't find on Amazon.
At a minimum you should have:
1 - Sturdy rock hammer: The Estwing Rock Pick is our standard
2 - Rugged chisels: Try Kendo' 3-piece Chisel Set
3 - Compact shovel: The Koleiya 28-inch shovel works well
4 - Rock screen pan: The Wazakura Soil Sieve Set fits the bill
5 - Eye protection: DeWalt Safety Glasses are cheap and comfortable
6 - Head protection: Malta's Safety Helmet has been our go-to
7 - Jewelers lens with at least 20x magnification: Jarlink's Jewelers Loop is perfect
The geode-finding books that we use most
There are also a few books that have been extremely helpful in the search for gems. These books have great recommendations and tips:
National Audubon Society Field Guide to Rocks and Minerals: North America 
Southwest Treasure Hunter's Gem & Mineral Guide 
Earth Treasures: The Southwestern Quadrant 
We provide links to find these tools on Amazon but some can also be found at your local hardware stores. For more recommendations check out the link to our full tool guide above.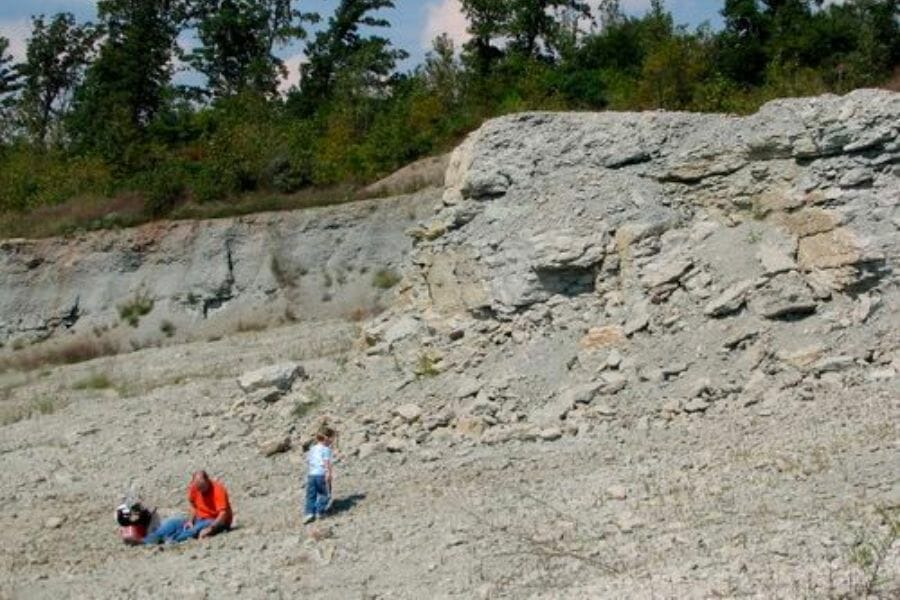 Lone Star Quarry is a hidden gem that's definitely worth checking out! It's surrounded by rolling hills and thick forests stretching as far as the eye can see. The terrain around the quarry itself is a little rough, but nothing too difficult to manage. And the geology of the area is fascinating, with layers of limestone and shale exposed in the quarry walls.
It's located just off of Highway 177, so it's easily accessible. If you're bringing your car, there's plenty of parking available. The quarry is open to the public, but be sure to bring your own tools and safety gear if you plan on doing any digging.
If you're in the area and you're up for a little adventure, check out this place. You won't regret it!
Where we found geodes at Lone Star Quarry
You can find and dig for Quartz geodes in different areas of the Lone Star Quarry in Bonner Springs. Just be ready to do some serious exploration of the quarry, and you'll surely bring home one.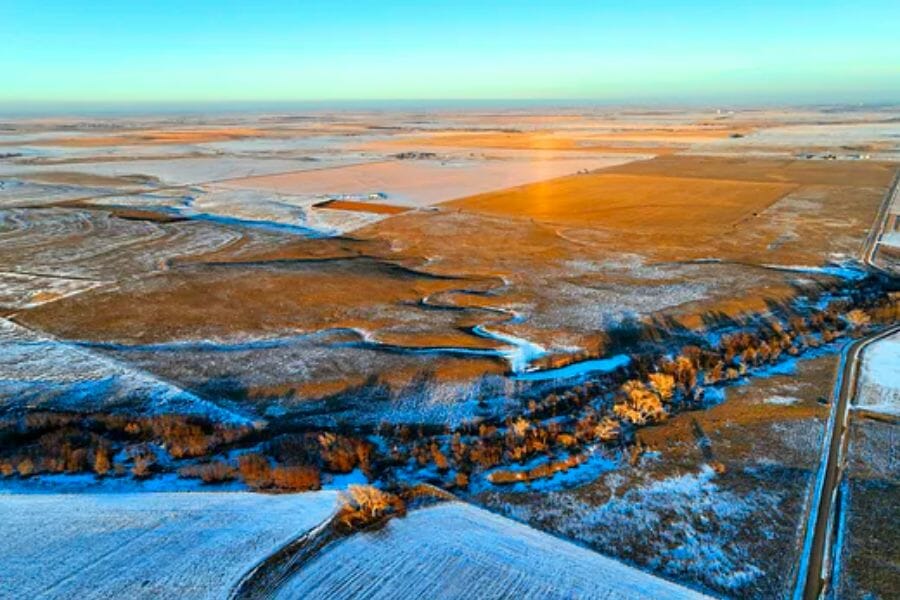 Like the others, you might be thinking – Kansas is all flat and boring, right? Well, that couldn't be more wrong! Trego & Wallace counties have some of the most beautiful geography. Rolling hills, wide-open plains, and plenty of trees make for some breathtaking views.
The terrain in these counties is varied, with rocky bluffs, sandy riverbanks, and grassy meadows all jumbled together. You can also find all kinds of rocks, fossils, and geodes and other natural wonders if you know where to look.
To go here, just take I-70 west until you hit the right exit. Once you're here, there are plenty of roads and trails to explore. Take note, though, that there are a few rough spots here and there, but if you're up for a little adventure and don't mind getting a little dirt on your boots, Trego & Wallace Counties are definitely worth checking out.
Where we found geodes at Trego & Wallace Counties
Trego & Wallace Counties have our state's best geode samples. They are home to Calcite, Chalcedony, and Quartz geodes that can be found in their valley sand, gravel beds, and pits.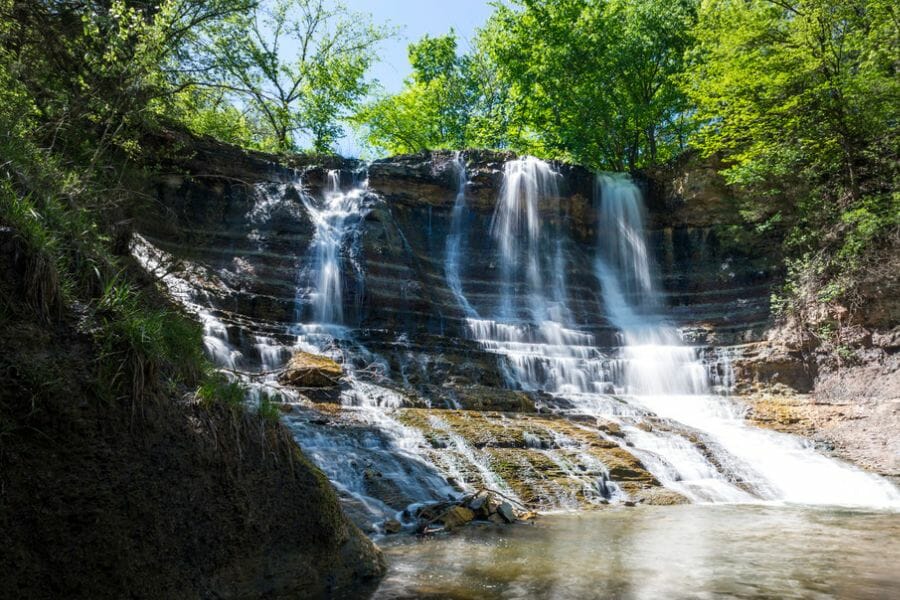 Geary County is a pretty neat place to check out. The geography around here is flat, with lots of fields and farmland stretching out in all directions. But don't let that fool you because there are plenty of interesting things to see and do here— like geode hunting!
This place is mostly easy to navigate, with a few hills and streams here and there. And if you're interested in geology, you might want to check out Milford Lake, which is just a few miles away. It's one of the largest man-made lakes in Kansas, and it's surrounded by some pretty cool rock formations.
Geary County's located just off of I-70. So, if you want to visit here, you wouldn't have to break a sweat getting here.
Where we found geodes in Geary County
Geodes can be found pretty much everywhere in the county so if you're here, you might be close to one. If you want a tip on specifically where to start looking here, we'd recommend finding geodes on the regional road and railroad cuts of Junction City where Calcite and Quartz geodes are usually found.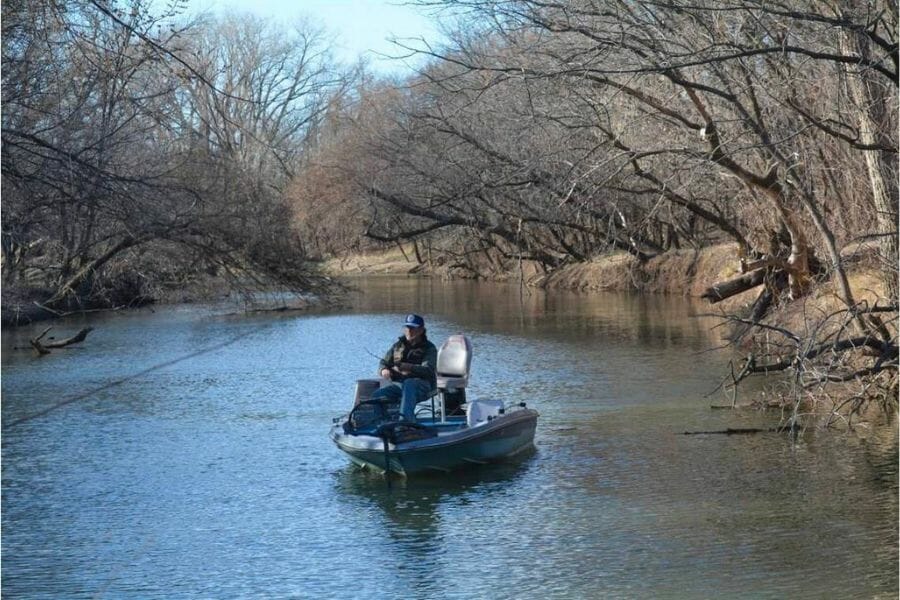 Cottonwood Creek is pretty diverse in geography, with its rolling hills, lush forests, and of course, the creek itself. The water is crystal clear and perfect for swimming, fishing, or just lounging around.
Its terrain around here can be a bit tricky in places, with some steep slopes and rocky outcroppings. But as long as you watch your step, it will be easy to navigate. If you're into geology, you might want to keep an eye out for some interesting rock formations along the way.
Getting here is pretty easy, too. It's located just off of US-56, so it's a great place to stop if you're driving through the area. And if you're looking for a place to camp, there are plenty of spots along the creek where you can pitch a tent and spend the night.
Where we found geodes at Cottonwood Creek
There are several spots along the Cottonwood Creek where you can find geodes. From the side of Chase County, you can find Quartz geodes by going upstream and downstream for several miles in both directions along the creek. From Marion County, you can find Calcite geodes upstream and downtown the creek.
Other Great Places To Dig For Kansas Geodes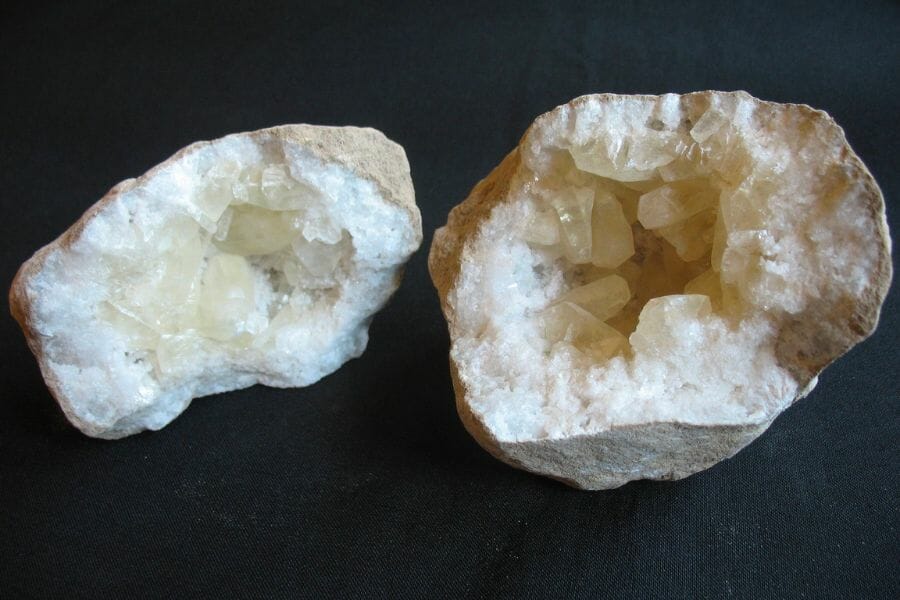 Although we've already shared our recommended locations above, we have more suggestions for your next geode-hunting adventure. We've compiled a list of additional spots that you'll find equally fascinating. We've arranged them by county for easier reference. For places where we put, "county wide", we'll provide more specific recommendations in the succeeding sections.
Our recommendations by county
| | |
| --- | --- |
| County | Location |
| Butler | In breaks and cut banks along the Walnut River in south section of the Flint Hills of David City |
| Butler | In large road cut near the Butler-Greenwood County line in El Dorado |
| Chase | Area gravel pits in Strong City |
| Chase | Upstream and downstream for several miles in both directions along Cottonwood Creek |
| Cowley | Area draws, gullies, cut banks, and regional creek and stream beds of Rock |
| Geary | County wide |
| Geary | Regional road and railroad cuts of Junction City |
| Marion | Area gravel pits of Florence |
| Marion | Upstream and downtown in Cottonwood Creek |
| Trego | County wide |
| Wallace | County wide |
| Wyandotte | In the Lone Star Quarry of Bonner Springs |
Additional areas you should try
Some of our suggested locations above are categorized as "county wide," which may seem too broad, so we'll refine our suggestions by providing you with specific places to visit. Here is a list of some of the usual locations where you can find geodes in Kansas:
Quarries
Quarries are some of the best places to find rocks and geodes. Sure, it might seem a bit daunting at first, with all the heavy machinery and piles of rocks everywhere, but it's worth it.
Quarries often cut through layers of rock that would be impossible to access otherwise. You can find all sorts of interesting specimens that you just can't find anywhere else. Plus, they often have a wide variety of rocks and minerals, so you're bound to find something that catches your eye. And if you're lucky, you might even find a rare specimen that will make your collection stand out from the rest.
Rivers and Riverbanks
You might think that rocks and geodes would be hard to find in water, but they're actually everywhere here! One reason why rivers and riverbanks are great places to find geodes is that the water erodes the rocks over time, revealing their inner beauty. You can find all sorts of different rocks, minerals, and geodes that have been polished by the water to a beautiful shine.
Just be careful not to slip on the wet rocks or get too close to the water's edge. Safety first! But with a little bit of caution and a good eye, you can find some real great finds along the river.
Streams and Creeks
If you're looking for some prime rock and geode hunting, streams and creeks are where it's at. They might not seem like the most obvious places to look, but you'll find some real wonders here if you know where to look.
The running water of streams and creeks helps to wash away the dirt and debris, revealing the true beauty of the rocks beneath. What's more, these waters are often located in secluded areas, which means you have a better chance of finding some real gems that haven't been picked over by other collectors. Just be prepared to do a little bit of hiking and exploring to find the best spots.
Railroad Cuts
Railroad cuts might not be the first place you would think of to find rocks and geodes, but they can be excellent spots for rockhounding. When railroads are built, the engineers cut through hills and mountains, creating a vertical cross-section of the rock layers. These cuts expose the different layers of rock, making it easier to see the various minerals and crystals hidden inside. This is why railroad cuts can be treasure troves for rock collectors.
To find a good railroad cut, you can look at maps or simply drive around the countryside. Once you find one, be careful when exploring the area, as it can be dangerous to climb on the rocks and walk along the tracks.
Common Geode-Hunting Questions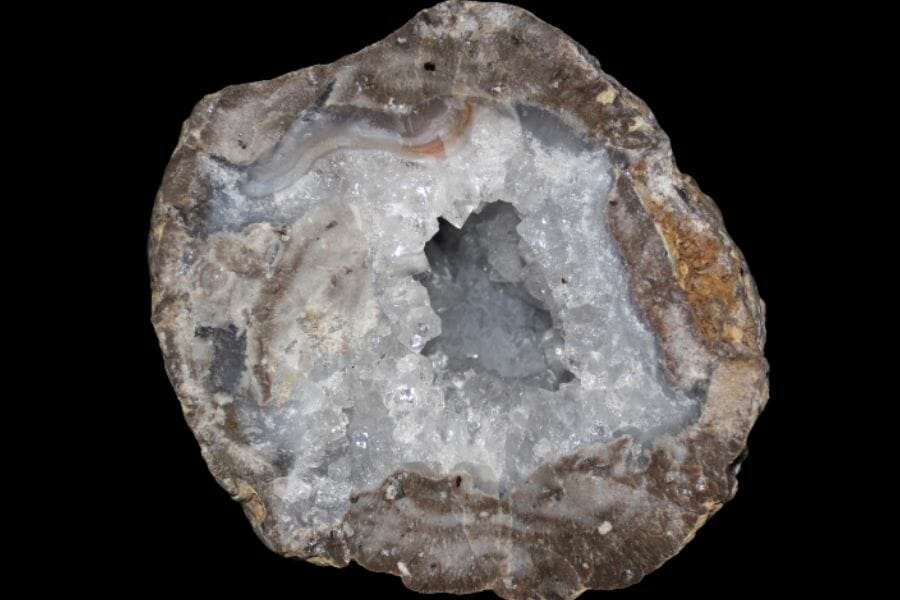 In this section, we'll answer some of the most common frequently asked questions among those who are looking to find geodes in Kansas.
Where can you find amethyst geodes in Kansas?
Unfortunately, amethyst geodes do not naturally occur in Kansas. However, if you're keen on taking home one (or two, we won't judge you), we've listed below some of the local stores where you can buy them here.
Is it illegal to collect geodes in Kansas?
Make sure that you follow Kansas' local collecting laws and you won't have any legal problem finding them in Kansas. Also, make sure to check out local regulations for government lands and to get permission from owners of private lands.
The Best Places To Buy Geodes In Kansas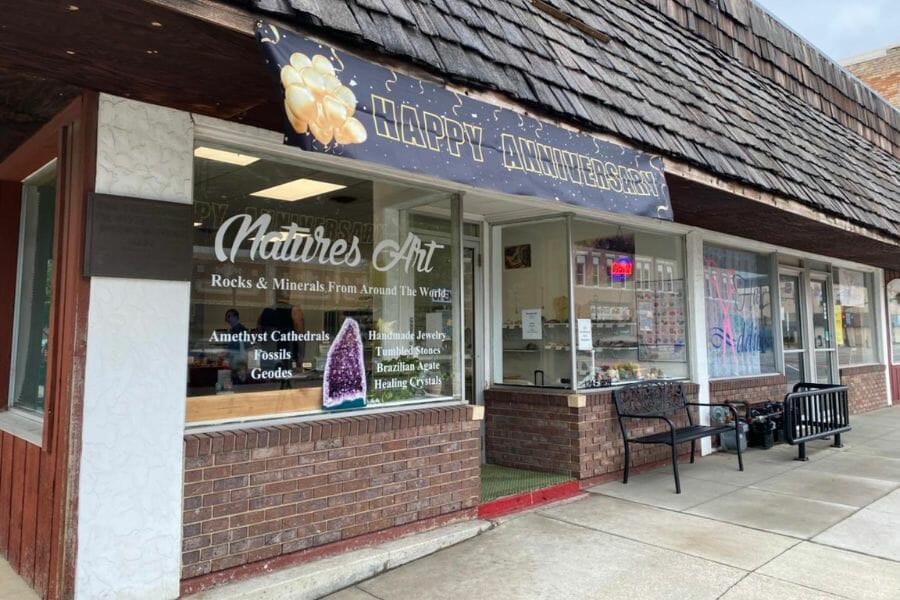 If you don't have the time and energy to search for geodes on the locations that we shared with you, you can also opt to buy them from the local shops here. We made a credible list of these stores so you can easily choose which one to visit:
Enchanting Earth – 805 N Kansas Ave, Topeka, KS 66608
Amazon – Surprisingly, Amazon has a pretty good selection of geodes. You can even find complete kits to break geodes open.
Nature's Art – 124 E Iron Ave, Salina, KS 67401
MoonStone – 535 W Douglas Ave Suite 170, Wichita, KS 67213
Abundance Crystals – 1908 W 13th St N, Wichita, KS 67203
Gemini Shop – 5807 Merriam Dr, Merriam, KS 66203
New Age Center – 620 N Rock Rd #330, Derby, KS 67037
Additional places to find geodes in nearby states
Check out our guides for nearby states if you've already tried all of our suggestions above or if you're planning a trip outside of the state:
If you have any recommendations for our list please leave a comment below!