Arkansas is a geological treasure trove, famous for its crystal-clear hot springs and diamond mines. But finding geodes here can be a challenge without the right guidance— even experienced rockhounds can struggle to locate them.
We'll explore the different places where you can find geodes in Arkansas as well as other gems and rocks that are just as beautiful. From the Wegner Quartz Crystal Mine, Crater of Diamonds State Park, and Prairie Creek that has some of the most amazing geode-like formations in our state, to the awesome places in our neighbor states where geodes are found, like Weber Quarry in Missouri and Dale Hollow Reservoir in Tennessee, we'll take you on a journey that will help you enjoy the thrill of finding your own hidden treasures.
What Are Geodes Anyway?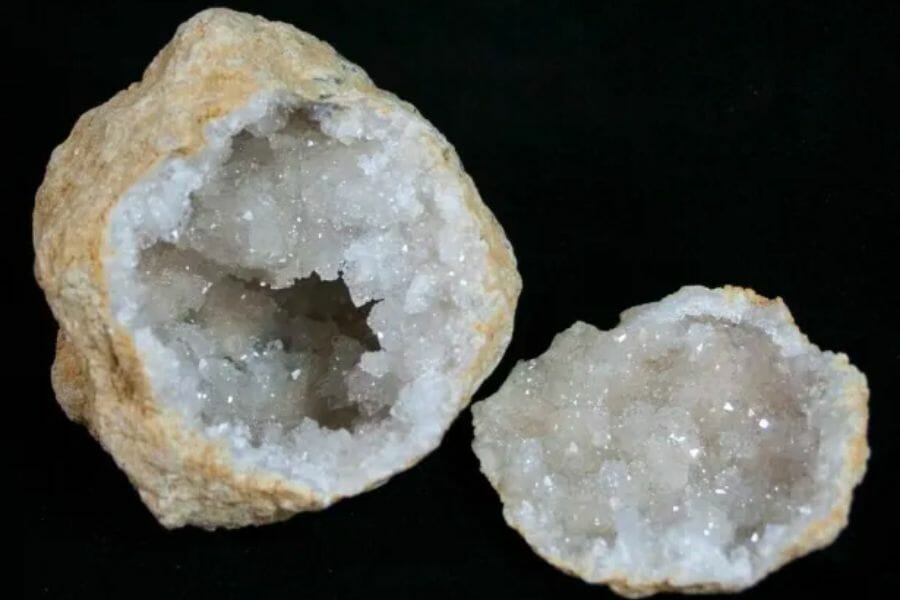 Geodes are rocks that are hollow inside and are filled with sparkling crystals. They come in many different shapes, sizes, and colors, depending on the minerals that formed them. Geodes form when mineral-rich solutions seep into rocks and create hollow cavities. Over time, these minerals crystallize, filling the cavity with a dazzling array of crystals which determine the value of a geode.
Finding geodes can be a fun and rewarding hobby, but it can also be challenging. Many of the best spots to find them are off the beaten path. But with a little persistence and some insider knowledge, you can surely get your hands on these precious finds!
Before venturing on your journey, make sure you have a clear idea on what do geodes look like on the outside.
How We Found The Best Geode Locations in Arkansas
When it comes to choosing the best options for finding Arkansas geodes there are plenty of things we consider. Many of the best locations are closely guarded secrets which can make it really difficult for more casual geode hunters to find success. The key factors in our recommendations are:
The deep experience and understanding of our team about the area
Recommendations from local groups and clubs
How easy it is to get the a particular location
Safety and potential hazards when collecting
Weighing private and public locations
The ability for both experienced and novice geode enthusiasts to find great samples
With these factors in mind we've been able to put together a fantastic list that just about anyone can use!

The Best Places To Find Geodes in Arkansas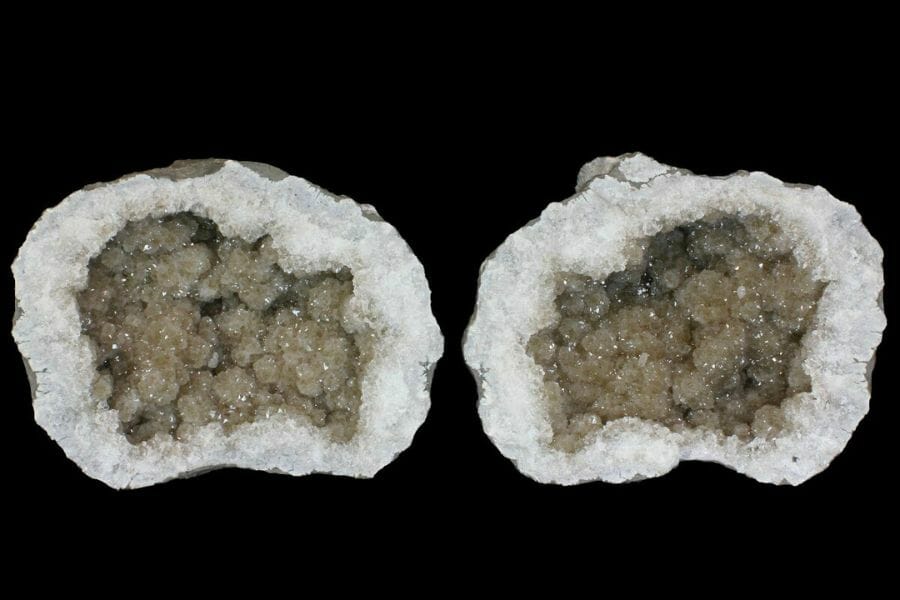 While Arkansas has some of the most amazing spots to mine gems, finding geodes here takes more than luck. Not only are they incredibly rare here, but their is no confirmed location here where you can find naturally occurring geodes.
Our recommendations below contain the best places where you can find rocks and gems that are very similar to geodes. We also included locations from nearby states where geodes can be found, in case you're ready to take your search up a notch.
Always Confirm Access and Collection Rules!
Before heading out to any of the locations on our list you need to confirm access requirements and collection rules for both public and private locations.
These requirements are subject to change without notice and may differ from what we state below.
Always get updated information directly from the source ahead of time to ensure responsible rockhounding.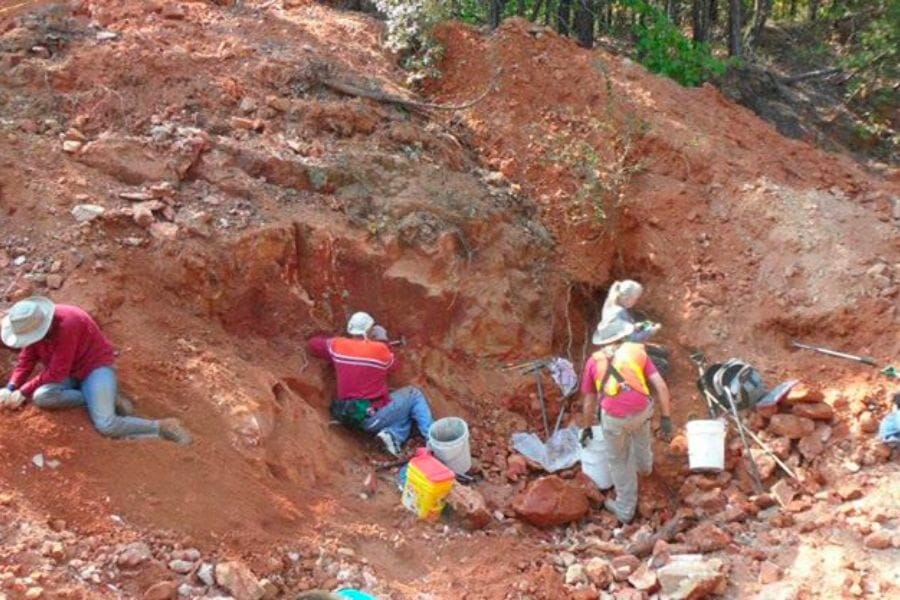 Wegner Quartz Crystal Mine is located in the Mount Ida area, which is known as the "Quartz Capital of the World." The terrain around the mine is hilly and wooded, and it's easy to see why this area is so popular with rockhounds.
The Quartz crystals here formed millions of years ago when magma cooled slowly underground, allowing the Quartz to grow into these amazing formations.
The Wegner mine itself is easy to access. You drive up a dirt road and park near the entrance. The owners themselves will give you a quick orientation and a bucket to collect crystals in, and then you're off! But before you begin collecting, make sure you're abiding by the most recent collecting guidelines of Arkansas.
Where we found geode-like formations
When you visit here, you're practically surrounded by beautiful, sparkling Quartz crystals just waiting to be discovered! Begin your search on any part within the parameters of the mine and you'll surely have an amazing time— and equally-amazing finds.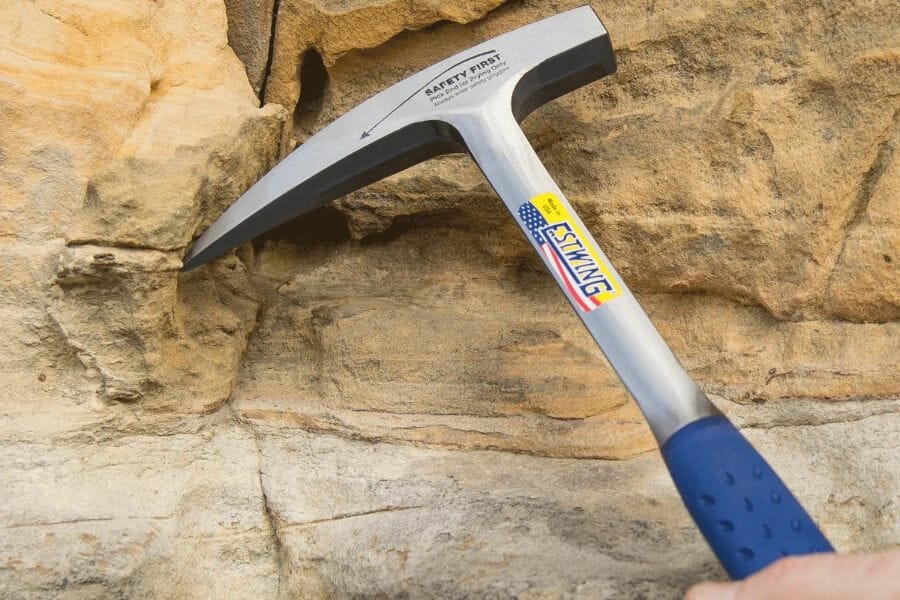 The tools every geode hunter will need
When you're out looking for geodes having the right tools for the job is very important. You don't need a lot for most trips but there are a handful that are critical and will make your life a lot easier.
We get asked a lot about the equipment we use. Over the years we've found a handful of tools that we recommend to both new and experienced geode hunters which we outline in great detail in our complete rockhounding tools and kit guide. These are quality options that also happen to be relatively inexpensive.
Below are the basic tools that make your life so much easier and save you a ton of time. Check out the full guide to see everything we recommend bringing. One quick note, as an Amazon Associate I earn from qualifying purchases but we try very hard to only recommend gear we would use ourselves and often recommend brands you can't find on Amazon.
At a minimum you should have:
1 - Sturdy rock hammer: The Estwing Rock Pick is our standard
2 - Rugged chisels: Try Kendo' 3-piece Chisel Set
3 - Compact shovel: The Koleiya 28-inch shovel works well
4 - Rock screen pan: The Wazakura Soil Sieve Set fits the bill
5 - Eye protection: DeWalt Safety Glasses are cheap and comfortable
6 - Head protection: Malta's Safety Helmet has been our go-to
7 - Jewelers lens with at least 20x magnification: Jarlink's Jewelers Loop is perfect
The geode-finding books that we use most
There are also a few books that have been extremely helpful in the search for gems. These books have great recommendations and tips:
National Audubon Society Field Guide to Rocks and Minerals: North America 
Southeast Treasure Hunter's Gem & Mineral Guide 
Earth Treasures: The Southeastern Quadrant 
We provide links to find these tools on Amazon but some can also be found at your local hardware stores. For more recommendations check out the link to our full tool guide above.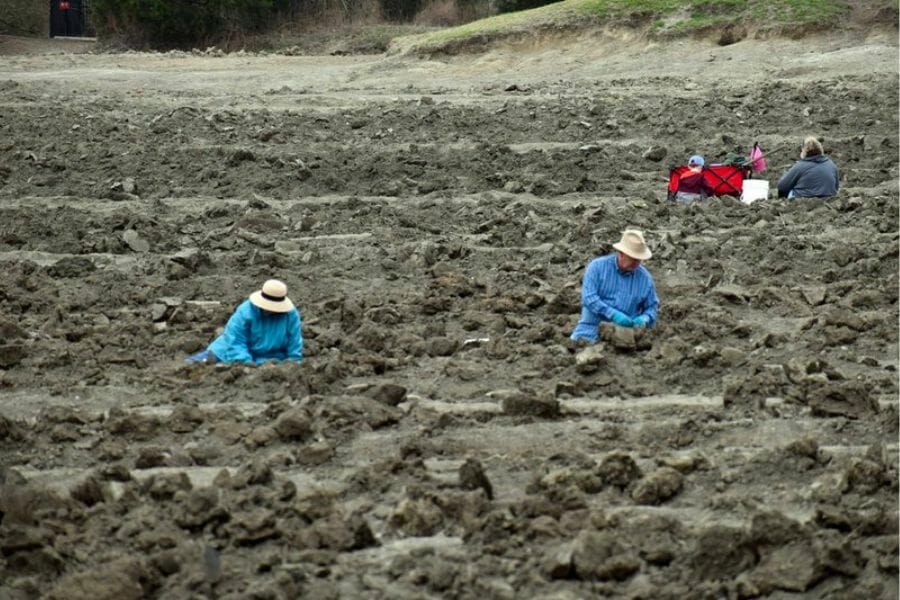 Crater of Diamonds State Park is located in Murfreesboro. It's situated on an old volcanic crater, which is what makes it so special. Its terrain is mostly flat, with a lot of grassy areas and a few trees scattered around. It's a great place for a picnic or just hanging out with friends. But the real fun comes from digging for diamonds!
The geology of the area is what makes it so unique. Millions of years ago, magma rose up from deep within the earth and created the volcanic crater. The magma also brought up diamonds from deep within the earth, and over time they were scattered throughout the park. And aside from having diamonds, this is also among the best spots to find crystals in Arkansas.
When you visit here, you can rent equipment and dig for your own treasures. It's a lot of work, but it's also super rewarding. And the best part is, you get to keep whatever you find! Isn't it enticing?
Where we found geode-like formations
If you're in this area, chances are, you're near one (or two!) of these amazing gems that the state park is rich with: Amethyst, Diamond, Garnet, Jasper, Agate, Quartz crystals.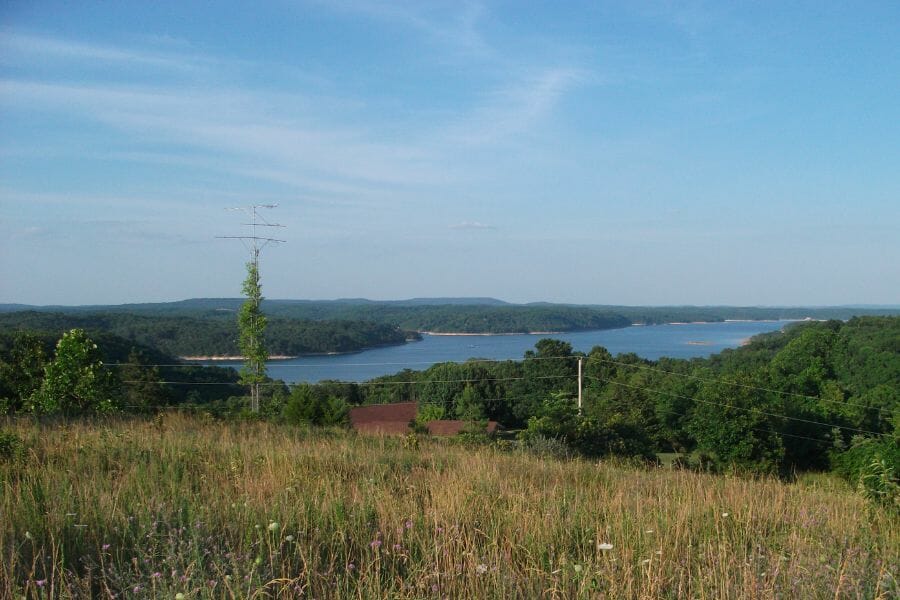 Prairie Creek is located near the Ozark National Forest. It's pretty narrow and the water is clear— a really great place to cool off on a hot day. The terrain around the creek is rocky, with some cool cliffs and boulders to climb on.
The best part of the creek, though, is the digging that you can do here. You can find some awesome rocks and minerals in the creek bed. You can either bring your own tools or rent them nearby.
Overall, Prairie Creek is definitely worth a visit if you're in the area. To get here, you need to park near the trailhead and hike a bit to get to the creek. The best part of this journey is the killer views of the forest.
Where we found geode-like formations
You can find awesome samples of Amethyst, Pyrite, Quartz crystals, and many other geode-like rocks and gems at the area southeast of Murfreesboro of the Prairie Creek.
Weber Quarry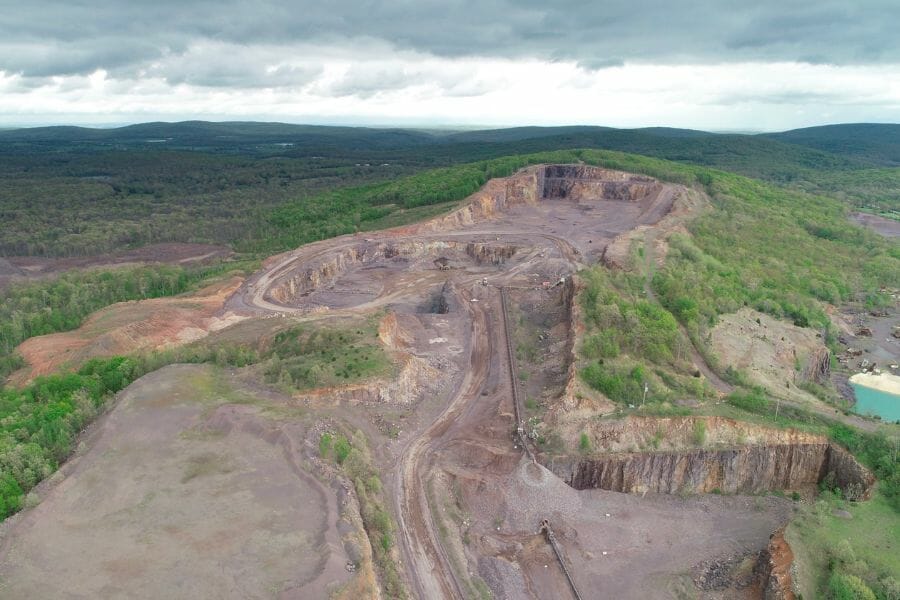 Arkansas neighboring state, Missouri, has great sites to find geodes and one of them is Weber Quarry located in the Ozark Mountains. The terrain around the quarry is pretty rugged, with lots of rocks and boulders to climb on. It's not for the faint of heart, but if you're up for a little adventure, it's an awesome spot!
When you visit here, you can find all sorts of cool rocks and gems. One thing to keep in mind, though, is that the quarry is a bit off the beaten path. You'll want to bring plenty of supplies with you, like food, water, and sunscreen. Also, be sure to wear good shoes because the ground can be uneven and rocky.
All in all, the Weber Quarry is a must-visit spot if you want to find geodes. Just be prepared for a bit of a trek and you're good to go!
Where we found geodes in Weber Quarry
You can find stunning samples of Calcite geodes, Fluorite geodes, and Millerite geodes if you explore the south area of the Weber Quarry in St. Louis.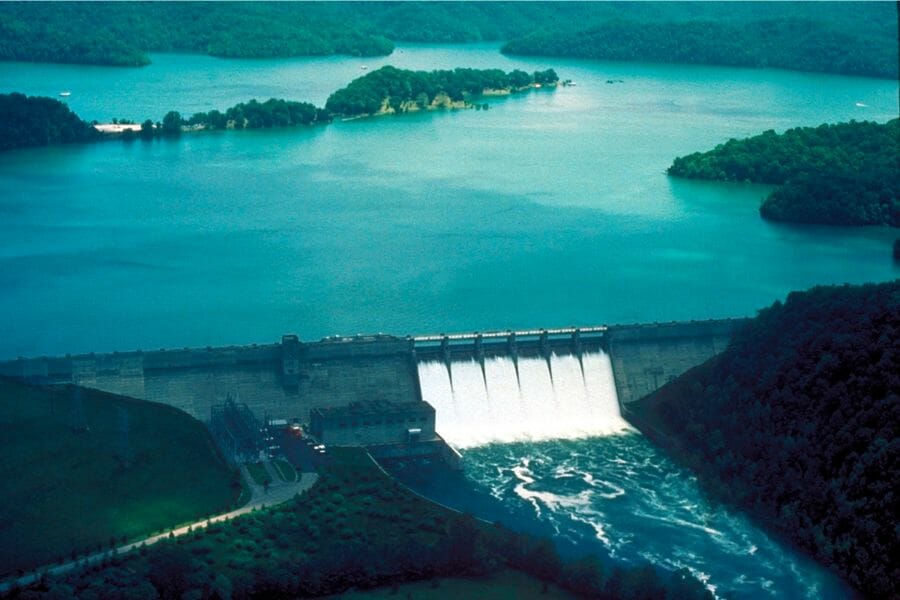 Another nearby state to Arkansas, Tennessee also has amazing spots to find geodes! Dale Hallow Reservoir is one of them. It's located in the Cumberland Mountains, where the views are absolutely breathtaking.
The terrain around the reservoir is pretty varied, with some areas that are rocky and others that are more wooded. You can also find all sorts of cool rocks, fossils, and of course geodes as you're hiking here.
To get here, you can take the highway and follow the signs to the campground. If you're into outdoor activities while finding geodes at the same time, this is your spot!
Where we found geode-like options
Geodes can be found in the surrounding hills and along the reservoir's shoreline. We recommend checking out spots where the rock formations are visible or in the beds of streams that have dried up, where the geodes may have been carried downstream by the water.
Common Arkansas Geode-Hunting Questions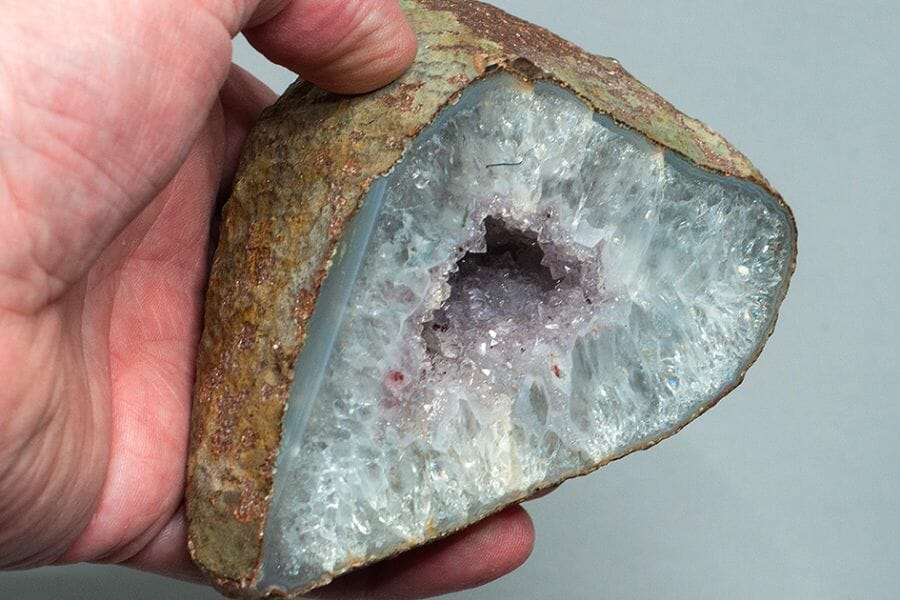 We'll cover some of the frequently asked questions by people who are planning to find geodes in Arkansas, in case you have the same queries:
Where can you find amethyst geodes in Arkansas?
While amethyst geodes don't naturally occur here, you can find amazing Amethyst crystals when you visit the Prairie Creek, Crater of Diamonds State Park, and the three distinct diamond-bearing prospects called Kimberlite, American, and Black Lick at Pike County.
Is it illegal to collect geodes in Arkansas?
Collecting geodes here is perfectly legal, provided you follow the local collecting laws of Arkansas. Also, make sure to double check any rules and regulations specific to the type of land you will explore.
The Best Places To Buy Geodes In Arkansas
If you're really keen to find geodes in Arkansas, the surest way to do so is to visit the local rocks and gems shops that offer them. You can even find other rocks and gems that are just as fascinating as geodes in these stores:
Jim Coleman Crystal Mines, Inc. – 5837 AR-7, Jessieville, AR 71949
Amazon – You might be surprised to know that Amazon actually has some pretty amazing geode selections. They even have complete kits to help you crack them open!
Avant Mining Fisher Mountain Rock Shop and Public Dig – 11 Logan Gap Rd, Mt Ida, AR 71957
Gem Adventures Rock Shop Springdale – 101 Holcomb St, Springdale, AR 72764
Fiddler's Ridge Rock Shop – 3752 Hwy 270 E, Mt Ida, AR 71957
Real Earth Creations – 3024 Hwy 270 E, Mt Ida, AR 71957
Additional places to find geodes in nearby states
Check out our guides for nearby states if you've already tried all of our suggestions above or if you're planning a trip outside of the state:
If you have any recommendations for our list please leave a comment below!