Mysterious and stunning— these are the best words to describe geodes and their breathtaking display of colors and textures inside. However, finding them can be a challenging task, especially in Connecticut. Many enthusiasts have struggled to locate these precious wonders without proper guidance, leaving them feeling disappointed and discouraged.
But fear not, as we have scoured our state and discovered the best places to find geodes in Connecticut and other stunning rocks and gems. From Hubbard Park, Plum Bank Beach, and East Gransby Quarry that contains geode-like formations to Deerfield River and Penfield Quarry in nearby states that have naturally occurring geodes, join us on a journey as we explore these locations.
What Are Geodes Anyway?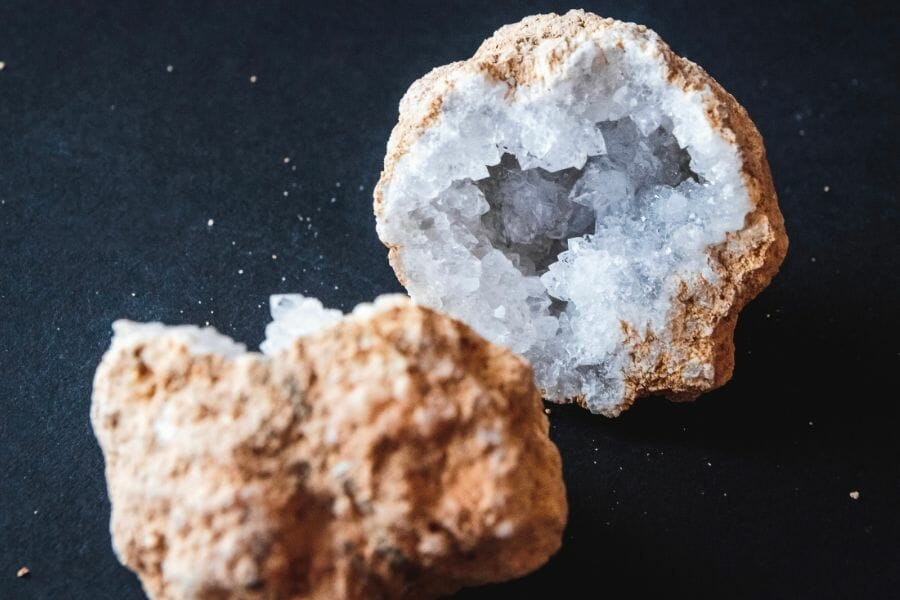 Geodes are spherical or oblong rocks that form when mineral-rich groundwater seeps into volcanic or sedimentary rock formations, creating hollow cavities. Over time, these minerals harden and crystalize, forming a beautiful display of colors and textures inside the cavity. The price of a geode depends on the kind of crystals inside it.
The outer shell of a geode is usually made of common minerals, while the interior can contain an array of crystals. Often found in deserts, riverbeds, and old mines, geodes are prized by collectors for their beauty and rarity— they are even used in jewelry making and home decor!
Here's a guide that you can use on how to know if a rock is a geode.
How We Found The Best Geode Locations in Connecticut
When it comes to choosing the best options for finding Connecticut geodes there are plenty of things we consider. Many of the best locations are closely guarded secrets which can make it really difficult for more casual geode hunters to find success. The key factors in our recommendations are:
The deep experience and understanding of our team about the area
Recommendations from local groups and clubs
How easy it is to get the a particular location
Safety and potential hazards when collecting
Weighing private and public locations
The ability for both experienced and novice geode enthusiasts to find great samples
With these factors in mind we've been able to put together a fantastic list that just about anyone can use!

The Best Places To Find Geodes in Connecticut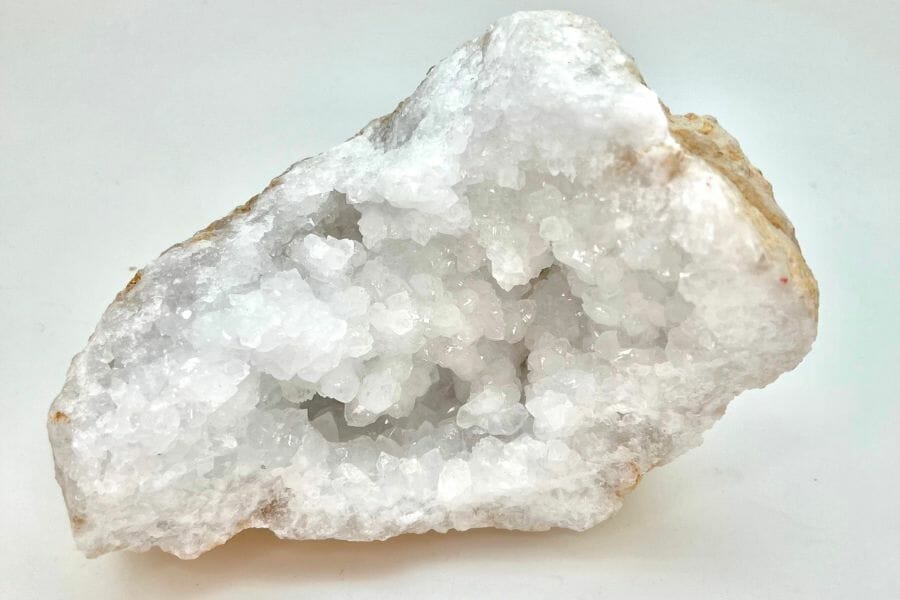 Chances are, you already know how incredible the gem mine sites in Connecticut are. Unfortunately, if you're looking for geodes here, you're going to have a tough time as they are really rare to find here. In fact, as of writing, there is no known spots in Connecticut where you can naturally find geodes.
This doesn't mean, though, that you should give up on your quest, because our state is rich in so many other rocks and gems that are just as captivating as geodes. We've also included recommendations of spots in nearby states where geodes are naturally found.
Always Confirm Access and Collection Rules!
Before heading out to any of the locations on our list you need to confirm access requirements and collection rules for both public and private locations.
These requirements are subject to change without notice and may differ from what we state below.
Always get updated information directly from the source ahead of time to ensure responsible rockhounding.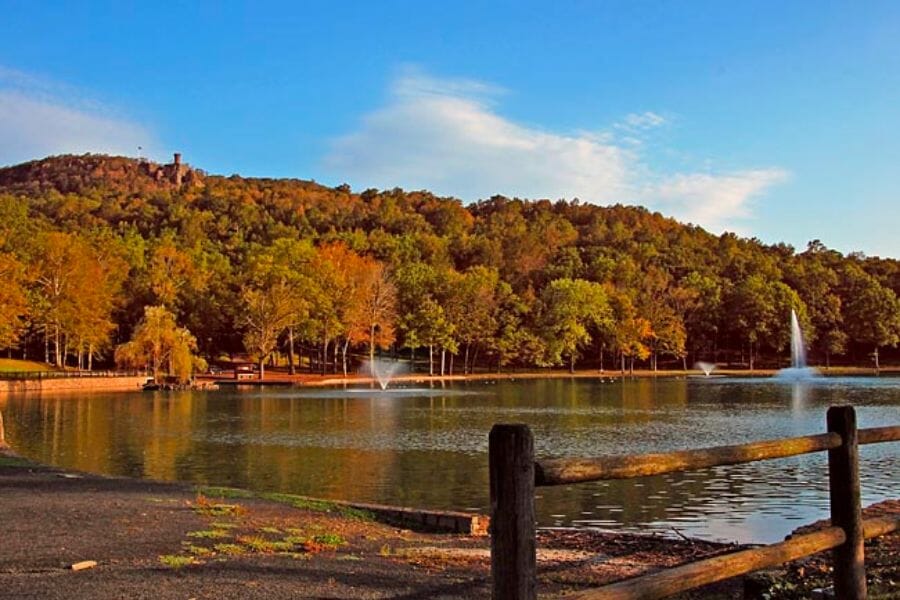 Located in the city of Meriden, Hubbard Park is right in the heart of our state. Covering over 1,800 acres, it is home to a huge lake, some epic hiking trails, and a bunch of other sweet features.
Its terrain is pretty diverse, with lots of hills, valleys, and forested areas. You can find different kinds of rocks and geological formations here, like massive glacial erratics. Plus, there are some small caves and crevices here.
Since Hubbard Park is right off the highway, it's pretty easy to get here. You can even take a train from New Haven or Hartford to Meriden and then walk to the park from there. But before you make a move, checkout first the latest collecting guidelines of Connecticut.
Where we found geode-like formations
You can find some of the most amazing samples of Quartz in our state in the reservoirs around Hubbard Park.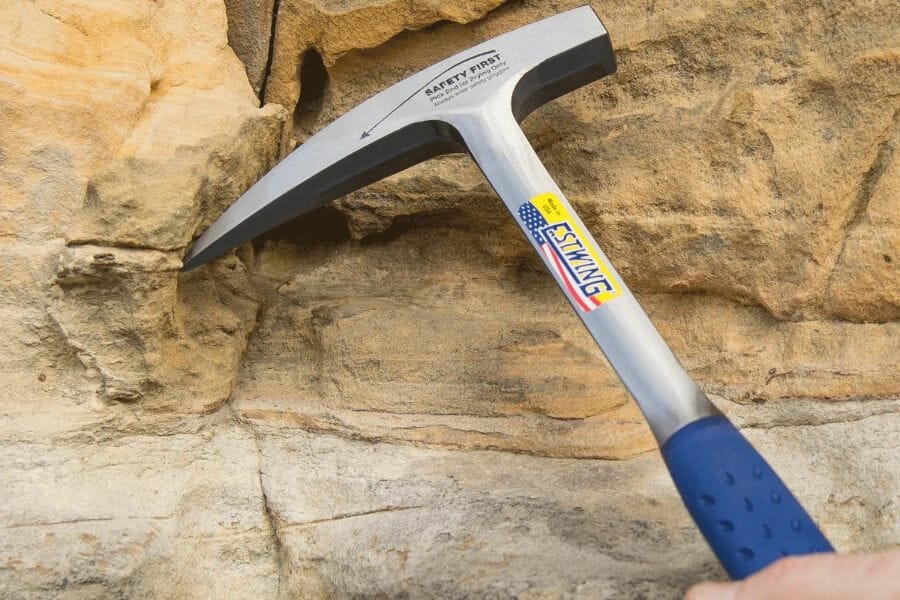 The tools every geode hunter will need
When you're out looking for geodes having the right tools for the job is very important. You don't need a lot for most trips but there are a handful that are critical and will make your life a lot easier.
We get asked a lot about the equipment we use. Over the years we've found a handful of tools that we recommend to both new and experienced geode hunters which we outline in great detail in our complete rockhounding tools and kit guide. These are quality options that also happen to be relatively inexpensive.
Below are the basic tools that make your life so much easier and save you a ton of time. Check out the full guide to see everything we recommend bringing. One quick note, as an Amazon Associate I earn from qualifying purchases but we try very hard to only recommend gear we would use ourselves and often recommend brands you can't find on Amazon.
At a minimum you should have:
1 - Sturdy rock hammer: The Estwing Rock Pick is our standard
2 - Rugged chisels: Try Kendo' 3-piece Chisel Set
3 - Compact shovel: The Koleiya 28-inch shovel works well
4 - Rock screen pan: The Wazakura Soil Sieve Set fits the bill
5 - Eye protection: DeWalt Safety Glasses are cheap and comfortable
6 - Head protection: Malta's Safety Helmet has been our go-to
7 - Jewelers lens with at least 20x magnification: Jarlink's Jewelers Loop is perfect
The geode-finding books that we use most
There are also a few books that have been extremely helpful in the search for gems. These books have great recommendations and tips:
National Audubon Society Field Guide to Rocks and Minerals: North America 
Northeast Treasure Hunter's Gem & Mineral Guide 
Earth Treasures: The Northeastern Quadrant 
We provide links to find these tools on Amazon but some can also be found at your local hardware stores. For more recommendations check out the link to our full tool guide above.
Plum Bank Beach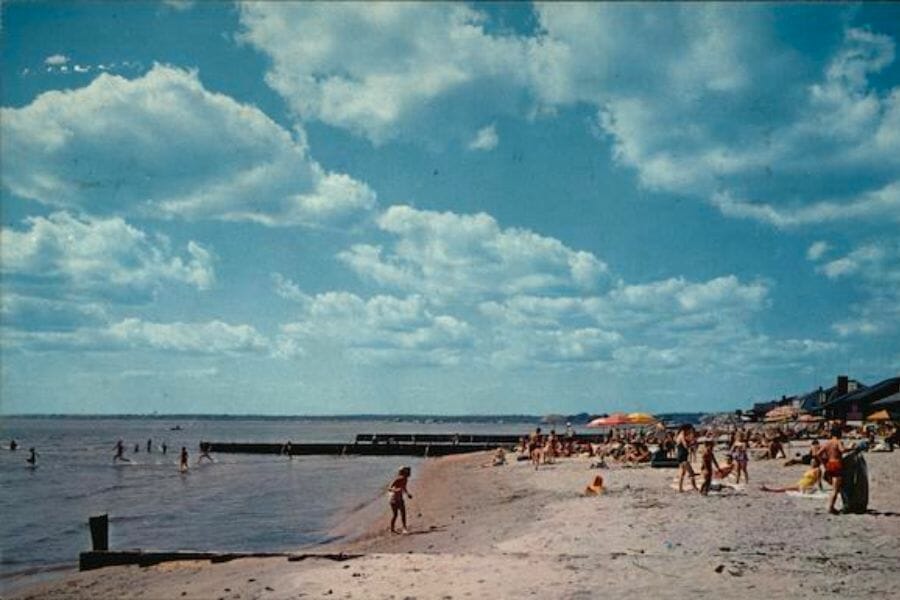 Not only is Plum Bank Beach an awesome spot to chill and catch some waves, it's also a great spot to find stunning rocks and gems! And if you're into crystal hunting in Connecticut, this is among your go-to places, too. It's located in Old Saybrook, which is about an hour drive from Hartford or New Haven.
Plum Bank Beach is situated right where the Connecticut River meets Long Island Sound. Its terrain is mostly sandy with some rocks and shells scattered around. If that doesn't guarantee a beautiful view yet, the beach has some amazing sandbars, too.
To get here, you can either drive or ride a train to Old Saybrook and then bike or walk to the beach if you're feeling like it.
Where we found geode-like formations
If you want to get your hands on some beautiful Agates and Moonstones, you can explore the gravels of Plum Bank Beach.
East Gransby Quarry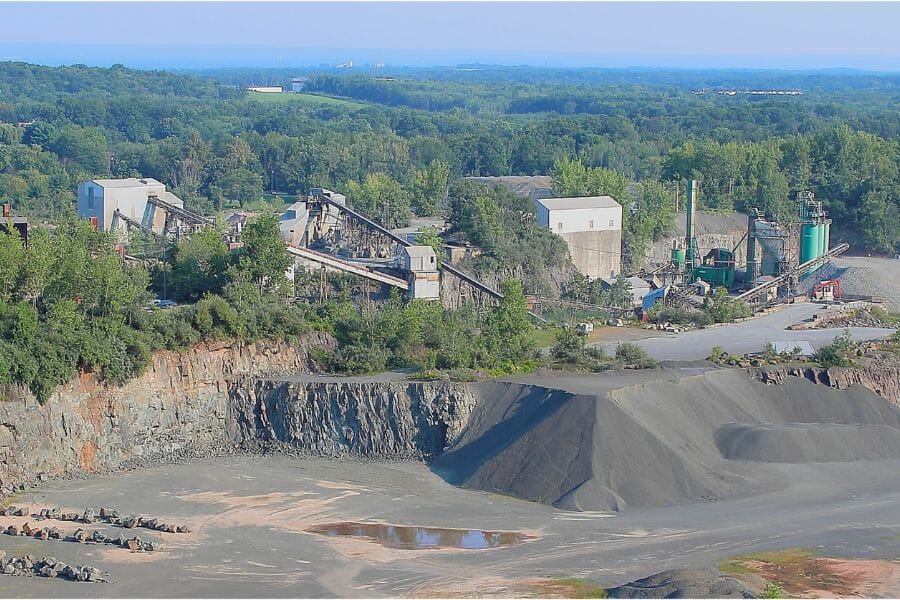 East Gransby Quarry is a popular spot among rockhounds. It's located in East Granby, a small town in the north-central part of our state. It's tucked away in the woods, which makes it hard to find. Its terrain is rocky and hilly, with lots of old mining equipment and piles of rocks all around.
Geologically speaking, the quarry is part of the Hartford Basin, which is a huge rift basin that formed millions of years ago. You can find all sorts of cool rocks, minerals, and gems here.
Getting here is a bit tricky: you have to park on the side of the road and then hike in through the woods. But once you get here, it's a pretty sweet setup. Just be careful if you're climbing on the rocks – it can get pretty sketchy in some spots.
Where we found geode-like formations
You can explore the different nooks and crannies of the East Gransby Quarry if you want to find fascinating samples of Quartz, along with other gems and rocks.
Deerfield River
We've included in our recommendation a great place where you can find geodes in Massachusetts, the Deerfield River. It's located in the western part of the state, near the town of Shelburne Falls.
With its scenic view, the river winds its way through the hills of the Berkshire Mountains, which means there are tons of trees and wildlife around. Its terrain is mostly rocky, with some rapids and calmer spots mixed in. Since the Deerfield River is part of the Connecticut River watershed, you can find all sorts of cool rocks, gems, and minerals here.
Getting here is pretty easy, too. It's not too far from Boston or Hartford, so you can make an adventurous day trip out of your journey here.
Where we found geodes in Deerfield River
If you're in this location, chances are you're near a geode. That's because there's no specific spot here where they're concentrated. When you explore Deerfield River, you might get your hands on some of the best samples of chalcedony geodes in Massachusetts.
Penfield Quarry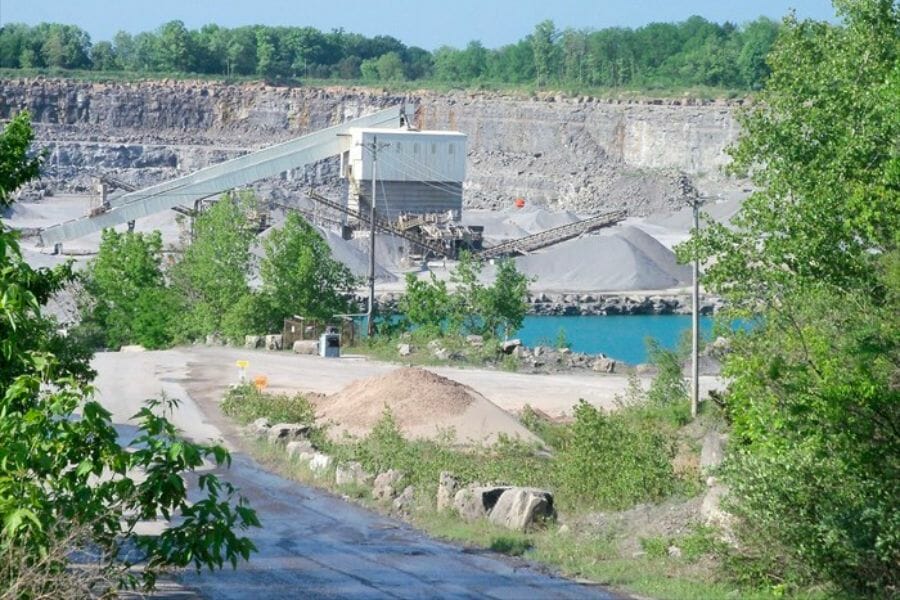 We also included one of the best spots to hunt geodes in New York in our recommendations, as this state is just adjacent to Connecticut. This sweet spot is the Penfield Quarry, located in a suburb of Rochester.
This area is pretty flat with some hills in the distance. The quarry itself is a huge hole in the ground, with walls that go down for like 30 feet. Terrain-wise, it's pretty rocky and dusty with different kinds of cool rocks, gems, and minerals. The quarry is most well-known for being part of the Lockport Dolomite formation, whose rocks are over 400 million years old.
The Penfield Quarry is right off the highway, with a parking lot nearby, so you can easily drive to get here.
Where we found geode in Penfield Quarry
To find geodes in Penfield Quarry, explore the walls of the place. Usually, you can find them on the upper levels of the walls and within the pockets or cracks in the rocks there.
Common Connecticut Geode-Hunting Questions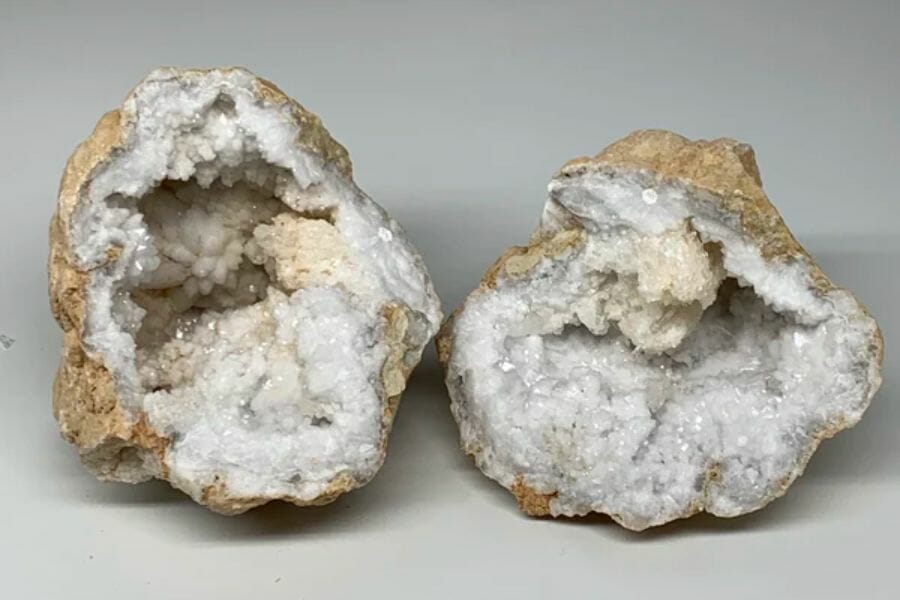 We gathered some of the common questions of people who are planning to find geodes in Connecticut, and we'll answer them below in case you have the same questions in mind.
Where can you find amethyst geodes in Connecticut?
While amethyst geodes do not naturally occur in Connecticut, our state has some pretty dope spots where you can find shimmering amethyst gems:
East Hill, Canton and Area Quarries of Meriden in Hartford County
Cinque Quarry, Highway 71 to road cut in Highway 6 at Meriden, and New Haven Traprock Quarry at New Haven County
Is it illegal to collect geodes in Connecticut?
Collecting geodes in Connecticut is legal for as long as you abide by the local collecting laws here. Also, make sure to checkout any specific rules and regulations depending on the land and area that you will explore. Government lands and private lands will surely have additional rules, like obtaining permits or so.
The Best Places To Buy Geodes In Connecticut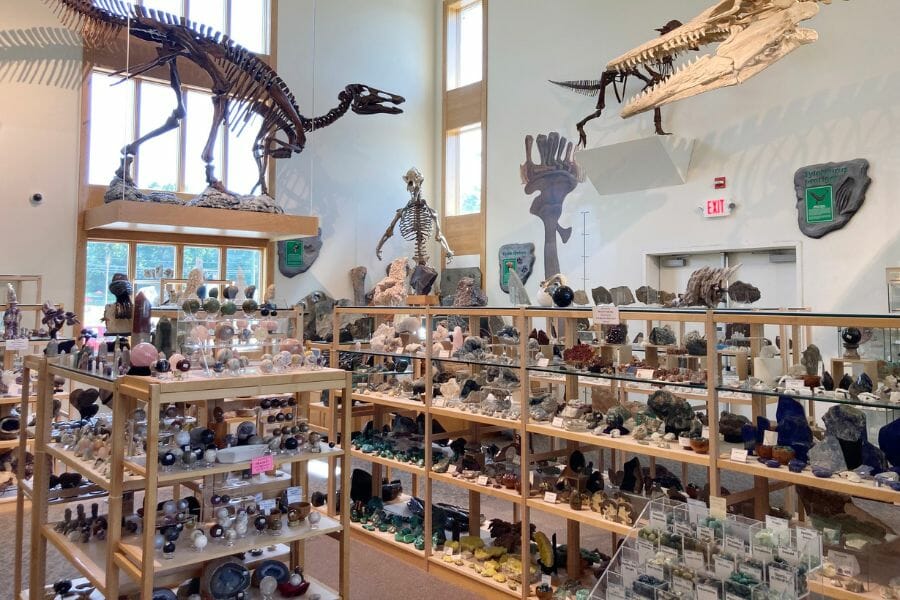 If you don't want to go out of Connecticut to find geodes, the most reliable way you can take home one is to buy it from the local rock and gem stores here. We've compiled a list of some of the best local shops here so you can easily choose which one to purchase geodes from.
You might also want to checkout their other items as most of these stores also offer other rocks and gems that are just as fascinating as geodes:
A to Z Mineral Shop – 1650 Hartford-New London Turnpike, Oakdale, CT 06370
Amazon – Surprisingly, Amazon has a wide variety of amazing geodes that you can choose from. They even have complete kits to help you crack geodes open!
Rock Garden – 17 S Main St, Branford, CT 06405
Curious Goods New Age Shop – 417 Campbell Ave, West Haven, CT 06516
Polis Crystals – 438 Howe Ave, Shelton, CT 06484
Mondazzi Book, Bead & Crystal – 570 Hayden Station Rd Suite E&F, Windsor, CT 06095
New Insights Metaphysical Boutique – 111 Church Hill Rd, Sandy Hook, CT 06482
Additional places to find geodes in nearby states
Check out our guides for nearby states if you've already tried all of our suggestions above or if you're planning a trip outside of the state:
If you have any recommendations for our list please leave a comment below!