With their beautiful crystal formations and intricate designs, geodes are one of nature's most fascinating creations. While they can be found in various parts of the world, geode hunting in Mississippi can be quite challenging. Despite our state being home to a diverse range of geological formations, finding geodes in Mississippi requires some knowledge of where to look.
In this article, we'll explore the best spots to find geodes in Mississippi. We'll take you through the area of the state that's known to have a concentration of geodes.
Whether you're a seasoned rock collector or a novice adventurer, this article will provide you with the information you need to find these hidden gems in the Magnolia State. So grab your hammer and chisel, and let's go geode hunting!
What Are Mississippi Geodes?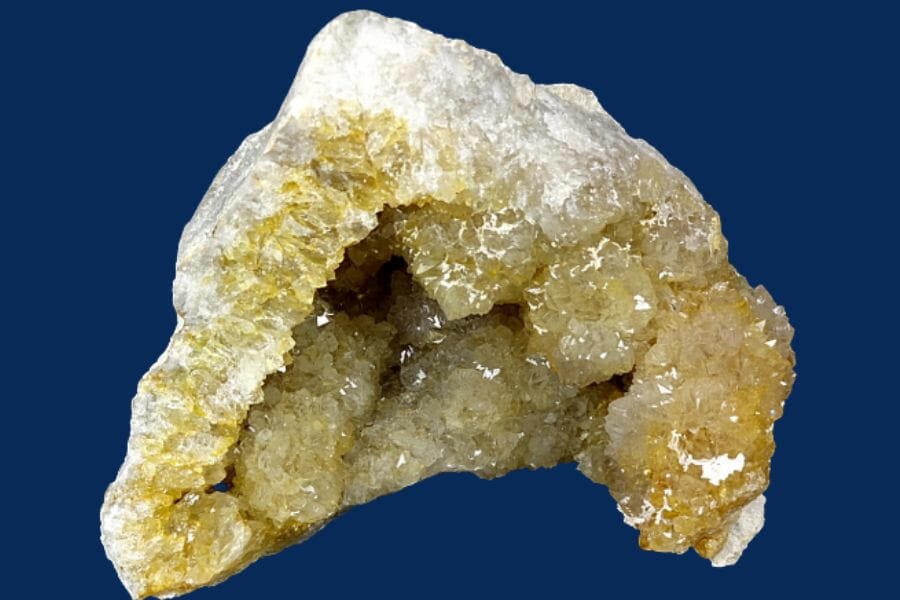 Geodes are hollow or partially hollow spherical rocks with crystal-lined interiors that are formed when mineral-rich solutions seep into cavities or bubbles in volcanic or sedimentary rocks. Over time, these solutions cool and crystalize, creating the beautiful structures that we associate with geodes. Geode formation is possible with the unique geology of Mississippi.
Geodes come in a variety of sizes and colors depending on the types of crystals it have. They're not only popular with collectors, but are also used in jewelry making and home decor. And hunting for these natural wonders can be an exciting and rewarding activity, especially if you know how to identify geodes!
The Types Of Geodes Found In Mississippi
There are tons of different varieties of this natural wonder all over the world, and its type determines how much a geode is worth. Here in Mississippi, you'll mostly find Keokuk Geodes.
How We Found The Best Geode Locations in Mississippi
When it comes to choosing the best options for finding Mississippi geodes there are plenty of things we consider. Many of the best locations are closely guarded secrets which can make it really difficult for more casual geode hunters to find success. The key factors in our recommendations are:
The deep experience and understanding of our team about the area
Recommendations from local groups and clubs
How easy it is to get the a particular location
Safety and potential hazards when collecting
Weighing private and public locations
The ability for both experienced and novice geode enthusiasts to find great samples
With these factors in mind we've been able to put together a fantastic list that just about anyone can use!

The Best Places To Find Geodes in Mississippi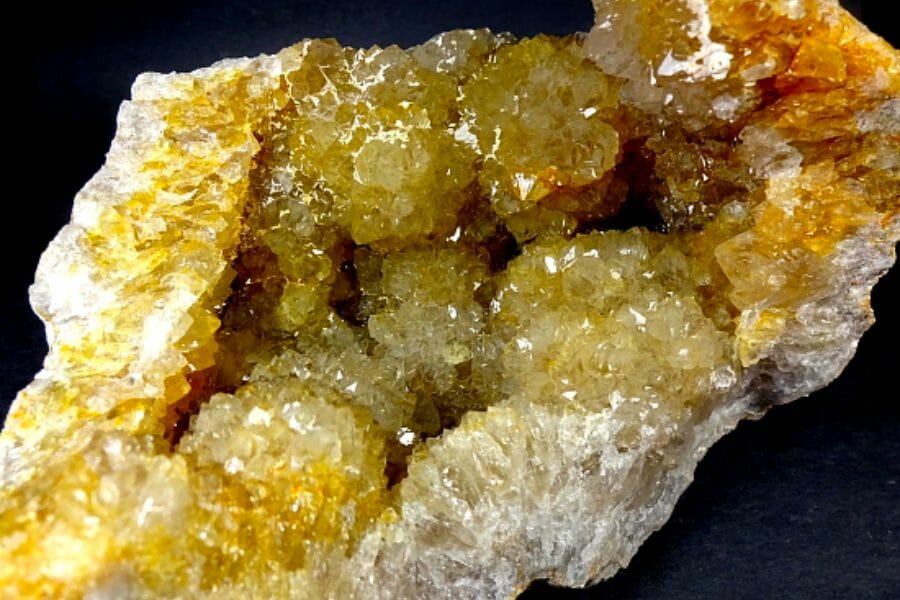 Most probably, you already know about the excellent gem-mining locations in Mississippi, but not all of them contain geodes. The spot we will reveal is already famous, but it is seldom known that it's also the best location to find geodes here.
Always Confirm Access and Collection Rules!
Before heading out to any of the locations on our list you need to confirm access requirements and collection rules for both public and private locations.
These requirements are subject to change without notice and may differ from what we state below.
Always get updated information directly from the source ahead of time to ensure responsible rockhounding.
Mississippi River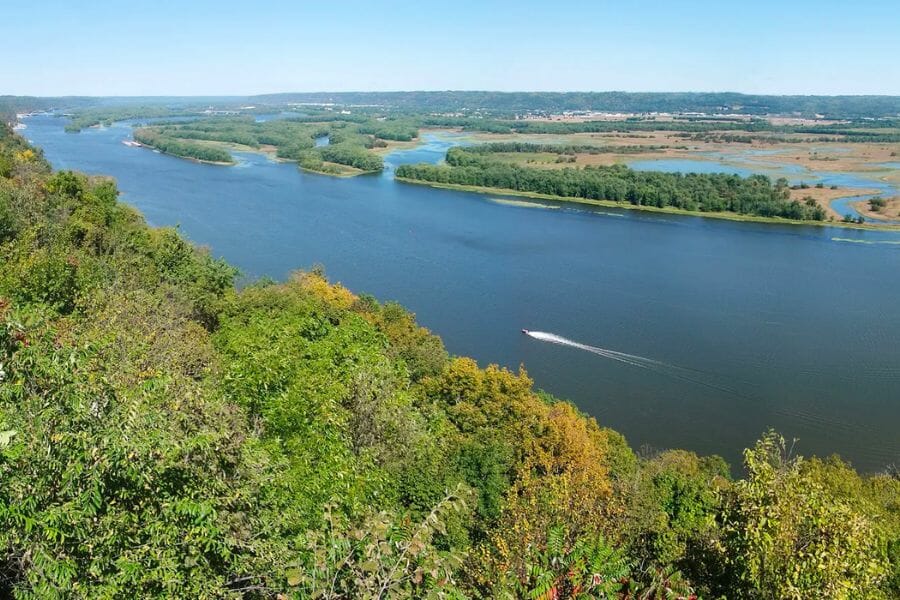 Mississippi River runs right through our state, and it's a key part of Mississippi's geography. The terrain along it varies, with some parts being flat and others being more hilly. The river itself is massive, and it's surrounded by a lot of trees and forests.
This river has been around for millions of years, and it's played a huge role in shaping the landscape around it. It has cut deep channels into the ground, and it's also deposited sediment in other areas. This has led to a lot of different types of rock formations in the area.
Getting to the Mississippi River is pretty easy. There are a lot of different towns and cities along the river that has access to it. There are also lots of parks and recreation areas along it, so there are plenty of opportunities to explore and enjoy the river. But before you visit here to find and bring home geodes, check out the updated collecting guidelines of Mississippi.
Where we found geodes at Mississippi River
The top spots to find geodes in Mississippi River is in its gravel pits and dredge tailings. Occasionally, geodes that form in other locations, specifically the Keokuk geode beds in southeastern Iowa, are carried downstream and gather on the river's gravel bars.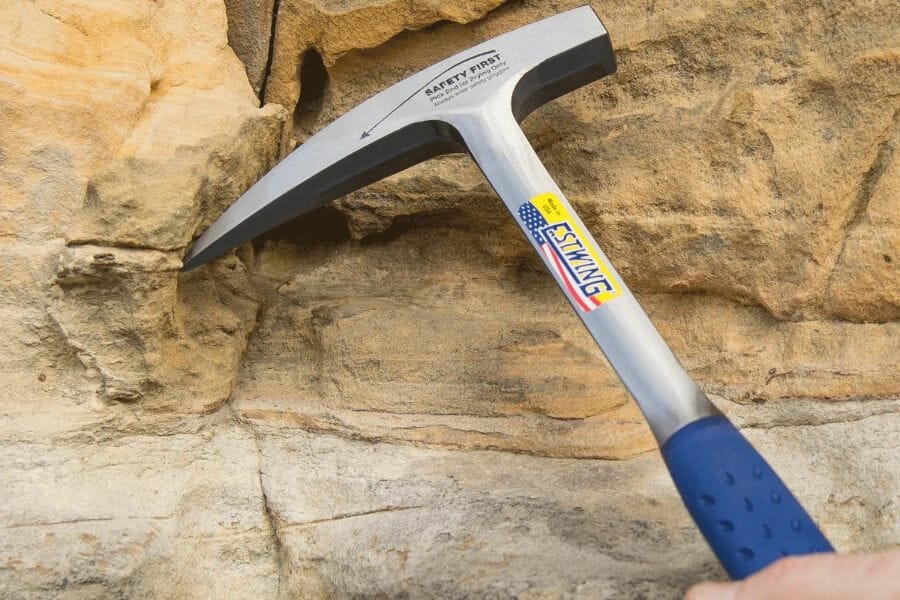 The tools every geode hunter will need
When you're out looking for geodes having the right tools for the job is very important. You don't need a lot for most trips but there are a handful that are critical and will make your life a lot easier.
We get asked a lot about the equipment we use. Over the years we've found a handful of tools that we recommend to both new and experienced geode hunters which we outline in great detail in our complete rockhounding tools and kit guide. These are quality options that also happen to be relatively inexpensive.
Below are the basic tools that make your life so much easier and save you a ton of time. Check out the full guide to see everything we recommend bringing. One quick note, as an Amazon Associate I earn from qualifying purchases but we try very hard to only recommend gear we would use ourselves and often recommend brands you can't find on Amazon.
At a minimum you should have:
1 - Sturdy rock hammer: The Estwing Rock Pick is our standard
2 - Rugged chisels: Try Kendo' 3-piece Chisel Set
3 - Compact shovel: The Koleiya 28-inch shovel works well
4 - Rock screen pan: The Wazakura Soil Sieve Set fits the bill
5 - Eye protection: DeWalt Safety Glasses are cheap and comfortable
6 - Head protection: Malta's Safety Helmet has been our go-to
7 - Jewelers lens with at least 20x magnification: Jarlink's Jewelers Loop is perfect
The geode-finding books that we use most
There are also a few books that have been extremely helpful in the search for gems. These books have great recommendations and tips:
National Audubon Society Field Guide to Rocks and Minerals: North America 
Southeast Treasure Hunter's Gem & Mineral Guide 
Earth Treasures: The Southeastern Quadrant 
We provide links to find these tools on Amazon but some can also be found at your local hardware stores. For more recommendations check out the link to our full tool guide above.
Common Geode-Hunting Questions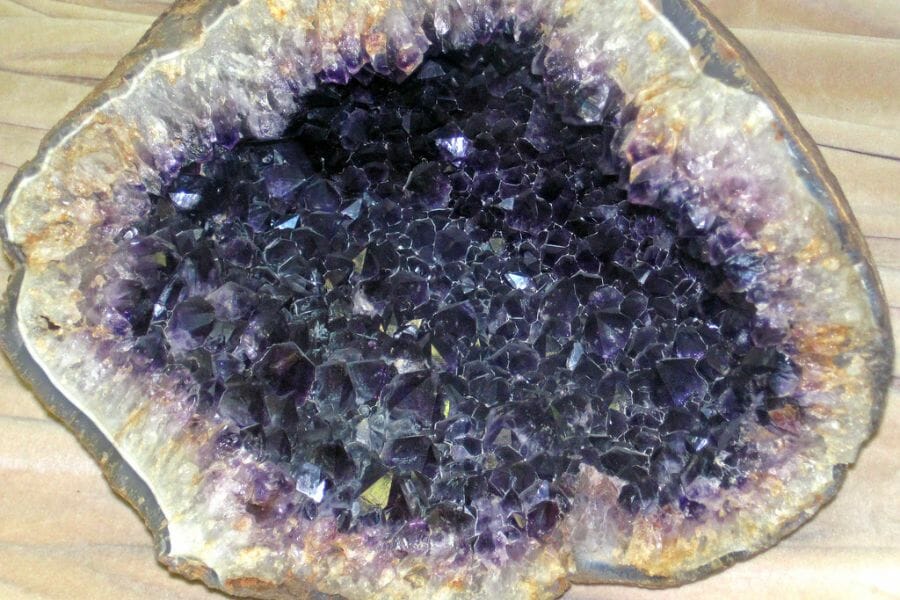 As we're writing this, we came across several commonly asked questions that geode enthusiasts and collectors tend to have. We thought that you might have these same queries, so we'll answer them here!
Where can you find amethyst geodes in Mississippi?
Unfortunately, amethyst geodes do not naturally occur in Mississippi, but if you're keen on getting your hands on one, we listed down below some of the best local shops where you might find them.
Is it illegal to collect geodes in Mississippi?
As long as you follow the relevant laws and regulations on collecting geodes, you should have no issues collecting them here. However, if you plan to collect geodes from government lands, it's important to check the local regulations beforehand. Also, if you're exploring private lands, it's essential to get permission before proceeding with any geode collecting activities.
The Best Places To Buy Geodes In Mississippi
If you're willing to spend a dime and prefer a hassle-free approach to getting geodes, we've compiled a list of some cool shops in the area where you can buy them. We recommend that you take a look and see if any of them interest you!
Soul Synergy Rocks & Crystals – 3010 Lakeland Cove Suite X, Flowood, MS 39232
Amazon – You'll be surprised at the pretty great selection of geodes in Amazon. You can even find complete kits to break them open!
The Crystal Cottage – 8095 Menge Ave, Pass Christian, MS 39571
Lucky Luna – 9229 MS-178, Olive Branch, MS 38654
Kaylabeths Crystals and More – 1229 Smith Ln, Monticello, MS 39654
Hands of Earth Energy – 106 Main Ave N, Magee, MS 39111
Sage Den – 138 E Front St, Hattiesburg, MS 39401
Additional places to find geodes in nearby states
Check out our guides for nearby states if you've already tried all of our suggestions above or if you're planning a trip outside of the state:
If you have any recommendations for our list please leave a comment below!