Alaska may be known for its glaciers, but it's also home to incredible geode-hunting opportunities. One of the most spectacular natural wonders on Earth are geodes. Geodes are not readily visible on the surface, so finding them in Alaska without the right assistance might be challenging and like looking for a needle in a haystack.
This article will walk you through Alaska's top geode and geode-like formation locations. We combed through our state and its neighboring areas to bring you the most promising places with gems and rocks that are just stunning as geodes. Despite the challenge, finding one is a thrilling experience, and the rewards of unearthing a beautiful geode make an effort worthwhile.
What Are Geodes Anyway?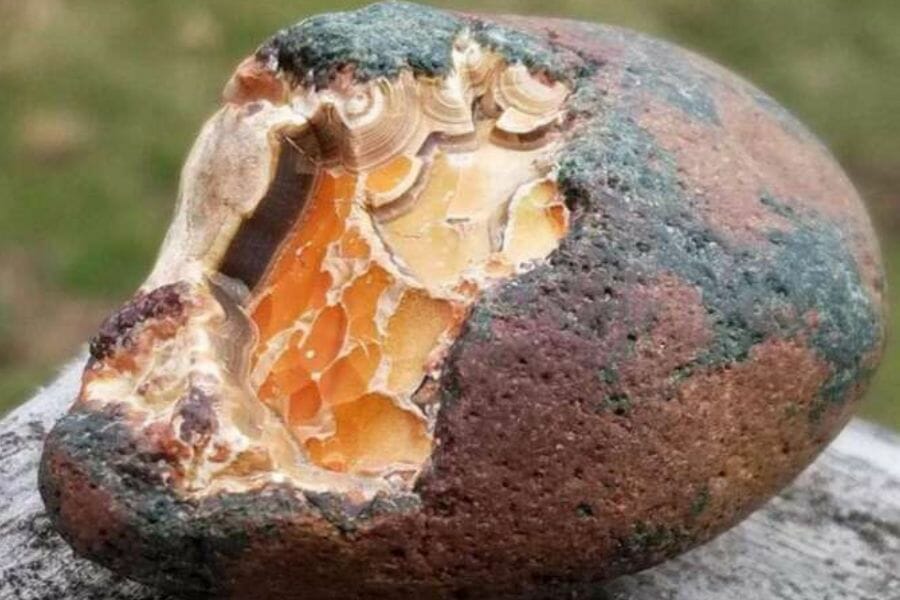 Geodes are some of the fascinating geological wonders that nature has to offer. These spherical rocks may look unassuming on the outside, but inside, they're packed with intricate patterns and glittering crystals that will leave any geology enthusiast in awe. The value of a geode and its attractiveness are determined by the kind of crystal inside it once it has been opened.
Geodes can form in various ways, but most commonly, they are created when mineral-rich fluids seep into a cavity in a rock and then slowly evaporate, leaving behind crystals or mineral deposits.
We've created a guide on how to identify a geode if you happen to come across one while you're searching.
Collectors and rock enthusiasts often seek them for their unique beauty and geological significance. Some popular geode hunting locations include deserts, volcanic regions, and certain areas in the United States.
How We Found The Best Geode Locations in Alaska
When it comes to choosing the best options for finding Alaska geodes there are plenty of things we consider. Many of the best locations are closely guarded secrets which can make it really difficult for more casual geode hunters to find success. The key factors in our recommendations are:
The deep experience and understanding of our team about the area
Recommendations from local groups and clubs
How easy it is to get the a particular location
Safety and potential hazards when collecting
Weighing private and public locations
The ability for both experienced and novice geode enthusiasts to find great samples
With these factors in mind we've been able to put together a fantastic list that just about anyone can use!

The Best Places To Find Geodes in Alaska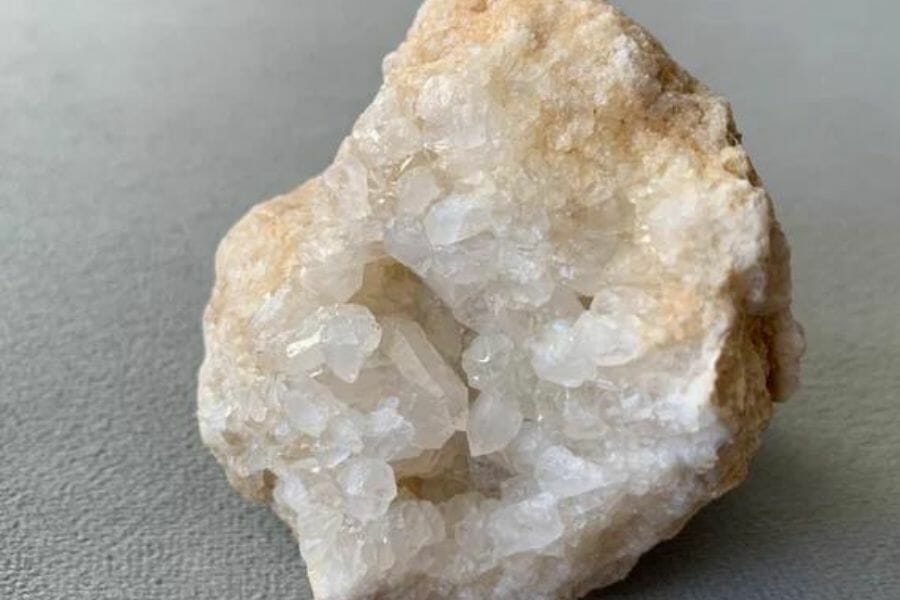 Even if you are conscious of the finest places to mine for gems in Alaska, it can be very difficult to find geodes in their natural environment. It's reasonable to say that finding geodes in Alaska has been dificult for you. The state has fewer geodes than other states, which explains this. There are no known places where you would have a high chance of finding one because of how uncommon they are.
Alternatively, we can advise you on where in the state to search for rock formations that resemble geodes.
Always Confirm Access and Collection Rules!
Before heading out to any of the locations on our list you need to confirm access requirements and collection rules for both public and private locations.
These requirements are subject to change without notice and may differ from what we state below.
Always get updated information directly from the source ahead of time to ensure responsible rockhounding.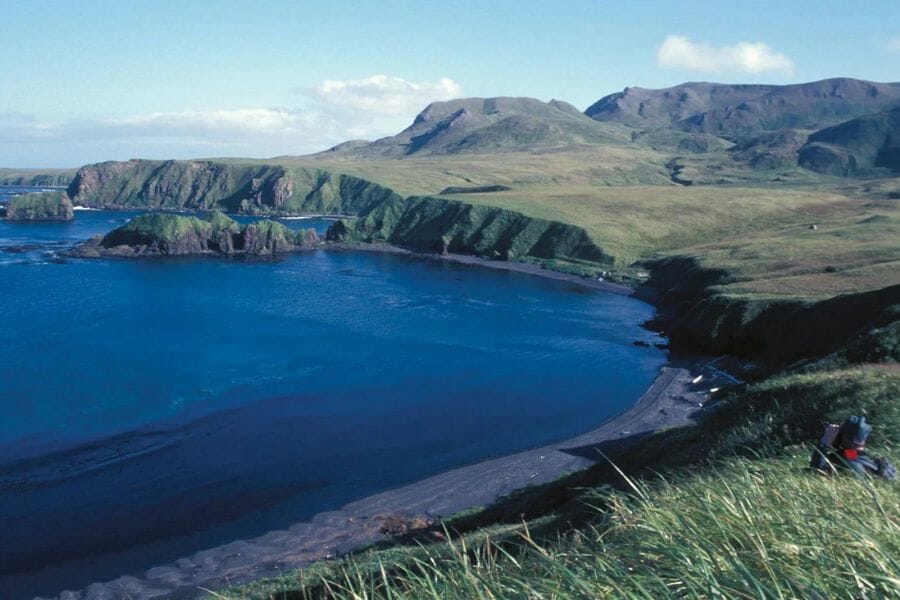 The Aleutian Islands in Alaska are a string of volcanic islands that stretch over 1,200 miles from the mainland. These islands are on the Pacific Ring of Fire and are prone to frequent volcanic eruptions and earthquakes. The terrain is rugged and dramatic, with cliffs, rocky shorelines, and towering peaks that rise to 10,000 feet above sea level.
The geography of the Aleutian Islands is unique because they serve as a bridge between two continents, North America and Asia. This has resulted in a diverse ecosystem home to marine life, including sea otters, whales, and sea lions. The islands are also a major stopover point for migratory birds. The climate of the Aleutians is typically cool and wet, with strong winds and frequent fog.
Where we found geode-like formations
There are agates on the beach gravels of Sand Point in Shumagin Island.
You can also find agates at the Captain's Bay neighborhood to Priest Rock beach gravels in Unalaska Island.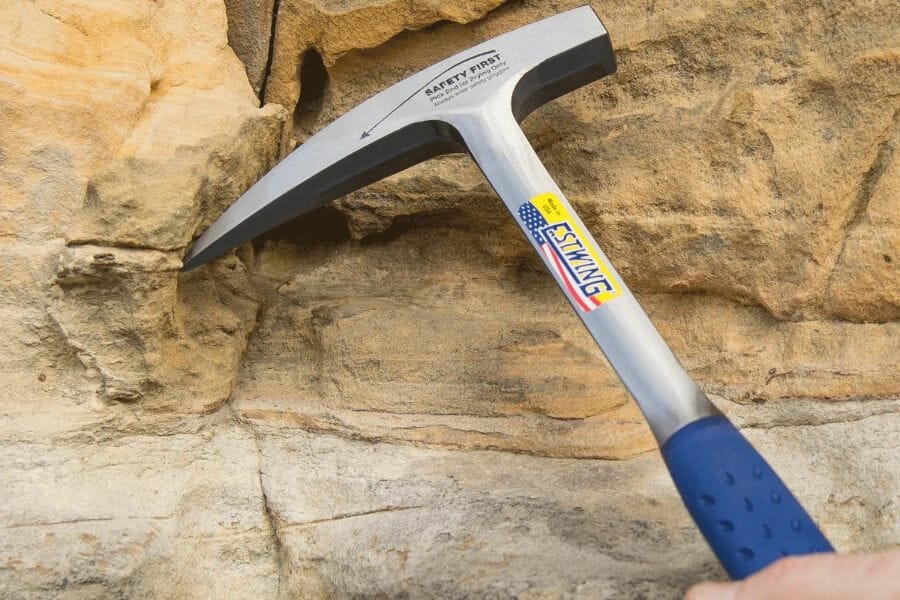 The tools every geode hunter will need
When you're out looking for geodes having the right tools for the job is very important. You don't need a lot for most trips but there are a handful that are critical and will make your life a lot easier.
We get asked a lot about the equipment we use. Over the years we've found a handful of tools that we recommend to both new and experienced geode hunters which we outline in great detail in our complete rockhounding tools and kit guide. These are quality options that also happen to be relatively inexpensive.
Below are the basic tools that make your life so much easier and save you a ton of time. Check out the full guide to see everything we recommend bringing. One quick note, as an Amazon Associate I earn from qualifying purchases but we try very hard to only recommend gear we would use ourselves and often recommend brands you can't find on Amazon.
At a minimum you should have:
1 - Sturdy rock hammer: The Estwing Rock Pick is our standard
2 - Rugged chisels: Try Kendo' 3-piece Chisel Set
3 - Compact shovel: The Koleiya 28-inch shovel works well
4 - Rock screen pan: The Wazakura Soil Sieve Set fits the bill
5 - Eye protection: DeWalt Safety Glasses are cheap and comfortable
6 - Head protection: Malta's Safety Helmet has been our go-to
7 - Jewelers lens with at least 20x magnification: Jarlink's Jewelers Loop is perfect
The geode-finding books that we use most
There are also a few books that have been extremely helpful in the search for gems. These books have great recommendations and tips:
National Audubon Society Field Guide to Rocks and Minerals: North America 
Northwest Treasure Hunter's Gem & Mineral Guide 
Earth Treasures: The Northwestern Quadrant 
We provide links to find these tools on Amazon but some can also be found at your local hardware stores. For more recommendations check out the link to our full tool guide above.
The Interior Region of Alaska is a vast, rugged wilderness, including forests, mountains, and glaciers. It's the heart of Alaska and the perfect place for anyone looking to get off the beaten path and explore the great outdoors. The terrain is diverse, with rolling hills, steep mountains, and wide open plains. Aside from containing amazing geode-like formations, it's also home to some of the best crystals in Alaska.
The geology of the Interior Region is also incredibly fascinating, with evidence of volcanic activity, earthquakes, and glaciation throughout the area. The region is home to several notable mountain ranges, including the Alaska Range, which includes Denali, the highest peak in North America. The Yukon River runs through the Interior, providing a lifeline for the communities that call this region home.
Where we found geode-like formations
Quartz crystals are found at the local creek gravels in the district of Fairbanks.
Amethyst with agate and quartz are abundant in the Healy area.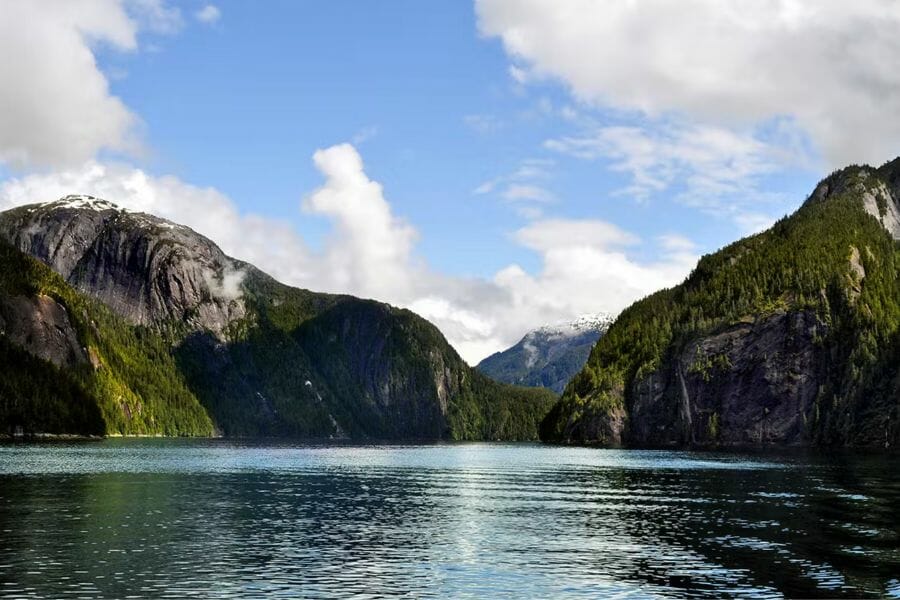 The Ketchikan District in Alaska is a stunningly beautiful area known for its rugged coastline, dense forests, and abundant wildlife. The district encompasses several islands, including Prince of Wales Island, the third-largest island in the United States. The terrain is characterized by steep mountains, deep fjords, and lush forests home to bears, eagles, and other wildlife.
The geology of the Ketchikan District is diverse and includes both volcanic and sedimentary rock formations. The area is also home to several glaciers, including the LeConte Glacier, one of the world's fastest-moving glaciers. The district is a popular destination for outdoor enthusiasts.
Where we found geode-like formations
The Green Monster Copper Mine at Sulzer contains quartz crystals.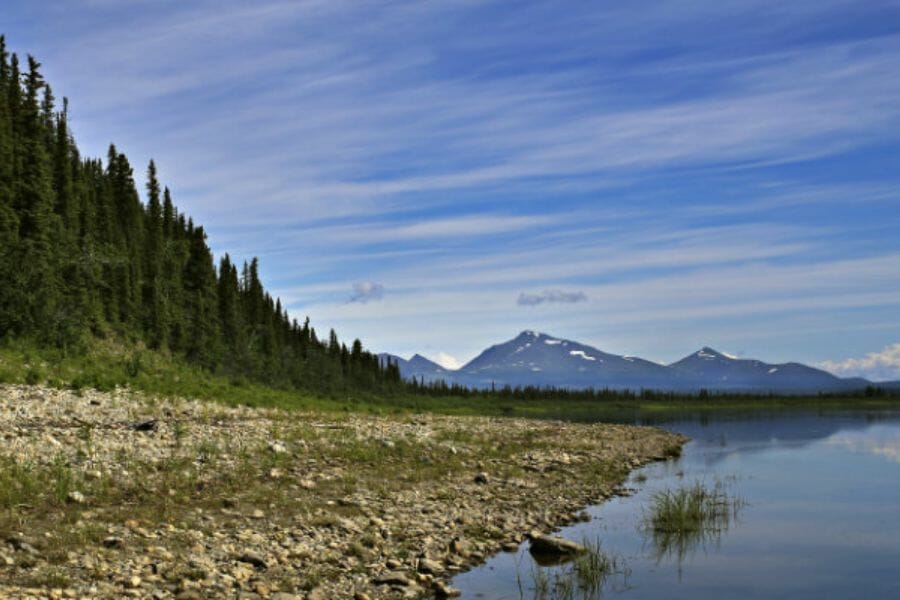 The Kobuk River Region in Alaska is a remote and pristine area home to some of the most stunning landscapes in the state. The region is located in the northwest part of Alaska, characterized by rugged mountains, vast tundra, and clear rivers. The Kobuk River is the main waterway in the region and offers excellent fishing and boating opportunities.
The geology of the Kobuk River Region is incredibly diverse, with evidence of volcanic activity, glaciation, and erosion throughout the area. The terrain is also home to several unique geological formations, including the Great Kobuk Sand Dunes, the largest active dunes in the Arctic. The region is also home to several important archaeological sites, including the Onion Portage site, which indigenous people have used for thousands of years.
Where we found geode-like formations
The large area of the Kobuk River is widely known to have an abundance of quartz crystals.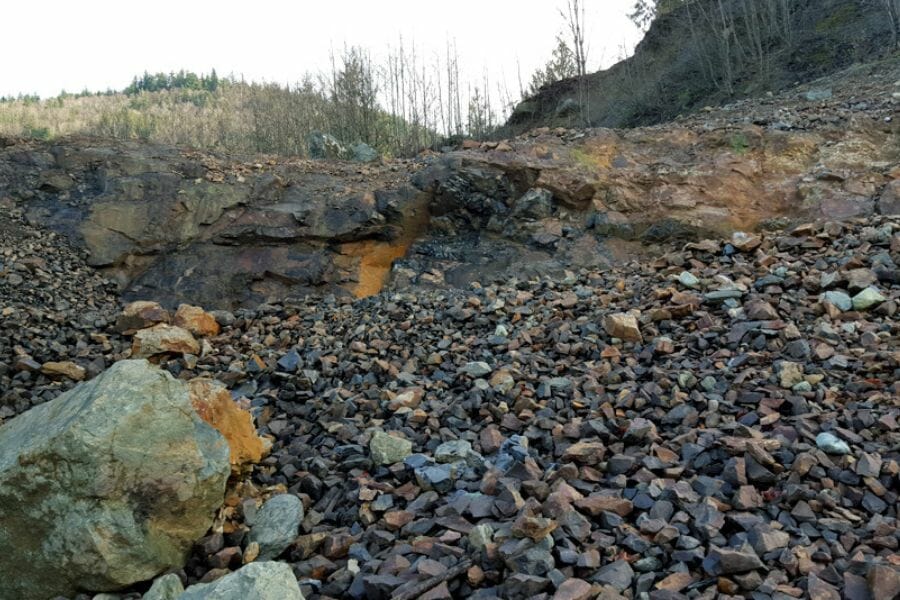 Visit Washington, the closest neighboring state of Alaska to the south, to locate more naturally occurring geodes. The Walker Valley is one of Washington's best places to look for geodes.
The Walker Valley Geode Location in Washington is a popular destination for rockhounds and geology enthusiasts looking to find unique and stunning geodes. The location is in a rural area, about an hour north of Seattle, and is known for its diverse geology and beautiful terrain. The area is home to several types of geodes, including those filled with amethyst, calcite, and quartz.
The geology of the Walker Valley Geode Location is diverse, with evidence of volcanic activity and sedimentary deposits throughout the area. The terrain is characterized by rolling hills, rocky outcrops, and dense forests that make a beautiful backdrop to any geode-hunting excursion. The area is also home to several streams and rivers, which can be a great place to find geodes washed downstream.
Where we found geodes in Walker Valley
Walker Valley Geodes is located in Skagit County, about 9 miles east of Mount Vernon, Washington. You can find amethyst geodes and quartz geodes here.
Common Alaska Geode-Hunting Questions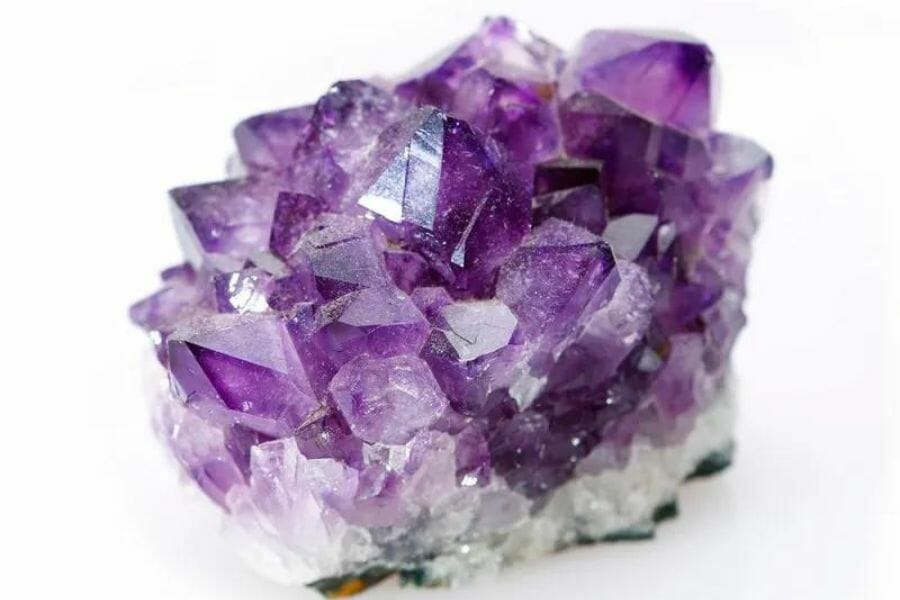 The following common questions concerning geode hunting are the ones we wanted to address in case you also have the same queries:
Where can you find amethyst geodes in Alaska?
Unfortunately, Alaska doesn't have any naturally occurring amethyst geodes or crystals. Nevertheless, there are a few rock shops nearby where you might be able to discover them, as well as other gems. We've listed the shops below where you can locate them.
Is it illegal to collect geodes in Alaska?
In Alaska, acquiring and collecting geodes are both allowed if you abide by the applicable laws. Before planning your hunt, research any specific rules in public and private sites.
The Best Places To Buy Geodes In Alaska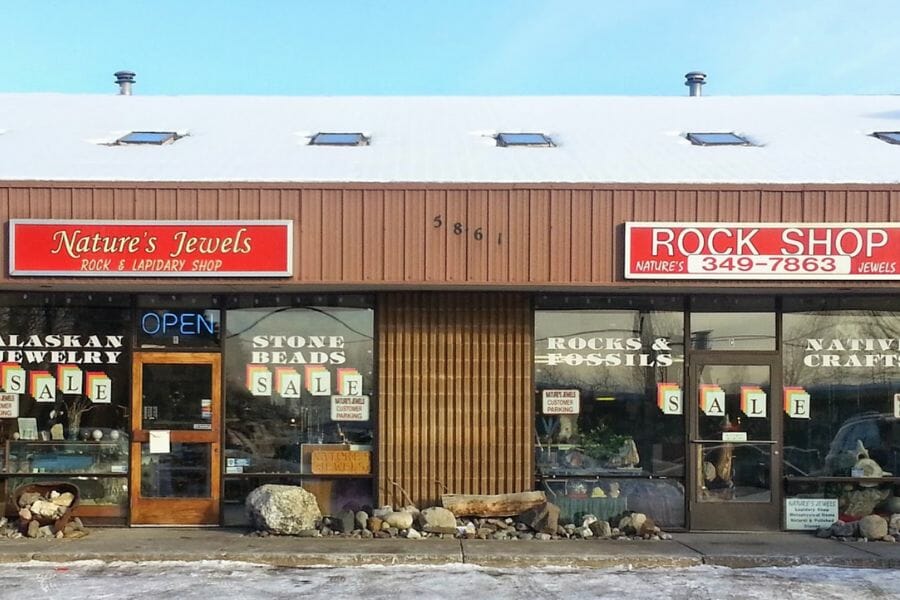 The most dependable way to bring one home in Alaska is to visit local rock shops selling geodes. Natural wonders like rocks and gems can also be found at many stores.
Alaska Horn and Antler – 38778 Sterling Hwy, Soldotna, AK 99669, United States
Amazon – You may purchase various geodes on Amazon. Whole kits are also available for individuals who want to crack it themselves.
Nature's Jewels Rock Shop – 5861 Arctic Blvd # B, Anchorage, AK 99518, United States
PyeWackets – 39426B River Ridge Rd, Sterling, AK 99672, United States
Salt | Pine – 165 E Bunnell Ave, Homer, AK 99603, United States
Stars of Alaska – 2217 E Tudor Rd # 1, Anchorage, AK 99507, United States
Additional places to find geodes in nearby states
Check out our guides for nearby states if you've already tried all of our suggestions above or if you're planning a trip outside of the state:
If you have any recommendations for our list, please comment below!