Minnesota is home to many geological wonders, but finding geodes, one of nature's most incredible wonders, can be a challenging task without the right guidance. With a little research and incredible persistence, it's possible to uncover these hidden gems in the Land of 10,000 Lakes.
We'll explore the best places to find geodes in Minnesota, along with other equally beautiful rocks and gems. From the beaches of Lake Superior, Ely Creek, and Bronk Quarry, to our state's neighboring locations at Keokuk Geode Beds in Iowa and Lawrence County in South Dakota, we will take you on a journey and show you where to look for these amazing treasures.
What Are Geodes Anyway?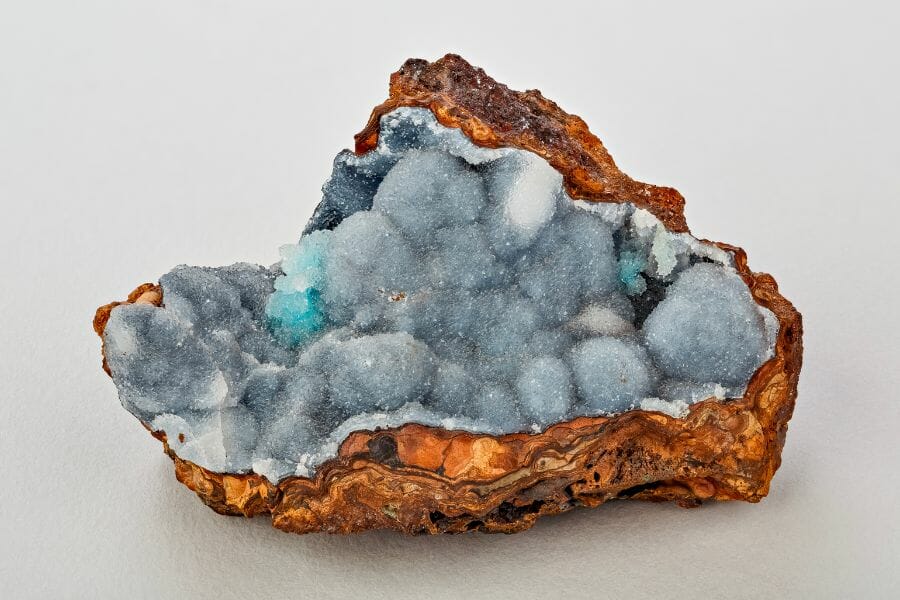 Geodes are a fascinating type of rock that form when mineral-rich water seeps into cracks and cavities in other rocks. Over time, these minerals form a crystal lining inside the cavity, creating a hollow ball-shaped rock known as a geode. The crystals inside can be in different colors, shapes, and sizes, making each geode unique. How much a Geode is worth actually depends on its type.
Often found in sedimentary rock formations, such as limestone or shale, geodes can range in size from just a few centimeters to several meters in diameter. They are prized by collectors and rock enthusiasts for their beauty and unique formation. Geodes truly never fail to amaze those who discover them!
We've created a great guide to help you how to identify an unopened geode. This will surely come in handy during your geode hunting!
How We Found The Best Geode Locations in Minnesota
When it comes to choosing the best options for finding Minnesota geodes there are plenty of things we consider. Many of the best locations are closely guarded secrets which can make it really difficult for more casual geode hunters to find success. The key factors in our recommendations are:
The deep experience and understanding of our team about the area
Recommendations from local groups and clubs
How easy it is to get the a particular location
Safety and potential hazards when collecting
Weighing private and public locations
The ability for both experienced and novice geode enthusiasts to find great samples
With these factors in mind we've been able to put together a fantastic list that just about anyone can use!

The Best Places To Find Geodes in Minnesota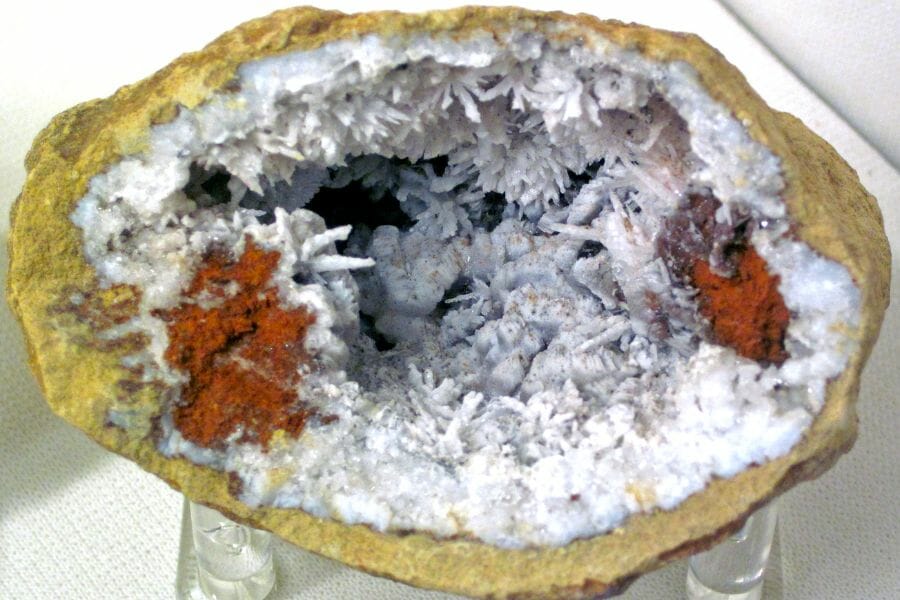 You might be familiar with the great spots to mine gems in Minnesota, but finding geodes in their natural environment can be incredibly hard to do here. Compared to its surrounding states, Minnesota doesn't have much geode reserves. In fact, there's no known spot where you can readily find or dig for them here.
But this doesn't mean you should give up on your quest! We prepared some great recommendations where you can find rocks and gems that are very similar to geodes. We also included places in nearby states where you can find geodes. Let's begin!
Always Confirm Access and Collection Rules!
Before heading out to any of the locations on our list you need to confirm access requirements and collection rules for both public and private locations.
These requirements are subject to change without notice and may differ from what we state below.
Always get updated information directly from the source ahead of time to ensure responsible rockhounding.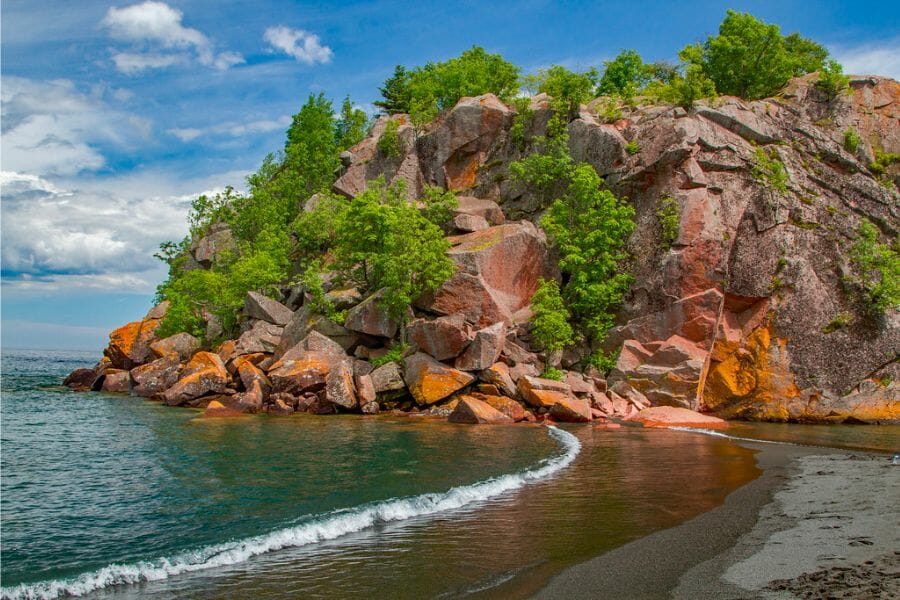 Lake Superior Beaches are located in the northeastern part of our state. Its terrain and geology are both top-notch! The beaches are surrounded by towering cliffs, forests, and crystal-clear water, which makes for a truly breathtaking view.
You can find all kinds of rocks and minerals here, including agates and basalt. The beaches themselves are mostly rocky, but there are some sandy areas too. It's like a treasure hunt when you're searching for cool rocks and crystals!
Getting here is pretty easy. There are several towns and campgrounds nearby, so you can make a day trip out of it or stay overnight. But before you do some serious planning to collect here, checkout the updated guidelines of Minnesota first.
Where we found geode-like formations
There are around 72 beaches along the beautiful, vast shorelines of Lake Superior. On these beaches, you can easily find Lake Superior Agates that are as stunning as geodes. In fact, people from all over the state and even outside go to Lake Superior just to get their hands on these fascinating gems.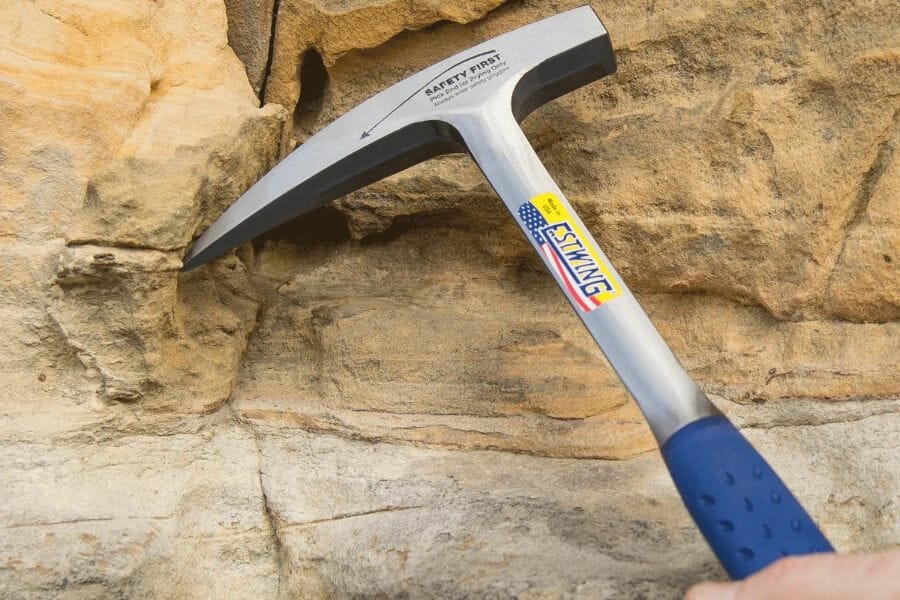 The tools every geode hunter will need
When you're out looking for geodes having the right tools for the job is very important. You don't need a lot for most trips but there are a handful that are critical and will make your life a lot easier.
We get asked a lot about the equipment we use. Over the years we've found a handful of tools that we recommend to both new and experienced geode hunters which we outline in great detail in our complete rockhounding tools and kit guide. These are quality options that also happen to be relatively inexpensive.
Below are the basic tools that make your life so much easier and save you a ton of time. Check out the full guide to see everything we recommend bringing. One quick note, as an Amazon Associate I earn from qualifying purchases but we try very hard to only recommend gear we would use ourselves and often recommend brands you can't find on Amazon.
At a minimum you should have:
1 - Sturdy rock hammer: The Estwing Rock Pick is our standard
2 - Rugged chisels: Try Kendo' 3-piece Chisel Set
3 - Compact shovel: The Koleiya 28-inch shovel works well
4 - Rock screen pan: The Wazakura Soil Sieve Set fits the bill
5 - Eye protection: DeWalt Safety Glasses are cheap and comfortable
6 - Head protection: Malta's Safety Helmet has been our go-to
7 - Jewelers lens with at least 20x magnification: Jarlink's Jewelers Loop is perfect
The geode-finding books that we use most
There are also a few books that have been extremely helpful in the search for gems. These books have great recommendations and tips:
National Audubon Society Field Guide to Rocks and Minerals: North America 
Northwest Treasure Hunter's Gem & Mineral Guide 
Earth Treasures: The Northwestern Quadrant 
We provide links to find these tools on Amazon but some can also be found at your local hardware stores. For more recommendations check out the link to our full tool guide above.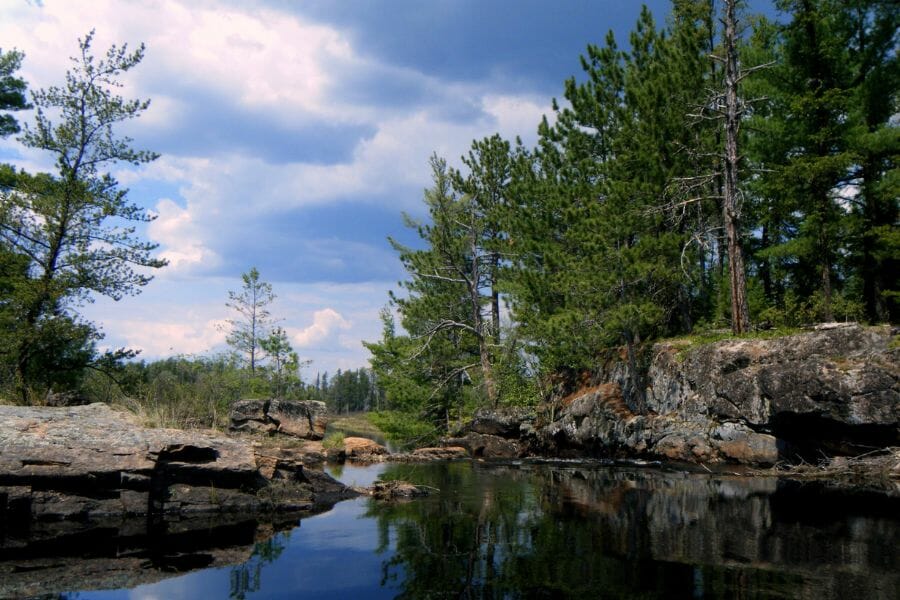 Ely Creek is a hidden gem of a spot that's totally worth checking out. Located in the northern part of our state, it's surrounded by forests and rolling hills, which makes for some great outdoor opportunities. Its terrain can be a bit rough in some spots, but it's totally manageable if you have some decent hiking boots.
One of the things that make Ely Creek so unique is the geology of the area. You can find all kinds of rocks and minerals, including some pretty impressive quartz formations. You can also expect this site to be among the best places to find Minnesota crystals.
There are some parking areas near the trailhead, and the hike to the creek is only about 2 miles or so. So if you plan to go here, you shouldn't have any trouble finding your way as the trail is well-marked, too.
Where we found geode-like formations
When you visit here, you can find mesmerizing quartz samples if you explore the area creeks, streams, washes to southwest of Ely.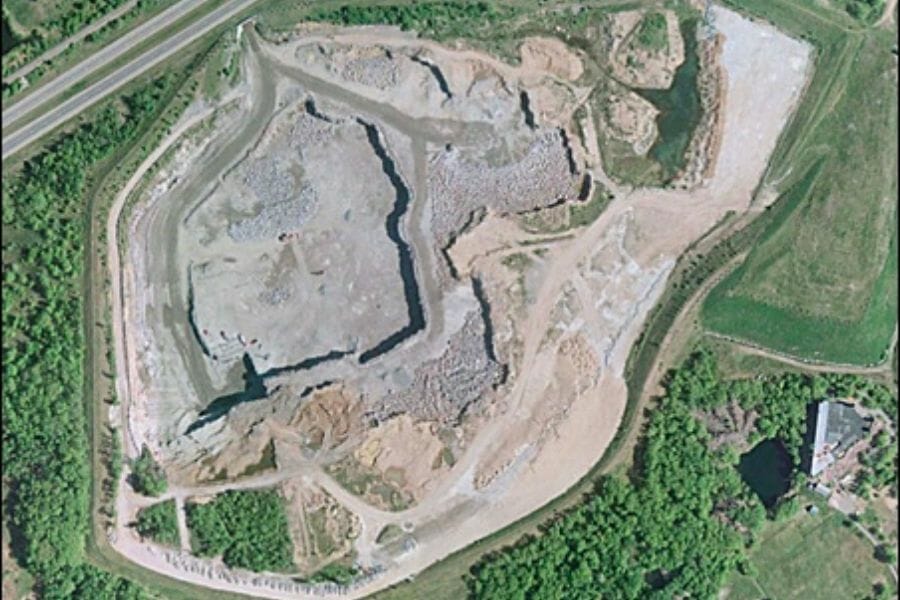 Located in the southeastern part of our state near the town of Red Wing, Bronk Quarry is a pretty sweet spot for rockhounding. The area is pretty flat, but the quarry itself is really impressive. It's this massive hole in the ground that was created by years of mining. Its terrain can be a bit rough, with lots of loose rocks and gravel.
The geology of the quarry is what makes it so special. You can find all kinds of rocks and minerals, including some really cool fossils.
It's really easy to go here. There's a parking area near the entrance, and the quarry is only about a 10-minute walk from there. Just be sure to watch your step, bring some water, and a good pair of shoes, and you'll be good to go!
Where we found geode-like formations
Take your time to explore the different spots and zones of the Bronk Quarry that are rich in different kinds of gems and rocks. You can find some cool samples of Dogtooth Calcite here which are just as pretty as the crystals in a geode.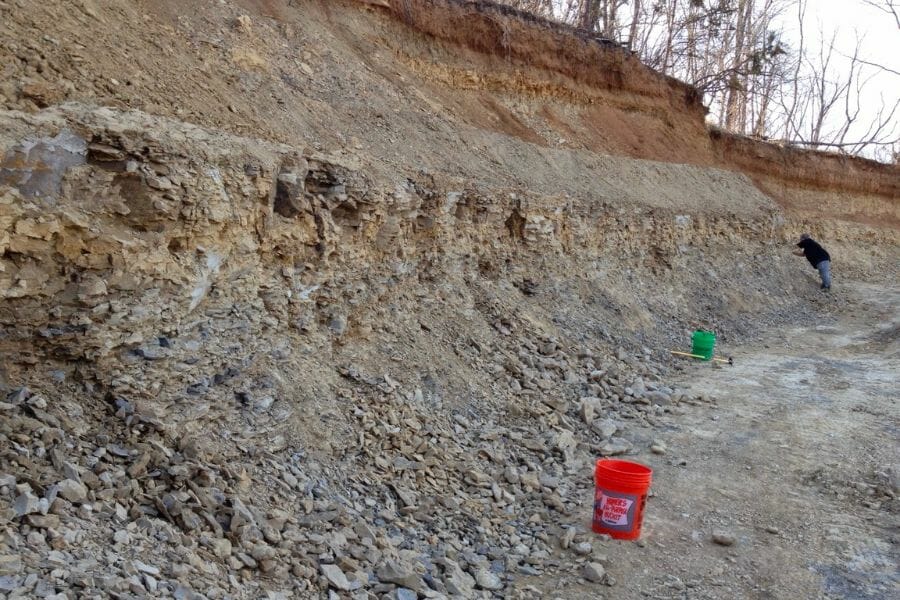 As a nearby state to Minnesota, Iowa has some of the best spots to find geodes in the country, so we thought of including here the Keokuk Geode Beds. In this incredible spot, you can find some of the biggest and most beautiful geodes in the world. The beds are located in the southeastern part of Iowa, near the town of Keokuk.
Its geography is pretty typical for the Midwest, with lots of flat farmland and rolling hills. But the geode beds themselves are really something special. It's a bit rugged in some spots, with lots of rocky areas and caves to explore.
The geology of the Keokuk Geode Beds is what makes it so unique. Formed from limestone deposits, the geodes here can range in size from small marbles to huge bowling balls. There are a few different spots where you can access this area, and they're all pretty well marked, so you won't have any difficulty visiting here.
Where we found geodes in Keokuk Geode Beds
You can find Keokuk geodes in the stream gravels and rocky exposures of the Keokuk Geode Beds.
Another nearby state to Minnesota, South Dakota is also abundant in places to find geodes. One of the best that you can visit is Lawrence County, located in the western part of the state, near the Wyoming border.
Its geography is really diverse, with lots of mountains, valleys, and rolling hills. It's also home to some really cool rock formations and different types of rocks and minerals. The county is pretty rugged in some spots, with lots of steep inclines and rocky areas.
If you're driving, getting here is pretty easy. It's just a few hours from Rapid City, and there are lots of great scenic drives in the area. Overall, Lawrence County is definitely worth a visit!
Where we found geodes in Lawrence County
When you visit here, you can find geodes in the gravels near the Spearfish Canyon and on the banks of the Whitewood River.
Common Minnesota Geode-Hunting Questions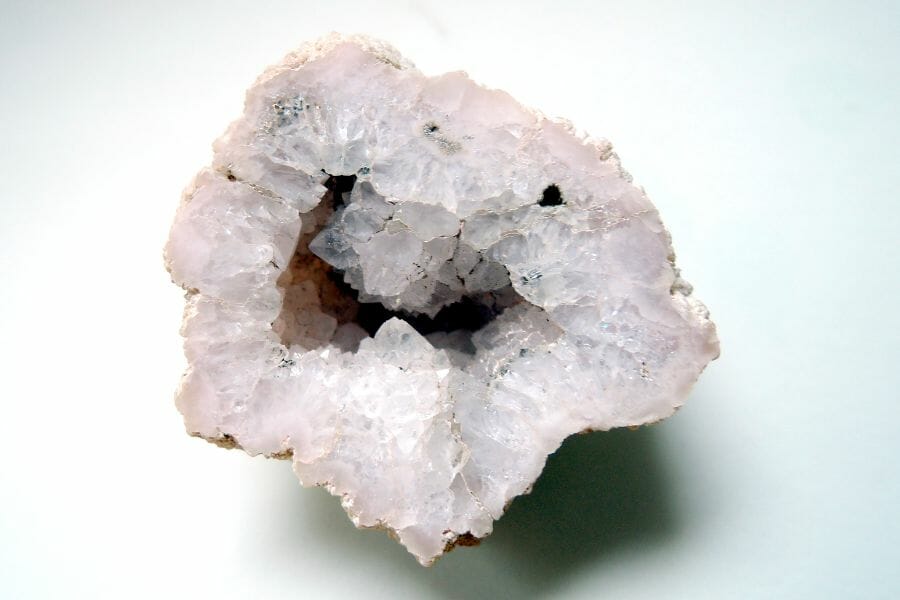 We came across common questions when it comes to finding geodes here and we'll address them here in case you have the same queries.
Where can you find amethyst geodes in Minnesota?
It's unfortunate that amethyst geodes don't naturally occur in Minnesota, but there are several local shops that you can visit here where you can find amethyst geodes and more. We made a list of these stores below.
Is it illegal to collect geodes in Minnesota?
It's perfectly legal to collect (or buy) geodes in Minnesota for as long as you follow the local rules and regulations. Also, checkout any specific rules for private lands and government lands and make sure you comply with them, too.
The Best Places To Buy Geodes In Minnesota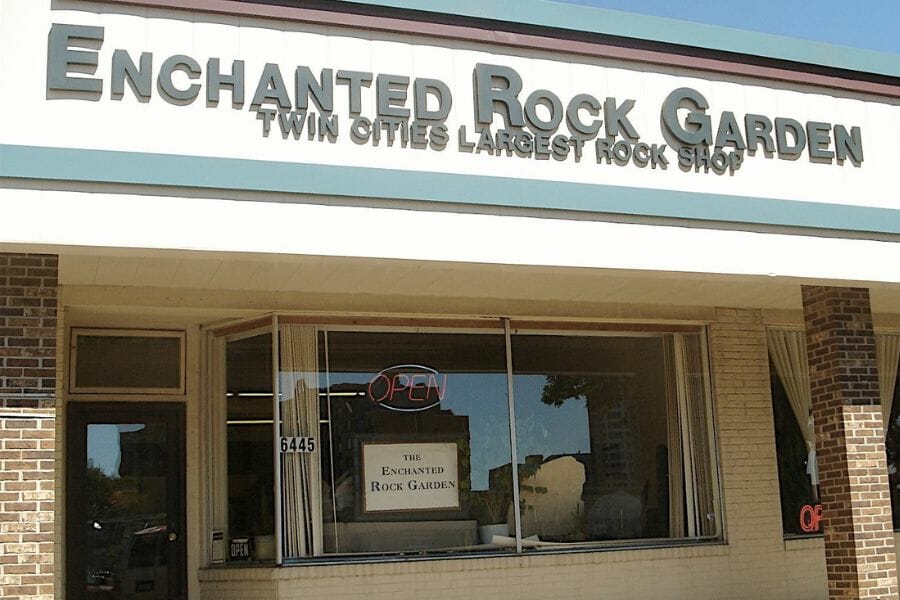 The surest way to take home a geode from Minnesota is to visit the local shops that sell them here. What's even better is that these stores don't only contain geodes, but lots of other natural wonders, like other gems and rocks.
The Enchanted Rock Garden – 1228 E 66th St, Richfield, MN 55423
Amazon – There's actually a great selection of geodes on Amazon. Plus, you can find complete kits to crack them open. How cool is that?
ZRS Fossils and Gifts – 3018 Lyndale Ave S, Minneapolis, MN 55408
SeashellsbyShelly Rock and Crystal Shop – 2625 County Rd 37 NE, Monticello, MN 55362
Crystal Zones – 1595 MN-36 #662, Roseville, MN 55113
Dream in Jasper Crystal – 107 N Meridian St, Belle Plaine, MN 56011
Prairie Pandey – 425 Dudrey Ct, Moorhead, MN 56560
Additional places to find geodes in nearby states
Check out our guides for nearby states if you've already tried all of our suggestions above or if you're planning a trip outside of the state:
If you have any recommendations for our list please leave a comment below!