Wyoming is known for its stunning landscapes and geological wonders, and among them are geodes. However, finding these hidden treasures can be a challenge, as they are often buried deep in the ground and scattered throughout an area.
In this article, we'll explore the best places to find geodes in Wyoming. We explored our state to find the most promising locations, from the waters of the Box Elder Creek to the landscapes of the Absaroka Mountain Range. We'll also share information on their geology and what makes them so rich in these unique rocks.
Join us on this journey to uncover the beauty and mystery of Wyoming's geodes!
What Are Wyoming Geodes?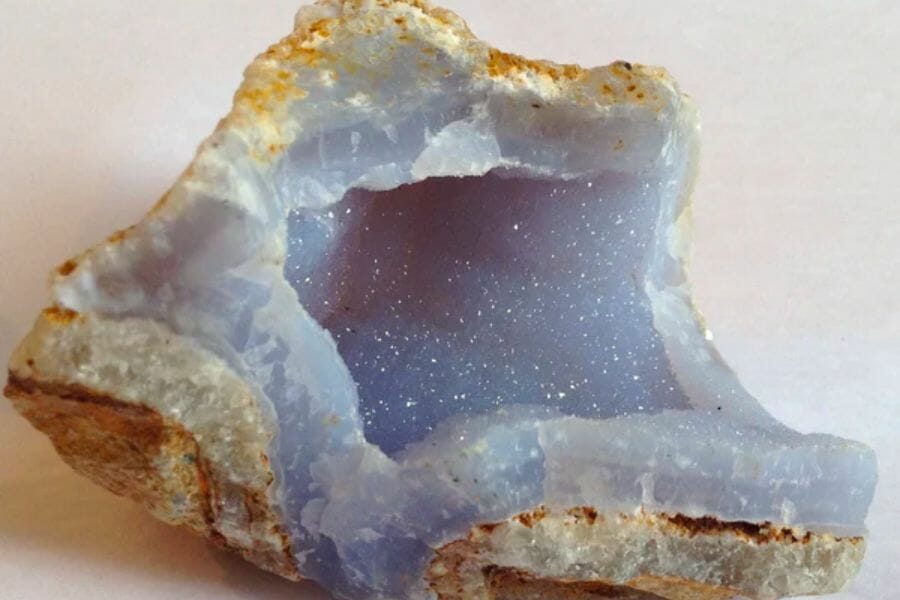 Geodes are hollow rocks that are filled with crystals. They form when mineral-rich water seeps into a cavity in a rock and then evaporates, leaving behind a layer of crystals on the inside. With Wyoming's unique geology, geode formation is pretty easy!
These natural wonders can come in many sizes— from small golf ball-sized ones to giant ones that weigh several hundred pounds. Its outside is usually rough and unremarkable, but once it's cracked open, the beauty inside is revealed. A geode's crystal formations can take many different shapes and colors, depending on the minerals that were present when it was formed.
If you're geode hunting here, chance are you need to know what an outside of a geode really looks like, so make sure to keep this handy guide with you.
The Types Of Geodes Found In Wyoming
There are tons of different varieties of this natural wonder all over the world, and the value of a geode depends on it. Here in Wyoming, you can mostly find beautiful and mesmerizing samples of Chalcedony geodes.
How We Found The Best Geode Locations in Wyoming
When it comes to choosing the best options for finding Wyoming geodes there are plenty of things we consider. Many of the best locations are closely guarded secrets which can make it really difficult for more casual geode hunters to find success. The key factors in our recommendations are:
The deep experience and understanding of our team about the area
Recommendations from local groups and clubs
How easy it is to get the a particular location
Safety and potential hazards when collecting
Weighing private and public locations
The ability for both experienced and novice geode enthusiasts to find great samples
With these factors in mind we've been able to put together a fantastic list that just about anyone can use!

The Best Places To Find Geodes in Wyoming
You may already be familiar with the great places to mine gems in Wyoming, but not all of them have geodes. While it might be the first time you'll hear about the places we'll share with you, we're recommending them because they're the definite spots where you can find geodes in Wyoming. Let's begin!
Always Confirm Access and Collection Rules!
Before heading out to any of the locations on our list you need to confirm access requirements and collection rules for both public and private locations.
These requirements are subject to change without notice and may differ from what we state below.
Always get updated information directly from the source ahead of time to ensure responsible rockhounding.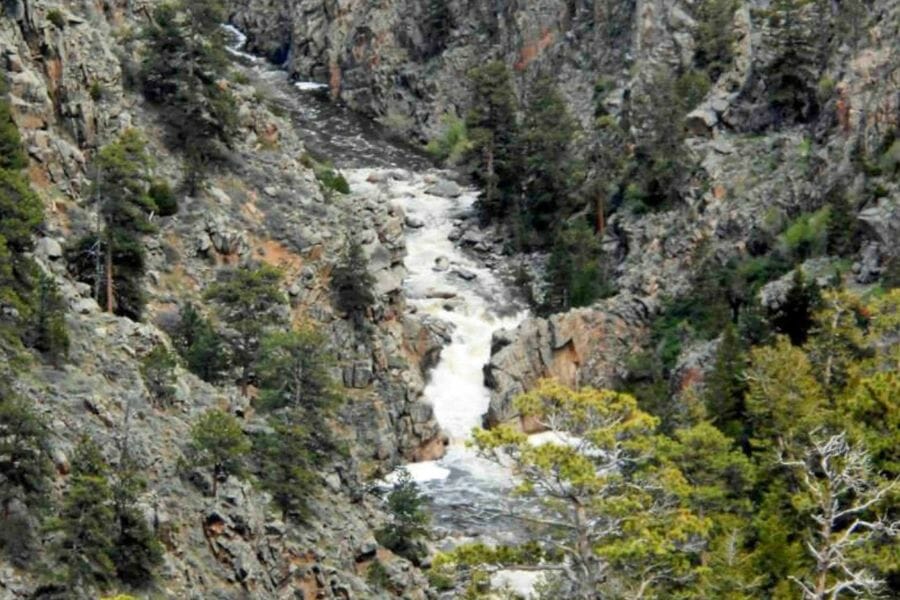 When you visit Box Elder Creek, you'll be surrounded by mountains and canyons, with the creek winding through the valley. You can find all kinds of rocks and minerals here, but what you really wanna look for are the geodes. They're pretty hard to spot, but once you crack one open, the crystals inside are just stunning.
Getting here, though, isn't the easiest thing in the world. You have to drive on dirt roads and navigate some rough terrain. Take note that this area is remote, so make sure to pack in everything you need. Also, review the latest collecting guidelines of Wyoming before you do any serious geode hunting.
If you're up for an adventure with an awesome chance to find geodes, too, Box Elder Creek is definitely worth checking out!
Where we found geodes at Box Elder Creek
You can find amazing samples of Chalcedony geodes in the gravels and clays lining Box Elder Creek's nearby streams. You can also find them on the area surfaces and draws of the area.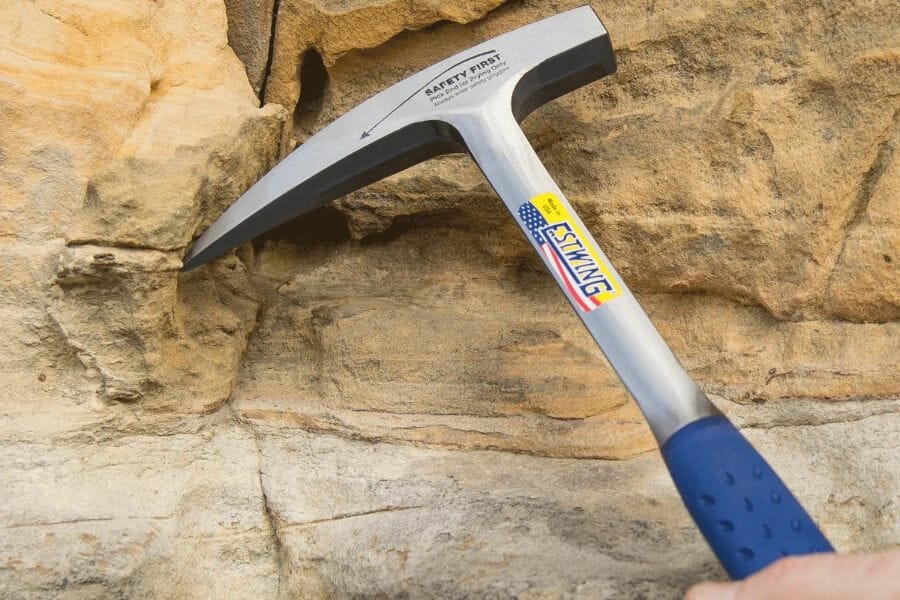 The tools every geode hunter will need
When you're out looking for geodes having the right tools for the job is very important. You don't need a lot for most trips but there are a handful that are critical and will make your life a lot easier.
We get asked a lot about the equipment we use. Over the years we've found a handful of tools that we recommend to both new and experienced geode hunters which we outline in great detail in our complete rockhounding tools and kit guide. These are quality options that also happen to be relatively inexpensive.
Below are the basic tools that make your life so much easier and save you a ton of time. Check out the full guide to see everything we recommend bringing. One quick note, as an Amazon Associate I earn from qualifying purchases but we try very hard to only recommend gear we would use ourselves and often recommend brands you can't find on Amazon.
At a minimum you should have:
1 - Sturdy rock hammer: The Estwing Rock Pick is our standard
2 - Rugged chisels: Try Kendo' 3-piece Chisel Set
3 - Compact shovel: The Koleiya 28-inch shovel works well
4 - Rock screen pan: The Wazakura Soil Sieve Set fits the bill
5 - Eye protection: DeWalt Safety Glasses are cheap and comfortable
6 - Head protection: Malta's Safety Helmet has been our go-to
7 - Jewelers lens with at least 20x magnification: Jarlink's Jewelers Loop is perfect
The geode-finding books that we use most
There are also a few books that have been extremely helpful in the search for gems. These books have great recommendations and tips:
National Audubon Society Field Guide to Rocks and Minerals: North America 
Northwest Treasure Hunter's Gem & Mineral Guide 
Earth Treasures: The Northwestern Quadrant 
We provide links to find these tools on Amazon but some can also be found at your local hardware stores. For more recommendations check out the link to our full tool guide above.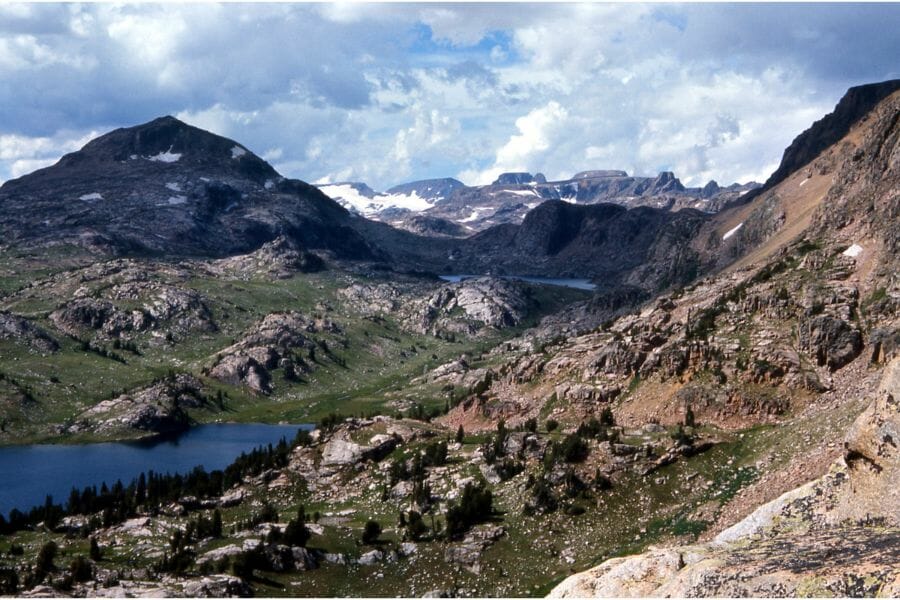 Absaroka Mountain Range is straight up breathtaking! Stretching for over 150 miles, it's full of rugged peaks, deep canyons, and winding rivers. It's a pretty remote area, which definitely just adds to its charm. Just look at its mesmerizing view in the photo.
Its terrain can be tough to navigate, with steep slopes and rocky trails, but the views are worth it. It also has an interesting geology with its volcanic rock formations and ancient sedimentary layers. You can find all kinds of rocks and minerals, including geodes, if you know where to look. You can even find amazing Wyoming crystals if you search well enough.
Getting here can be a bit of a challenge, though. You have to drive on dirt roads and be prepared for some serious hiking if you want to explore the backcountry. But if you're up for an adventure to find geodes and love the great outdoors, this place is a dream come true!
Where we found geodes at Absaroka Mountain Range
When you visit here, you can find geodes in the gravels of the southern reaches of the Absaroka Mountain Range.
Common Geode-Hunting Questions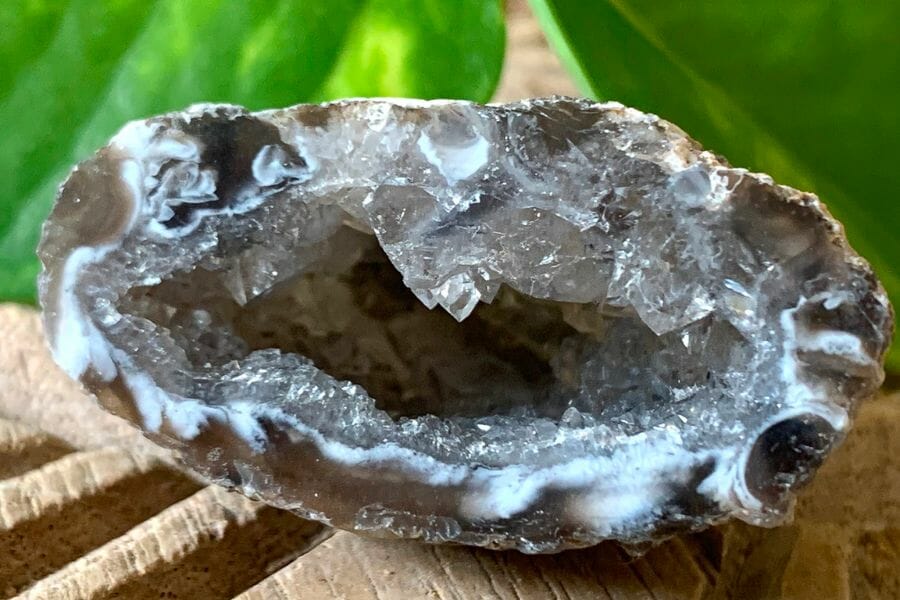 We came across some frequently asked questions when people search for geodes in Wyoming. Thinking that you might have the same questions, we decided to answer them here.
Where can you find amethyst geodes in Wyoming?
Unfortunately, amethyst geodes don't naturally occur in Wyoming. This doesn't mean, though, that you can't find and buy them here. We listed down some of the best local shops in our state where you can purchase different kinds of geodes.
Is it illegal to collect geodes in Wyoming?
Yes, it's legal to collect geodes here, provided that you abide by the local collecting laws. Also checkout any local regulations for government lands and get permission before collecting from any private land.
The Best Places To Buy Geodes In Wyoming
If you don't have much time to explore, travel, and trek through the places that we recommend above, you can opt to buy geodes from the local shops here. We made a list of the top stores selling geodes below:
Torrington Rock Shop – 4102 US-26 #85, Torrington, WY 82240
Amazon – Did you know that Amazon has some pretty awesome varieties of geodes? You can even find whole kits to crack geodes open!
Star Valley Rock Shop – 300 Stockhorn, Thayne, WY 83127
In Stone Fossils – 413 Coral St, Kemmerer, WY 83101
Wonder! – 1825 CY Ave, Casper, WY 82604
Wyoming Fossils – 921 Pine Ave, Kemmerer, WY 83101
Twinkle Twinkle Little Store – 3344 Ridge Rd #7, Cheyenne, WY 82001
J L Gray Rock Shop – 614 3rd St, Big Piney, WY 83113
Additional places to find geodes in nearby states
Check out our guides for nearby states if you've already tried all of our suggestions above or if you're planning a trip outside of the state:
If you have any recommendations for our list please leave a comment below!