If you're looking for a thrill-seeking adventure and hoping to get your hands on some of the most stunning geodes, South Dakota might be the perfect spot for you! You won't be disappointed with the great options for any geode hunter to get lucky. Whether you're a seasoned geode hunter or a first-timer, South Dakota offers something for everyone!
However, it's not all sunshine and rainbows for geode hunters in South Dakota. Finding these hidden gems can be challenging without the right guidance. You might have to go off the beaten path, dig deeper, and spend long hours searching. It's not an easy task, but it's well worth the effort when you finally get to hold a beautiful geode in your hands!
With that said, if you have the drive and determination, nothing can stop you from finding your own treasure in South Dakota. So, grab your shovel, put on your boots, and let's dig for some of the most incredible geodes you'll ever see!
What Are South Dakota Geodes Anyway?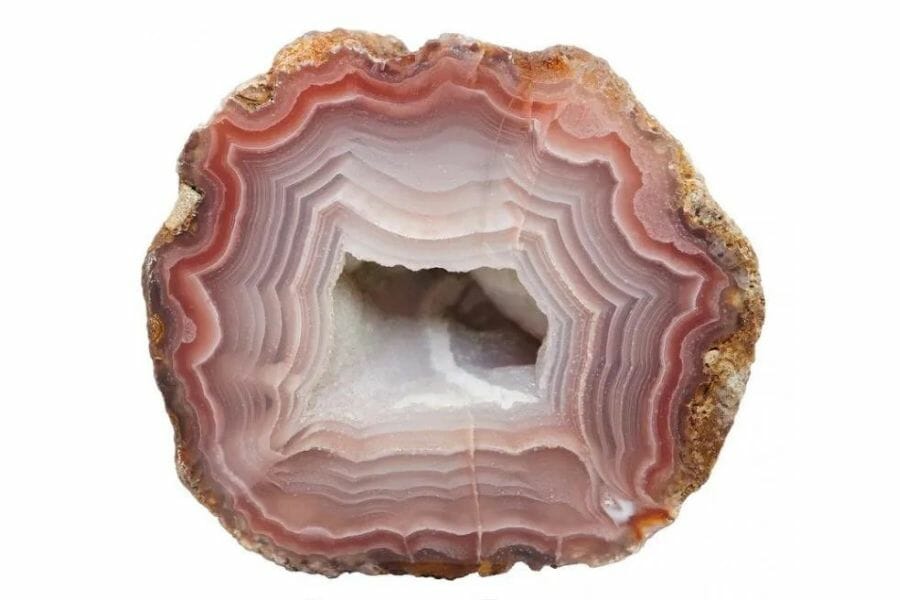 South Dakota is a goldmine for geode hunters, but finding these beauties can be like looking for a needle in a haystack. You must know where to look and have a keen eye to spot them. Once you find one, it's like finding a pot of gold at the end of a rainbow. They're so pretty that you'll want to show them to everyone you know.
We've written an article on how to identify unopened geodes if you see one while you're searching.
South Dakota geodes are rare and beautiful finds that any treasure hunter would be lucky to uncover. It takes some effort, but the reward is worth it. Luckily for you, the geology of South Dakota makes geode formation easier.
The Types Of Geodes Found In South Dakota
Geodes appear in many different parts of the world, and certain geodes are regularly found in South Dakota. The kind of crystal the geode contains defines the price of a geode and its allure. Here are a few examples of them:
Agate geodes
Amethyst geodes
Barite geodes
Chalcedony geodes
How We Found The Best Geode Locations in South Dakota
When it comes to choosing the best options for finding South Dakota geodes there are plenty of things we consider. Many of the best locations are closely guarded secrets which can make it really difficult for more casual geode hunters to find success. The key factors in our recommendations are:
The deep experience and understanding of our team about the area
Recommendations from local groups and clubs
How easy it is to get the a particular location
Safety and potential hazards when collecting
Weighing private and public locations
The ability for both experienced and novice geode enthusiasts to find great samples
With these factors in mind we've been able to put together a fantastic list that just about anyone can use!

The Best Places To Find Geodes in South Dakota
You might already know where to look for gems in South Dakota. However, not all of them offer geodes to discover. Even though the locations we'll discuss with you below might not be as familiar, they are some of the best areas in this state to go geode hunting.
Always Confirm Access and Collection Rules!
Before heading out to any of the locations on our list you need to confirm access requirements and collection rules for both public and private locations.
These requirements are subject to change without notice and may differ from what we state below.
Always get updated information directly from the source ahead of time to ensure responsible rockhounding.
Custer County in South Dakota has natural beauty and rugged terrain. The area is home to the iconic Black Hills, a series of mountains that jut out of the ground like a dragon's spine. The rocks here are ancient and made of granite, which is why they're so tough and rugged. The granite cliffs and boulders are a sight and a geologist's dream come true.
The county is also famous for its caves and underground caverns. There are more than 300 known caves in the area, with Wind Cave being the most famous. The caves are formed by water dissolving the limestone and leaving intricate formations and chambers behind. The terrain here is wild and untamed, with deep valleys and cliffs that will take your breath away.
Before planning any geode hunting adventures, familiarize yourself with the most updated South Dakota State collection regulations.
Where we found geodes in Custer County
In the Custer area, in Hell Canyon, it's reachable via road from US-16
From the US 16 area, go north up Hell Canyon and west for 14 miles to Jewel Cave National Monument
In the Pringle area, the area in Minnekahta of Fall River county.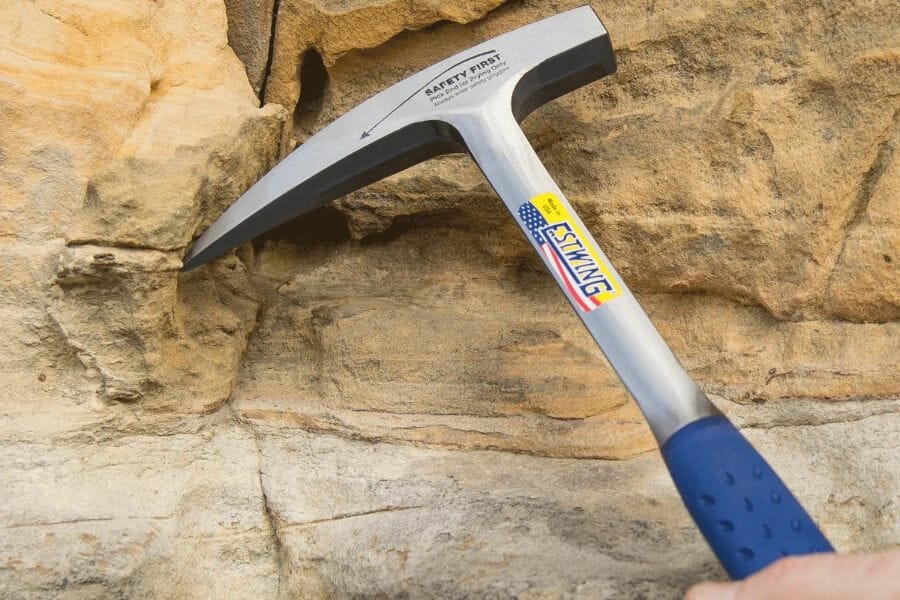 The tools every geode hunter will need
When you're out looking for geodes having the right tools for the job is very important. You don't need a lot for most trips but there are a handful that are critical and will make your life a lot easier.
We get asked a lot about the equipment we use. Over the years we've found a handful of tools that we recommend to both new and experienced geode hunters which we outline in great detail in our complete rockhounding tools and kit guide. These are quality options that also happen to be relatively inexpensive.
Below are the basic tools that make your life so much easier and save you a ton of time. Check out the full guide to see everything we recommend bringing. One quick note, as an Amazon Associate I earn from qualifying purchases but we try very hard to only recommend gear we would use ourselves and often recommend brands you can't find on Amazon.
At a minimum you should have:
1 - Sturdy rock hammer: The Estwing Rock Pick is our standard
2 - Rugged chisels: Try Kendo' 3-piece Chisel Set
3 - Compact shovel: The Koleiya 28-inch shovel works well
4 - Rock screen pan: The Wazakura Soil Sieve Set fits the bill
5 - Eye protection: DeWalt Safety Glasses are cheap and comfortable
6 - Head protection: Malta's Safety Helmet has been our go-to
7 - Jewelers lens with at least 20x magnification: Jarlink's Jewelers Loop is perfect
The geode-finding books that we use most
There are also a few books that have been extremely helpful in the search for gems. These books have great recommendations and tips:
National Audubon Society Field Guide to Rocks and Minerals: North America 
Northwest Treasure Hunter's Gem & Mineral Guide 
Earth Treasures: The Northwestern Quadrant 
We provide links to find these tools on Amazon but some can also be found at your local hardware stores. For more recommendations check out the link to our full tool guide above.
Elk Creek River in South Dakota is a pristine, wild waterway perfect for outdoor enthusiasts and nature lovers. The river winds through the rolling hills and valleys of the Black Hills and is home to various wildlife, including elk, deer, and mountain lions. The water here is crystal clear and icy cold, making it perfect for a refreshing swim on a hot summer day.
The geology of Elk Creek River is fascinating and unique. The area is part of the Dakota Formation, a layer of rock formed millions of years ago by ancient seas. The rock here is mostly sandstone and shale, which has been shaped and eroded by the flowing water of the river. The terrain is rugged and wild, with steep cliffs and rocky outcroppings lining the banks of the river.
Where we found geodes in Elk Creek River
Geodes are typically found in areas with geological formations such as limestone, dolomite, or basalt. However, Elk Creek River is still a great place to explore other types of rocks and minerals that may be present in the area. Collect geodes upstream and downstream on both sides and in both sides' banks. The rocky cliffs and outcroppings along the river may also provide opportunities to find interesting specimens.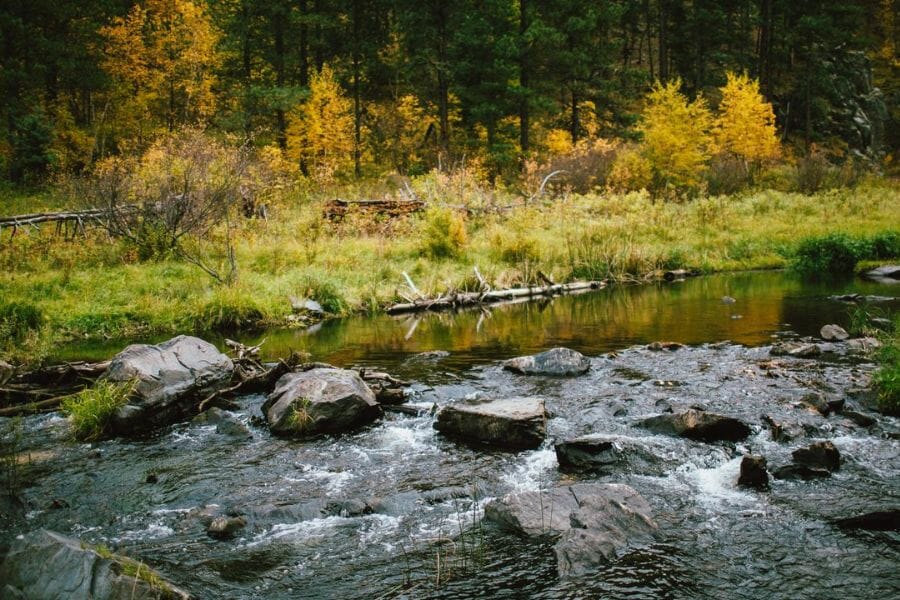 Lawrence County in South Dakota is a land of rugged beauty and rich history. The county is named after John Lawrence, who was an early settler and prominent figure in the area. The county is located in the Black Hills region of South Dakota and is home to some of the most stunning geological formations in the country. The rocks here are ancient and made of granite, which is why they're so tough and rugged.
The terrain in Lawrence County is wild and untamed, with deep valleys and steep cliffs that will take your breath away. The county is also home to the iconic Mount Rushmore National Memorial, which is a massive sculpture of the faces of four US Presidents carved into the side of a mountain.
Where we found geodes in Lawrence County
In the Whitewood area, in gravel bars and banks of Whitewood Creek.
In Spearfish Canyon in the Spearfish area.
Upstream on both sides of the two forks of the same stream, downstream in Spearfish Canyon, and along both sides of Spearfish Creek
The county is located in the Black Hills region and is home to some of the most iconic geological formations in the country. The rocks here are ancient and made of granite, which gives the terrain a wild and rugged look.
The county is also home to some of the most popular tourist destinations in the area, including Mount Rushmore National Memorial and Crazy Horse Memorial. The terrain in Pennington County is perfect for outdoor enthusiasts. You can find a variety of wildlife in the area, including elk, bighorn sheep, and mountain lions.
Where we found geodes in Pennington County
In the southeast of the Scenic area, gather along the south side of the road to Imlay, is particularly prodigious just southwest of Imlay.
Common Geode-Hunting Questions
We discovered that geode collectors frequently ask a range of questions. We'll respond to them here because we figured you might have the same inquiries.
Where can you find amethyst geodes in South Dakota?
Amethyst geodes can be found in several areas in South Dakota, a state renowned for its vast geological diversity. A few of the most well-known locations for discovering amethyst geodes are the Spearfish and the Whitewood areas in Lawrence county.
Is it illegal to collect geodes in South Dakota?
You shouldn't have trouble gathering geodes here if you abide by the laws and restrictions. You must first know the local rules before collecting geodes from public property. Obtaining authorization before beginning your search is also necessary if you're searching on a private website.
The Best Places To Buy Geodes In South Dakota
Discovering geodes in their natural settings is an incredible experience for geode collectors. But not everyone can endure the tiresome quest for them. We can assist if you fit these criteria and wish to purchase geodes without effort.
The following is a list of the top rock stores in the state where you can find and buy different geodes.
Dakota Stone Rock Shop – US-385, Hill City, SD 57745, United States
Amazon – We now know that geodes are also sold on Amazon. There are complete kits that contain geodes you may crack open for individuals who would prefer to do it themselves.
Dave's Rock Shop – 1020 Mt Rushmore Rd, Custer, SD 57730, United States
Indigo Iris Rocks and Stones – 7275 Mt Rushmore Rd, Rapid City, SD 57702, United States
Ken's Minerals and Trading Post – 12372 US-16, Custer, SD 57730, United States
Rock Shed – 515 1st St, Keystone, SD 57751, United States
Additional places to find geodes in nearby states
Check out our guides for nearby states if you've already tried all of our suggestions above or if you're planning a trip outside of the state:
If you have any recommendations for our list, please leave a comment below!